Level 1 Referee Course Announced on 9/30/2017 at UOP in Stockton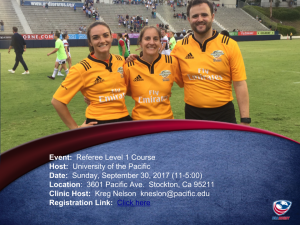 The Level 1 referee course will be in held conjunction with the Small college 7's tournament on 9/30/17. Referee candidates will be able to practice their skills throughout the day with NCRRS referees, coaches, and the instructor.
To register for the course register by 9/27/17.
Link to register is :https://webpoint.usarugby.org/wp15/Events2/ViewEvt.wp?EventID=2454
Upcoming Level 1 Referee Course Announced
NCRRS is pleased to announce the first of this years Level 1 referee courses.  The link to signup for the course is https://webpoint.usarugby.org/wp15/Events2/ViewEvt.wp?EventID=2415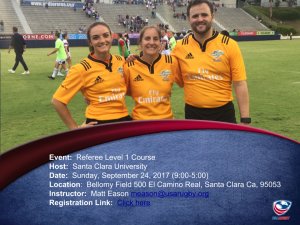 LAW UPDATES/CHANGES — Effective 1 August 2017 (14 August for 7s)
Yes, there are changes. Please review the materials provided by USA Rugby that summarize the new trial laws World Rugby.
NEW Game Management Guidelines
2017/2018 Game Management Guideline are published for 15s (including a separate HS document) and 7s to enable referees, referee performance reviewers, referee coaches, players/teams, coaches, and administrators to have a clearer approach to the game and improve consistency in application of Law throughout the country, while also reflecting directives from World Rugby.

OVERDUE/DELINQUENT REFEREE FEES
The following teams are in arrears. Match officials will not be provided until their account has been paid in full.
Fresno State Men – $1,850
Referee Fees
The referee fees for fifteens are $75 per side per match. Fees are calculated by multiplying the number of games your team plays by $75. This includes all league, non-league, "friendly", B-side, etc. matches regardless if they are "Home" or "Away".
Teams hosting matches involving teams not located in Northern California Rugby Referee Society area are responsible for the visiting team's fees (i.e., the host pays for all non-Northern California teams).
A check or money order for fees should be made payable to "Northern California Rugby Referee Society" and sent with a copy of the team's schedule of games. Additionally, teams must email their schedule(s) using the following spreadsheet(s) to:
pelicanrefs@gmail.com.
NEW SPREADSHEET — Prior to completing the spreadsheet, read the explanatory notes. Team names must appear exactly as provided in the "Team Names" tab. When adding matches, please ensure the appropriate year is used. Use the spreadsheet template available at:
Fees for prior seasons are past due and subject to administrative fees. Payment for the upcoming season must be received by the NCRRS no later than February 1 or may be subject to a $100 administrative fee. Match fees considered "past due" will result in the NCRRS sanctioning the team by not assigning a referee to any further of team's home or away matches (i.e., League, Non-League, or Tournament) until the fee is paid in full.
Note: If your team currently has an outstanding balance from previous seasons, you must immediately contact Dan Wilson (danwilson@pelicanrefs.com).
Send payment and schedule to:
Dan Wilson
511 Omaha Ave
Clovis, CA 93619
Questions regarding billing invoices should be addressed to Dan Wilson:
danwilson@pelicanrefs.com
CONTACT UPDATE
Please review your club(s) contact information at:
http://pelicanrefs.com/contacts/club-contacts/
Send updates to pelicanrefs@gmail.com
USA Rugby Membership Registration:To register for any role with USA Rugby go to www.usarugby.org and click on the red REGISTER button at the top of the screen.