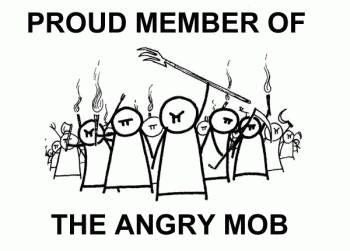 HAIL PELICUS!
Isles Of Perception
So last week when discussing the upcoming Hamilton 7s I asked the question "Why is Carlin Isles still in the squad?". That one question generated quite a few responses in the form of texts, emails and angry mobs. I still stand by my comments – his speed will overwhelm lesser teams but his lack of skill and defense makes him a target against the better sides. Most people seemed rather smug when Isles made the Dream Team and pointed to that as proof that I engaged in a rectal-cranial inversion, but, while I am always happy to see US players recognized, in particular Folau Niua who has been the conductor of our rise to prominence, if you look at the tournament as a whole I believe the selection was a mistake. Pinkleman was a giant every single game. Niua's skillset is unmatched on the tour and his bi-pedal restart ability gives us dozens of extra possessions. Isles, however, after running by Tonga and Samoa was relatively innocuous against an underperforming England. On day 2 he was directly targeted and responsible for the only Scotland try and was an obvious point of attack for New Zealand and Fiji. The rest of the squad are essentially playing 6 on 7 defensively and that takes a toll. One brilliant sneak up the short side against the Kiwis was a bright moment, but he was not even on the field for the second half of the final against Fiji. That is not what you expect from a Dream Teamer.
The USA made their 3rd consecutive final in impressive fashion, beating England on day 1 and New Zealand on day 2, two teams they need to match or better to stay in the top 4 for automatic Olympic qualification. This must be the goal of the series as you don't want to end up in a playoff tournament where anything can happen. Coach Mike Friday has us playing disciplined, entertaining and lethal rugby. We trail only Fiji in the number of tries scored and, even in light of the previous paragraph, it was no mistake that the Dream Team consisted entirely of players from these two sides. If there is one area of management that Friday does not excel in it is his substitution pattern. In the past he has overused our core players and wore them out for the end of tournaments – especially the 2nd leg of the back to back tournaments. Imagine my delight when in our opener against Tonga he played the bench and they performed very well, opening up a big lead. I had just commented on that very thing to a friend who was watching the match with me when in comes back-to- back world player of the year Perry Baker. Why? We had a 20 point lead with 2 minutes left and this was just asking for trouble, and trouble didn't need to be asked twice. A high, straight up tackle went head to head and that is a contest Baker was never going to win. Watching him lying on the ground and then wobbling off spitting blood confirmed the worst fears of the American rugby public. Baker is out for the foreseeable future with a broken jaw. The team rebounded marvelously to make the final but now the inevitable "what if?" comes into play. It is entirely possible that even with Baker we would have lost to Fiji in the final – they are on a different level right now – but for a squad that is pushing for a top 4 series finish it is a devastating blow. Yes, rugby is a contact sport and can not play scared or play not to get injured, but that was a needless exposure in a match that was well in hand.
Once more, according to the longstanding tradition that I made up a few weeks ago, because it still holds true even now, I must remind everyone that the USA is ranked #1 in the world in 7s.
Humanity Of Decision Makers
If there is one thing every official knows is that they are not perfect. We are humans judging humans in what is often a fast paced environment and critical, borderline decisions will often disappoint one party. "What are you looking at?" "How could you call/miss that?" These are regular protestations from players, coaches and fans in every sport. It was General MacArthur who famously said said on his return to American soil that "he was proud to protect American freedoms, like the freedom to boo the umpire". Rugby, while better in this area than every other sport I am aware of, is not innocent of the charges. This is why I felt so keenly for the NLF officials who missed the blatant pass interference call at the end of the NFC Championship game. Now I have no dog in that fight but even if I did the response from some "fans" was disgusting. The crew was doxxed and harassed to the point where they had to be moved to a secret hotel and change their phones. From an ESPN article, "In Washington, D.C., on the same day that a former presidential campaign manager was arrested by the FBI and a government shutdown was lifted, a Louisiana senator pleaded his case on the floor of the U.S. Capitol that his home state had been robbed by poor officiating." (See full article here, it is worth the read.)
The title of the ESPN story asks a very relevant and pointed question, why would anyone want to be a referee? The answer, unsurprising to those of us who take up the whistle, is we do it for the love of the game. Some of us never had a chance to play; some of us had their playing career cut short by injury; some of us played as long as we could and shifted to the whistle as a way of staying involved; but all of us, no matter what the superficial reason, do this for the love of the game.
We aren't perfect, but neither are the players. We do our best and nobody tries to miss calls, but it happens. Please keep this in mind the next time the need to criticize the referee bubbles up to the surface. It isn't really necessary: we are usually our own worst critics.
Annual Vegas Begging Notice
The Las Vegas Invitational is coming up in early March and they are desperate, again, to have substantial representation from The Greatest Referee Society On The Planet. Here is their official pitch:
Referees One and All !
The biggest rugby tournament in North America is looking for YOU! The Las Vegas Invitational needs you on February 28th, March 1st, and March 2nd to help volunteer and officiate 7's (and a select few 15's) matches across youth, collegiate, and adult divisions in Sin City. The most all-inclusive tournament in Rugby has filled out their divisions again this year, and it can't be done without you! Come ref by day with old friends, and enjoy the most exciting city on earth by night! California brought a great number of refs last year, and the LVI would love to have you back!
All Referees receive:
– Rhino LVI Referee jersey (both Male and Female specific models)
– Tickets to all 3 days of the USA Sevens International event
– Access to the Westgate Resort LVI room block – massive benefits available on room rates (only $70 weekdays, $95 Fri/Sat for a 2 bed room), $12 breakfast buffet deal, WAIVING ALL RESORT FEES THROUGH FEBRUARY 10TH!!, $40 shuttle passes from the hotel to the stadium and the fields, and FREE PARKING!
– A Thursday night "REFS ONLY STRATEGY MEETING (wink wink)" with complimentary carbonated adult beverage provided (while supplies last) at the Westgate.
– A Lunch Voucher for Sam Boyd Stadium for all participating referees!
– the chance to referee teams from the USA, Canada, New Zealand, Japan, Nigeria, Mexico, the UK, France, Australia, and more!
Westgate Hotel link: https://book.passkey.com/event/49745916/owner/3453/home – again, with waiving resort fees, you get the cheapest rates and get to stay at an incredible resort and the hub of the LVI.
To register to ref at the LVI 2018, contact Head Referee Autumn Arvidson at : mnrugbyref@gmail.com
Any questions about the event?: https://www.usasevens.com/las-vegas/las-vegas-invitational/
2019 USA Rugby Game Management Guidelines
Looking for guidance on how to manage a game? Well, USA Rugby has your back. You can find the 2019 USA Rugby GMGs here: https://drive.google.com/open?id=1XXcRfsVtLLqUawEHUI47ei0dt_65fDM.
If you do not have access to the google drive linked above you can also view them as well as other pertinent documents here: http://www.usarugby.org/referee-resources/
Disciplinary Action Reporting – Process For Reporting Incidents
The various competitions all have their own disciplinary chairs and this will make it difficult to centralize the communication and data. To help we have developed a form that will centralize the process, regardless of the competition. The link to the discipline form is https://docs.google.com/forms/d/e/1FAIpQLSc42vbdqnFVH0u1BGTLhjOivDO2hNsmV4NXvvnC4FyAka7sKQ/viewform?vc=0&c=0&w=1
Copy the link and have it available on your smartphone. If you have an iPhone add the link to your home screen.
When needed fill it out and click submit. The discipline chair of the competition you refereed will receive a notification about the incident.
He/she may contact you latter for more details.
If you have any questions as to how to use the app please refer to the following video: https://www.youtube.com/watch?v=_Uz0_gTaOnY
On To The Game Reports!
Date: 01/26/2019
Mavericks 19-19 Dagenham
Location: Warley Playing Fields, Brentwood (https://goo.gl/maps/neZSsryaHNU2)
Competition: Essex 1
Referee: Preston Gordon
There were a few things for me to consider before this match began.
Mavericks, a club founded only 7 years ago, were at the top of the table with 53 points and a record of 11-0 this season, including a 40-8 defeat of Dagenham last October 6th. Upminster were in second place with 46 points. Dagenham were sitting in third place at 44 points, having played one more game, and their record was 9-3.
Mavericks and Dagenham had each scored 497 points so far in the season, and obviously would be targeting this as a must-win fixture in their hunt for promotion to London 3 next season. In addition, there had been some historical behavior issues with one of these teams, and just the day before this match one of their coaches had received a 10-week ban for referee abuse. At least one of the Essex RFU disciplinary committee members was in attendance, and introduced himself to me as I was warming up. Also, I was being assessed at this level for the second time in 3 weeks. And finally, these two teams are only about 8 miles apart, making this a proper local derby.
Given the above, I knew the cauldron would be bubbling well before I arrived 75 minutes before kickoff. The team without the disciplinary record politely and (mostly) subtly made sure I was aware of the historical transgressions of their opponents. I waved that off with a comment that this was a new day, and everyone playing would be starting with a clean slate. In the prematch chat with each side, I was careful to stress that any conduct contrary to the RFU core values (Teamwork, Respect, Enjoyment, Discipline, Sportsmanship) would be dealt with by a warning, then a penalty, then a further sanction.
Aside from one penalty for dissent, everything in that respect was fine.
Dagenham kicked off on time, under cloudy skies, and with the smell of rain in the brisk 48F wind. Both teams were clearly up for the contest and wasted no time getting stuck into each other. Dagenham had both the wind and the slope of the pitch favoring them in the first half, but Mavericks were able to score first in the 25th minute to take a 5 point lead. They were unable to make the touchline conversion.
Dagenham took the resulting restart kick, smashed a few holes in the defense, and replied with an unconverted try of their own just 2 minutes later (27′). The Mavericks captain slotted a penalty goal after a high tackle at 32′, as it began to drizzle, and that was all the scoring in the half: 8-5 to the home team, which seemed appropriate.
After a quick break, the second half got underway. Mavericks were attacking on the left at 43′ and threw a speculative wide pass that was intercepted. Naturally, I was leaning the wrong direction, and by the time I had turned myself around to start catching up, the Dagenham player had kicked ahead. That put me at least 35m behind the ball, and I was running uphill. Just after I hit full speed, I saw the Dagenham
#14 wrestle a retiring opponent to the ground while easily 20m away from the ball, but just a few meters in front of me. This got me off the positioning hook, given that there was no way for Mavericks to gain an advantage, so I stopped play immediately and awarded the miscreant a yellow card for tackling a player without the ball.
Mavericks took advantage of this and scored next, at 45′, though the now-dry-again wind pushed the conversion wide. The 8-point margin at 13-5 would be the farthest apart these two teams got, because Dagenham responded with their second try at 49′, converting it to come within one point. One minute later, Mavericks lost their #4 to the sin bin for a "seat belt" tackle. So the next few minutes were played with fourteen-a-side, and although Dagenham returned to full strength, no further points were scored until a 60th-minute penalty goal by Mavericks (score: 16-12). This was the only time dissent was involved – I had moved the mark up 10m, and the Mavericks captain then chose to take the shot instead of kicking for touch. Five minutes later, they knocked over another penalty to take a 19-12 lead.
The last fifteen minutes were played at a hectic pace over most of the pitch. At 75′ a Mavericks player gave away a cynical penalty for killing Dagenham's attacking ball just outside their goal line, which resulted in them finishing the match with 14 men. Soon after, Dagenham had an attacking scrum 10 meters from the Mavericks goal line, at the point of the steepest gradient on the pitch. They ended up dominating this scrum, disrupting almost all the Mavericks' bindings, and drove within a couple meters of the goal line before I went between the posts to award the penalty try at 77′ that leveled the scores. For the next three minutes Dagenham had the majority of possession, and both teams were careful not to give up any penalties even though Mavericks were defending nonstop pick-and-go's. Despite me clarifying the tied score (and the time remaining) to each captain twice in the last couple of minutes, Dagenham either didn't communicate this to all their players, or were happy to take the draw. Ultimately, they kicked to touch to achieve just that.
After I took off my gloves, we all shook hands, and I was happy to hear from a few players that this was the best reffing they'd seen all season. I was much happier that aside from a couple of moments of unfriendliness, nothing got out of hand. For me, the physical challenge was what I expected, but the mental challenge was tougher. The cauldron was at a rolling boil for almost the entire match, but it never spilled over. I'd like to thank both teams for maintaining that level of control, generally listening to me, and for playing an extremely hard-fought, tough, and fast match in these conditions. Both of the club touch judges also did a great job. I think the draw was a fair result, even though it may cost me a beer or two when I'm in San Francisco next weekend doing O Club vs Diablo.
After a chat with the assessor, whose "well done" was well appreciated, we all enjoyed some of the Mavericks hospitality while talking with the coaches and players in the clubhouse. A little more hospitality was enjoyed with some referees just a few miles up the road at Old Brentwoods RFC. Before long, it was time to head back into London, after a strategic pit stop before catching my train for the 45-minute trip (there are no WCs on the commuter trains or the London underground – something I learned the hard way several years ago).
All in all, it was another great day to be refereeing rugby in England!
Date: 01/26/2019
Cal 136 – UC Davis 0
Referee: Lee Bryant
No Report Received. Possibly because Lee is still too tired.
Date: 01/26/2019
Berkeley All Blues B 48 – SFGG Women 12
Referee: Giles Wilson
When I arrived, even an hour before the game, both teams were well into their warm ups and looking well organized. The All Blues started fast getting a score in under 2 minutes with the second following by 10 minutes. The All Blues had good offensive patterns with players running hard and with good footwork to avoid tacklers. When SFGG finally had the ball, the All Blues demonstrated trust and organization in defense. The first half ended 31-5 (5 tries to 1).
The second half saw the All Blues rotate a number of players in, SFGG had fewer replacements which meant a little more balance. The second half was 3 tries to the All Blues to a single try from SFGG and a final of 48 – 12 in favour of the All Blues.
Date: 01/26/2019
SFGG PRP 18 – Life West 45
Referee: Steven Fenaroli
Round one of PRP. Life West traveled to face SFGG. The game was no different than usual with both teams coming out firing. It was an intense match with both teams trying to notch a win in the first game of the season. Life scored the first try but SFGG wouldn't concede. At half the score was 21-6 in favor of Life.
In the second half, there were fewer penalties from both teams as breakdowns no longer were being contested as much. SFGG would score two tries while Life would notch on a handful more. In the end, Life overpowered and outran SFGG.
Date: 01/26/2019
Fresno State 45 – Univ Nevada Reno 30
Referee: Rodney Tuisavalalo
The teams played a good, clean, hard game of rugby. Both sides were respectful and much props to the captains and coaches of each team for keeping that throughout. Like many collegiate games this one featured lots of open breaks and fast dudes darting in and out of rucks and scrums. I enjoyed seeing the intensity from both sides right up until the final whistle. Good luck to both teams!
Date: 01/26/2019
Chico State 35 – Stanford 26
Referee: Phil Akroyd
The Tale of the Magic Jerseys
Stanford showed up late due to a bus navigation issue, but they were ready and set to go by the 1pm kick-off time. However, Chico, the home team, were all ready to go at kick-off but realized that they hadn't brought their jerseys to the field. As the later-to-be-fined team member took off to retrieve their shirts, Chico decided to start in their all black warm-up shirts, which wasn't a bad solution, aside from the lack of numbers.
Chico played poorly in those opening minutes as they had lots of possession but couldn't really do anything with it. They did manage to slot a penalty kick, but also gave up an interception try and a charge down in their own in-goal for a try.
With about 15 minutes played, the jerseys arrived and the magic happened. The Wildcats took the lead and only relinquished it for a few minutes before half-time before going on to lead the rest of the game.
Stanford lived off Chico's mistakes – another interception try in the second half – but Chico had the majority of possession and made that count, along with a dominant scrum that kept Stanford going backwards.
A fun game with lots of open rugby, good phase play, and surprising physicality.
Date: 01/26/2019
San Jose State 27 – San Francisco State 32
Referee: John Lane
An excellent day for rugby at Independence High School. Both teams were present and in early prep when I arrived at 13:30 for the 14:30 kickoff. Squad numbers looked low so during captain and team check formalities it was confirmed that both teams would have no more than 15 players but were in a position to field correctly in all front row positions – game on!
As it transpired San Jose fielded with 14 against San Francisco's 15. Both sides had some experienced players with the usual few early season college new to rugby entrants needing a little more "explanation" of the laws of our fabulous game from time to time! San Jose despite playing with 14 opened the strongest and had better team structure. The game took a little time to settle with individual errors prominent across the teams.
After this opening period San Jose took the lead on 14 minutes with an unconverted try which was followed quickly by another on 17 to leave them 10-0 in front. Having taken the lead San Jose appeared to de-focus a bit and San Francisco, with a stronger scrum helping, had two unconverted tries of their own on 24 and 29 minutes. 10-10. Both sides started to show fatigue as the game was very open. San Jose started to get the ball to their very strong running left winger (new to rugby) and he was giving his team significant go forward and field position. This eventually led to a converted try on 37 minutes. 17-10. San Jose had lost their No 8 to an ankle injury by this stage – down to 13. San Francisco came back and with the last, multi-phased play of the half leveled the scores at 17-17 after which both sides sought the halftime rest.
From the restart San Francisco took the lead on 42 mins with an unconverted try (17-22) but San Jose responded on 45 mins with an unconverted try of their own to tie it up at 22-22. The extra players were now starting to take effect with gaps appearing and despite some great last ditch defense San Francisco score another 5 pointer on 51 mins for 22-27. Both teams were struggling for fitness at this stage with multiple players cramping up and bodies slow to get to restart scrums and lineouts. A pattern emerged with San Francisco gaining field position, only to lose it through handling errors with the more structured San Jose backline able to use its strength out wide to regain territory. San Francisco re-adjusted their defense putting their stronger tacklers wide out to defend the strong running winger which proved effective.
On 65 minutes, the San Jose captain chose to kick at goal from the 22m in front of the posts and pulled his kick narrowly wide left having been distracted by a San Francisco player shout. Awarded a retake he over compensated and blasted wide right…..
With 10 minutes to go San Jose lost one of their players to an accidental facial injury which balanced the numbers to 13 to 14. San Francisco made a final effort and scored another try on 76 mins for a 10 point lead at 22-32. With the last play of the game the San Jose No 9 crossed to close out the scores at 27-32 with both (tired) teams enthusiastically clapping each other off the field.
Date: 01/26/2019
UC Santa Cruz Women 5 – Cal Poly Women 46
Referee: Stephen Moore
Awesome effort from both sides, despite score-line difference. UCSC suffered a setback even before KO with their flyhalf getting injured last minute. UCSC was determined not to give up despite the difference in experience; eventually breaking thru Poly's solid defense to score their only try, late in the second half. Poly was well drilled and relentless in attack, phase after phase of very long passages of play resulting in many tries for them. It was a pleasure to be part of the experience. Player behavior first class. Great spectator spirit.
Date: 01/26/2019
CSU Monterey Bay Women 20 – Univ Nevada Reno Women 34
Referee: James Hinkin
A crisp morning in Monterey was the setting for the ladies of UNR to take on the ladies of CSUMB. The pitch at CSUMB was, as per usual, in great shape and well marked so without further ado let's get to the action. With both sides electing to wear dark blue jerseys I did the honorable thing and pulled out a dark blue jersey to referee in.
The first half was dominated by knock-ons, not rolling penalties and UNR breakaways. The first was to be expected; the second was managed with a word to the captains; the third looked like a long afternoon for the home side. After putting up 4 tries in the first half UNR was feeling pretty comfortable.
The second half was a different story. Some tactical changes from the Otters led to more dynamism in their attack while the Wolfpack seemed to lose their edge. The penalties at the breakdown disappeared so the ball was faster and cleaner and that suited the home side just fine as they began their comeback. Unfortunately for them it was just a little too much to ask, as while they scored 4 tries of their own the visitors added a couple of to their scorecard to put the match to bed.
This Week's Photo
My fans providing feedback.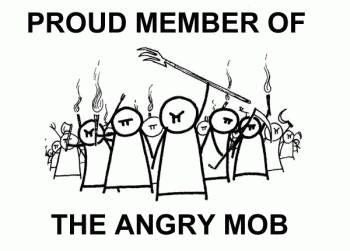 Hail, Pelicus!
For the Senate
Pelicus Pedem Referre