HAIL PELICUS!
(Published January 23, 2020)
New Year, New Rugby
O Winter! frozen pulse and heart of fire,
What loss is theirs who from thy kingdom turn
Dismayed, and think thy snow a sculptured urn
Of death! Far sooner in midsummer tire
The streams than under ice. June could not hire
Her roses to forego the strength they learn
In sleeping on thy breast. No fires can burn
The bridges thou dost lay where men desire
In vain to build.
O Heart, when Love's sun goes
To northward, and the sounds of singing cease,
Keep warm by inner fires, and rest in peace.
Sleep on content, as sleeps the patient rose.
Walk boldly on the white untrodden snows,
The winter is the winter's own release.
"January"
Helen Hunt Jackson
Here I am sitting at my keyboard on a cold, crisp winter's day searching for a theme for this edition of Hail Pelicus; it is a cold and lonely task. One that I take on willingly but it is hard to think creatively when the outside temperature is such that long pants are required. How can the fresh winds of inspiration tickle the manifested knees of insight, merrily travel along the Sartorius path to cool the supple thighs of thought when they are hidden in bifurcated tubes of soul dampening fabric?
How, indeed!
So I start searching for themes for this opening bit. Well, it is quite cold, so why not a start with a short poem about winter? (Check!) On the other hand, at this time last year I was toiling away in Iowa and the temperature was -40. Notice how I didn't tell you what scale I was using, because at -40 it is irrelevant – both Fahrenheit and Centigrade are the same.
So, maybe it isn't so bad.
Yes, we are in the grips of winter here as demonstrated by the snow capped hills that border Silicon Valley in the main photo attached, but that also means it is Rugby Season so the heart is warmed and the soul sustained. Rejoice! The season has begun! It's a New Year so time for some New Rugby.
Bipartisan Cooperation
A strange, outdated combination of words, no? It seems these days that "bipartisan cooperation" is dismissively thrown about with a sneer but it can often produce results greater than the sum of its parts. That is exactly what is happening with the newly formed California Rugby Panel. What is the California Rugby Panel? Well it is the brainchild of Pelicus Fistulator (more commonly known as Pete Smith), who brought it to his Southern California counterpart Marquise Goodwin who saw the possibilities and is wholly on board. The California Panel is a group of referees from both Northern and Southern California who are scheduled to do D1A matches this year. They will be coached up and fast tracked to give a path towards reaching the pinnacle of rugby: a San Jose Seahawks match.
Or possibly PRP and MLR matches. They would be nice, too.
To that end just after the new year there was a camp hosted up at St Marys with most of the Panel referees and coaches in attendance ("oh and we forgot to tell you – fitness test this morning"). This group listened to presentations from noted referee coach Mark "Tigg" Handel as well as new USA Rugby Referee Development Manager Jamie MacGregor. These were supplemented by presentations from Northern and Southern educators as well as matches on Saturday that were filmed and dissected. Much learning was done.
In any case, if you see some of our younger referees strutting about with a little more swagger and a construction cone orange polo, know they are part of the California Panel. Should you wish to speak with and congratulate these luminaries approach them carefully with your eyes shielded and downcast. Not out of a sense of enhanced respect, mind you, but because that polo is REALLY bright and you might damage your eyes if you stare at it for too long.
Call Of Duty
As noted above, our season has started and all leagues are now in play. That means that, as is true every year, I dust off the same joke and make the same plea:
Joke: Time to boil your boots and polish your whistle for it is rugby season again! (The old ones are the best, don't you think?)
Plea: As happens every year at this time with all leagues in play we are chronically short of referees and some games are in danger or not being covered.
Of course, the depressing lack of match reports in WhosTheRef belie that fact… we need to do better, people! Clubs and players rely on this publication to learn what is going on in the league.
Please update your availability on WhosTheRef and let Pete Smith know that you are ready and eager to take up the whistle again. If you are not on WhosTheRef (our assignment engine – you will need to sign up) feel free to email Pete at me@petesweb.com or contact him in any other manner – just let him know.
(EDITOR'S NOTE: The request above needs to be updated to exclude carrier pigeon from accepted methods of communication. The reason being that the pigeons were none too happy about being used in this manner and would express their disgust in the only way they knew how on Pete's shoulder when they landed. Poor Pete's shoulder and back were covered in pigeon communication and it was getting out of hand. Plus, it is no longer the 19th century.)
2019 USA Rugby Game Management Guidelines (for the last time)
Looking for guidance on how to manage a game? Well, USA Rugby has your back. You can find the 2019 USA Rugby GMGs here: https://drive.google.com/open?id=1XXcRfsVtLL-qUawEHUI47ei0dt_65fDM.
If you do not have access to the google drive linked above you can also view them as well as other pertinent documents here: http://www.usarugby.org/referee-resources/
Disciplinary Action Reporting – Process For Reporting Incidents
The various competitions all have their own disciplinary chairs and this will make it difficult to centralize the communication and data. To help we have developed a form that will centralize the process, regardless of the competition. The link to the discipline form is https://docs.google.com/forms/d/1mmUNg11uVOSkIsUtHifSqQzalhWbwohk_J6AmPyrucQ/viewform
Copy the link and have it available on your smartphone. If you have an iPhone add the link to your home screen.
When needed fill it out and click submit. The discipline chair of the competition you refereed will receive a notification about the incident.
He/she may contact you latter for more details.
If you have any questions as to how to use the app please refer to the following video: https://www.youtube.com/watch?v=_Uz0_gTaOnY
On To The Game Reports!
Date: 1/4/2020
Hackney II 14 – Belsize Park II 28
Referee: Preston Gordon
Location: Spring Hill Recreation Ground, Clapton, London
Competition: Middlesex Merit Table Cup
This was my first match of 2020, after 4 weeks of being in California with no rugby and just a little bit of Christmas/New Years excess, and it kicked off just 48 hours after I got off the plane back to London. Despite the mushy pitch, which wasn't a surprise given its location next to the Lea River canal, this cup quarter-final got off to a quick start with the first try two minutes in when one of the Belsize Park wingers picked off a lazy wide pass on the Hackney 22m line to run in untouched, despite several near tackles. They added two more tries at 20′ and 29′, converting all three to lead 0-21 at halftime.
In the second half, momentum swung the other way due to the pattern of rolling subs apparently favoring Hackney. The home team got two converted tries of their own at 55′ and 66′ before Belsize Park responded with their fourth converted try at 73′. The score suggests this contest wasn't so close – not the case, despite Belsize Park II playing one league level higher (Middlesex Merit Tables Premier) than Hackney II (Middlesex Merit Tables D1). Regardless, it was fun to get back into the swing of things, especially on a decent January day in England.
Date: 1/5/2020
Brentwood U18 14 – Chelmsford U18 38
Referee: Preston Gordon
Location: King George's Playing Fields, Brentwood, Essex
Competition: Essex U18 Cup
I arrived at the Brentwood club to find the parking lot full, and the clubhouse and 4 of their 5 pitches populated with parents, coaches, and kids from ages 6+ already running around. The unoccupied pitch was the main one in front of the clubhouse, and had been set aside for the main event, which was this match. I found the parking spot the club had kindly set aside for me and changed, and soon learned that Brentwood's side would be mostly made up of U17 players for various reasons. That didn't seem to make much of an impact on things, however, and both sides were very enthusiastic and happy to take advantage of the slightly-sloped pitch that was in pretty good shape. There was a bit of wind, but no rain, and the low 50s temps were fine.
This was the 3rd round of this waterfall cup, and with both sides being undefeated in the previous two rounds, it was effectively a quarter-final. You might be wondering what a waterfall cup is, as I was when I first heard of it last year, and it's a very clever system that ensures that a team that loses a game only drops down one bracket instead of being knocked out of the competition altogether and therefore having no further games to play on following cup weekends. This means that there are 8 cup "finals" in late April, although the cup goes to the winner of the final that features the two undefeated teams. See the Excel file with competition details for yourself here: http://bit.ly/36xjPpn (I've shortened the very long AWS link). It's something that might be useful in USA youth rugby.
The match kicked off on time, and Brentwood scored first in the ninth minute, with a converted try. Chelmsford answered relatively quickly with one of their own at 14′, and then added another unconverted try at 18′ before padding their lead at 30′ with another converted try to lead 7-19 at halftime. Brentwood were definitely in this game, however. The second half was basically a mirror image of the first, with one try to three (minus one conversion), producing the 14-38 result that sends Chelmsford through to the semi-finals. There was not much to manage in this game other than a bit of over-enthusiasm on the part of the backs of both sides at the set piece which eventually required a warning from me to hold the offside lines at the lineouts and scrums. Chelmsford's warning wasn't enough, but a 54′ yellow card sorted that out.
As we all know, rugby can be a very small world, and after the match I learned that one of the Brentwood players was American (from Ohio) and is involved in the Eagle Impact Rugby Academy and Salty Thompson, the Director, is his coach. I used to play against Salty a long time ago in Arizona, as well as on the Arizona rep team that he coached. I told this young American the nickname we used for Salty, who is still the fittest man I know – believe me when I tell you that you will be embarrassed when he outdoes you on the jingle jangles no matter how you or fit you are. But I won't be repeating that nickname here!
Date: 01/11/2020
Cal Poly Women 71 – UC Santa Cruz Women 7
Referee: James Hinkin
After last week's camp (Hooray! A fitness test!) I was eager to get on the field to start off 2020. A match down in SLO was just what I needed. The women of UCSC drove down to San Luis Obispo on a clear, but chilly, Saturday for a league tilt and that suited me just fine. The field was well marked, except for the curious need for Cal Poly to put flags on the 10m lines, and with both teams ready to go off we went.
Well, I say that both teams were ready because they all had uniforms and were standing on the field, but it became clear early on that UCSC wasn't ready. Cal Poly had all the joy, running in tries from all over. 2nd and 3rd phase especially saw the midfield backs carve up the UCSC defense and if those holes closed, the ball was sent wide to the wing and a run around the outside. Both Mustang centers have dummies and side steps that were offered and sold all day. The one way traffic continued throughout the half for a halftime score of 52-0.
The second half wasn't as one sided as UCSC was playing with the wind at their back and seemed to take the halftime speech from the coaching staff to heart. The visitors would made great inroads into the home side's territory only to have a mistake or a turnover doom the movement – often with the ball going 90 meters the other direction for a try. Fitness was lacking as UCSC was not able to provide enough support at breakdowns and did not regain defensive shape after a line break. Determination took the place of fitness but that can only go so far. The introduction of subs slowed down the faucet but Cal Poly still managed to put 3 more tries across.
The lone response came at the death as UCSC was finally able to make all their pressure pay off. The thoroughly earned a try at the death with relentless running and the help of an off side penalty against the hosts. The final play saw the Banana Slugs go over the line, make their conversion and then I blew the whistle to end the first contest of 2020.
A lob-sided game played with great spirit on both sides with very little foul play. The drive and determination of the UCSC team showed with their never say die attitude and the try at the end. Cal Poly is skilled and well coached and should be a force in the upcoming season.
Date: 1/11/2020
Campion 28 – Mavericks 16
Referee: Preston Gordon
Location: Warley Playing Fields, Brentwood, Essex
Competition: London 3 Essex
This match was played at the Mavericks home ground due to a fixture swap last fall, in their first matchup of the season. This meant I was sure to get a good workout on their noticeably-sloped pitch, where one corner is ~10 feet higher than its opposite. The weather cooperated, with some wind and temps in the high 40s, but no rain, and this time the pitch was properly marked. In the table, Campion was #8 and Mavericks were #9 – separated by 7 points – so I was expecting a good game and I wasn't disappointed with the test I got. Campion won the toss, and elected to play uphill the first half.
Mavericks kicked off downhill, promptly turned over the ball, and scored under the posts within the first minute to lead 0-7. Campion kicked a penalty at 5′ to stay close (3-7), and then spend most of the next 15 minutes in the Mavericks 22m area before scoring a try at 23′ to take an 8-7 lead. Mavericks tacked on two more penalties at 27′ and 36′ to nudge ahead 8-13, which is how things stood at halftime.
In the second half, Campion took full advantage of going downhill and scored another try at 52′, converting it to retake a 15-13 lead. Both teams obviously wanted to keep the scoreboard ticking over, trading penalty kicks at 56′ (Campion, for a Mavericks yellow after their captain tackled the wrong player), 60′ (Mavericks), and 63′ (Campion) to leave Campion sitting on five-point advantage at 21-16. They padded this at 74′ with another converted try, which was to be the last score of the match.
The drama wasn't quite finished, however: Mavericks were hunting for one last try that would give them a defensive bonus point. Similar to the first half, they spent most of the last 15 minutes of the match camped on the Campion goal line, except this time emotions were running a lot higher. Campion obviously knew what was going on and began to commit cynical penalties, resulting in two of their players departing the field early with yellow cards, at 81′ and 83′. Mavericks opted for a tap & go after the second one of those, but it went to a player who apparently wasn't expecting it, and he knocked the ball on. Campion kicked the ball dead to preserve their win and leave Mavericks with no points.
I was asked by one of the Mavericks coaches after the match why I didn't give a penalty try for the 83′ yellow card, for an obvious offside leading to a deliberate knock-on. This was a good question, and I had a ready answer because one of the LSRFUR central meetings happened to cover this exact topic. Christophe Ridley gave us a presentation in April 2019 that covered his Northampton-Bristol match a month earlier, where he put 4 Northampton players in the sin bin in the dying minutes of the game. The natural question from us (and Bristol, at the time), was why he didn't award a penalty try. The answer is found in the law book, to wit: "A penalty try is awarded between the goal posts if foul play by the opposing team prevents a probable try from being scored…" Penalty tries are not awarded for an accumulation of penalties or yellow cards – it's simple as that – and neither of these two late yellows were for anything that I thought would have probably led to a Mavericks try.
The Mavericks coach was very polite, but I think he was less persuaded by my explanation than their captain was in the clubhouse later. Ultimately, they were very good hosts, as they have been before. Given the closeness in skills & ability of the two teams, this game was perhaps decided with the coin toss. I'll leave you with two links from that Northampton-Bristol match last season:
Date: 1/12/2020
Hackney Belles 94 – Stanford Sirens 5
Referee: Preston Gordon
Location: Spring Hill Recreation Ground, Clapton, London
Competition: Women's National Challenge 1 East
I was happy to find that the Hackney pitch had firmed up a little bit since my last visit 8 days previously. There was still plenty of mud, but the footing was definitely better than it had been before, and the weather wasn't bad either. The Sirens made the trip from Stanford-le-Hope in Essex with 13 ladies, and the Belles were kind enough to match them in numbers on the pitch in order to keep things interesting.
It took Hackney just two minutes to get their first try. Stanford got their sole try in the 8th minute after their scrum-half chased down a loose ball bouncing in in-goal and got her hand to it first. But the rest, as is obvious from the result, was one-way traffic for Hackney. They scored 8 tries in each half, and added 7 conversions in total. Despite this lopsided result, things were fairly closely matched at the set piece and in tight play. Most of the tries came from Hackney getting the ball to their faster outside backs.
Aside from a 61′ yellow card to one of the Hackney players for team repeat infringements while defending one of Stanford's rare visits to the Hackney 22, there wasn't much for me to do except keep up with the tries being scored every few minutes. It was a pretty good opportunity for me to stretch my legs after the more intense match on a hillside the day before.
Date: 01/18/2020
Sacramento Amazons 20 – Berkeley All Blues B 27
Referee: Giles Wilson
A well marked, grass field at River City High School with both teams warming up when I arrived. Both teams displayed good discipline for most of the match. As the first game of the season there were a couple of holding on penalties, including a couple for very slow squeeze ball preventing the jackal attempt. Overall both teams were physical in the tackle, while running good lines of support and offloading.
In the first half, Amazons were stronger and worked for 3 tries to no reply and a 15-0 half time score. Several half time changes changed the balance with the All Blues replacements maintaining the quality while the Amazons lost a bit of quality.
From half time until 60 minutes the All Blues worked in 3 tries (including the only conversion of the game) to a single reply from Amazons who held on to a 20 – 17 lead. Around 60 minutes, fatigue began to affect the Amazons players with a couple of their better players being replaced but discipline also suffering.
At 65 minutes an Amazons red card was followed at 67 minutes by a yellow; after this the Amazons captain did a good job getting discipline back on track but All Blues scored two more tries with a 2 player advantage. Final score Amazons 20 All Blues 27.
Date: 01/18/2020
Google 7 – Vacaville 64
Referee: John Lane
Opening day of D2 for 2020 at Google Park which was a new field for me and most of the players.
As with all multi-purpose fields a pregame chat and agreement on relevant lines and goal kicking approach (the full rugby posts are behind the short in goal area) was conducted with both sets of coaches and captains and relayed to both squads. No issues arose during the games as the players were there to play.
Google kicked off and kept Vacaville under pressure for the first few minutes but with their first clean quick ball to their backline the Vacaville 10 sent his back line in motion and quick hands and an outside break by 12 lead to a try on the right which was converted (0-7). Google failed to deal with the restart and turned over the ball and again the Vacaville backline moved the ball right, and after a quick recycle and an inside break, scored near the posts (converted) for a 0-14 lead on 6 mins.
On 11 mins an almost identical play lead to another try wide left which was expertly converted from the touch line. (0-21). Almost immediately Vacaville scored again and converted. 0-28 on 14 mins! The Google bench and supporters were getting vocal at this stage with the players on the field calling for more effort. This had a positive effect. Their play was not as structured as Vacaville but their commitment was strong and they dominated field position for the next 20 mins but a tendency to drive into contact individually as the primary approach led to isolation and turnovers which allowed Vacaville to clear their lines. Vacaville also were prepared to run good quality ball out of defense.
On 37 mins this resulted in the individual try of the game. Moving the ball left to right the Vacaville 14 received a pass near the touch line. It looked like he had nowhere to go but having spun out of the first attempted tackle he accelerated past the next player and managed to stay infield. Then stepped inside the next player and chipped ahead at the halfway line. He won the race through to the bouncing ball just ahead of the defending 15 and guided a kick forward to the goal line and dived over for the score which was again converted to leave the half time score at 0-35.
Vacaville scored early in the second half but for the first time their 10 missed the conversion (0-40 on 44 mins). On 48 mins, Google put multiple strong drives together and recycled well. Vacaville became too stretched and Google took a deserved score under the posts for 7-40. From the restart kick, Vacaville burst through the first tackle and following 3 quick phases crossed for their 7th try but their 10 again missed the conversion for 7-45 on 48 mins.
Both sides tired and there were multiple substitutions and while Google players put in significant efforts the Vacaville defense tackling was more successful and they kept their line intact for the rest of the game. At the other end Vacaville scored 3 more tries (57, 64 & 74 mins) with the 10 rediscovering his kicking skills and converting the last 2 for a final score of 7-64 and a Vacaville victory.
Two tired sides clapped each other off and are looking forward to the rest of the season.
Date: 01/18/2020
UC Davis 19 – Cal Maritime 24
Referee: Phil Akroyd
Started off at a million miles an hour, then slowly came grinding to a halt with too many basic errors. UC Davis got ahead to a 19-0 lead in the first half, then cycled in their B side players in the second. Maritime started getting some phases together and took advantage of the Davis inexperience in the second half and launched a fight back. Maritime had an opportunity to win on the last play of the game, and took that opportunity to crash over for a well worked team try as my watch beeped for full-time.
Date: 1/18/2020
Anselmians 18 – De La Salle 20
Referee: Preston Gordon
Location: Vauxhall Motors Sports Club, Ellesmere Port, Cheshire
Competition: North 2 West

I had the opportunity to travel up to the left bank of the River Mersey, on exchange to the Liverpool society, for my fourth level 7 match of this season and 50th match for LSRFUR. On the morning train north, I happened to look out the window just as I passed through Rugby – a good omen! Both of these sides were coming off close wins the preceding week, with Anselmians at #5 in the table and De La Salle at #9 (out of 14). I wouldn't say this was a derby, with "Della" only having to travel ~30 miles from Salford, but I figured it would be a pretty close game due to Della winning their home matchup 16-13 against Anselmians back in September. Sure enough, soon after arriving, I learned that there was a somewhat unpleasant history between these two teams. The assessor was kind enough not to tell me about the two people from the RFU there to watch for potential misconduct until after the game.

Della opened the scoring with a converted try at 9′, followed by a 12′ Anselmians penalty, and another at 23′ to pull within one point. The visitors scored the next try at 39′, converting it, before Anselmians lost their #4 to the sin bin for tackling a Della player in the air at the restart kick. The halftime score was therefore 6-14. Anselmians managed to prevent any tries from being scored in the next 10 minutes, but they did concede two penalties that were kicked by Della at 45′ and 50′ to make it 6-20. Anselmians stepped up their game noticeably, and their field position and pressure caused Della to give away a string of penalties that earned their #8 captain a yellow card in the 58th minute. Anselmians scored their first try at 62′, converting it to pull within 7 points at 13-20. They scored another try at 71′, after numbers had been equalized, but crucially, missed the conversion (the only missed kick of the day). The last 10 minutes were played at a frenetic pace as each team sought to pip their opponents with one decisive score. Ultimately, Anselmians ran out of time, and Della kicked to touch after quickly getting the ball out of their scrum.

The teams were very closely matched, obviously, and I thought the quality of the rugby was very good given the sogginess of the otherwise great pitch. There was one occasion at ~15′ where I had to stop play after seeing a fight about to start as I began to follow the ball away from a breakdown. A strong warning to both captains solved that particular problem, luckily. There was also pretty constant appealing for decisions and occasional backchat, and as the assessor fairly noted, I should have dealt with that sooner and more harshly than I did. The rest of his feedback was very useful and some of the most effective that I've ever had, in fact. Constructive criticism aimed at helping one do an even better job is always welcome, as was the "well done" I got at the end of our conversation.

The train ride home involved an hour's stopover in Crewe, where one of my old teammates from Old Pueblo in Tucson now lives. We caught up over two quick pints before I got back on the fast train to London.
Date: 01/18/2020
Stanford Women 20 – UC Davis Women 0
Referee: James Hinkin
A cold, overcast wintry afternoon at Sanford was the setting for a league clash between the Women of Cardinal and the Women of Aggie. Well, you know what I mean. The Steuber Stadium field was in excellent condition, as per usual, in spite of a few scars from the Men's game the night previous. (I mean, fix your divots, guys.) Both teams were eager for the opening whistle so at 1:00 I decided not to disappoint them. Stanford was fast out of the gate and scored within the first 5 minutes. This set a pattern for the first half as Stanford dominated territory if not possession and turned that dominance into 3 unconverted tries. That is not to say that UC Davis was overmatched – they certainly held their own for long stretches and had short periods of dominance – but they could not break that final line of defense while Stanford was able to get enough support to the breakaways to turn them into points.
The second half was completely different while being much the same as the first. UC Davis began to turn their scrum dominance into serious pressure and spent much of the half in the Stanford end but, just like the first half, they just could not break the line. The handling of the Aggie women let them down as several opportunities went begging via knock ons. Those times when the ball was safely passed and caught, the support play let them down as Stanford was able to poach the ball. The Cardinal #9 was especially adept at standing behind the main defensive line and getting her hands on the ball as soon as a tackle was made and before the Davis support could clear her out. The dominance in territory and possession meant that Stanford was defending much of the half so didn't get many scoring opportunities but they did manage to capitalize on one of them to extend their lead to 20-0. The match ended with that score as Davis, once again, were pressing the Stanford line, but a turnover came back to the Cardinal side and the ball was summarily booted into touch for the final whistle. A good game with a couple of good teams.
Date: 01/18/2020
St Marys College Women 19 – Cal Poly Women 91
Referee: Allen Gray
The score pretty much sums up this game; Cal Poly dominated St. Mary's. All in all a great game, everyone came to play – and play they did. St. Mary's started with 14 players while Cal Poly had a full squad. Many of Cal Poly's tries were the result of broken tackles and long runs in. Some of the tries were run in from more Cal Poly's own half. But, credit where it is due, St. Mary's kept their heads up and kept making the tackles they could and worked until they got on the score board, and beyond. We had a few recurring infractions that slowed down play: most common was tacklers and tackle assists lingering and stopping quick ball recycling. Once the teams had been warned, the ball was able to emerge more quickly and we got more open play.
St. Mary's played their hearts out but were simply out played. Lots of potential, though, and i look forward to seeing what they can do in the future.
This Week's Photo
The mighty snow covered peaks of Silicon Valley.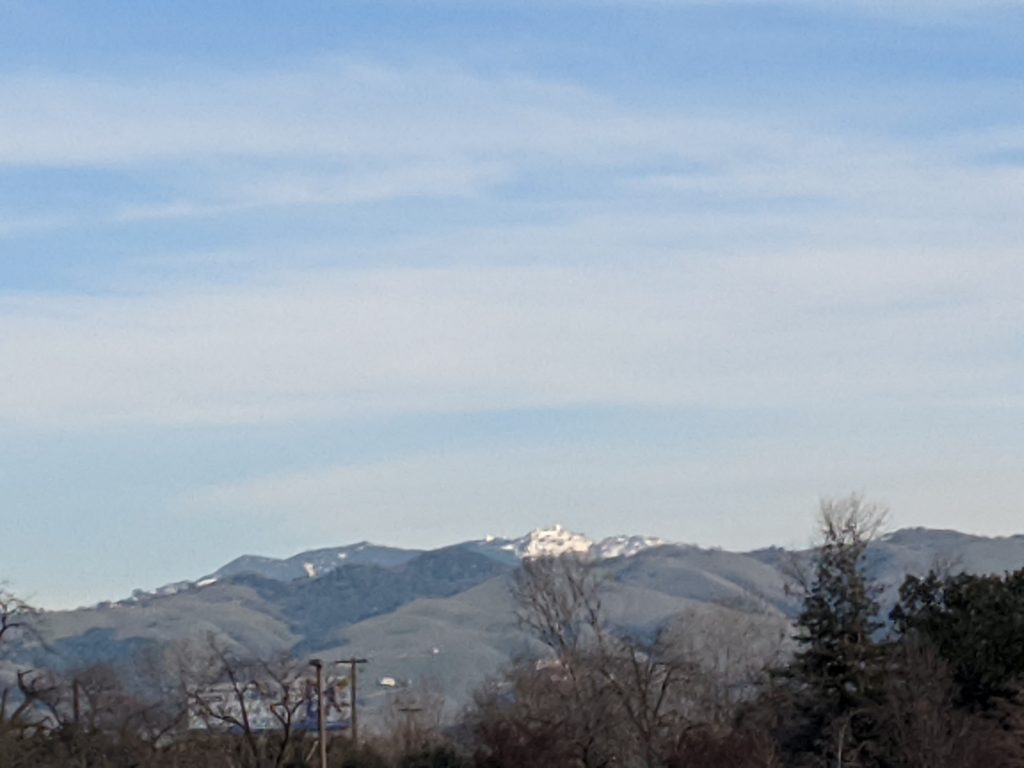 Hail, Pelicus!
For the Senate
Pelicus Pedem Referre