HAIL, PELICUS!
LONG TIME NO E
We've been in a long summer recess here at the HP editorial chambers, but our enthusiasm for rugby is never long buried.
We've been watching lots of games through the magic of Youtube – you can see essentially any game a day or so after it is played, just by searching for it. No satellite dish or cable needed, just an Internet connection or wi-fi enabled phone.
CIPP REGISTRATION OPEN AND WILLING TO TAKE ON ALL COMERS
For a graduate-level challenge, go to USARugby.org and renew your CIPP membership for 2014. You'll need to print out the liability waiver to send to our treasurer, Jim Crenshaw, when you send in your $10 annual Society dues, even though it doesn't give you an apparent print option.
After you've spent an hour or so and have your head in your hands, try this:
www.USARugby.org
Click REGISTER which is over to the right, near the top.
Click on Unions
Scroll down and click on Former Pacific Coast Union
Click on Northern California
Scroll down to Northern California Rugby Referee Society and click on REGISTER.
Print out the waiver, sign it, and mail it along with $10 dues to: Jim Crenshaw
c/o Delta Supply
1248 East Oak Avenue, #D
Woodland, CA 95776
LEVEL ONE REFEREE COURSES
Sunday, October 6, California Maritime Academy in Vallejo
Saturday, November 2, in Danville
Saturday, December 7, at Bellarmine in San Jose
Saturday, January 11, in Dixon
You can find details on www.Pelicanrefs.com, or www.NCYRugby.org, or on www.USARugby.org, where you can sign up for a course.
It is best to register in advance. There is some pre-course work that you can do which will enhance your learning and make it a more profitable experience.
SOCIETY AGM AND TRAINING MEETING NOVEMBER 16
Our first society meeting of the 2014 season will be on Saturday, November 16. This will also double as the Annual General Meeting and election of officers, with a five-member board of directors to be selected by the membership.
We ask teams not to request referees on this day, and we ask our referees to set the day aside. We'll offer beep testing in the morning for all interested referees, probably at 8 or 9 AM, with the meeting to follow and lasting until the mid-afternoon.
Plan on spending the day at the Golden Gate clubhouse on Treasure Island.
WANT TO REF?
Rugby games are beginning to appear. The women are in-season, the colleges are in sevens-season, and the rest of the rugby world is awakening from its slumber.
Tournaments are popping up like mushrooms. We have two on October 12, for example (both Sevens), and we are sure that others will appear and mostly fifteens.
Please let Pete Smith know your availability over the next few months by sending him those weekends on which you could chase rugby players around with a whistle. me@PetesWeb.com
PAST TWO MONTHS
There was a lot of rugby played in NorCal since last we spoke. A particularly tough weekend was July 13, when there were two tournaments in Sacramento, one in Dunsmuir, and one in Palo Alto.
Lots of blowers were out of town. We did manage to cover three of the four, but poor Bruce Ricard had a baptism by fire: one ref with a bad knee and 36 games were played.
PALO ALTO SEVENS – July 13
Report by Bruce Ricard:
"I arrived to the pitch around 11am, I was the first referee to be there. Fewer players and less of a crowd than usually. There wasn't a single high school team. I was planning on doing one women's game and leaving, since my knee is injured and I can't really run. But I did the two last women's games of the day, and after a little break the three or four first men's game, before my knee started to swell and I had to stop. I didn't see any other ref until I left. Thanks to the players who took a whistle (I'm not even sure all of them could have one), and allowed the other teams to play rugby. My apologies to the players for sometimes being far from the play, and having probably missed some calls because of that."
This is the day that one of Scriptoris' axioms was proven: all games have a ref. We might not know who that ref was, but if they played somebody reffed.
We are grateful to these anonymous volunteers and hope that they enjoyed it.
We redeemed ourselves two weeks later when eleven referees were on hand in Palo Alto for the last rites of summer. Your scribe had lost twenty pounds since his dismal performance chasing rugby players at the end of June and wasn't displeased with his four games on the day.
There were a series of youth tournaments as well:
DIXON YOUTH SEVENS – July 28
Report by Sam Reagle:
"Bunny emailed me last week and asked that I cover for him as referee scheduler since he would be unable to attend the final installment of the NorCal Youth Rugby Association tournament,
which has been held every other weekend this summer in Dixon.
"This is a big tournament with 54 teams and 5 pitches. Each pitch is booked solid from 9am to at least 3pm with 3 games an hour with a hooter announcing start and end times.
"Jon Straka was the first referee to arrive followed shortly thereafter by Bob McCarty, Rich Boyer, Eric Rauscher, Favor Taueva and Mark Godfrey. That was what we needed to assign the first 2 rounds of games. Since one of the pitches was 1/4 mile away and had only varsity matches, Rich and Eric were asked to go there and stay until lunch.
"Somewhere during the second game, Anthony Nguyen, Kevin Kenny, Eugene Baker, Jeff and Zane Jury and Mike King arrived and were added to the rotation. Terry Gasciogne and Paul Bretz were there coaching and also agreed to do some games.
"In all, we had 15 referees for 90 games. Unfortunately, I was unable to keep track of who won each of the 6 divisions. One score I am sure of is that Jesuit defeated Peninsula Green 28-5 in the Varsity Gold division. Hopefully, the other referees will submit reports."
Report by Eric Rauscher:
Five pitches, games from 9am to 2ish, then playoffs and finals. One pitch was mini sized for the true youth, the rest were full sized and lined and flagged.
Many levels were included, from U10 to U23. The bulk of it was Gold and Silver High school Varsity and JV, both boys and girls.
If you ever feel like you don't get enough games to ref at a club tourney, show up to one of these events. I did five pool play games and two playoff games.
The level and speed of the play is amazing. If this continues on, USA Rugby could be a powerhouse on the world stage.
A couple of vignettes. I was speaking to a father of a player for Sierra. He said his son also played football, but last year the football coach said that he had to decide between football and rugby, so he and three of his friends said fine, no football.
I also watched an eight (?) year old kid walk up to his father displaying the blue ribbon that he and his team had just won in a final. It wasn't too long ago that eight year olds didn't play rugby let alone win championships.
Exciting things are happening at the U19 and under in Northern California. The future looks bright.
CHICO SEVENS – August 17
Report by Sam Reagle:
"On Saturday, Jim Crenshaw, Scott Wood, Rich Boyer and I buzzed up to Chico for a day of 7's rugby. There were
15 games on one pitch with teams from Chico & Sacramento honing their skills. Normally, 4 refs on one pitch is an easy day, but when our rankest referee politely asked if we would run teams of three all day, we jumped at the chance. The ref tent only ever had one person in it, so 15 minutes seemed like an eternity to wait before your next assignment.
"The games were fast and played in good spirit with no cards issued all day. We finished without goal posts after the second one was leveled during an exciting try.
"When it ended, we slid over to The Bear for food, beverages and camaraderie."
HAIL AND FAREWELL
Sam re-joined us for a few months, as he and Teresa had second thoughts about retirement in Texas. But second thoughts about what used to be the Golden State are driving them back to the former Republic. Thanks again, old friend.
TRI-TIP SEVENS
Report by James Hinkin:
Tri Tip 7s
San Luis Obispo
Nor Cal Referees: James Hinkin, Pete Smith, Tim "Love Pink" Lew, Tom Zanarini So Cal Referees: Yes
I have been going to the Tri Tip 7s in San Luis Obispo nearly every year since 1995 and it keeps getting better and better. I remember years when they had trouble filling out brackets and had to use SLO Men and/or Cal Poly 3rd sides to balance them out. Today? Registration was closed a couple of weeks before the tournament because they filled up. 32 mens teams and 8 womens teams competed for honor, cow and beer.
The eponymous world class tri tip never disappoints and for a "social" tournament the standard of play is quite high, with your usual outliers. The organization is impeccable, doing what is nearly impossible in American rugby – learning and improving every year – and the fields were fantastic. Nice, green, well-mowed grass with actual posts and clearly marked with 3 inch wide rugby lines. None of this tape-some-pvc-pipe to soccer goals and thin spray-can-over-soccer-lines nonsense – these looked professionally done. In fact, there was no sign that soccer was ever played on these fields as all empirical evidence pointed towards the oval ball.
Since the lines were so clearly marked and were all present, this gave me the opportunity to call "not 5" on quick lineouts twice. The players probably didn't appreciate that as much, though.
I drove down with Pete Smith early Saturday morning and we arrived with the first round of play already going. I immediately jumped into the mix taking on of Tommy Z's games he generously offered while the referee schedule was updated to include us newcomers (and this happened every time a ref showed – we don't all live in SLO). The temps were climbing so warming up was not a problem and the society stalwarts definitely earned their tri tip and beer. With games just about every hour the rotation was perfect. At the end of the day Pelican Timmy Lew took the whistle for the final.
During my second match I had the following conversation with a player at the half.
Player: What was that last penalty for?
Me: You lost your feet at the ruck.
Player: What does that mean?
Me: Has your coach ever talked about planes taking off and planes landing at rucks?
Player: Yes.
Me: Well, you approached that ruck like a Korean airliner.
There were teams that won and teams that lost. The cup winner wasn't Los Gatos so who cares? The tri tip was fantastic, the beer tent never ran dry and the pub crawl inspired me to (unsuccessfully) relive my 20s. Many thanks go to SLO Rugby for putting the referees up in hotels. This is one of the best tournaments in the US and a perfect end to the 7s season. I only screwed up the new engagement twice so I'm ready for 15s.
NEW KIT DEBUTS
From Tom Zanarini:
The 2013 jerseys are here. Society members who have refereed 5 matches assigned by the NCRRS in the past year (NCYRA matches don't count as they handle their own assignments ), then you are entitled to 1 (one) referee jersey. This year's jerseys are 100% polyester, similar design to the USA Rugby Referee kit with one huge exception; ours are reversible! Gold on one side, white on the other. My last attempt to get us two colors in the same year nearly broke the bank, so a little ingenuity from Canterbury will help us look good and save cash.
Please send me an email with your size: t_zanarini@yahoo.com
I can only mail jerseys to the most geographically remote referees, so please make an effort to be at tournaments and meetings. I will be at the 3 sevens qualifiers this summer and will try to make arraignments to get jerseys down to Palo Alto, if possible.
White NCRRS shorts (Canterbury Professional model, same as our navy with pockets) are also on the way. I only ordered 20 pair as the demand wasn't that great. I also still have some navy shorts left over. Socks are still available for those that need them. Shorts are $30, socks are $10, or a combo pack for $40 if you need both 😉
PREPPING FOR NEW SCRUM ENGAGEMENT
Here is a series of clips from the IRB to illustrate the new scrum process.
http://www.irblaws.com/crouchbindset
PHOTO OF THE WEEK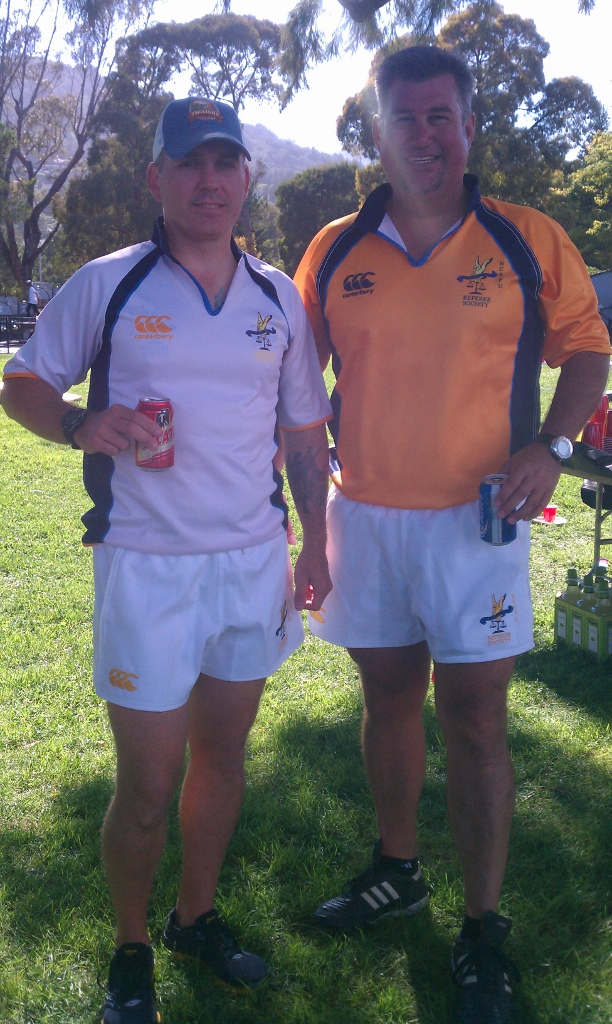 Our new reversible kit is modeled by Tom Zanarini and Pete Smith, who are wearing the same jumper. It's not the recommended look: they both seem to have lost the matching socks.
HAIL, PELICUS!
For the Senate
Pelicus Scriptoris