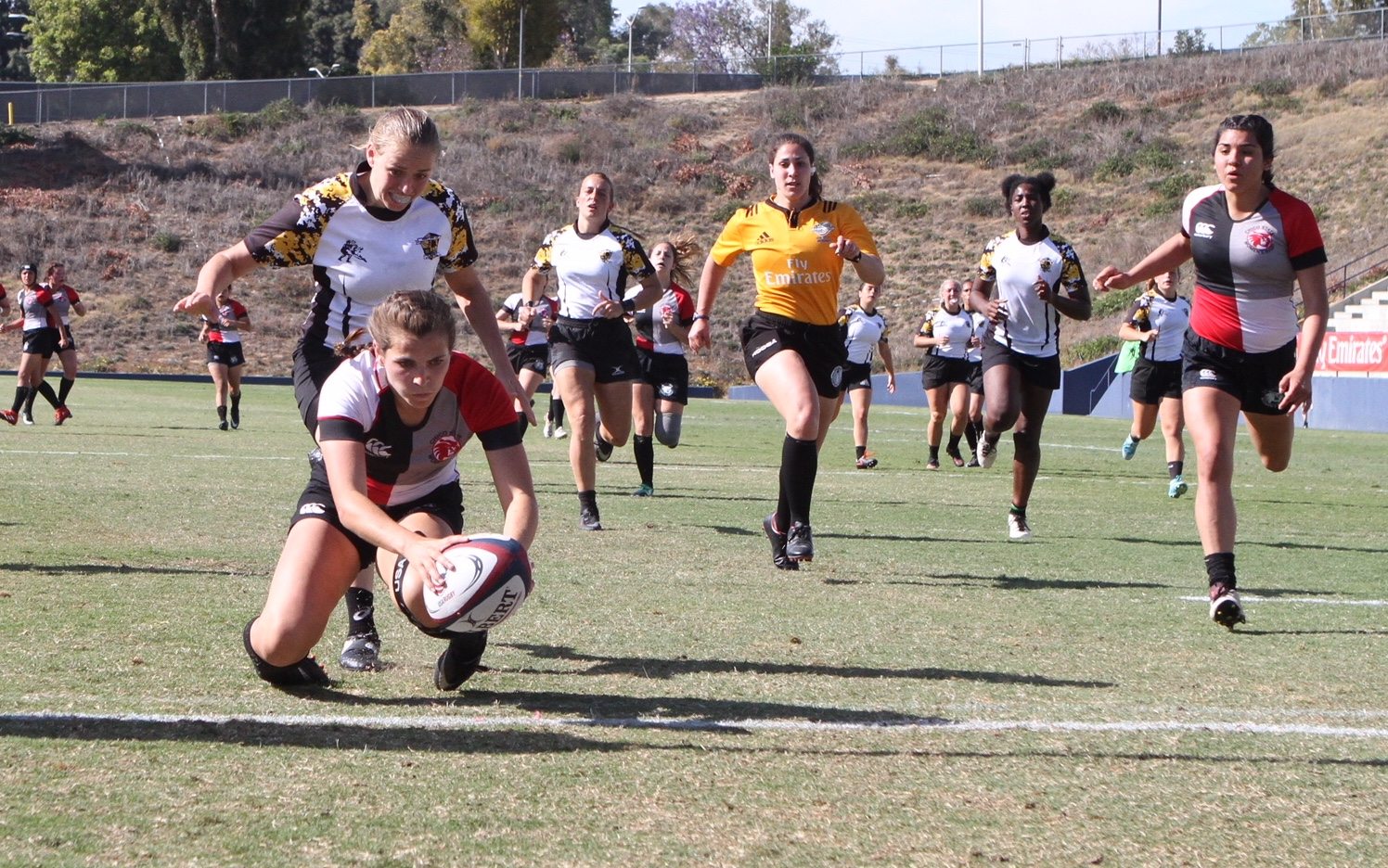 HAIL PELICUS!
Chica Statement
Life is generally pretty good here in Pelicanland. We have the best weather, the best community and the best rugby in the country. About this time of year the editorial staff here at Hail Pelicus rather smugly starts listing all the national championships won by our local clubs. We usually start with the easy one: Men's D1 college. Between Cal and St Marys we have a slam dunk champion every year. UC Davis has been on a roll in the D1AA competition lately but moved back up to D1A so we fully expected UNR to step up. Stanford has been a solid bet for the D1 college women's championship in the past but have fallen off recently so we may not get one there is the thinking. Men's club is a little less automatic than men's college but SFGG is usually is in the hunt for whatever competition they are involved in (it changes as the fickle winds of fate changes in USA Rugby) and there is usually a strong run in D2 and D3 that will produce a champion most years. The women are harder to predict because our women's D2 teams are not quite at that level, but Sacramento Amazons are always in the final mix, and the WPL will not be considered a proper competition by Hail Pelicus until Life West is part of it – sorry, but if you want to be the top league you need to have the top teams. See "Annual CRC Is Not A National Championship Rant" for the details of that particular argument.
Speaking of the CRC, we could also count on Cal winning that competition – a made for TV Invitational – and calling it a national championship while St Marys goes after the USA Rugby 7s championship.
So how are we doing so far? Ooops. Um… this is a little embarrassing. For the first time in memory, we have been shut out. Nada. Zilch. How can we continue to claim to have the best rugby in the nation if we all lost?
STOP THE PRESSES! Our blushes have been spared, thanks to the Chico St women's rugby team. Chico State thoroughly outclassed Central Florida to win the D1 championship 54-26. Congratulations to Captain Darby McFall and the rest of the Chico State women ruggers. This was truly a Chico State Chica Statement.
We Still Have Life
Speaking of chicas making statements, we actually still have one more Northern California club in national contention. The Life West Gladiatrix will be going for their second consecutive title v the Raleigh Venom on June 2. They will go in to the contest as defending champions and heavy favorites but rumor has it that Raleigh has a secret weapon. A mole. A double agent. You see, former San Jose Seahawk Jamie Tolen moved back east this year and is now playing with Raleigh. Upon being confronted by the Hail Pelicus staff she promised not to tell her new team about the Life West game plan. Of course, she may be lying. Good luck to the Gladiatrix.
(EDITOR'S NOTE: This last bit was written with tongue firmly in cheek as Jamie is one of the sweetest, nicest ladies I have met. Of course, she is also a fantastic player, tough as nails and a fierce competitor, which explains why she is in a national final.)
Annual CRC Is Not A National Championship Rant
Well, the title says it all, doesn't it? Just like the Varsity Cup (another invitational that was billed as a national championship), the CRC in an invitational tournament. A national championship must have teams that earn their way in on the field, not teams that are invited to boost ad revenue. Yes there are now some slots in the CRC that you can earn via qualifying tournaments and yes, there are big time schools that are good enough at rugby to have qualified if they had needed to, but while there are still teams invited solely to boost TV ratings and ad money it can't be considered a national championship.
Not that that's a bad thing.
I love the CRC. It is the first time I can recall that rugby was on American network television, exposing the game to a wider audience than ever before. Gods and Weather Priestesses know I would have loved to play in it. It still isn't a national championship, and that is well known to United World Sports who run the event. They hint at a national championship with the name "Collegiate Rugby Championship" but don't quite say so. It is instructive to note that the original name of the event in 2010 was the "Collegiate Championship Invitational". The only people who call it a national championship are overeager press (I'm looking at you, Alex Goff and Pat Clifton) and the teams that participate in it – especially the winners.
But is there a collegiate national 7s championship? I am not so sure. The USA Rugby national championship has been hurt in the past by many of the better teams opting out to play in the CRC and in the present by the Byzantine and opaque selection process for participants. Yes, there were a series of 7s tournaments around the country, but nobody was ever sure which events led to which seeds, or even if winning a particular tournament guaranteed a seed or not. Until these issues are addressed I can't call the winner a real national champion.
Your Chance To Meet The Editorial Staff Of Hail Pelicus
The 15s season is winding down so it is time for the Members of the Society to gather together and congratulate each other on a Job Well Done. We even allow non-referees to attend, although you will have to pay for your own dinner. From our Beloved Leader, Pelicus Iudex Pennipes:
It's been an incredible season for NCRRS and we need to come together to celebrate our accomplishments, thank our family members who provide us with the ability to follow our passions, recognize those that we have lost and enjoy the evening together. All referees who have officiated matches this season and guests are encouraged to attend.
Save the Date: June 16th 2018
Location: Scott's seafood Walnut Creek
TIme: 1800 hrs to 2100 hrs
Actual Time: 6PM to 9PM
(EDITOR'S NOTE: OK, I added the actual time.)
As soon as we finalize food options I'll be sending out a Google form to collect your food choices. NCRRS will pick up the tab for officials and guests are covered by you.
On a separate note, we have several new members to our flock that have yet to be adorned with Pelican names. I will be asking James Hinkin to reach out to you all to ensure that you have a name. If you do not name yourself you will be assigned a name by the flock. You have been warned. Roll call will commence our banquet so be sure you come up with your Latin (or Latin-ish) name.
Pelican Names
You have been warned.
Disciplinary Action Reporting – Process For Reporting Incidents
The various competitions all have their own disciplinary chairs and this will make it difficult to centralize the communication and data. To help we have developed a form that will centralize the process, regardless of the competition. The link to the discipline form is https://docs.google.com/forms/d/1mmUNg11uVOSkIsUtHifSqQzalhWbwohk_J6AmPyrucQ/viewform
1. Copy the link and have it available on your smartphone. If you have an iPhone add the link to your home screen.
2. When needed fill it out and click submit. The discipline chair of the competition you refereed will receive a notification about the incident.
3. He/she may contact you latter for more details.
4. If you have any questions as to how to use the app please refer to the following video: https://www.youtube.com/watch?v=_Uz0_gTaOnY
On To The Game Reports!
Date: 04/28/2018
De La Salle 50 – Bullard 29
Referee: Andrew Stockton
This was a great match between two very talented teams, although the score isn't really an accurate reflection of how close the match was. While Bullard certainly played with a lot of heart and passion, it was clear from the start that DLS was the stronger team. They had better conditioning, better tactics, and better skills, and it showed throughout the match.
The scoring was opened about 10 minutes into the first half with a brilliant break down the line by DLS. He was completely in the clear until Bullard #10 streaked in from out of nowhere to make a great, try saving tackle. However, his tackle was a high, seatbelt style tackle, and, as he brought the player to the ground, he rolled him up on his back to prevent the try. I consulted with my AR and we came to the decision that without the infringing player, there was no doubt that the try would have been scored. I awarded a penalty try to DLS and yellow carded #10. After that, DLS was able to score a couple of more times and make a few of their kicks before Bullard went on a tear down the field and scored a great running try to put 5 points on the board. It was a tactic that they would reuse throughout the day and one that would give them a decent amount of success if it weren't for handling errors within arms reach of the goal line.
Also worthy of note in the first half, and something I haven't seen in many high school games, was the great discipline from both teams. There were a few early penalties, but then there were almost none for a good chunk of the first half. This would continue into the second half until the last couple of minutes where the tired DLS replacements would commit 3 stupid penalties leading to a Bullard try with time expired on the clock.
As I stated earlier, the skills of DLS were what won them the match, and this was apparent in the second half. DLS was clearly the better conditioned team, and when it came down to it, they were able to make big breaks and play with speed to put themselves up by a comfortable margin. In fact, with time winding down, it looked like the score would end at 50-10 in favor of DLS (Bullard had knocked on two clear try scoring opportunities on the wing). However, the replacements seemed to lack the passion that the starters had, and they gave up 3 tries and 2 conversions, including the try in extra time that was aided by a yellow card to DLS #17 for a high tackle.
Again, both teams were very well behaved and I wish them both luck at their matches this coming weekend.
Date: 04/28/2018
Jesuit High School Rugby Club 45 – San Francisco Golden Gate Rugby Club 28
Referee: Steven Fenaroli
SFGG came down to meet JHS on their home field. The game was contested with both teams fighting hard at all aspects of the game to gain every advantage.
At halftime Jesuit had scored 28 and SFGG had not scored at all. 60′ through the game, JHS had begun to sub in replacements.
Scrums were issues all game as SFGG had issues driving straight, standing up, losing his bind, and losing their feet. It was a long scrum day.
SFGG kept their composure and battled back having two great runs ending in trys.
Date: 04/28/2018
Lamorinda Rugby Football Club 3 – Danville Oaks RFC 50
Referee: Roberto Santiago
It was beautiful Nor-Cal morning as we were set for a bushy-tailed 9:30am kickoff. Both teams came out playing hard right off the first whistle. Danville opened with two quick tries, including an electrifying pick and run by their #8, who did everything you tell players not to do (run sideways away from support) but managed to find the corner and get the ball down to Lamo's five-meter line before being tackled. After ten-minutes the score stood 12-3 and it looked like we'd have a contest. Danville put over three more tries between 13:00 and 25:00 to give themselves a cushion at half-time.In the second half, La Morinda played better, controlling a fair amount of possession in Danville's half. However, they just couldn't find enough cohesion to put on over the try line. Three second half tried for Danville gave us the final margin in a hard fought match.
Date: 04/28/2018
Olde Gaels 32 – Bend Roughriders 34
Referee: David Pescetti
What a treat to have had the privilege to be in the best seat in the house for this one. Bend traveled far from their homes in the far north to face the prestigious Old Gaels. This one was a battle from the get-go.
Starting the match was a solid game plan from each team. Bend clearly favoring their forwards and Gaels their 7 and fullback. Striking first was the home side, Gaels, breaking through, scoring, and converting. With the ensuing kickoff they promptly marched down the field and scored again, but missing the conversion. Gaels 12 – 0 Rough Riders missing their DMX. The Gaels tacked one more try on at 20 minutes, to take a staggering lead of 17 – 0. Looked like they were cruising. However, took near on twenty full minutes before Bend was able to straighten their bearings correct. A minute after the last score Bend was able to muster their own points. Gaels ahead 17 – 7. Right before the half the Rough Riders were setting in their stride. putting points on the board to actually put the Gaels behind. Gaels 17 – Rough Ridgers 19. Luckily for the Gaels halftime came.
The second half started like the first ended. Rough Riders riding their momentum to another score. RR 26 – Gaels 17. Still very much within reach. With 11 minutes to go, Bend tacked on what seemed to be the nail in the coffin try. Going up 16. Looked like Bend was just muscling their way past the Gaels. But this sparked energy into the Gaels. They stormed back scoring at 7 minutes and at 2 minutes. They had all the momentum. On the last kickoff Gaels had possession. They were moving the ball out wide. Then tragedy struck. They knocked it on.
Final: Bend Rough Riders 34 – Old Gaels 32. Congratulations Bend. Good luck in Texas
Date: 05/05/2018
Elsie Allen 22 – De La Salle 31
Referee: Preston Gordon
Elsie Allen emerged victorious 31-22 after a tough challenge from De La Salle on a beautiful day at the St. Mary's stadium.
Pre-match, I assumed that the game would be on Pat Vincent field, as usual, so I parked there and got set up. 40 minutes before the match it became clear to me that something was amiss, given that the only other person around was one of the assigned ARs. A quick phone call to one of the coaches sorted this out, but that meant packing everything up and driving to the stadium to look for parking. When I arrived at the stadium there was only 30 minutes left before kickoff, which obviously compressed the pre-match timeline. The lesson is the usual one: when you assume, you make an ass out of u and me. Luckily this error was not a major one, and we got started on time.
The teams were very well-matched and played a competitive, very clean, and fast game in front of a couple hundred people who seemed to appreciate the entertainment on offer. Elsie Allen's scrum was a bit stronger, and they had a couple of standout backs, whereas DLS' backline as a whole was perhaps a little bit sharper and the team a bit fitter overall. Obviously both sides were well-coached to look for attacking opportunities wherever possible.
At halftime Elsie Allen was up 26-12, having scored 4 tries to 2 in the first 40 minutes. Towards the end of the second half, De La Salle mounted a comeback, coming within 14 points at 31-17. DLS had the opportunity to cut that lead when they opted to kick a penalty from ~20m out, more or less in front of the posts, but the kicker's strike hooked the ball just to the left, which may have sealed the result.
The last 5+ minutes of the match were fairly intense, with Elsie Allen on defense inside their 22. DLS was helped by a 67′ yellow card to the Elsie Allen #5, who went to the naughty chair after cynically killing ruck ball as he was retiring to an onside position near his own goal line. De La Salle maintained their effective attacks, being held up in goal once, before one of their backs broke through on the outside to score after time had expired. While the conversion was missed, this brought DLS within a respectable 9 points. I think if this game had lasted 80 minutes they would have had a pretty good chance to finish their comeback.
I was asked to say a few words to the players and their parents after the match, which I was happy to do. For anyone who couldn't hear me in that big crowd, I was serious when I said that while it was fun to be ARing Cal-Lindenwood on TV at the same venue one week previously, this was a better contest and that I was happy to be there instead of in Santa Clara for the D1A championship.
Thanks to Ed and Duane for being great ARs, and to the young man who stepped in to cover as a TJ in the first half. And, of course, congratulations to Elsie Allen on their trophy.
Date: 05/05/2018
Jesuit High School Rugby Club 24 – Danville Oaks RFC 25
Referee: Steven Fenaroli
Rugby NorCal hosted a one day tournament with games from 9am-3pm. This was a long day of rugby but was full of great rugby.
JHS and Danville met in the varsity prem final. It was a great game and JHS was ahead at halftime. Danville figured out how to get the ball out wide and were able to score more trys by getting the overlap.
At 80′ JHS was winning 24-20. Danville had a lineout on JHS 10m and was able to recycle the ball and score in the corner at the final whistle. Before they took the conversion, they had won by one point.
Date: 05/05/2018
Jesuit High School Rugby Club 53 – Peninsula Youth Razorhawks 26
Referee: Andrew Stockton
Both Jesuit and the Peninsula Razorhawks should be proud of the way that they played and the fact that they both made it to the NorCal Championships; no small task.
The first half of the match was very hotly contested in between the two teams. Each team had some excellent runners who were able to cut up defenses. The Razorhawks in particular had some very big bruising runners who would often drag 2 or three Jesuit tacklers behind them before being dragged to the ground. Both traded a few tries, and Jesuit was able to add 2 penalty goals to give them a 20-19 point lead going into half.
At half, my team-of-three and I decided to use the field monitor on our pitch to make sure that the parents on both teams were generally behaving themselves. The first half had seen comments along the lines of "keep it fair" and "call it both ways" from a couple members of the sideline, but I ignored them and decided to deal with them at half through the field monitor. We had no issues until a passing comment at the end of the match that I didn't respond to.
The second half started just as heated as the first half. Both teams traded tries, making the score 27-26 in favor of Jesuit. However, due to the dry heat, and the conditioning of Jesuit, they began to pull away from the Razorhawks. Jesuit's runners were able to streak through the lines, and the fatigued Razorhawks were unable to make tackles. This also led to lazy play on their behalf which led to quite a few penalties in the second half. This led to an altercation between the players that ended in a Razorhawk player being red carded for unsportsmanlike play.
These factors gave Jesuit a 53-26 win. However, it is worth noting that at no point during the match did the Razorhawks give up. They player with a great amount of passion, determination, and grit. I believe that if they had better fitness and discipline, they would have won this match. Hats off to both teams for a great season and good luck in summer 7's and next year.
This Week's Photo
As the only team to win a National Championship (so far, go Gladiatrix!), Chico State get the honor of This Week's Photo.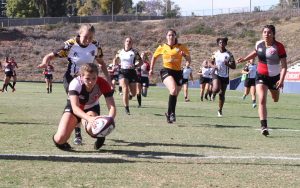 Hail, Pelicus!
For the Senate
Pelicus Pedem Referre