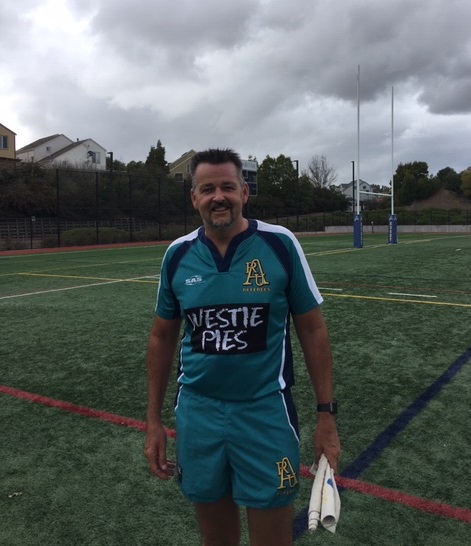 HAIL PELICUS!
4th Yourself To Like It
So we are back in circulation and there is plenty of rugby to cover. To start, the USA finished a disappointing 4th in Vancouver.
Let me repeat that: the USA finished a disappointing 4th in Vancouver.
Why am I making such a big deal about this? Because not too long ago a 4th place finish would have been celebrated as an accomplishment of note. Just making the Cup round regularly would have had American rugby fans singing and dancing in the streets. Happy happy, joy joy! We are hanging with the Big Boys!
That all changed this year.
Our Mighty Eagles have made EVERY Cup Final of the series this year, finally breaking through for a win in Las Vegas, all the while doing most of this without the 2 time defending World Player Of The Year Perry Baker and, most recently, without Danny Barrett in the final stages of Vegas. The loss of these two players can not be underestimated but to the surprise of many, including this reporter, the depth of the Eagles has finally stepped up and absorbed these losses without missing a beat. All of this had to come to an end and this "crash" happened in Vancouver as the USA looked tired and made uncharacteristic mistakes. We got through our pool beating Wales and Chile on talent but were exposed badly against South Africa. We beat England in the quarterfinals mainly because England didn't want to win the game, but looked flat against the surprising French and, as per usual, disinterested in the consolation match against Fiji.
To misquote Shakespeare, I do not come here to bury the Eagles, but to praise them. The toll that international 7s takes on the body can not be overstated and being in so many high pressure matches eventually had to catch up. The boys are playing their hearts out and Mike Friday has them as ready as any team on the circuit. We are the most complete team on the circuit with a balance of size, speed and skill that is the envy of the rest of the world. We do not need to be in every final to win the World Sevens Series title, although that would help, but just to have more points than everyone else at the end. My back of the napkin calculations tell me that if we make the semis of every tournament going forward we will raise the trophy in Paris so I am advising everyone to pump the brakes on the Panicmobile.
Don't forget that even though we placed 4th, we still extended our points lead over 2nd place New Zealand. Life is still good and it is still with great pleasure and no humility whatsoever that, in accordance with the longstanding tradition, I must remind everyone that the USA is ranked #1 in the world in 7s.
Pinky Swear
How are the Eagles doing all of this wonderful work? One answer is Ben Pinkleman. I have watched the Series with a critical eye and fully believe that Pinkie should be an early front runner for World Player of the Year honors. This award often goes to the top try scorers and killer finishers (see Baker, Perry) but Pinkleman has been an absolute stud doing everything for the team. He is in the mode of Kiwi captain Tim Mikkleson, the kind of player who does all the dirty work to gain and secure possession, draw in defenders and create space for the likes of Carlin Isles to run very fast in a straight line. His defense is ferocious and he is one of the best poachers in the world. Offensively he cleans up so much sloppiness that is often gets overlooked and we would not be anywhere near where we are in the standings without him. He is a deserving front runner right now and has my vote.
Davey's Kids
The Williamson Scholarship committee is pleased to once again provide the opportunity to send a qualified individual to Canada for 6 weeks of intensive referee development training. The selected referee will have the opportunity to officiate more than 30 games during their stay.
Eligible candidates must be able to meet the following criteria:
1. Level 1 referee certified with an active USA Rugby membership as either a referee or player
2. Actively engaged in refereeing within Northern California and taking assignments from Rugby NorCal and/or the Northern California Rugby Football Union Referees Society (NCRFURS)
3. Between the ages of 18-23
4. A demonstrated desire to enhance refereeing skills
5. A desire to continue to officiate in Northern California after the trip has ended
6. Ability to stay in Canada from early June through mid-July
7. Have or be able to acquire a passport by June 1.
The link to the application form is here: https://docs.google.com/forms/d/1aVp8RsFSpn0HFi7MRJZz9-_ggSZwQjBIl1xpLXzLiPE
The window to apply opens today, March 20 and will close April 19. The Scholarship committee will identify and announce the selected candidate no later than May 5.
Previous recipients include Andrew Stockton and Matt Mulholland. Their stories and the impact that the trip has had on them can be found here:
Matthew Mullholland, 2017/18 recipient:
Andrew Stockton, 2016/17 recipient:
Please also see the following document which summarizes David Williamson's impact on referee development and the reason why the Scholarship exists:
2019 USA Rugby Game Management Guidelines
Looking for guidance on how to manage a game? Well, USA Rugby has your back. You can find the 2019 USA Rugby GMGs here: https://drive.google.com/open?id=1XXcRfsVtLLqUawEHUI47ei0dt_65fDM.
If you do not have access to the google drive linked above you can also view them as well as other pertinent documents here: http://www.usarugby.org/referee-resources/
Disciplinary Action Reporting – Process For Reporting Incidents
The various competitions all have their own disciplinary chairs and this will make it difficult to centralize the communication and data. To help we have developed a form that will centralize the process, regardless of the competition. The link to the discipline form is https://docs.google.com/forms/d/e/1FAIpQLSc42vbdqnFVH0u1BGTLhjOivDO2hNsmV4NXvvnC4FyAka7sKQ/viewform?vc=0&c=0&w=1
Copy the link and have it available on your smartphone. If you have an iPhone add the link to your home screen.
When needed fill it out and click submit. The discipline chair of the competition you refereed will receive a notification about the incident.
He/she may contact you latter for more details.
If you have any questions as to how to use the app please refer to the following video: https://www.youtube.com/watch?v=_Uz0_gTaOnY
On To The Game Reports!
Date: 03/09/2019
Gonzaga 43 Raleigh 14
Location: Gonzaga HS, Washington DC
Referee: Stephen Valerio
According to the Goff Rugby Report, this match featured the #1 Boys High School Single School team vs the #20 Club team. Raleigh made the drive up to play on the first warm day in these parts in awhile. Both teams were well structured, but Gonzaga was stronger in the rucks and was able to push the ball down the field. Their kicks weren't as successful as Raleigh features several explosive backs, that frequently made up the territory. The first half ended with Gonzaga leading 19-0 with a try right at the end of the half. However, a Raleigh forward high tackled the try scorer leading to a yellow. This was a troubling sign as in the second half 2 Raleigh players each committed 2 carded dangerous tackles, leaving them down in numbers throughout the half and eventually with only 13 players. Gonzaga is too good of a squad not to take advantage with it and kept up even pressure throughout the half. However, even the deficit in players, the Raleigh backs struck twice from far out with explosive tries to get on the board.
Date: 03/09/2019
Sacramento Amazons 60 – Berkeley All Blues B 17
Referee: David Hosley
The host Amazons lost their field to flooding, but their president hustled to secure an all-weather pitch in Elk Grove by moving the match to mid-afternoon, which coincided precisely with a break in Saturday's rain. Playing rugby on a soccer pitch has its shortcomings, but the hosts used cones to help everyone know where they were on the pitch.
These teams wanted to run, and did so with straight ahead power as well as getting the ball out to their wings. In fact, the first kick in open play didn't occur until mid-way through the second half. Although they ended up on the short side of the score, the All Blues tackled in twos and threes and kept at it all the way to 80 minutes.
Date: 03/09/2019
Life West D2 27 – Santa Rosa 50
Referee: James Hinkin
A top of the table clash between Life West (3rd) and Santa Rosa (1st) looked to be enticing rugby and it didn't disappoint. The match was played at Cal Maritime on the turf so in spite of some early rain the footing was no issue. The props complained about it anyway, of course, but I am almost certain that they were joking.
The match started out fast with Life West on the board early with an unconverted try. Santa Rosa responded almost immediately with one of their own but managed to squeeze the ovoid between the uprights for a 7-5 lead. It looked like I had a barn burner on my hands but then Life West fell asleep for 30 minutes. Missed passes, missed tackles, missed assignments and just generally sloppy play allowed Santa Rosa to dominate the rest of the half running in 4 tries with no response from the Gladiators. Not to take anything away from the Rosans, they were composed and clinical with the ball and organized on defense, but they benefitted from a Life West side that didn't seem interested.
The second half was, as it often is, a different story. The team talk in the LW huddle lit a fire in their belly and they came out with all the passion and aggression that was missing in the first half. An immediate try was the result, but Santa Rosa counter-punched right back with one of their own. That set the standard for the half as both sides ran themselves and the referee ragged with end to end, scintillating and crowd pleasing rugby. The exchange of tries was frequent as every time Life West scored Santa Rosa replied. Because of this the Gladiators were not able to really close the deficit much and the match ended with a very entertaining 50-27 scoreline. Had Life West played in the first half the way they did in the second half we could very easily have seen a 50-50 tie. Great rugby all around and a pleasure to referee.
Date: 03/09/2019
Redwood Empire RFC 36 – Chico Mighty Oaks 31
Referee: Giles Wilson
Saturday is certainly a rugby day, but Friday night lights brings rugby too with a reduced Berkeley Rhinos traveling to the Oakland Warthogs. Due to injuries, Berkeley only had 10 players facing a strong Oakland squad. 10 a side with uncontested scrums for 25 minute halves was arranged. Officially this was a forfeit in favour of Oakland but rugby was to be played.
Oakland have a mix of powerful and talented players along with some others who blend toughness with footwork and agility. Facing them were a group of Berkeley players who also showed talent and toughness against the odds.
Oakland scored three first half tries to a single converted Berkeley try for a 15 – 7 half time score. In the second half Berkeley (who had suffered other injuries and were supplemented by some Oakland players) went in for three tries against two converted tries (a pair of very nice drop kicks).
Final score Oakland 29 – Berkeley 22
On to Saturday, definitely a rugby day
Elsie Allen hosted three games on their soon to be replaced field. The high school played first, with an extra period for the B team. Then SRJC played Humboldt state and finally Redwood hosted Chico – my thanks to Alan Petty and his crew for staying around to work the clock and score board.
Redwood won the coin toss and elected to kick, Chico decided to play into the wind first. The first half brought 5 tries including two conversions and a penalty try for a first half Chico lead of 19 – 12.Chico have some players who are able to exploit small spaces, while Redwood have some talented players but rely on more of a power game.
Redwood had a larger bench (both numbers and size of player) and several more strong players were brought on in the second half. Chico had fewer resources which they managed as well as possible in the circumstances.
Redwood wore down Chico in the second half for 4 tries (2 conversions) against 2 tries (one converted) for Chico. Final Score Chico 31 – Redwood 36.
(EDITOR'S NOTE: Giles gave everyone a bonus report this week! Nice!)
Date: 03/09/2019
Silicon Valley 17 – Google 62
Referee: John Pohlman
Silicon Valley hosted Google at Leland High school's turf football field. It was rainy and a bit cold but both teams had come to play rugby, so play on. Google got on the board first, four minutes in with a try from their #7. He later played in the backs and was my player of the game. SV had fast outside backs and scored at 15 minutes and 29 minutes. But the big forwards from Google just broke down the defense and scored four more first half try's to lead at Half time 29 to 10.
Although Google controlled most of the ball, SV were dangerous with numerous big runs.
The hard hits and all turf field wore on both teams, but the players never got testy. I think both teams finished the game with only 14 players. Google continued to wear down SV scoring five more try's.
The game finished with SV scoring a well deserved try.
Final Google 62 Silicon Valley 17.
Date: 03/09/2019
SFGG D3B 20 – San Jose Seahawks B 23
Referee: Roberto Santiago
The game was every bit as fun and close contested as the score indicates. Both sides played well considering the damp, sloppy conditions. There were the knock ons and lost footing that you expect, but the teams were often able to play through multiple phases without incident. The teams traded tries in the first half with SFGG scoring first and last. San Jose was able to find an answer each time, though their last try would have to wait until 21:00 minutes into the second frame. At that point the score stood tied at 17. San Jose finally broke the deadlock with a penalty kick at 71:00. SFGG found the pace and urgency they had played with in the first half and kicked a penalty of their own to even the score just two minutes later. San Jose then marched down the field, earning another shot at goal, which they converted with four minutes left in the match. The visitors were able to maintain possession for most of the waning moments, kicking the ball into touch after time expired. Special mention to Kevin, captain for SFGG in the match. He did a great job leading his team and keeping everyone focused on positive play. It was a great example of how to lead a team through adversity and of keeping up good communication with players and the referee. Thanks for a fun day, Kevin.
Date: 03/09/2019
Central Coast RFC 31 – SF Fog 15
Referee: William Nelson
Home match for Sea Dogs was moved to Treasure Island because of field availability. The match was played on a Gaelic field so the field was hastily constructed minutes before the match. The game itself was a scrum fest where the Sea Dogs dominated.
Date: 03/09/2019
Santa Rosa JC 12 – Humboldt State 29
Referee: Cary Bertolone
A little rainy, drizzly, very windy. The game was moved to Elsie Allen's all weather turf, in South Santa Rosa, so field conditions were great. There was a game before and a game afterwards, it felt like it was rugby central. The first half was very evenly played with SRJC scoring, Humboldt tying, SRJC scoring and Humboldt tying, both teams playing hard in the forwards with bursts from speedy backs. On the 35th minute, Humboldt took the lead and went up 7 with a corner kick converted by Humboldt. In the second half, the game was again evenly played, but Humboldt scored unconverted tries in the 5th minute and in the 33rd minute to ice the game, 29-12. Good sportsmanshipship throughout and the Humboldt State team was honored with the Pat Culley Annual Trophy for the second year in a row.
Date: 03/09/2019
Pacific 36 – Cal Poly Men C 17
Referee: Jeff Richmond
Friendly match between a rebuilding UOP side and freshmen from Cal Poly. Cal Poly left 4 tries on the table: a back mis-read the lines and grounded it 5 m short, another leapt over a ruck to attempt to score, a third decided to make a second placement of the ball after being tackled 1/2 meter short, and a fourth knocked on before grounding it in-goal. A learning experience, as they say.
Date: 03/09/2019
Univ Nevada Reno 70 – Sacramento State 0
Referee: Sam Reagle
Though UNR was dominant, Sac State had multiple chances to score.
Halftime: 41-0 UNR
Date: 03/09/2019
Granite Bay Grizzlies 34 – Danville Oaks RFC 31
Referee: Chris Tucker
No Report Received.
Date: 03/09/2019
St Marys College Women 24 – Fresno State Women 19
Referee: Bruce Bernstein
Started out raining with Fresno State going up 12-0, followed by St. Mary's coming from behind twice as the sun came out, going ahead with less than 10 minutes to go, while Fresno State was driving with no time on the clock. #8 for St. Mary's gained over 100 yards rushing which seemed to get her teammates playing better. Considering the mud, rain and field conditions both teams played extremely well.
Date: 03/09/2019
Santa Clara Women – Univ San Francisco Women
Referee: Ed Barfels
Well, the Univ. of San Francisco squad had only ten players. So, officially they had to forfeit. However, the coaches decided to play a tens game and I was happy to ref the game. They played three 20 minute periods. In the first two periods, Satna Clara's women were technically more proficient than USF and were leading 29 to 17 at the end of the second period. The third period was a tale of conditioning. USF had three players in good condition and they out ran the defense. The final score USF 32 and Santa Clara 29.
Date: 03/09/2019
UC Santa Cruz Women 26 – CSU Monterey Bay Women 14
Referee: Gregor MacDonald
Good match in the rain almost suspended the match due to standing water, but play remained away from it so the game continued
Date: 03/10/2019
London Schools Premier Sevens
Location: Queen Elizabeth's School, Barnet, North London
Referee: Preston Gordon
Before this tournament, when I thought of sevens, it brought to mind warm sunny days and hard, fast pitches. This was a very different experience. At the tail end of a passing winter storm, I spent most of the day in near-freezing temperatures, strong winds with gusts up to 50mph, and occasional sideways rain/sleet stinging any exposed skin with cold. Most of the 8 pitches used for this tournament were mud bogs as well, with the clay soil building up on my boots (and clothes) almost faster than I could knock it off. Trying to accelerate to catch a breakaway is a whole different kind of effort when your first couple of steps seem to be going straight down instead of backwards.
The tournament had two brackets: one U14 and one U16. The levels of skill shown by the 20+ schools in attendance were surprisingly high, both individually and through team tactics. I refereed two U14 pool games, two U16 pool games, one U16 quarter-final, and one U14 semi-final. I also AR'd for one semi-final and one final, although to be honest, the bigger challenge was dodging all the parents standing on the touchline.
Six+ games of youth sevens may not sound like much, but given the weather conditions, the amount of mud, and the speed of some of these kids, it was a solid workout. After a drive home through a major squall, I spent some quality time with a scrub brush getting the mud out of my clothes so they wouldn't clog the washing machine!
I will never think of sevens quite the same way again.
Date: 03/10/2019
Santa Clara Women 24 – Univ Nevada Reno Women 34
Referee: Allen Gray
SFGG were kind enough to make their pitch available for this match. And, after the rain on Saturday, the pitch was like the ones I used to play on in Scotland: muddy. To be fair, most of the pitch was in great shape, but there were pockets of saturated ground.
Both teams had similar styles: pop it the back of a ruck the their pod for a couple of phases then spin it out the back line. This allowed for a lot of open play that went more sideline to sideline than end to end.
The first half saw very few stopages as the women held the ball well, which made for an exiting half.
When 40 minutes were gone Reno were up 17-12, this was an accurate representation of the game: very close indeed.
The second half saw strategies that were tweaked slightly, both sides saving their energy with more pod play and sparingly getting the ball out wide. There were more penalties in the second half, I think mostly due to fatigue. We had a few high tackles as traipsing through the mud had taken its toll on few thighs. One Reno runner chasing a big kick was noteworthy- she was about 10m in front of the kicker before she set off. I tried talking her into stopping and retreating, the coach emptied his lungs at her too. But she was on a mission and would only stop for the whistle.
It was just about neck and neck in the second half, then it happened, Reno had a breakaway down the right wing. Great support and good hands for a couple of offloads kept the momentum and ended in a great try.
The second half could've gone either way, but the scoreline ended with Reno up 17-12.
Final score 34-24. Both teams were a pleasure to ref. I thoroughly enjoyed the match.
Date: 03/15/2019
Santa Clara 16 – CAL Golden Bears 76
Referee: Pete Smith
No Report Received.
Date: 03/15/2019
University College London 15-10 King's College
Location: London Allianz Park, Hendon, North London
Referee: Preston Gordon
I refereed at Allianz Park two and a half weeks previously, for a pretty tough men's universities match. This one was not as fast, or quite as hard-hitting, but it was a whole lot more fun. I was originally appointed to AR for the men's version of this match, but it seems that the UCL men's rugby has been suspended for some recent naughtiness. So the corresponding women's fixture was moved into its place, and I was moved to the center of the pitch. There were about 500 fans in attendance, instead of the usual 5000, but the meaning of the game was clear to everyone and there was a major trophy on the line. Allianz Park has hosted this match for the past few years, and the weather generally cooperated. The synthetic pitch and the lights, combined with both sides' cheerleaders and the support from the main stand, created an outstanding atmosphere for Friday evening rugby.
The contest was ferocious, and I was happy to have James Goksaran and Pat Venning as the two ARs. James got ahold of a really good set of radios too. UCL was the stronger side, taking a 10-0 lead over King's into the break with two tries. In the second half, things heated up a bit, with King's getting two tries of their own (despite a yellow card to their #13 for a high tackle) and UCL adding the decisive one to win 15-10. None of the conversion kicks came close to going over. For the last ten minutes of the match, it looked like King's would score again and force the contest into overtime, but UCL prevailed.
When I blew the final whistle, the reactions were the same ones I saw nearly ten years ago, when I was AR for Dana Teagarden as Penn State defeated Stanford to win the USA national championship. This was a really big deal to these players, and I was happy to have the honor to play a minor part in their night. It was certainly a memorable experience for me!
King's has a YouTube channel, and the entire match is available here:
(I don't know who those commentators are, but they clearly don't seem to know much about rugby.)
Date: 03/16/2019
Cal Poly Men 0 – St Marys College 128
Referee: Peter Sandhill
Cal Poly hosted St Mary's for four games on a sunny mid-March Saturday, surrounded by verdant green hills on two adjacent pitches. No rain, bright blue skies. The A sides squared off after the completion of the women's game and the men's B & C-side matches.
St Mary's scored 64 points in each half with some impressive backline play, often innovative, and solid forward dominance. To Cal Poly's credit, they never gave up – jogging back for every kick-off and keeping up the tackling until the end. They say you can see the quality of a person in the manner of their victory or loss. Both teams were humble and gracious.
Thanks to James Tesoiero, Cal Poly coach, for hosting us. Well worth the drive south.
Date: 03/16/2019
UC Davis 12 – GCU College Men – Varsity 62
Referee: Lee Bryant
Game was 12-12 at half time. Then Grand Canyon began to better organize their attack with quick ball handling and continuous support. Scrums were tough with both sides stealing a ball or two. Highly contested breakdowns with Grand Canyon always on the lookout for the poach.
Date: 03/16/2019
Cal 118 – Utah 0
Referee: Pete Smith
No Report Received.
Date: 03/16/2019
Sacramento Amazons 91 – SFGG Women 7
Referee: Bruce Bernstein
SFGG made a long trip all the way to Elk Grove for a 4:30 PM 72 degree start time & got going right away with a nice team score, and held on for most of the 1st half before the Amazons blew by them scoring only 6 tries the 1st half while almost doubling that in the 2nd half playing an inspired team game lead by their local #8, and twin Kiwi flyhalf & inside center both the biggest players with great ball skills on the field who controlled the play most of the match.
Date: 03/16/2019
Santa Rosa 31 – Olympic Club 33
Referee: Chris Tucker
There is a certain low rumble in the back of my throat that I make when I get HP in the inbox, and I realize I forgot to submit the score from the weekend. So hopefully I'm on time here. Last weekend, for reference, was a very tight game between Granite Bay and Danville Varsity teams. Both are well-drilled and positive, and it was fitting that the only difference between them was a late penalty, well taken from 30m out. Suspect these teams will meet again in the playoffs…
THIS weekend, I had a beautiful day for a game over at FPS in Santa Rosa. Pitch was soft, the sky was blue and the goalposts there never get old. Although Simon, a guest ref from England who had the second match, did observe that near him in Derbyshire are the tallest posts in the world, at Wednesbury RFC:
https://formativethinking.files.wordpress.com/2014/12/10-acher-wood-kings-hill-park-tuesday-23rd-september-2014-2.jpg
Truly amazing.
Anyway, the game itself was everything you would expect from the two top teams in D2. The hosts came out hard, blew OC off the ball at the breakdown, and for the first 15 minutes of the game made camp inside OC's 22, taking time among the usual camp activities of fire building and song singing, to score a couple of tries. Both conversions missed.
After that, the game became more balanced, support players started to emerge for the visitors, and we settled into a ding-dong game of try traded for try, traded for try. The pattern began to emerge in the 2nd quarter of a vastly dominant scrum from OC, with Rosa being far more nimble around the breakdown. With 10 points still the difference right before the half, OC had a penalty on the 5 and took a scrum. A penalty or two later they got the drive on, the defensive 2nd row folded under, and a penalty try took the score to 17-14 at the half, Santa Rosa just in front.
The second half was more of the same. OC drove the scrum forward, but Santa Rosa made more of the ball they got. The game was poised going into the final 20 at 31-28. At this point, the visitors began to make this a war of attrition. The game slowed, they scrummaged. They scrummaged some more. And as the hosts tired, so the last vital score went over, taking it to 31-33. The last 15 minutes of the game went scoreless as some tight defending kept the visitors out, but they had the lead and just needed to keep the ball, which they did.
Fine game, thanks to Simon for his help on the sideline, much appreciated.
Date: 03/16/2019
BA Baracus 14 – San Jose Seahawks 49
Referee: Paul Bretz
Was pleased to officiate at Boxer Stadium in San Francisco. Going back to Boxer was a "welcome home" of sorts as it brought back many fond memories both as a player and upwardly-bound referee.
Baracus hosted the Seahawks and the game played in great spirts. Both teams were provided the opportunity to play to strengths; Seahawks looked to use the width of the field while Baracus chose to utilize their big forwards. In the end Seahawks proved to be the better team on the day, racking up 31 points in the second half compared to Baracus 7. Final score was 14 to 49.
Date: 03/16/2019
Olde Gaels 53 – Vacaville 33
Referee: James Hinkin
A high scoring affair at Pat Vincent Field at St Mary's College was the order of the day between the Olde Gaels and Vacaville in a spirited D2 clash. This nearly completes my Season Set for NCRFU Division 2 – the only teams I have not reffed this year are San Jose and SFGG. Pity they played already. Oh well, there is always next year.
The game was a fun, open affair with both sides committed to playing rugby. This was evident from the number of tap penalties from both sides in kickable positions. We had a solid 9 minutes of back and forth play before the first scrum was set and everyone was enjoying themselves, especially the fans. Diablo proved too much on the day for Vacaville as they made just that many fewer mistakes. The post match meal of beer and cookies was a first for me but hey, I'll try anything twice.
Date: 03/16/2019
San Joaquin-Stanislaus RFC 47 – Fresno 17
Referee: Giles Wilson
The Harlots home field in Manteca is well marked, although perhaps a little narrow. When I arrived, both teams were present and warming up. We went through the formalities with the home team winning the coin toss and electing to kick off.
Both teams have some strong runners and strong tacklers; Fresno are adding more new players and the difference between the teams was this experience.
Harlots ran in four first half tries (3 conversions) against a single try in reply from Fresno. Some big hots from both sides with some particularly strong runs and tackles from Tui in the Fresno front row.
Rodney, as a referee on sabbatical, made his appearance for Fresno in the second half making some runs and tackles but eventually leaving injured. Both sides made various changes of players with some inexperience arriving. The Harlots kicker was reliable in the second half, converting all three tries while Fresno converted one of their two tries for a final of 47 – 17 in favour of the home side.
Date: 03/16/2019
Jesters Rugby FC 101 – SFGG D3B 7
Referee: Allen Gray
Not much to say beyond the scoreline. It was a great day out in the sunshine, and very much one-sided. Even though the Jesters had a more than comfortable lead, they managed to acquire 3 yellow cards when they began to become complacent and lose their discipline. Throughout the game I continued to hear SFGG players provide optimistic support to one another, which was refreshing since other teams down by such a deficit would have the opposite mentality.
Date: 03/16/2019
SF Fog 15 – Reno Zephyrs 23
Referee: Nome Tiatia
No Report Received.
Date: 03/16/2019
Cal Maritime 90 – Sonoma St 0
Referee: Cary Bertolone
Cal-Maritime's second try at the 8 minute mark was a taken kickoff, an up and under and a speedy wing catching it on the full for a sweet looking try. This was a blowout with Cal-Maritime scoring 48 in the first half and 42 in the second. Sonoma State kept their heads up and kept on playing, good on them!!
Date: 03/16/2019
Univ Nevada Reno 45 – UC Santa Cruz 23
Referee: Sam Reagle
Great game! For the first 30 minutes, this game was up for grabs. UNR got on the board first with a converted try 3 minutes in with UCSC responding with an unconverted try about 5 minutes later. UNR looked to take control with a couple of tries, but UCSC answered back with a try to go into halftime down 19-10.
10 minutes into the second half we had UNR up 26-20, less than a try separating the 2 teams vying for the remaining playoff spot. The Wolf Pack sealed their win outscoring the Banana Slugs three tries to one to earn them a spot in the playoffs.
Since UCSC chartered a bus, the entire team attended the social at the Pub-n-Sub. Several of the UNR Women's team who played earlier also attended.
Date: 03/16/2019
San Francisco State 10 – Chico State 57
Referee: Nome Tiatia
No Report Received.
Date: 03/16/2019
Cal Poly Women 5 – St Marys College Women 76
Referee: Gregor MacDonald
One sided
This Week's Photo
Visiting Referee Coach Steve Salton puts his whistle where his mouth is at Cal Maritime.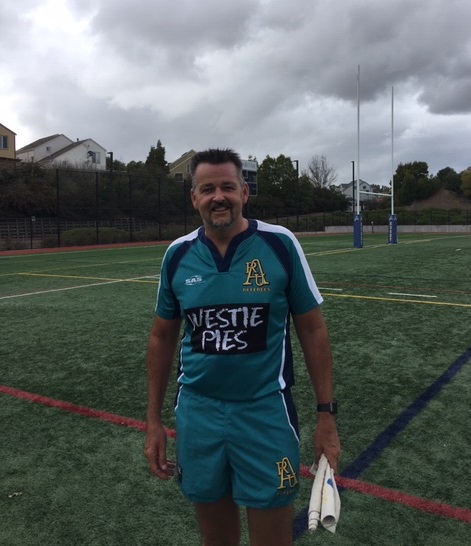 Hail, Pelicus!
For the Senate
Pelicus Pedem Referre