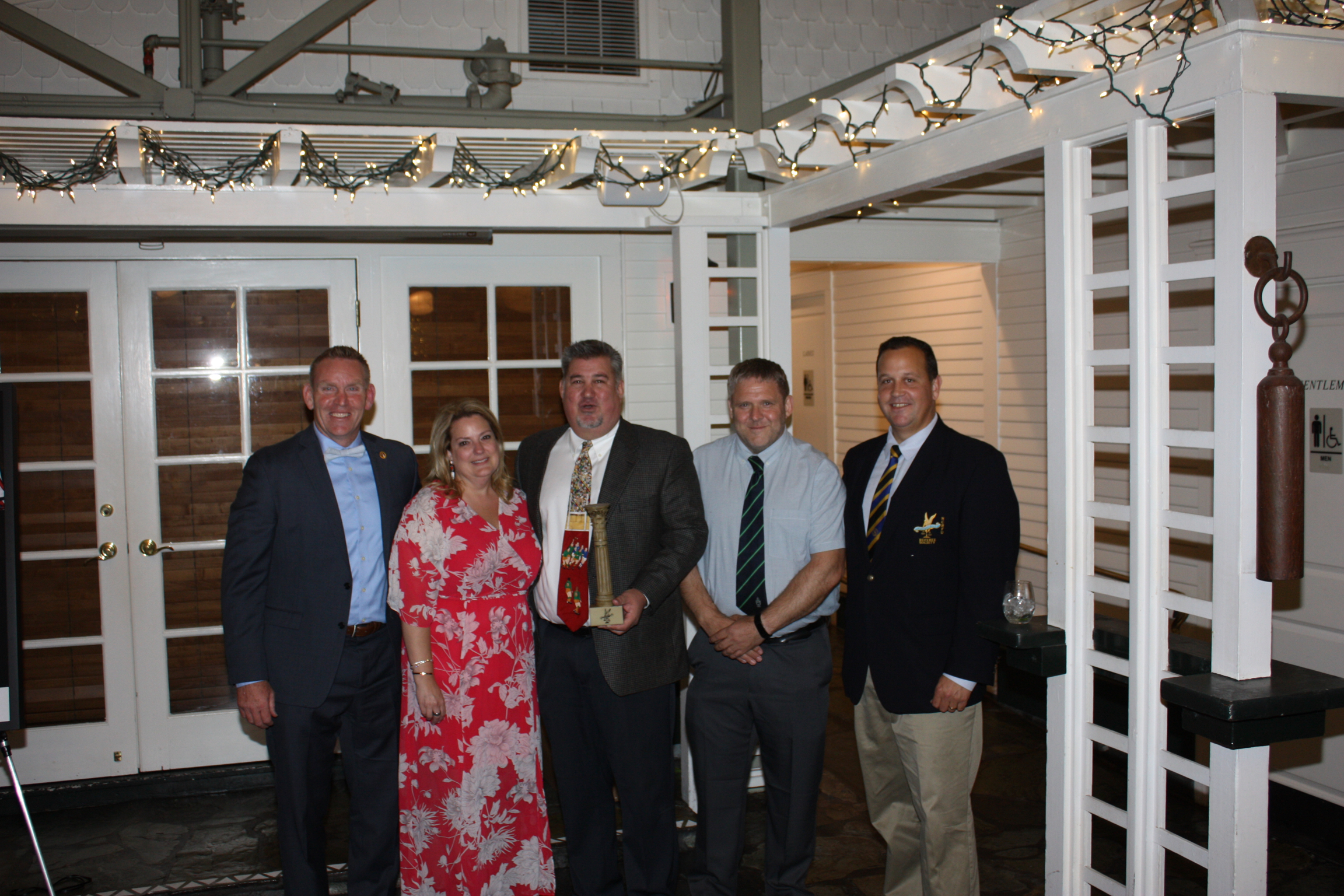 HAIL PELICUS!
7s Up!
Ah, Summertime. That glorious time of year when the days are warm, the daylight lasts all day (huh?), trees and flowers are committing shameless acts of photosynthesis in broad view of everyone, and Pelican Society members sit around in gazebos and on verandas sipping wine while reading slim volumes of poetry to improve their minds. Actually, I'm not too sure about that last one, but you, dear reader, get the idea. This is the time of year when baseball fans still have hope for October glory (except for Reds and Orioles fans), swim suits are all the rage and the California Triathlon* can be completed.
Additionally, but more importantly, this is the time of year when props, locks and other members of the back hair and monobrow set drag their knuckles back to their caves until the time of year when mud, rain and fog can hide their physical and mental deformities from polite society. The rest of the rugby family head out to play 7s, the greatest, purest form of rugby. "You always put your best athlete on the wing" an old coach told me and I heartily agreed as I slipped into the #11 jersey. This is the time of year when wings shine, running about in all their glory, sidestepping pretenders at the tackle and their supremacy is apparent to all. As Mel Brooks said, "it's good to be the wing."
The Northern California Sevens Series started last weekend for both the men and women (more on that next week) and this may be one of the most important seasons to date, because this year the Nor Cal Sevens Series is coterminous with the Rugby Sevens World Cup to be held up in AT&T Park. (How? Seriously, how?) As the eyes of the world descend on a city obscured by the daily appearance of Karl the Fog, some few will notice the local action and it is imperative upon Pelicanland to put on a good show.
Based on the first weekend's results, we have little to worry about in that respect. A full report will be in the next issue because, frankly, this is long enough already.
* The California Triathlon is when you snow ski in the morning, water ski in the afternoon, and then surf in the evening. Yes, I accomplished this feat back in the days of my youth, getting in some late season, early morning skiing up in Tahoe, at 10:00 drove down to Folsom Lake to waterski and then at 4:00 continued south to finish off the day with some sunset surfing in Santa Cruz. It was awesome.
Houston, We Don't Have A Problem – Scotland Do!
(EDITOR'S NOTE: When the fancy (or his wife) tickles him, my predecessor Dr Bruce Carter will send in a column, commenting on an event or person that affected him greatly. Such is the column below and I literally could not have said it better myself. He even suggested the title, a quote from match commentator Dallen Stanford as the US were surging late in the game.)
I started playing rugby in Augusta, Georgia, before USA Rugby was founded, before Rugby Magazine existed, and before there was a national team. The teams you played against were real and all others were mere rumors. Book stores had nothing referencing rugby – I spent hours looking.
Our expat teammates assured us that this was a real game, played at a high level in other countries. For the annual team banquet someone would rent a mail-order spool of film, as big as a large pizza, along with a projector to show it, and we'd watch the 1971 Barbarians victory over the All Blacks – every year. It was the only game most of us had ever seen that we had not played in.
I review the technology and information-state of the former world to show how long it has been, a long rugby lifetime, many turns of the technological wheel, from the conception to the full maturity for our national team.
We really started to feel a part of the larger oval planet when Rugby magazine (originally called Scrumdown) came along. And then, exciting news – there was going to be a team to represent us all!
The first Eagles match was in 1976, a 12-24 loss to Australia in SoCal. That whetted everyone's appetite and fired our imaginations: someday, we'd beat the big boys!
The big boys were what are now the Six Nations and The Rugby Championship. Until last Saturday, we'd never beaten any of these countries' first XV.
It has been a long forty-plus years. The number of people who have worn the jersey is 500 + and the number of people who have labored in the larger vineyard is now probably more than a million. We've had our hopes raised, and dashed, many times.
We needed the portion of the iceberg that's below the surface. We needed players who learned the game at an age where the skills quickly became second nature, as was the case for our competition. We needed athletes who were equal to the opposition players who were drawn from countries where rugby was at or near the top of the sports-viewership and public-adulation food chains. We needed quality coaches and competitions, training facilities and academies, scouts and development officers, and good rugby, of course, always needs good referees so that the players learn to trust the Sir and express their abilities within the Laws without needing to get their retribution in first.
It has been my feeling on more than one occasion (the two Tests previously played in Houston, as a matter of fact), we would have won with a mature, confident, referee. On those occasions, we got a ref whose rating, worldwide, was about where the Eagles were rated. Such refs don't want to make a name by having the 'wrong' team win.
But to win, you have to overcome all opposition. Saturday, there was a little less opposition because there was a ref who's been at the top for a long time – Wayne Barnes did the infamous New Zealand-France World Cup match as long ago as 2007. He doesn't fear having the wrong team win, because he is confident that he lets the players determine the outcome.
I have read about every match the Eagles have ever played, attended probably forty of them, and watched all of the rest that could be watched without being in the stadium. With apologies to the very good players we've known over the years, especially plying our trade as we do in Pelicanland, nest of Eagles, this is the best team the Eagles have ever fielded. Across the board they are skilled, fast, and all but the skill positions are big, muscular big.
Even there – watch the match again, keep your eye on MacGinty and watch him defend. He couldn't be a better tackler at any size: you can't do better than 100%.
He also never missed a kick.
This was not a match for the faint of heart or for those lacking in hope. Such people would have turned it off after Scotland scored a try on their first possession at 0:58. Even if they turned it back on, they would have turned it off again when Scotland got a penalty try and then another with a man advantage due to the yellow card from the PT. That's three cheap tries, the kind that have often been fatal to Eagles in flight.
Watch the match yet again to see who plays better, who wins the collisions, who gets numbers over the breakdown and even – gasp! – who wins the tactical kicking game. This was often the way to beat the USA, catching them out of position after several exchanges.
The Scottish kicker made two conversions from the touchline. Three would have been better. Although I must say I was disappointed that the crowd booed that third attempt, almost putting an asterisk next to it. But just as we have failed to overcome un-self-confident referees, Scotland failed to overcome rude decibels.
But what do you say when a team wins a game by a single point? In 1991 you say 'Super Bowl champions' (Giants). In 2011 you say 'Rugby World Cup holders' (New Zealand).
And in 2018, you say: Thank you to all of people, over forty years of hunger, who cleared the rocks, plowed the ground, planted the seed, carried the water and cultivated the crops, thank you for the harvest. And thank you especially, for those who brought it in and put in on our plates last Saturday in Houston, Texas.
– Pelicus Scriptoris
Pelicus Awardus
The Pelicus Festivus celebration has come and gone; jokes were told, some of the jokes were even laughed at, silly costumes were worn, good food was eaten voraciously, good wine was guzzled uncouthly and mascot fines were handed out to those whose shame will not be named here. One of the most important functions of the Annual Banquet is to honor those who have performed and served the cause of the Northern California Rugby Football Union Referee Society, both within and without our borders. All of the winners are deserved, one was a surprise break with tradition and one brought the house down with tears. Your winners:
Rookie of the Year – James Fonda
Pelican of the Year- Jordan Bruno
Bryan Porter Award – James Tesoriero
Assistant Referee of the Year – Rich Anderson
Scott Wood Award – Jessica Turner
Ambassador of the Year- Lee Johnson
Pelicus Scriptorus – Preston Gordon
Dixon Smith Award – Scott Wood
Of special note is the renaming of the Most Improved Award as the Scott Wood Award. We all still keenly feel the loss of Our Scott Wood and the Board was looking for a way to memorialize him when their attention was brought to the fact that the first match he ever refereed was abandoned. Yes, Our Scott, who most remember as a solid, sensible referee with a quirky sense of humor, got off to that most ignominious start. He worked hard on his craft and improved greatly to become one of the most trusted referees in the Society and so it was that in mind it was deemed fitting that the Most Improved award be renamed in his honor.
Another oddity that the cleverer readers may have spotted is the winner of the Bryan Porter Award. The Bryan Porter Award is given to the individual who most helps with the development of referees within the Society. This year it was given to an individual who not only filmed games, but sent detailed analysis and commentary with specific timestamps to help the referee find the action being addressed. Why is this unusual? Because the winner, James Tesoriero, is the coach of California State Polytechnic University at San Luis Obispo. As a coach he would do match analysis, as many others do, but he would make a special effort to include the referee. Many clubs offer the referee a copy of their match tape for reference and that is most welcome, but nothing else. James went out of his way to highlight contentious decisions, even those that went in his favor, to help the referee understand his point of view and would continue a dialogue if necessary. Never was he accusatory, but always helpful as he realized that better referees make better games. It is the first time the Society has given an award to a non member, but I have the feeling it won't be the last.
Finally, the Dixon Smith Award is not an annual award but one that is only bestowed upon those whose service to the Society soars above that of the others. It has only been award five times in the history of the award, a list comprising of Dixon Smith, Bryan Porter, Cheryl Leslie, Bruce Carter and Mike Malone – an impressive list indeed. This year we added Pelicus Radix Lecti, Our Scott Wood, whose influence was not only felt within our society but across this great rugby playing nation via his work with exchanges, coaching and at national and international events and matches. The number of tributes and moments of silence across the time zones in his honor attests to this fact.
The Naming Of The Flock
Another highlight of the evening is the roll call where we all respond to our Pelican Names and those who are still scandalously unnamed are recognized with their own Name. We allow such unfrocked members to propose a name for themselves and if deemed salubrious then it is so enshrined… but the Senate will not be mocked. Should such sobriquet be presented that is deemed unworthy or offensive then the Senate will bestow a name and the results, while funny, are never pretty. Also, should no name be suggested the Senate will pick one of their own liking and the results are often the same.
With that in mind, those named below are welcomed to the flock, with the occasional explanation. Please note that many of the names are not strictly Latin, but Latin-ish, so don't bother if some professor you know wants to complain about the Latin grammar.
From now on Jessica Turner shall be known as Pelicus Liber Spiritus!
Meaning: Free Spirit
From now on Ron DeCausemaker shall be known as Pelicus Quarto Officialis!
Meaning: Fourth Official
From now on Tom Fennell shall be known as Pelicus Gulo Gulo!
Meaning: Wolverine
Explanation: Gulo Gulo, is the scientific name for "Wolverine" and pays homage to his alma mater, the University of Michigan. Gulo, in the singular, means glutton….which also fits.
(EDITOR'S NOTE) To be fair he was offered Pelicus Aesculus but he declined. Unsurprising since Aesculus is the genus for "buckeye".
From now on Megan Holt shall be known as Pelicus Quartus Concussus!
Meaning: Four Concussions
From now on Preston Gordon shall be known as Pelicus Miratus Velocitas!
Meaning: Surprisingly Fast
From now on Duane Heil shall be known as Pelicus Graeca Nauta!
Meaning: Greek Sailor
From now on Stephen Moore shall be known as Pelicus Antipodus!
Meaning: Antipodes
(EDITOR'S NOTE) You really should have been able to guess that.
From now on Liam Bretz shall be known as Pelicus Filius Parva Digitus!
Meaning: Son of Pinkie
Explanation: Ask Pelicus Iudex Pennipe. Or possibly his wife.
The Senate Will Not Be Mocked
From now on Jordan Bruno shall be known as Pelicus Narcissus!
Meaning: Narcissist
Explanation: The Senate Will Not Be Mocked. Jordan had proposed as a name for himself, Pelicus Hot Refficus. This was deemed unacceptable and the Senate rendered its judgement with Pelicus Narcissus.
From now on Lee Johnson shall be known as Pelicus Inlaetabilis Raeda!
Meaning: No Fun Bus
Explanation: Lee proposed for himself "Nosiest Coachus". This was deemed unacceptable.
So, given that Lee is English and was a prop before becoming a coach…
Given that the most famous English prop in recent memory is Jason Leonard…
Given that Jason Leonard is widely (ha!) known as "The Fun Bus"…
Given that in England a coach is another word for a bus…
Given that referee coaches are often tasked with pointing out referee mistakes and that is No Fun.
The Senate chose to bestow upon Lee Johnson Pelicus Inlaetabilis Raeda, which translates directly to "Joyless Carriage" aka The No Fun Bus
Flock Talk, Enriching The Vocabulary Of Pelicanland
Some knitted brows and other puzzled expressions were elicited in the opening paragraph and thus we have this edition's Word of the Day:
Coterminous
adjective koh-tur-muh-nuh-s
1. Having the same border or covering the same area.
2. Being the same in extent; coextensive in range or scope.
Disciplinary Action Reporting – Process For Reporting Incidents
The various competitions all have their own disciplinary chairs and this will make it difficult to centralize the communication and data. To help we have developed a form that will centralize the process, regardless of the competition. The link to the discipline form is https://docs.google.com/forms/d/1mmUNg11uVOSkIsUtHifSqQzalhWbwohk_J6AmPyrucQ/viewform
1. Copy the link and have it available on your smartphone. If you have an iPhone add the link to your home screen.
2. When needed fill it out and click submit. The discipline chair of the competition you refereed will receive a notification about the incident.
3. He/she may contact you latter for more details.
4. If you have any questions as to how to use the app please refer to the following video: https://www.youtube.com/watch?v=_Uz0_gTaOnY
On To The Game Reports!
Dude. It's 7s season.
This Week's Photo
(Some of) the winners of the 2018 Pelican Awards, posing with Our Noble Leader and Our Noble Emcee. L-R: Pelicus Iudex Pennipes, Danielle Wood for Pelicus Radix Lecti, Pelicus Fistulator, Pelicus Inlaetabilis Raeda, Pelicus Miratus Velocitas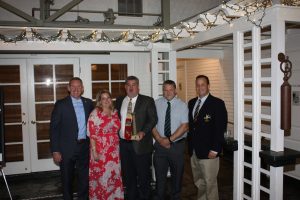 Hail, Pelicus!
For the Senate
Pelicus Pedem Referre