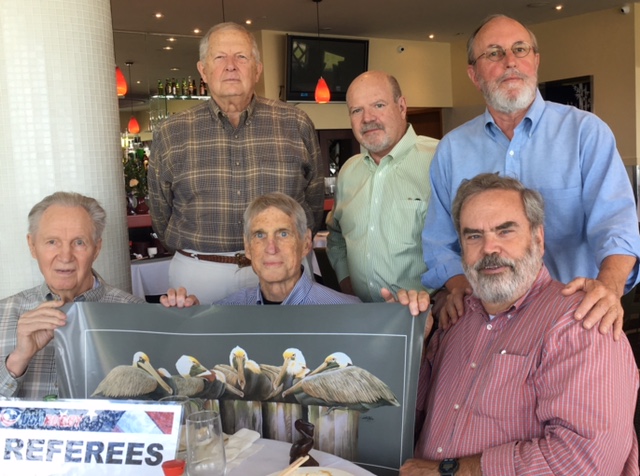 HAIL PELICUS!
A Deep Breath
Not a whole lot went on last weekend but a whole lot is going on this weekend so we here at the editorial board are going to take a deep breath, relax, and celebrate Cinco De Mayo (or The Return Of The Fifth if you practice the dark side of the Jedi religion). Next week there will be your normal fun, witty and touching content that you have all grown to know and love. Now I'm off to the score to get more tequila. Oh yea, and here are the events to check out…
High School Championships
Will be held at the Stockton Soccer complex. As an aside, we really need to start playing at a rugby complex rather than a soccer complex. It is giving rugby a complex. The solution isn't that complex.
9:00 De La Salle v Parkway on field 1
10:30 Danville v Jesuit on field 1
10:30 Lamorinda v Granite Bay on field 2
10:30 Sac PD Pal v Pleasanton Cavaliers on field 3
12:00 Sac PD Pal v Land Park HS on field 1
3:00 Bellarmine v Chico
USA Rugby CR 1 Playoffs
The Best of the West will meet at SFGG on Treasure Island this weekend as well, so you can see…
10:00 SFGG Women v Seattle Mudhens
12:00 Chico v Eugene
2:00 SGFF Men v ORSU
4:00 Sacramento Blackhawks v Tacoma
USA Rugby D1-A National Championship
For the 5th straight year St Mary's will take on Life University. The game will be in St Mary's Stadium in Moraga at 4:00. Life took the first meeting in 2013 but St Mary's bounced back with consecutive championships in 2014 and 2015. Last year was a nail biter as Life pulled off a 24-20 victory, so with the series tied 2-2 expect a great match with no clear favorite. Except St Mary's. They are definitely favored to win.
Varsity Cup Final
The Varsity Cup final will be played May 6th in our own backyard at Steven's Stadium on the campus of Santa Clara University. The high noon showdown will be the winner of Penn St. vs Cal and Navy vs Arkansas State. For tickets and more information please go to www.varsitycup.us.
Banquet
Have you signed up yet for strapping on a free, high quality nosebag? Here are the details:
Good morning NCRRS Referees,
Thanks for providing your feedback related to the banquet date. The date to come and celebrate our accomplishments and season is set for Saturday May 13, We will be celebrating at Scott's Seafood in Walnut Creek.
We need to get a headcount of participants and guests and we ask that you complete the following form by May 1: https://goo.gl/forms/y6axwPj9KNT9heJH3.
The form has a list of entree choices. We will have a no host bar set up and appetizers will be served from 6:15-7:00. Awards will be presented after the dinner. The society will be picking up the tab for referees. We ask that you pay for your guests prior to the event by using the PayPal link provided in the form. The link will also be available for access when you hit the "submit" button.
We look forward to seeing you all, dressed to impress, on Saturday May 13.
Regards,
Pelicus Iudex Pennipes
Disciplinary Action Reporting – Process For Reporting Incidents
The various competitions all have their own disciplinary chairs and this will make it difficult to centralize the communication and data. To help Scott Wood has developed a form that will centralize the process, regardless of the competition. The link to the discipline form is https://docs.google.com/forms/d/1mmUNg11uVOSkIsUtHifSqQzalhWbwohk_J6AmPyrucQ/viewform
Copy the link and have it available on your smartphone. If you have an iPhone add the link to your home screen.
When needed fill it out and click submit. The discipline chair of the competition you refereed will receive a notification about the incident. He/she may contact you latter for more details.
If you have any questions as to how to use the app please refer to the following video: https://www.youtube.com/watch?v=_Uz0_gTaOnY
On To The Game Reports!
Nope. Just you wait until next week.
This Week's Photo
Representing about 37,042 years of rugby knowledge and experience, some of the flock decided to gather for lunch. Standing, L-R Pelicus Bellatoris Cognitoris , Pelicus Iudicialis Eunuchorum , Pelicus Saltus (Mike Malone, John Coppinger, Bryant Byrnes). Sitting L-R Pelicus Dixsonian, Pelicus Bunnicus, Rob "No Pelican Name" Hendrickson (Dixon Smith, Dave Williamson, Rob Hendrickson)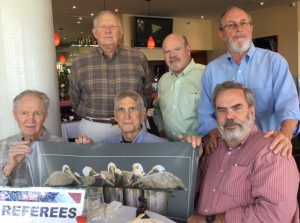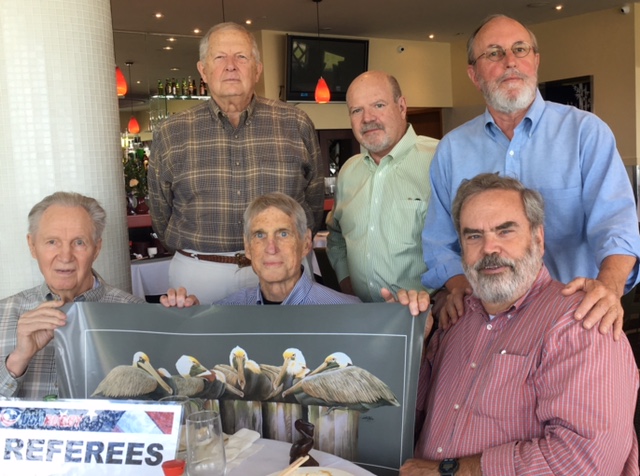 Hail, Pelicus!
For the Senate
Pelicus Pedem Referre