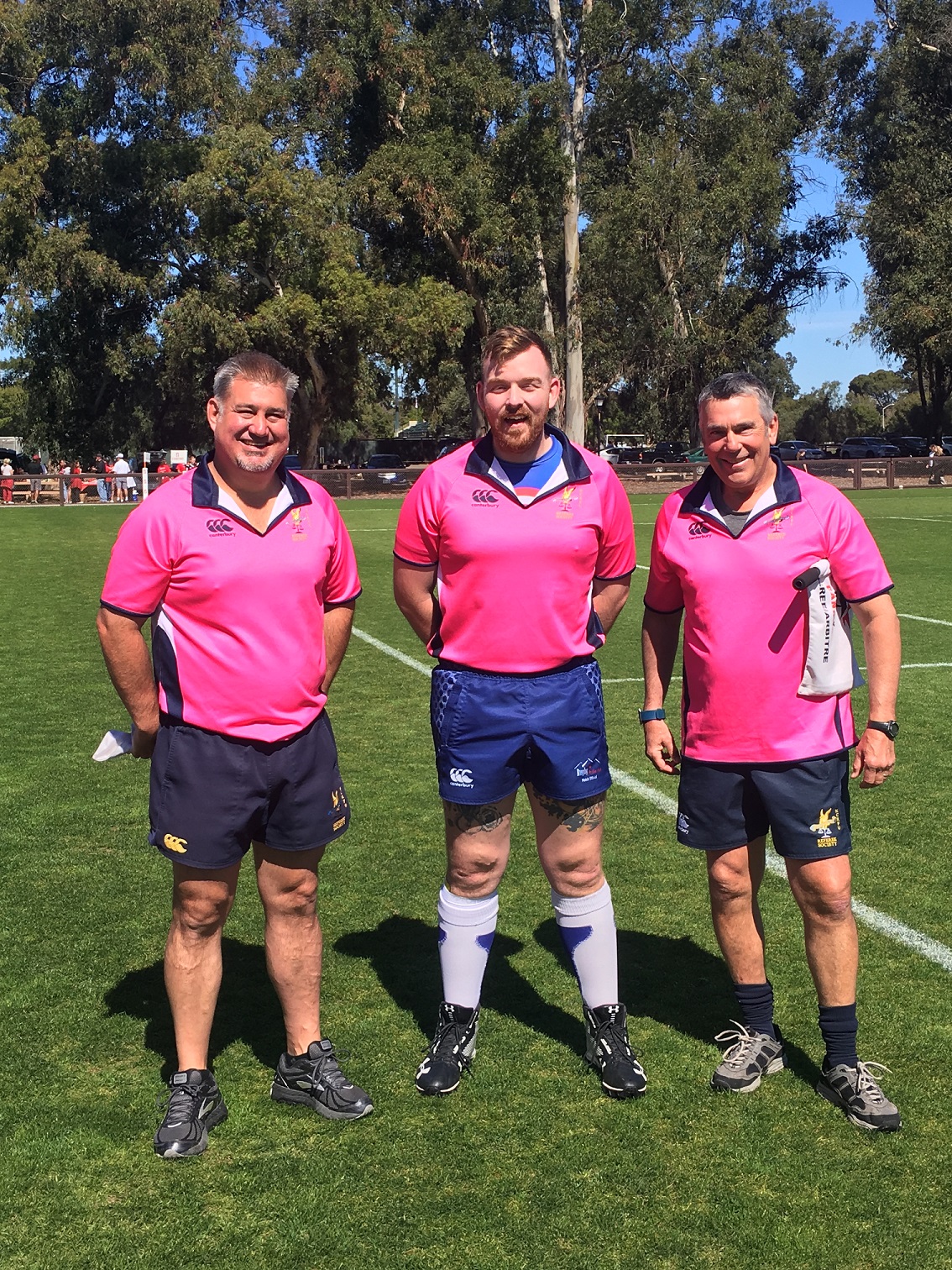 HAIL PELICUS!
A Few Good Satires
It has been some time since the last Hail Pelicus was released to my adoring public and I know some of you are jonesing hard right now, so let's apply the tourniquet of rugby news to our arms and pop up the veins of pseudo-classical satirical comedy, to insert the needle of insight and depress the plunger of truthiness and let that sweet, sweet Hail Pelicus flow into our consciousness. That's it, just relax and let the metaphors take you away to your happy place, for it is Playoff Rugby time.
Yes the reasons for the gap in publishing are many and varied, but stem from two main sources. The first is that for work these days I am traveling to Iowa every week and that limits the time I have to wax poetic on rugby themes and other musings. To be honest, I really don't have time to wax anything at all these days – things are a nasty mess in certain places; just plain dirty. I hardly even like looking at it and it is mine.
One of these days soon I am just going to bite the bullet and wax my car to get it back to its original luster. My snow skis could use a coat of wax as well for the Spring skiing season.
The other reason is the lawsuit I filed against the NCRFURS over several grievances, including missing back pay and the obvious obstruction from the society president (which he calls a Witch Hunt). It was an emotional and dramatic scene when Pelicus Iudex Pennipes was on the witness stand and I hammered him with questions that he either refused to answer or answered with a conciliatory sneer. The tension was palpable when the final exchange took place:
Paul Bretz (as played by Jack Nicholson): You want answers?
Hail Pelicus (as played by Tom Cruise): I think I'm entitled to them.
Paul Bretz: You want answers?
Hail Pelicus: I want the truth!
Paul Bretz: YOU CAN'T HANDLE THE TRUTH! Son, we referee a game that has laws. And those laws have to be guarded by men with whistles. Who's gonna do it? You? You, Pelicus Pedem Referre? I have a greater responsibility than you can possibly fathom. You weep for Santiago and you curse Northern California Rugby Referees. You have that luxury. You have the luxury of not knowing what I know: that Santiago's red card, while tragic, probably saved penalties. And my existence, while grotesque and incomprehensible to you, saves penalties. I have neither the time nor the inclination to explain myself to a man who plays rugby under the blanket of the very freedom that I provide, and then questions the manner in which I provide it! I would rather you just said 'thank you' and went on your way. Otherwise, I suggest you pick up a whistle and do a match. Either way, I don't give a damn what you think you are entitled to!
Hail Pelicus: Did you give the Red Card?
Paul Bretz: I did the job that —
Hail Pelicus: Did you give the Red Card?
Paul Bretz: You're goddamn right I did!
And then the judge (played by Matt Eason) threw the case out reasoning this is a volunteer position so I don't get paid, plus I retired from playing rugby to referee 10 years ago so the scene made no sense.
Personally, I think Chris Hemsworth would have been a much better choice to play the role of Hail Pelicus, but nobody asked me.
The Evolution of USA 7s and Carlin Isles
Hong Kong and Singapore exposed the USA 7s team for what we are: a very talented team that is badly missing their superstars. We finished 3rd and 4th continuing the unprecedented run of making the semifinals in every tournament and thus gaining valuable points, but we lack that killer finish to get by the top teams at the end. One can not overstate the loss of Perry Baker and Danny Barrett but the squad has proved its depth. Pinkleman has been a rock star and should be in the World Player of the Year conversation. Tomasin has been a revelation and Leuta, while backsliding in a couple of games with concentration issues, has stepped up to be the player he can be. Niua we all know runs the team and is playing nearly every minute so I worry about his health, but some of the pressure should be taken off if, as expected, PB and DB are back in the squad for London and Paris.
So what about Carlin Isles? I have criticized him and praised him as he has filled the gap left behind by the loss of Baker, but the last few tournaments have not only shown his improvement but highlighted his weaknesses. There is nobody in world rugby that is better at running fast in a straight line than Isles and he has added, not a sidestep, but a very effective swerve. He is creating tries in places when in the past he would be bottled up or shepherded into touch and he is doing it against world class opponents. That is hugely impressive and his tour leading try total is a just reward.
And yet… he is a rag doll on defense. He is targeted by the opposition and is a liability. So what do you do? You can not take the greatest offensive threat we have off the field, so you have to overcompensate on defense with other players covering for him and that has led to tries being given up and is in many ways the difference between winning a semi or a final and losing.
He has earned his place and deserves all the accolades he is being given, but forgive me if I can not wait until Perry Baker returns.
What Of The Ladies?
So what of the ladies? Well unfortunately the women of rugby don't get the same amount of coverage as the men. I only knew that we beat the New Zealand Black Ferns in 7s from Facebook – and it was a prop who told me! There was a Women's 7s tournament going on in Japan! I had to go back and search for myself to learn that we destroyed England in the first match 43-7. That is a fun one to watch, I highly recommend it. We then took it to Fiji 31-5 and then squeaked by Ireland 15-12. That set up a quarterfinal with the reigning World Cup champions, New Zealand. We proved ourselves in San Francisco that even without Alev Kelter we could push the Kiwis to the edge and it turns out that with her we can push them off the edge. It was a thrilling match that I also, highly recommend watching. After dispatching the world champions with nary an effort 26 – 19 (just kidding – it was a great back and forth game) we finally faltered at the feet of our neighbors to the north, Canada, eh? Canada went on to win the whole shebang so we had to console ourselves with a fine 3rd place and showing the French how it is done. Good times.

What the real tragedy of USA Women's rugby is really the 15s program. We are really, really good but there is literally no support. Last weekend we had a famous match against the Barbarians – always a great matchup because of the whole Barbarian culture of picking all star teams that just go out and have fun. Anything can happen at these affairs. But… but… in order to get to the selection and training camps the LADIES HAD TO PAY THEIR OWN WAY! I saw numerous gofundme and other fundraising campaigns just to get our best players together to train.
This is intolerable and if it isn't at the forefront of the agenda of USA Rugby BoD and Congress, then they should all be sacked immediately. It is almost better to have no governing body than to have one that doesn't support the rugby populace. You can argue about where money should be spent but this is the National Team's basic expenses of getting to training camp! I don't see this happening to the mens' team.
Pelican Rugby Kit Store Is Back
Summer is here so you know what that means: Sun's Out Guns Out! Time to pick up all your summer Pelican Gear. Yes, this also includes tracksuits and everything else for winter but it will delivered in time for the 7s season. The store opens April 26 and runs through May 10 so get your order in now. Purchases will be delivered by May 31. Go to https://norcalreferee2019.itemorder.com/ to check it out.
Time To Strap On The Ol' Nosebag
Yup, the season has come and (mostly) gone so it is time to start thinking about putting on your #1s and gathering with the flock so that we can tell everyone how good we are. I am sure the Board of Directors will soon make an announcement as to the details, but to get ahead of the game I am starting my pre-banquet fasting routine now.
2019 USA Rugby Game Management Guidelines
Looking for guidance on how to manage a game? Well, USA Rugby has your back. You can find the 2019 USA Rugby GMGs here: https://drive.google.com/open?id=1XXcRfsVtLLqUawEHUI47ei0dt_65fDM.
If you do not have access to the google drive linked above you can also view them as well as other pertinent documents here: http://www.usarugby.org/referee-resources/
Disciplinary Action Reporting – Process For Reporting Incidents
The various competitions all have their own disciplinary chairs and this will make it difficult to centralize the communication and data. To help we have developed a form that will centralize the process, regardless of the competition. The link to the discipline form is https://docs.google.com/forms/d/e/1FAIpQLSc42vbdqnFVH0u1BGTLhjOivDO2hNsmV4NXvvnC4FyAka7sKQ/viewform?vc=0&c=0&w=1
Copy the link and have it available on your smartphone. If you have an iPhone add the link to your home screen.
When needed fill it out and click submit. The discipline chair of the competition you refereed will receive a notification about the incident.
He/she may contact you latter for more details.
If you have any questions as to how to use the app please refer to the following video: https://www.youtube.com/watch?v=_Uz0_gTaOnY
On To The Game Reports!
Date: 03/23/2019
Olympic Club 27 – SFGG D2 0
Referee: John Lane
With the two clubs "Old Boys" game played beforehand there was a good atmosphere developed before the game on what was an excellent day on Treasure Island – the sun was out and with the noon kickoff time the wind was not significant throughout the game.
Olympic were definitely more organized in their warm-up routines with SFGG getting progressively more structured as kickoff approached. SFGG started well and put some pressure on in the opening 5 minutes assisted by some errors from Olympic. On 8 minutes, Olympic forced a turnover and some quick phased play brought them into the SFGG 22. From there a few more phases of pressure lead to a try on the left which went unconverted – 5-0. Olympic continued to be the more dominant team but SFGG's defense held them up and the SFGG 12 made a number of strong runs to alleviate the pressure. On 25 mins the pressure did tell with another unconverted try wide on the left. 10-0.
SFGG dominated the last 10 mins of the half aided by a number of kick outs on the full by the Olympic 10 and a scrum that was getting the upper hand but failed to make a score. The second half started well for Gate but Olympic's overall better fitness levels started to influence the scoreline – when opportunities came they were able to keep the pressure on. This lead to a try on 54 mins – again unconverted from the left. 15-0.
Around this stage I had a quick chat with the captains on both sides starting to slow down ball at the breakdown – this brought the right reaction from both sides for the remainder of the game.
On 60 mins Olympic opted for a kick at goal from a penalty in front of the posts but the kick was pulled badly wide. On 65 mins the pressure brought the bonus point try, again wide on the left and unconverted – 20-0.
From the restart, Olympic broke through and despite some good defense from SFGG the ball was recycled and they crossed for a 5th try by the posts which was converted – 27-0.
Olympic then started to empty their bench progressively and SFGG had the better of the last 10 minutes. With a few minutes to go they crossed the line but the 9 was held up and the subsequent scrum was poor and Olympic turned over and exited. The game finished in midfield with both sides warmly clapping each other off the field after a competitive game physically which was not fully reflected on the scoreline.
Date: 03/23/2019
Vacaville 41 – BA Baracus 21
Referee: Jeff Richmond
Both teams were wrapping up difficult seasons, so only pride was on the line. Vacaville came through, more organized at the breakdown and able to put together some nice backfield attacks. Still, Baracus stayed with it and scored as time expired to end on a high note.
Date: 03/23/2019
Marin 48 – BA Baracus B 0
Referee: Cary Bertolone
A rare, nice, sunny Saturday, kickoff was at 12:20. Marin took a 7 minute lead at the 7 minute mark. 10 minutes later, some good passing lead to another try. 6 minutes later, Marin added 3 more and took a 24-0 lead into half time. More of the same in the second half, Marin won going away with a final score of 48-0.
Date: 03/23/2019
Olympic Club Old Boys 84 – SFGG Senors 12
Referee: Chris Tucker
First old boys game in a while, and long overdue. Two fine teams of guys remembering how the game works, and having laughs while thumping each other as hard as the ageing bodies would allow. One rather young player stood out in this crowd, out on the wing for OC, sneaking in under the father-son exemption. He did try to score at one point, before finding out that 18 years old is insufficiently aged to have a try allowed in an old-boys game. 22 drop out to restart… Fortunately he was smart enough to find a team mate to pass to next time he found himself in goal. The team mate in question? His father. Nice moment. As for the game, OC thumped Gate, but was anybody really keeping score? Well, aside from me…
Thanks to both teams for playing in fine spirit and for the beers after. I got to watch Pelicus Guinness Consumptus run around after players half his age, which I found vaguely fitting given the game I had just done. Slainte!
Date: 03/23/2019
Pacific 52 – Santa Rosa JC 24
Referee: Roberto Santiago
Rugby just keeps getting better. Top to bottom the game is being played with more skill and grace than it when I started playing, or even when I stopped playing. It's fun to see. On campus at the University of the Pacific the state of the game was on display between UoP and the visitors from Santa Rosa Junior College. Overall the game was quick, hard hitting and at times beautiful to watch. The teams traded scores in a first half that saw the home team up 24-17 at the break. In the second half, UoP got going and never looked back. A penalty try 10:00 into the second period had the Tigers fired up. Though they ended up playing a man down for much of the half, they found some gaps in the Santa Rosa back line and pulled away with a couple of break away tries. UoP nearly pitched a shut out in the second half. SRJC added a cosmetic score off a brilliant and frenetic few minutes of play, ending the game with a brilliant run from their captain that went for a try. Good game by both sides on a perfect Stockton afternoon.
Date: 03/23/2019
Danville Oaks RFC 22 – Jesuit High School Rugby Club 24
Referee: Pete Smith
No offence to any other team, player, coach or ref, but I easily had the match of the day in California. Jesuit traveled to Danville under perfect skies and 65* temps. Danville controlled the game early going up 5-0 then 10-0 only to have Jesuit come back to tie it at halftime with two tries of their own. Only 5 penalties in the first half. The kids were there to play, not talk or whine, but PLAY! Second half 17-10, then 17-17 then Jesuit pulls ahead 24-17 with 8 minutes remaining. With no time left, Danville chips ahead to the Jesuit #8 who smartly marks the ball inside his 22. I tell the #8 time has expired and a free kick is just like a kick in open play (can't coach). He taps the ball and then kicks for distance and touch directly to the Danville winger in play (If he had turned around and kicked the ball out the back of the try zone game would have been over) several phases later try to Danville in 'extra' time. Conversion wide right game over 24-22. 5 penalties in the second half! Easily 10 HS All-Americans on the field, probably 5-6 future collegiate AA's and likely 2-3 future Eagles (there are 5 Eagles between the two coaching staff's!!) EPIC Game!!!!!!
This is why refs ref. That game was a slice of heaven to a ref. It's like a hole one one to weekend golfer…it is the Holy Grail. Players that want to play, shut up and trust the ref, open it up and go, fans were great (several hundred of them), weather perfect, pitch fast, ref amped, Game ON!!! Thank you players, coaches and fans for letting me be a part of your game. Wow…just WOW!
Date: 03/23/2019
De La Salle 43 – Pleasanton Cavaliers HS Varsity 7
Referee: Steven Fenaroli
A hard fought game by both sides
Date: 03/30/2019
Cal 29 – St Marys College 19
Referee: Steven Fenaroli
Strawberry Canyon on a sun filled day drew a large crowd for a great day of rugby.
(EDITOR'S NOTE: Seriously? That is all you have to say about Cal v St Marys?)
Date: 03/30/2019
San Jose Seahawks B 24 – Marin 22
Referee: Giles Wilson
A very competitive "play in" game on a beautiful Saturday in San Jose between Marin Reds and San Jose Seahawks. Both teams had the ability to make line breaks, although both also had defensive structure. At the end of the first half, there was nothing between the teams at 12-all both teams having two tries and one conversion.
More of the same in the second half, both teams scored unconverted tries to move to 17-all. Marin then scored again but could not convert for a 22-17 lead. San Jose worked their way back for a final score and the winning conversion for a 24 – 22 final.
Date: 04/06/2019
Sacramento Amazons 51 – SFGG Women 0
Referee: Jeff Richmond
Amazons established dominance early. They found easy overlaps in the backfield, and wings were able to take an outside line around the defenders. The inside running by the Amazons was punishing with big forwards testing the Golden Gate tackling. It was no different in the scrums with the Amazons in control, forcing Golden Gate to move backwards even when they won the scrum.
Date: 04/06/2019
Reno Zephyrs 31 – Mendocino Steam Donkeys 58
Referee: Sam Reagle
This was looking to be an exciting game between 2 teams that were playing for nothing but pride. This being a factor, both teams were short on subs. The Mendocino Steam Donkeys got on the board first with an unconverted try just 2 minutes into the game. It took about 10 minutes for the Zephyrs to respond with a converted try to take the lead 7-5. Then the Zephyrs got their groove with 2 more tries (one converted) to storm out to a 19-5 lead when disaster struck. Two Zephyrs banged heads making a tackle drawing blood from both. Both subbed out, one later returned. During their absence, the Steam Donkeys ran off 4 tries to retake the lead 29-19. After one bleeder returned, Mendocino managed another unconverted try before halftime to lead 34-19.
The Steam Donkeys continued to press in the second half with tries at 2, 7, 12 and 30 minutes. The Zephyrs closed out the scoring with a penalty try at 33 minutes due to a collapsed scrum at the goal line and a well-earned try in the corner at full time. Final 58-31.
The social was well-attended by both teams at the Red Rock Bar in downtown Reno. It's run by a very friendly Kiwi whose name I knocked on.
Date: 04/06/2019
Granite Bay Grizzlies 22 – Jesuit High School Rugby Club 31
Referee: Steven Fenaroli
A big local match saw Jesuit over Granite Bay rugby
Date: 04/06/2019
Marin Highlanders Rugby Club 50 – Mother Lode Rugby Football Club 12
Referee: Roberto Santiago
Motherlode was a bit behind the eight ball due to numbers and had to pull some players up from JV for depth. Despite the adversity Motherlode played with enthusiasm and resolve. The scoreboard doesn't reflect the possession they had inside Marin's 22. On the other side, Marin played very well. They were able to move the ball through multiple players on most possessions and played a distinctly unselfish brand of rugby. Kudos to both teams and their coaches, who have clearly been instilling a positive culture within their clubs.
Date: 04/06/2019
De La Salle 70 – C K McClatchy High School 12
Referee: Chris Tucker
Bit one-sided, but much fun had by all anyway. Thanks to Ed and Bryant on the sideline for their invaluable assistance.
Date: 04/06/2019
Navy 74 VCU 0
Location: Annapolis, MD
Referee: Stephen Valerio
VCU showed up with 17 players to take on a primarily plebe side of Midshipmen. Navy had a full complement of subs and being Navy, fitness wasn't an issue.
VCU was incredibly well-coached, it took Navy a yellow card before they were able to keep the tackle zone clear, while VCU was able to keep to their pattern without repeated infringments. While the first half yellow slowed the Navy attack, Navy were still able to get 4 first half tries to go up 22-0. The half was closer than that as VCU was able to penetrate deep into the Navy half a couple of times, but was never able to punch it across.
The second half was another story as fitness and numbers took a toll on VCU, who continued to play hard, but couldn't get any reward for their efforts.
Date: 04/14/2019
Gonzaga 43 Raleigh 14
Location: Derwood, MD
Referee: Stephen Valerio
The North Bay and MD Exiles Girls High School teams are the class of Maryland Girls rugby and closed out the regular season to claim top seeding going into the playoffs. The Exiles hosted and feature a powerful, forward driven attack, with a strong counter ruck. North Bay has a dangerous backline and does a lot of damage through the wide channels. North Bay were able to strike first and grabbed the early 7-0 lead. However, the game played to the Exiles strengths with lots of in tight pick and goes, and heated rucks. A key edge for North Bay was their captain and fly-half Alex Pipkin who slotted a penalty late in the first half (off of 3 posts) to go in 10-0.
The Exiles hit back hard in the second half and put North Bay under extreme pressure. After North Bay lost a player to a yellow for repeated team offsides the Exiles were able to punch a try across after a multiple phases at the the North Bay try line to cut the lead to 10-5. Late in the half North Bay pushed the ball down into the Exiles half with a lineout on the Exiles 5-meter line. The Exiles won the line out and tried to run it out from the shadow of their posts, but the ball carrier got isolated and North Bay slotted another penalty to go up 13-5.
The Exiles got a penalty at the North Bay 22 in the waning minutes and stuck to their pattern of play, eschewing the kick and of crashing the balls with their forwards. They were able to get to a camp out in the North Bay end, but never were able to crack the line.
Date: 04/14/2019
Mavericks 7-12 Old Albanians U18
Location: Warley Playing Fields, Brentwood
Referee: Preston Gordon
This youth friendly featured two very well-matched teams that nearly fought out a draw on the same pitch where I reffed the Mavericks senior men's side on January 26th. The lines on the pitch appeared to have last been painted that same day too – it seems the local council (government) has been putting its taxpayers' hard-earned pounds to work elsewhere. I insisted on having cones along the two goal lines, but was happy to judge the rest of it using the sideline and in-goal flags.
The halftime score was 7-7, and other than a Mavericks player clearly running out the back of the in-goal in the second half, it appeared that I was going to have a second drawn result on this pitch within three months. The Old Albanian pack, however, had another plan, and in the 39th minute (running time) of the second half had a lineout about 15m from the Mavericks goal line. They recovered their own throw, formed a driving maul, and the player at the back broke off about 5m short and beat the cover defense to the corner flag to score the winning try.
Earlier in the game, there were a couple of players giving me unsolicited feedback on what I should be calling, but this was more due to teenage over-enthusiasm than anything else, and a couple of words with the captains sorted this out quickly and quietly. There was basically no foul play, which reflects the great quality of coaching that these two sides have. Getting a solid workout on this sloped pitch on a Sunday afternoon – right as the sun burned off the drizzle – was a great way to end a weekend full of rugby.
I spent the preceding day at Allianz Park, yet again, as #4 and reserve AR for the Saracens-Wasps FC Tyrrells Premier 15s women's semi-final. Saracens won 31-13 (see
and the ref for that one was Sara Cox, the world's first professional lady rugby referee. I definitely picked up a few things at her pre-match briefing!
The gentleman who was there to evaluate/coach one of the ARs was named Clive Nicholas (I'm fairly sure that was his last name, but not certain) and he was from the East Midlands. While doing the usual who-do-we-know-in-common routine, we figured out that two of those people were none other than Bruce Carter and Murray Felstead! Clive says hello – I really hope I got his last name right – and rugby really is a small world.
Date: 04/20/2019
NorCal TBA 21 – NorCal TBA 7
Referee: Chris Tucker
Not often when 2 good sides compete do you look down at your watch when the first points of the game are scored and realize that we were scoreless for 28 minutes. The intensity of this game was fantastic. Not to say that it was the best rugby spectacle, or that it was the most skillfully played, but you could feel the passion from both sides for this game. Scores were level again early in the second half, then finally Chico's home-field advantage began to show. Both the squad size and the freshness that comes from sleeping in their own beds and having their own match-day rhythm began to show, and they pulled out a lead midway through the second half, and was never relinquished.
Date: 04/21/2019
Chico St 24 – Cal State Long Beach 22
Referee: Chris Tucker
This was a game where 2 wonderful rolling mauls propelled Chico into the finals. The first happened 2 minutes into the game, and was pulled down by Long Beach at the 5m, resulting in a yellow card. The second, also resulting in a yellow card, happened early in the second half. After 50 minutes, it was Chico all the way, and their 19 point lead looked sure to take them on. Long Beach had other ideas, and finally shook off their slumber and started to apply pressure. As they ratcheted up the intensity, so Chico began to look vulnerable, and ultimately began to break down. They lost 2 players of their own to the bin as a result of the increased pressure Long Beach put them under. Their goal line was repeatedly crossed with intent. And, but for a missed conversion, this game would have gone to overtime. This referee's wallet is glad this did not happen, but the soul did wonder what would have happened given another 10 minutes that a kicker's boot could have provided. As it was, Chico move on to Charlotte.
Thanks to James, Paul and Patrick for their invaluable help all weekend.
Date: 04/27/2019
Marin Highlanders Rugby Club 36 – Lamorinda Rugby Football Club 17
Referee: Giles Wilson
Marin Highlanders hosted Lamorinda in a playoff game, on a real grass field in Corta Madera. The field had a noticeable slope and there was a fairly strong breeze from one end. Marin had a strong first half while Lamorinda played in fits and starts without much continuity. The first half ended 31-0 in favour of the hosts.
In the second half Marin introduced some younger players while Lamo played with more intent and continuity, resulting in a 17 – 5 second half. Final score 36 – 17, Marin.
Date: 04/27/2019
Danville Oaks RFC 24 – Lamorinda Rugby Football Club 14
Referee: Roberto Santiago
It was a beautiful day at California High School. Danville played host to Lamorinda in this Junior Varsity playoff match featuring the present and future of this ongoing series between two of the Bay Area's best U19 clubs. Lamorinda took the opening kick off and played several successful and disciplined phases down well inside the Danville 22. But a turnover soon turned into momentum for the boys in black, who ran their own series of phases back into Lamo territory. Danville scored their first try at 7:30 but just barely missed on the conversion. Danville put in another try at 23:30 and looked to be firmly in control, until Lamo, playing with just 13 managed to take possession inside Danville's 22 and finally put one over. Still playing down a man, Lamo nearly took the lead on the last play of the first half, but the near score was lost forward in goal with no time left. The second half saw both teams play well, with possession rarely entering the 22 for either side. Danville was able to put on a burst in the middle of the period, scoring tries at 48:00 and 52:00. Lamo never quit and was able to get one back on a brilliant attack that ended in try with six-minutes left in the game. The visiting team seemed determined to continue scoring and there was the energy in the air that comes with a building sense of momentum. It was not to be, as Danville was able to gain possession and hold it for most of the remaining time. As always, it was a great day because it was a rugby. Many thanks to the players on both sides as well as to the coaches and volunteers.
This Week's Photo
Team of Three on a picture perfect day at Stanford for the Collegiate Women's playoffs.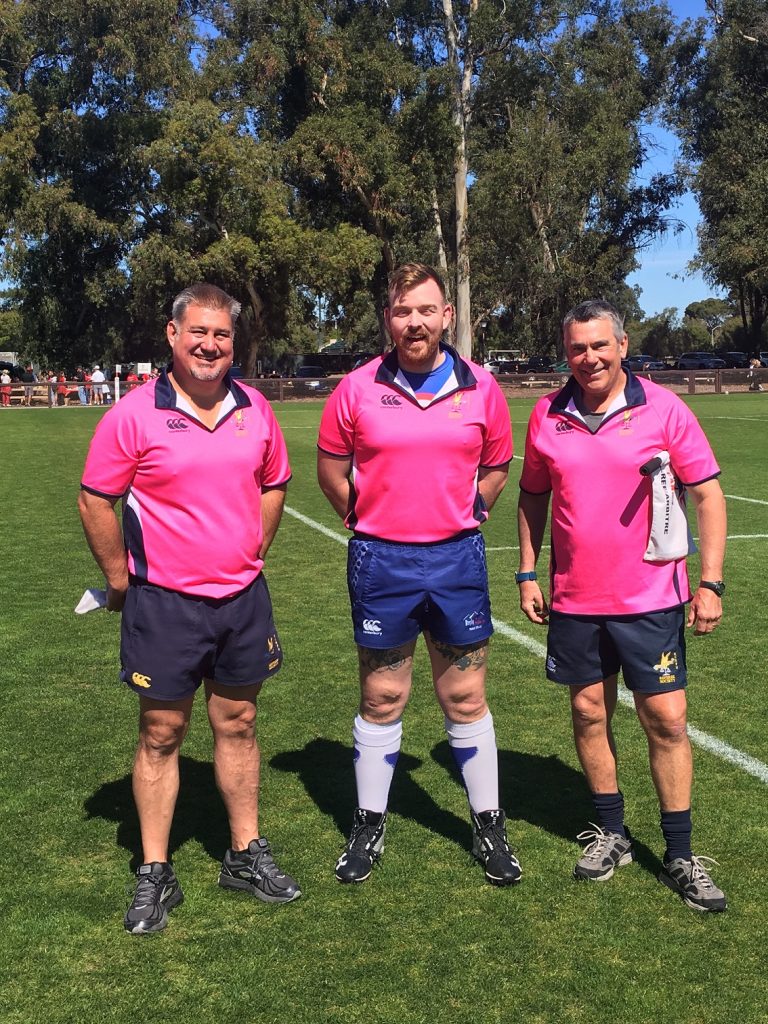 Hail, Pelicus!
For the Senate
Pelicus Pedem Referre