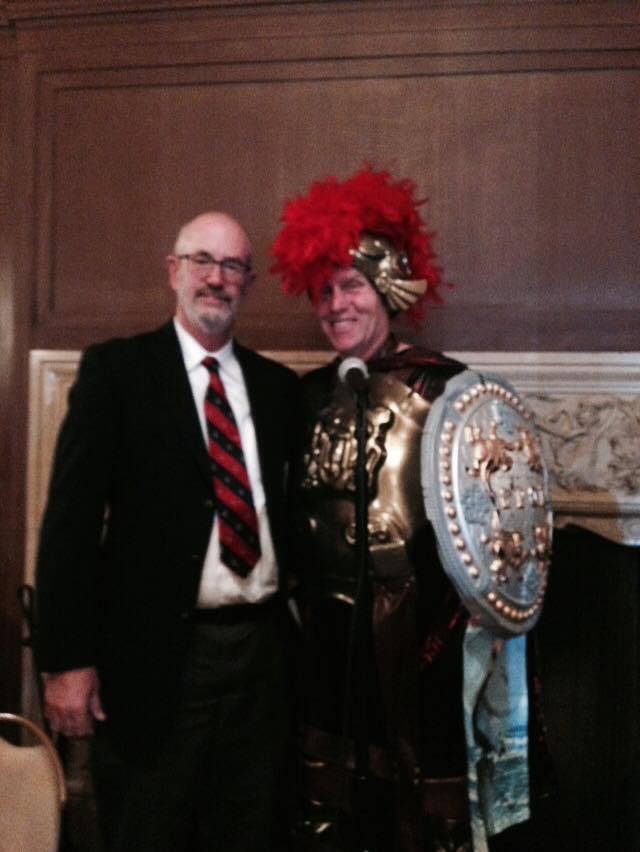 HAIL PELICUS!
A Grand Farewell
Oh what an exit that's how to go.
When they're ringing your curtain down.
Demand to be burried like Eva Perron
– Andrew Lloyd Webber, Evita
No, Bruce Carter is not dead but the sentiment remains:   If you are making an exit, make sure you do it in style.   This past Friday the flock and attendant guests gathered together in San Francisco's Marine Memorial Club to honor and pay respects to one Dr Bruce Carter, Pelicus Scriptoris, Dux Deux, who has retired and will be moving to Arizona to chase the wild iguana or something like that.   He wasn't the first president of the Northern California Rugby Referee Society and he wasn't the first editor of Hail Pelicus, but he embodied both so completely it is difficult to separate them.    For my entire playing career and nearly all of my officiating career he has been an omnipresent stalwart ready to dispense humor, knowledge and, quite often, diagnose an injury or pop an offending joint back into place.   He was one of those referees who, when you saw he was in charge of your game, you though "excellent, we have one of the good refs".   As an official, higher praise is difficult to find.    You knew you were going to get a safe, fair match determined by your sweat, effort and skill rather than an errant whistle.
His exploits on the field as a player and a referee were not his only contribution to the game, because as the "Dux Deux" in his Pelican name will tell you, he was our second NCRRS president.    He brought a level of organization and comradery to the Society that, in the words of several well-wishers at his banquet, made us more than a society, a collection of referees, but made us a team.   There is not enough space and time to detail his accomplishments here nor to repeat the stories that were recalled during the many toasts, but let it be known that the NCRRS is considered to be the best society in the country largely due to his leadership.   His effect was not just local, however.   Dr Carter spent time (and possibly still does) on the USA Rugby Laws committee and in other national positions.  The next time you see him ask him about the Law change that he personally got passed by the IRB.   (Hint: It involves the ball in touch.)
Everyone dressed in their finest formal outfits, including Scott Carson who wore his finest rugby shirt.   Toasts were made, stories told, Pelicans canted, nobody recanted, and because the bar had been open since 4:00, we were all eventually decanted into the streets of San Francisco.
I Believe In Miracles.  Where You From?  You Sexy Thing.
"Million-to-one chances…crop up nine times out of ten."
-Terry Pratchett
Let the mind's eye look down on Pelicanland, floating up and away, gaining perspective as the coastline appears and the familiar contours of San Francisco Bay fill the senses.   Back and further away the cities and features become smaller as great bands of clouds can be seen and the Sierra Nevada's snow topped peaks tease the eye with their dazzling brightness.    Moving east we traverse the continent, over the mighty Rocky Mountains and the Great Plains and eventually across the Atlantic Ocean to the Old World.    Zooming in now, focusing on the island that birthed our noble sport up towards our friends in the East Midland.   Focusing, focusing ever more the eye detects something strange, out of place.   Bringing the perspective in tighter on the city of Leicester the source of the strangeness is apparent.   There are no adults out on the streets, only children.    A quick scan and search soon finds the answer to our puzzle.    The streets of Leicester are empty because on Monday, May 2nd, 2016, everybody in Leicester got laid.
Buster Douglas knocked out Mike Tyson as a 42-1 underdog.   Greece won the Euros in 2004 as 80-1 longshots.   Had you ventured to bet on the Miracle on Ice team winning the gold medal you would have been offered a staggering 1000-1.    Leicester City FC, who in April of 2015 were in last place and needed an improbable string of victories just to avoid relegation, have won the English Premier League.   The odds before the season started were 3-1 in favor of them being relegated this season, but to win?   5000-1.   Yes, FIVE THOUSAND TO ONE.
This is undoubtedly the greatest upset in sports.
Hail Pelicus  – The Engine Of Change
As our loyal readers here know, the editors here at Hail Pelicus have been watching the birth of Pro Rugby here in the US closely.  With two teams in our back yard there is a lot to see and comment on and the quality of rugby is as expected – good all star teams comprised of the local talent that we see week in and week out.  That, of course, will change as the league finds its feet and players get used to being full time professional rugby players.
There are, of course, many things to criticize in this new league and here I was preparing to point out the insanity of the ticketing and pricing for the pro games.   A $30 minimum to see players you could see for free just 3 weeks earlier, combined with $80 jerseys and $30 t shirts seemed excessive, especially considering that the business plan seems to be reliant on word of mouth from current ruggers.   They are taxing the people who already give to the game and the taxes seemed harsh.   This pricing scheme would backfire and drive people away as the novelty of a pro game wore off, I felt, so I went on social media and commented on this very thing.   These teams should be slashing prices for youth, giving family discounts.   They should be giving away tickets to any high school or youth team they can find.  If they did so they would find that they fill up the stadia, create loyalty in the youngsters and, of course, these kids will bring their parents who will buy their own tickets, concessions, shirts ect.    I was very adamant about these things.
Now it looks like I don't have to write all these things, which in some ways disappoints me.  I do like a good rant.   Because modesty and humility are two of my finest traits I am not going to say that I personally, and the threat of a nasty dressing down in Hail Pelicus, caused the masters of Pro Rugby to rethink their ticket pricing but it is quite the coincidence that this week both the Sacramento Sack-o-Tomatoes and San Francisco Hipsters (I assume these are the team nicknames, but there has been no official announcement) have lowered their prices for youth and children, including all children under 5 for free.   They are also offering group discounts.   Well done to them and I am sure it will pay off as the league grows.
As for the rest of you, the paying customers, you're welcome.
Hey, You Look Like A Rugby Player
Back in 2005 when I was touring New Zealand with the San Jose Seahawks I sat down for a few drinks with Todd Clever who was playing for North Harbour's NPC team.  (At least I drank – I mean, I was on tour.   Todd may have been more restrained because of his training schedule, but I digress.)   What immediately struck me was how much he had changed physically from the skinny kid I saw in high school for College Park  and playing flanker at the University of Nevada, Reno.   He had filled out and had the lean look of expectant energy, like a coiled spring.   Reading a story in the Auckland papers a few days later his coach commented on that very thing, saying that Todd was starting to develop a professional body – the kind of body that gets sculpted when working out is your job, not just something you do after work.   This physical transformation will gradually separate the professional players from the talented amateurs as time goes by.
This is one of the benefits of a professional league that the US has been lacking and it showed when we went up against fully professional teams.   See the latest World Cup for examples.    It is one of the first steps towards international respectability that we here hope that Pro Rugby provides.
One More Bruce Carter Story
This story has been told to me by both Bruce himself as well as Skippy Givens , the club sports manager at UCSC.    Every year UCSC host their Slugfest tournament and because he lived relatively close by in Monterey Bruce was often assigned to referee.   One year he showed up and saw the teams warming up and goal posts in place, but that was it.   So he found Skippy and asked when he was planning to line the fields.   Skippy looked at Bruce strangely and said "what do you mean?  They are lined."    Bruce looked around and told him that they weren't lined properly because he can't see any from where he was standing.    "You're standing right on top of the sideline right now, Bruce," came the reply.    At this point realization dawned and Bruce asked which color paint they used.    "Well, we were all out of blue and aren't allowed to use white on the upper field so we painted the lines in red."
What followed would best be described as a pregnant pause, eventually ended by Bruce.
"I am red/green colorblind.  I can't see the red lines on the green grass at all."
I have no idea how Bruce managed to referee that day.  It probably involved a lot of guesswork and help from the touch judges.
Ever since that day UCSC will not use red lines to mark their field.
Word Of The Day: Canted
Canted:  noun
insincere, especially conventional expressions of enthusiasm for high ideals, goodness, or piety.
Just in case anyone was wondering.
Ask A Pelican
Yes, it's time for this week's installment of "Ask A Pelican", the widely loved Q and A session with Hail Pelicus.   This week's question comes from Greston Pordon of San Francisco, CA who asks:
"So I am starting to get AR assignments for playoff and other significant matches and afterwards assignr is asking me for a match report.    Should I send one in?   I know you have said repeatedly not to do so but I have not been paying attention for the last several years."
Hello Mr Pordon and thank you for your question.   As has been stated again and again and again and again and again and again and again DO NOT submit a match report if you are an AR or a PR.   Only the Referee should submit a match report.  I know that you will receive notifications asking you to but just ignore them.   The children who wrote the code for assignr apparently can't or don't know how to shut off notifications by category, even though it is literally one line of code:
if notification.category != 'R'
                sendmail.notification = false;
Yes, the 'R' is hardcoded and that is considered poor programming but this is pseudo code – cut me some slack.   It is simple enough to have a list of categories that allow/disallow mail notifications and to check against this list.   It truly is that simple.
The ONLY exception to the above rule is if you are hosting a visiting referee and the visitor does not have access to assignr.   Then you should produce a report with the visiting referees name in it so proper credit is given.
Keep those questions coming!
Disciplinary Action Reporting – Process For Reporting Incidents
The various competitions all have their own disciplinary chairs and this will make it difficult to centralize the communication and data.  To help Scott Wood has developed a form that will centralize the process, regardless of the competition.  The link to the discipline form is https://docs.google.com/forms/d/1mmUNg11uVOSkIsUtHifSqQzalhWbwohk_J6AmPyrucQ/viewform
Copy the link and have it available on your smartphone.  If you have an Iphone add the link to your home screen.
When needed fill it out and click submit.  The discipline chair of the competition you refereed will receive a notification about the incident.
He/she may contact you latter for more details.
If you have any questions as to how to use the app please refer to the the following video: https://www.youtube.com/watch?v=_Uz0_gTaOnY
On To The Game Reports!
Pelicanland this week took a small pause before the final playoff push of the 2106 15s season thus unfortunately resulting in only a couple of match reports this week.  Fortunately our Chief Foreign Correspondent Stephen Valerio was able to step up and deliver a month's worth of rugby.
Date: 04/02/2016
Cherry Blossom Rugby Tournament
Fort Washington, MD Rosecroft Stadium
Referee: Valerio, Stephen
Back when I played in the Northeast, the Cherry Blossom Tournament was a famed tournament I never played in as my club would head down to Savannah for our spring tour. The Cherry Blossom Tournament is now a university and U-19 tournament with most of the pitches in the middle of a horse-racing track, which may be the weirdest pitch location I ever experienced. The interior pitches are hard, with some having a bit of an incline, making the selection of end a critical decision. On the occasion of guest referees from Plymouth, UK, visiting the Potomac Society, we arranged for a gray, cold and rainy day, so they would feel at home.
Gonzaga 40 – Colonel By Secondary 0
Colonel By Secondary is a U-19 side that came down from Ottawa, and hadn't started playing outside yet due to the cold weather back home. They eased into the season against #1 in the nation Gonzaga. The first half was an uneven affair, with Gonzaga's strong scrum only providing a 5-0 lead. A couple of substitutions at the half changed everything Gonzaga striking for 5 tries. Their flyhalf was especially savvy, confirming anytime he thought he had a penalty advantage before taking a deep kick, which more often than not was collected by a speedy back and led to one of their tries.
I then left the infield to go to the 2 pitches outside of the stadium where the university sides were playing. The pitches had pretty good covering of grass, but the inclines were even steeper. You know the angle is steep when you are at a lineout and you look over to the defending hooker and you can only see them from the shoulders up.
Towson University 52 – Virginia Commonwealth University 7
Towson is one of the stronger local sides and they showed it with an impressive 40-0 lead at the half, even with the abbreviated halves. The match slowed down in the second half with several subs and VCU collected a try for their efforts, but it was clear Towson was the class of the pool.
Towson University 29 – College of NJ 10
Towson sent out their B-side, plus a couple of their players helped the College of NJ who was light on numbers. The match was a story of the hill. First half, going downhill, Towson 24 College of NJ 0. Second half College of NJ 10 Towson 5.
College of NJ 10 – VCU 0
VCU contributed a few players to the NJ side. VCU failed to take advantage of the hill in the first half. The College of NJ did in the 2nd with 2 unconverted tries.
Date: 04/07/2016
Calvert Hall 35 – Archbishop Spalding 0
Location: Severn, MD
Referee: Valerio, Stephen
The Junior Varsity match played before the key match-up between these rivals was delayed nearly an hour due to thunder and lightning, a problem I never had in NorCal. Archbishop Spalding has an impressive set-up with a changing room, public address system and scoreboard. For the JV match, it didn't help with Calvert Hall in control from the beginning in an open, fast-moving match. Calvert Hall put across 3 tries in each half for a comfortable win, though the open spirit the game was played in was promising for both sides in the future.
Date: 04/09/2016
Chambersburg 93 – North Bay D4 5
Location: Chambersburg, PA
Referee: Valerio, Stephen
The snow held off, but in a match that kicked off below freezing, Chambersburg dominated a weakened North Bay side that showed up with 1 sub. The match was very consistent with Chambersburg collecting the ball, trying some attacks in tight which the North Bay forwards were able to control. Then they spun the ball out wide and invariably struck for the try. They collected 10 in the first half alone for a 62-0 lead. One penalty against Chambersburg that let North Bay collect a second half try stemmed the Chambersburg attack.
Date: 04/17/2016
Washington Women's RFC Ruggerfest
Fort Washington, MD Rosecroft Stadium
Referee: Valerio, Stephen
I returned to Rosecroft stadium, this time starting on the outside pitch and then moving inside the track.
New York RFC 26 – Black Ice 0
Black Ice Rugby traveled from Colorado and avoided the wintery weather back home. New York was much stronger in the pack, particularly in the first half and they used this base to build a 14-0 halftime lead. While Black Ice was able to stabilize the pack in the second half, NY was able to strike twice in the second half while Black Ice wasn't able to threaten the NY defense.
Severn River 15 – NOVA 12
A crazy match on a hard pitch. Severn River carried the early momentum, but was only able to get a try for their effort. Then late in the first half, they found the NOVA back three lacking and started kicking. Twice the back three misplayed the ball and Severn River outside center collected a ball that was allowed to land and struck for 2 long distance tries. With no conversions made Severn River held a 15-0 lead. For some reason, Severn River abandoned this attack in the second half and NOVA started a strong pick-and-go game and collected 2 tries, and importantly a conversion. While only 3 points adrift, NOVA ran out of time and Severn River held onto the win.
Date: 04/23/2016
Monmouth 45 – Montclair 31
Location: Montclair, NJ
Referee: Valerio, Stephen
I had to return to New Jersey for a family function, and the Rugby Referee Society of NY was kind enough to assign me a match. A friendly between two D2 sides who were rivals from my playing days with North Jersey Rugby (I my first men's club match was against Montclair at the Sea Girt Tournament Monmouth organizes in August).
Monmouth looked the stronger side from the beginning and struck out to a 12-0 lead, but Montclair countered and the half ended with Monmouth leading 19-14. Montclair picked up an early penalty in the second half, but Monmouth's outside center and fullback repeatedly broke through the Montclair defensive line and lead an attack that put 4 second half tries on the board. Montclair stuck with Monmouth until the final 15 minutes when Monmouth finally pulled away.
Date: 04/23/2016
Monmouth B  14 – Montclair B 5
Location: Montclair, NJ
Referee: Valerio, Stephen
The B-side match was another close affair. Montclair suffered from inexperience players who were repeatedly penalized, but the Monmouth attack wasn't consistent enough to benefit. The sides exchanged tries in the first half, but Monmouth sealed it with a second half score.
Date: 05/01/2016
West Carroll Girls 105 – Eleanor Roosevelt HS 0
Location: Union Bridge, MD
Referee: Valerio, Stephen
West Carroll boasts a wonderful, proper pitch with permanent posts, large try zones and a lush playing surface. The match was only 26 miles away, but going through the rural roads meant a respectable 45-minute drive for me on a gray, cool day. The rain fell earlier giving us a soft pitch, but no rain fell during the match.
Unfortunately for Eleanor Roosevelt HS, they were outmatched from the beginning. It was Senior Day for the West Carroll Girls, and they never saw a cold ruck all day.  , Even when Eleanor Roosevelt won the ball they were under pressure. As the match wore on, Eleanor Roosevelt's conditioning betrayed them and they started falling off their tackles, even when they were in position to stop the relentless Marauder attack.
Date: 04/30/2016
CSU Monterey Bay WR 29 – Alumni 25
Referee: Freitas, Larry
Another beautiful day down at the former Fort Ord near Monterey.  There weren't enough alumni women to actually form a team, and Alena Porte and another San Jose Seahawk, as well as Betsy, one of the CSUMB coaches who long ago played at UCSC, took to the field for two sevens matches of seven minute halves.  Lots of passing the ball about and scoring, especially by Sabrina Bacuangan.  I have to wonder what her speed is in the 40 meter dash.  Bruce Carter arrived as the second match was ending, and as I missed the banquet the previous evening, it was great to see him before he leaves for Arizona.  We ended up touch judging for Neil McDonald for the men's alumni-varsity match.
I'm looking forward to how Cal State Monterey Bay will do next year.  They have a building program, with many enthusiastic student-athletes.  Both the men and women's sides will be looking for coaches, by the way, so anyone interested who lives in or near the Monterey Bay area might want to contact.
Date: 04/30/2016
SFGG PRP 31 – OMBAC PRP 10
Referee: Akroyd, Phil
This one had big implications for the PRP playoffs.  OMBAC were second, leading SFGG in the table in third and had some momentum from previous results.  SFGG previously had a big win against the Barbos, followed by a postponed fixture.
It looked ominous for SFGG when OMBAC scored a try in the first minute from fullback Pangelinan.  SFGG answered pretty quickly with a try from Huihui, then the game settled into a cagey battle.  SFGG were struggling immensely in the scrum but did have a powerful maul.  Gate pushed ahead just before half with a second try and OMBAC answered back with more pints from the fullback to make it 14-10 at half.
There was no more scoring from OMBAC in the second half but the home team opened up their attacking game with Tai Enosa repeatedly making an impact when he came into the line from 15.
This Week's Photo
The torch was well and truly passed as Pelicus Scriptoris poses with the Centurian, also known as the Eternal Pelicus.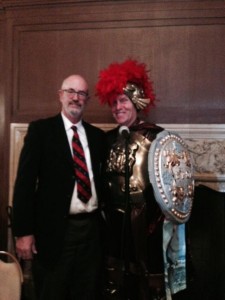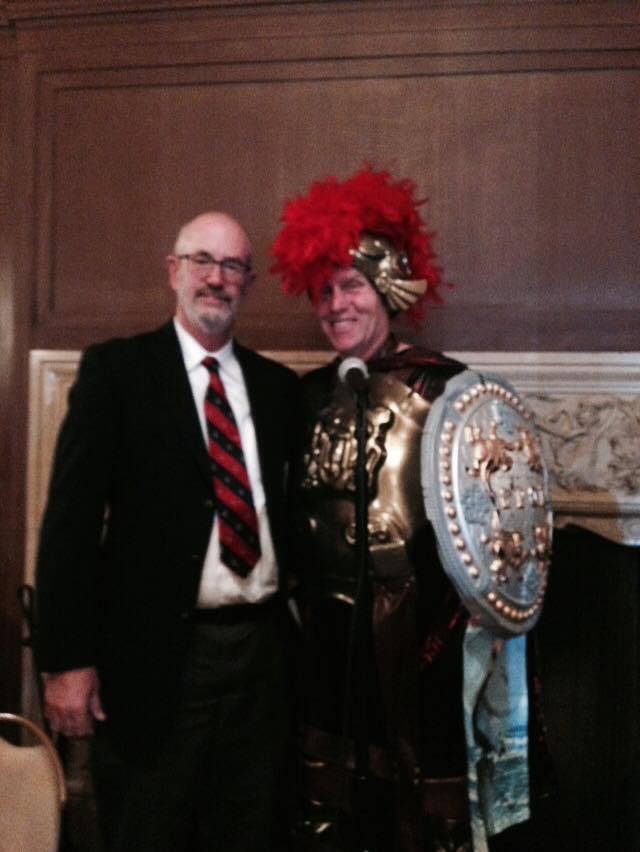 Hail, Pelicus!
For the Senate
Pelicus Pedem Referre