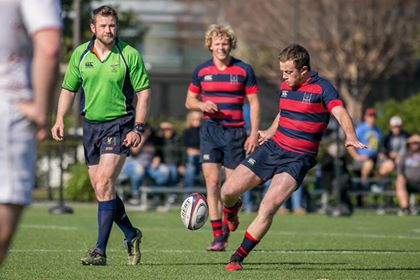 HAIL PELICUS!
A New Hope
The season is upon us as the Land of the Pelican braves the winter chill (it was 70 degrees and sunny at my game in Santa Clara) to start the new season of the Game They Play In Heaven. This time of year each club and team, no matter how dark and hopeless it seemed the previous year, no matter how powerful the League seems to be, no matter what evil machinations have worked against the forces of good rugby (obviously your team), have a New Hope. Perhaps the new player that joined is the Chosen One that will lead your team to victory? Maybe a new coach can be the wise old mentor, directing the education and the progress of the Chosen One? Possibly together they can use their concentrated will to steer a match their way and even predict the opponent's play so that they are in position to defend it? It is even feasible that I have watched too many Star Wars movies and can't separate them from reality any more. Only time will tell.
Granted, some teams will have more hope than others. As for the rest, if history plays out there will be some surprising victories followed by a resurgence of the opposition before the memory of a legendary club player inspires a final coming together of purpose to defeat the League again. Then, for some reason a party at a furry convention – I never understood that part of a rugby season. Of course, in a few years the Chosen One will watch in horror as his replacement changes the style of play for his beloved club and then goes off to sulk like a child, but that's just normal team dynamics and is neither here nor there.
And finally, I really need to stop watching Star Wars movies.
Shiny New Laws And Mistakes
Yes, even as I pompously lectured the reading public on the new laws that are being implemented for the 15 a side game for the first time here in Pelicanland, even as I blithely tossed off a comment on the players needing to adjust to these changes, yes, even as… I made a law error this week. This feels more ironic than a bad Alanis Morissette song. While this error didn't affect the match I still made it and there is no guarantee that in a tighter match it wouldn't have had a greater impact. Which law, I hear you ask? After a yellow card to a team's hooker, at the next scrum I insisted that the penalized team put 8 in the scrum. When the scrumhalf/captain questioned me, I told him "these are the new law trials".
I was close, but wrong. That law only applies to uncontested scrums. (And yes, U19 and youth, but this was a senior game.)
The bad news is I got the call wrong. The good news is that it didn't affect the game. The takeaway from all of this is, as a referee, you need to know your laws and a constant refresher and review is needed to keep them fresh. Our monthly law meetings do a good job in reviewing laws and scenarios, but they can't cover everything. To that end our beloved President, Pelicus Iudex Pennipes, has developed the NCRRS 2018 Law Challenge. You can take this short quiz on your computer or on your phone. Using the mobile app is highly recommended by Our Noble Leader as the app will provided you notice when the questions are posted. The link to the document is here.
Selling Stories And Taking Responsibility
"Sales are contingent upon the attitude of the salesman – not the attitude of the prospect"
– W. Clement Stone
One of the most underrated tools in a referee's kit bag is the ability to sell a call. We are all human and all referees make mistakes, just as all players make mistakes. The ability to sell a bad call can help with game management and establish player confidence. Now, we obviously don't recommend making bad calls in order to sell them – making the correct call works just fine, thank you – and in no way should a dangerous situation be "sold" to the players. After all, player safety is the first goal of any referee. The reality is that more often than not the players are unsure of the law so that makes a confident call – even an incorrect one – a good call in the mind of the players. Every referee who has refereed more than a few years will have an example of this, where they made an incorrect call, either knowingly or unknowingly, and then sold it to the players, including any player who questions said call. More often than not this actually helps the flow of the game and underlines the referee's ability to control a game. In the example in the above section I was wrong, but when questioned I was confident in my response and sold it. It was only after the fact when I looked up the actual text of the law I recognized my error.
That was an easy one because I was confident that I was correct and very little selling needed to be done. There will be other situations in matches that are not so clear cut, where you have to make a decision that could go against either team and that is when presentation and salesmanship come to the fore. It a hotly contested match a critical call at a breakdown needs to be made with confidence. Players will sense if a referee is unsure and will lose confidence in future calls if they believe the referee to be "winging it" and that can lead to disaster, fights and cards.
But what about the second half of the title to this section? Should a referee determine that they had made a bad call they should take responsibility. In my example above, once I determined I got the law wrong I messaged the coach of the team and apologized for getting the call wrong and then asked him to convey that to the team and explain the correct law. In another case after reviewing a conversation I had with a coach after a match it became clear that I was merely trying to justify a poor decision after the fact. In that case I also messaged the coach involved with a mea culpa and owned up to my mistake. These little gestures will mean a lot to the teams and coaches should you ever cross their paths again. They don't always have to happen after the game, should you realize your error sooner. A quiet word with the captain and maybe a player who was involved can go a long way to maintaining control and respect.
The phrase "I am sorry, you were right and I was wrong. I will endeavor to do better" should also be in every referee's tool kit and will do more good than you think, especially that last phrase. I will end with another quote that comes to mind should any of you dear readers find yourself in the position I was in and are trying to justify a bad decision.
'"If an apology is followed by an excuse or a reason, it means they are going to commit same mistake again they just apologized for."
– Amit Kalantri
Flock Talk, Enriching The Vocabulary Of Pelicanland
Making its first appearance of the season, we have this edition's Word of the Day:
Autometalogolex
noun | au·to·me·ta·lo·go·lex | \?-t?-me-t?-?l?-g?-leks\
1. the act of looking up the word "autometalogolex" (see also recursive)
2. the law of compulsiveness that forces you to automatically look up a strange term you found on the internet.
Why? Because it is a fun word. You're welcome.
Ask A Pelican
Yes, it's time for this week's installment of "Ask A Pelican", the widely loved Q and A session with Hail Pelicus. This week's question comes from Harry Kisserov-Butte of San Francisco, CA who asks:
"I am always impressed with the columns in Hail Pelicus. What is your process?"
Thank you for your question, Mr Kisserov-Butte and your kind words. What I do when I write is very similar to what I do while refereeing and just about every other referee does – I talk to myself. While on the pitch I have a constant inner monologue going that is processing what I am seeing and making judgements. I am constantly asking myself a series of questions and then answering them. What did I just see? What did I expect to see? Why is it different? Is it a penalty? Is it material? Do I need to stop the game? These are just some of the questions that come during the flow of the game and the answers I give myself, along with the belief in these answers, form the bases of any decision I make as well as the confidence I project when making it (see previous segments).
While writing I also have a monologue with myself, although the questions are different. I try to be conversational, as if I was talking to another self, or another person entirely. That means that, much like Fox and Friends, I have an audience of one that I am attempting to entertain and inform. Anyone else who is entertained, informed or just laughs at some of the jokes is a bonus.
Keep these questions coming! It's a long season and I can't just keep talking to myself the whole time.
Disciplinary Action Reporting – Process For Reporting Incidents
The various competitions all have their own disciplinary chairs and this will make it difficult to centralize the communication and data. To help Scott Wood has developed a form that will centralize the process, regardless of the competition. The link to the discipline form is https://docs.google.com/forms/d/1mmUNg11uVOSkIsUtHifSqQzalhWbwohk_J6AmPyrucQ/viewform
1. Copy the link and have it available on your smartphone. If you have an iPhone add the link to your home screen.
2. When needed fill it out and click submit. The discipline chair of the competition you refereed will receive a notification about the incident.
3. He/she may contact you latter for more details.
4. If you have any questions as to how to use the app please refer to the following video: https://www.youtube.com/watch?v=_Uz0_gTaOnY
On To The Game Reports!
Date: 01/13/2018
San Jose Seahawks 50 – Sacramento Capitals 0
Referee: John Lane
The 15's Div 2 league season kicked off on a sunny afternoon at Independence High School with the San Jose Seahawks hosting the Sacramento Capitals.
On arriving for the game it was great to see a well marked field accompanied by a USA Rugby "textbook" defined Technical Zone and a full sideline spectator rope!
An hour before kickoff the Seahawks were already started on their warm-up drills and the Sacramento Capitals were just settling into team discussion and preparation. Boot checks, captain chats and the coin toss were completed with no fuss and I left the teams to their preparations. Supported by John Pohlman (he came to watch!) and one of the Sacramento entourage as TJ's I started the game promptly at 13:00 with the Seahawks 10 kicking off.
The Seahawks dominated field position in the early exchanges and missed with a "longish" penalty kick on 5 minutes. Sacramento did break out of their half with some direct running in midfield but turned over possession and the Seahawks pushed downfield again and after a number of direct drives crossed for the first score of the day on 9 minutes. Conversion was missed for a 5-0 lead. Both sides were reacting to my communication and the game developed well with plenty of open play. The Seahawks overall team support structures was generating better quality ball. This lead to strong field position which they turned into a converted try on 15 minutes for a 12-0 lead. Sacramento settled into the game more in the next 10 minutes, gaining some strong running yards in midfield but lack of support or a forced pass cost them possession and delivered relief to the occasionally stretched Seahawks defense. On 27 minutes one of these turnovers was run out of defense and committed support and re-cycling delivered another try (converted) for a 19-0 lead. It was clear some fatigue was impacting the players and both sides started to kick more. Both sides back 3's looked to counter but the Seahawks support again proved the better with another unconverted try on 33 mins for a 24-0 lead. Despite a strong finish to the half by Sacramento, they failed to register a score leaving the halftime at 24-0.
The coaches had obviously noted the fatigue the Seahawks made 4 halftime changes with Sacramento making 2. The second half played out in a very similar manner to the first half with both sides having periods of field position dominance. As in the first half the Seahawks overall 15 supported better and while Sacramento had multiple line breaks they failed (narrowly at times) to convert their efforts into scores. The Seahawks got their 5th try on 47 mins and converted to move to 31-0. The next 15 minutes were fairly even with Sacramento unlucky not to score in this period from some strong running from their 13 and 15. Tiredness started to creep in by mid way through the half and progressively the rest of the substitutes were introduced. Infringements due to fatigue started to increase but with some strong communication and a willingness from the players to use the "advantage" they were given the game stayed open and (relatively!) fast. The Seahawks continued to dominate the score board with an unconverted try on 22 mins followed by a converted one on 27. The lead now stretched to 43-0.
Sacramento kept looking to attack but it was the Seahawks who finished the scoring with the last play of the game (converted) for a final score of 50-0.
Date: 01/13/2018
UC Santa Cruz 0 – Cal Poly-SLO Freshman 60
Referee: Stephen Moore
Friendly but heavily one-sided match with Cal Poly being the master team and SC not having much experience. A couple of controversies. One, the technical zone line 2M in from touch. Two white lines in close proximity are confusing players. One of my players mistook the technical zone line for touch and took out and injured my touch judge, society member Larry Freitas. Second, Cal Poly contested my decision on their lineout maneuver. They were forming a lineout without a receiver and had a player running in deep from an angle into the lineout to be lifted as the ball was thrown. I did not catch it at first, but 30 minutes into the match made a decision that a receiver was needed and it was not legal for the player to run in. I believe I was half wrong and half right. Wrong in that a receiver is optional. Right in that players cannot stand outside the lineout and run in. If anyone has a counter opinion please inform me. Apart from these, it was a good enough match. SC was happy at the end despite their loss, Poly not happy for my lineout decision despite the score. There were three yellow cards, all SC, one for a dangerous tackle (10.4), another for professional foul not rolling away, another for obstruction, resulting in a penalty try. Thanks.
(EDITOR'S NOTE: Spot on with the lineout decision. Law 18.16: If a team elects to have a receiver, the receiver stands between the five-metre and the 15-metre lines, two metres away from their team-mates in the lineout. Each team may have only one receiver. Sanction: Free-kick.)
Date: 01/13/2018
Silicon Valley 34 – Berkeley RFC 10
Referee: James Fonda
It was a nice day. The field did not have clear lines and I did tell them that the next match what was needed. We worked together about the use of technical zones. The match started on time. No problems during the match and no cards needed. Teams were well disciplined and yet played hard.
Date: 01/13/2018
SFGG Women 0 – Life West Gladiatrix 87
Referee: Lee Bryant
No Report Received.
Date: 01/13/2018
Santa Rosa 23 – Sacramento Blackhawks D2 54
Referee: Neil MacDonald
This was the second match in a full day of rugby at For Pete's Sake field in Santa Rosa, under bright skies, on a soggy pitch that held up well. Santa Rosa kicked off, and 38 seconds later the Blackhawks scored under the posts after a series of offloads and great supporting play. Five minutes later Santa Rosa opened their account, kicking a penalty on the 22 from a Blackhawks tackler not rolling away. Blackhawk discipline on offside and at the breakdown continued to cost penalties, and Santa Rosa's solid lineout meant they continued to kick for territory, regather the ball and march up the field. They took advantage of that free territory in the 23rd minute to cross for their first try. 8-7 Santa Rosa.
Sacramento struck back immediately and retook the lead 8-14. A block on Santa Rosa's 10 inside Sacramento's 22 as he was chasing his chip saw Blackhawk #7 depart for ten minutes of reflection on repeated infringements with half an hour played. Continuing a long period of pressure, Santa Rosa scored again to close the gap to a single point. 13-14. Alas, a fired up 14-man Blackhawks team responded immediately with more strong play in contact and great support, extending their lead, 13-21. Another penalty kick from Santa Rosa brought the score back to 16-21 at the half.
During the break, the Blackhawks finally realized that the penalty count was killing them, and came out in the second half with a newfound understanding of the offside line and better control at the breakdown. Rosa's front row, each giving up at least 100lb to their opponents, were playing a blinder in the scrums. Alas, Santa Rosa missed too many tackles to contain the resurgent Blackhawks, who ran in four unanswered tries in the first 20 minutes of the second half, taking the game out of sight. Santa Rosa's 28th minute try gave them their only points of the second half, and Blackhawks fittingly had the last word, closing out their solid win with another try. Santa Rosa 23 – Sacramento Blackhawks 54.
Thanks to Lee Johnson for his words of wisdom.
Date: 01/13/2018
Redwood Empire RFC 24 – Olde Gaels 53
Referee: Robert Hammack
First match of the day on For Pete's Sake field and the grass was still dewy from recent rains. Lots of knock ons and handling errors early but a few nice tries scored by both teams. Several key injuries to Redwood early in the half also didn't help their cause as their 12 went off with a nasty gash above the eye and their bollocking #8 went down with an ankle injury. Second half saw Olde Gaels start to pull away with superior fitness and structure. Their set piece also started to gain ascendancy and provided some nice front foot ball. Redwood scored a few length of the field tries with their exceptional offloading in the tackle and support lines but, in the end, it wasn't quite enough. Great, fast-paced, fun match and great start to the season.
Date: 01/13/2018
Colusa County 38 – Google 26
Referee: Jeff Richmond
The match started 40 minutes late and Google only fielding 11 players as their squad had trouble getting to the match on time. Colusa ran up a few quick tries with easy overlaps and big gaps in the defense. By minute 20, Google was up to full strength and things tightened. Colusa seemed to have a more integrated style of play between their forwards and backs. Frequent communication and good mix of forward pick and go, then swinging it to the backfield. Google relied on a few big runners in the forwards to make their attack then maneuver through the Colusa backline. A few "first game of the season" issues, e.g. confusion over new laws, but overall a good competition.
Date: 01/13/2018
Chico State Women 46 – Stanford Women 17
Referee: Jessica Turner
It was a chilly morning in Chico, with lots of fog on the drive up which caused Stanford to arrive about 10 mins late to warm up, so we all agreed to move KO to 10:15am. The first quarter of the match was heavily dominated by Chico. The girls were physical and doing well offloading in support, and with a couple of stellar backs they were able to break the line for some nice tries. Most of Chico's tries did in fact come from the first half. Stanford started coming around in the second quarter and the game was becoming more tightly contested, although Stanford's pack was clearly dominant at the scrum. There was good discipline from both sides during this half, with a lot of open play, not very many penalties, and most stoppages for knock ons from a lightly greasy ball. I was feeling good and excited about the second half, as the game was getting tighter as we went on. However, the second half was a bit more messy but still well contested from both sides. Chico was starting to slack on their discipline around the breakdowns, which resulted in many more penalties from slowing Stanford's ball. Eventually the penalties earned their side a yellow card, and Stanford did well to keep the pressure on. As they did start to connect more and challenge the strong Chico side, it was too late to bridge the score gap. The scoreline is not entirely reflective of the competition between the two sides. It was a great match to witness with lots of skill and physicality from all the girls.
Date: 01/13/2018
Chico State 9 – Cal Poly 32
Referee: Steven Fenaroli
The drive to Chico was quick without too many cars on the road. It was an easy hour and a half to get to Chico from Sacramento. When I arrived there was a full day of rugby already in swing. The Chico women played Stanford women, and the B-side was kicking off. After my game would be the second 15 for both Cal poly and Chico State. Both teams had issue with the breakdown being disciplined enough to stay on side. Cal poly scored first and would use any opportunity to kick at goal and take three points. That didn't deter Chico State from answering back and limiting any options for them. They were plenty of handling errors which led to a number of scrums all over the field. The first half saw issues out the breakdown with hands in and poachers trying to contest ball too late. A word with both captains and reminding them of the repercussions if they did not clean up the play, led both teams to behave differently. The second half proved to be a more hard-fought game, with lots of contest at the breakdown. There were two yellow cards one for collapsing the spray on my Cal poly, and one by Chico State for high tackle. Jessica Turner gets a load of credit for working with me even during malfunctioning radios, and having my back every step of the way.
This Week's Photo
This week's photo shows Jordan Bruno keeping a close eye on events at the St Mary's – Santa Clara match.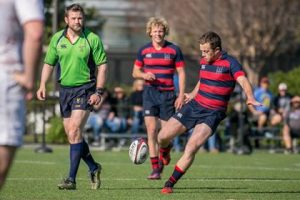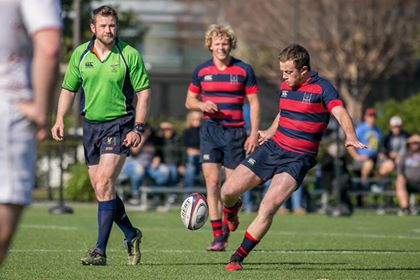 Hail, Pelicus!
For the Senate
Pelicus Pedem Referre