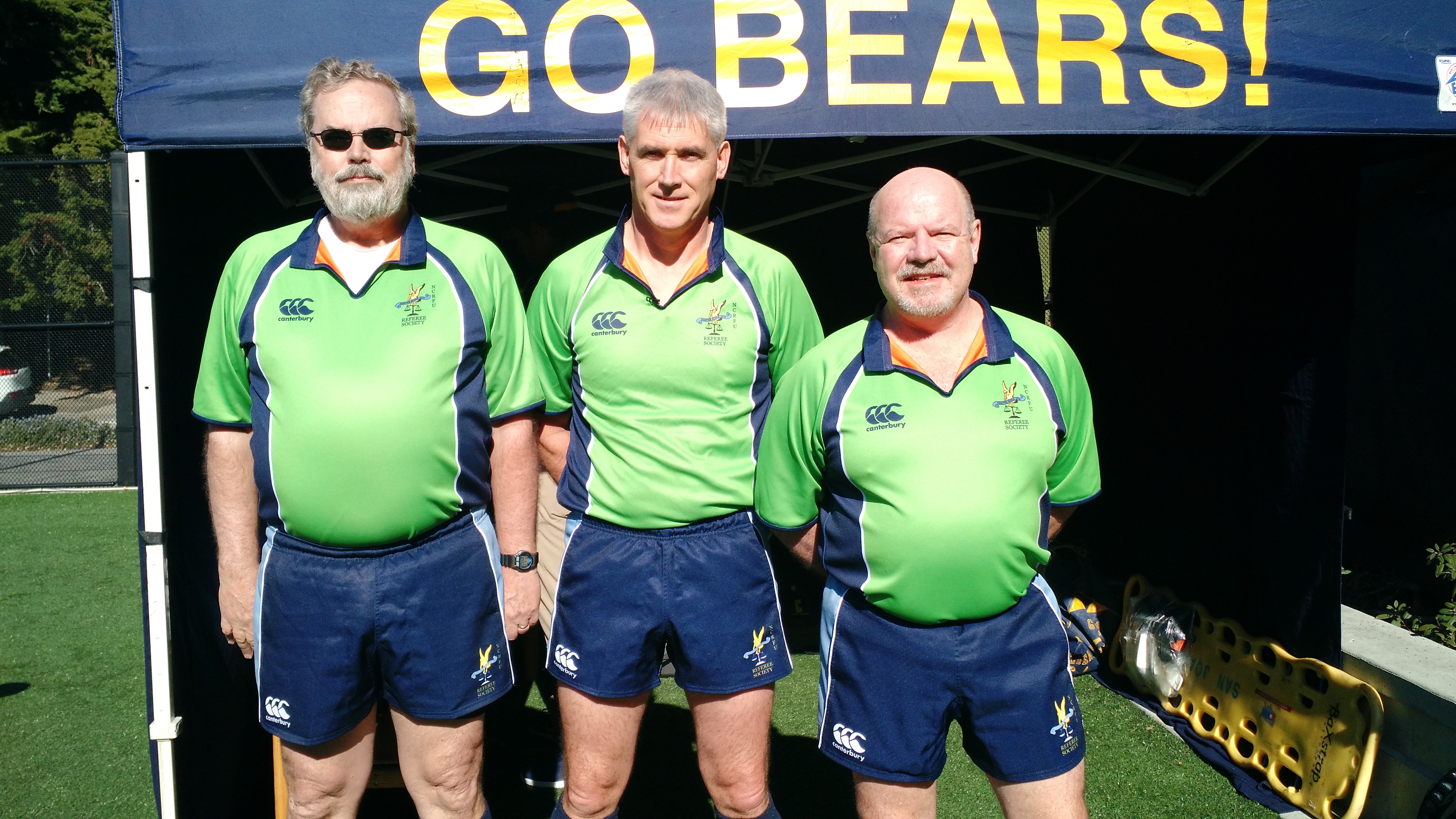 HAIL PELICUS!
A Song For Eric
or
Ode To The Truncated B Side Match
A one, two
A one, two, three, four
Half a B, philosophically
Must, ipso facto, half not be
But half the B has got to be
A vis-a-vis its entity, d'you see?
But can a B be said to be
Or not to be an entire B
When half the B is not to be
For fear of sustaining injury?>
(Singing)
A laa dee dee, a one two three
We're playing a half a B
A, B, C, D, E, F, G
It's only half a B
Is this wretched demi-B
To be determined worthy
For players, coaches and referee
When it's only half a B?
A fiddle de dum, a fiddle de dee
We're playing a half a B
Hoh hoh hoh, tee hee hee
It's only half a B
The watch is set to minute twenty
Or even captains will agree
To tens or sevens, no matter to me
You're charged a full game fee
Yes, a full game fee
Our time is not for free.
The end
As Ford Prefect noted, "Vogon poetry is of course the third worst in the Universe. The second worst is that of the Azgoths of Kria…"   Although there is some speculation concerning Paula Nancy Millstone Jennings, one can only guess as to what the worst poetry in the Universe is.
Las Vegas Needs Refs
Apparently LVI Tournament Director Jon Hinkin was upset at last week's call for LVI referees stating, for the record, that "I give great gifts". His passionate pleas have swayed the editorial staff here at Hail Pelicus and we fully retract last week's statement that he gives thoughtless birthday presents and want to say that we truly enjoy the belly button lint brush he gave us last year.
Now that that unpleasantness is cleared up, if you are planning to go to Vegas for the USA 7s and want to referee at the LVI, details are here:
Referees – we need your help as a volunteer with the biggest tournament this spring – Las Vegas Invitational March 3, 4, 5-6th! We have 70 refs currently registered… and need 40 more refs!!!!!!
Referees will receive:
1. Free referee jersey
2. Tickets to all 3 days of the USA 7's International tournament (when you stay at The Westgate Hotel) at LVI Discounted Rates.
Hotel Register HERE:
http://www.usasevens.com/las-vegas/official-lvi-hotels/
Referee Register HERE:
http://lvireferee2016.doattend.com
For more information email Autumn Arvidson at mnrugbyref@gmail.com
February Society Meeting
February 10 will be the next society training at the SFGG clubhouse.   This is a biggie so coaches and referees are strongly encouraged to attend or to watch via the live webcast.
6:00 PM will be the final Beep test opportunity for referees desiring to be assigned national appointments.  All referees are encouraged to participate.
7:00 PM marks the start of our meeting and we will be discussing the new law changes that have taken effect. As a side note, I (NCRFU President Paul Bretz) will be developing an online activity to review the law changes.  Please check the online class feed regularly.
As well as discussion of the law changes the schedule will include the following.
Pete Smith will be making a presentation on the tackle
Paul Bretz and the Life West coach Adrian Ferris will be presenting on developing a positive relationship between referees and team coaches.  We all need to recognize that there are too many instances of issues between referees and team coaches in which our interactions have negative tones and we also need to take ownership for those issues.  Ferris and I have been planning a joint presentation for a few weeks and wanted to capitalize on the recent Rugby Summit.  We are asking for both referees and team coaches to be at the meeting.  Please plan on attending.
Well Tie Me Up And Cal Me Sally
The USA and an Argentina development side met last weekend in Houston, TX.   Northern California, the undisputed beating heart of rugby in America, was, as expected, well represented in the USA Eagles squad.   Not only that, but our own Phil Akroyd was ARing along with Kurt "I Love Justin Beiber" Weaver.   For those who don't know the result, too bad, because I am going to tell you: it was a tie.   As we all know, by long and sacred tradition whenever a referee is involved in a tie he or she must buy a round for the society.   As this was a USA Eagles match, Mr Akroyd is now obliged to buy a round for every referee in the country.   Because we are not cruel, we will allow him to split the tab with "Beiber" Weaver.
Ask A Pelican
Yes, it's time for this week's installment of "Ask A Pelican", the widely loved Q and A session with Hail Pelicus.   This week's question comes from David Wooderson of Austin, TX who asks:
"I see that some high school matches are now being assigned by the NCRRS. Aside from the standard U19 variations, is there anything else an overprotective and micromanaged league might change to conform to their personal tastes?"
Why yes, Mr Wooderson, there is and as a long time observer of high school it is no surprise that you noticed this.   You see, World Rugby sets the laws of rugby union as they are to be followed around the world with changes moving gradually into unions as seasons allow and these laws include what equipment is allowed for players to wear. As we can tell from last week's question the unique pioneering spirit we have here in America says "pish tosh and applesauce!" to the rest of the world so don't be surprised if you see high school boys wearing tights in the games you referee – it is allegedly perfectly fine for certain conditions.
From Rugby NorCal: "Leggings can be worn by boys and girls of all age groups (U8-HS) in both dry and wet conditions ONLY on artificial turf. So they are not allowed to wear them on grass."
Thanks again, Mr Wooderson and we'll see you at The Emporium.
Disciplinary Action Reporting – Process For Reporting Incidents
The various competitions all have their own disciplinary chairs and this will make it difficult to centralize the communication and data.  To help Scott Wood has developed a form that will centralize the process, regardless of the competition.  The link to the discipline form is https://docs.google.com/forms/d/1mmUNg11uVOSkIsUtHifSqQzalhWbwohk_J6AmPyrucQ/viewform
Copy the link and have it available on your smartphone.  If you have an Iphone add the link to your home screen.
When needed fill it out and click submit.  The discipline chair of the competition you refereed will receive a notification about the incident.
He/she may contact you latter for more details.
If you have any questions as to how to use the app please refer to the the following video: https://www.youtube.com/watch?v=_Uz0_gTaOnY
On To The Game Reports!
Date: 02/06/2016
California 15 – UBC 20
Referee: Lane, John
First weekend of February and the California sun arrived for the early kickoff (11:00am) for CAL v UBC.
TV Coverage certainly adds to the pre-match activities and also noticeably to the pre-match crowd buzz. It also adds to making things a little more complicated but healthy good humored banter with Rob and John was the order of the day!
CAL were gathered in the bowels of the superb Coliseum facilities so following a golf cart ride down I had the team talk with captain and players. Driven back up (I felt I should have brought my clubs!) I did the same with UBC and left the teams to their respective warm-ups.
By this stage 4 people had repeated that TV was dictating an 11:12 kickoff and I had been asked 3 times if I had been mic'd yet! On arrival I had met the mic guy and agreed we would do that at 10:50 which we did.
Rob, John and I went through the pre-match team of 3 prep with minimal interruption but we did get our "entry" instructions from the TV organizer, Jerry Figone and also the CAL Communications organizer.
After being mic'd and with CAL still in the Coliseum there was a quick deputizing of one of the CAL injured squad members to step in for the coin toss – which he won and chose to kick (with mobile phone instruction) with UBC opting to play from the Coliseum end (or uphill as one of the locals explained to me).
I managed to squeeze in a few minutes of warm up and was back in position with Rob and John at the stated time of 11:02.
UBC were welcomed to Witter Field, CAL were introduced to a raucous roar from the large crowd as they ran onto the field. Your Team of 3 walked authoritatively to the center and flanked by both teams faced the flags for the National Anthems. Who knew – we were introduced as the Ref and Assistant Refs for the World Cup!!
After all the prep we finally got the game underway at exactly 11:12!!
CAL kicked off and it was clear both sides intended to play open attacking rugby. UBC played the ball out of defense but and early handling error gave the ball to CAL who quickly spread the ball and while UBC made a few strong tackles they conceded a penalty for not rolling away and on 2 mins CAL converted it with a powerful kick splitting the uprights. 3-0 on 2 mins.
Both sides moved the ball well, mixing it up between spreading it wide and taking it up in close. Strong defense and some big tackles forced turnovers. Set plays of lineout and scrum were overall quite clean in the early stages with both sides winning their own ball reasonably well.
A few minutes in, following a high kick and chase the UBC 15 fell heavily on his back to the turf after a fair contest in the air – with the loud gasp from the crowd I was about to blow to check for player safety when the 15 hopped up and charged forward and placed the ball at the next ruck.
Play ebbed and flowed with a lot of endeavor and quite a bit of skill in a game which maintained a high pace through out. UBC started to gain field position through some strong back play and then with some close in forward play forced the penalty from CAL and leveled the scores on 3-3 on 13 minutes.
The game continued at pace with the large CAL crowd making themselves heard at every opportunity! At the occasional injury stoppages it was possible to check in with John and Rob and between us we were supporting a highly competitive game develop between the players.
On 21 mins, following a turn over on half way, the CAL 10 attacked at pace and crossing the 10m line, chipped the on coming 15 who then stepped across deliberately impeding the CAL 10 in full stride. With cover behind it was only a penalty but warranted a yellow card. The CAL 10 slotted the penalty for 6-3 on 22 mins.
Down a man, UBC upped their game and held the majority of field position for the next 10 minutes with some strong running from their 2 centers in particular and some probing kicks into the 22.. However CAL started to get the upper hand in the lineout with some steals on attacking UBC lineouts to relieve the pressure. UBC returned to 15 men but CAL dominated the close of the half including an excellent penalty conversion on 35 mins which lead to a 9-3 half-time scoreline.
UBC's coach won the half time talk credits as his team started extremely strongly from the restart – retaining the ball well at the breakdowns and using their centers ability to break tackles or at least step through and offload, multiple phases were put together and they crashed over wide on the left. Their kicker converted brilliantly from almost on the touchline for a 9-10 lead on 43 mins. A period of fairly even play in terms of territory and possession followed but it was clear that UBC's scrum was getting a slight upper hand giving CAL slow or poor ball but in direct contrast CAL were stronger at the lineout with the same effect.
On 52mins CAL were awarded a penalty just inside the UBC half straight in front of the posts. CAL's 10 drove the 47 yard kick straight between the posts to regain the lead at 12-10 52 mins.
Shortly after this, the score of the game went to UBC. From just inside their own half they moved the ball through the hands right to left, and then left to right with some quick tackle recycles. CAL were stretched and as play came back right to left again their 12 had the speed to round one of the CAL forwards and offloaded to his outside center who fed the winger just short of the 22. With CAL desperately tracking to the corner flag defensively the winger feed back in field to his supporting 12 who went in untouched just left of the posts. Converted and UBC were back in front 12-17 on 56mins.
Roared on by the home support CAL upped their game again, turned down kicks at goal to play for the corner lineouts deep in UBC's 22. UBC held firm but following a period of penalty advantage which lead to nothing CAL opted to kick a penalty from in front of the posts to bring the score to 15-17 on 64 minutes. From the kickoff UBC mounted pressure and were awarded a penalty 35 meters out near the 15m line. Despite excellent contact there was a big sigh of relief from the CAL stands as the ball went narrowly wide to the left of the posts. This was the only missed kick of the day with both kickers showing excellent skills.
At this stage it was clear CAL had adjusted their attacking plan as UBC were defending them well out wide. With much more direct play, they built momentum with a few pick and drive series. However UBC's defense stayed strong and on each occasion the turn over came either through an isolated CAL player or strong tackling forcing a knock-on.
Just past 68 minutes CAL spread the attack wide having sucked in some of the UBC defence with strong drives. 5 meters inside the CAL half the UBC 13 cynically impeded his opposite number with a pull back after he had mis-timed a "shooter" attempt. This earned him a 10 minute rest with a yellow card.
CAL were pushing hard all the time but UBC managed to build a number of phases on 74 minutes and CAL conceded a breakdown penalty. After a few seconds of consultation the UBC captain indicated a kick at goal and turned to his players saying CAL had failed to score a try so far and if they kept it like that the game would be won (his wording was a little more direct!). The kick was good and with 5 minutes left it was 15-20.
The following 5 minutes saw CAL take up the challenge from the UBC captain and they dominated possession and spend most of the 5 minutes in the UBC 22. Despite UBC getting back to 15 men with 90 seconds CAL continued to pound towards the UBC line. Only one penalty was conceded and with multiple phases played off this last penalty UBC maintained there discipline and through some strong counter-rucking forced a turnover on 81 mins and kicked the ball dead.
From my seat this was an excellent game with two fully committed squads giving it everything with only a score between them at the end.
An excellent day out in the sun in Berkeley and I am sure the team of 3 would love to officiate at the return fixture in BC later in the season!
Date: 02/06/2016
All Blues 65 – San Jose Women 7
Referee: Sandhill, Peter
Held at Gilman Field in Berkeley (synthetic) on a stunning sunny Feb. day; must have been around 70 degrees. The All Blues had enough replacements to field two teams, the Seahawks had none. This really showed in the second half. The All Blues were very well coached and had responses for nearly everything thrown at them. The heart of the Seahawks was impressive, never giving up.
Both teams started out hard. Solid rucking, set piece and forward play from both sides. After the first quarter it was very even and then the All Blues began to pull away. There was a 15 minutes period in both halves where the Seahawks were camped on the All Blues line with raid after raid. They only yield once in the second half. For the past fifteen minutes the Al Blues scored a try every three minutes as the fatigue and lack of replacement options for the Seahawks began to take its toll. The back line play of the All Blues was a joy to watch.
Date: 02/06/2016
Cal Maritime 53 – Sierra College 12
Referee: Simko, Paul
Bodnar Field at Cal State Maritime is an excellent facility. It was a perfect day in the 60's. Maritime had a strong pack and a working kick and chase game to manhandle Sierra College. Thanks to Lee for the great feedback. Reminder to other refs who go there, they ticket everyone. The machine was broken by Bodnar Field, so I had to drive further into campus to find another machine.
Date: 02/06/2016
Cal Maritime B 17 – Napa 2 48
Referee: Byrnes, Bryant
Lovely rugby day at Maritime. This was the second match on the day. While these college guys v senior men's side games can be unsavory, such was not the case here.
Indeed, it was fun. Constructive for Napa, for the opportunity for the second side to have a full contested match- and they tried some new combinations. It was instructive for Maritime; these young fellows for the most part gave as good as they got against a bigger more experienced team. It was something of a rite of passage.
The first half was all Napa-and frankly some nifty ball handling in the back line. In the second 40 minutes Maritime settled and scored 17, as many as Napa.
Date: 02/06/2016
CSUMB 10 – Santa Rosa JC 39
Referee: Freitas, Larry
It was another Saturday drive southward to near the Monterey Peninsula, arriving at Cal State Monterey Bay, this time under sunny skies and a temperature that read 67F on my car's thermometer, over ten degrees warmer from the previous weekend's cold front weather. Both teams were warming up, and unlike last week, in which there was ample time to have the ladies team re-line the pitch, there wasn't enough time today. Note to CSUMB: this needs to be done before every game! The touch lines, halfway, goal and dashed lines were all hard to see during the match. CSUMB's pitch is one of the best in the state, has the real-deal goal posts, and so on; it's well beyond "course rugby" conditions I've played on, officiated, and watched as a spectator from time to time since January of 1973.
Santa Rosa Junior College Bear Cubs would score the first try of the match three minutes in, when Devante Manning, who plays inside center, wearing number 12, and stands about 6'3" and probably weighs upwards of 240 pounds, ran in a try that was unconverted; I had to warn a CSUMB flanker that I was the referee and would officiate the game in these early minutes as well. Many minutes would go by before there would be another score, as both teams struggled to put together any sort of meaningful attack, and were hard-done by defenses that wouldn't give. I sensed that Santa Rosa was the team that would eventually get an upper hand in this game, and they did. A penalty at 35 minutes put the visitors up 8-0, and some six minutes later, one minute into injury time, another unconverted try was scored to put them up by 13-0. There was still a few minutes of injury time left in the first half, and the Otters were able to put pressure on Santa Rosa deep in their half; an infringement at a ruck gave the home team an opportunity to kick a penalty for three points as time expired.
Seven minutes into the second half Santa Rosa was able to win a tighthead some ten meters out from CSUMB's goal line, and once again Devante Manning scored after taking a pass from his outside half. The conversion followed, and it wasn't too long before Santa Rosa had another opportunity to score a try, this time from a tap penalty just inside ten meters of the goal line, when CSUMB's players failed to turn and face as they retreated to their goal line. CSUMB would have their chance to score a try when a penalty kick to touch didn't find it from deep inside Santa Rosa's end. A counterattack from halfway started; one of their centers who has pace touched down under the posts after a long run that included a few missed tackles from swerves; the easy conversion complemented that phase of play. As the game wore on to its conclusion, it seemed the weather was taking its toll on the energy of the players. Some players made mention of the fact this was the first game of the season played with warm and sunny conditions. If anything Santa Rosa seemed the fitter of the two sides. Two soft tries would be scored very near the end of the match, the last in injury time, for Santa Rosa to increase their lead before no-side was whistled. The game ended with the Santa Rosa scoring 39 points to CSUMB's 10.
Both teams had a mixture of new and more experienced players. A few times I caught players on the deck, after releasing the ball, snatching it back into their hands and arms again while still on the ground. It's also good to see more rucking from the defensive side, not just letting a team in possession "win" a ruck without a contest for the ball, and both teams used this tactic at various times in the match.
Menlo, a newcomer to the game, played both teams in a round-robin of sevens afterward. With a slight muscle twinge in my right hamstring, I let one of the CSUMB coaches take over the officiating duty.
Finally, I don't understand why the big tarmac that lies between the pitch and the parking lot isn't used for parking as well. Seems silly. Even the portable toilet had been moved from near the gate of the pitch to the middle of the tarmac, a good distance away! That's a long walk after a match back to the parking. CSUMB's admin needs to do something about this, and it would also be nice to have a parking permit vending machine near the pitch as well.
Date: 02/06/2016
Danville 60 – Mother Load 12
Referee: Pohlman, John
National Champion Danville hosted Mother Load in the first High School Variety Gold game of the year. Monte Vista High School was in full gear with food tents, numerous games and fans. The field is an artificial turf field. The size of the field and very tight side lines made the field far from ideal.
Danville has a bunch of hard running athletes mixed into a few high quality rugby players. This combination with the coaching staff could lead to another national championship.
Danville's scrum half and captain Kevin led the way with two try s. Danville's #8 was playing in one of his first games. He made a silly mistake which sent him to the bin, slapping the ball from Mother Load scrum half as he was preparing to take a quick tap penalty. I mention this because within minutes of returning he scored his first try of the game. He also scored another to start the second half.
This game had Danville with over 70% ball possession. Their hard runners just wore down Mother Loads tackling.
Final Danville 60 Mother Load 12.
Thanks to Jake and Steve two qualified referee's for running AR.
Date: 02/06/2016
Fog 0 – Colusa 123
Referee: Bernstein, Bruce
Not much to say except Colusa looks like they're back to last year's division championship form. Their hooker stole most every Fog scrumdown & their captain & #8 & flanker #7 took their ball up numerous times along with an assortment of others–very team-oriented attack & defense. Most tries were of the 50 meter breakaway type, with no tries starting as a lineout or scrum inside the 20. 57 points (9 tries) in the 1st half followed by 66 (10) in the 2nd for 19 total tries. Also no high tackles or misconduct of any kind & great post-match festivities with food (BBQ chicken) & drink (local micro brews) provided by Modesto who hosted this 3rd Division Supersite with 10 teams & 5 refs.
Date: 02/06/2016
Fresno State 31 – UCSC 36
Referee: Fenaroli, Steven
Wednesday night comes and goes and I did not draw a game. After reaching out to the powers that be, I was selected as tribute to travel to Fresno for Saturday's competition. I figured that I would outsmart the decision makers and take the train; heck I didn't feel like driving 3 hours so why not kick back and experience the rails like our forefathers. The trip down the valley through America's salad bowl was foggy and not very salad-y. I had arranged a ride from the station from the coach's father, Milt; a very nice man. We spent the 15 minute car ride comparing collegiate programs and some of the hiccups that teams run into. We parted ways at the warm, 65° lush field.
Santa Cruz scored first and dominated the first half. Their set piece was much more disciplined than Fresno. Fresno struggled at the scrum and keeping their footing. There were calls against them for early push, unbinding and standing up in the scrum.
The second half showed a resilient Fresno and a less experienced Santa Cruz. Once Fresno realized that they could swing the ball out wide and beat the defense on the wing, they were able to score three tries.
Coming into the final 5 minutes, Fresno was down by 5 points, there was a last effort to score but they came up short. Santa Cruz kicked the ball away at time and won.
Date: 02/06/2016
Fresno State B 53 – UCSC B 5
Referee: Fenaroli, Steven
Fresno St came out strong after a disappointing A side match, winning handily 53-5. Both side were relatively inexperienced. This left the game full of scrums and restarts.
Date: 02/06/2016
Google 0 – Napa 41
Referee: Wood, Scott
For the second consecutive Saturday, I was assigned a match with a 10 a.m. kickoff. Normally, I'm not a morning person but I appreciate the relative calm and a light fog can be enjoyable. However, this week's drive down to the Modesto Supersite (in Manteca) involved a less-than-civil person passing me on the left shoulder at about 100 mph followed by what can only be described as Stockton PD's entire morning shift (see item 1: https://www.tipsoftonline.com/Push/uploads/572/020616DM.pdf).
Modesto's Supersite was held at a multi-purpose park in Manteca. While the lines were appropriately straight, the five-meter lines were three meters from touch while the 15-meter lines were about nine meters from touch. Moderate initiative coupled with poor execution.
Napa arrived with enough players to field close to a full second side, whereas Google had 16 players. Overall, Google competed very well and maintained pressure on Napa spending a significant amount of time in Napa's half of the field. However, Napa was able to exploit gaps in Google's defense through the use of quick hands and tight passes. Despite their effort, Napa was held to two penalty goals in the first ten minutes before crossing the goal line. After one try, we were set to restart when a Google player called my attention to one of his teammates who may have had a knock to the head. Since I did not witness the event and he did not initially exhibit immediately recognizable signs of a concussion, I asked the player several questions (I'm not a medical professional or attorney, the following does not constitute medical or legal advice):
Ref: What day is it?
Player: Uh, Saturday.
R: Ok, Saturday's a rugby day. What did you have for breakfast?
P: Um…a bagel…with ham…and, uh…cheese.
R: Was the bagel toasted?
P: Uh…no. Microwaved.
R: Who drove you here?
P: (pause) Me?
R: Do you feel dizzy?
P: Uh, yeah.
R: Have a nice day. Your participation is over for the day. Please seek medical evaluation and do not drive yourself home.
First half: Google 0, Napa 27
The second half was similar to the first with the primary difference being Napa finding gaps more exploitable scoring two tries in 17 minutes. As I awarded the second try, I noticed two Google players lying immobile on the ground. Before I could call for time off, several individuals were immediately tending to the players. One complained of a headache and sore mouth while the other had a headache and was bleeding from the back of his head. The best presumption we could make was they contacted each other mouth-to-head. Down to 12 players (and only 8 willing to continue), Google decided to concede the match.
Google 0, NAPA 41
Date: 02/06/2016
Granite Bay 42 – Riordan 21
Referee: Taueva, Favor
No report received
Date: 02/06/2016
Humboldt State 10 – UOP 37
Referee: Devlin, Joe
No report received
Date: 02/06/2016
Lamorinda 10 – Solo 24
Referee: Coppinger, John
This match followed the Cal/UBC match on beautiful Witter Field. Both sides came out looking to run wide, but we may have set a record for scrum restarts because of an incredible number of knock-ons in picture perfect conditions for rugby. In close match until the end, Solo won 24-10.
Date: 02/06/2016
Sacramento Amazons 57 – Pleasanton Cavaliers 19
Referee: Jones, Herb
The score did not dictate how well and hard fought this game was. The Amazons just were able to capitalize on mistakes and gaps in the Pleasanton defense. And with talking to the players on the visiting side after the match, there were a lot of graduates last year and this season is a rebuilding one.
Date: 02/06/2016
Santa Rosa 34 – SFGG 5
Referee: Hinkin, James
With the rain having held off for a week the conditions at For Pete's Sake field were warm, sunny and muddy – the kind of field forwards dream of, backs less so.   With regulation posts and clearly marked rugby lines it is always a pleasure to referee in Santa Rose. There are no football, soccer, field hockey, quiddich, ultimate, lacrosse or any other lines marring the perfection of the field and that is a thing of beauty.   The home side was out in force when I arrived with SFGG players arriving in bunches, just less so.   A high school match ably handled by Joe Leisek was underway and the future of rugby put on a grand display for the several hundred strong crowd. I was looking forward to a lively atmosphere once the big boys took the field, so it was slightly shocking to see the spectators empty out so fast once the high school match was done. Oh well, there were still a vocal and passionate array of Rosa stalwarts on hand to cheer the action.
The first half was all Rosa as both teams struggled with discipline giving away silly penalties, but the home side adapted quicker and used their forwards to dominate possession.   They were unable to break through until midway through the half when SFGG lost a player to the bin for a dangerous tackle. The man advantage proved costly as Santa Rosa got on the board with their first try, converted.   A solid wave of possession led to Rosa's second try with the extra man and increased the lead to 14-0.   Once parity was restored SFGG got back into the match but were unable to break the line and in fact surrendered a third converted try to go into the break 21-0.
The second half was a better performance by SFGG as their captain tried to rally the troops. Bringing their dangerous back line into play more allowed them to be more aggressive with the ball and some promising moves were snuffed out with poaches, knock ons or more silly penalties.   Santa Rosa was able to get 2 more tries on the board (converting neither) before Golden Gate was able to respond with a hard earned try of their own, also unconverted.   A penalty kick to Rosa finished off the scoring as SFGG defended strongly down a man for the last 7 minutes due to another yellow card infraction, but they could not breach the solid Rosa defensive wall.
Date: 02/06/2016
Santa Rosa B 15 – SFGG B 55
Referee: Hinkin, James
The B side saw a tired SFGG A side (with a few changes) go up against a true Santa Rosa B side and the game proved to be just that.   A compromise between the captains set the time for each half at 22 minutes (huh?) so that is what we played. The game kicked off and it was immediately obvious what the game was going to be like. With both sides making some shocking kicking decisions this looked more like soccer at times.   Santa Rosa kicked, it seemed, because they were out of ideas – SFGG seemed to kick because it was silly and fun.   Be that as it may the tired A siders were far too much for the fresh B siders and dominated the first half 31-0.
Alex Trebek: The answer is "Time and space".
Jeopardy Contestant:   What are two of the three building blocks of the universe, along with mass, shown to be related by Einstein's General Theory of Relativity?
Alex Trebek: I'm sorry, the question we are looking for is "What should not be given to the SFGG back line?"   Considering the category was "Pelican Sports" you should have known that your initial answer was wrong.
The Brosas (copyright James Hinkin, 2016) gave a much better account of themselves in the second half scoring three tries of their own as they started exploiting the space left by tired legs in the SFGG side. They were able to put three unconverted tries on the board for a respectable 22 minute haul. Unfortunately they gave up 4 tries to the opposition.   The excellent SFGG captain Pat Schock needs to learn when to "drop the mic", however, a skill that will come to him in time as he grows into his role.   You see, the B side kicking duties were a bit all over the place and as the lead grew more people wanted a shot.   Pat stepped up in the second half to try a rather difficult conversion… and nailed it.   (Now is when you metaphorically drop the mic, my friend.)   Unfortunately he followed that up with a trivial kick from in front of the posts that, naturally, went wide.   Rugby, like life, is a learning experience, after all.
Date: 02/06/2016
SFSU 20 – UNR 48
Referee: Pescetti, David
An abnormally hot winter afternoon in San Francisco, SFSU met UNR at the future home of the SF ProRugby team, Boxer field. This match was a wonderful match to be at, with both teams putting forth tremendous efforts.
UNR came out of the gate sprinting. within the first two minutes of the match they had spun their way to an opening converted try. SFSU turned around and themselves marched right back and responded within only a few short minutes. UNR then managed to string together two tries and a conversion. But before they could relax with their lead SFState answered right back with two tries of their own. At the half it was a marginal lead for UNR 19 to SFSU 15.
The second half was all UNR. While SFSU put up a great defense, their conditioning seemed to be their weak point. The game was a lot closer than score indicates because UNR scored 14 points in the last 2 minutes of the match. But it was clear before those closing seconds that Reno had the right touch.
Date: 02/06/2016
Silicon Valley 38 – Mendocino 14
Referee: Wilson, Giles
Played as one of the last pair of games at the D3 "super site". Having all of the D3 teams in one location certainly seems to allow some socialization , which is nice.
Silicon Valley and Mendocino both have some experience, some athletes and also some new guys. The game started well with long periods of continuity. Both sides ran well at space, supported and off loaded well and also tackled well. Silicon Valley had a little more pace and were a little younger and faster.
The first half ended 24 – 7, four tries with two conversions to a single converted try. The second half was more of the same but with Mendo picking up a couple of dings to key players and both sides bringing on young replacements, the continuity wasn't quite as good. Silicon Valley ran in two tries, both converted to a single converted try for Mendo.
Final score Silicon Valley 38 to Mendocino 14.
Date: 02/06/2016
South Valley 7 – Marin 12
Referee: Bertolone, Cary
A beautiful day at the Super Site in Manteca. Marin kicked off at 12:00 PM and South Valley/Marin played evenly for much of the game. Marin finally broke through for a try at the 33rd minute of the half with a nice interception for a 60 yard sprint, when he was caught from behind, on the 10 meter line, but was able to make a pass to his support who scored. On the 38th minute, Marin's wing scored another one and with the conversion, were up 12-0 at the half. Marin missed two penalty kicks and South Valley missed one (goal posts were only 15 meters apart) in the first half.
Status quo in the second half until South Valley, while down a man, at the 27th minute, pushed one over and converted to make it 12-7. At that point, both teams picked up the intensity and we had a battle for the last 12 minutes, both teams ferociously contesting, both teams almost scored tries and Marin missed a few different penalty kicks that could have sealed the game. Down to the last minute, Marin saved the game for a win.
Date: 02/06/2016
Stanford B 17 – SJSU B 7
Referee: Makino, Ren
Unlike two weeks ago it was a sunny Californian day at Steuber Stadium. The two teams played 1 30-minute half (because Stanford didn't have a full B-side) and the two teams fought hard during the 30 minutes. Stanford was the better side but San Jose State had some nice breaks. Was able to call my first penalty try (a Stanford player high tackled a San Jose State player three meters from the line right under the posts). Received some great coaching after the game, Thank You!
Date: 02/06/2016
UC Davis 29 – Chico State 12
Referee: Tucker, Chris
Fun game, although the penalty count was high. Some silly stuff, but the majority came from over-competing at the breakdown. UC Davis in particular were all over the map in the tackle, with multiple penalties for entry, tackle assist poaching before the tackler was away, and lying on their own ball when Chico were on their feet trying to poach. Regardless, they were the more effective team with the ball, and they made the gainline repeatedly. Chico had their opportunities, but butchered a couple of clear scoring chances, and at the end of the day the scoreline was a fair reflection of the action on the field.
Date: 02/06/2016
USF – Sonoma
Referee: McDougall, Grant
A good spirited and competitive match in the first half. SFU fielded a well-organized and mobile side. Sonoma State has some newer and enthusiastic players. SFU was the fitter and more experience on the day winning 55-19.
For the first twenty minutes both teams ran the ball with confidence but SFU soon found space out wide to exploit. Mis-matches out wide let to many break out tries. This was a pattern that would continue in the second half.
The field at SFU also came into play with kicks having to be taken down at one end as the neighbours are not enthused by on target kicks at goal and like to pilfer the game balls.
All in all a great game of rugby played at pace.
Cheers
Grant
Date: 02/07/2016
California Women B 12 – Stanford Women B 24
Referee: Hendrickson, Robert
Cal women's B side faced off against Stanford women B side in a 12 on 12, 20 minute halves after the A side game.
Date: 02/07/2016
St. Mary's College WR 13 – USF Women 25
Referee: Byrnes, Bryant
This was the curtain raiser for the Super Bowl later that afternoon-and probably the better game.
Playing on the old grass field near the campus entrance was a bit of remembrance of things past for rugby folk of a certain age. At one time a bog that swallowed entire teams during the rainy season, it later became one of the premier NorCal pitches.
On this clear windy day, it was a forwards game. The difference was that USF had three large fleet footed forwards rumbling north/south; the Lady Gaels had only two. At half, it was the Lady Dons (Hilltoppers?) 15 to 8. But credit to the home team-they scored just before full time.
This Week's Photo
The team of three ready to referee their first World Cup. L-R Rob Hendrickson, John Lane and John Coppinger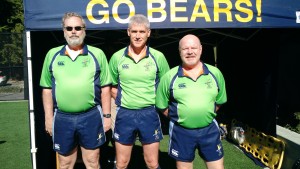 Hail, Pelicus!
For the Senate
Pelicus Pedem Referre