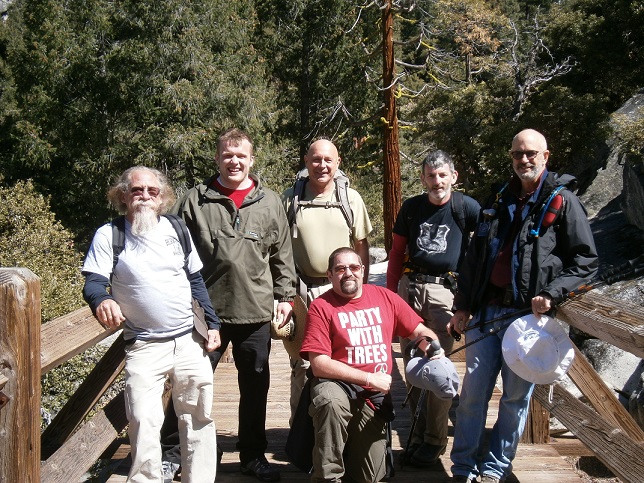 HAIL PELICUS!
A Worthy Fool
When the winds of change move a pelican from one shore to the next it can be taken as either a stoic acceptance or a violent cacophony. I chose the former as I touched upon the stones of England. I have been assigned to the Sceptered Isle for a few weeks of labor so I decided to take it as I liked it. Touring the local village, I have has few chances to leer at the king's ruins but mostly have toiled away, much ado about nothing. A few visits to the local pubs allowed me to meet a couple of gentlemen from Verona. They were in town to meet a merchant from Venice and, aside from the Italians, everyone seemed to have the same name. There must have been three Richards and at least eight Henrys – pretty strange for a local hamlet but who am I to judge? We were at the Windsor where we were served by the landlord's wife, Mary. I kept trying to play Romeo to several Juliets but I mostly lost in that labor of love, so I took on John, the local king of drinking, measure for measure. It truly was a comedy of errors but, after all, all's well that end's well.
The tempest that I felt in the morning seemed like it would take twelve nights to abate. I got a hangover recipe from a couple of cousins who tell me we are distantly related to the Julius Caesar, but it was no use. All I can think of now is that am I not a rare fellow, good my lord? I is as good at anything, and yet a fool.
April Fools
A couple of rugby related April Fools videos…
https://www.youtube.com/watch?v=6dT3iTLl0Fs&feature=player_embedded
https://www.youtube.com/watch?v=KTKRAMsiwgM&feature=player_embedded&list=UUtUmfYBCsWPLznczvbUx9GQ
Hawai'i Rugby
Pelicus Byrnest reports:
My wife and I recently returned from a ten day trip to the Big Island of Hawaii. We had visited there about this time last year and had been delighted to find a thriving community of high school rugby. (At least I had been delighted.) Indeed, it was so enjoyable that it was a factor in coming back again.
How much fun? There are five different regional youth teams. The primary venues are Kona, Hilo and Waimea. Every weekend- commencing in January and going through the end of April-a team hosts the weekend's games.
I attended one weekend of matches in Hilo, and then a weekend in Waimea. The day starts early with U10s and ends with U19s. (The latter is very good stuff.) Because this is the time of year they are switching from the the U10s and U13s to the older kids, I worked with the youth refs doing these younger groups and then was privileged to ref U16s and U19s. These games were fast and skilled.
The rugby community-players and their families, coaches, and refs-were and are remarkably cordial and friendly. And they are most appreciative of anyone who is interested in spending time them. I have been over to Hawaii a number of times and am familiar with rugby on all of the main islands. I find this the most enjoyable.
If anyone in our Society is planning a trip to the Hawaiian Islands, I make a pitch for the Big Island. If you are interested, let me know and I will make introductions.
And those of you involved with high school teams; I think this would be an excellent place to set up a tour/exchange.
Cheers Bryant Byrnes
Shakespearean plays referenced in the opening paragraphs
The Tempest
The Two Gentlemen of Verona
The Merry Wives of Windsor
Measure for Measure
The Comedy of Errors
Much Ado About Nothing
Love's Labour's Lost
The Merchant of Venice
As You Like It
All's Well That Ends Well
Richard III
Henry VIII
Hamlet
Twelfth Night
King Lear
The Two Noble Kinsman
Julius Caesar
And now on to the games…
Please remember when filling out your match reports on assignr, ASSIGNR IS NOT WHERE YOU REPORT MISCONDUCT. The report section of assignr is for the match summaries that are below. If there are red cards or reportable yellow cards in your match then report them via the channels described on pelicanrefs.com.
High School Matches
Lamorinda 20 – Alameda 17
Referee: Hetterman, Matt
Well fought match – decided by a penalty kick at 79 minutes!
Berkeley Rhinos 37 – Ygnacio Valley 15
Referee: Byrnes, Bryant
This is the first season and second game for YV. And a good effort. With only 22 players, they did a nice job of the pack engaging in pick and go. To good effect-hey scored the first try.
The Rhinos had a slew of players, and also put in a good showing. It did not take long for the first team backs to get untracked; they led 20-10 at half.
Club and College Matches
Date: 03/29/2014
Baracus 7 – Berkeley 31
Referee: Bernstein, Bruce
Berkeley slowly dominated each half with 2 tries/half; while Baracus had a few penalty chances which Berkeley defended well. Thanks to Bryant for his help/coaching.
Date: 03/29/2014
Baracus B 17 – Berkeley B 3
Referee: Byrnes, Bryant
This is a first half score. I did the first half and Nome did the second. His game was canceled and I had a function to attend.
It was an interesting match, for probably 10 of the Baracus players were "guest" players-Islander guys from the Saints (?) whose game had been canceled. This side was probably as good if not better that the A side.
My compliments to the Berkeley team, who just grinned and tackled.
Date: 03/29/2014
Colusa 102 – Modesto 5
Referee: Crenshaw, Jim
Colusa dominated and Modesto played with 12 the whole match.
Date: 03/29/2014
EPA Razorbacks 41 – Fresno 7
Referee: Williamson, David
No report received
Date: 03/29/2014
EPA Razorbacks B 22 – Fresno B 0
Referee: Valerio, Stephen
It is always great when you get in the car and the heavens open up. The heavy rain continued until just before the A-side match kicked-off. Luckily EPA had secured the pitch at Cesar Chavez which held up well throughout the day, though the intersecting white lines from 2 soccer pitches that ran perpendicular to the rugby lines made for one or two interesting moments. The sides played 20 minute halves as both relied heavily on A-side players continuing on.
Occasional showers kept both the pitch and ball slick, leading to runners and tacklers slipping and a few knock-ons. The game was still surprisingly open with EPA being particularly adventurous considering the conditions. A couple of big runs gave them a 10-0 halftime lead and the pattern held through with 2 more tries in the second half. A late hit by EPA (a note all the players out there, late hitting your opponent into the ref is a good way for us to pick up on it) led to a Fresno lineout at the EPA 5-meter line, but the ball was knocked on in the ensuing lineout and the opportunity went begging. Thanks to EPA for their hospitality and to Chad Douglas for running AR.
Date: 03/29/2014
Humboldt 31 – Napa Valley 41
Referee: Wilson, Giles
Taking advantage of a Humboldt trip for a weekend away with the wife and visit our son – a rugby excuse for a weekend away, can't get better than that.
Rain on the way up and forecast but at the field it was fine – although the field looked like a pasture – the sun came through for the game.
Napa are well organized and although new, they play to a pattern. Humboldt have some good players and if they could just get together once a week for practice, they'd be in better shape and their organization would be better.
As it was, organization and a little bit of conditioning was worth 10 points to Napa who came out 41 – 31 winners.
It will be interesting to see how their games work out next year when they are "real" and some opposing players don't take the weekend off.
Date: 03/29/2014
Sacramento Amazons 43 – San Jose Seahawks Women 6
Referee: Baker, Eugene
Saturday was a perfect day for rugby in South Sacramento!! Overcast with with swirling winds and heavy rain…The high grass, winds and sopping wet conditions played into the strengths of the much larger Amazons, whose physicality was jarring…
The Amazons thoroughly outhit and outackled the Seahawks, and the weather limited ball handling and back line play for both sides, keeping the ball in the middle of the field and in the hands of players with single digit numbers.
Far from surrendering – The Seahawks hit back as much as possible, and were in the match for much of this game with the halftime score being only 15-3. It was only at the end when a pair of long tries by former Eagle Nana Faavesi (capped against South Africa) put the score out of reach.
Despite the weather and the score – A spirited match by both sides.
Date: 03/29/2014
Sacramento Capitals 41 – Chico 10
Referee: Richmond, Jeff
My match card is still wet two days after being rained on Saturday afternoon. The pitch held up well for the match between the Capitals and Chico. Sac jumped out to an early lead in the first two minutes with a poached pass they took in for the score from mid-field. Chico answered with two tries in the first half but it was all Capitals after that. Sac overpowered Chico in the scrums taking away almost every Chico put in.
Both teams played very hard and tested me with their tactics. After explaining to the scrumhalves before the match my expectations about scrum put-ins being straight, the first Sac put in went straight to the second row. When I whistled a free kick, the Sac scrum half looked at me and asked, "What, no warning?" I gave him the look, he smiled and said, "Good call."
I enjoyed this match and appreciated the conduct of both teams.
Date: 03/29/2014
Santa Rosa 36 – Sacramento Lions 40
Referee: Malone, Michael
No report received
Date: 03/29/2014
Santa Rosa B 31 – Sacramento Lions B 26
Referee: Zanarini, Tom
Weekends like this are what make refereeing in Nor Cal such a pleasure. The weekend of rugby started Friday as I hosted Chris Davis from Richmond, Virginia. Chris was promoted to C1 this winter and is keen to get some higher level matches. After picking him up at bus stop in Mill Valley, we did a quick drive out Route 1 for some easy sightseeing and a pint at The Pelican Inn at Muir Beach. It was a lovely cool day that a pint of Fuller's on the lawn only made better. After that we drove back via Muir Woods and into Mill Valley. Chris is a big UVA fan, so the night's dinner plans were revised to a night out to watch the UVA v MSU. We selected The Barrel House in Sausalito as a place to get a good meal, have a great view of the Bay/SF and watch the game. UVA lost, but we won as dinner was fabulous. Jet lag struck early, so off to bed for an early rise on Saturday.
Rain insued all morning so we again edited our plans to stay put and watch the Australia v Lions match 1 while having breakfast. The drive to Santa Rosa saw the rain taper to the point of dry skies at the time of arrival. Chris took control of the A side with vigor, Mike Malone was there to assess his work and I ran AR along with Ren Renyolds of Santa Rosa. This was a great match that Chris handeled well. A report is available on rugbymag.com. The B-side kicked off soon after with 30 minute halves agreed to. Sac Lions had to recycle a lot of A-siders to fill the voids, but they were game (for a while). Overall it was fun and allowed me to work on position and communication. Sac decided to call it a match with 4 minutes left. Thanks to Carey Bertolone for showin up on his 'day off.' But when you show up wearing your Pelican track suit and jersey, you are gonna get some work. His AR presence came in handy more than twice.
Chris and I headed back to Mill Valley after finishing some delicious turkey sandwiches that my wife paked for us.
Chris' flight was scheduled for 10pm Sunday night, so we had all day Sunday to play tour guide. And what a better way to loosen tight legs than a quick 9-holes? Off to Mill Valley Golf Course before breakfast for a walk spoiled. Chris mentioned over the weekend that he had never been to horse races. Guess what? Golden Gate Fields has $1 Sundays so off we went. We lost some money, drank $1 Miller Lites and basically enjoyed the sun and ponies. From there we toured around AT&T park (Richomnd, VA is the location of the Giants AA team, so there was a nice connection with that). Then what a better place for dinner than North Beach? None, really. Cafe Divine on Washington Square was its typical delicious self. That about filled the day, so off to the airport to send Chris back with a full weekend of great rugby and activities. Thanks to all involved for helping get Chris out here including Pete for getting him a prime match, Bjorn for arrainging the trip and Mike Malone for his evaluation.
Date: 03/29/2014
Shasta 32 – State of Jefferson 24
Referee: Franzoia, Tom
Game delayed by 10 minutes awaiting the arrival of some Jefferson players. Teams decided to begin play, while waiting, with 12's and a tight 5 adding players as they arrived.
Jefferson was the first to strike, taking an interception i for their second try, and took command of the first half leading 24 – 10. Second half belonged to Shasta taking advantage of field position as a result of high tackles from Jefferson and an injury and a yellow card to the Jefferson side providing several scoring opportunities.
Date: 03/29/2014
Solano Community College 30 – McGeorge 40
Referee: Bretz, Paul
McGeorge earned a win despite having several players in the bin at the same time for various offenses. Aspiring lawyers should learn to listen before they learn to argue. Best comment of the game came from a forward asking his #10 to stop kicking because they have to run to far.
Date: 03/29/2014
South Valley 36 – Aptos 33
Referee: Johnson, Lee
A close encounter, with some good rugby played by both sides. Aptos took the lead, which seemed to wake up South Valley, who then ran in two quick tries, only for Aptos to come back and score again. A line break by the South Valley Full Back, was passed out to the outside center, who then outpaced the defense to score their third try of the half. The half time score 20-14.
The second half was end to end with both sides looking for the killer score to tie up the game. Two loose over throws on their own five meter line by Aptos, allowed the South Valley captain to score both times to head into the final quarter with a healthily 33-14 lead, however two tries in the space of three minutes allowed Aptos to get a foothold back in the game. Five minutes remaining Aptos went over for their fifth try of the day which was duly converted by their captain to tie the game at 33 each. Both sides now push for the score that would win the game. With the final play following a break by the impressive South Valley number 7, the Aptos Scrum Half, conceded a penalty for not releasing at the tackle, South Valley took a quick penalty, but were held up short of the vital score, however the Aptos defense had not retired so a further penalty was awarded which this time the South Valley captain opted for a shot at the posts which taking the kick himself duly spilt the uprights with the final kick.
An entertaining and enjoyable game.
Date: 03/29/2014
UOP 10 – St. Mary's College 55
Referee: Wilson, Dan
The rugby Gods decided that the game between UoP and St. Mary's C would be a scrum practice in the first half with a lot of wide open running in the second. About ten minutes before kickoff, the skies opened up and seemed as if it was trying to cure our drought in one storm. Wet, slippery and a lot of resets was the order. Even my score card was drenched through by halftime. It was a great rugby day!
The first half, in between the numerous knock on's and resets, was actually a sort of equal game. Hard hitting with most of the forward momentum seemingly going St. Mary's way, but both teams had some opportunities lost. The half half score was not indicative of the efforts put forth by both teams. Halftime: UoP 0 – St. Mary's C 19
The second half was a completely different game. St. Mary's kicked off put was able to control the kick, and with only one ruck, score a converted try in just over one minute. The scoring gates opened for St. Mary's, seemingly scoring at will with their backs exploiting huge holes in the defense.
UoP was able to take advantage of two mental mistakes resulting in two unconverted tries. The first was stealing the ball at a 5-meter scrum by the scrum half, and the second was a quick tap at about the 15 minute mark. Final Score: UoP 10 – St. Mary's C 55
I have to commend both teams and their coaches. The sportsmanship was excellent and the spirit was enjoyable the full 80 minutes. It was a joy to referee.
Date: 03/30/2014
USF 29 – Alumni 19
Referee: Bernstein, Bruce
Fun alumni scrimmage broken into 3 "halves." The Alumni winning the 1st; USF winning the 2nd & the 3rd was played by mixing both sides.
This Week's Photo
Another shot of our East Midlands visitors at Yosemite, this time with their Pelican Guides. (Standing: Eric Rauscher, Chris Elliot, Pelicus Antiquum Barbarus, Andrew Beckett, Pelicus Scriptoris; Kneeling Paul Senior)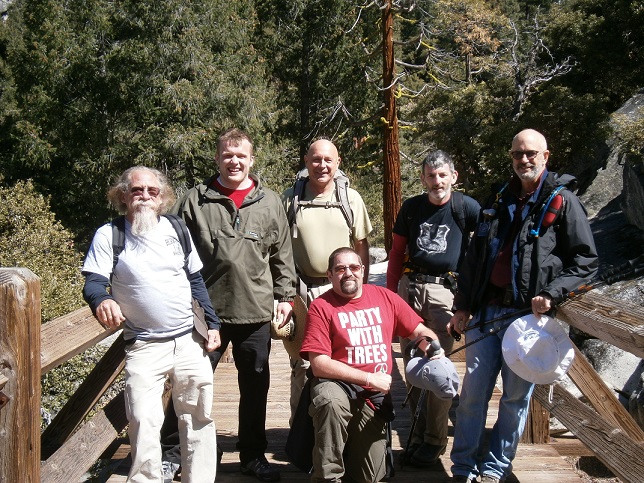 Hail, Pelicus!
For the Senate
Pelicus Pedem Referre