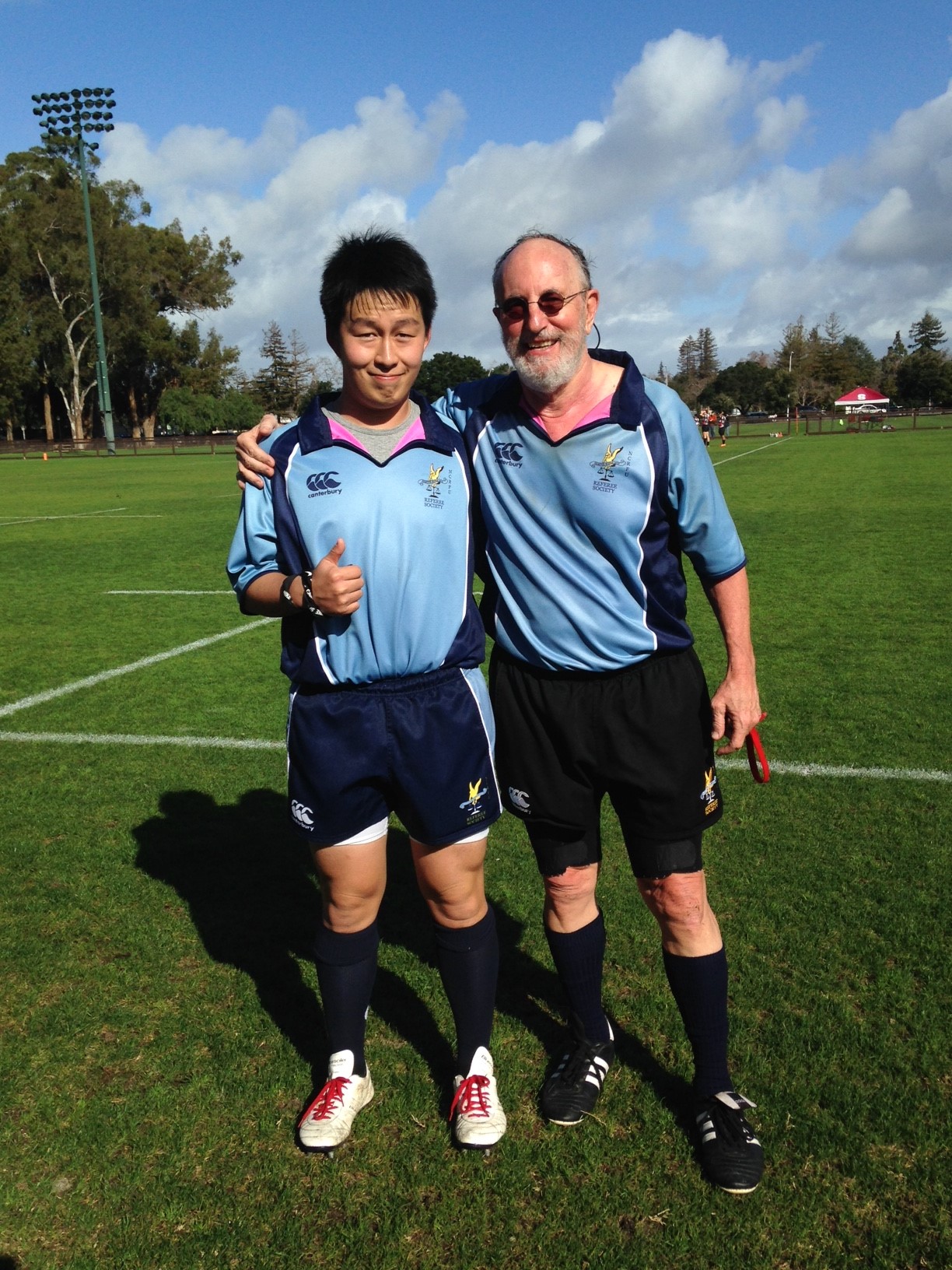 And They Played Stormy Weather
HAIL PELICUS!
And They Played Stormy Weather
What a relief it is to be writing about wet, muddy conditions and the need for (read "scramble to find") rain gear.     The Great California Draught is not over by a long shot but the winter of 2016 is doing its level best to put some water back in our reservoir and snow in our mountains.   As I write this we here in Pelicanland are enjoying a respite from the rain but the forecast calls for a bit of rain come the weekend – nothing to worry your Wellies about but a good sign of the rain cycle continuing.
Of course, I'm not a meteorologist. I just play one on TV.
Above all, remember the wise words of Ford Prefect: "If you want to survive out here, you've got to know where your towel is."
The Great Unreffed Weekend
"I have assigned every available referee for this weekend and we will be woefully short with several league matches uncovered. KOT, injuries … all contributing. There are 4 league matches and at least a dozen B sides with no ref with a few more games unconfirmed by the ref. I assigned a few folks in the hopes they will accept, but otherwise, we are gonna have a lot of unhappy people this weekend that don't get refs. "
-Pete Smith, Referee Assigner
We have reached our first critical mass weekend of the season and the society is in dire need of referees.   The KOT up in Sacramento has drawn many of our regulars as well as a separate event that limits the availability of several senior referees has piled on to the usual unavailables and leaves the flock in a rather embarrassing position:
We don't have enough referees to cover our games.
This isn't the usual litany of B sides going uncovered but several A side matches are in need of an adjudicator.   If you have a whistle now is the time to step up and represent the Northern California Rugby Referee Society, the greatest referee society in the world.   Do it for the kiddies.
If you have not already, please go to assignr.com to confirm/announce your availability and matches, or if you haven't received an assignr.com account, contact Pete Smith at me@petesweb.com to let him know you are available.   To get an assignr account please contact our Scott Wood at rscottwood@gmail.com .   He will get you all the information you need to sign up and announce your availability.   More details on assignr are in the next section.
Assignr – Making Match Reporting And Assigning Easier Since 2014
The NCRFU will continue to use the assignr system for assignments and match reports.   Again, please make sure that your availability is correctly listed on the site – if you aren't listed as available you might not get assigned.   Under "My Availability" you can make yourself available for a block of dates and then recuse yourself for specific dates if needed.
Please remember when filling out your match reports on assignr, ASSIGNR IS NOT WHERE YOU REPORT MISCONDUCT. I know the box is titled "Narrative/Misconduct" but this section of assignr is for the match summaries that are below in the main body of Hail Pelicus.   If there are red cards or reportable yellow cards in your match then report them via the method detailed below in the section titled "Disciplinary Action Reporting – Process For Reporting Incidents". This information will be in every Hail Pelicus and is also available on pelicanrefs.com.
Ask A Pelican
Yes, it's time for this week's installment of "Ask A Pelican", the widely loved Q and A session with Hail Pelicus.   This week's question comes from, well, me.   I guess I had better do this properly so… This week's question comes from James Hinkin of Los Gatos, CA who asks:
"We all know that if a player catches a kick directly while one foot is in touch and one foot in the field of play the ball is considered in touch but NOT taken into touch by the player who caught the ball (Law 19 definitions).   We also know that if a player catches a kick while one foot is in goal and one foot in the field of play the ball is considered in goal but NOT taken into the goal by the player who caught the ball (Law 22 definitions). What is the call if a player is near the corner flag and catches a kick with one foot in goal but the other foot in touch AHEAD of the goal line – aka in touch not touch-in-goal?   Would that also be considered touch-in-goal because one foot is in goal?"
Yes, I actually asked this because I happened to be with Leah Berard of Woodruff, Wisconsin who was in Pelicanland for last weekend's National Rugby Summit and is scheduled to referee a match in San Francisco this weekend, so she decided to stay and enjoy the delights of Northern California… and the lack of snow.   With a referee who is not only on the Northern California 'B' panel (aka the USA Rugby 'A' Panel) but is an international referee employed by World Rugby available, I asked the question.   Her ruling: Since the player's foot was in touch and not touch-in-goal the ball is considered to be in touch and NOT to be touch-in-goal and the subsequent restart should be decided accordingly.   (emphasis mine)
Well, that makes sense.   We here at Hail Pelicus thank Mrs. Berard for clearing that up and wish her luck not only on her match this weekend but wish her a safe flight in a couple of weeks when she flies out to Great Britain to referee in the 6 Nations.
Disciplinary Action Reporting – Process For Reporting Incidents
The various competitions all have their own disciplinary chairs and this will make it difficult to centralize the communication and data.  To help Scott Wood has developed a form that will centralize the process, regardless of the competition.  The link to the discipline form is https://docs.google.com/forms/d/1mmUNg11uVOSkIsUtHifSqQzalhWbwohk_J6AmPyrucQ/viewform
Copy the link and have it available on your smartphone.  If you have an Iphone add the link to your home screen.
When needed fill it out and click submit.  The discipline chair of the competition you refereed will receive a notification about the incident.
He/she may contact you latter for more details.
If you have any questions as to how to use the app please refer to the the following video: https://www.youtube.com/watch?v=_Uz0_gTaOnY
On To The Game Reports!
Date: 01/23/2016
Baracus 17 – Olympic Club 2 24
Referee: Fenaroli, Steven
The game was moved late to Franklin Square due to weather. Franklin Square is meant to be a soccer field so preparing the field meant duct taping goal lines, 22 m, 10m and chalking out 5m from touch lines. This meant setting the line out required a little more work and it was my discretion for quick line outs.
Baracus scored first after a hard fought series, but missed the kick. The next 40 minutes saw a tough fight from both teams, but O club managing to score more than Baracus.
That did not stop Baracus and around 70′ was down by one try and one conversion. O club was able to hold them off and win 24-17.
Date: 01/23/2016
Baracus B 41 – SF State 15
Referee: Fenaroli, Steven
With a large turnout, Baracus was apt for a second game that afternoon. SF state pulled some O club players to round out their side. Baracus started the game off strong and never relented. Baracus was awarded a penalty on SF State 22m, they went for points and scored. 5 minutes later, in front of the post, they went for points and scored again. The conversion kicks in this game were much better than the first. Baracus were 100% for their conversions scoring 16 points from kicks.
Date: 01/23/2016
Cal Maritime 71 – CSUMB 0
Referee: Devlin, Joe
No report received.
Date: 01/23/2016
Chico 15 – Sacramento Capitals 25
Referee: Boyer, Rich
The drive to Chico was beautiful: abundant flocks of geese and ducks, and standing water everywhere! The Chico pitch, try as the administrators may, remains a challenge and is quite lumpy. But it drains well. It did not particularly impact the game quality Saturday. Sacramento Capitols came out on fire, with a quick lightning strike that started with great backs ball and ended with a Fischer chip and Rich at fullback chase dot down try. The second try was scored by captain Mike Dopson, taking the scrum feed at the base and running weak side. 12-0 Caps and it looked to be a blowout. Chico fought back, correcting previous handling errors, and were rewarded with a try by their wing after good forward play. The period seemed to fly by, with great sportsmanship illustrated by both teams in conjunction with very few penalties. Chico were on the back foot in the second half and the penalty count increased. Capitols capitalized (no pun intended) with two penalty kicks and another 3 went a begging. The Chico halfback made a nice break the resulted in a ruck near the try line, and the big Chico lock looked for all the world like he would bring three tacklers with him and score a try, but he was unselfish and passed to the wing, only for a knock on to ensue. The Caps changed tactics midway through the period and used a driving maul to put Joel Scott into the try zone. 25-8 Caps. Credit Chico, they never gave up and scored a converted try at the death. A gem of a game.
The seconds match saw an inexperienced Chico squad encounter a very strong Caps side. The game was played in good spirits, with lots of creative backline play from the Caps as well as good instructions provided to the newer Chico players. 54-10 Caps.
Date: 01/23/2016
Chico State 31 – SJSU 7
Referee: Richmond, Jeff
The Chico State match was played on a muddy pitch well churned up by a Chico – Sac Captials immediately before. SJSU was quite outmatched. Chico State was able to launch quick attacks by their back line before SJSU really had a chance to form a defense. On a fast field the difference in scores may have doubled. SJSU was less skilled at the breakdowns, regularly infringing for every offense possible – side entry, going to ground, not releasing. I gather it is a relatively inexperienced side. Some of the usual excess testosterone and overly zealous coach to deal with, otherwise everyone stayed safe. The losing captain made a point of complimenting me, especially in being consistent with the calls.
Had one new situation – a missed drop goal went past the dead ball line. I incorrectly offered the choice of scrum or drop out to the defender. I'll know what to call next time someone tries a drop goal – maybe in 5 years?
EDITOR'S NOTE:    The correct call is a 22m drop out. See Law 22.8 Ball kicked dead through in-goal: If a team kicks the ball through their opponents' in-goal into touch-in-goal or on or over the dead ball line, except by an unsuccessful kick at goal or attempted dropped goal, the defending team has two choices:    to have a drop-out, or to have a scrum at the place where the ball was kicked and they throw in.
Date: 01/23/2016
CSU Monterey Bay WR 5 – Fresno State Women 61
Referee: Freitas, Larry
Saturday arrived after a Friday of heavy rain on the Santa Cruz side of the Monterey Bay, with less of it having fallen on the Monterey Peninsula side. I hardly left the house Friday, so with Saturday's partly cloudy skies and wind, it was time to drive down to CSUMB for a college women's match. Fresno State had a good many players on the pitch warming up, but Monterey Bay was suiting up just 15 players, as two were on the touchlines with injury, and with school not having started just yet, a few other players were not on campus for the game. The weather, as far as I'm concerned, was perfect for a rugby match: cool mid-50's, lots of cloud overhead, and a chilly breeze blowing in from the ocean only a mile and a half away to the west. The pitch was somewhat soggy, though. CSUMB had stopped a practice session late in the afternoon Friday when a heavy downpour hit.
Fresno State got off to a great start, scoring its first try seven minutes into the game, from a tighthead inside Monterey's 22, which wasn't converted. Four more converted tries at the Seaside end of the pitch would follow for a 26-0 lead at halftime.   Fresno kept the ball alive, not always going to ground in tackles, and passing the ball off before a tackle could be made, so there really wasn't that much phase play from them overall. So, even with a wet ball, the passing between forwards and backs produced scores, whether from a short or longer distance for the final touch down. UCSC had a few chances to score themselves. Their scrum half, Sabrina Bacuangan, made one break from a scrum after a dummy to the flyhalf, near the halfway line, and sped off for what I thought would be a try at the Marina end of the pitch, only to be chased down by the cover defense of the Bulldogs some ten meters short, and then give up a penalty for not releasing the ball before any Otters could arrive at the tackle. The Otters also lost one of their props to injury 30 minutes into the game after a high tackle offense by a Fresno player, and therefore a Fresno State sub came in for them at that position.
Fresno's try-scoring spree would continue after the intermission. Six tries were scored, with three within the first twelve minutes of play. After that things settled down, and Monterey's defense stiffened. Ten minutes would go by before the Bulldogs scored again, and two more later, the last eleven minutes from no side. Monterey Bay scored a try just minutes before the game ended when one of their forwards reached out and placed the ball over the goal line after being tackled near the touchline, following a period of pressure that produced some of Monterey's best play of the day.
Regarding penalties, both teams backs were caught offside a few times at rucks, there were at least two calls per team for not releasing the ball in tackles, and a few each for playing the ball on the ground. Both teams did well in listening to my "instructions" at various times during the game.
Fresno State's Stephanie Rovetti, fly half, had three tries, as did their flanker Nikki Wheeler, and scrum half Mariah Holtman had scored two. It was a wet and mud-splattered group of players that walked off the pitch with the final whistle. One other note on the game itself is that despite the soggy pitch and some mud patches (and I did move some away from the worst of those), not one scrum collapsed during the match, and there were quite a number of them.
There was an after match function at the Round Table in Marina afterwards, and I enjoyed trading stories about the recent RWC with Monterey's coach Alena Porte, who also was in the UK and Ireland at that time, and also found out that Fresno's coach played for the Fresno club back at a time when we surely would have played against each other when I was a Santa Cruz Rebel back some thirty years ago.
Date: 01/23/2016
EPA Razorbacks 59 – San Jose 9
Referee: Smith, Pete
No report received
Date: 01/23/2016
Life West Women 48 – All Blues 0
Referee: Hinkin, James
Life West hosted a rugby festival as the scheduling genius of Pelicus Fistulator had every Life West die playing at home.   Women, men's D1 and men's D2 put 5 matches on the docket for a full day for everyone.     (As an aside, this will not be a unique occasion. Every club with multiple sides in multiple competitions have had their schedules aligned.   Fantastic.)   With a solid week of rain behind us and promises of more ahead this was not only a test of the players but of the ground.   I look forward to reading about the state of the grounds after the final match.
This match was technically a forfeit as the All Blues needed to field a couple of players who were ineligible due to participation in the WPL but Life was glad for a game and up to the challenge.
And up to the challenge they were indeed.   The scoreline flattered the home side as the game was more even than the score suggested, the difference being the finishing. The All Blues are well coached and methodically worked the ball up the field but inevitably would lose possession due to either a penalty, a poach or, quite often, a slippery ball going to ground.   Life West boasted an absolute firecracker at fullback named Cameo Motley who scored 5 tries – many from distance.   She had another gear that the other ladies just could not match and when she was put into space she showed the defense a muddy pair of heels as they tried to contain her.   She is someone to watch.
Three tries in the first half were followed by 5 in the second half as the All Blues seemed to tire as the day went on.   The tackles were fierce and the commitment was unwavering but the sight of Cameo in the try zone seemed to deflate the All Blues as the day went on and they had no answer.
Date: 01/23/2016
Life West 2 56 – Berkeley 10
Referee: Bernstein, Bruce
Life was in mid-season form. Berkeley played their usual tough defensive match but Life was too much with too much ball.
Real nice try & moves by Calvin their flyhalf/captain & good prop play. Halftime score was a close 24-10. Life has many interchangeable players on 4 teams they're field & should be even tough as the season moves on. Fresno however won the party as being the only out of 10 teams to show up! Relatively nice weather except for a torrential downpour 10 minutes into match lasting about 10 minutes. And field was playable in one half while the other was sunken with mud.
Date: 01/23/2016
Life West 56 – Fresno 5
Referee: Sandhill, Peter
When I was a kid in Sydney, I loved the muddy games. It was so enjoyable to be at a grassy NorCal field in the wet. It was pouring with rain on the drive to the this game. At the field the rain had abated, however, underfoot it was mushy, muddy, very wet with intermittent grassy spots. The Fresno players were so happy to be playing in the mud and not in Fresno where apparently their home field was underwater.
Life West were D2 National Champs last year and seemed very fit and hungry. Fresno took it to them for 30 min. after scoring the first try. At about 25 min. it was 12-5 to Life and quite tense and competitive on the field. The first quarter tended toward more forward play, a lot of pick and drives . As Life began to utilize their faster outer backs, especially in the second half, the game opened up and the points began to tick over. No tries were easy give aways as Fresno stuck in there until the end. Both teams were also well coached and played clean hard (muddy) rugby.
Life West responded well to referee (my) concerns about repeated off side at the ruck early in the game and a tendency to be a bit "lippy."
Thanks to Matt and John for AR duties well dispatched. And big gratitude to Dave Williamson for his time to PR, coach.
Date: 01/23/2016
Life West B 35 – Fresno B 5
Referee: Pohlman, John
Life West hosted three rugby teams at Sunset Fields in Hayward. Five games were played on the field, mine was the last. Fresno second side played Life West's second's in a shorten game. After four previous games played on the field with lots of rain throughout the morning, the field was pretty beat up.
Life continued their domination in a 35-5 win.
Date: 01/23/2016
Marin 7 – Reno 20
Referee: Coppinger, John
Wet bog of a field in Marin City. Most sunny with occasional showers and rainbows. Rugby the way it used to be in Northern California before the drought. I actually wore cleats for the first time in three plus years.
Reno came out from the get-go with some big hits, but struggled with most aspects of the laws such as offsides, the gate, and what is a legal tackle. After a quite a few penalties and two yellow cards to Reno, Marin scored a scored between the posts and added a conversion while Reno had two men in the bin. The Marin try and conversion were the only points of the first half.
At half time, Reno apparently held a seminar on the laws and were much more compliant with the laws in the second half. Reno also started to get the ball to their big ball carriers on the outside and Marin soon began to slip off tackles, which led to four unconverted and unanswered tries for Reno. Final score: Reno 20, Marin 7.
Date: 01/23/2016
Olympic Club 19 – Central Washington 15
Referee: MacDonald, Neil
Central Washington University, stir crazy from pre-season work indoors, drove for 13 hours to play Olympic Club's PRP team. We were fortunate to be playing the match at Cal Maritime, where the field shed the pre-match downpours amazingly well, and gave the teams a great surface to play on.
CWU's gym work had clearly paid off, and they were itching to tackle hard and to smash their opponents at the breakdown. The initial exchanges were fast and physical, with first blood to CWU, scoring from a lineout maul just 12 minutes in.   CWU proved to be a handful for O Club in the early scrums, and were fiercely contesting the breakdown.   An O Club player was beaten by the ruck at a tackle mid-way through the first half, and CWU kicked the resulting penalty to take an eight point lead.   O Club, recovering from some initial surprise at CWU's intensity, came back with a period of sustained pressure inside the CWU 22, and finally got on the scoreboard in the 28th minute, crossing to score from a 5m penalty after CWU collapsed a driving maul. With CWU down to 14 after an O Club's player was taken out in the air jumping to gather a kick, a CWU infringement in the last movement of the half gave O Club the opportunity to tie it up with a kick for an 8-8 half time score.
Exploiting the huge boots of Keegan, Hawley and Anderson – now playing #15 for O Club following his stellar career at Cal – the home team took lots of territory and cleared their lines numerous times throughout the match.   11 minutes into the second half, this gave them the platform to show that they could maul from lineouts too, and they crossed to take their first lead of the match at 13-8.   A hugely committed CWU team scored and converted with 13 minutes left, but two successful penalty kicks from O Club put them 19-15 up. CWU battered their way to O Club's 5m line with time expired, only for the ball to be lost forward at the back of the final ruck.
A highly contested match from two talented sides, with the result contested to the very end. Blessed as we are with great teams and great rugby in Pelicanland, we should consider ourselves lucky to have had a team of CWU's calibre visit northern California, and with this performance in their first match of the season, there's a lot of promise of good things to come. O Club did well to weather the storm, adjusted, and were dynamic and dangerous whenever the back line was set free. Roll on this year's PRP! All the best to both teams with their seasons.
Date: 01/23/2016
Sac State 7 – UC Davis 53
Referee: Tucker, Chris
A lopsided score, but not that much of a lopsided game. Sac State showed enterprise with the ball, but lacked a cutting edge going forward. Davis were organized, and ran the home sides somewhat wayward kicking back hard against them. For a supposed grudge match between two local sides, this was played positively, safely and in good humour throughout. A genuine pleasure on a beautiful Sacramento afternoon.
Also good to see a cast of Pelicans on the sideline. Messrs. Walsh, Crenshaw and Franzoia were all on good form and out enjoying the sunshine.
Date: 01/23/2016
Sac State B 5 – UC Davis B 100
Referee: Franzoia, Tom
A beautiful partly cloudy day after a morning downpour didn't wake the sleep from the Sacramentans as they tried to be awaken by Davis Aggies who finished the day with a 100 to 5 mule kicking over the Hornets.
Date: 01/23/2016
Santa Rosa JC 43 – Menlo 14
Referee: Leisek, Joe
The match was a friendly between hosts Santa Rosa Junior College and Solano Community College (apparently Menlo and Solano have both dropped out of league competition). Played in front of a good crowd at For Pete's Sake in Santa Rosa, even after days of heavy rains. A variety of skill and experience levels, with lots more passing and running than I expected. Not a lot of structure in the play of either side, but more so from the home side as the score indicates. More than enough chirping, however, particularly from Solano. Many thanks to John Tomasin for serving as AR and to Dominic Patrick for his help as touch judge.
Date: 01/23/2016
St. Mary's College 24 – Lindenwood 13
Referee: Lane, John
Having supported Jordan Bruno (welcome back) in an entertaining B game I got my first game on the excellent St Mary's pitch at 1pm last Saturday.
With the heavy rain over the last period the pitch was quite wet but playable with only one very small section showing surface water which was agreed with both teams to be acceptable to play.
Despite the wet surface and ball both sides served up an open and attack minded game of highly competitive rugby with excellent commitment and a fair bit of skill thrown in.
Pre game the body language was showing a more confident St Mary's squad but after a early period of attack from the kickoff it was Lindenwood who held the upper hand in the opening quarter.
On 12 minutes after a few phases of attack the Lindonwood 10 (a fellow Irishman) converted a penalty for a breakdown infringement to lead 0-3. From the resultant restart St Mary's looked to put immediate pressure but in doing so lost their defensive shape and Lindenwood capitalized on the gaps to return down field and despite St Mary's attempting to slow the ball recycle Lindenwood played through their advantage and another quick recycle saw them crash through tackles to score a converted try. 0-10 on 14 minutes. And the home support were clearly restless and the volume rose appreciatively.
A few minutes of play between the 22's with some turnovers mainly due to knockons in the conditions and some over anxious play by St Mary's followed but steadily they started to dominate field position and having missed a penalty chance some quick recycling and straight running lead to their first try by the posts to bring the game to 7-10 on 25 minutes.
St Mary's continued to dominate territory for the next 10 minutes but we're well defended against and Lindenwood controlled the final 5 minutes to lead by 3 at halftime.
The half time chat had most impact on St Mary's who restarted with a strong purpose. Moving the ball well across the backline in the conditions stretched Lindenwood and the pressure paid dividends with unconverted tries on 7 and 14 minutes turning the score to 17-10 in their favor.
Lindenwood looked to be running out of ideas at this stage of the game but some good kicking brought them in range and they drew another penalty from the stretched defense and closed the gap to 17-14 on 18 minutes.
They then dominated the next few minutes but St Mary's who had received a team warning for repeated slowing down of attacking ball retained their discipline and kept their line intact during this crucial stage of the game.
Having survived the pressure St Mary's the used some turnover ball to good effect with quick phase recycles and scored by the posts on 27 minutes for a 24-13 lead.
Neither side slowed down with the benches coming on with good energy but despite some good opportunities to both sides the defenses won out in the last 10 minutes with no further scoring leaving St Mary's with the win in this highly entertaining and strongly contested friendly game.
Best of luck to both sides as they face into the competitive stage of the season.
Date: 01/23/2016
Stanford Women B 10 – Chico St Women B 24
Referee: Makino, Ren
(Game was moved to 1:00 PM) The rain was on and off during the match and when it rained it rained hard(Californian Standard) but the pitch was not too muddy. It was unexpectedly a smooth game with no high tackles and not many off-sides but a lot of not releasing (both tackler/ball) and playing on the ground. Great match from two disciplined teams with really respectful players. Thanks to Bryant for coaching.
Date: 01/23/2016
Vacaville 48 – Diablo 24
Referee: Bertolone, Cary
We kicked off at exactly 2:00 PM; not much rain, mostly cloudy with a 10-15 mile wind. It seemed like Diablo was out playing the home team, but mostly because of penalties on the Diablo forwards, Vacaville was able to play on their side of the field. They broke through with a try from their winger at 11 minutes. All 5 of Vacaville's first half tries were scored by their backs (of course, they needed their forwards to get them the ball) and Diablo was guilty of not making their tackles. Strong running though and it was 31-5 at the half. The second half was much more even and Diablo actually outscored Vacaville in the second half, 19-17 for a final score of 48-24. Both teams had players receive yellow cards, one penalty try was awarded and I had to end the game four minutes early because of fiestiness (is that a word?).
Date: 01/24/2016
Santa Clara 12 – Lindenwood 62
Referee: Bretz, Paul
Lindenwood was too fast and too strong for Santa Clara. Thanks to John Coppinger and Ed, Zin Zan, Gardner for providing AR duties. Lindenwood effectively stretched Santa Clara's defense.
Date: 01/24/2016
UCSC 11 – UNR 32
Referee: Hinkin, James
With rain forecast for Saturday but sunshine on the menu for Sunday the UC Santa Cruz rugby club wisely decided to push their scheduled match out one day and host the Wolf Pack from the University of Nevada, Reno on the drier Sunday.   There are few sights in Pelicanland finer than the UCSC rugby pitch on a clear, sunny day.   The view from the pitch of the Monterey Bay and surrounding vistas is a gentle reminder of the reasons we live here in this great region.   The day, as promised, was clear and dry with a lush, firm pitch perfectly marked with proper, regulation posts and boasting an electronic scoreboard – a joy to referee (and play, as I recall) on.   The collegians were enthusiastically warming up when I arrived and I was quickly able to dispense with the necessary protocols and leave them to their own devices for the final 30 minutes before match time.   The partisan crowd swelled and started to be heard and was helped along by the addition of UCSC cheerleaders. After seeing the Santa Clara trot out the band I didn't think anyone could do a better job of creating a festive atmosphere. This is now a toss up.   I love college rugby.
The first half started with plenty of energy from both sides as they tested each other as well as the referee.   Once standards were set and the players realized that I was going to hold them to said standards the game moved along quite nicely.     UNR was able to put a couple of tries on the board against a solitary penalty goal for the hosts as the Banana Slugs just couldn't convert pressure into points effectively.
In spite of UCSC enjoying a man advantage for 8 ½ minutes form a yellow card just before half, the second half was more of the same as UNR was able to punch through the UCSC defense for tries while the Slugs could only muster a penalty.   Things got worse for the home side when 2 yellow cards in quick succession (repeated infringements, time wasting) saw them playing 13 on 15 but, as it does at times, this seemed to inspire the team and UCSC started finding space to run in and sliced right through the center of the UNR defense to score a well earned try.   Once parity was restored they regressed again and a capable and well drilled UNR side started scoring tries again, finishing with 4 for the half.   With one conversion from six they really should have had more points but a guess the air was too thick for their kicker down here at the coast
This Week's Photo
The future of Pelican Referees at Stanford with a wise mentor. L-R Ren Makino and Bryant Byrnes.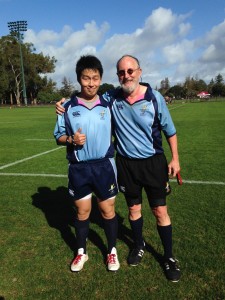 Hail, Pelicus!
For the Senate
Pelicus Pedem Referre