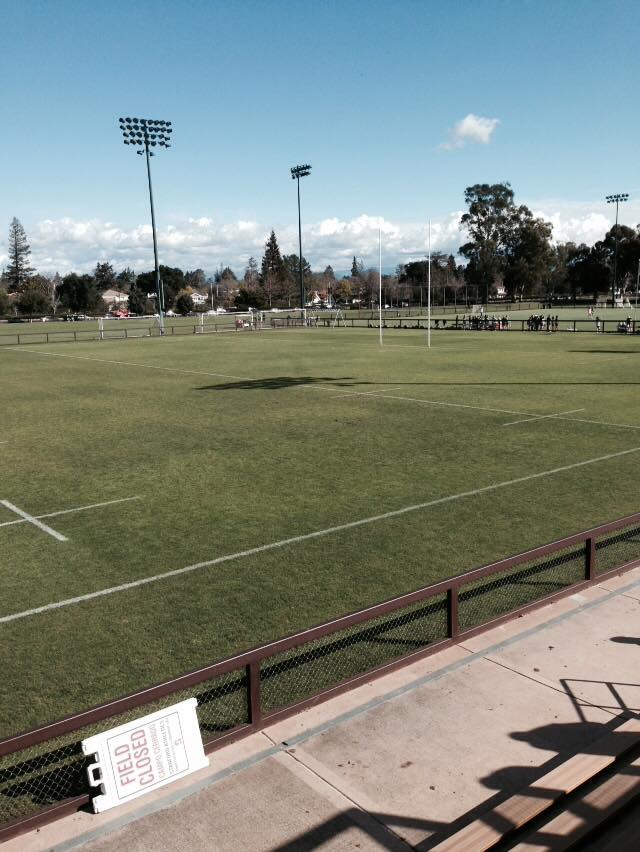 HAIL PELICUS!
Bait and Switch
Now that the American rugby east of the Rocky Mountains have finished their league seasons and qualified for national playoffs and the blessed world west of the Rockies have played the first couple of rounds of their season the brain trust at USA Rugby have decided to make an announcement:
"Ha ha!   We are going to change the laws of rugby mid competition and you can't do anything about it!"
EDITOR'S NOTE: There is some slight artistic license taken with the press release issued by USA Rugby. They didn't actually say "Ha ha".
We all know that after every World Cup cycle World Rugby (formerly the IRB) gets together and makes a few law changes.   This is a natural part of the evolution of the game and is usually a good thing.   If you, dear reader, ever watch a match from the 60s or 70s you would have trouble even recognizing the game as compared to modern rugby. Another side benefit is to give the front row something to complain about whenever the scrum cadence changes. Their small minds need to be occupied with these trivialities so that the actual rugby can be played by everyone else, but I digress.
For those who were paying attention it came as no surprise that there were some law changes made after this last world cup and, as has been the standard protocol for every other year when this occurs, the changes go into effect January 1 for the Southern Hemisphere because they are out of season and on July 1 for the Northern Hemisphere, allowing competitions that are currently in progress to complete before the changes go into effect.
Makes sense, yes?   Apparently not enough sense for USA Rugby who decided to implement the changes last week. "Why would they do this?" I hear you ask.   Simple: for 5 matches.   And 20 players.
Yes. 5 matches. And 20 players.
Richard Every, the USA's high performance referee manager said, in a direct quote that I am not making up, "The reason for USA implementing them is that the Americas Rugby Championships are, and we want to ensure consistency for all our players."    The logic here is that since the South Americans have already changed over and the ARC will be using the new laws, for the sake of the 5 matches the USA will be playing in the ARC the national competition will be compromised.   This is increasingly silly considering about half of our team, depending on who gets released by their club, is currently playing in Europe under the old laws.   So again, the USA's national competition will be compromised for the sake of 5 matches and about 20 players.   Glad to know what USA Rugby's primary focus is.
In this trying (ha!) time let us not forget the wise words written on the outside of The Hitchhiker's Guide To The Galaxy: "Don't Panic."
Las Vegas Needs Refs
After another 10 months of ignoring our calls and giving crappy and thoughtless birthday presents, LVI Tournament Director Jon Hinkin has decided to mend fences and suck up to the Hail Pelicus editorial staff and the Greatest Referee Society In The World, to wit, the NCRRS.   If you are planning to go to Vegas for the USA 7s and want to referee at the LVI, details are below.
Referees – we need your help as a volunteer with the biggest tournament this spring – Las Vegas Invitational March 3, 4, 5-6th! We have 70 refs currently registered… and need 40 more refs!!!!!!
Referees will receive:
1. Free referee jersey
2. Tickets to all 3 days of the USA 7's International tournament (when you stay at The Westgate Hotel) at LVI Discounted Rates.
Hotel Register HERE:
http://www.usasevens.com/las-vegas/official-lvi-hotels/
Referee Register HERE:
http://lvireferee2016.doattend.com
For more information email Autumn Arvidson at mnrugbyref@gmail.com
The Great Unreffed Weekend, part 2
We are now on our second critical mass weekend of the season and the society is in dire need of referees.   All leagues are in play and we need referees to cover the games.
If you have not already, please go to assignr.com to confirm/announce your availability and matches, or if you haven't received an assignr.com account, contact Pete Smith at me@petesweb.com to let him know you are available.   To get an assignr account please contact our Scott Wood at rscottwood@gmail.com .   He will get you all the information you need to sign up and announce your availability.   More details on assignr are in the next section.
February Society Meeting
February 10 will be the next society training at the SFGG clubhouse.   This is a biggie so coaches and referees are strongly encouraged to attend or to watch via the live webcast.
6:00 PM will be the final Beep test opportunity for referees desiring to be assigned national appointments.  All referees are encouraged to participate.
7:00 PM marks the start of our meeting and we will be discussing the new law changes that have taken effect. As a side note, I (NCRFU President Paul Bretz) will be developing an online activity to review the law changes.  Please check the online class feed regularly.
As well as discussion of the law changes the schedule will include the following.
Pete Smith will be making a presentation on the tackle
Paul Bretz and the Life West coach Adrian Ferris will be presenting on developing a positive relationship between referees and team coaches.  We all need to recognize that there are too many instances of issues between referees and team coaches in which our interactions have negative tones and we also need to take ownership for those issues.  Ferris and I have been planning a joint presentation for a few weeks and wanted to capitalize on the recent Rugby Summit.  We are asking for both referees and team coaches to be at the meeting.  Please plan on attending.
Ask A Pelican
Yes, it's time for this week's installment of "Ask A Pelican", the widely loved Q and A session with Hail Pelicus.   This week's question comes from A Concerned Rugger of San Francisco, CA who asks:
"What are these new law changes I have been hearing about?"
Great question, Mr Rugger, as we will all need to brush up on these immediately.   The main alterations are:
1)   No more "turnover wheel" in scrums.
2)   Added a clear "use it or lose it" in scrums
3)   Losing scrum half must stay out of pocket
4)   Formal sanction for feinting that you were fouled.
5)   A player injured through foul play may be replaced by a player who was previously substituted.
Please remember that these will be discussed in detail at the February society meeting on February 10 – see previous item for details.
Disciplinary Action Reporting – Process For Reporting Incidents
The various competitions all have their own disciplinary chairs and this will make it difficult to centralize the communication and data.  To help Scott Wood has developed a form that will centralize the process, regardless of the competition.  The link to the discipline form is https://docs.google.com/forms/d/1mmUNg11uVOSkIsUtHifSqQzalhWbwohk_J6AmPyrucQ/viewform
Copy the link and have it available on your smartphone.  If you have an Iphone add the link to your home screen.
When needed fill it out and click submit.  The discipline chair of the competition you refereed will receive a notification about the incident.
He/she may contact you latter for more details.
If you have any questions as to how to use the app please refer to the the following video: https://www.youtube.com/watch?v=_Uz0_gTaOnY
On To The Game Reports!
Date: 01/30/2016
Baracus 30 – Life West 2 15
Referee: Pescetti, David
A lovely day in the city for Life and Baracus to meet. The pitch was short. Too short for Life to use the space that they needed to formulate a cohesive attack. They threatened many times but had many turnovers. The biggest difference in the game was Baracus kicked for points a lot. Making 4 Penalty kicks and a drop goal. Both teams scored 3 tries a piece.
Date: 01/30/2016
Cal Maritime 52 – UOP 10
Referee: Wood, Scott
Ref: Scott "Take that, knees" Wood
PA: Bryant "Dolcent Tones" Byrnes
Venue: Cal Maritime
Attendance (est): 2,400
It has been 91 days since the last time I did anything that could be considered significant cardiovascular activity. Even my wife said, upon hearing of my assignment, "Can you even run?" Having recently moved to Egypt where stubbornness and ignorance are omnipresent, I answered, "Yes, dear." (nobody asked about quality or quantity)
Cal Maritime dominated nearly every phase of play while Pacific had trouble with support, scrums, and were too slow passing the ball in contact. One scrum was rotated beyond 90 degrees and, much to my displeasure, a reset was awarded with the original team putting in the ball. This Law change is an abomination that clearly was the work of people who have never played in a jersey numbered less than 10. Additionally, having front rows crouch ear-to-ear will lead to problems as there is little, if any, space for proper engagement. Alas, we triumphed over evil and were able to go about our way. Cal Maritime scored five tries before Pacific was able to get on the board at the waning moments of the first half.
CM 33, UOP 5
The second half opened with Cal Maritime moving quickly and decisively, spreading the ball around the pitch. Pacific competed better at the breakdowns and was able to move the ball to within five meters when Cal Maritime's lock decided to use his fist to dislodge the ball from a maul. Nevermind entered the piece illegally and even looked at me prior to attempting to tenderize his opponent's back. Off to the bin. This led to Pacific scoring its second try. Another 30 minutes of back-and-forth rugby went by before the final whistle.
CM 51, UOP 10
Kudos to both teams for great sportsmanship and giving me a good run.
Date: 01/30/2016
Cal Women 27 – Chico St Women 22
Referee: Coppinger, John
This was a great game in the sunshine on Witter Field. Both teams came to play fast rugby and the two teams kept trading scores with Chico taking a 17-15 lead at the half. Chico went up late to take a 22-20 lead, only to have Cal score the winning converted try with a Chico player in the bin for a cynical penalty in the red zone.
Date: 01/30/2016
Chico 29 – Vacaville 40
Referee: Franzoia, Tom
Under cloudy skies and soft uneven turf the Bulldogs and Mighty Oaks enjoyed a well played but sometimes sloppy game and encouraged by the boisterous crowd. The attire at the "O" were bathrobes and they came in many flavors.
Date: 01/30/2016
CSU Monterey Bay WR 12 – Univ San Francisco WR 26
Referee: Freitas, Larry
USF's Lady Dons came down to CSU Monterey Bay on another overcast Saturday, to play the Lady Otters in what was a very competitive match. Again, perfect weather for rugby, meaning cool temps, threatening skies with the next storm lining up from the north, and very unlike last season's weather. USF arrived a good hour plus late for the match, due to traffic issues; and the game was originally scheduled at 1pm, and then moved back to noon. So the game ended up starting at 1:35. The pitch was a bit torn up from the previous week's play, but at least no puddles of water like last weekend. USF started off the match showing that their back line was more organized for attack than CSUMB's. Seven minutes in, flyhalf Sydney Abel was able to score and covert her own try for a 7-0 lead. Nearly half way through the first half USF would score again, with their center crashing over after a nifty run through the defense. That try was again converted for a 14-0 score. Another try, this one unconverted, made the score 19-0 at half time.
I was very impressed by Abel's play, especially in that she would find space down field and kick her team out of any CSUMB pressure, forcing CSUMB to play much of the game in their own half of the pitch. I would have to say that there isn't much of that pressure-relieving kicking going on in matches I've officiated, men's or women's college games, in the recent past, and therefore full backs and wings don't seem to react well with counter-attacking moves, and that was the case with CSUMB's full back letting the ball bounce a few times when she should have been catching it and either kicking it back or linking up with wings for a counter attacking move.
As the second stanza started, CSUMB started putting more pressure on USF's defense, which seemed to be tiring some. Momentum was starting to turn, and penalties were being given away by USF, now on the back foot, mostly for offsides at rucks, and one on a kick from deep in USF's half by their flyhalf that ricocheted off a teammate standing too close by, only to land in the hands of one of their forwards up field another ten meters. A few minutes later, with CSUMB sensing that they could cross USF's line, Sabrina Bacuangan, their scrum half, picked the ball up from the base of a scrum inside USF's 22, darting diagonally toward the right hand side corner flag some 15 meters away. She was tackled just short, but arriving at the scene of the tackle I saw that she had reached out and grounded the ball half a foot over the goal line. The unconverted try made it now 19-5. Bacuangan wasn't finished. About seven minutes from time she once again made a dash for the goal line from a CSUMB scrum feed in mid-field, between the ten and 22, reaching the goal line and scoring just inside the right post; it seemed the correct tactic with split backs and plenty of open space with the ball channeled away from the opposing scrum half side of the scrum to the number 8. She was channeling her Gareth Edwards. That try was converted and now the score read 19-12, but there was a scant seven minutes left, as I was adding injury time for quite a few stoppages earlier in the half. Now it was USF's turn to score as time was running out, with one of their flankers crashing over with at least three CSUMB defenders trying to stop her. That try was converted again by Sydney Abel, who was picked as "Back of the Match" after the game by USF's coaches. I blew the whistle for no-side immediately after the whistle to signal that the ball went over the cross bar.
Final thoughts: regarding the new laws, I had one call on the USF scrum half for going into the "pocket." There was a blood injury as well, as USF's prop went off the field for about five minutes, in the middle of the second half, and they had to play short, as a few of their players had already gone off with injuries. There was plenty of hard tackles by players on both sides, but none warranted a dangerous tackle call from me. Finally, some women on both teams are new to the game, and haven't seen much action yet, but they seemed to listen well and tried their best not to infringe to keep the game going as much as possible. I didn't have collapsed scrums, and there was no reason to go with uncontested scrums. Both teams have good coaching going for them. If these ladies continue playing, on each side, they have reason to have many wins in the future.
I also want to report a late score from last week at UCSC: Nevada Reno had brought some extra players and wanted a second game, as did UCSC. So with half of Nevada's team made up of first team players who had just finished a match, a sixty minute affair took place, with Nevada beating Santa Cruz 30-14. I was originally scheduled to referee that match, then it was cancelled as Nevada said they would only bring enough players for one game, and then it was on again. The only problem, as I had planned on watching the first teams play anyway, was that I had to go all the way back to Aptos to get my kit!
Date: 01/30/2016
EPA Razorbacks 22 – Life West B 34
Referee: Lew, Tim
Unfortunately Utah got stuck on the I-80 which was closed for snow at the pass. So I headed to TI to check out Leah and the OC play Glendale. Fortunate for me, EPA wanted a run and Life West (+ some SFGG players) were ready to play. As expected, huge hits and collisions continued throughout the game. Life West had better fitness and youth which showed in the end. Life West is looking good…
Date: 01/30/2016
Fog 17 – Google 59
Referee: Hendrickson, Robert
No report received
Date: 01/30/2016
Fresno 17 – Santa Rosa 33
Referee: Hinkin, James
No report received
Date: 01/30/2016
Fresno B 12 – Santa Rosa B 15
Referee: Tuisavalalo, Rodney
The two teams decided on two 20-min halves which was more than enough action for the already bruised competitors. Most of the players for the developmental game ("B" game) had already played 80 minutes of intense rugby, and now had to take the field for a second time. The flyin' Fijians that made up the Santa Rosa back line team took first blood as they offloaded several no-look, over the shoulder, between the legs, behind the back passes that made Fresno wondering whether to contest or just sit back and watch the show. In this instance, they watched as the ball was dotted near the posts. The missed conversion by their kicker was the first indication that they were truly only humans after all.
Not to be outdone, Fresno countered back with some fancy maneuvers of their own. Tough, hard running from the forward pack culminated with a 20 meter sprint by the winger for a try. Conversion was no good as well. Just before the half, the Santa Rosa forwards mauled and rucked their way near the posts for another unconverted try. [HT score: 10-5 Santa Rosa]
The second half started out with some sloppy play from both sides as the muddy conditions created a lot of turnover balls. Repeated knock-ons made for a tiring number of scrums that clearly wore on the forward packs. I used the repeated scrums to implement the new Law change as it pertains to the losing scrumhalf. (Question: I gave a penalty for the non-offending team after several warnings to the opposing scrumhalf, but should it have been a free-kick? The amendment does not say or maybe I missed it.) The visiting team pushed their way to another unconverted try with 5 minutes left to play. Fresno countered just before the end with one of their own. The try was converted this time bringing the final score to 15-12 in favor of the visitors.
(My thanks to James Hinkin for sticking around to give me some great feedback. Faafetai!)
Date: 01/30/2016
Mendocino 15 – South Valley 29
Referee: Leisek, Joe
Beautiful sunny day in the Redwood Empire. Two competitive teams played a physical, enjoyable match on the Steam Donkeys' home field next to the county administration building. Defense dominated on both sides, as soft conditions made it difficult to spread the ball wide. But both teams did their best to run whenever possible. The final score reflects the fact that South Valley made fewer mistakes and made more of their opportunities. These teams are fairly evenly matched and should play some good games against each other in the future.
Date: 01/30/2016
Olympic Club 2 27 – Berkeley 0
Referee: Tetler, Jen
A ton of fun rugby was happening all day on Treasure Island. In this game, Olympic Club came out strong from the gates, earning getting 2 early tries after a yellow card for a cynical foul to Berkeley. That was all they would get for the half as Berkeley regrouped and had a few pointed kicks and penalties go their way. The second half stayed competitive. Unfortunately for one never-to-be-future-rugby-player, a penalty kick for touch made direct contact with the head of a small bike rider on the other side of the fence. The rest of the game had a couple of break through tries by O Club, with the final one making the only conversion.
Date: 01/30/2016
Reno 19 – Colusa 47
Referee: Bryant, Lee
Field was originally moved due to snow to a small town 30 minutes outside of Reno. Ironically, the alternative field had received a solid three inches of snow the night before; gotta love El Niño. Both teams were troopers and decided to play the match and work through the shoveled and food coloring dyed lines. Game started off a little rough with tempers flaring and big hits as the teams adjusted to the slower game the snow. When Reno was able to get a series of passes through the backline their size was hard to match, but connections were not always made knock on's plagued both sides. Scrum were well contested but Colusa's back kept finishing consistently with tries all game and had a sure kicker for points. Reno had both both yellow cards in the match, both for repeated team infringements and the second for issues in the red zone. Seemed by second the game settled there there were series of 15-20 ball being recycling and it looked like good solid rugby. Both teams also seemed to adjust to the new law changes without any issue.
Date: 01/30/2016
Sac State 24 – Stanford 29
Referee: Akroyd, Phil
A very nice game played in some much needed sunshine at Sac State. The field was in surprisingly great shape and both teams were up for some entertaining rugby.
Sac State started off with a suicidal tactic of running the ball from anywhere, including their own in-goal. This really hurt them throughout the game as they played in their own territory for much of the first half. Stanford took advantage and ran out an early lead by playing a more structured game with multiple phase play.
The Hornet's open style of play did gain them some yardage at times and they hung in there for most of the game and were never out of it. It was close and competitive throughout and the home team even had a chance to win it on the last play of the game, but couldn't break through Stanford's back line. Overall, a very entertaining game and hopefully both team will progress technically throughout the season.
Date: 01/30/2016
Sac State B 24 – Stanford B 29
Referee: Boyer, Rich
Great match, great enthusiasm! Stanford looked to run away after tries by halfback/captain Lorenzo and converted back number six. But Sac St. lock found a knock on and sprinted 50 meters for a try near end of second half, resulting in huge momentum for Sac St. The last ten minutes featured strong running from the same lock, number 6 and the flyhalf, with another try and one gone a- begging.
Date: 01/30/2016
Sacramento Capitals 73 – Diablo 15
Referee: van Staden, JC
For the first time in about 10 years I got to be at the KOT on Saturday, and it was a blast. Thanks Pelican Refs…..
Getting to reffed a blowout, was not expected, but the game were played. I got to see some youngsters I used to coach while they where U/17, winning a national championship in Colorado, and I was a proud coach, looking at 2 young men that have walked a straight path, and today serving the country and still playing like there is no drinking time to waist. With some of the most textbook tackles, I was glad to admit I use to be their defense couch 😉
Wish someone can say that about my kid to 😉
Back to the game…. lol… Capitals probably way too strong for the second division, but I guess all have to start somewhere and build up again. Solid team, with a deep bench, with only a cpl of small weaknesses, which all could have been sorted out, if I brought the "BLUE" card, but with Mike Malone in the vicinity, I had to oped out using it, lol, I promised I'll retire it 😉
Half time, 55 – 0
But with Diablo, never chucked it the towel, manage to pull 2 tries in, to avoid a white wash….
Date: 01/30/2016
Sacramento Lions 29 – San Jose 5
Referee: Tucker, Chris
The sun burst through the clouds in approval of two teams who decided to actually play a game in Sacramento this weekend. Both sides may have been short on numbers, but that didn't mean we couldn't all go have fun at the Robla slip'n'slide, right? I dashed over from saying hi to old friends at the KOT, and arrived as the Amazons and Berkeley were kicking off their second stanza, got set up, and we kicked off on time. Or as close to on time as one gets with the Lions 🙂
The first half was a cagey battle — Seahawks had the better of the set piece, winning more ball, Lions the better of the back play, turning it over more often to even it up. Both teams split the honours in the number of knock-ons. My total mileage for the day was only 3.7, which speaks to the frequency of stoppages. Both teams scored once, although I contrived to award 3 tries… The other one was as the Seahawks #8 was tackled as he went over the 5m line. The line was painted solid instead of broken, and his dive to me looked like a scoring attempt with the ball clearly grounded, so up went my arm. Having finished apologizing to all and sundry for this evident error, we reset with a scrum 5 to San Jose, in accordance with the rarely-used 20.4(d). The Seahawks won the put in, and scored. 5-5 at the half.
The second half started similarly, but as the visitors' legs began to tire, so the Lions found more openings out wide, and pushed over a bunch of tries, ending up with another 4 for the half.
Both teams acquitted themselves well, and I thoroughly enjoyed myself too.
Date: 01/30/2016
Santa Clara 37 – Wyoming 30
Referee: MacDonald, Neil
A tense and tightly contested match at Bellomy Field which yielded nine tries and six changes of lead. Wyoming full back and captain Koz, opened the scoring thirteen minutes in, before Santa Clara's left wing crossed minutes later after quick Broncos hands from a 5m penalty awarded when Wyoming's tackler didn't release. Back to the other end of the field a few minutes later, and it was Santa Clara's defensive discipline which let them down, and the visitors kicked the penalty to reclaim the lead 7-8 midway through the first half. Wyoming extended their lead to four points kicking another penalty a few minutes later. Santa Clara regained the upper hand with a well worked running line by their standoff from a 5m scrum, and piled on with two more scores, one a flowing move the length of the field from a restart. Racking up 17 points in eight minutes, Santa Clara went into the break leading 24-11. Wyoming came out strongly in the second half, scoring twice in the first eight minutes and converting both to retake the lead. Wyoming's centres carried the ball unbelievably well, dragging and handing off tacklers, and were a real handful for Santa Clara. Another Wyoming score on 17 minutes extended their lead to 24-30 before the Broncos finally got going in the second half.   However, their try wasn't converted, so Wyoming still had a one point lead which they still had with three minutes left, when Santa Clara crossed to reclaim the lead 34-30. With moments remaining, Santa Clara won a penalty deep in Wyoming's 22, and slotted the kick over to secure the win 37-30.
Date: 01/30/2016
Santa Clara Univ WR 10 – Humboldt State Univ WR 100
Referee: Bernstein, Bruce
Piece of cake match to ref. A lot of running followed by 18 stoppages for kicking after tries. Humboldt State is very impressive with a solid team highlighted by its huge/fast/strong outside center, 8 & their coach & #7, who should all be somebody's allstars if not national champs. They went up with the opening kick off scoring 50 points in the 1st half & didn't let up in the 2nd equally another 50. Two of Santa Clara's players also had nice albeit individual tries with their flyhalf slicing & dicing in for a try & their prop taking a bunch of tacklers into the try zone & barely being able to touch down while on her back. Pleasure to ref both teams on a real nice artificial surface & having Scotty Carson walking touch for me.
Date: 01/30/2016
SFGG Women 6 – Life West Women 62
Referee: Wilson, Giles
Life started off fast scoring twice in five minutes before SFGG really got going. The rest of the first half was fairly even with SFGG scoring two penalties from their pressure while Life added another try for a 21-6 half time lead.
Life started off the second half as fast as the first, with their backs manipulating the SFGG defense at will. Life ran 7 tries in the 2nd half with 3 of them converted for a final tally of 10 tries (7 converted) to 2 penalty goals for SFGG.
Date: 01/30/2016
Sierra College 48 – USF 5
Referee: Byrnes, Bryant
A blue skies super site rugby day at Maritime. In spite of the score, this second of four matches had two quality D2 teams.
But on this day, it was all Sierra. Being bigger helped, but being bigger and fit explains the score. Lots of nifty stuff, including three, four, five forward crashes, and-and Bob's your uncle as the Brits say- the ball all the way out the backline to the wing.
However, the Dons never lacked effort. Indeed, on the last play before full time, after a series of tackles, kicked balls, and god knows what else, three Dons chased the ball into goal, and upon Sierra mishandling it, touched it down. A bit of the Key Stone cops? Perhaps, but a nice ending. And it goes in the books.
Thanks to Scott Wood for constructive comments, my touch judge Nicole, and guest referee Ian from Calgary, who did the last TWO games. A hero.
Date: 01/30/2016
Silicon Valley 27 – Marin 8
Referee: Moore, Stephen
A competitive game with plenty of rugged attack and defense by both teams. Marin took the early lead with a penalty kick, followed by a try shortly afterwards. Marin dominated the first quarter of the match until Silicon Valley broke through their defense and scored a try after several close misses. More confident in their attack and settled Silicon Valley took the lead attacking and scoring all remaining points scored. It was a tough match played well by both sides with Marin near Silicon Valley's goal line several times but held back by SV. Players, spectators and coaches really well behaved, cooperative and disciplined.
I refereed a second match (D4 I think) Silicon Valley (10) v Shasta (31):
A spirited kick off by the vintage 'green machine' of Silicon Valley team taking on a younger and athletic looking Shasta. The experience and wisdom of the green machine led to early success as they pounded away using their years of experience to score two tries and win the half time score of 10 points to 5. In the second half Shasta got down to business taking the lead in attack out maneuvering some tiring legs of the green machine. A spirited match played to the best of the abilities by all to the enjoyment of players and spectators.
Date: 01/30/2016
SJSU 26 – UCSC 16
Referee: Lane, John
As I arrived at 12:00 both teams were just starting to warm up. I was quickly brought up to speed that UCSC had left their Jersey's behind at their meeting point and there was a frantic effort on going to get someone to collect them and drive to the game. We agreed that this would delay kick-off by 15 to 30 minutes depending on traffic (in the end it was 45 minutes!).
This gave me the time to run through the new law amendments with no real pressure so the time was well spent!
The game itself was played in an open attacking style with every effort to play fast and open rugby but on occasions the skill levels deserted the players and turnovers were frequent. SJSU dominated field position in the opening minutes but turnovers gave field position and pressure to UCSC which resulted in a successful penalty for a 0-3 lead. Play ebbed and flowed for the next 10 minutes with some positive play by both sides coming undone with loose execution and some strong defense. A few minutes of sustained pressure by SJSU resulted in a try out wide with the missed conversion leaving the score at 5-3 on 20 mins.
The next 15 minutes of the 1st half was played end to end with neither team making a break through. UCSC dominated the final few minutes of the half and had a good opportunity to score but some white line fever denied their efforts.
SJSU obviously gave the more robust half time encouragement as they started strongly. Again turnovers gave away field position and UCSC converted another penalty to talk a 5-6 lead. Stung by this score SJSU gathered the restart and proceeded through a few phases and scored to the left of the posts for a converted try and a 12-6 lead. SJSU continued to dominate field position and extended their lead on 20 minutes with another converted try for 19-6.
With a lot of input from the sideline this latest try seemed spur UCSC into life. Their error count reduced dramatically and they started to string multiple phases together. This resulted in an unconverted try on 26 mins to close to 19-11. Encouraged by this they continued to push and closed to 19-16 with another unconverted try on 34 minutes.
The chase for the win was now on and UCSC continued to press. Unfortunately "white line fever" crept in again and at least 3 scoring opportunities were lost with rushed passes and some solo charges leading to defensive turnovers.
On 38 mins, one of these turnovers was turned into a breakout converted score for SJSU leaving the final score at 26-16.
B-Side Game
Following the delay on the main game it was agreed that the B game would be 30 min halves.
In a game with some obvious first year rugby players the open play of the first game was also to the fore. After a first half of much effort but limited structure UCSC held a 0-5 lead.
The second half progressively from a structure perspective and produced some tit for tat scoring. SJSU opened their scoring on 7 minutes with an excellent conversion giving a 7-5 lead. UCSC responded almost immediately with an unconverted try for 7-10.
On 14 mins, SJSU regained the lead with another superbly converted try – 14-10. UCSC scored again on 21 minutes and again failed to convert to lead 14-15.
The lead changed hands again on 27 mins with a SJSU try which was not converted. 19-15 and 3 minutes left.
UCSC pushed hard for these few minutes and with the last play created an overlap on the left but the ball carrier tried to crash through rather than pass and in the tackle lost the ball forward!
Game over with a second SJSU win on the day – 19-15.
Date: 01/30/2016
UC Davis Women 46 – Stanford Women 19
Referee: Fenaroli, Steven
The drive to Davis from Downtown Sacramento is gorgeous, the uneven pavement of I-80, the slow traffic over the bypass. I am appreciative of the short commute. This was the first week since the rule changes. I brought a piece of paper with the points, but I tried remembering them; I got about three out before I needed to consult the paper. UCD had large numbers so they would be plenty fresh. In the end, both teams only made one or two subs, incredible in its own until you know that multiple Stanford players went down with injuries mid games but toughed things out and stayed in. Davis kept attacking and controlling the match. There was a lack of discipline at the breakdown and when the ball was available to play, and obtaining it legally. The women were apt to listen to direction which makes my job easy. The weather held out, the pitch was firm minus 2 soft muddy spots.
A great Saturday for rugby with two quality teams.
Date: 01/31/2016
Stanford 17 – Wyoming 36
Referee: Hinkin, James
With the threat of rain no longer an issue there are few better places to be on a sunny Sunday morning than Stanford University's Steuber Rugby Field.   Sunny, but not warm were the conditions – at least to some of us.   The 11:00am kickoff saw temps in the low 50s that the Stanford players and I thought were unreasonably cold yet for some reason the Wyoming players were acting like it was beach weather and breaking out the sunblock.   Strange.
The teams definitely came to play and this was a crackerjack game, moving from one end of the field to the other.   Stanford dominated the first 10 minutes of the half scoring 2 tries and converting one to jump out 12-0 but Wyoming seemed to wake up and start using their size advantage to good use as the pendulum of momentum swung over towards the visitors.   Bruising runs and solid tackles were the order of the day until Wyoming broke through with a converted try to cut the lead to 12-7 and then swiftly followed that by scoring and converting another try to take a lead that they would never relinquish.   A 3rd converted try at the end of the half put the tourists in front with a solid 21-12 lead.
The second half was more of the same but a bit sloppier as both benches started to be used.   Each side had their chances with penalties, possession and territory (including trading "held up in goal" scrums) but it was Wyoming that had the finishing power.   Three more tries equaled their first half output with the only difference being Wyoming's fullback, captain and goal kicker Cos somehow losing his kicking boots during the break.   Stanford was able to pull a well deserved try back after some high quality rugby but it was too little too late. The only blemish on the match was a late yellow card against the Wyoming tighthead for a cynical not 10 penalty 15 meters from the goal line when the Cardinal tried to go quickly from a previous penalty.   As there was less than a minute left the result was not in doubt at that point but the score still was yet Stanford was unable to convert and the game ended with the Cowboy's flyhalf kicking the ball into the Steuber crowd.   A thoroughly enjoyable match and both sides should be complimented not only on their play but their attitudes. This was rugby at its finest.
This Week's Photo
There are few better sights in Pelicanland than Stanford's Steuber Rugby Stadium under sunny January skies.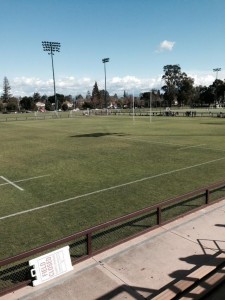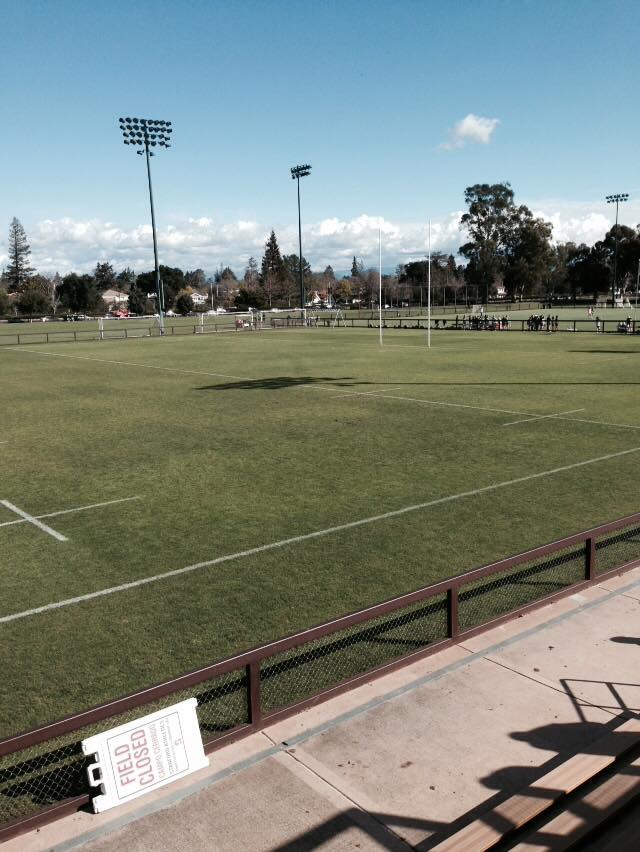 Hail, Pelicus!
For the Senate
Pelicus Pedem Referre