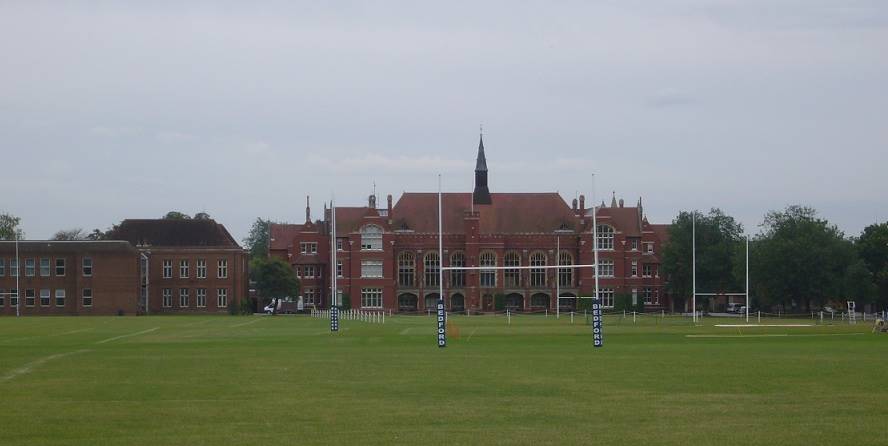 HAIL PELICUS!
Chi Delta?
This week's Hail Pelicus is, as in the last few weeks, on the tardy side as I have been doing a lot of travelling for business and haven't settled on a routine yet. The slog to the airports and cab rides and strange hotels and abysmal weather and expense reports and all that goes with business travel, well, it doesn't leave much time for thoughts on rugby. Of course, it doesn't leave much time for work either, but that is neither here nor there, although I have to travel from here to there again next week. There is one side benefit, however: I lost 2 pounds in the last 3 weeks. Who knew that drinking on airplanes was a valid diet?
While I have not had too much time for composing this eagerly anticipated missive I have had some time to think while sitting in airports and on airplanes. One word kept banging on my consciousness like an elderly downstairs neighbor in old sitcoms complaining that the young, attractive and fun stars of the show are making too much racket. What word was that? Travel. And that led me to think about the travel that the Finest Referee Society In The World has been doing. We see the likes of Pelicus Tempus Procurator, Pelicus Saltus and Pelicus Parvus Scurra flying around the country doing national appointments but that seems to be about it. There has long been a discrepancy about the number of referees that USA Rugby brings in to Northern California during the winter vs the number of Pelicans that get assigned east of the Rockies in the fall, but our noble leadership has addressed this issue and the balance should be restored provided certain parties live up to their side of the bargain. Should that not occur there will be more said on that.
No, USA Rugby appointments were not what I was thinking about. I was thinking about good old, Chi Delta. No, that is not a fraternal organization, it is Greek for "exchange". (Think about it.)
The fact of the matter is there have been very little if any exchanges arranged by the society recently and that is a tragic situation that needs to be addressed soon. I am not talking about wandering refs who pick up games while in town – that happens occasionally and I will probably do something similar while posted in Iowa. I am talking about us hosting a ref from far away and then having them return the favor when we send a referee to them. I was on several exchanges when I was starting as a referee and there are few better opportunities to make friends and grow as a referee than via an exchange. The exposure to different teams, styles and coaches is worth it to referees who want to grow their game. The same is true for hosting, of course. When you invite someone into your home you create a bond with them and you often end up watching, reffing and talking rugby all weekend so that is never a bad thing.
In fact, those two used to go hand in hand. The referees considered first for exchange were the ones who had made the effort to host visiting refs. Going on exchange was the reward.
That being said the jewel of the exchange crown was long the East Midlands exchange. Every other year we would send a delegation to England where they would spend eight to ten days being treated like rugby royalty, getting to referee on some of the most amazing pitches with clubhouses, showers, 100 year histories, and all the other accoutrements that we are, with very few exceptions, still striving for here in the United States.
Oh, and you were expected to drink some beer as well with the locals. It would have been rude not to.
Several years ago I refereed the First XV of Tonbridge School at Beford School and it was possibly the most skillful and fastest game I have done.   The playing fields had about 6 rugby pitches set up and they were examples of those perfectly manicured lawns you either get with highly dedicated greenkeepers or 500 years of grazing sheep.   Afterwards I went for tea with the Masters of the School in a room that had one massive wall that had carved into it the names of all the School's alumni who died in WWI and opposite that was another massive wall dedicated to the dead of WWII.   It was a place with an overwhelming sense of history and you understand how whole generations were lost to these conflicts – and you just refereed the same game they played on the same fields that they played on.
You can't just get that kind of thing anywhere you go.
By my unsure, scratch my head and think reckoning, it has been at least 5 years since we lasted hosted the East Midlands, with the traditional trip up to Yosemite. The last time we send someone to the East Midlands that person paid for it themselves and took his kids on a family vacation, so that may not count. This exchange is dying if not already dead and that is a tragedy the younger members of the society can not comprehend. I have not heard much of anything about other, domestic exchanges – possibly one in the last year? This is also a tragic scenario as these exchanges are, as mentioned above, great tools to improve not only refereeing but relations with other societies. Our "Ambassador of the Year" award used to always be given to the best exchange host because that is exactly what you are: an ambassador of the society.
I hope I am wrong. I hope there are several exchanges brewing that I haven't been told about yet and will soon be published in these hallowed pages. I hope that I head a familiar accent from overseas in the next few months. I hope, but I don't have a lot of hope.
I call on the Board of Directors to refocus our efforts on this issue. To bring back the East Midlands Exchange and even supplement it with a London Exchange that I am sure Pelicus Miratus Velocitas can help with that. This status quo shall not be borne any more!
The Three R's: Readin', Writin' and Refereein'
There were approximately 60 games assigned last weekend. There are exactly 8 match reports in this week's edition, and one of them is from England. The whole point of this newsletter is the match reports – all else is fluff. Teams will read this to see how their opponents did and what the ref thought of them. Very few people come here for the commentary, as much as I would like to pretend otherwise.
If you don't write reports then we don't have a newsletter. It is that simple.
Annual Vegas Buggering Off Notice
The Las Vegas 7s are coming up after next week so, per usual, the Editorial Staff here at Hail Pelicus will be busy studying card counting techniques and will not be publishing an edition.   Normal service will return after the 7s weekend.   As a final sign off, according to the longstanding tradition that I made up a few weeks ago, because it still holds true and will hold true when we gather in Vegas, I must remind everyone that the USA is ranked #1 in the world in 7s.
2019 USA Rugby Game Management Guidelines
Looking for guidance on how to manage a game? Well, USA Rugby has your back. You can find the 2019 USA Rugby GMGs here: https://drive.google.com/open?id=1XXcRfsVtLLqUawEHUI47ei0dt_65fDM.
If you do not have access to the google drive linked above you can also view them as well as other pertinent documents here: http://www.usarugby.org/referee-resources/
Disciplinary Action Reporting – Process For Reporting Incidents
The various competitions all have their own disciplinary chairs and this will make it difficult to centralize the communication and data. To help we have developed a form that will centralize the process, regardless of the competition. The link to the discipline form is https://docs.google.com/forms/d/e/1FAIpQLSc42vbdqnFVH0u1BGTLhjOivDO2hNsmV4NXvvnC4FyAka7sKQ/viewform?vc=0&c=0&w=1
Copy the link and have it available on your smartphone. If you have an iPhone add the link to your home screen.
When needed fill it out and click submit. The discipline chair of the competition you refereed will receive a notification about the incident.
He/she may contact you latter for more details.
If you have any questions as to how to use the app please refer to the following video: https://www.youtube.com/watch?v=_Uz0_gTaOnY
On To The Game Reports!
Date: 02/16/2019
Datchworth 44-29 Royston
Location: Datchworth RFC, Hertfordshire (https://goo.gl/maps/jpW8hQBRvG72)
Competition: London 3 North West
Referee: Preston Gordon
Everything I've heard in the last few months about English players being bigger, faster, fitter, and smarter than they used to be is true. Refereeing this match was a very different experience than the Midlands 3 match I handled in November 2011, which I believe was also a level 8 game. This was also my first above-grade assignment for LSRFUR, an exchange appointment from London North to Herts, and I was also being evaluated again.
Having looked at the league table and each club's previous results, I was expecting this match to be a lot more one-sided than it was. Datchworth was #2 and in the running for promotion to London 2, while Royston appeared safe from relegation in the #9 slot. So they had nothing to lose, and the 39-0 shutout they suffered at home (just 20 miles away) last October must have had an effect – Royston threw the kitchen sink at Datchworth, gave a great account of themselves, and came close to winning. Yet another surprise in rugby!
When I saw a few players wearing county representative gear soon after I arrived, I knew my best efforts would be needed. Then I learned from the assessor about some ugly moments in the previous match between these two teams. At the coin toss, I made sure to remind both captains about the RFU core values. I think this helped defuse any lingering tensions while also offering them both a clean slate.
I don't want to jinx anything, but spring seems right around the corner here and it was in the low 50s and cloudy, with little wind and no rain. Datchworth kicked off going downhill and started off at a fast pace, scoring their first try in the 4th minute. The conversion was missed. Royston's reply came just 4 minutes later, with a converted try that took a 5-7 lead. Datchworth's next try was at 15′, and although their kicker couldn't add the extras, they got their noses back in front at 10-7 (lead change #4). They backed this up with another try in the 19th minute (15-7), and it became apparent that their kicker was having a bad day at the office. The game was really moving fast and flowing well, and Royston struck back with another unconverted try at 24′ (15-12). Their tails were up, and they scored another try at 27′ (converted) to go ahead 15-19 after the game's fifth lead change. This last try really set off some alarm bells for Datchworth, who had a meeting of the minds under the posts. Their response came three minutes later, at 30′, with another unconverted try that changed the lead yet again (20-19). 43 minutes after the half started, the Datchworth #7 was pinged for hands in the ruck, and Royston slotted a penalty goal that put them ahead 20-22. With seven lead changes and just seven penalties, it was a great half and the two sides were about as closely matched as I've seen.
After a short break, Royston kicked off the second half and were now running downhill. Datchworth continued to use their scrum dominance well, though they drove one up near the Royston goal line in an unsafe manner and were penalized. The subsequent unsolicited feedback from their forwards moved the mark 10m further and allowed Royston to clear their lines. But Datchworth, to their credit, got on with the game, and went ahead 27-22 at 48′ with their first converted try of the afternoon. Some more great rugby entertained the 100+ spectators, with the next try coming from Datchworth at 61′ (again with a missed conversion) for a 10-point lead at 32-22. Royston had the next word, scoring a converted try at 66′ to come within three points at 32-29.
They came close to scoring a couple more times, but Datchworth's defense held firm and they picked off a loose pass to score at 74′, and although their kicker was still in poor form, that gave them an 8-point lead at 37-29. The last try came in the 77th minute, and the second successful conversion sealed the 44-29 win for the home side. The penalty count was 11 in the second half, a little higher than I would have hoped, but still reasonable.
This game wasn't easy to handle by any means, but it was a lot of fun to be on the same pitch with players of this caliber. I tried to find the right mix of game management, law knowledge, humor, authoritativeness, whistle tone/signals, body language, and being in the right place at the right time to develop trust and rapport with the captains and other players. The post-match smiles from both teams (and the assessor's evaluation) confirmed that things had gone very well indeed. Obviously luck played a part in this – the players had a good attitude on the day and focused on playing rugby.
I think a couple of my recent games really helped put me in a good position for this one. Mavericks-Dagenham (Jan 26) and the East London 2-Eton Manor 2 friendly (Feb 9) were both very competitive derby matches that were decided in the last few minutes. The Olympic Club-Diablo Olde Gaels match (Feb 2) was also a good challenge. I won't be reffing on the weekend of 2/23, due to the dearth of fixtures on a Six Nations weekend, but I'm looking forward to whatever comes my way next.
Date: 02/16/2019
SFGG D2 36 – Olde Gaels 33
Referee: Lee Bryant
Hard fought match, was just glad the weather held off. SFGG started off with a couple of quick trys. The home team fought back for the remainder of the match and won off a penalty kick 30-35 meters out.
Date: 02/16/2019
Google 29 – Chico Mighty Oaks 17
Referee: Giles Wilson
Two evening games this weekend; Friday saw a Girls HS round robin at Freedom HS between the hosts, Lamorinda Girls and the new Northgate program. Three half games (some played as 10s to accommodate limited playing numbers) saw the following results Freedom 14 Lamorinda 52, Northgate 10 Lamorinda 70 and Freedom 24 Northgate 31. Happily the weather had blown through so the games were played in dry conditions.
Saturday saw Google host Chico at the Rich May Memorial field in EPA at 4pm. By 3.15pm both teams were beginning their warm ups showing some moves with dummy runners and miss passes. The weather had again dried up and there was even a little sun but a brisk breeze down the field would affect the game.
Google won the coin toss and elected to kick, Chico chose to play into the sun and wind. Google started off strongly and missed a long range penalty kick in the first minute but went on to score from the resulting 22m restart. This was their last score of the half, playing with the wind led to a variety of mistakes including a couple of long kicks going dead. Chico responded with two tries that they couldn't convert. Both sides demonstrated good defensive patterns and strong tackles as well as good running lines and angles that created line breaks.
Chico had the wind and sun in the second half but neither team had a good kicking game to take advantage of the wind and space behind. Google started the half well, picking up two tries to go into a 17-10 lead. Chico fought back with a converted try to tie things up but had limited bench numbers which caused reshuffling when they had a couple of injuries.
Getting pulled back to a tie with 20 minutes to play woke up Google who manufactured one good multiphase try and then a long interception try to finish 29-17 winners.
Overall a good standard of play with good spirit and discipline from both teams.
Date: 02/16/2019
BA Baracus B 72 – Shasta Highlanders 28
Referee: Allen Gray
After a change of venue from San Francisco to Santa Rosa, and a change back to San Francisco, then a change of Kick off time. A field was secured and time confirmed. We had fantastic sunshine with a chilling breeze at kick off. The weather held until 20 minutes into the second half when we had a downpour and double rainbow.
Many thanks to Shasta for making the long drive down for the game. BA took an early lead while Shasta started the game while waiting for players to arrive. Shasta battled but Baracus were a more organized and disciplined side. Fitness played a part in the second half as Shasta lost their shape and Baracus found holes in the defense; widening their lead. Shasta kept their heads up and finished the match with the last try in the last seconds of the game.
Date: 02/16/2019
St Marys College C 57 – Humboldt State 5
Referee: Brady Stigall
Nothing to report.
(EDITOR'S NOTE: So there were no points scored? No flow to the match? No well worked/unbelievably lucky tries? No amusing anecdotes?)
Date: 02/16/2019
San Jose State 5 – Univ Nevada Reno 66
Referee: Stephen Moore
Clearly a one-sided affair, but a nice game to referee following HS matches only for the last 12 months, nice to come across players who understood and respected the laws. Also, great to run into a Reno player "Bobby" that I introduced to rugby at Seahawks Youth, as a kid aged 12. He'd come along way and put on a great performance. San Jose State, unfortunately, was only able to field 13 players. So it was always going to be a difficult contest for them. They had a 14th player arrive in the second half. Surprisingly there were no injuries so they played it out with 14. All in all, they did well under their circumstances. I really enjoyed this match and thought both teams put in a very good effort to play good clean rugby.
Date: 02/16/2019
Mother Lode Rugby Football Club 13 – SFGG HS Varsity 50
Referee: Sam Reagle
This was a 10am game and there was snow predicted for the Sierra Nevada's Friday night so I decided to make the drive from Reno to Shingle Springs Friday afternoon and spend the night on the "warm" side of the hill. The snow arrived ahead of schedule so my normally 2 hour drive took 5. Motherlode had but 17 players so they knew they were in for a long day. The SF/GG Varsity players arrived around 9am with a busload of JV players arriving shortly thereafter. The icy wind kept most non-combatants away.
The game was great. Both teams played smart, focused rugby the entire game without a hint of malice toward each other. On this day, SF/GG had the bigger horses and earned the win. Afterward, each team selected men of the match from the other team and we feasted.
I got to Colfax before the State Police closed the highway and turned everyone around. Made it home Sunday afternoon.
Date: 02/16/2019
Lamorinda Rugby Football Club 36 – Danville Oaks RFC 29
Referee: James Hinkin
One of the games of the year saw two nationally top 10 ranked teams go at it as #6 Lamorinda hosted #1 Danville. The rain was on and off with some rather heavy bursts all morning but by the time we were ready to kick off the sun was peeking through for a fine day of rugby. Both sides were as advertised and I must say this was the best game I have done in a long while. The teams were fast, skilled, hard hitting and respectful €" everything you want in a rugby match.
Lamorinda were obviously not intimidated by the gaudy #1 ranking that Danville brought to the field and within the first 5 minutes they took advantage of some strong running and suspect tackling to score the opening try. Danville showed their class by immediately responding with a try of their own and I had the tiger by the tail at 5-5 after 7 minutes. After that the game took an unexpected turn and Danville would put together some solid phase play only to make an egregious error that the opportunistic home side would pounce on. Lamo scored 3 more tries in the first half with 2 coming off of interceptions to go into the break with a 24-5 lead. This is not to say that the game was one way traffic until an opportunistic break. Both sides were playing solid defense, using tactical kicks well, running hard, intelligent lines and playing generally good rugby. The difference were those little slips that led to points the other way.
The second half started much the same as the first with an early exchange of tries. Lamo got on the board again by intercepting an ill advised and poorly executed kick pass to put the game out of reach at 36-5. Allegedly. In theory. Danville did not get to where they were by giving in and they started a furious comeback. With 10 minutes left they got on the board again with a converted try and then almost immediately scored again, duly converted. The Lamo defense stiffened up a little bit at this point but there were some tired bodies out on the field and Danville was soon pressuring the goal line again. The goal line stand eventually broke to concede a try but the home side did just enough €" the try was scored after time ran out so after the final conversion was missed I below the final whistle setting of delirious celebrations from the home crowd and the players themselves. Final score: 36-29. Had the game been 5 minutes longer I don€™t know what would have happened, but boy howdy, that was some fun rugby.
This Week's Photo
The sacred grounds of Bedford School in Bedford, East Midlands, England, United Kingdom.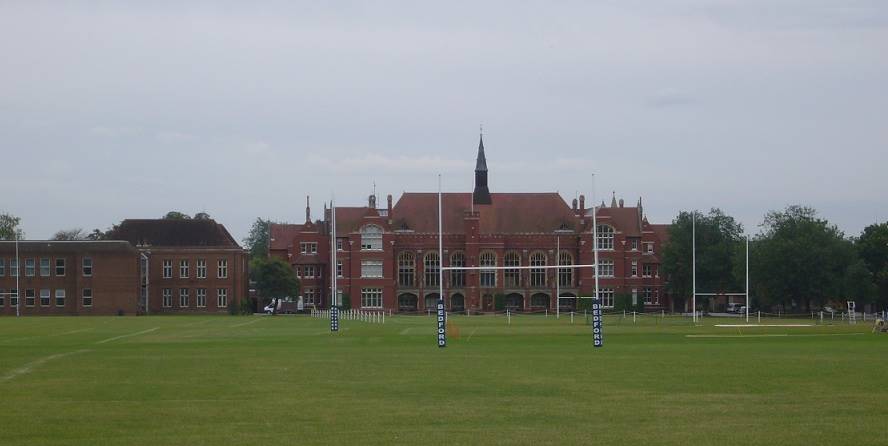 Hail, Pelicus!
For the Senate
Pelicus Pedem Referre