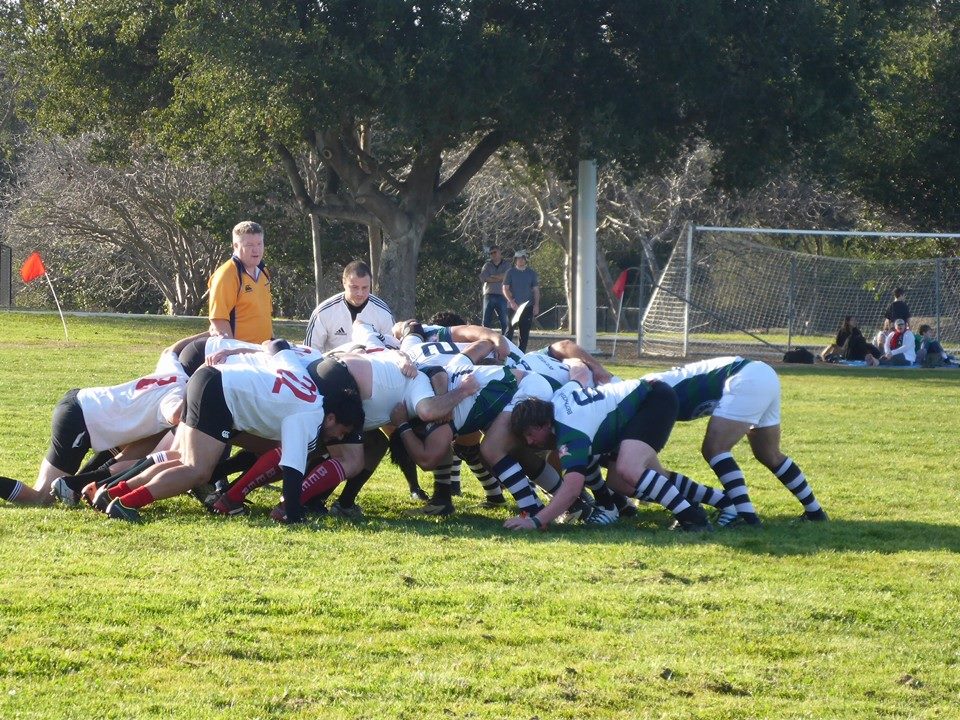 HAIL PELICUS!
Coverage Plans
More importantly, the lack of coverage plans.   With several regular referees lured by the shiny KOT and others off to hear some nonsensical ramblings of so-called experts in Chicago, we here in the beating heart of American rugby are short referees.   As of the now, there are virtually no B sides covered and quite a few A side matches that are going to be wanting a whistle.   Just about every referee assigned will be asked to do double duty so we are putting out the call: we need help.   Please go to assignr.com to confirm your availability and matches, or if you haven't received an assignr.com account, contact Pete Smith at me@petesweb.com to let him know you are available.   To get an assignr account please contact our Scott Wood at rscottwood@gmail.com .   He will get you all the information you need to sign up and announce your availability.
As for those who are going to Chicago, do you really think you need to travel long distances to hear wisdom? Well, that's a scam.   Climbing a remote Nepalese peak just to ask the meaning of life (42) from a wrinkled old man in a loincloth is one of the greatest wastes of time ever. If wisdom could only be attained by travelling long distances you would see tons of Asian wisdom seekers prostrating themselves before midwestern housekeepers to hear their pithy sayings.
Ask A Pelican
In order to prevent such future referee drains Hail Pelicus will be offering a new weekly section, called "Ask A Pelican".   This gives our loyal readers a chance to gain knowledge and wisdom without being forced to travel to a freezing hellscape in the middle of winter.   Our first question comes courtesy of E. Ponymous from San Jose, CA, who writes,
"How can I get my picture as "This Week's Photo" in Hail Pelicus?
Well, Pony, that's simple. Have someone take a picture of you in action or with colleagues at a rugby match or event and send it in to us here.   Or just a picture of a pelican in the wild, those are nice. Or really, any vaguely rugby or pelican related photo – we really aren't that picky.
That's it for this week. Remember to send in your questions for future issues!
Vegas Calling
From the organizers of the Las Vegas Invitational:
As is known throughout the land of the flying, double-chinned fish snacker, the most wanted referee's in America are in Northern California. We have been asked to spread out knowledge of the game to Las Vegas for the 2015 Las Vegas Invitational presented by The Riviera. The Las Vegas Invitational — the largest rugby tournament in North America — will take place February 12 – 14, 2015 and will be played alongside the USA Sevens international rugby tournament held annually in Las Vegas. The LVI is considered the premier amateur rugby events in the United States, featuring athletes and match-ups across a wide-range of rugby divisions and age groups.
All referee's that participate will receive a new 2015 LVI jersey, 3 day tickets to the USA 7's and have the option of the best rates in town at the Riviera  as well as a 4 day shuttle pass to get to all the LVI and USA 7's matches. Although we could put a monetary value on this, many consider it priceless.
The referee management would like to hear from you asap but please no later than January 31 to make sure we have a proper ticket, pass and jersey count.    Please contact Autumn Arvidson at mnrugbyref@gmail.com or 612-859-6439.
Your new Delta Tau Chi name is…
There were some eager beaks responding to the call for new Pelican names, and here they are:
| | | |
| --- | --- | --- |
| Referee | Pelican Name | Loosely Translated As |
| John Pohlman | Pelicus Pilula Biberarius | Pill Seller |
| Bruce Bernstein | Pelicus Avoidus Whistle Dude | Play/party on dude |
| Eric Rauscher | Pelicus Veneficus | Wizard |
| Tom Franzoia | Pelicus Lentus Ephorus | Tough Spartan |
| Peter Sandhill | s?l???sn? sn??l?? | u???l?? u??l???sn? |
| Aruna Ranaweera | Pelicus ex Selan | Pelican from Sri Lanka |
| Lee Bryant | Pelicus Saltus | Pelican of the Trees |
| Stephen Valerio | Pelicus Ex Jerseius | Pelican from Jersey |
Disciplinary Action Reporting – Process for reporting incidents
The various competitions all have their own disciplinary chairs and this will make it difficult to centralize the communication and data.  To help Scott Wood has developed a form that will centralize the process, regardless of the competition.  The link to the discipline form is https://docs.google.com/forms/d/1mmUNg11uVOSkIsUtHifSqQzalhWbwohk_J6AmPyrucQ/viewform
Copy the link and have it available on your smartphone.  If you have an Iphone add the link to your home screen.
when needed fill it out and click submit.  The discipline chair of the competition you refereed will receive a notification about the incident.
He/she may contact you latter for more details.
January Society Meeting
This month's meeting will be held January 21st 7:00 PM @ the SFGG Clubhouse   For our meeting we will be discussing:
Audio Game Management – Whistle and Voice (Josh Pendegrass)
Evaluator's Perspective (Kat Todd)
On To The Game Reports!
From Bryant Byrnes at the Dennis Storer/All-Cal Tournament at UCLA
A good rugby weekend, and the NorCal Society was honorably represented. I coached five refs over seven games and at the request of Phip Klevorick will produce several written reports.
Tim Lew was probably the best ref there and was his usual cordial self. Indeed, he did the beep test on Sunday mostly to help the other refs crank it up.

Date: 01/16/2015
Cal Maritime 70 – Pacific 5
Referee: Bretz, Paul
Cal Maritime had the majority of possession in this Friday night affair. Score was 21-5 going into the half intermission. 2nd half opened the flood gates. Both teams are well coached and were able to adjust to the referee's interpretation of breakdowns.
Date: 01/16/2015
Santa Clara University 22 – Stanford 19
Referee: Smith, Pete
Santa Clara needed a late comeback to pull this one out. A blocked drop goal at full time sealed the win.
Date: 01/17/2015
Baracus 24 – Life West 36
Referee: Ranaweera, Aruna
Kickoff was 30 minutes late at the West Sunset Playground in SF due to field setup issues after a soccer match. Life West looked athletic but were extremely ill-disciplined, whereas Baracus was the more structured and patient team. Baracus rode their fly-half's penalty kicking prowess to a 15-10 lead at half and extended their lead to 18-10 soon after. With the score tied 24-24 late in the game, Life West edged ahead with two converted tries at the end to win the match by 5 tries to nil. Much thanks to Baracus for their hospitality providing dinner and beverages at the post-match reception at Jackalope in SF.
Date: 01/17/2015
Baracus B 7 – Life West B 45
Referee: Coppinger, John
Pleasant match played in good spirits. Score would have greater in favor of Life West but for numerous knock-ons just at the point of the imminent breakaway.
Date: 01/17/2015
CSUMB Women 5 – Fresno State Women 90
Referee: Carter, Bruce
Windy, clear, cold day at 10 AM to start the 2015 campaign on the shores of Monterey Bay, the Otters' pitch in perfect condition.
It was a try-fest, with several Bulldog backs tallying multiple scores.
My primary effort was directed at the new players who were oh-so-tempted to play the ball on the ground. Referees understand: many of us would still like to be able to play the ball ourselves.
The Otters had a post-game cheer about never giving up, in true rugby spirit. Up and at 'em!
My grandson Ben ran touch. Always a pleasure to have my favorite wingman. And there were freshly-grilled sideline quesadillas afterwards. Thanks to all for a fine start to a fine Saturday.
Date: 01/17/2015
Diablo 26 – Berkeley 25
Referee: Valerio, Stephen
A very tight match was played between Diablo and Berkeley at Cal Maritime's pitch, with each team collecting four tries and the difference being decided by the slightest of margins.. The day was cool and gray, perfect for rugby. From the kick-off Berkeley dominated the opening 30 minutes, camping out in the Diablo end. However, they were only able to get 10 points out of it. Diablo then struck for 2 rapid tries to carry a 14-10 lead into halftime. Berkeley reasserted their dominance in the second half, but with the loss of their fly-half, the conversions for their 3 tries went begging. Late in the match they had built a fragile 25-19 lead when Diablo had a player sent off. Even a man down, Diablo's outside center found a gap in the middle of the Berkeley backline and touched down for the try. The conversion was made and the final whistle blew with the Gaels walking away with the 1 point win.
Date: 01/17/2015
Fresno 17 – SFGG 20
Referee: Smith, Pete
Great game that could have gone either way.
Date: 01/17/2015
Fresno B 24 – SFGG B 38
Referee: Jury, Jeff
The boys played a shortened battle after a nice tight A side match. Fresno and Golden Gate traded blows with the first half ending Fresno 12 GG 14. A lot of the same with scored tide at 24 with 6 minutes to go. Golden Gate finished with 2 converted trys to end the game 24 – 38 visitors
Date: 01/17/2015
Mendocino 0 – Colusa 34
Referee: Bertolone, Cary
A great day for rugby. One of the loose forwards, Dan Powers, scored the first two tries with good forward work, Pono notched the third from wing and the Colusa team did not look back as they continued to score to make it a 34-0 win in Ukiah. Ukiah never gave up though, so it was good rugby all day long.
Date: 01/17/2015
Modesto 7 – Google 14
Referee: Lane, John
I arrived in Turlock to two sides just setting up. Some basic drills being executed and some one on one coaching for a small few players on both sides relatively new to rugby.
Modesto kicked off and Google brought play up to the Modesto 10 meter line. The ball was passed wide from a ruck to the Google fly half. He drifted across field and when the Modesto backline failed to hold their defensive line he broke through and kept running diagonally into the 22. The covering fullback failed to tackle and he crossed the line and cut back to touch down at the posts for an easy convert. 0-7. 2 minutes played.
Modesto did not take long to get on the scoreboard. Running close in ball carriers to gain field position. Despite giving up a knockon turnover they regained possession on the next play and some strong driving and quick ball saw them score to the right of the posts. Converted. 5 mins in and 7-7. A high scoring game was a possibility.
It did not turn out that way but an open game did develop but both sides were frequently guilty of unforced errors with regular turnovers. Combining this with some penalties through over enthusiasm and new player errors had play changing direction and ends of the field regularly. Some law education was passed on occasion!
An accidental head clash left the Google fullback a little dazed and out of the game on 20 minutes and the stoppage was used by both teams for a breather.
As the half progressed googles scrum started to get the upper hand and this continued in the second half.
Modesto took early action with a number 8 change before half time to try and improve scrum possession.
Half time 7-7
Modesto made 3 more halftime changes which seemed to give them the early momentum. While both sides looked to move ball close in first through the forwards and then going wide there were also some fine backline breaks. The Modesto fly half found gaps occasionally for good ground and this was matched through a few power breaks by their powerful center.
Google got on top for a while and Modesto conceded some penalties. Google tried two relatively long kicks at goal missing first left and later right.
Both sides made some more changes for tiring players.
Google made a number of attacks which were defended but the pressure eventually told with the Google hooker putting his scrum half into clear space on the 22 and made the line and grounded at the posts. Converted 7-14. 22 mins second half.
The play continued with attacking possession for both sides but an error or good defense caused turnovers and relief.
With less than 5 mins left the Google 11 was sin binned for a deliberate knockon. The penalty was kickable but with just 4 minutes left Modesto went for a kick to the corner for a line out. Unfortunately their kicker misjudged and kicked direct into touch in goal.
Google opted for the scrum to ensure possession and to work the clock. Despite Modesto putting in a huge effort Google controlled most of the last 4 minutes and closed out for a 7-14 victory.
A committed game with plenty of on field banter and guidance to me as ref. The supporters got in on the banter now and then and we even had a young support looking to join his dad in the Modesto line out. An excellently timed tackle by his mother saved the day!!!!
Date: 01/17/2015
Santa Rosa 17 – EPA Bulldogs 22
Referee: O'Neil, George
No report received
Date: 01/17/2015
Santa Rosa B 31 – EPA Bulldogs B 15
Referee: Richmond, Jeff
Turned out to be a bit of a friendly match with 20 minute halves. EPA had to use most of its A side to form up an opponent for Santa Rosa. Santa Rosa stayed disciplined throughout and was able to generate some strong back play. Thanks to Mike King for his feedback on the match.
Date: 01/17/2015
Silicon Valley 3 – Aptos 34
Referee: Hinkin, James
Silicon Valley, a first year D3 team that has grown out of the successful Silicon Valley youth and high school programs, hosted their first ever home match this last weekend against the Aptos Beachdogs. With former teammates coaching both sides – and even playing – I knew that I would be receiving plenty of advice all day.   (To be fair, I received no grief from the sidelines. Either I did a perfect job or the coaches are actually respectful and well-behaved. As unlikely as it seems I will go with the latter.)
The game started on a small field in Cupertino and Aptos testing to see if I was paying attention to the off side line. This early penalty helped by an extra 10 meters for not retreating gave Silicon Valley first blood as a penalty was calmly stroked through from 25 meters.   After that a tense defensive match ensued with territorial advantage going to Aptos but the Beachdogs couldn't seem to find a way through until the inevitable knock on or turnover ended the attack.   Both sides had trouble keeping their feet and, once on the ground, just couldn't resist helping ball back to their own side. The penalties and scrums made this half a bit of a stop-start affair but Aptos finally managed to get it together long enough to break through for a couple of unconverted tries.   Lack of experience and communication on second and third phase ball doomed the young Silicon Valley team yet they only went into the half down 10-3.
The second half started much the same way as the first with an immediate penalty against Aptos for handling in a ruck yet SV couldn't capitalize.   Aptos defended their line well from a series of scrums and lineouts until they finally broke free and were able to reassert their territorial dominance.   Speaking with the captains at half time helped the flow of the game as there were far fewer penalties and that made for much better rugby. Aptos certainly benefited as they now started to dominate the proceedings.   Their back line started to carve up a tiring SV defense and 4 tries were added to the total (2 converted).   A good match from both sides.   Final Score: Aptos 34 – Silicon Valley 3.
Date: 01/17/2015
St. Mary's College 59 – Arizona State 15
Referee: MacDonald, Neil
AR: Bruce Bernstein
St Mary's began forcefully with a try under the posts in the first minute from a scrum center following a short kick off from Arizona State. Fifteen minutes in, St Mary's were 21-0 up, putting pace and width on the ball. Arizona State got on the scoreboard with a penalty kick on the 20th minute, and came very close to grounding a kick ahead into St Mary's in-goal for a try. One more converted try to St Mary's brought the first half to an end with the score 28-3.
St Mary's stretched their score to 35 points early in the second half, before Arizona State's rambunctious flanker, who brought intensity and urgency to his play throughout the match, went over for Arizona State in the 54th minute, and converted. St Mary's got four more, one of which came when #13 Kingsley McGowan regathered his own beautifully judged chip over the defence deep in his own half and accelerated down the field. Arizona State's last defender did well to haul him down, only for St Mary's support to spin the ball wide. Urgency and determination from Arizona State's backs injected pace with quick taps and quick distribution, and Arizona State went over in the corner for another try in the 77th minute.
Thanks to Bruce Bernstein for his invaluable help on the touchline.
Date: 01/17/2015
St. Mary's College B 38 – Arizona State 10
Referee: Sandhill, Peter
Another glorious Nor Cal winter's day – warm and dry, a well groomed grass pitch – a perfect day for rugby. The visiting Arizona team was well coached and were up for the task. The game was clean and fast. However, in the last ten minutes, with fatigue setting in, the breakdown became less neat. St Mary's were the better team. Both the Arizona & St Mary's back lines were fast. However, the St Mary's forwards clearly had superior breakdown technique, especially their counter rucking. Unfortunately, an out of character moment from one young man around the 70 min. mark occurred. He threw the ball into the face of an opponent yelling very threatening remarks, immediately after his team had already been penalized, resulted in a yellow card for misconduct while the ball was out of play. When I spoke to the coach afterward, he said something like, "That boy has hardly spoken all season. Wish he'd picked a better time to speak up." Of course, play calmed down and the fast, clean pace we'd seen to that point, unused. Overall, a very enjoyable game to referee. Days like this make refereeing a pleasure.
Date: 01/17/2015
St. Mary's College C 45 – Sonoma State 38
Referee: Bernstein, Bruce
Awesome 3rd Division College match with Sonoma State going ahead by two tries only to see St Mary's come back to win 45-38.
Date: 01/17/2015
UC Santa Cruz Women 84 – Santa Clara Women 14
Referee: Freitas, Larry
Santa Clara arrived with 14 fit players and started the game one player short in the back line. UCSC immediately took advantage of the situation, scoring within the first five minutes a converted try. The Banana Slugs ran the ball on the narrow side of the pitch several times for long runs ending in tries. About thirty minutes into the match the Broncos lost their hooker, and now were down to thirteen players, having to move their flyhalf into the position for set scrums. Center Ellen Bridgman scored a few tries and made some conversions for Santa Cruz.
UCSC was sporting enough, with a lead of 42-nil, to take two players out for the rest of the match. I wondered if that decision to play with even numbers was going to change the balance of the attack, as Santa Clara quickly responded to an early second half Santa Cruz try with a converted try. Another Santa Cruz score was also equaled by a Santa Clara try, but as the game wore on Santa Cruz kept on the attack, resulting in 42 second stanza points. Players on both sides deported themselves well, and Santa Clara didn't give up. A few long runs by Santa Cruz that I thought would result in tries were run down by Santa Clara, in particular Michelle Coleman, showing lots of hustle at scrum half and following play and arriving at every break down.
It was another sunny and above average temperature day, like we really need those here in California, again, this rainless January. It looked like the Santa Cruz Yacht Club was having a regatta out in the Monterey Bay. Right now the pitch at UCSC is in excellent condition, but with water rationing, I'm afraid that grass is going to turn brown soon if it doesn't start raining again.
This Week's Photo
Pelicus Pedem Referre setting a scrum in the first ever home match for the new Silicon Valley RFC v Aptos Beachdogs.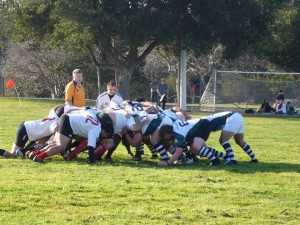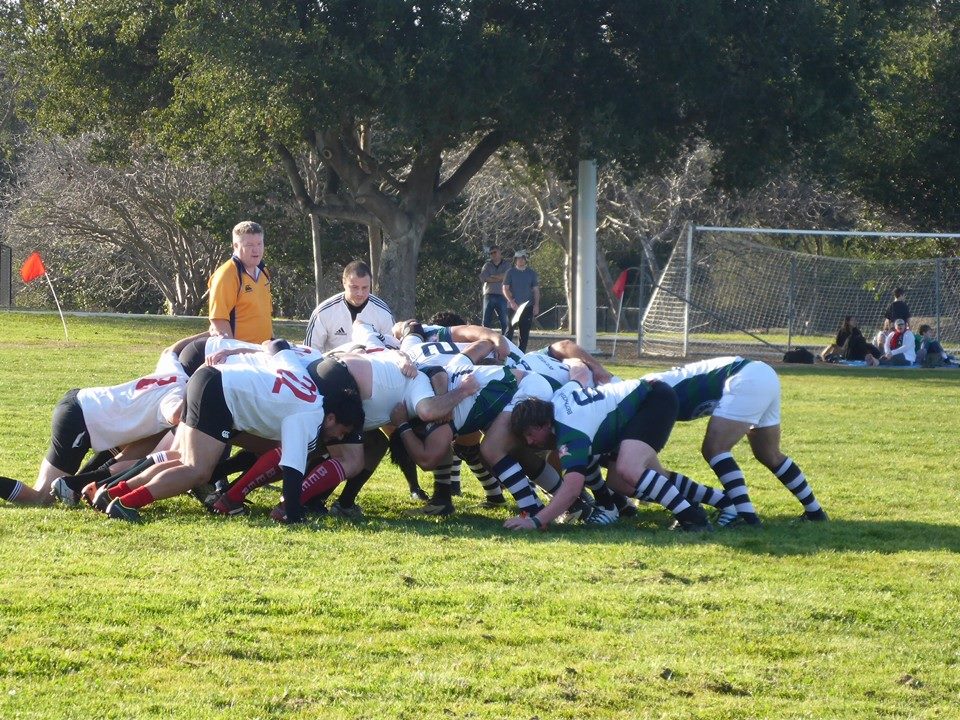 Hail, Pelicus!
For the Senate
Pelicus Pedem Referre