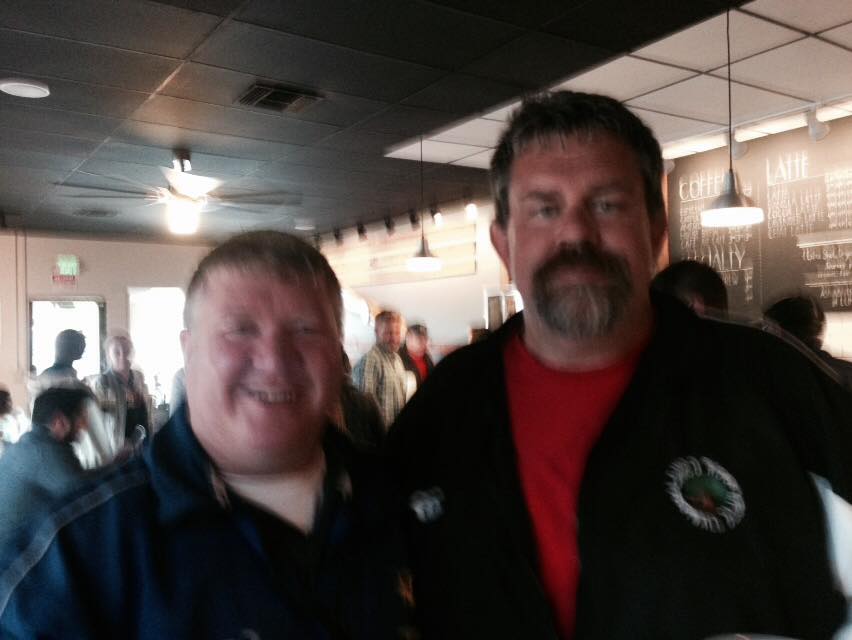 HAIL PELICUS!
Death and Taxes
"'In this world nothing can be said to be certain, except death and taxes."
-Benjamin Franklin, 1789
"'In this world nothing can be said to be certain, except death, taxes and that the referee is always right."
-Pelicus Pedem Referre, 2016
As I write this America's annual Tax Day is approaching fast and Pelicans across the land are trying to determine if that spa day they took back in June can be tax deductible as a business expense.    Personally, I just let my lawyers and accountants from that nice Panamanian firm handle all of the details and so far things just seem to be going great.   I highly recommend them and if anyone wants their contact details I can supply them.
The other great inevitability, of course, is death.  Not all deaths are as widely known and widely mourned as Jonah Lomu quite simply because not all people affect emotionally as many people as someone of that stature.   Some people pass with barely a ripple but some passings send shockwaves through a community.   Thus it was with the death of Seigfried Kohl who passed this week after a 2 year battle with cancer.   He lived up in Washington so is not technically a Pelican, but he is a man all Pelicans can admire and emulate.   As a friend remarked to me (and I agreed) every other post on our Facebook feed was someone – often someone we didn't know – commenting on Sig's passing and sharing wonderful moments.    Many Pelicans played against him in various playoffs and National 7s events and many more played with him as a member of the Bald Eagles.   Sig was a giant on and off the field with "the body of Adonis and the face of a goofball".   Even after undergoing months of radiation treatment Sig lived life to the fullest, running marathons, playing touch and generally enjoying himself.   He was an inspiration to everyone, including US Eagle and former St Mary's star Kevin Swiryn who brought his "What Would Sig Do?" bracelet with him everywhere on tour and wrote "WWSD" on his wrist tape.   You will be missed, Siggy.   Times like this bring forth the words of Robert Herrick,
Gather ye rosebuds while ye may,
Old time is still a-flying;
And this same flower that smiles today
Tomorrow will be dying.
RIP Seigfried Kohl.  You will be missed.
Party Like It's 1999
I am awash in nostalgia as Pro Rugby announced that it was partnering with AOL to stream their matches.   I now regret not trying out for the teams because I also was kind of a big thing in the 90s.
The Smartest People In The Room
It is no secret that there is an alarming and growing trend in America of anti-intellectualism, most often exhibited in politics but also in popular culture.   I don't plan to turn this section into a political rant or a series of shadenfreude inducing "gotcha" scenarios but I feel I must speak on the anti-intellectualism that has been creeping into our noble game recently.
One can see this when some enterprising team or coach does something unexpected and people complain about "cheating" or "not in the spirit of the game".   The most egregious recent examples of this are the "no maul" lineout defense and the "no ruck" defense in open play.   I participate in a number of online referee forums and you can't go very long without someone posting a video and an argument ensuing about legality and once that is established the fallback of "it's against the spirit of the game" rears its ugly head.   Some of the responders who say this are highly successful and respected players, referees and coaches so it is impossible to assume that these comments are originating from lack of understanding.   The hope I have is that people will learn that this is exactly the spirit of rugby and how the game should be played.   It really comes down to people being upset that either they didn't think of it first or that they don't know how to deal with the unexpected.
Rugby has always been about experimentation and thinking about how to gain an advantage.  Remember the origin story of rugby?  How William Webb Ellis defied expectations and picked up the ball and ran with it?   That is what we are talking about here.   Rugby is not only a grueling physical contest but also a mental contest.  As many coaches have said, "the top three inches" are the most important part of a rugger's body.   The trend seems to be away from the guiding principle of "Everything which is not forbidden is allowed" to TH White's totalitarian version of "Everything which is not forbidden is compulsory."
There is nothing in law that states that a team must join a ruck, only how to do it legally and what laws apply to a ruck.  The last match I refereed I was saying "tackle only" far more than I said "ruck" because neither team was committing defenders.   The advantage that the defense got was that there was no off side line so I didn't bother looking for one.  To a coach or a team that is playing to a pattern that expects a certain amount of space this can get very frustrating yet it isn't illegal in the slightest.   The same applies to the "no maul" defense at lineouts.   This has evolved from the "sack" defense that my old club would often use because we were generally undersized in the forwards and wanted to avoid a maul.   If the defense doesn't want to form a maul you can't force them to.   The latest (and by far the most egregious) comment which inspired me to write this piece started innocently enough with a question of knock on, throw forward or nothing if a player throws the ball ahead and catches it himself.  (Spoiler alert: it is a throw forward.)   Eventually the discussion came around to intent (deliberate or not?) and some started agitating that ANY pass to oneself should be illegal because that is just not rugby even if, and this is the fun bit, the pass does not go forward.    That is when I felt I had to make a stand.
The main objections to these tactics is that they don't "look like rugby".   What that comment tells me is that these tactics don't look like what people expect and that annoys them.   We used to celebrate teams like the Barbarians who would try silly things like a 13 man lineout and yet now there is far too much complaining about unusual tactics.  Rugby as a game is constantly evolving, more so than any other sport I know and much of this is driven by individual innovation.   To claim that is not in the spirit of the game is, in my opinion, completely against the spirit of the game.
The Great Ebner Experiment On Hold
With Nate Ebner added to the roster for the Hong Kong 7s everyone wanted to see what he could do.   It is at this point the maxim that "the anticipation is half the fun" comes into play.   Ebner logged 0 minutes in Hong Kong and was held as an emergency sub only.  There, of course, is nothing to read into this as Mike Friday explained "He (Ebner) had had a very tough two-day tournament in the Hong King 10s, and it would have probably been too much physically for his body to cope with, after only being with us for three weeks, to ask him to go again."
That is a very valid point considering the stress an international 7s tournament can put on any athlete's body, but it does go a bit towards validating my opinion that there is very little chance for Ebner to be ready in time to make the Olympic squad.   From all accounts he did well in the 10s but that is a different kettle of ichyopods.   His physicality and explosiveness are not to be denied, but can his rugby education keep pace?  And can his physical stamina keep pace?
Mike Friday and the rest of the US staff are very astute individuals and surely know all this.  They also know that time is running out to test him in a pressure environment.  I am not talking about pressure from fans, expectations or the gravity of the moment – the man has already proven he can handle that in the NFL.    How he reacts under rugby pressure is the key.  The game is so fast at the international level that you have to be thinking ahead.  Any hesitation and you are lost.  The skills have to be automatic and the reads immediate.   This can only be tested at a World Series event and time is running out.   Mike Friday is well aware of this as he said Ebner was included so that he could be "integrated into the 12 and around the squad; getting familiar with our routines and what actually goes on in the sheds as we prepare ".   Time for the exams because Friday added "he will be good to go this week in Singapore."   Good luck to him.
A Fond Farewell
As you can tell from the above book review, Pelicus Scriptoris still keeps a keen eye on all things rugby, especially when it comes to Northern California Rugby.    Sadly, he has decided to move on.
On Friday April 29th all of Pelicanland will be celebrating Bruce Carter's retirement and departure from the Bay area as Bruce will be migrating to Arizona.  Make plans now to celebrate Bruce's incredible career as an official, President of the Northern California Rugby Referees Society, and his most impactful legacy, teacher.  Bruce's impact on refereeing has been immense and we have all been fortunate to have been the recipient of his mentorship for so many years.  Click the link here to find out more details about the event and to choose your entree options.
The Naming Of The Flock
Hail Pelicus would like to salute two members of the flock who have been honored with their official Pelican Name.
From now on John Lane shall be known as Pelicus Guinness Consumptus!
From now on Neil MacDonald shall be known as Pelicus Caledonius!
All Hail Pelicus Guinness Consumptus and Pelicus Caledonius!
Ask A Pelican
Yes, it's time for this week's installment of "Ask A Pelican", the widely loved Q and A session with Hail Pelicus.   This week's question comes from Jaco Peyper, of Bloemfontein, South Africa who asks:
"I have been following the careers of several Northern California referees because this society is an inspiration to all rugby referees around the world and, personally, I long for the chance to join.   Since there is an abundance of top referees in Pelicanland it is often tough to get noticed but I feel some may have been overlooked.  Have there been any promotions recently?"
Thank you Mr Peyper for your question.   We have also been following your career here at Hail Pelicus and feel you may one day be worthy of a Pelican appointment if you keep working hard.  To answer your question, yes, there were three promotions announced at this month's meeting:
Jen Tetler has been promoted to C1.
Robert Hammack has been promoted to C2
Andrew Kenny has been promoted to C3
Congratulations to these fine referees!
Disciplinary Action Reporting – Process For Reporting Incidents
The various competitions all have their own disciplinary chairs and this will make it difficult to centralize the communication and data.  To help Scott Wood has developed a form that will centralize the process, regardless of the competition.  The link to the discipline form is https://docs.google.com/forms/d/1mmUNg11uVOSkIsUtHifSqQzalhWbwohk_J6AmPyrucQ/viewform
Copy the link and have it available on your smartphone.  If you have an Iphone add the link to your home screen.
When needed fill it out and click submit.  The discipline chair of the competition you refereed will receive a notification about the incident.
He/she may contact you latter for more details.
If you have any questions as to how to use the app please refer to the the following video: https://www.youtube.com/watch?v=_Uz0_gTaOnY
On To The Game Reports!
Date: 04/05/2016
Sacramento Capitals 58 – Missoula Maggots 26
Referee: Carney, Mark
Game was fairly evenly matched in the first half with the Capitals playing most of their B side players. Missoula had a couple of great tries from a very speedy winger who sliced through the Caps defense.
In the second half, the Caps allowed some of their A side players to get a run, and the result was that Missoula was over matched in the backs and consistently lost possession at the breakdown, allowing the Caps to run away with the game in the second half.
Date: 04/09/2016
Berkeley 18 – Olympic Club 2 17
Referee: Byrnes, Bryant
This was a boffo game played late afternoon on Maritime's lovely field. The O Club starts D2 play offs next week; Berkeley had had a frustrating season and wanted to end on a high note. When the teams had met earlier in the season it was all O Club. But its roster had been raided to stock the higher level sides for play offs, so a lot of capable guys were playing together for the first or second time.
The first half belonged to the O Club-14 to 5. They were organized and methodical. They supported their runners well and used their speedy outside center and wing to good effect.
Berkeley had obviously consumed massive amounts of Wheaties at half, because it was a different side that came out (its four substitutions helped). Its several big boys in the scrum started to run with more pace and much authority. Its back line also picked up its game, especially its wily and slippery outside center-he had several whirling dervish runs.
With about 10 minutes left, Berkeley made a penalty kick that put them up by one. From then until full time, it was a slug fest. The game ended with the O Club on the attack, but incurring an accidental off sides penalty. My compliments to both sides, their captains, and coaches. My thanks to the assistant ref who ran touch.
Date: 04/09/2016
California 136 – Texas 0
Referee: Lane, John
A very wet day at Witter Field – ably assisted by Pete and Rob as the scoreline suggests we got in some sprint practice for 80 minutes.
The weather conditions were reflected in a very high knock-on count which created much frustrated sighs and gasps from the Cal Bears coaching staff.  The full roster was used through the game but the conditions won out no matter which players were on the field!
With a dominant scrum lost possession was reversed quickly on almost every occasion.
Nine tries and 5 conversions left the half time score at 55-0.  Texas missed one medium range penalty kick to the right with their only scoring opportunity.
With Texas tiring in the final 20 minutes 13 more tries were scored by Cal in the 2nd half with 7 conversions leaving the final score at 136-0.  Texas had one long range penalty attempt which again missed to the right.
A special note of thanks to Rob's son for helping his heavily limping Dad from the field at full time!!!
Pete Smith showed his resilience and superb fitness levels by taking to the field for the Cal 2 v Santa Clara.
EDITOR'S NOTE:  A nice run, I am sur e Pelicus Guinness Comsumptis, but you will need to put a bit more effort in to match my 176-0 scoreline a few years ago at the official reopening of Witter Field.
Date: 04/09/2016
Colusa 86 – Mendocino 5
Referee: Bertolone, Cary
Drizzling a little bit, Colusa had about 35 suited up to 15 for Mendo. It actually was a pretty good game and Mendo can hold their heads up high, as they battled throughout. Mendo scored their try in the last minute of the game, to keep from getting a goose egg. Party afterwards was over the top with a fresh smoked hog, boat races, car bombs, cardboard car destruction derby, balloon blowing contest and a lot of singing, plus more and more! Too much fun! Great guys on both clubs.
Date: 04/09/2016
Danville 37 – Riordan  13
Referee: Wilson, Giles
I was lucky enough to be assigned to what turned out to be the best game of the season for me so far, a playoff between Danville Oaks and Riordan (coincidentally the closest game to my home that I think I've ever had). Before hand it was good to see old friends on the coaching staffs (including Roy, Helu, Jon Straka, Tony Wells and Mike Caravelli) and then more in the stands (including Kevin Barth, Hwyl ap Rees, Mike Walker and others) – it's great to see all these people involved with youth rugby at all it's different levels.
Both teams displayed some nerves but both had a game plan, a kicking game, discipline and an understanding of the laws of the game – a credit to both coaching teams and that many have come through a youth program.
Riordan gave away some size but lacked nothing in heart, having a fly half who has time on the ball and nice timing of the pass, fairly small but willing to draw a bigger tackler in order to put a runner into a gap. Danville had several big carriers in the forwards but also the willingness and ability to pass the ball to space, running into gaps.
Danville scored 4 first half tries (one converted) to two Riordan tries. Riordan struggled a bit at the scrum while the organization of Danville's line outs needs some work. The second half started with the teams exchanging penalties and then Danville scored two more tries before losing two players to yellow cards in the last 10 minutes.
An enjoyable and entertaining game, the future looks good if these players stay involved through college and beyond.
Date: 04/09/2016
Fresno 75 – San Jose 10
Referee: Devlin, Joe
No report received
Date: 04/09/2016
Google 38 – Aptos 34
Referee: Simko, Paul
There was a light rain all evening under the lights at GarField.  Aptos got off to a quick start scoring a couple of tries, but Google cut the lead down just before half time.  Aptos kept the lead and was up 34-21 with about 15 minutes left.  After a yellow to the Aptos 8 man and a few later arrivals, Google mounted a comeback which included one converted and one unconverted try.  Teams at equal strength for the last 5 minutes at 34-33, Google scored an unconverted try for the victory.
Date: 04/09/2016
Jesuit 26 – Granite Bay 24
Referee: Androvich, Joe
Incredibly fast match with brilliant skills, fitness, and game knowledge from both teams.  Too bad the spectators/parents were not as professional as the athletes on the field.
Date: 04/09/2016
Life West 46 – EPA Razorbacks 7
Referee: MacDonald, Neil
AR: McDougall, Grant
Freshly back from the beaches of Oahu the previous evening, I drove over 17, 880, and 680 watching a litany of aquaplaning drivers and no less than six different accidents on the way to Moraga for this last match of the NCRFU D1 regular season for Life West and EPA Razorbacks.   With the match being the third on the same pitch in a day of steady downpour, I was expecting a mudbath at the field at St Mary's, but in the event the field held up remarkably well, aside from one muddy patch in the middle.
Life West played the first half with intensity, structure and purpose.  Their clarity of intent every time they were in possession helped them rack up a 36-0 lead by the half.   The second half of the match was a completely different affair.  EPA scored first, disrupting a ruck deep in Life West's half, and kicking the ball ahead, causing two defenders to race backwards trying to gather the ball.  Both got hands on it, but neither controlled it, and the chasing EPA player grounded the ball to get his team a tangible reward for their industry and their contributions to this physical match.  Life scored shortly afterwards from a backrow move, and the match slowed down as Life stopped playing percentage rugby, and conditions, replacements and substitutions took their toll on handling for both sides.  In the 70th minute, with EPA pressuring Life's defense a few meters out, Life's rush defense broke up the attack, and took the ball back up the length of the field in the try of the game to settle the match 46-7.
Thanks to both teams and their captains for a good match despite the conditions, to Grant McDougall for gamely staying on to AR after refereeing two full matches beforehand, and to the Life West team for their gracious hospitality.
I understand that EPA play Santa Rosa next weekend in one semi-final, while Life West plays Sacramentio Lions in the other.  It promises to be another great weekend of rugby in Pelicanland.
Date: 04/09/2016
Life West 2 29 – Baracus 27
Referee: McDougall, Grant
What a great game to referee. Baracus game to play in wet and muddy conditions. They ran the ball efficiently and tackled superbly. Baracus was in contention for most of the game until the second half when Life kicked into a next gear, using a strong number 8 and halfback combination. Life found Baracus wanting close to their line in final minutes and scored a try to win the game.
Date: 04/09/2016
Life West Women 55 – SFGG Women 10
Referee: McDougall, Grant
Women Rugby is always great to referee. This game was no different. The score line was not a reflection of the quality of rugby played. Life West Women's dominated the first half leading to a 55-10 win. Golden Gate improved as the match went on with stalwart defence and shutting down the running game of Life West. Life regained their composure late in the second half and used the chip and kick to gain territory dominance in the game.
Date: 04/09/2016
Marin 7 – Napa 41
Referee: Richmond, Jeff
I was told by a Napa representative before the match to "prepare for a track meet" but Marin wasn't playing by the script. Sure, Napa has some speedy backs but Marin did a good job containing for at least for 40 minutes.  The first 5 minutes of the match, I had the help of 30 or 40 assistant referees, since the lack of barriers along the sidelines allowed substitutes and spectators to crowd the touchline. After a brief pause to set up cones and blocking pads as a boundary, we resumed play under a much more civil atmosphere. Frequent errors by Napa left them frustrated and got them off their game. It was a close 12-0, Napa ahead at the half. Napa came out more organized in the second half and Marin was getting worn down. Napa was able to overload the backfield and work the outside or chipped the ball over the Marin backs and create an opportunity. Napa notched 5 tries in second half and Marin scored in the closing minutes, avoiding a shutout.
Date: 04/09/2016
UC Davis Women 44 – Washington St Women 0
Referee: Bretz, Paul
Davis' defense was too strong for Washington State Cougars.  Defensively the Agies starved WSU for ball possession.  This marks the second year in a row that WSU has lost to Davis in the playoffs.
Date: 04/09/2016
UN Reno Women 57 – Oregon Women 5
Referee: Franzoia, Tom
UNR dominated Western Oregon in this rain soaked match with quick ball.
Date: 04/09/2016
Sacramento St 25 – Chico St 17
Referee: Tucker, Chris
Fun contest between two competent, organized sides.  I turned up at the pitch in time to watch Favor hare around the pitch for the last ten minutes of Davis thrashing UNR — they were a man and forty points down.  Our game was considerably closer…  The game started cagily enough, with both sides probing for weakness, but Chico getting the better of the exchanges, and Sac conceding tackle penalties as a result.  After 12 minutes, pressure came good, and Chico scored the opening try.  Sac State evened it up midway through the stanza after an error in midfield by Chico, but you got the impression that this was but an undulation in Chico's path to victory.  Indeed they dotted down again before the half, against a penalty to the hosts, and we ended up 12-8 to Chico at the half.
Whatever Sac State's captain said at the half, I have no idea., but his team came out ready to play and within 3 minutes had taken the lead on a converted try.  Chico came back briefly into the lead, before again Sac State scored a third try to retake the lead.  At this point, however the Chico centre made a critical error, deliberately taking out a chasing player off the ball on a kick and chase.  He didn't need to, but foul play is material regardless of its impact, and he left the field at what felt like the tipping point in the game.  With a man advantage, Sac State scored again, and Chico were 8 points down and weren't coming back.
Date: 04/09/2016
UC Davis 35 – UNR 3
Referee: Taueva, Favor
UC Davis was very good around the field. Having a little bit of hard time the first 15minutes to put point for themselves but mange to play really good rugby team plan and it's was rewarded for their skills.
Good time for me and I know people were happy to witness good rugby .
Manuia
Date: 04/09/2016
Redwood 21 – Napa 2 15
Referee: Hammack, Robert
The match was played with intensity (mostly legal) from the opening whistle as both teams looked to end their season on a high note. Redwood scored early from on a breakaway try from a Napa knock-on. Napa responded with a try of their own with a well worked backline try. Napa seemed to control the game for most of the match but Redwood took advantage of another breakaway, length of the field try to gain the upper hand. Napa had an opportunity to win the match in the dying minutes as they had a penalty at the Redwood 5-meter line but an unlucky knock-on ended an otherwise well-contested match.
Date: 04/09/2016
Reno 27 – Modesto 33
Referee: Crenshaw, Jim
The rain returned to northern California just in time for a drive to Reno Saturday. Pretty steady, but light rain all the way to Truckee, but then it let up and things were overcast but dry in Reno. I was early (no Snow on the road) so I saw the reason for the late (3pm) kickoff – youth soccer. They cleared out right around 3, so kickoff was postponed till around 3:30. Both teams only had 1 substitute and were pretty evenly matched. Reno chose to play against the wind in the first half, so Modesto kicked off. Reno didn't waste any time, with a series of rucks leading to an unconverted try in the corner in the first 5 minutes of play. The match slowed down a bit for the next 10 minutes or so until Modesto took the lead with a converted try. There was a lot of long runs back a forth for the next 20 minutes or so, but neither team could finish. Reno finished up with a flurry with 2 back to back unconverted try's near the end of the half, making it 15 -7 at halftime. Reno scored first about 8 minutes into the second half with a converted try to make it 22 – 7. The next 20 minutes were more of the back and forth play, but no scoring. The last 15 minutes were exciting, as Modesto scored 3 unanswered try's, the first one unconverted, but the next 2 converted to take the lead 26 – 22, with about 5 minutes remaining. Reno came back with an unconverted try to regain the lead 27 – 26 with about 2 minutes left. Modesto made a long series of runs by the centers and standoff, finally scoring under the posts with no time remaining. A great match. Final score  33 – 27 Modesto!
EDITOR'S NOTE: Pelicus Antiquum Barbarus , it's good to have you back staring down naughty players and getting in the way of scrumhalf passes.
Date: 04/09/2016
Sacramento Blackhawks 10 – SFGG 38
Referee: Pescetti, David
It was an incredibly close match for the first 60 minutes. In those 60 minutes there were 4 lead changes in slippery wet conditions.  With the match being tied 10 – 10 3 minutes into the second half, when GG successfully kicked a penalty kick. After the 60th minute, the match opened up for GG and they were able to string together several series and seal their win.
Date: 04/09/2016
South Valley 21 – SiliconValley 17
Referee: Freitas, Larry
This was a match I started but didn't finish.  Driving over State Highway 152 and the Santa Cruz Mountains from Watsonville over to Morgan Hill there were raindrops splattering on my windshield.  I drove onward to Morgan Hill's Community Park, arriving shortly after noon; the wobbly PVC goal posts were up, the field lined, and the showers ceased as the two teams, Silicon Valley and South Valley were warming up on the pitch under solidly cloudy skies.  The first thing I noticed was that the field had been laid out between three softball infields, two on the south end, and one on the north end.  I checked the grass and ran around the field a few times warming up, and my feet "found" a few gopher holes.  Not good.  Overall the rain hadn't had much of an effect in making the conditions slick and muddy.  The pitch was no more than 90 yards between goal lines, with 5 meter in goals both ends, though they could have been a bit deeper had the pitch been lined differently, and the shallow north end in-goal would have a bearing on the final score; and the pitch was somewhat narrow, maybe 65 yards wide, because on the south end on either touch line softball infields overlapped on the pitch about five meters or more, from about 10 meters out from the goal line to the dead ball line, and the same on the north end as part of the right-hand side of the pitch also was on that softball infield.  South Valley told me a better field that they've used this season was unavailable because of…wait for it…soccer!  At least the City of Morgan Hill has allowed South Valley to use Galvan and Paradise Parks as home venues this season, as they lost the use of Betabel RV Park south of Gilroy.
This was a very competitive match, as the final score indicated.  Silicon Valley would score first from a set scrum just inside South Valley's 22, but would miss the conversion.  Another try by the visitors, not converted, was scored at 22 minutes.  Silicon Valley seemed to be in control this early, but South Valley would be awarded a penalty at 31 minutes, and Eric Cifuentes was successful from nearly half way out, which in this case would be about 45 meters.  South Valley intercepted a pass and ran it back all the way for a try by Tom Sparling, converted by Eric Cifuentes.  Another penalty was awarded to South Valley as time expired in the first half, giving them another three points with that kick.  South Valley had a 13-10 lead.  One note to make: during that half Silicon Valley could have scored another try, but the player who had the ball in hand seemed to touch down, running on his feet, some meters short of the goal line near the left touch line.  I was close by and had a good view of the in-goal area, clearly lined and marked by the corner flags on the goal line and dead ball line.  The ball carrier then ran into the in-goal with the ball and then crossed the dead ball line veering toward his right as though headed for the posts.  I blew the whistle and called for a 22 meter drop out.  There was a protest that the ball had been placed in-goal, but that is not what I saw.  I checked with this player after the match and he did admit he was a bit confused as to whether he had placed the ball short of the goal line, mistaking the five meter dashed line for the goal line, and then decided to run further on.  With very short in-goals, I'm not surprised this happens, especially with a player with not much experience, and I have to say with proper deep in-goals of at least of 10 meters or up to 20, this doesn't happen, but even top club matches in England seem to be played on pitches with very short in-goals in this modern era of the game, seemingly with the intent to have as little or no 22 drop outs during a match.
South Valley would add another try early in the second half, when Matt Almeida, their big inside center, crashed over after a scrum five was awarded to the home team.   Pressure on Silicon Valley continued, and at 53 minutes they again were awarded a scrum at the five meter line.  There is a slight downward incline toward the in-goal, and though in a few previous scrums at that north end of the pitch, both teams "set" perfectly and the forwards facing the downhill direction kept steady for the put in.  Not this time, as South Valley barged forward beyond the center point, and I awarded a free kick, which Silicon Valley took advantage of by tapping and running out of their end, seeing not many to defend behind where the scrum was set.  I set off to follow, and then two things happened: my right hamstring, which had been giving me problems earlier in the season, gave way, but not at the same spot on that muscle as before, and my right foot found a gopher hole, and my ankle got turned.  I hobbled after play as best I could, and arrived downfield (good thing it was some twenty yards short overall) as a Silicon Valley player knocked on after a series of passes as they fled downfield toward South Valley's goal line.  I blew the whistle, and everyone on the pitch and touchlines knew I wasn't right.  I had to leave the pitch, and fortunately Norm Boccone, former Seahawk, was on-hand to come off Silicon Valley's touchline and take my place for the remainder of the match.  Silicon Valley would add another converted try, and South Valley would kick a penalty in the remaining 25 minutes, and South Valley got the win, 21-17.  I viewed the rest of the match on the touchlines, with a bag of ice under my hamstring wrap.  My ankle didn't feel that bad, but several hours later it indeed was quite swollen, and I had the ice on it watching TV at home with a medicinal Sierra Nevada Pale Ale.
Silicon Valley's captain and number 8, Paul Davis, and wing Omar Naguib were responsible for their team's trys.  Silicon Valley is going to move on to the Third Division playoffs now that the regular season is over.  South Valley hosted a social after the match at the Box Seat sports bar, just down a block or two on the Old Highway 101, AKA Monterey Highway.
Date: 04/09/2016
St. Mary's College 50 – Cal Poly SLO 11
Referee: Fenaroli, Steven
The weather held out all afternoon but the field was damp and slow due to the rain. About half way through the first half, the rain started coming down. Cal Poly was low in numbers from the first two games. SMC scored two back to back tries before Cal Poly got on the board with two penalties 20m out from their goal, 26-6 at half. Cal Poly put up 5 more points before the end of the game, while SMC was able to put up 4 more tries and convert 2 of them. All in all some quality rugby with no extracurriculars going on outside of the game. 50-11 SMC. Cal Poly plays air force next in Colorado Springs, SMC has bye and will face winner of USAF/Cal Poly
Date: 04/09/2016
St. Mary's College B 20 – Cal Poly SLO B 10
Referee: Carney, Mark
The weather conditions were not ideal for a fast paced game of rugby. There was a steady drizzle all day, was wet under foot, and the ball was slippery.
The game started very fast with sustained possession and intensity from Cal Poly. Unfortunately, with the slippery ball, Cal Poly turned the ball over close to the SMC line. This was the story of the day really as both teams were fairly evenly matched, but neither could hold onto the ball long enough to really pull away on the scoreline.
The match was a bit of back and forth until the second half where SMC showed their fitness and depth of roster and managed to hit back immediately with a full length individual effort from SMC #14 after the last Cal Poly score. Both sides missed all their conversions, which could have changed the outcome of the game when Cal Poly had two penalties right in front of the posts in the last 5 minutes but chose to run instead of kick.
All in all, a very spirited match with unfortunate weather conditions. The forwards should be happy however as we had about 30 scrums…lol.
Date: 04/09/2016
St. Mary's College C 36 – Cal Poly SLO C 16
Referee: Pohlman, John
I had the pleasure of refereeing at St. Mary's this Saturday.  Cal Poly San Luis Obispo was in town.  These two programs field three full sides, have outstanding coaches and are consistently ranked in the top 20 of college mens rugby.
It rained on and off all day.  But the field held up quite well.
I started the action at 12:30 with the third side match.  Great and fun game to referee.  Pretty competitive.  St. Mary's scored try's at 3, 10 and 17 minutes.  SLO had a penalty kick at 6 minutes and a try at 20.
First half St. Mary's 15 SLO 8.
The second half was basically the same with St. Mary's scoring try's at 14, 26, and 30 minutes, all converted this half.  And SLO making a penalty kick at 12 minutes and a try at 23 minutes.
St. Mary's plays a fast pace both with ball and in defense.  Their speed just seams to eventually overwhelm.
The only draw back of the game was the combination of a soggy day and strong defense pressure forced allot of mistakes which led to allot of scrums.  Fortunately both teams had qualified front row so no problems arose.
If you have not been to the St. Mary's rugby stadium you are missing one of the nicest pitches of bay area rugby.  And thanks Andy my AR from San Luis Obispo.   Final St. Mary's 36 SLO 16
Date: 04/09/2016
Vacaville 45 – Chico 19
Referee: Hinkin, James
A wet drizzly day in Vacaville was the site for a D2 match featuring Chico and, as one would guess, Vacaville.   Arriving at the field 20 minutes after the hour (why can't people drive in the rain?) to see both teams warming up and the field all set to go all I needed to do was chat with the coaches, captains, a few select players and then loosen up the legs and off we go.   The chatting took a little time as my old college teammate John Fox was there with Chico.  It was great to see Fox Man after he survived a heart attack scare a couple of weeks ago and he was looking good.   I told him if he even thought about putting his boots on and taking the field I would immediately stop the game, red card him and then harangue him for at least 15 minutes.
So that was all settled.
The game started sloppily as both teams struggled with the conditions.  The grass was firm underfoot but thick which could make it slippery if grass started accumulating in your shoes.    A constant, drizzly rain kept the ball nice and slick so we ended up with a series of scrums punctuated by occasional flashes of rugby.   At one point the excellent #8 for Vacaville (Thor) tried to pick up off the back of the scrum but managed a little knock unseen by just about everyone else.   When I blew the whistle there were cries of "what is it this time?". All I did was point over at Thor who was busy swearing at himself.   Ah, I see.  Gotcha.
That being said, once the Vacaville team had the ball in hand they knew what to do with it.  Several breaks out of the backs saw long runs that Chico didn't seem to have an answer for.   Vacaville ran in 4 tries in the first half to make the score 26-0 at halftime.
The second half was much more balanced as Chico got a fire lit under them and Vacaville started bringing on subs and relaxed a bit.   The rain had basically stopped at this point which improved handling tremendously and Chico was able to mount a solid attack.  A couple of unanswered tries brought the score to 26-12 before #8 Thor decided to take things into his own hands and bust over for his second try.  The last 20 minutes was a fun, back and for affair as both sides competed well and ran in a try each with Thor completing his hat trick and earning himself a boot at the post match social.
In all my years of rugby dating back to 1990, this is the first time I have ever attended a social in a coffee shop.   There is usually a patio available but weather had forced us all indoors where the rugby players took over a back room.  Beer was provided and good food as well so all was right in the world.   The boat race was won by Vacaville to complete the day's sweep.   Good game.  Good people.  Good times.
Date: 04/10/2016
UC Davis Women 35 – Chico St Women 5
Referee: Bretz, Paul
Ditto to my report from yesterday.  Aggie's defense starved Chico of ball possession.
Date: 04/10/2016
Long Beach St Women 22 – Western Oregon Women 10
Referee: Franzoia, Tom
Long Beach State brought a small but talented group of women and prevailed against Western Oregon 22 – 10.
Date: 04/10/2016
NorCal NSCRO 7's Qualifier
Referee: Boyer, Rich
First Match:  Menlo v. Santa Rosa.  Mired in silly mistakes, match was over before it began as both teams really needed to shake off the cobwebs.  Which they did to great extent in subsequent matches.   7-0 Menlo on captain Lenny's converted try.
Second Match:  Sonoma St. v. Sierra.  Sierra came out strong with two converted tries by captain Bobby.  Second half Sonoma St. 15 put team on his back and scored three tries, one on an intercept.  Final score 22-14.
Third match:  Menlo v. Sierra.  Menlo began strong with a converted try, but could not keep up with Sierra, which ran off a string of 5 tries.
Fourth match, semi final.  Host UOP v. Sonoma St.  Sonoma was in the game first half, but UOP made adjustments, tightened up the defense and capitalized on  Sonoma mistakes.  Only three points in it, 22-19 UOP.
Date: 04/10/2016
NorCal NSCRO 7's Qualifier
Referee: Fenaroli, Steven
A very good Sunday spent doing 5 games of early season 7s. Thanks to Rich and Neil for the support.
Sonoma-5, Pacific 17; Claremont-22, Menlo-0; Sonoma-7, Santa Rosa-24; Santa Rosa- 7, Claremont-26; Final saw Claremont over Pacific by a score of 31-12
Date: 04/10/2016
Chico St 0 – UNR 0
Referee: Tucker, Chris
Mostly one-way traffic on a morning game that had no great meaning.  Both teams played hard, Chico was clearly the better on the day.   Two great moments, neither resulting in a score:
1)  Chico stand-off drops back for a drop goal.  Which would be the first I've given this season.  Pass is right there, which he promptly spoons forward.  I pause for a moment, just to see if he'll kick it anyway.  He splits the uprights.  Excellent kick!  Scrum white.
2)  UNR hooker gets the ball 15m out, and grubbers a kick through the defense.  He's got the pace to beat the Chico back line, but he's overweighted his kick, and it goes just over the dead ball line.  Would have been spectacular.  As it is, Chico restarts quickly, we all hare down the far end, where UNR works it all the way back into Chico's half, and knocks on.  A UNR prop says "wish the backs would stop kicking it!".  Hooker smiles…
Date: 04/10/2016
UC Davis 40 – Sacramento St 29
Referee: Taueva, Favor
Very good game over all.  Sac State mange to have the first score of the game. UC Davis respond back with good ball handling and mange to give their team a score too. Couple non sense here and there but nothing major except UC Davis # 16 Cole Collins [hope I spell his name correct] starts bad mouth to the ref toward the last 15 minutes of the second half. So I warned him. Less then 5minutes later, I penalized him, joining the ruck from outside position and gain possession of the ball which will give Sac state a slow down toward the goal line. Cole first reaction is to swear to the ref without any respect. This behavior is not allow in the game of rugby. I red card him with confidence is the right decision.  Like I say, the game was a awesome rugby time to watch and it's was a joy for me to ref. Manuia
This Week's Photo
UCSB and Chico legend John Fox (R) with Pelicus Pedem Referre (L).    Apologies for the picture quality as the photographer was obviously nervous at being in the presence of two such legends.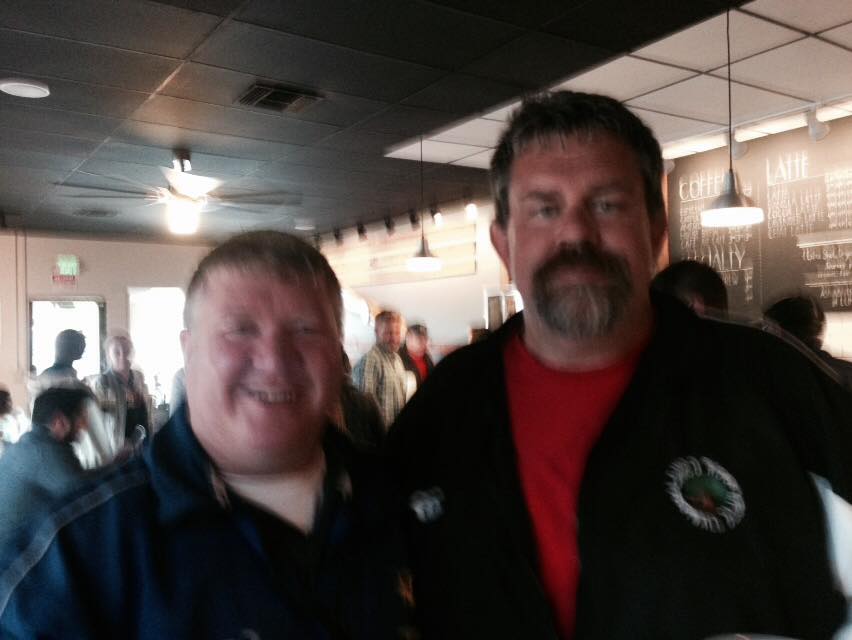 Hail, Pelicus!
For the Senate
Pelicus Pedem Referre