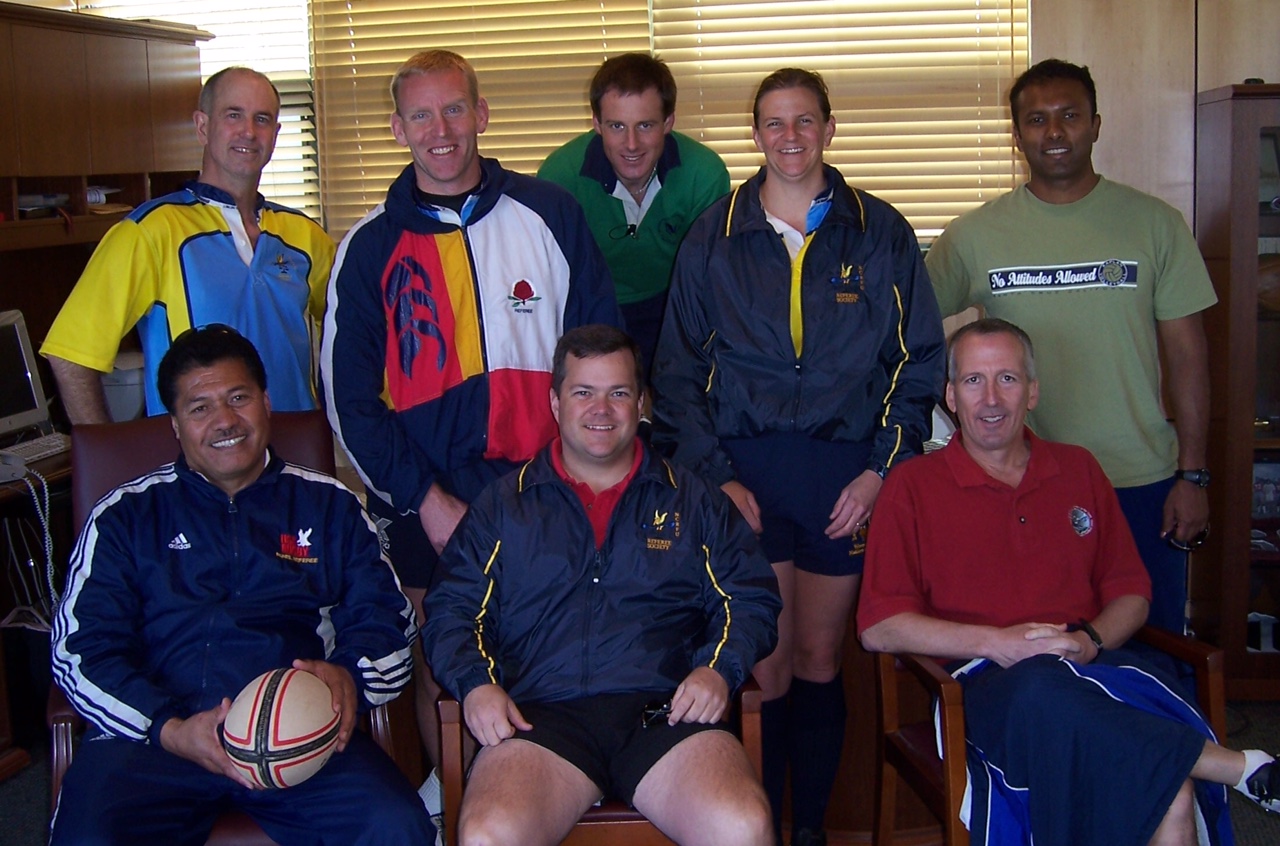 HAIL PELICUS!
Death Be Not Proud
Death, be not proud, though some have called thee
Mighty and dreadful, for thou art not so;
For those whom thou think'st thou dost overthrow
Die not, poor Death, nor yet canst thou kill me.
From rest and sleep, which but thy pictures be,
Much pleasure; then from thee much more must flow,
And soonest our best men with thee do go,
Rest of their bones, and soul's delivery.
Thou art slave to fate, chance, kings, and desperate men,
And dost with poison, war, and sickness dwell,
And poppy or charms can make us sleep as well
And better than thy stroke; why swell'st thou then?
One short sleep past, we wake eternally
And death shall be no more; Death, thou shalt die.
-John Donne
Many of you have already heard the tragic news that the Pelican Society and the whole rugby family suddenly and unexpectedly lost one of the good ones, R Scott Wood. It is a difficult time for all of us and especially his family. He is survived by his wife Danielle and his daughter Gemma. As stated in the poem above, "soonest our best men with thee do go" and never has that line rung so true. A GoFundMe account has been set up to help with the transition and to assist in Gemma's future college fund. Please be as generous as you can. The link is here:
https://www.gofundme.com/scott-wood-memorial?member=103326
Scott Wood passed away shortly after he refereed a high school playoff match hosted by the Elsie Allen Lobo Rugby club in Santa Rosa. It is believed that Scott experienced a heart attack in his car while driving home. He was stopped at a street signal when the episode occurred and in spite of valiant efforts at CPR from first bystanders and then paramedics he never woke up.
How can I properly eulogize and give such a man his due? The short answer is I cannot. I can only reflect on how he affected me and how I saw he affected the people around him. His love for his wife and family, his love of country, his love of rugby, all of them are reflective of the man for it is how we love that, in the end, determines who we are.
All of the above could have been easily seen with just a quick perusal of his Facebook page or 5 minutes of conversation, but you wouldn't have had to look too far or talk too long to discover one of his deepest loves and a major reason why he was so well loved in return. You see, Scott can be considered lucky to have passed after doing one of the things he loved, but that was not the thing he loved doing most: being outstanding in a field. He chronicled this passion over the years with constant selfies, showing just the top of his head from the eyes up and behind him the field in which he was outstanding. It was this kind of humor that really connected me to him. Taking a classic dad joke and turning it into your signature social media calling card? Genius.
You see, we shared that same sense of humor. This is also why he appreciated and understood when I constantly referred to him as "Our Scott Wood" in this publication. The base pun of substituting 'R' with 'Our' was clever enough – remember that the quality of a pun is inversely proportional to how funny it is – yet the deeper meaning was not lost on him either, as "Our Scott" or "Our Dave" or "Our Nev" is a term of possessive endearment used in England. It wasn't just Scott who refereed all over Northern California without complaint no matter how long the drive, it was Our Scott. It wasn't just Scott who served on the Board of Directors, it was Our Scott. It wasn't just Scott who maintained the pelicanrefs.com website, it was Our Scott. Because he is one of us. He is family. He is ours.
Requiesce in pace, Pelicus Radix Lecti, Our Scott Wood.
Pelicus Scriptoris Speaks
As you will be able to tell from the next item, Dr Bruce Carter has a special relationship with Scott and his wife Danielle. Danielle asked Dr Carter to speak at Scott's service but unfortunately he can not make the trip in time. He sent me the eulogy and asked me to publish it and to that request from him I never say no. He is far more eloquent than I could ever be.
Memento Mori: Scott Wood
We were, fair queen,
Two lads that thought there was no more behind
But such a day tomorrow as today,
And to be boy eternal.
"The Winter's Tale", 1.2.79-82
William Shakespeare
When one of our better friends dies young the effects are multiplied. He is gone, his family's lives shattered and cast adrift, and our own mortality thrust unwillingly into the foreground. We do not know the right things to say. Our usual sense of having some control over our own lives is shaken.
Roman Emperor Marcus Aurelius wrote, "You could leave life right now. Let that determine what you do and say and think."
What I propose to do, and say, and think, is to reminisce about my friendship with Scott Wood, a friendship doubly rooted in rugby and refereeing but blossoming far afield.
Scott was a half-generation younger than me, with a trace of the baby fat still about him, and consequently will always be a youth to me. In turn, our adventures together pursuing the oddly-bouncing ball from England to Edmonton to Oahu and points in between seem to me a part of my own youth, especially as I have since matured into quiescence if not incipient senility.
Shakespeare's King Polixenes of Bohemia, grown into the cares of serious adulthood and quoted above in The Winter's Tale, recalls his youth with his best friend and the sense that it would go on forever. ('Behind', by the way, carried at the time the connotation of 'as a result' or 'yet to come'. People still use it this way in phrases like, "I did some time behind my addiction.")
This youthful feeling went with Scott and me when we flew to rugby assignments, often rooming together, anticipating and then dissecting our games, celebrating the good life of friends and shared passions.
What times we had. We shared an Army background, and philosophies of life, and other interests major and minor. We introduced each other to music that took hold. The days of our youth are the days of our glory.
We were in Honolulu in October of 2008 to work a tournament, having been together on exchange in the East Midlands of England the month before. We both had jobs, but Scott at least had the excuse of not being married. That was about to change.
There in the hotel he borrowed my perhaps providentially pink Sony laptop, smart phones not having penetrated much into the market, to check e-Harmony. He announced that he had found an enticing prospect.
So next it was that he and Danielle asked me to officiate at their nuptials, set for November of 2009.
Chance may throw people together. Being thrown together repeatedly is not chance. In this light, how unlikely is it that I had long since made plans to fly to Maui for a medical conference the day after the event and found out that the happy couple would be on the same flight for their honeymoon?
To see Scott become a husband, and then the proud father of Gemma, was a joy. To share time around the pitches of the oval planet was a pleasure. To work with him on the board of the NCRRS was a privilege.
Those who have worn the uniform of life know that when we sign up for the good times, we also enlist for the lean season. That season is here.
Young Scott Wood refereed a high school playoff game April 21 2018. Mike Gadoua, there to announce the match, reports that our old friend was in good form and good spirits. Scott left this world on his way home.
That leaves the rest of us to pause, and to reflect, and to hope that we can leave behind more love than we take with us. In the long run, I trust that the happiness we derived from our associations with Scott will outweigh the immediate pain of loss, however long it may last.
Commit. Love. Serve. Care. Give. Pursue your passion. Be a friend. That's the best way, unfortunately, to leave a void in many lives, but I am grateful that that's the path Scott Wood chose.
– Pelicus Scriptoris
Disciplinary Action Reporting – Process For Reporting Incidents
The various competitions all have their own disciplinary chairs and this will make it difficult to centralize the communication and data. To help Scott Wood has developed a form that will centralize the process, regardless of the competition. The link to the discipline form is https://docs.google.com/forms/d/1mmUNg11uVOSkIsUtHifSqQzalhWbwohk_J6AmPyrucQ/viewform
1. Copy the link and have it available on your smartphone. If you have an iPhone add the link to your home screen.
2. When needed fill it out and click submit. The discipline chair of the competition you refereed will receive a notification about the incident.
3. He/she may contact you latter for more details.
4. If you have any questions as to how to use the app please refer to the following video: https://www.youtube.com/watch?v=_Uz0_gTaOnY
On To The Game Reports!
Date: 04/21/2018
Colusa County 25 – Olde Gaels 44
Referee: David Pescetti
In the D3 Norcal finals had Colusa vs the Old Gaels. Despite 'Old' being in their name they didn't appear to be so. Looked more youngish and spry. Maybe they should consider changing their name to the 'Middleage' or 'Graduated Gaels'. Enough of my rant and onto the game.
Colusa jumped out to a lead playing off a scrum set piece that used their backline to slice through the Gael defense. Missing the conversion put them up 5 – 0. Gaels responding in short order, two minutes later, and converting their kick to take the lead 7 – 5 Old Gaels. A penalty committed by the Gaels allowed Colusa to retake the lead by the slimmest of margins, 8 – 7. Not to be outdone, the Gaels took the ball off and marched the kickoff down to respond. This time missing the conversion, 12 – 8 Gaels. This action occurred in the first 20 minutes of the first half. The second half of the first half was, by contrast a drought. No one scored anything. That is, until the Gaels took the ball, with no time remaining in the half down the field to put an exclamation point into the break. 19 – 8 at the half.
The teams were ready before the refs were, seems like they wanted to get back at it. The second half had similar results as the first. Both teams going tit for tat. One team scoring and the other responding. The difference in the second half was Gaels making 2/3 conversion vs the 1/3 for Colusa, and Gaels converting 2/2 penalty kicks. Critically in the second half, threatened a few times, but came away without points or the Gael defense delayed Colusa enough that time eventually ran out for them.
Final Old Gaels 44 – Colusa 25
Date: 04/21/2018
San Francisco Golden Gate Rugby Club 35 – C K McClatchy High School 19
Referee: Peter Sandhill
Picture Treasure Island, a very warm sunny morning, the lush grassy pitch a little soft underfoot with a full day of playoff rugby ahead (various levels). This High School Varsity playoff had a 9.15am kick off. CK McClatchy had won the mid-season match-up and both teams had something to prove. Having set expectations before the game with each team about the tackle area (sometimes a bit random at HS level) and general behavior, the game started at a very fast pace and high skill – clean rucking, kick-chase on display, fast hands through he backs. The first PK was around the ten minute mark and the overall penalty count around 14. While SFGG had the upper-hand in the first quarter, McClatchy were first to score following a deep bomb (kick) that came down a few meters from the SFGG goal line, recovered and try. Converted: 7-0. SFGG came out with an increase in intensity and it paid off with three tries in the second quarter, two through solid forward work, one demonstrating superb pick and go from rucks. The other try was via the backs, many hands touching the ball. 17-7 at half time.
As it is with rugby, you never know what will happen, especially if players heads are 'right'. McClatchy were singing at half time and I knew they weren't done. For the first 15 minutes of the second half, McClatchy demonstrated some deft backline work, really stretching SFGG, until around 8min when McClatchy scored once (converted) and then again around 15min, out wide. McClatchy 19 – SFGG 17. Game on.
The final quarter saw SFGG, with great composure, rally back with all sorts of skillful rugby – hard forward drives, lovely backline work, maintaining possession for periods, and most impressively, the SFGG #10 put several deep, high kicks through to the McClatchy left winger with the SFGG opposing winger, like lightening, putting pressure on his opponent. Two of those moves led to tries (one converted). Add two successful PKs leading to a final score of SFGG 35 – 19 McClatchy. Hats off to both teams for a clean, well fought, superb game of rugby, with great sportsmanship.
At the end of this game, a PRP coach said to me, "Wow, that was high school rugby! What great athleticism and rugby skills on display. NorCal Rugby is really progressing." Indeed, his words echoed my experience of refereeing this game.
Date: 04/21/2018
Cougar Rugby Club 48 – Oakland Warthogs 28
Referee: Rich Boyer
A nice game in the pre summer heat. Cougars would hit with quick strike tries, while the Warthogs had to work for theirs. Warthogs were undone by knock ons at inopportune moments. The Cougar #8 was quite prominent and scored a few long range tries, while the wing, #11, made some nice runs himself. The Warthogs were physical, but the Cougars created overlaps and took advantage. The Warthogs got on the front foot late in the second periods scoring three converted tries, results brought on by impact subs.
EDITOR'S NOTE: With so many territorial and national appointments this week for playoff matches there are several reports that I can't access via our reporting system as the NCRRS is not the official assigner for the matches. To alleviate that problem I have included the summaries from USA Rugby's Club page. I have edited out matches that didn't involve Northern California sides.
Samurai Sportswear Pacific Rugby Premiership
This week's only PRP game showed Life West Gladiators attempting to play the late-season spoiler against visiting San Francisco Golden Gate (SFGG). SFGG is on a red-hot streak in the wake of last week's must win domination of Old Mission Beach Athletic (OMBAC). The game seemed to never get going, as both teams bolstered their defense when necessary, not letting the other gain any momentum. SFGG scored first at the 25 minute mark, with Life West answering a few minutes later. The half closed with both teams knotted up at just 7 apiece. SFGG knew they needed this win in order to be a contender at the top, and that determination showed when flanker Matangi Tonga scored right away in the second half, Again, Life West were able to answer and brought the score back to even at 12. At the 60 minute mark, #8 Akuila Uaisele scored the go ahead try (his second of the contest) and Colby Stevens was able to add the conversion. Life West had the opportunity to immediately answer, but opted for a safe penalty kick as a response. In the stratagem that is rugby, it is a gamble to answer 7 points with 3, and that gamble proved to be fatal to Life West as Matangi Tonga scored his second try at 73 minutes, sealing the victory for SFGG 15-26. This win completes the trinity atop the PRP at 34 points, with all three teams on the road for round 10.
Northern California Men's Division II
The final between SFGG D2 and San Jose Seahawks was on the ticket as the one to watch. The Seahawks bested SFGG in a defensive battle 25-22 for the NCRFU Division II title. The will "host" PNRFU DII champions Eastside Tsunami at Treasure Island this coming Saturday.
Northern California Women's Division II
In the championship match for the second division of Northern California's women's rugby, the Sacramento Amazons triumphed over the Berkeley All Blues D2 36-24. The game got out of hand early for the Blues as they gave up 26 unanswered points to the Amazons in the first half hour. While, the All Blues made an impressive attempt at a comeback, ultimately, the Amazons' large lead was just too big for the All Blues to overcome.
Northern California Men's Division II
See Pelicus Spaghetticus' outstanding report above.
Collegiate Men's D1AA
The two premier teams in men's spring D1AA rugby, Dartmouth and Nevada, met to see who would be crowned Spring Champion. The winner of this game would advance to go up against the Fall Champion, Mary Washington, to be crowned D1AA's national champion. It was Dartmouth who got on the board first via a try to their hooker Mason Koch. Nevada's attempts to keep pace with Dartmouth proved fruitless, as every time Nevada responded Dartmouth seemed to score two tries and quash any chance of a comeback. Despite this, at the break Nevada was only down fourteen.
As the second half kicked off Dartmouth again was the first team to score scoring the first ten points of the second half. The score remained 39-15 until Nevada responded with a try to cut the lead to 19, in the 70th minute. This lit a fuse underneath Dartmouth and the men from New Hampshire went on to score 21 points in the waning moments of the game to blow the score line out to 60-20. Dartmouth will now take on Mary Washington in the National Championship game in Fullerton, CA on the 5th of May.
Collegiate Women's D1 Elite/D1
The women's top tier of collegiate rugby has a rather unusual structure. D1 Elite and D1 compete against each other in the Round of 16 and quarterfinals and do not get separated until the results of the quarter finals. The winners of the quarter finals advance to the D1 Elite Semifinals while the losers compete against each other in the D1 semifinals.
The third quarterfinal saw BYU come up against UC Davis. BYU had prevailed against Arizona State the day before, while UC Davis put away Grand Canyon to book their spot in the next round. It was another one-sided affair as BYU showed their class and advanced to the D1 Elite semis courtesy of a 92-0 score line.
The final game to determine who would be placed in the Elite bracket and who would be in D1's bracket came down to Lindenwood and Chico State. Lindenwood saw off Stanford, while Chico State pushed their way through UC Santa Barbra to advance. The match went to Lindenwood in a 71-0 affair.
The semifinals and championship will be determined over the weekend of May 4th and 5th in Fullerton, CA.
Collegiate Women's D2
In the round of 16 and quarterfinals for women's D2 we saw some familiar faces triumph and book their spots in the semifinals. In Stanford, it was Claremont and Nevada that went toe to toe in the quarterfinals after they beat Santa Clara and Long Beach, respectively. This was the closest of all the quarterfinals Claremont prevailed by six points. They shot out to an early 15-0 lead in the first 25 minutes, but Nevada determined not to go down without a fight, clawed their way back into the match in the second half, and eventually took the lead with only four minutes left on the clock. Unfortunately, for Nevada, that was enough time for Claremont to come back and secure a win with only two minutes left in the game.
In a battle of California, UC Irvine and Fresno State faced off against each other after automatically qualifying for the quarters. It was all one way traffic with Fresno opening the game by scoring 67 unanswered points. UC Irvine, in a show of tremendous spirit, was able to add some points to the board in the final ten minutes of the game, but the game was Fresno's. Final score 74-14.
This Week's Photo
Scott Wood, front and center, in his usual position of being surrounded by friends.
Standing: Bruce Carter, Paul Bretz, Tim Luscombe, Lois Bukowski, Aruna Ranaweera
Sitting: Josh Tameifuna (holding ball), Scott, Tom Coburn.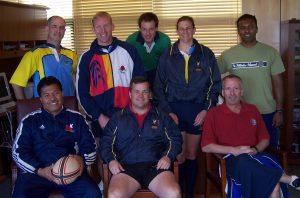 Hail, Pelicus!
For the Senate
Pelicus Pedem Referre