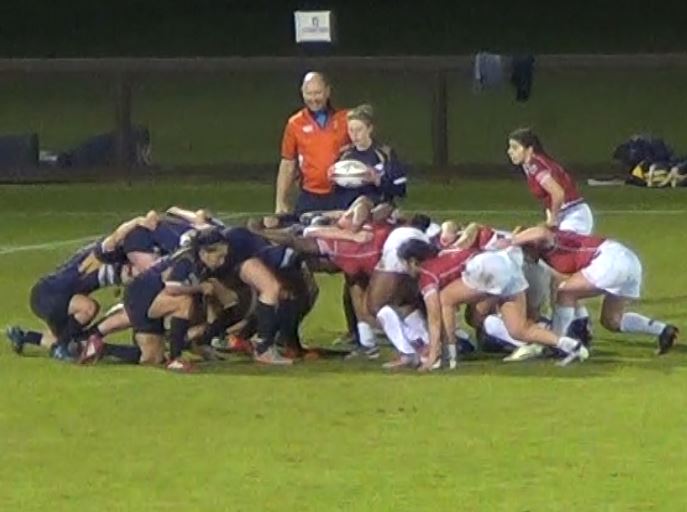 HAIL PELICUS!
Early Days
This past weekend I was assigned a match way up in the extreme north of Pelicanland at Humboldt St University (see report below). Not only is this a 5-plus hour drive but the HSU women scheduled their match for 11:00 even though there was no other matches being played that day. Apparently they scheduled it for then because "they always play at 11:00" and by the time I asked them to change it other groups had booked the field, so that made for a VERY early morning for me.
I am not a fan of getting up early.
There are people, most notably in the military and the sports advertising world, who believe that getting up early is a sign of moral character. One should always run quickly away whenever someone says something like "Oh Five Hundred" as if it were a real thing. Be prepared during the upcoming Olympic Games for lots of feel-good stories of athletes overcoming obstacles to get to the top of their sport and the inevitable soft focus montage of these athletes getting up while it is still dark out to run the lonely streets/work out/go to training. With stirring music in the background we are reminded of the noble and moral sacrifice they are making by getting up early.
Balderdash.
Yes, there are some times when getting up early is necessary – often it is your job that requires it like, for example, the angel in heavy disguise who makes my morning donuts. I know that at times that is the only time one has for training or whatnot, but that doesn't make it a morally superior choice – it is just time management. If you get up later and are awake for the same number of hours, doing the same activities, what matter is it the position of the sun when you do it? Farmers are well known for going to bed with the cows and getting up with the chickens. Some people consider this a sign of moral rectitude but I consider it a sign of deviant sexual practices that should be reported to the Humane Society. As a guiding philosophy I much prefer Orson Scott Card's "early to bed and early to rise makes a man stupid and blind in the eyes." It makes the rest of the day much easier to face.
Hail Pelicus Rewind
A few years ago when I had made a similar trip to Humboldt I wrote one of my favorite pieces. It had everything; natural splendor and a celebration of Pelicanland combined with several layers of jokes and wordplay. I always thought it exemplified the stylistic advice of E.B. White to "Be obscure clearly! Be wild of tongue in a way we can understand." Here at Hail Pelicus the goal not only is to entertain and inform, but to do so in a manner that celebrates this wonderful language of ours and the diversity of nuance available.
Also, whenever possible, I reuse old material so that I can fill a few column inches without having to do any work, so here is one of my favorite items, originally published in February of 2015:
The Roads Less Travelled – Redux
Early morning Saturday, I slowly return to consciousness at the insistence of a pesky buzz. An early start is needed to complete the 325 mile migration northwards to fulfill the promised rugby regimen. The night was still upon us and a crisp, quiet darkness ruled the neighborhood. With the kit bag already readied and the motorcar fully gassed up all that was needed to begin the journey was to preen the feathers and take off. Starting north up the east side of the San Francisco Bay to cross the San Pablo Bay in darkness as the sun struggled to meet its appointment with the day. After a planned stop off in Santa Rosa to grab some coffee and a breakfast sandwich I added a few more stops just to take time and look around at the scenery. As the sun rose Pelicanland slowly lit up to the dazzling beauty that it is known for with vistas found in few other places in the world. Early fog blanketed rolling vineyards, thick enough that the far side was obscured from sight. Breaking into more secluded regions the morning sky sparkled clear and blue as the clouds that should have been floating by were still asleep in the wooded valleys. Looking down on these opaque cotton balls still clinging to the valley floor on a crystalline day is a magnificent sight.
Finally, I have arrived at my destination. The gods have declared that rugby is a sport best played in fine weather and arranged such accordingly. Also noting that close matches with last minute heroics are more fun than blowouts, the gods arranged this as well. What could be better?
As is common at my age, I had played with the coaching staff at Humboldt St and we spent some quality time rehashing old and new stories over a few pints in the taproom at the Redwood Curtain Brewing Company. The good people of Redwood Curtain have figured out some excellent ways to combine flavors and have quite the selection and I wish I had time to try them all, but families and rest called to us as we parted, going our separate ways.
I moved 10 miles down the coast of Humboldt Bay to the next town and checked into my lodging for the night. There was one requirement: a hot tub. I stopped by the hotel bar and obtained a suitable libation and stepped into the hot tub. I idly noticed how the water sloshed over the edge when I stepped in and, as my mind wandered, I saw how the level of my drink changed as well. With a sudden flash of inspiration I jumped out of the hot tub shouting "EUREKA!" and went to get a new drink.
Heading home the next day there was an opportunity presented that is unique to this special area of the world. I pulled off the freeway and drove for about a half mile or so… and then I drove through a tree. As they so often are, the roads less travelled are the most interesting.
The NCRRS Kit Store
As stated before, the NCRRS is moving away from buying all the kit and then reselling it to our referees. The reasons for this should be obvious in that 1) we have to guess ahead of time how many referees will want or need kit and we have guessed wrong in the past and 2) I really don't want to continue to have to deal withal these boxes of old and new kit. So to that end, while we will continue to order and distribute jerseys, because we do not sell them – they are earned, moving forward we have set up a store through Canterbury to sell our kit directly to you, our loyal customers. This also allows us more flexibility to sell branded merchandise, such as warm up shirts, tee shirts, backpacks, tooks and so on. The store is now open so please check it out using the following link:
https://norcalrefsjan2017.itemorder.com/sale?read_message=true
The store will stay open until 11:59:59PM, Sunday Feb 25, at which point Canterbury will collect the orders, stich and screen as needed, and then ship them out. This store can be reopened as needed depending on demand, but don't wait! Get your gear now!
Laying Down Some Knowledge
Our February Society meeting is coming up on Wednesday, February 21. Apparently a few Pelican Sweetie Babies objected to having a meeting on February 14, thus the later date. Details will be posted next week.
Vegas Needs Refs
For Behold! I see in mine eye a City full of Sinners whereupon unruly masses descend for feats of violence, tests of skill and corybantic rituals fueled by mind-addling ambrosia. Should Paragons of Law not also descend upon this madness all will be lost, there will be a great wailing and gnashing of teeth and nobody will have any fun at all. Thus I proclaim the following missive:
Referees One and All !
The biggest rugby tournament in North America is looking for YOU! The Las Vegas Invitational needs you on March 1st, 2nd, and 3rd to help volunteer and officiate 7's (and a select few 15's) matches across youth, collegiate, and adult divisions in Sin City. As our tournament continues to grow, so does the number of referees needs to keep this event rolling! Come ref by day, and enjoy the most exciting city on earth by night! Northern California brought a great number of refs last year, and we can't do it again without you!
All Referees receive:
– Rhino LVI Referee jersey (both Male and Female specific cuts)
– Tickets to all 3 days of the USA Sevens International event (when you stay at the Westgate Hotel – massive LVI benefits available on room rates, $10 breakfast deal, WAIVING ALL RESORT FEES THROUGH THE END OF JANUARY!!, and $40 shuttle passes from the hotel to the stadium and the fields)
Westgate Hotel link: https://aws.passkey.com/go/SLVI8R – again, with waiving resort fees, you get the cheapest rates and get to stay at an incredible resort and the hub of the LVI.
To register to ref at the LVI 2017, contact Autumn Arvidson at : mnrugbyref@gmail.com
Any questions about the event?: https://www.usasevens.com/las-vegas/las-vegas-invitational/
Flock Talk, Enriching The Vocabulary Of Pelicanland
Taken from the Vegas intro, we have this edition's Word of the Day:
Corybantic
adjective kawr-uh-ban-tik, kor-
1. frenzied; agitated; unrestrained.
2. of or relating to a Corybant.
Bonus Flock Talk!
Taken from Flock Talk:
Corybant
noun kawr-uh-ban-teez, kor-
1. Classical Mythology. any of the spirits or secondary divinities attending Cybele with wild music and dancing.
2. an ancient Phrygian priest of Cybele.
Disciplinary Action Reporting – Process For Reporting Incidents
The various competitions all have their own disciplinary chairs and this will make it difficult to centralize the communication and data. To help Scott Wood has developed a form that will centralize the process, regardless of the competition. The link to the discipline form is https://docs.google.com/forms/d/1mmUNg11uVOSkIsUtHifSqQzalhWbwohk_J6AmPyrucQ/viewform
1. Copy the link and have it available on your smartphone. If you have an iPhone add the link to your home screen.
2. When needed fill it out and click submit. The discipline chair of the competition you refereed will receive a notification about the incident.
3. He/she may contact you latter for more details.
4. If you have any questions as to how to use the app please refer to the following video: https://www.youtube.com/watch?v=_Uz0_gTaOnY
On To The Game Reports!
Date: 02/03/2018
Chico State 39 – UC Santa Cruz 17
Referee: Rich Boyer
A beautiful day greeted me on my trip to Chico. UCSC were keen from the start and worked the ball methodically down field only to be undone by an error. Chico took control from there, but had a difficult time finding the try line, until a few well worked mauls resulted in two consecutive tries. Chico's forward pods were difficult to stop, try as UCSC might, and eventually it took its toll, resulting in two tries scored out wide. UCSC have a very strong, big number 8, who put his hand up second half. That, combined with a revised gameplan, resulted in two tries in the second half, but it was too late as the damage had been done. Chico State's notable players included captain Matt, their flankers, vice captain Kevin at lock and the flyhalf, who directed the game. UCSC's outside center has pace to burn and played very well to complement the 8 man, hooker and captain Billy at ten.
Date: 02/03/2018
Pacific 17 – CSU Monterey Bay 24
Referee: Giles Wilson
A beautiful day in Stockton with a well marked field, in great condition. Both teams and the field were ready in plenty of time; we got the coin toss out of the way and then the other pre-match conversation. This left plenty of time to talk Scott Wood into being one A/R.
(EDITOR'S NOTE: Good choice. I hear he is outstanding in his field.)
Both teams were ready to go about five minutes early so we didn't delay and got things rolling. CSUMB started well and scored after five minutes but then Pacific came back into the game for a try of their own. Things settled into more of an arm wrestle until CSUMB scored another try to pull out to a 12-5 lead. Late in the half, Pacific had a breakaway who was pulled down with a high tackle, resulting in a Penalty Try and a half time score of 12-12.
CSUMB started the second half a little over excitedly, with dangerous tackles at 2 and 3 minutes meaning they'd spend 9 minutes with only 13 players. Pacific chose that time to drive narrow and keep the game narrow allowing CSUMB to play out the sin bins. CSUMB in fact scored first in the half for a 19-12 lead. Pacific pulled back a try to close the gap to 2 points but CSUMB got the final word with another try for a final of 24-17.
Both teams have promise and will improve as their conditioning improves. Pacific should have made more of their time with a 2 player advantage. CSUMB have the athletes to score more when they identify spaces rather than running to contact.
Date: 02/03/2018
Central Coast RFC 35 – Sacramento Blackhawks D3 22
Referee: Stephen Moore
A competitive match marred by ill-discipline in the second half. Both sides were quick to put points on the board early in the first half. The score oscillated competitively with Blackhawks ahead at half-time, 17 to 14. The second half saw the Beachdogs gain strength and come out on to top due to foul play by the opposition. A Blackhawks player was sin-binned for a dangerous tackle in the first-half that carried over to a four-minute suspension in the second half. Following his return another dangerous tackle occurred by Blackhawks, resulting in a send-off, red card. In the final 15 minutes of the second half, two more yellow cards were issued to Blackhawks, dangerous tackle, and obstruction professional foul. With Blackhawks playing now with twelve men, for an eight-minute period, Beachdogs exploited the situation scoring several tries. The final score: Beachdogs 35, Blackhawks 22.
Apart from the ill-discipline, players accepted their marching orders, were cooperative, and the match was competitive with some big hits and very determined contesting at the breakdown. Blackhawks did score one try in the second half and it was a beauty. Kicking the ball from deep towards the goal area the Blackhawks scrum-half raced to reach the ball, he jumped high in goal and received a lucky bounce off the ground with the ball depositing into his arms coming down to score. He was one of five jumping players and the only Blackhawk. It was a skilled but beautiful fluke.
For a very hot sunny afternoon for the month of February in Monterey, it was a good and competitive effort by both sides all around. Thank you to the captains and players for their cooperation.
Date: 02/03/2018
Vacaville 26 – Sacramento Blackhawks D2 31
Referee: Jeff Richmond
A contrast in two different playing styles. Sacramento had a very powerful group of forwards and was able to dominate scrums and loose play. Vacaville was forced to bring more attention and manpower to slow down the forwards and that opened up gaps in their backline that Sacramento could exploit. Vacaville had a disciplined set of backs that could coordinate attacks by getting Sac defenders to commit to a tackle and create openings. Vacaville was able to stay in the hunt, down 24-14 at the half. The Blackhawks began to fade in the second half and Vacaville closed the gap and had chances to take the lead but Sac held on for the win.
Date: 02/03/2018
Mother Lode Rugby Football Club 39 – Solano-Yolo Rugby Club 12
Referee: Scott Wood
Both teams competed well, albeit early season issues with tackle entry and offside disrupted contest and continuity.
Date: 02/03/2018
UC Davis 55 – UC Santa Barbara 0
Referee: Pete Smith
Both teams struggled mightily with the laws surrounding the maul. A maul is formed by having two offensive players and one defender. Once a maul is formed, if it goes to ground, the ball must be played immediately or a scrum is ordered to the defending team. If the ball carrier manages to get their knee to the ground after a maul a formed it is deemed to have been taken to ground; scrum and turnover. Moreover, if a maul goes to ground (it is not a tackle) no one is obligated to roll away, but if the ball is available to be played it can be if done so immediately. They also struggled with gate entry at the ruck despite the entry standards being severely relaxed and sealing off on the ball carrier. I spent an unusual amount of time explaining points of law. However at the final whistle it was me that made the law mistake. With Davis up 55-0 and time out, I awarded a penalty to Davis which they kicked to touch at roughly their own 22 and I blew the whistle for match over. The Davis captain corrected me, reminding me that the match no longer ends on a penalty kick to touch unless the kicker taps it first so we continued to the next stoppage. Minor mistake and a quick fix.
Date: 02/03/2018
Humboldt State Women 31 – UC Davis Women 49
Referee: James Hinkin
On a beautiful day up in Humboldt County the Humboldt State Lumberjills* hosted the Aggies from UC Davis at College Creek Field in a wildly entertaining match. Technical zones and flags were in place and the only blemish on the field's perfection was an overexcited line-drawer who continued the 5m and 15m lines into the try zone and the midfield 10m lines past the touchline. Oh well – so close to perfection.
Perennial national powerhouse UC Davis were ready to play from the opening whistle and put HSU under pressure early. They scored first and their impressive #10 nailed a difficult conversion to add the extras, so when another score was put up by the visitors this looked to be a long day for the home side. Not to worry, as they settled into their game plan and got a few turnovers and started attacking the UC Davis team with purpose. The reply for HSU came with about 20 minutes gone when they scored a converted try to get to 12-7. This set up the pattern of the game : UC Davis would score to extend their lead and Humboldt St would reply to close the gap. The match saw 14 tries: 9 for UCD and 5 for HSU. The Davis #10 was excellent at attacking and distributing and threats were generated constantly by their small but extremely fast #13. In the backline Humboldt countered with a big, strong #13 of their own who would go on long, line breaking runs, handing off several defenders as she raced to the try line. In the forwards HSU had a size advantage but UCD had better scrum technique so advantage Aggies, but the Lumberjills used their size better in open play as they hammered at the defense with one-off runners to move the advantage line and create overlaps. A contrast in styles eventually won by the smaller, fitter Aggies.
A great game played by two wonderful teams in a perfect rugby spirit.
* Actually the HSU mascot is the Lumberjacks, but I think the women's representatives should be the Lumberjills so that is what I am going to do.
(EDITOR'S NOTE: You don't get to decide what a team's nickname is. Use the one they use.)
Date: 02/03/2018
Univ Nevada Reno Women 46 – Santa Clara Women 7
Referee: Sam Reagle
Great day for rugby in Reno.
(EDITOR'S NOTE: Love the writeup, Sam. This kind of work gets you noticed for the Pelicus Scriptoris award.)
Date: 02/03/2018
San Jose State Women 0 – Fresno State Women 83
Referee: Larry Freitas
I got to Independence High School for the 1pm kick off, and it was very sunny and warm, especially for early February. The new normal now? I'd say the week before last was the old normal, when I was a kid growing up in the South Bay. Anyway, everything looked good on the field, except the pitch itself isn't all that great, with dirt patches here and there, and lots of weeds. I have allergies and right after the match it seemed my sinuses went into swelling mode.
Fresno State scored the first try of this forfeited match within a few minutes of kick off. They would score 38 unanswered points in the first stanza. FSU also gave San Jose State a few players to make up numbers, to have a 15 on 15 match. The Spartan women are down to 13 active players now. It's sort of sad that the two Silicon Valley college teams are having a hard time putting 15 healthy players out on a pitch on any given Saturday. That wasn't the case fifteen years ago.
At the mid point of the second half San Jose kept Fresno from doing any scoring for about twenty minutes. Then the floodgates opened again. In the second half there was even more tries scored, and the final tally was 83-0, though I know the real score in the books will be different. Fresno State experimented with some players playing out of position. Balestra, who only played the first half, was the scrum half, and she scored a few tries, seemingly coasting through any gaps that popped open between defenders. Next week Nevada Reno come to San Jose State. I imagine things will repeat themselves.
Date: 02/03/2018
BA Baracus 7 – San Jose Seahawks 51
Referee: Paul Bretz
San Jose visited BA Baracus at the famed Fort Scott field overlooking the Golden Gate Bridge on a beautiful February afternoon. San Jose elected to run up field the first half and managed to control play by scoring 27 points during the first half. San Jose was able to find holes in the Baracus defense by using it's center to soften the defense and then spin it wide. During the second half of play San Jose again controlled play by scoring 24 points to 7.
Date: 02/03/2018
St Marys College 60 – Olympic Club 7
Referee: Neil MacDonald
AR: Peter Sandhill
AR: Jeremy Sandhill (no relation*)
(EDITOR's NOTE: * no relation to Neil, I mean. Jeremy is actually Peter's son.)
The 76 degree weather was nothing compared to the heat that St Mary's brought to Olympic Club in the latter's final pre-season fixture, with the Gaels breaking a couple of soft tackles and scoring under the posts in the first minute, in front of a vocal home crowd. After sometimes intense contests at the breakdown, St Mary's pace, ball retention and great support play were too much for the visitors to contain and 23 minutes in the hosts had scored four tries and enjoyed at 24-0 lead. A few minutes later, Olympic Club were down to 14 players after a yellow card for an attempted trip. Olympic Club stepped up and defended well, but St Mary's crossed for another try just before half time to go into the break 31-0 up.
The second half was more of the same, although Olympic club were looking less rusty by the minute and held the Gaels to just the one early try for a long time. Bruce Thomas, back in Northern California and now playing for Olympic Club was his usual larger than life self at the breakdown, and won several key turnovers for his team, but the Gaels were clearly alert to the threat he posed as a fetcher and worked hard to meet him with numbers over the ball. The hosts scored a brace in quick succession around the 60 minute mark. By this point, the Gael halfback was on for an unusual hat trick, having hit the post with two conversion attempts from out wide. Two more tries for St Mary's in the final ten minutes took their tally to 60 points, but the hat trick was not to be. Olympic Club got on the score board with moments remaining, through a very well executed rolling maul which they drove over through very committed St Mary's defenders, and converted with an excellent kick. Some reward at least for Olympic Club, who played positive, committed rugby throughout on a difficult afternoon in Moraga.
At one point in the match I heard a familiar accent, and later discovered there were two freshmen Gaels from Kilmacolm, not far from my Ayrshire childhood home in south west Scotland. St Mary's is attracting talent from far and wide, and on this showing are going to be a handful for any team this season.
Thanks to the Sandhills for their excellent help on the touchline – it was great to have good assists coming in on the radio. All the best to Olympic Club for their PRP season, and to St Mary's for their remaining D1A fixtures.
Date: 02/03/2018
St Marys College B 31 – Olympic Club B 27
Referee: Peter Sandhill
Thank you NorCal "winter" for turning on perfect rugby conditions. This is game was a "friendly" and the last warm-up before the "real" competition starts next weekend. It was a game of two halves, well mostly.
The Gaels kicked off and the game started at a fairly fast pace. It was clear that the Olympic Clubs backs were a little faster as they ran in three tries in the first half. OC #10 had a thunderous boot which provided good field position at various key moments. SMC seemed a little surprised and on the back foot which, as coach Tim O'Brien mentioned afterward to me, was a bit new for this team this season and good for them. The forwards seemed quite even in the first half, clean, appropriately aggressive with both team allowing fair contest, challenge with amply quick ball. Half time OC ahead 22-7.
I don't know what happened at half time but it seemed a new SMC side began the second half – harder on the ball, less small mistakes as they ran in a couple of quick tries. All of a sudden OC were on the back foot. There was a bit of heat and chatter, for the first time. The captains calmed their team down and everyone got back to work.
Both team switched it up a gear or two for the last twenty minutes as the game became tighter. OC through everything at Gaels and they responded in kind. It was tense and mostly very clean. OC #7 and #8 had some lovely runs from behind the ruck and set piece. As fatigue set in, it became a little sloppy in the last five but still compelling rugby. Gaels won by a whisper.
Keep an eye out for these two teams this year. Lots of skill, ability and solid team work.
Gratitude to Neil McDonald for hanging back after the A game to watch and offer some useful thoughts at half and full time. Cheers Neil.
Date: 02/03/2018
Sacramento State Women 17 – St Marys College Women 43
Referee: David Hosley
Technical zones not marked, nor field flags present, when I arrived at 10:10 for 11 a.m. match. I spoke to facilities staff setting up tents and stands on north side of field, who in turn informed Sac State coach. Then I introduced myself to coaches on south side of the pitch, and said we couldn't start match without required zones and markings. Kristina had CSUS team establish zones with cones, but reported only four flags were available from shared club sports locker. I had them place those at the in goal line. It would seem the CSUS club sports office need to be contacted on the matter, as it is difficult for coaches to deal with this on match day when trying to prepare their teams. They did have zones and flags the previous week for the men's match.
(EDITOR'S NOTE: Very nice, David, but what about the game?)
Date: 02/03/2018
Stanford 36 – Univ Nevada Reno 17
Referee: David Pescetti
Unseasonably warm sunny day down on the farm. UNR traveled down from the mountains to play the Cardinal. The heat of the day caused many players to go down with injury. The compounding effect allowed for an intense match when the ball was in play for those who were able to survive the physicality and heat combination.
The first half was a close affair. With Reno trailing into the half by a try. In the second half, Stanford used their back play to create the difference. But the second half was all Stanford. As time was near expiring Reno put a try and were meters from getting their 4th and bonus point try but their time ran out.
Stanford 36 – UNR 17
Date: 02/03/2018
Silicon Valley 15 – Colusa County 48
Referee: John Pohlman
What a beautiful day for rugby. Silicon Valley hosting Division three powerhouse Colusa at Calabasas Park in San Jose. Colusa traveled with 17 players, Silicon Valley looked to have 25 or so. Field properly set up, both teams ready at the 1:30 kick off time, 70 plus degrees, whistle in hand and big smile on my face…doesn't get any better.
Silicon Valley was rewarded with a quick penalty in front of the posts at 2 minute and converted for a 3-0 quick lead.
Silicon Valley turned the ball over and Colusa did what they do best go forward. Both teams were ready for a physical game but Colusa broke down the defense for an early try at five minute. Colusa followed with another hard running try at 9 minutes. Both teams steadied themselves and played a physical Division three game…hard rugby.
Half time score Colusa 12 Silicon Valley 3.
Colusa opened the second half putting Silicon Valley under pressure. S. V.'s french wing made a high tackle 5 meters out for my first penalty try of my refereeing career. Colusa scored another try with a man advantage at 11 minutes. Colusa then scored what I felt was one of the prettiest try's. #10 captain Cody kicked a ball to his outside backs picked up by #12 who was immediately high low tackled by Silicon's backs. #12 popped a blind pas out to their hard charging #14 who went in a beautiful score. Colusa looked to be running away with the game only to have Silicon Valley score try's at 22 and 26 minutes. Colusa realizing there was time for Silicon Valley to come back scored the last three try's.
Final Colusa 48-Silicon Valley 15. Thanks guys for a fast, physical, hard game to referee. Good luck.
Date: 02/03/2018
SFGG D2 33 – Life West D2 44
Referee: Grant Mcdougall
No Report Received.
Date: 02/03/2018
San Francisco State 43 – Fresno State 15
Referee: Preston Gordon
No Report Received.
Date: 02/03/2018
Marin 8 – San Joaquin-Stanislaus RFC 17
Referee: Chris Labozzetta
No Report Received.
Date: 02/03/2018
Google 17 – Olde Gaels 39
Referee: Nome Tiatia
No Report Received.
This Week's Photo
Shows Stephen Moore setting a scrum under the lights at Stanford University as they hosted UC Davis.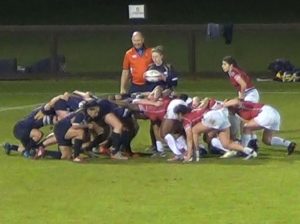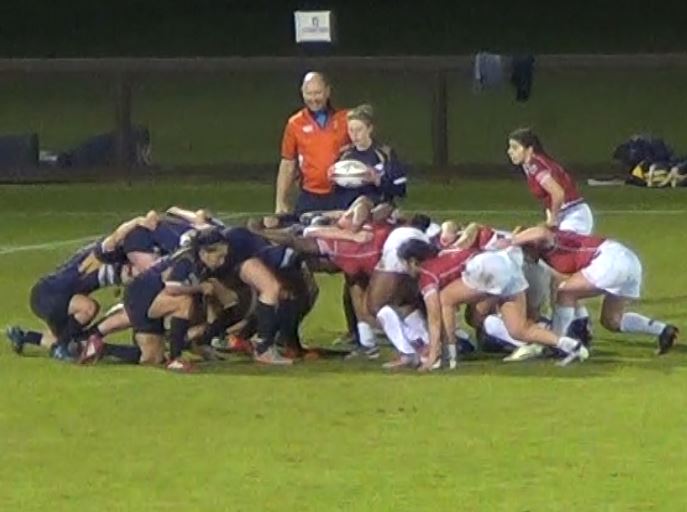 Hail, Pelicus!
For the Senate
Pelicus Pedem Referre