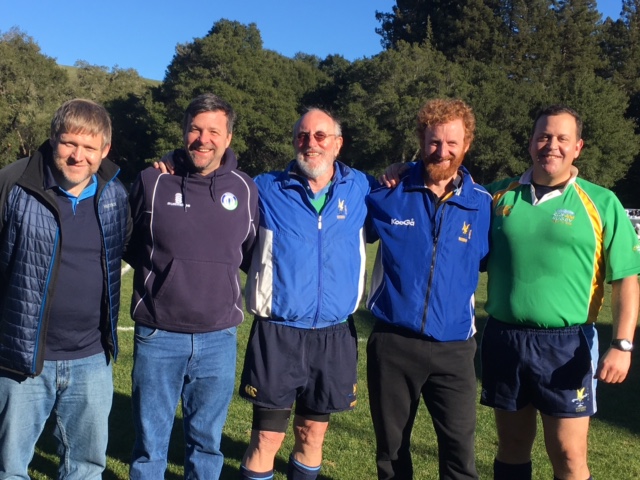 HAIL PELICUS!
Exciting And New
The susurrus of an expectant audience is broken by the quick staccato of the conductor's baton as she taps for attention.   A swell of applause fills the hall as Pelicus Pedem Referre saunters onto the stage, impeccably dressed in his NCRRS #1s and approaches the dais.    All sound ceases for a moment, pregnant with possibilities and expectation, as the conductor raises her arms.   With a sweeping gesture the orchestra leaps into the familiar opening bars and Pelicus Pedem Referre steps forward and starts singing…
Love,
Exciting and new.
New season, we're expecting you!
And tries, life's sweetest reward
Give a pass, it comes back to you
Rugby! Soon you'll be making another run
Rugby!  Promises something for everyone<
Set a course for adventure
Your mind on a new set play.
Tackles won't hurt anymore
It's an open gap for another score
Yes love…
Rugby!
Yea rugby, soon you'll be making another run
Rugby!  Promises something for everyone
Set a course for adventure
Your mind on a lineout maul
Penalties, won't hurt anymore
It's advantage played, for another score!
It's love…
Rugby!
It's love…
Pelican season
Rugby for all
New tackle emphasis
Game played in Heaven
It's LOOOOOOOOOOOOOOOOOOOOOOVE!!!!
The big finish.  The giddy crowd stands to applaud even as roses are thrown on the stage.  Pelicus Pedem Referre humbly accepts the adoration of the audience.     Shouts of "More, more!", "Surely that can't be all?!" and "Get off my foot you fat bastard!" echo around the concert hall.   With a calm and commanding gesture Pelicus Pedem Referre raises his hand and quiets the crowd.  Oh yes, this is just the beginning.
How to Remove Professionalism From Pro Rugby
It seems that the inaugural season of Pro Rugby will be its last, although the official party line is that they will have a season with the 4 remaining teams (the Sacramento Sack-o-Tomatoes, the Ohio Flyover States, the Denver Pot Heads and the San Diego Bro Dawgs).  I will not be holding my breath on that one as they don't seem to have players or coaches at this time.   Pro Rugby has been a mismanaged disaster from the start and the questions brought up by Hail Pelicus as well as many other publications were never addressed.   There were substandard facilities, vendors not being paid, players not being paid, zero promotion and an overall amateurish feel to the entire setup.    Doug Schoninger was never in a position to start a league and tried to force out a sub-par product when he realized that his window of exclusive rights was closing.    Changing contracts mid season, not playing players and then, in a rush of spite, cancelling all contracts outright is a sign of panic and not planning.   This is not what USA Rugby fans deserve.
Let's be perfectly clear:  The players were terrific.  They played their hearts out, played some very good rugby at times and were always available to fans.  They worked hard and it showed as the league improved over the course of a season.
The coaching staffs were terrific, often going above and beyond their job descriptions to make sure that the players had what they need.  When your coach is putting lunch on his personal credit card because the league office isn't paying their bills a player will notice and appreciate it and work that much harder.
My issue is with the management of the league.   Far too few people were working far too hard on a shoestring budget and when Steve Lewis left – and was never replaced – everything that was held together with mud, spit and hope fell apart.  There was never any promotion of the league – if you weren't already in the rugby community then you never knew it existed.   There was never any attempt to nurture a fan base – why were youth teams not all given free tickets?   The facilities varied widely with the San Francisco team having the worst setup of all of the teams.   How that can be possible in the beating heart of American rugby baffles me.   Mr Schoninger came in with a reported $30 million pledged to the league – a fine commitment for one man or possibly one team but you need ten times that to start a league.   Mr Schoninger also reportedly expected to earn a profit the first year, which explains much of the penny pinching.   He apparently didn't realize that no new sports league is expected to make a profit for several years as they build up a fan base, much less a non-traditional sport like rugby.  I keep pointing to the MLS as an example of how to build a new league with a "foreign" sport.
There are positives, though.  We had a pro league where fans paid to see paid players.   It is a start and there was some fantastic rugby played.   It is time for either Mr Schoninger to sell off his interest in Pro Rugby or for USA Rugby to let his window shut and start a new venture, one that has a proper foundation and that takes money.  This is at least a $200 million proposition from the get go, and most likely more money will be needed.
The USA needs a pro league to compete at the highest level – this was a good start.
The USA needs a pro league that is run effectively – this was a learning experience.
Let us hope that the right lessons were learned.
Haters Gotta Hate
I know that Hail Pelicus is usually full of light hearted banter but I have one more axe to grind and that is with our beloved local union.   Last summer the Northern California Rugby Football Union Executive Committee voted on a resolution stating that each club must declare which competition they will be playing in for the 2016-2017 season 2 days before the AGM in August.   Because the best intentions don't always match reality these clubs would have the opportunity to change their mind all the way up to October 1 and the scheduling secretary was to produce the full schedule by October 10.    Sounds great, yes?    Well, a schedule went out on October 10 and some people didn't like it.   One club complained that since they had already scheduled an away preseason game against another club they should have that league fixture as a home game so they don't have to travel twice.
Seriously, this happened.   And the schedule was changed.   Because of a preseason game.
Other clubs started looking at their numbers through the fall and decided they didn't want to play in the division they committed to and insisted there be changes.    Fresno's B side moved to D3.   Chico Men's club also decided they should move to D3 and thus it was so.   Napa tried to do the same and were denied for some reason.   After all this Fresno's B side drops out of D3 altogether.
While all of this is going on we have teams that have under 10 CIPP'd players (including the coach) as well as teams with exactly 15.    This doesn't seem to be sustainable but after more calls and consultation a new schedule was produced and everyone seemed happy… except Golden Gate who now had nowhere to put their B side.   D2 refused to let them play in their competition and there was no space in the schedule for them to play in D1.
Finally, ON THE 16TH OF JANUARY, Santa Rosa has decided that they need to drop from D1 to D2 and this was allowed by the NCRFU.
This not how any competition should be managed.     All of the above nonsense occurred after December 1st, well past the cutoff date and I didn't even come close to mentioning all of the changes that needed to be made to cater to the whims of select clubs.   Because many clubs have both men and women's sides and even teams in separate divisions the schedule is not a discrete entity for each competition.  Field resources and referee resources need to be looked at and grouping a club's home games together takes a lot of work.   This isn't just done for the sheer joy of having all of your club playing at home together but it translates to real money when a club doesn't need to rent a field on as many weekends.    This also allows the referee pool to cover multiple games at a single location.
When changes are made it rarely is just "add/remove them and give everyone a bye/new game" because that can unbalances a schedule.   When a club has an 8 game season and only 2 home games they tend to get upset.   Allowing teams to jump divisions so late in the day is irresponsible and will lead to more of the same behavior.   Last summer I wrote that the USA watches Northern California very closely because we traditionally have the strongest Union and the strongest competition in the country and are seen as the gold standard.   I was disappointed in how the 7s Series went as teams dropped out mid competition and speculated on how they might be punished.    They apparently weren't.   Now I call on the NCRFU to stick to their guns on all of these late changes.   Teams can not be allowed to jump competitions at this late hour and the NCRFU should make them play what they committed to or face consequences.   Anything else just ensures this will happen again and the NCRFU will be the enabler.
I said it in the summer and will say it again.   We are better than this.
New Year, New GMGs
USA Rugby has produced new Game Management Guidelines for 2017.   You can read them in all their glory here: https://drive.google.com/file/d/0B5vxlc6Mi03oT3djWGRkUnVnckU/view.
The biggest change is in how we are to referee high tackles – that section begins on page 17.   Pelicus Iudex Pennipes will also be presenting on this topic at this month's meeting.  Speaking of which…
January Society Meeting
Our society meeting was pushed back a week due to weather so we will be meeting Wednesday, January 18 at the usual location, the SFGG clubhouse on Treasure Island.  There will be a Yo-Yo fitness test at 6:00 to determine which referee can do yo-yo tricks the longest.    If you desire to receive National Appointments or wish to be considered for NCRRS playoffs plan on completing the test.   You must "walk the dog" at least twice and maintain a "sleeper" for a minimum of 10 seconds to be considered.   We will also conduct the yo-yo fitness test in February.
At 7:00 we will commence our monthly training. The following are the presenters and topics:
Neil MacDonald – Breakdowns
Lee Johnson – Scrum and the Dark Arts
Lee Bryant- Psychological elements of officiating
Paul Bretz- Game Management Guidelines
Las Vegas Invitational
The previous LVI Tournament Director has left his post to accept a position in the Trump administration so Steve Albrecht has taken over.  Below is his call to the Greatest Rugby Referee Society On The Planet:
Referees One and All !
The biggest rugby tournament in North America is looking for YOU! The Las Vegas Invitational needs you on March 2nd, 3rd, and 4th to help volunteer and officiate 7's (and a few 15's) matches across youth, collegiate, and adult divisions in Sin City. As our tournament continues to grow, so does the number of referees needs to keep this event rolling! Come ref by day, and enjoy the most exciting city on earth by night!
All Referees receive:
–          Rhino LVI Referee jersey (both Male and Female cuts)
–          Tickets to all 3 days of the USA Sevens International event (when you stay at the Westgate Hotel – massive LVI discounts available)
ALSO – USA Rugby is holding a 1-day clinic Wednesday March 1st at the Westgate Resort. Don't miss out on your chance to train with the best in the ever-growing world of Sevens Rugby.
Westgate Hotel link: https://www.usasevens.com/las-vegas/official-lvi-hotels/
To register to ref at the LVI 2017: https://goo.gl/forms/e5Om9GuMqYsM5zR43
Any questions about the event?: https://www.usasevens.com/las-vegas/las-vegas-invitational/
Ask A Pelican
Yes, it's time for this week's installment of "Ask A Pelican", the widely loved Q and A session with Hail Pelicus.   This week's question comes from Jack Jones of Hollywood, CA who asks, "Are we expected to sing along with the opening bit?"
Great question Jack and thanks for reading Hail Pelicus.    While it wasn't required I fully expect people to have the appropriate song going in their head while reading that bit.   Singing out loud is appreciated by all – especially your co-workers – but also not a requirement.    If you need the backing music to keep time you can hear the song here: https://youtu.be/m2ugQ190hkc.
Coda
The event is drawing to a close and the conductor, seeing the need to lift people's hearts, plans to end with the greatest piece of music ever composed, Symphony No 9 in D Minor, Op. 125 "Choral": IV. Presto – Allegro Assai by Ludwig van Beethoven, also known as the "Ode to Joy".   Unbeknownst to the conductor, however, is that the musicians, as musicians are wont to do, knowing that the previous items would take some time, had all gathered across the street at the local pub for a few mid-program libations.   The string section started doing shots when an argument broke out between the "sitters" and the "standers" (arbitrated by the violinists who claimed "they could do both because we hold our instrument in our hands") over who could still play best after several shots of tequila.   When time came to head on back they lingered a little longer and when asked to hurry up one of the cellists said "relax – we have time.  I tied the last few pages of the conductor's music sheets together.   *BURP*  'scuse me."
Eventually they stumbled back into the hall and the double bass players – who had clearly lost the bet – were barely able to stay upright.
This was pressure.   These are the moments the conductor lived for.   It was time to see what kind of stuff she was made of because, you see, it was the bottom of the ninth, the score was tied and the basses were loaded.
Drop curtain.   Raise curtain for obligatory encore.   Drop curtain.
Disciplinary Action Reporting – Process For Reporting Incidents
The various competitions all have their own disciplinary chairs and this will make it difficult to centralize the communication and data.  To help Scott Wood has developed a form that will centralize the process, regardless of the competition.  The link to the discipline form is https://docs.google.com/forms/d/1mmUNg11uVOSkIsUtHifSqQzalhWbwohk_J6AmPyrucQ/viewform
Copy the link and have it available on your smartphone.  If you have an iPhone add the link to your home screen.
When needed fill it out and click submit.  The discipline chair of the competition you refereed will receive a notification about the incident.
He/she may contact you latter for more details.
If you have any questions as to how to use the app please refer to the following video: https://www.youtube.com/watch?v=_Uz0_gTaOnY
On To The Game Reports!
Date: 01/06/2017
St. Mary's College 98 – Arizona State 0
Referee: Pescetti, David
AR: Smith, Pete
AR: Hinkin, James
Watching For The Slightest Error: Wood, R. Scott
The rains gave us a respite for a match on the fields of Moraga. However, it was not on the traditional rugby Saturday, but a Friday. But when mother nature says 'go', we need not argue.
Both teams were incredibly disciplined, this lead to a personal season low in penalties. I want to thank honorable Pelicus Fistulator and Pelicus Pedem Referre for their assistance in policing these collegiate hooligans. Let's ignore that this was my first game of the pre-season.
Onto the match. This was a one sided affair, with St. Mary's doing all the scoring. However, ASU were not to be deterred, competing throughout the match and came only inches away from scoring.
Both teams look to be setting up for prosperous seasons and I bid them good luck!
Date: 01/06/2017
St. Mary's College 17 – Arizona State 5
Referee: Hinkin, James
AR: Smith, Pete
AR: Pescetti, David
When one looks at the scoreline for the B side match one would naturally assume that ASU has nearly no dropoff in their squad and St Mary's is 15-18 players deep before the talent dries up.    Well, that doesn't exactly adhere to reality as ASU did, in fact, keep most of their A side out on the field due to a light travelling squad.   St Mary's did put out a full B side and they were the better side on the day as their precision was no match for the tired Sun Devils.
Another factor in the closeness of the score was that we were only able to fit 20 minutes of rugby in due to the sun going down.    As the game ended I did have a rather unusual moment with the ASU flyhalf who jokingly complained about the game ending early saying he "wanted more hugs".  So I gave him a hug, much to the amusement of his teammates and the ARs.  Speaking of which…
I would like to thanks David Pescetti and Pete Smith for hanging around to AR the B side.
Date: 01/07/2017
Central Coast 15 – Diablo Gaels 40
Referee: MacDonald, Neil
Looking at the weather forecast and observing the howling wind and torrential rain, I sought to wager with a fellow Pelican on the number of scrums I'd have for the day, given the surely enormous number of knock ons awaiting me.  I feel compelled to share his Pelican wisdom with the readers of Hail Pelicus: "Two,  One to start each half when the kicks don't go ten, and play on for everything else".    After the shortest trip I've ever made from home to referee a match, I arrived at Depot Park in Santa Cruz to find that the rugby gods were smiling upon our afternoon's endeavor, and affording us a dry spell amidst the "atmospheric river" which had been soaking Northern California.  Depot Park has a great artificial surface, and with some imaginary 22m and 10m lines visualized we got our fixture underway.    The kickoff did, in fact, go 10m, and my misgivings about the handling difficulties were shown to be needless, with great hands from both teams. The Gaels piled on the pressure, and their pick and drive rugby took them over for the opening score in the 12th minute.      Lacking posts, both teams' kickers had perfect records, scoring zero points apiece on the day.  Diablo bludgeoned over for their second score on 20 minutes after a strong run from #7 Tuli, bludgeoning through several defenders.  Diablo added another to take their lead over their hosts to 15 points before the Beachdogs scrum half opened their account with a sniping tap and go following a penalty deep in Diablo's 22 for a defender coming in the side at a ruck.  Diablo scored again before the Beachdogs scored the try of the half.  It began with a break by captain Steve Maraist in his own half, and Enrique Palafox ran a great support line to take the pass out of contact and score.  10-20 at the half.
In the second half, Diablo became more dominant, with the Beachdogs indiscipline conceding soft penalties and territory too regularly, and ultimately taking them down to 14 men for ten minutes.  Diablo racked up four more scores during the half, with captain BJ leading from the front throughout rIght up until the point where he led with the front of his nose, and departed the field to seek repairs to his aquiline features.  Applying pressure once again deep inside the Beachdogs 22, Diablo players bore down on Beachdogs captain Maraist as he scrambled to tidy up a loose ball.  Grabbing the ball, he was tackled into in goal but he didn't ground the ball.  Instead, channelling Berbizier in 1991, he opted to play…  Maraist popped the ball up to a team mate, and two sets of quick hands later, winger Brandon Shiramizu took on Didier Camberabero's 1991 role tearing up the right touchline.  Unlike Camberabero that day he didn't need his teammates to finish, and our match came to an end with a champagne try.
Thanks to both teams and coaching staffs, and to captains BJ and Steve for a fun match played in great spirit.  All the best for your seasons.
Date: 01/07/2017
Santa Rosa 22 – Redwood Empire 20
Referee: Bertolone, Cary
It was raining about as hard as possible. Of course, It was sloppy, quite a few knocks, but pretty good rugby considering the circumstances. It was tied at half, 10 to 10, Rosa took the lead with two more tries, but Redwood came back. With one minute to go, Redwood put together a 80 yard try, but missed the kick that would have knotted it up and would have forced me to buy beer for the rest of you. Fortunately, for me, the kick hit the formidable Rosa post and bounced back, giving Rosa the narrow advantage and win. No late hits, no high tackles, no dangerous plays (my goal for the game) and everyone had a great time. Awesome rugby day.
Date: 01/14/2017
Life West B 26 – SFGG B 17
Referee: Pescetti, David
A light hearted but fun and physical match between these two recent rivals. It was a very even match, maybe not as close and tense as the riveting earlier match, but just as fun for everyone involved.
Date: 01/14/2017
NCRFU Preseason D2  Tournament
Referee: Moore, Stephen
I refereed two matches: Silicon Valley (14) v Baracus (7) , San Jose (17) v Baracus (5). The first played on a very muddy field, lots of fun and good early morning spirit and cheer. The second played on turf, more aggressively fought and competitive. All sides played at their best and made for entertaining rugby.
Date: 01/14/2017
NCRFU Preseason D2  Tournament
Referee: Tuisavalalo, Rodney
The game was a good preview to what we'll be seeing in the upcoming year. The Capitals forward pack will be a force to be reckoned with this season. They showed this on Sat as they literally dug their heels in and scored tries off of driving mauls and well formed scrums. San Jose had some good moments as well  as hard running and wide ball movement saw them score a couple of tries of their own. A couple of costly penalties stalled some opportunities for points. All in all, the Capitals look dangerous and despite the field conditions, they were able to score with ease. I would not be surprised to see them atop or near the top of the division by season's end.
Date: 01/14/2017
NCRFU Preseason D2  Tournament
Referee: Hinkin, James
A nice relaxing day of rugby as the weather dried out.   While all this rain recently was much needed it did necessitate a change of venue from host San Jose's home field at Independence High School to Yerba Buena High School where we had the use of a turf football field and a grassy, muddy field.   This was an ideal preseason setup, really, as teams could practice an open, flowing style on the turf field and a grinding, muddy style on the grass field.
In theory, at least.
The grass field actually held up quite well and good rugby was played all over.   The Sac Capitols seemed to be the best team on the day with the Sacramento Blackhawks using physicality and athleticism to dominate at times but needing a little more rugby in between.  San Jose and Diablo were just behind them and if they can get a bit more precise they look to be well placed to challenge for league honors.
Date: 01/14/2017
Shasta Highlanders 51 – SF Fog 5
Referee: Richmond, Jeff
A beautiful day in Redding after the drenching rains of the prior week. SF Fog traveled well to play Shasta while the home team just had 16. Numbers didn't turn out to be a challenge however, as Shasta took over from the beginning. Their forward play was too much for Fog to defend against. Multiple phases of rucking by their big forwards enabled Shasta to keep Fog on their heels. Good sportsmanship prevailed – the teams played 4 period of 20 minutes each with Fog rotating in new players to give them game experience.
Date: 01/14/2017
St. Mary's College 99 – UC Santa Barbara 0
Referee: Tucker, Chris
Glorious day in Moraga for some early season rugby.  My first time to the repurposed stadium, was suitably impressed by the facilities — even an all weather warmup field next door.  Good to see!
Game itself was a bit of a non-event.  It started out a bit sloppy, with missed passes, and more than a few low-level dangerous tackles from the hosts.  After about 20 minutes I had enough and gave a yellow for the 4th such incident.  Lee, coaching, pointed out that I should have gone to my pocket earlier.  In hindsight I recognized this to be true.  The game settled down after this point, leaving the hosts to score regularly, the visitors to get a run out and enjoy themselves (and there were still smiles at the end, much to their credit), and me to work on my scrum analysis.  With a few things going on, it took a little while to figure out the collapses, but I got there in the end.  And we had 3 good scrums in a row before the 3rd Gaucho prop went off injured and we went to uncontested scrums for the last 20 minutes.
With that, the heat went out of the game, and the pace slowed.  After the last try, the kicker asked if we were done.  I told him that if he waited 20 seconds more, then we would be.  He duly did, thus saving the scoreboard from being broken.  99-0.
This Week's Photo
Pelicans gathering in Moraga to watch and adjudicate UCSB valiantly hold St Mary's under 100 points.    The pregame speech apparently was "Boys, the Golden State Warriors never lose if they hold their opponent under 100 so that is our goal today!"   L-R Lee Johnson, Pelicus Augustus, Pelicus Byrnest, Pelicus Diversus Oculus and Preston Gordon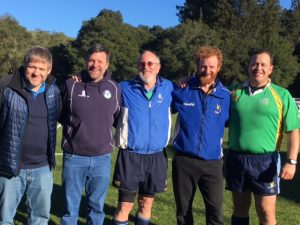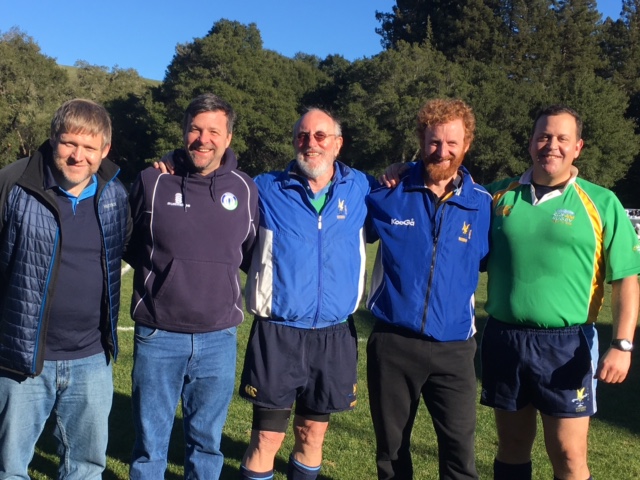 Hail, Pelicus!
For the Senate
Pelicus Pedem Referre