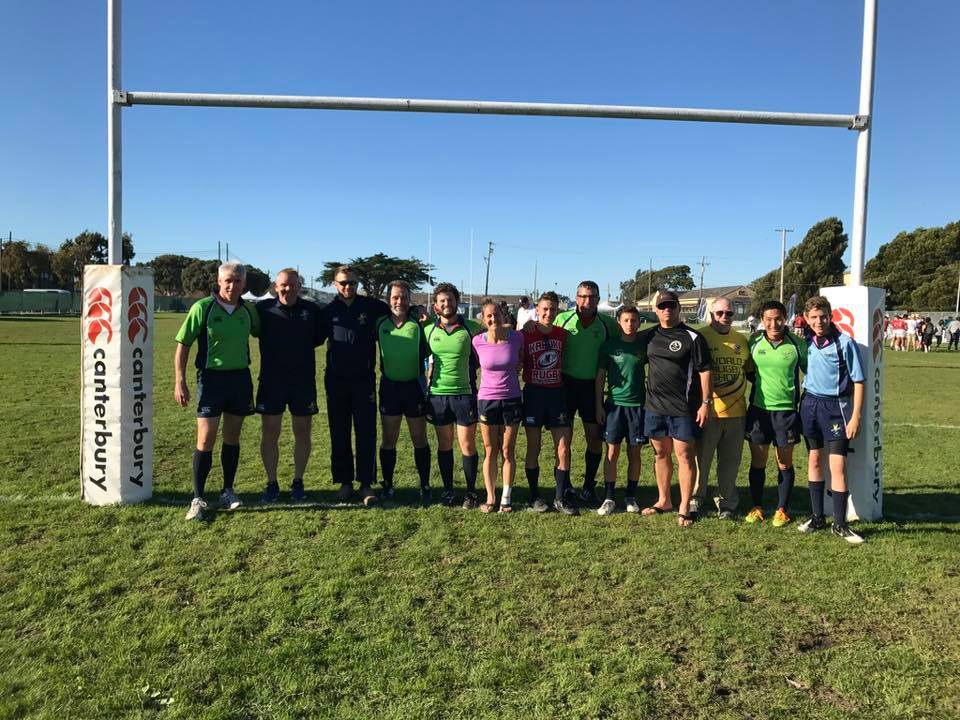 HAIL PELICUS!
Falling For Sevens
Back in the day when I was a young lad chasing the oval ball the fall meant usually one thing: a break. The 15s season started in January and ran through May (because my team was usually in the playoffs) and after that you would take a couple of weeks off before 7s training started. 7s lasted through the summer with Nationals in mid August and the Tri Tip 7s rounding things off just after Labor Day. After that? Rest, relax and recover. Start some light training on your own in October while steadily ramping up the intensity and preseason training would officially start in November, lasting through December so by January we were ready to start 15s again.
Not so much, these days. The West Coast 7s has just completed as well as the NSCRO 7s. More and more collegiate 7s events are turning up as the colleges take to the pure game. As a referee society, we now need to realize that there is no more off season – rugby is a year round affair. I gotta tell ya, it is kinda awesome.
International 7s Rugby in San Jose
Speaking of 7s in the fall, the Silicon Valley 7s is coming up on November 4th and 5th at San Jose's Avaya Stadium. If you haven't purchased tickets yet you can do so at http://www.sevensrugby.com/rugbyclubs/northern-california-rugby-referee-society/. Each purchase made via this link will send a little money back to the Society, up to $7/ticket. The money collected will go to a full sized portrait of a shirtless Society President Paul Bretz that will hang in his office.
More on the Silicon Valley 7s below.
Pelican's Generally Annual Flock Up
It is time for the flock to gather at the NCRRS AGM to be held this Saturday, October 28th at the East Bay Sports indoor training facility. We will be using this facility for all of our development meetings and training sessions for the 2017/18 season. The address is:
East Bay Sports – Livermore
6474 Patterson Pass Rd
STE A
Livermore, CA 94550
925.455.8300
Please be sure to attend if you are planning to be a member of the Society this upcoming season. We will be discussing several important topics as well as electing a new Board of Directors, which will most likely look exactly like the old board of directors (Ave! Bossa nova, similis bossa seneca!*) but we still need to vote.
Remember that if you do vote and don't like the direction of the Society you can always blame it on the bossa nova, but if you don't vote then you aren't even invited to dance.
A full agenda and details can be found at https://docs.google.com/document/d/1W5D66bYnZNf-FyIthbyrZRKE4ffDAbJB1qcnXXcUUu4/edit
Please let us know you are coming so we can get the food. We need an accurate accounting of participants. https://goo.gl/forms/2raGjYJnddNCcQCp1
* Here comes the new boss, same as the old boss
Silicon Valley 7s Preview
The Editorial Board here at Hail Pelicus has worked tirelessly to research each individual team at the Silicon Valley 7s. While there will be many familiar faces there are also a few debutants and even those whom we think we know well will have some surprises in store, so here is a preview of all 12 teams in the tournament.
(EDITOR'S NOTE: We procrastinated until our deadline was a few hours away so are actually just making all of this up.)
Pool A:
Samoa: A far cry from the title winning side of 2009-10, Manu Samoa is looking to revive their program under legendary coach Gordon Tietjens, who guided the All Blacks to so many titles. Look for their traditional hard charging style but with more discipline as Sir Gordon puts his stamp on the team.
Fun Fact: If you call Samu Manoa "Manu Samoa" he will punch you.
Ireland: A sevens debutant on the international stage Ireland is looking to build upon the success of their All Black vanquishing 15s side to break into the World Sevens Series and what better place to do it than in the very same country that the historic victory took place in? (So what if it was 2000 miles away – it is still the same country.) Look for Ireland to play to a lot of contact and one-off running as they make the switch from 15s to 7s.
Fun Fact: To speak with a perfect Irish accent just repeat the phrase "whale oil beef hooked" over and over.
Canada: A well-established World Sevens Series team Canada reached a milestone with their first Cup victory over hated rivals the United States at the 2017 Singapore 7s in the final. They will be using this tournament to keep their core sharp while also blooding a couple of young hopefuls.
Fun Fact: Canadians must avert their eyes when speaking with Prime Minister Justin Trudeau to avoid being lost in the deep, limpid pools of his enchanting blue eyes.
England: Rugby was born in England and they haven't forgotten it. Even though 7s was born in Scotland, the English, in true historical fashion, decided it was theirs as well. The English finished runners up for the 4th time on the World Sevens Series last year and are keen to make a breakthrough to the title this year. They will be fast and fun to watch.
Fun Fact: As part of the RFU's outreach program for the last several years the England 7s team has farmed out their jersey designs to The Foundation for Recovering Color Blind Methamphetamine Addicts.
Pool B:
Fiji: The Lords of Sevens, any time a Fiji team enters a tournament they are considered one of the favorites. The Olympic Champions had a bit of a letdown (for them) after the excitement of Rio as they fell to 3rd in the standings. The most fun team to watch (unless you are playing against them) look for their trademark no-look, over the shoulder, one-handed offloads that are inspiring countless imitators who are ruining amateur rugby.
Fun Fact: More of a titillating fact, Fiji is the only country in the world whose name contains 3 consecutive tittles – those dots over the 'i' and the 'j'.
Australia: One of the Southern Hemisphere powerhouses, Australia is always a tough ask to beat and a joy to watch. An off year saw them slip to 6th in the World Series Standings (behind the Yanks!) and they will be looking to rebound starting immediately.
Fun Fact: Australia has three a's in its name yet all three are pronounced differently.
Japan: The Brave Blossoms shocked the rugby world with their World Cup win over South Africa back in 2015 and their 7s team repeated that upset with a shock defeat of the All Blacks at the Rio Olympics, but these are rare highs in a valley of lows. They have remained in the bottom half of the World Sevens Series standings with an occasional upset win but never any consistency. Look for them to take this tournament very seriously to work on their game.
Fun Fact: The reason a lineout throw must travel 5 meters before touching the ground is down to Japan, who while playing an international against a much taller team, decided that rather than throwing the ball up high and jumping for it (a losing proposition) they would roll the ball into the lineout and scrap on the ground for it. It was a hugely successful technique but displeased the masters of world rugby who changed the law.
China: Another team that is looking to get into the World Sevens Series China will take a tournament such as this very seriously. This is their chance to play against the established nations so watch them let it all hang out.
Fun Fact: 98% of the materials used to construct Avaya stadium came from China.
Pool C:
Tonga: With a large Tongan population in the Bay Area look for the Tongan fans to be loud and proud when their team takes the field. They will look to replicate the success of their island neighbors Samoa and leverage this event into a full World Sevens Series invite. Always fun and fast, the power and pace of Tongan rugby will be on full display.
Fun Fact: Tonga is the only true kingdom in this tournament and that includes England, which is part of the United Kingdom, a constitutional monarchy.
USA: The home team has high expectations coming into this event after ending the last season with a highest ever finish of 5th place, ahead of more traditional rugby nations like Australia, Scotland, France, Wales and Argentina. Blessed with some of the best pure athletes on tour very few teams can match America's speed and strength – especially when Perry Baker and local product Danny Barrett take the field. Other Hometown Heroes we hope to see are Folau Niua from East Palo Alto and Matai Leuta of CSU Monterey Bay and the San Jose Seahawks. Coach Mike Friday has the team poised to challenge for the title this year but they will need to beat teams like Fiji, South Africa and New Zealand consistently to do so.
Fun Fact: The Silicon Valley 7s Tournament Director was born within 10 miles of where Avaya Stadium sits today.
Chile: After years of looking up to Argentina and Uruguay in South American rugby, Los Cóndores look to be finding their stride in 7s. Another squad on the outside looking in for the World Sevens Series, a good showing at the Silicon Valley 7s is imperative.
Fun Fact: Chileans are keen students of geography and, as an homage to the contours of their nation, like to attack in long, narrow channels.
New Zealand: The reigning champions for the World Sevens Series can never be taken lightly no matter who shows up. The Kiwis rebounded nicely after a disappointing Olympics where they were nearly eliminated in the pool rounds to reassert themselves on the Series and it seems that whenever a player is injured, replaced or retires there is a younger, better version ready to step up and take his place. The All Blacks are must watch 7s.
Fun Fact: The logo of the Royal New Zealand Air Force is the kiwi, a flightless bird, which tells you everything you need to know about the New Zealand sense of humor.
Disciplinary Action Reporting – Process For Reporting Incidents
The various competitions all have their own disciplinary chairs and this will make it difficult to centralize the communication and data. To help Scott Wood has developed a form that will centralize the process, regardless of the competition. The link to the discipline form is https://docs.google.com/forms/d/1mmUNg11uVOSkIsUtHifSqQzalhWbwohk_J6AmPyrucQ/viewfor
1. Copy the link and have it available on your smartphone. If you have an iPhone add the link to your home screen.
2. When needed fill it out and click submit. The discipline chair of the competition you refereed will receive a notification about the incident.
3. He/she may contact you latter for more details.
4. If you have any questions as to how to use the app please refer to the following video: https://www.youtube.com/watch?v=_Uz0_gTaOnY
This Week's Photo
The referee crew for the 2017 West Coast 7s event featured some outstanding referee performances this past weekend. Of notable mention was Andrew Stockton, who at a young 19 years of age, officiated the third/4th place final.
https://pelicanrefs.com/wordpress/wp-content/uploads/2017/10/2017-West-Coast-7s.jpg
Hail, Pelicus!
For the Senate
Pelicus Pedem Referre