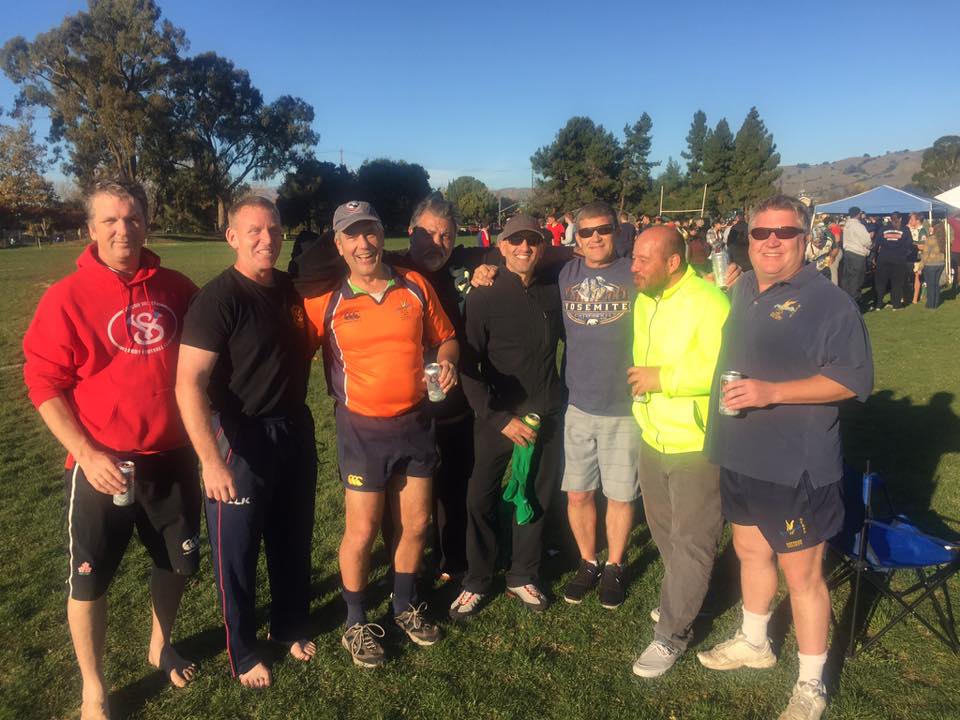 Giving Thanks And Giving Thought
HAIL PELICUS!
Giving Thanks And Giving Thought
We have reached that time of year when it is customary to reflect on one's life and appreciate what is there.    For me and I am sure many of you, our dear readers, it is Friends, Family, Community and, of course, Rugby.   Rugby often combines all of the other aspects mentioned and now is as good a time as ever to appreciate the joy the Game They Play In Heaven has brought to all of us.   Rugby is a sport that builds communities that span generations and that was never more apparent than the San Jose Seahawk Invitational preseason tournament last weekend, as evidenced by this week's featured photo.   Three referees, several coaches and a couple of spectators all from the same club coming out to grow and watch the game.  There were even a couple of former teammates in Eric "Famous" Amos and Alatini Saulala who weren't around when the picture was taken and I may have missed more.   The best part?  These former players represented not only referees but 3 other clubs – including youth – that have either started or grown because of the commitment of former players who love the game and want to keep it growing.  The second best part?   This is not unique to one club or one event.   This scene is repeated constantly across Pelicanland and the rest of the country as America starts to wake up to rugby.
That is what I am thankful for.
Lots To Cover
With the preseason in full flight and many other rugby events gong on this week's HP is longer than usual – you may have to stay beyond the first flush.
December Society Meeting
We will be having our monthly society meeting at the usual location, San Francisco Golden Gate Rugby Club on Treasure Island (725 California Avenue, Treasure Island, San Francisco, CA).  As always food will be provided.  We ask that you to bring your choice of beverage and bring one for a friend.    Please remember that if you have refereed a tie then you are required to bring beverages for the society to enjoy while we mock your shame.
This month's topics include the Art of Advantage presented by Tim Lew, who will then be substituted out for Mark Carney who will discuss something – I don't know what.  Finally, Pelicus Iudex Pennipes will be presenting on means to focus referee development using trigger warnings and safe spaces.
Performance Reviewers and Referee coaches are asked to be at SFGG clubhouse at 6:00 so that we can discuss coaching assignments and performance reviews.
Please be mindful that Fitness testing will commence at our January and February meetings and not to wait to get fit.  National panel referees and perspective National Panel candidates will be required to complete the testing prior to assignments being awarded.
Hail Pelicus 2017 Calendar
Last year Hail Pelicus released the coffee table book "Hailing Pelicus" as the ideal gift for the rugger in your life, along with a step by step guide in how to give money to your assigned referee to insure a copy of the book.   Curiously, while many teams offered referees their donations they didn't actually ask for the book so we went in another direction with this year's stocking stuffer ideas and are proud to announce the 2017 NSFW Northern California Rugby Referee Calendar.    Each month comes with numbered days and a full page picture (as well as smaller bonus pictures) of some of your favorite referees in a more revealing and relaxed environment than they are usually seen.  Some teasers:
Does Neil MacDonald really wear anything under his kilt?
See a glimpse of John Lane's "Irish Pride"
Lee Bryant exploring mountain streams with only an AR flag
NCRRS President Paul Bretz showing all the world what makes him a great leader
Rob Hendrickson slipping into something more comfortable in the "Bear's Lair"
Just like last year, to order a calendar just approach a referee – any referee – before a match and give him or her $60, plus $20 handling fee plus $20 for shipping.     For best results donations should be in cash, be presented to the referee before the match starts and be done in full view of the opposition to show them your support for Pelican Charities.   Who knows?  You may even shame them into matching or even bettering your donation.    If you don't have a match before the New Year don't worry as we will continue to accept orders while supplies last.   That means you can continue to order copies at all of your matches throughout 2017 and beyond.   Do it for the kiddies.
Between Two Pelicans – Hail Pelicus' Pulitzer Prize Winning Interview
At least we here at the editor's desk assume that we will get a Pulitzer for this journalistic scoop.   Hail Pelicus managed to get an exclusive one-on-one interview with the new Tournament Director for USA Sevens in Las Vegas as well as the CRC, Varsity Cup and all other United World Sports' rugby ventures, Mr John Hinkin.  One of the most respected competitors and successful businessmen in the sport, Mr Hinkin has been involved in the growth of the USA Sevens since its inception.   John has been with United World Sports (UWS) since 2006 and amongst other accomplishments, he created and built what is now the Las Vegas Invitational, which consists of over 270 teams from 25 countries and is played congruently with the USA Sevens in Las Vegas.
The former soccer All American turned to rugby and became a star at rugby powerhouse St. Mary's College and enjoyed a brilliant playing career which saw him represent the United States from 1991 – 1998, captaining the USA Sevens team in 1997 and 1998. He played in the inaugural Rugby Sevens  World Cup in 1993 and was a reserve on the 1997 USA Rugby Sevens  World Cup team. John also had a successful amateur career where he was part of 12 National championship sides in 15's and 7's with OMBAC and played for the select sides Northern California Collegiate Pelicans, Southern California Griffins and the Pacific Coast Grizzlies (both collegiate and club).   He has also represented the United States five times at the World Rugby Classic in Bermuda.
Hail Pelicus:  Mr Hinkin, thank you for your time and welcome to Between Two Pelicans.   We only have a few minutes here until Mom calls everyone to dinner so let's get started.
John Hinkin:  Thank you Mr. Hinkin, it is an honor to be on your show.  Also, I noticed you misspelled my name.  It is spelled "Jon" – with no 'h'.
Hail Pelicus:  Really?  I apologize.   I just assume you spelled your name normally, you know.
John Hinkin:  That's all right, Jim.
Hail Pelicus:  Touché.
Jon Hinkin:  (Smirks and says nothing)
HP: This weekend you participated in the annual Hinkin Open Thanksgiving Golf Classic.  Now that you are in a more senior position at United World Sports does UWS have any interest in investing in this wonderful charity event?   And a follow up, if I may, same question for the annual Hinkin Open Midsummer Golf Classic in San Diego?
JH:  These are both exclusive events that many PGA stars have never played, an invite is the most treasured trophy in golf. UWS will continue its exclusive, private sponsorship and rest assured, I will make sure the investment is doubled next year.
HP:   As a follow up, you claimed to have won this year's Hinkin Open with a score of 83, but there have been reports of shenanigans on the golf course and your score has been brought into question.   There is a movement gaining steam for a recount and a highly placed source recently tweeted out about "Millions of illegals(sic) shots that were never counted".   Do you have any response to this budding scandal?
JH:  Wrong! Wrong! Wrong! It is unbelievable that some crooks can say anything they want and the crooked media buys into it.
HP:  I would like to talk to you about plans for the USA Sevens now that you are in charge.  There is talk of bringing the Women's USA Sevens to Vegas from Atlanta.   Is this true?   If so, how will this be accomplished logistically on one field?   Will the men and/or women need to play pool matches outside the stadium?
JH:  I have put together a very extensive schedule and all matches will be played in the stadium.  All teams will have their required rest time between matches, so you will see a bunch of Women's matches followed by Men's and so on.  This brings into play very full days of rugby starting early Friday morning and ending with the Men's Cup Final at 2:00 pm on Sunday. The Women will finish up with their Cup Final on Saturday night.
HP:  Now that 7 a side rugby is an Olympic sport will you be embracing the Olympic Ideals of competition, corruption and nepotism?
JH:  We will follow the FIFA model as we have found that is the most efficient way to fill the coffers and then blame others.  If you have any follow up questions concerning this subject I can't be reached on my private island
HP:  That is all the time we have so I would like to thank you again for appearing on Between Two Pelicans.  I wish you success in your new position and it is your turn to do the dishes.
JH:  Thank you.  It has been an honor and no it isn't.
Election Night Fever
You can tell by the way I use my words I'm a writing man, no time to talk.   The oval ball if the day is warm is kicked around, and jerseys torn.   And now it's all right, it's okay, and you may look the other way.   We can try to understand a rainy day's effect on games.
As we all recover from the interminable election season, whether you are celebrating or mourning or something in between, remember the wise and profound words of the famed Australian poet, Barry Gibb, "Whether you're a turtle or if you wear a girdle you're stayin' alive."
Ask A Pelican
Yes, it's time for this week's installment of "Ask A Pelican", the widely loved Q and A session with Hail Pelicus.   This week's question comes from Tim Gunn of Manhattan, NY who asks, "I am always excited by new fashion and the NCRRS Kit Release Day is one of the highlights of the fashion year.   Can you give me any spoilers on this year's look?"
Great question Tim and we here at Hail Pelicus are glad that our fashion sensibilities are appreciated across this great nation.   We really don't want to give away any spoilers and so are playing this close to the vest but I can tell you we have re-energized a classic look with exciting new colors.   Offerings of polos, track suits and ties are also in the mix this year for a casual to formal, full time Pelican Fashion Statement.
Disciplinary Action Reporting – Process For Reporting Incidents
The various competitions all have their own disciplinary chairs and this will make it difficult to centralize the communication and data.  To help Scott Wood has developed a form that will centralize the process, regardless of the competition.  The link to the discipline form is https://docs.google.com/forms/d/1mmUNg11uVOSkIsUtHifSqQzalhWbwohk_J6AmPyrucQ/viewform
Copy the link and have it available on your smartphone.  If you have an iPhone add the link to your home screen.
When needed fill it out and click submit.  The discipline chair of the competition you refereed will receive a notification about the incident.
He/she may contact you latter for more details.
If you have any questions as to how to use the app please refer to the following video: https://www.youtube.com/watch?v=_Uz0_gTaOnY
On To The Game Reports!
Stephen Valerio continues to send in his match reports from East Coast.   The editors here at HP wonder what has happened to our other itinerant correspondent, Tom Zanarini.
Date: 11/05/2016
Loyola of Maryland  31 – Catholic University 34
Referee: Valerio, Stephen
The final week of the regular season in the Potomac Rugby Conference featured first place Loyola hosting 3rd place Catholic University. The 1st place team received a bid to the NSCRO play-offs while the 2nd and 3rd place teams would face-off on Nov 19 for a place in the play-offs. Loyola, Catholic and American Universities had all clinched one of the top 3 spots, but the crucial order had to be worked out.
Loyola had dominated the season winning every match with a bonus point win and a win differential over 47 points per match. After striking quickly for a try, Catholic shocked them with a 19 point run. However, Loyola picked up a try before the half ended to pull to within 5 points.
Loyola came out stronger in the 2nd half and pulled ahead of head of Catholic before Catholic counterpunched and collected a penalty kick to pull ahead 29-28.
Late in the match Catholic committed a penalty which Loyola calmly slotted over for a 31-29 lead. Late in the match Catholic lost the ball forward into touch. Loyola took the lineout option, which they won. However, the scrumhalf delayed his pass to the flyhalf, allowing Catholic to intercept the ball and run in the game winning score on the final play.
Date: 11/12/2016
Frederick 45 – Delmarva 5
Referee: Valerio, Stephen
In their last match before the winter break Delmarva traveled west to take on Frederick. Delmarva had recently moved up to D3 and had been struggling with the step u in competition. Earlier in the season Frederick traveled to Delmarva and won handily 45-14. The young Delmarva side wasn't up to the task again as Frederick ran out to 38-0 lead at the half, with a strong scrum giving them a solid platform and their superior organization exploiting gaps in the Delmarva defense. Delmarva had too many isolated ball carriers which left them vulnerable to lost ball or penalties at the breakdown. However, late in the first half Frederick started to lose their focus and their attack lost its crispness. This carried over into the 2nd half where Delmarva picked up a try 13 minutes into the 2nd half because of disarray in the Frederick defense. The rest of the half was a sloppy affair, with many knock-ons and errant passes. Substitutions in the Frederick pack allowed Delmarva to seize control there, but their backs weren't able to do anything with the benefit of stable ball. A Frederick try at 65 minutes put an end to the scoring on the day.
Date: 11/05/2016
Fresno 26 – Sacramento Blackhawks 29
Referee: Wilson, Dan
Fresno hosted a round robin, preseason tournament with the Blackhawk's being game 2. Sacramento showed up periodically over an hour due to bad traffic problems and with a total of 10 players. With Fresno loaning Sacramento five of their newbies, the game kicked off. The Blackhawk's opened the scoring with a converted try at the 11th minute, but Fresno controlled the scoring the rest of the first half with an unconverted try in the 19th minute and converted tries in the 32nd and 35th minute. Sacramento had better talent but lack of discipline and too much infighting seemed to take them out of the game mentally. Half-Time Score: Fresno 19 – Blackhawk's 7 The second half started with a renewed vigor for Sacramento with at least one player deciding that he needed step up to play. The Blackhawk's controlled the scoring with two unconverted tries and one converted try to take the lead in the 70th minute. The typical lack of fitness, not playing as a group and overall ego's led to several "much to do about nothings" at times, but nothing to write home about. Fresno retook the lead at the 78th minute with a converted try. At the restart, "1-minute" was called, but Fresno kicked the received ball straight out resulting in one last movement. Sacramento took advantage of the line-out, spinning it wide, completing a beautiful pop-kick and scored in the corner with no time left on the clock resulting in a 3 point win. Final Score: Fresno 26 – Blackhawks 29
Date: 11/05/2016
AKM Memorial Tournament
Referee: Richmond, Jeff
This is always a nice affair with the awarding of scholarships on behalf of the AKM Memorial. Conditions were great, which helped because Mark Godfrey and I did 6 matches each – granted only 20 minute halves. The Fitbit said 9.95 miles which doesn't sound like much for the day. I guess I should get out the slide rule and figure out watts.
Sac Capitals dominated everyone they played. Two Oregon college squads attended as well as two women's teams. Thanks to Kevin from OIT and Andrew from the Sac State Alums for filling in as ref for a match to give Mark and I a break.
Date: 11/05/2016
AKM Memorial Tournamnet
Referee: Godfrey, Mark
chico 5       sac alumni 19
chico women 5   hsu women 86  60 min. game
sac caps 36      chico men 0
shasta 5     sac alumni 30
Date: 11/05/2016
Sacramento St B 20 – UC Davis B 31
Referee: Boyer, Rich
This match turned out to be the A side.  Davis came out strong and scored two quick tries while dominating possession for extended periods of play.  Davis' gameplan was executed well during this period and their defense was very good.  Sac State would get close to the tryline occasionally only to knock on.  Davis looked well in control at halftime, leading 26-0, led by flanker turned flyhalf Harry "the Wizard", and intercept try by #12, and great forward/backline interplay.  Sac State made the necessary adjustments at halftime and eventually scored an unconverted try by the wing during a penalty advantage, which was followed by a converted try shortly thereafter.  Sac State injected a sense of urgency in their play which caught Davis off guard, resulting in a higher penalty count against Davis.  This led to a penalty kick by Spencer Moreno. 26-15 and one could feel the momentum swing.  Sac State upped the tempo even more with quick tap penalties, limited forward play and quick back ball.  Davis fought back but Sac State hardened the defense, then scored off a Davis knock on a turnaround run by the wing of 50 yards.  This try went again unconverted.  26-20.  Sac State had two more probing long runs, one by lock Blake, who looked like a wing, and Isaiah, the newly inserted wing, only to have handling errors thwart their attempts near the tryline.  Davis tried to turn the tide and did so with strong phases and pressure  forcing a penalty in the dying minutes.  Instead of taking points the Wizard found touch and Davis mauled in the lineout as time expired.  A well played, good spirited match by both sides.
Date: 11/05/2016
Santa Clara B 24 – Fresno State B 27
Referee: Simko, Paul
Back and forth game.  Fresno scored the tying try and then made a penalty goal with no time on the clock for the win.
Date: 11/05/2016
UOP 29 – Pleasanton Jesters U23 59
Referee: Pohlman, John
UOP hosted the new Pleasanton Jesters Under 23,  team in Stockton this past weekend.   Early wide open rugby.  Both teams were well matched except for a couple of the Jesters backs.  Two of the backs must have scored half of the nine Jester try's.  Unfortunately they were using practice Jerseys because the new game jerseys had not arrived, thus no numbers on the players backs.  These two were hard runners, but needed to be tackled.  So UOP missed lots of opportunities to bring them down.  UOP looked a bit better organized and with more commitment to the tackle could have won this game.
Some fun open rugby with a total of 14 try s scored.
Good luck for the rest of the season.
Date: 11/05/2016
CSU Monterey Bay WR 36 – Santa Clara Women 44
Referee: Freitas, Larry
I got down to the Cal State University Monterey Bay campus on the former Fort Ord a bit earlier than I needed to so as to check that the pitch was being lined correctly, and it was.  Hats off to Lia Cuevas for getting it done right.  The Otters were warming up as Santa Clara's players and coaches trickled in from the long walk from the parking area.  I was asked to hold off kick off until 1:15 or so, as some were going to be a bit late.  A half hour before the game I was informed that Santa Clara only had 13 players available for the kickoff; a few players are overseas studying, and three weren't present because of injury, ROTC commitment, and family commitment.  CSUMB had 17 players suited up, with a few out with injury.  The weather seemed perfect for rugby: 64F with sun, but as kickoff time approached, a fog bank that I had seen way off on the fringes of the Monterey Bay on the drive down from Aptos was approaching landfall.
The Bronco women were first to score just 3 minutes into the match, when tight head prop Mariela Murillo took a pass from a tap penalty, and breaking through some tackle attempts, scored a try that went unconverted.  Santa Clara, though down two players, were keeping CSUMB on the back foot for a good portion of the first quarter.  Another try would come at 18 minutes when lock Carly Fowler scored, giving Santa Clara an early 12-0 lead, with Murillo converting their second try, as the sun had disappeared with marine layer now covering the sky.  CSUMB would counter at 23 minutes when hooker Emiliana Lacandazon picked up a loose ball near the half way line and scampered to the goal line to touch down near the posts.  Flyhalf Hanna Kim converted easily to close the gap to 12-7.  It didn't take long for Santa Clara to counter with another converted try as number 8 Rachel Schneider scored from a tap penalty when CSUMB were caught with hands in at a ruck some 10 meters out.   CSUMB got another score when Kim went on a run from a set scrum near the Santa Clara 22, setting up fullback Sakai Golden's score near the posts.  Five minutes from half time Santa Clara once again had a chance to score, when Michelle Coleman, at times playing flyhalf, at times playing scrum half, dove in for a try from a ruck near the goal line.  At the half Santa Clara led 24-14.  Unfortunately the try came at the cost of Schneider, who had to come off the pitch with an ankle injury.   It seemed if anyone was getting hurt in this match it was a player wearing cardinal red and white hoops, not a navy blue shirt.  Regarding penalties, both teams had their various infringements, and most came from lack of experience than anything else.
The second half started with CSUMB having a 15 to 12 player advantage.  At 46 minutes CSUMB's number 8 Janicke Stein scored from a set scrum at the halfway line toward the left side of the pitch, as Santa Clara didn't have anyone covering the short side in the back division, cutting Santa Clara's lead to 24-19.  Two minutes later the Otters would score again when Santa Clara knocked on and the Otters recovered, and Amanda Mast scooped up a ball that was left on the ground by a tackled player just a meter outside Santa Clara's goal next to the left hand post, and dove over.  With the conversion CSUMB now had the lead, 26-24, and to add worry to the situation, Michelle Coleman, who should be on the division two select side, was having trouble with leg cramps and had to go off briefly.  Santa Clara got the lead back when Coleman would score a try from a tap penalty at 62 minutes, managing to dodge and sidestep her way around the opposition in her run to the goal line.  CSUMB had a chance to kick a penalty when a kick deep into Santa Clara's half was covered by Michelle Coleman, who got back in time to cover full back, and though she had time to make a clearance kick into touch, panicked and kicked the ball off to her right and the center of the pitch, where one of her own teammates caught the ball in an offside position.  CSUMB took the kick choice some 35 meters out directly from the posts instead of the scrum inside the 22, and Kim missed the chance to add 3 points.  I had the thought that a previous leg injury earlier in the match might have had something to do with the kick that sailed to the right, as she had briefly handed over kicking duties to number 8 Stein.   CSUMB would make up for that lost opportunity on what I would say was the best try scored on the day, when Kim, taking the ball from her other half back pairing, after a scrum at mid-field, saw the Bronco backline defense up and no one covering deep, and strategically kicked toward the right hand side of the field, with the ball landing just about at Santa Clara's 22, where right wing Cammie Smith scooped up the ball, and using a burst of her speed, scored in the corner.  At 65 minutes CSUMB were back in the lead with 36 points to Santa Clara's 34.  Santa Clara wasn't giving up the fight, and I would have to say that Maricela Murillo and Michelle Coleman's leadership at this point in the game made all the difference in who was to win and lose.  These two were leaving it all out on the pitch, with both of them taking the ball in the dying stages of the game to push their team toward the goal line, and both getting injured in the process, but refusing to leave the pitch once recovered.  At 77 minutes Santa Clara scored another unconverted try from a set scrum some 30 meters out from CSUMB's goal, when the ball was quickly transferred by the backs out to the right wing Jessica Godinez, who beat the cover to score in the right hand corner.  The last minutes of the game were hard fought by both teams as Santa Clara made their tackles and CSUMB tried to get into Santa Clara's half to set up a score, and it had started to drizzle and really cool off on top of if all.  A penalty near full time gave Coleman a chance to quickly tap the ball and take off for the goal line, scoring near the left hand corner.  After the conversion attempt failed I blew the whistle for no side.  Santa Clara had won the game 44-36.
Date: 11/05/2016
St. Mary's College Women 63 – Sacramento State Women 5
Referee: Coppinger, John
SMC easily ran over and around Sac State on the newly* re-sodded Pat Vincent Field.  SMC appeared experienced and were certainly well drilled; on other the hand, Sac State, while game, seemed to be mostly players new to the game with only a few players being vaguely aware of the Laws.  To their credit, Sac State played hard and seemed to enjoy themselves.  SMC featured hard running, powerful forwards, speed to kill on the wing, and one of the best 10s with a boot I have seen in Women's College Rugby.
*Literally, as I walked on the pitch, the landscaping contractor was driving off after replacing probably 35% of the Pat Vincent turf damaged by marauding feral pigs.
EDITOR'S NOTE:  This may be the first time "marauding feral pigs" has been used in a Hail Pelicus story and it didn't refer to the forward pack.
Date: 11/06/2016
Stanford Women 7's Tournament
Referee: Simko, Paul
5 Teams: Stanford, Chico, Davis, Cal, Oregon State.  Davis is the favorite.  Chico beat Davis in an early match.  Stanford went undefeated until they lost to Davis.  Chico, Stanford, and Davis are all 3 wins and 1 loss.  Davis wins the first tie breaker.  Stanford wins the second tie breaker with more tries scored.  Final is Stanford and Davis.  Davis wins.  Chico and Oregon State played for third place.
Date: 11/12/2016
San Jose State B 37 – UCSC B 15
Referee: Hinkin, James
The Big Stage.   Everyone wants to play on it and the B Ballers from San Jose St and UC Santa Cruz got their chance as they took the field at Cefcu Stadium (formerly known as Spartan Stadium).   After observing the A side match it was obvious that both teams decided rather comically to ignore the chalk marked rugby lines and just use the football lines which resulted in several runners (in both matches) going wide and cutting in when they reached the football sideline or tiptoeing along it attempting to stay 6 meters in bounds.
They boys were young and fast but inexperienced with a few exceptions.  UCSC in particular had a flanker who was very good and well coached (read: immediately responded to referee commands).   The Cefcu Stadium turf was fast and everyone seemed to be enjoying themselves, especially San Jose St since they came out as 37-15 winners.   The one blemish was a SJSU rookie who just could not figure how to tackle properly and after penalties and warnings earned himself a yellow card and 10 minutes to think on the error of his ways and, hopefully, get some coaching.   This being a preseason B side match I brought the captains together and they agreed to my suggestion that while the carded player may not come back for 10 minutes SJSU could bring on a replacement to keep the match at 15 on 15.    Everyone was happy and rugby occurred – what could be better than that?
Date: 11/12/2016
Sonoma State 47 – SF State 50
Referee: Santiago, Roberto
This was an exciting pre-season match between two teams boasting plenty of athleticism and slightly less experience. Both squads were working with short benches, however their intensity never flagged. Sonoma jumped out to a lead and carried a 10 point advantage into half time. In the second half SFSU's centers proved to be the difference. Sonoma's #12 nearly made up the difference with strong running. SFSU had the dominant pack and won several defensive scrums.
Overall the game was played in good spirits and with hard hitting on defense to meet the determined running by ball carriers on both sides. I look forward to seeing each team later in the season after they've had a few more practices and warm up contests. They'll both be competitive and fun to watch.
Many thanks to John Pohlman for the coaching.
Date: 11/12/2016
St. Mary's College 107 – Chico State 3
Referee: Fenaroli, Steven
AR: Gordon, Preston
AR: Coppinger, John
Kinda lopsided game here. Coppinger and Preston gave me a lot of help on the sidelines. The game was warm and both teams came to play. It took smc 1:30 to score their first try. I had to remind them it wasn't 7s. The trend continued and smc went up by 100. Chico had three penalties in front of the goal and opted for points all three times. They missed two and made the final kick at final time giving them their 3 points.
Date: 11/12/2016
St. Mary's College B 97 – Chico State B 7
Referee: Bretz, Paul
A friendly between two teams of varied skill.  Saint Marys was clearly the dominant team in all facets of play and score 50+ points in both halves.  Despite the one sided affair Chico did not give up and scored a try for their efforts at the end of the game.
Date: 11/12/2016
St. Mary's College C 24 – Santa Rosa JC 24
Referee: Gordon, Preston
First of all, good news: the pitch at Pat Vincent field is once again usable. It had apparently been dug up by wild hogs, and at the end of October there were large patches of turf missing as repairs progressed. That necessitated at least one match being canceled. While the missing sections have been replaced, and the pitch is safe for rugby, there are a few parts where some extra care should be taken to avoid twisted ankles etc.
In this game on a sunny day, St. Mary's ran out to a 19-5 lead at halftime against Santa Rosa JC (3 tries + 2 conversions to 1 unconverted try). This was helped to some degree by a yellow card awarded to the SRJC #12 for a high tackle. In the second half, SRJC scored 19 points to SMC's 5 (also 3 tries + 2 conversions to 1 unconverted try) before the 60th minute, and appeared to be in the ascendancy with the match tied at 24-24.
Unfortunately, at that point we had to stop and wait for the professionals to take a look at an injured player. Given that there were two games scheduled right after this, I agreed with the captains that we would shave 10 minutes off the match. That gave us another 10 minutes to settle the contest, but neither side was able to score any more points. In my defense, my professional referee opinion is that one side would have won if we had played the full 80!
EDITOR'S NOTE:  Beverages at our December meeting will be provided by Mr Gordon, thanks to this score.   The shortened playing time is irrelevant. 
Date: 11/17/2016
Cal Maritime 63 – Stanford 24
Referee: Pescetti, David
After hours spent in traffic, the Stanford team and I (traveling separately) made it the lovely Maritime facilities.
This game was a barn burner. It began with a shock. Stanford scored first within 2 minutes of the kick-off, on the back of their scrumhalf. Maritime 10 was able to poach a ball but then conceded a penalty for not releasing once he hit the ground, and the Stanford 9 quick tapped, catching all the Maritime players off guard and slipping past them for our opening Try.
Maritime's shock lasted 90 seconds and they responded with quick hands passing and using their backs to manufacture scores. After that it was mostly Maritime controlling the pace of the game. Stanford was light on players and this contributed to the scoreline. It was a great game with high friendly spirits in this friendly match.
Date: 11/18/2016
Stanford Women 0 – Lindenwood 123
Referee: Moore, Stephen
One way traffic by a very strong Lindenwood team.
Date: 11/19/2016
NorCal Pelican Selects 18 – SoCal Griffins All Stars 28
Referee: Lew, Tim
AR: Pohlman, John
AR: Hendrickson, Rob
In an early preseason hit out between NorCal Pelican vs SoCal Griffins at Cal Maritime, SoCal came out on top. It was wet conditions with two all stars teams early in the year. As expected lots of athletic running but NorCal lacked support and retaining their own ball. SoCal ended contested in the rucks which made it harder for NorCal to get phases. In the end, SoCal had two intercept tries which ended up being the difference. Thanks to Paul for giving me feedback in the wet rain. Thanks for Robert H & John P for running the touch lines. Looking forward to 2017!
Date: 11/19/2016
Chico Holiday Classic
Referee: Richmond, Jeff
Pretty awful conditions for the Holiday classic in Chico: mid-40's, windy, constant rain. A Chico player entertained us by recreating the scene from Forrest Gump – "… little bitty stingin' rain and bit ol' fat rain…"  Only managed to play 7 matches out of the 18 planned for the tournament. Still, those who participated played solid rugby. The Chico State women closed out the day with mud slides at the pit that had formed around the 22 on one of the pitches.
Date: 11/19/2016
Fresno 0 – Cal Poly SLO 40
Referee: Wilson, Dan
The top game in Fresno on Saturday with the three Cal Poly teams playing was Fresno Men's v Cal Poly A.  it was the final of the three games for the visitors but quickly it showed the difference between the two clubs, teams and organizations. Fresno started the game kicking off and was immediate under pressure by Poly who played fundamentally sound rugby.  Cal Poly had their first converted try in the 3rd minute and then another in the 10th.  Poly scored two more converted tries in the 19th and 29th minutes. Fresno responded to the pressure by not rolling away or giving that slightly late hit.  Needless to say, penalties came mostly to Fresno.  In the 30th minute, Fresno's captain was sin binned for an obvious late hit on the fly half just after the team was warned (10.4e). Fresno had its moments of team unity only to be pushed back by Cal Poly.   Fresno threatened several times in the second quarter including having lineouts, scrums and mauls inside the 10-meter line, but they could not cross the try line.  After their unconverted try at the 36th minute, Cal Poly put to bed a half of dominance. Even though the half was clearly one-sided, it at least flowed. Halftime Score:  Fresno Men's 0 – Cal Poly A 33
The second was the opposite of the first.  Fresno had times of opportunities, as in the first, but their control of their tempers, attitudes and emotions brought the game down.  Unfortunately, several of the substitutes made their situation worse.   In the 56th minute, a Fresno player was sin binned for punching (10.4a). In response five minutes later, Cal Poly had a push over scrum try that was text book rugby scoring the only points slotted in the second half.  After several dust ups during the thing that loosely resembled rugby, Fresno had its next player sin binned for a late tackle in the 63rd minute (10.4e) which was a carbon copy of the play which sin binned their captain in the first half.  With the game continuing to deteriorate, and honestly, after a particular emotional outburst by one of the Fresno players to the like that I have never seen, I called the game in the 73rd minute.  Final Score: Fresno Men's 0 – Cal Poly A 40.
Date: 11/19/2016
Fresno State B 47 – Cal Poly SLO C 10
Referee: Jury, Jeff
CSUF B showed good coordinated play with the young third side for Cal Poly is still trying to figure out their responsibilities.  The second half was more competitive with Fresno 3 to 2 try advantage.
Date: 11/19/2016
Fresno State 56 – Cal Poly SLO B 5
Referee: Tuisavalalo, Rodney
In terms of their physicality, both teams were evenly matched. They had big men the middle and faster agile guys out in the backs. The difference was Fresno's ability to move the ball out quicker and more efficiently. While Cal Poly matched Fresno's interior defense, they could not sustain long periods of defense in their back-line that saw Fresno running through wide open gaps. That was pretty much the story. In fact, Cal Poly's only try of the game came through from tough hard running by their forward pack which culminated in a try near the posts. Fresno meanwhile enjoyed playing a very open game-moving the ball from one side of the field to the other, constantly keeping Cal Poly on the back foot. Fresno's Irving Castenda made quality runs around the pitch, capitalizing on some back-line  inexperience from Cal Poly. First half saw the home team run in 4 tries. Cal Poly had many opportunities to score, but were often stalled from an untimely penalty or knock-on. Fresno would go on to tack on a few more points in the 2nd half and never let off the gas until the final whistle. It will be enjoyable to see these two  teams play in the future as they look to develop their new talents.
Date: 11/19/2016
UC Davis B 10 – Sacramento State B 19
Referee: Pescetti, David
A fun, rainy, and wet afternoon where weather was a big factor in the match. Many scrums were had due to the wetness of the ball. Despite the poor footing conditions all the forwards were in good spirits. The match all-in-all, was very close. Davis scored first within opening 10 minutes on a long breakaway, the ball carrier diving for the corner to touch the ball down, energizing his squad. Then Sac St scored in the final seconds of the first half. Heading into the break we had the teams knotted up at 5 a piece.
After the short respite, Sac State where to capitalize on the short handed Davis. Scoring under the posts to take a 12 – 5 lead. Davis, not to be outdone came back, shortly thereafter being back at full strength and scored.  Winds of change were not in their favor and still trailing 12 – 10, but only by 2. Sac was able to muscle down Davis in the last quarter to add an additional score to leaves us all walking off the muddy pitch at a Sac State win, 19 – Davis 10.
Date: 11/19/2016
UC Davis 55 – Sacramento State 5
Referee: Akroyd, Phil
AR: Hetterman, Matt
The game shifted to Sac State as the UCD field wasn't available.  Rumors are that UCD will be building on Russell Field, so there's huge uncertainty as to where the Aggies will play in future.  Let's hope they find a field fitting of their excellent play because they showed that they are hitting the ground running this season.
Davis appear to have a lot of returning players from their D1-AA National Champ team from last season and their skill, accuracy and teamwork showed early.  Thirty-one points in the first half, twenty-four in the second and only five points conceded in generally pretty soggy conditions.  Sac State did play well though, but they were playing a very good team.  The Hornets will do well this year if they can just get their backs attacking a little closer to the gain line.
Post game recommendation of Sactown Union Brewing Company at 66th and Folsom Blvd for a refreshing Kolsch and a gourmet hot dog.
Thanks to Matt H for sticking around in less than ideal weather to A/R.
Date: 11/19/2016
UOP 32 – USF, SF State 35
Referee: Wood, Scott
UOP hosted their annual three-way round-robin between them, USF, and SF State. Despite the rain, the field drained well. Oddly, there were few knock-ons during while it rained. When it was not actively raining, we had a perpetual scrumfest. Rusty legs and cobwebs. Overall, very positive periods of contest and continuity.
Date: 11/19/2016
Santa Clara Women 53 – USF Women 20
Referee: Simko, Paul
On Saturday, there was a continuous light rain for the Santa Clara vs USF Women's league match.  Santa Clara had 12 players to start.  USF asked them if they wanted to forfeit and Santa Clara said no.  At worst they wanted to get a point for a loss versus a zero for the forfeit.  Fortunately for Santa Clara, they played and won decisively.  Two former teammates now captains on different teams was the story of the match.  The two of them probably made about 30-40% of the tackles in the whole game.  Strong running by the Santa Clara front row created missed tackles that converted into tries.  There are a number of good athletes on USF, and with more experience this could have been a different game.
Date: 11/19/2016
UC Davis Women 0 – Lindenwood 38
Referee: Boyer, Rich
The Lindenwood women made the trek from San Jose to DIxon to be hosted by UC Davis.  LIndenwood started the game with double digit phases, gaining little ground, then would knock on as a result of the wet conditions.  Then repeat.  They had the lion's share of possession the first ten minutes but Davis did not buckle.  Davis would counter with a few pick and drives, to be undone by knock ons.  Eventually Lindenwood began taking control of the match with strong running from their one off forward pods.  They were held up in goal three times.  Finally they created an overlap for captain Rochelle to score in the corner 25 minutes into the match.  Then Lindenwood scored again almost immediately, with the #4 receiving a pass and sprinting past everyone for a 60 meter try.  At halftime the score was 10-0.
Lindenwood became more focused and structured the second half.  Davis did not commit to rucks on defense so Lindenwood countered with multiple forward pick and drives.  The replacement hooker scored during one of these, then second half center substitute Macca, U-20s captain, made a scathing run for another score, which she converted.  Davis, try as they might, could not penetrate the visitor's defense.  The Davis inside center was very prominent in breakdowns, poaching at least 5 balls and helping straighten the back line with direct runs.   LIndenwood's forwards showed their dominance in scrums with multiple tightheads and also forcing the Davis pack on the back foot.   Their loosehead and open flanker were very prominent running the ball, and the wing got involved every time she could, contributing a try.   The game became very physical halfway through the second half, with neither side backing down.  It was all clean play, but the physicality stepped up a few notches.   In addition to the Davis 12, captain Erin at flanker worked well with the other flanker around the breakdowns, and the hooker was scrappy.  The game really seemed to swing when Macca subbed on for Lindenwood, while both locks showed good ball in hand skills.  This was a very technically sound match with few penalties awarded.
Date: 12/03/2016
Fresno 16 – Fresno State 13
Referee: Wilson, Dan
The annual game between big brother and little brother kicked off on a soft, partially muddy field with a decent crowd.  The game flowed well with neither team really taking the edge in territory even though the Fresno State side seemed to maintain ball more.  However, maintaining ball and moving ball are different things completely.  FSU kicked a penalty kick quickly in to the game at the 4 minute mark, but that was as close as either team got for most of the first half.  Both teams had their opportunities to push inside the other's 22-meter line, but no one really could capitalize.  I actually had to look at my score card to reconfirm to myself that it was a 3 point game sometime around the 30 minute mark.  Discipline for both sides started off well, but it started to deteriorate during the second quarter.  At last movement, Fresno Men's received a penalty outside FSU's 22 meter line but was able to slot a kick to go into halftime tied.  Halftime score:  Fresno 3 – Fresno State 3
The second half had three major additions for the Fresno Men's side which increased the intensity of tackling and ball running and maintaining ball possession.  Fresno Men's were able to kick a penalty kick to take a lead, but Fresno State returned the favor to even it up.  With a man in the sin bin, Fresno Men's was able to score a converted try, but Fresno State was able to come back and return the favor again with a converted try of their own.  Fresno State had two opportunities to take the lead with a penalty kick missed left, but a charge down was attempted by Fresno Men's, so another opportunity was given. Unfortunately, the next kick also went left.  Emotions for both teams, especially Fresno Men's, went ballistic at various parts of the game, one resulting in a player being sent off.  However, game management hurt Fresno State and allowed, and Fresno Men's took the lead at the 78th minute with a third penalty kick.   Final Score: Fresno 16 – Fresno State 13.
Date: 12/03/2016
San Jose Invitational 15's Tournament
Referee: Pohlman, John
San Jose Seahawks hosted a one day tournament this past Saturday.  Google, Diablo, Sac Capitals, San Jose, Silicon Valley, San Louis Obispo and Aptos played three games each.  The Capitals were the top team.  Lots of positive early season rugby.  Only one yellow card all day.
The San Jose Women's Seahawks team played the San Jose State Spartians woman.  Lots of new players.
Referees for the day Paul Bretz, James Hinkin, Tim Lew, John Lane and John Pohlman.
Saw some old team mates coaching and refereeing.  Good luck for the season.
Date: 12/03/2016
San Jose Invitational 15's Tournament
Referee: Bretz, Paul
TIm Lew, Paul Bretz, James Hinkin, John Pohlman, and John Lane joined several Division 2 teams for the San Jose Invitational.  Games were 20 minutes halves and were played in good spirits.  13 games played in total and and only 1 card was given.  Sacramento Capitals look to be the team in the best form at this stage.
Date: 12/03/2016
Cal Maritime B 14 – Pleasanton Jesters U23 48
Referee: Byrnes, Bryant
Played at Maritime's field on a sunny afternoon-lovely. The Keelhaulers are now in their 19th season and are a class act. The Jesters are brand new this season. They are primarily Pleasanton local high school products who are not playing college, but of course wish to continue playing our lovely sport.
And, as indicated by the score, they play it pretty well. While the forwards matched up well, the Jesters had a powerful backline, including one hell of a center. While they had a certain amount of uncertainly about the moral significance of the last foot in a ruck, they had mastered the concept of support; on most breaks by the center, he had two wingmen.
Maritime had many first time players still figuring it out. But even outgunned, in the second half they scored 14 to the Jesters' 17.
Date: 12/03/2016
Santa Clara 50 – San Jose State 20
Referee: Pescetti, David
Despite the sunny and relatively warm conditions in Santa Clara players from both hands were suffering from pre-season jitters. Ball handling errors were a frequent occurrence. The speed of the pitch played into Santa Clara's favor with their backs and was able to muscle a first half advantage, but in the waning moments of the first half the Spartans forced their way into the corner for their first try of the match. The second half was decidedly more even. Both teams matching each other, blow for blow, try for try. Second half score was SCU 22 – 15.
Final SCU 50 – SJSU 20
Date: 12/03/2016
SFSU 14 – USF 15
Referee: Coppinger, John
Cox Stadium is the San Francisco State University soccer field and the former home of the late SFSU football program.  Since the pitch is now used by the SFSU soccer programs, the pitch is a very rugby friendly 66 meters wide.  Cox is a pretty place on the west side of campus off Lake Merced Blvd. and is set in a bowl surrounded by tall trees.  On Saturday, the SFSU Men's rugby team was given the use of the field for the first time in the club's history and pulled out all the stops in hosting City rivals USF.
The SFSU Gospel Gators opened the show with a nice rendition of the national anthem with the teams and a lonely referee lined up on at mid-field and the SFSU cheerleaders were in attendance to lead the crowd in support of the home Gators.  Post-match, SFSU hosted a luncheon for USF, which was attended by the SFSU president.
Both teams came out of the gate trying to play expansive rugby but handling errors on both sides ended scoring opportunities for both sides.  SFSU struggled with discipline and collected a dozen or so penalties and ultimately SFSU wound up with a man in the bin for persistent team infringements.  SFSU did take the half-time lead on an intercept try scored between the posts to give the hosts Gators a 7-0 lead at the break.
USF came out fired up in the second half to score two tries, one converted, to take 12-7 lead with about 10 minutes to play.  SFSU countered with a converted try to take a 14-12 lead with 5 minutes left with a sustained drive down the pitch featuring multiple phrases of play.
Ultimately, SFSU's discipline, which had improved in the second half, was their undoing as a Gator went off his feet over the ball in a ruck thirty meters from the SFSU line smack in front of the posts.  The penalty kick was slotted and USF took the match 15-14.  USF captain and prop Reilly, easily my Man of the Match, was brilliant on offence and defense for the Dons.
Hopefully, SFSU will be able to secure the regular use of Cox Stadium because it was brilliant.
Date: 12/03/2016
Sonoma State 10 – Santa Rosa JC 50
Referee: Simko, Paul
Beautiful day at Sonoma State.  Pre-season friendly with rolling substitutions.  It's always strange refereeing games with the goal posts on the dead ball line. The home team had 17 players, so the rolling subs didn't help them much.  The hits in this game were big, and both teams struggled with high tackles that resulted in 3 yellow cards.  On Sonoma State, the 9 had a solid game along with some bigger bodies in the scrum.  Santa Rosa JC had depth in the pack with a very large #5.  They also had more talent in the backs and kept the attack.  The field was quite narrow, and my guess that was a strategy by Sonoma State to prevent high scoring from SRJC.  It didn't matter.  To Sonoma States credit they put two ties in the second half and had one more that was held up.
Date: 12/03/2016
UC Davis 0 – St. Mary's College 54
Referee: Fenaroli, Steven
Early season game that showed some good fall rugby.
Date: 12/03/2016
UC Davis B 14 – St. Mary's College B 51
Referee: Tucker, Chris
AR: Franzoia, Tom
Second side proceeded much as did the first side.  Thanks to Tom Franzoia for running the line for me.
Date: 12/03/2016
Fresno St Women 80 – St. Mary's College Women 24
Referee: Jury, Jeff
The score does not reflect the quality of play. Fresno and St. Mary's traded pretty evenly in the first 20 minutes. A red card to Fresno at about 18 minutes in the first half, lit a fire that the Gaels couldn't extinguish. St Mary's were never able to exploit their number advantage, but continued the good fight all the way through. CSUF Women 80 St Mary's 24.
Date: 12/04/2016
UCSC Women 68 – USF Women 17
Referee: Freitas, Larry
A rare Sunday afternoon game at UC Santa Cruz in which the school relented in allowing the women's rugby team to play a game on the lower field, as soccer is now wrapping up its season, against the University of San Francisco, as this was a match originally scheduled for November 5 when not only the women's team, but the men's Slug Fest got cancelled at the last minute, and a soccer tournament allowed instead, with rain earlier in that week as some sort of poor excuse by the school's Office of Physical Education and Recreation for nixing the rugby.  The Banana Slug ladies just had too much, as in size and speed in particular, on this afternoon.  Playing out of her position in the first half at half back, Lauren Roundtree commenced the scoring within five minutes of the opening kick off.  Four more first half tries would follow, two by center Teale Finkel, who displayed her speed and fancy footwork, and the half would end with the home side up 32-0.  One problem in the match was that the USF scrum was wearing down as the game progressed, to the point that the half ended with two collapsed scrums, and their captain asking for uncontested scrums for the second half.  Overall the game was being played rather loosely, with a sevens feel to it, and with lots of handling errors from both teams.  UCSC has some size to their pack. The Don ladies couldn't get any sort of offense going in the first half, and the game was mostly played in their half.
The second half started with Finkel once again scoring a try, basically from the kick restart, as the ball was handled and eventually found its way into her hands, and she had a break for a 40 meter dash to the in-goal for the hat trick.  21 points were added to the UCSC total by 45 minutes, as two more quick tries ensued.  Finally, at 48 minutes USF had a break from a mishandled ball and put their first try of the match on the board, as one of their centers got a gap to run through on her way to the goal line.  UCSC had substituted some players in the meantime with the handy lead, giving some of their bench players some on-field experience.  Sydney Beyma of USF would score a try at 68 minutes from a set scrum deep in UCSC's half, this one converted by herself.  Sydney was having a great game, one of the stars on the pitch with her tackling and running, and clearing kicks that took some pressure off her team when they had been pinned in their own quarter.  The game would end with UCSC scoring its last try of the match.  Final score: UCSC 68, USF 17.
With the "first" half of the season for D2 done, games will resume in late January.  Unfortunately not every team in the coastal division got in three matches.  UCSC had a league match with Cal State Monterey Bay cancelled that was to be played on November 19, as an attempt to change venues on that rainy weekend at the last minute failed to materialize, though they did play each other in late October in a practice match that did not count in the standings.  That leaves USF and Santa Clara as the only two teams of the four who played three matches, the other two only having two games.  Rain played a part in this, as well as problems in getting permission to use a pitch on the part of UCSC.  It appears the issue there between the men's and women's rugby teams and their Office of Physical Education and Recreation regarding field use has been sorted out.  In the second half teams from the other division will get a chance to play those on the coast: St. Mary's Sacramento State, Fresno State, and Nevada Reno.  I heard that Nevada Reno is the team to beat, though UCSC managed to get their two wins out of two games on this weekend just ended, having beat Santa Clara in a match the previous evening.  That leaves Santa Clara at 2-1, having beaten USF and CSUMB.  CSUMB had one win against USF in early October, and lost to Santa Clara a month ago.  USF was winless in their three matches.
This Week's Photo
Plenty of Seahawk Old Boys around for the San Jose Seahawk Invitational.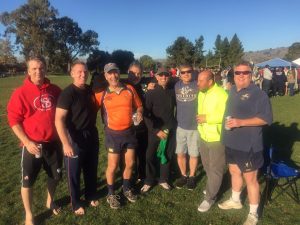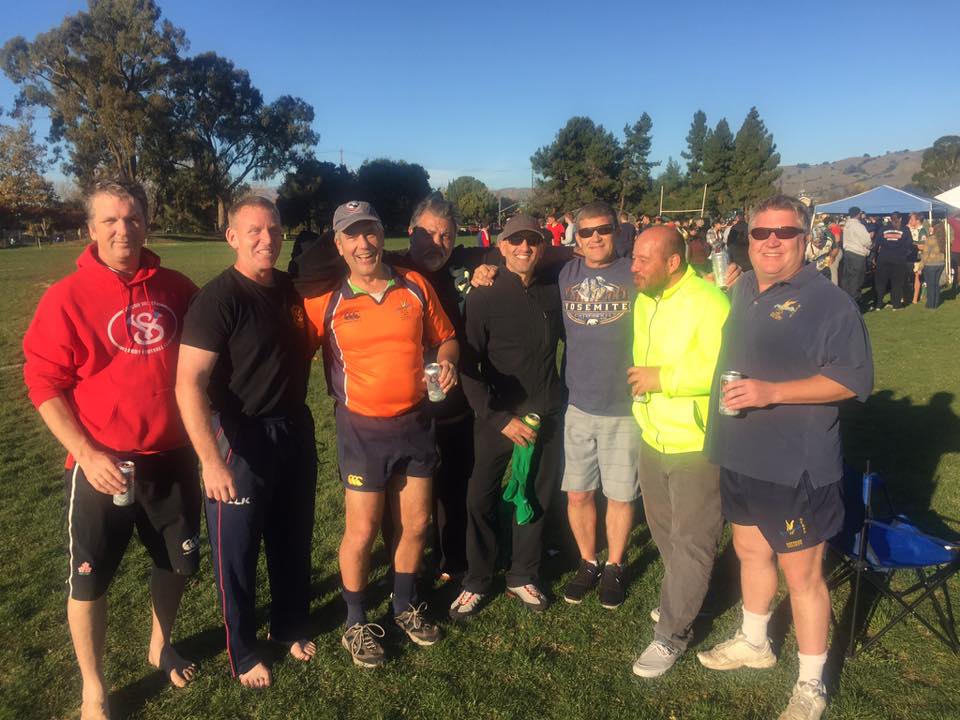 Hail, Pelicus!
For the Senate
Pelicus Pedem Referre