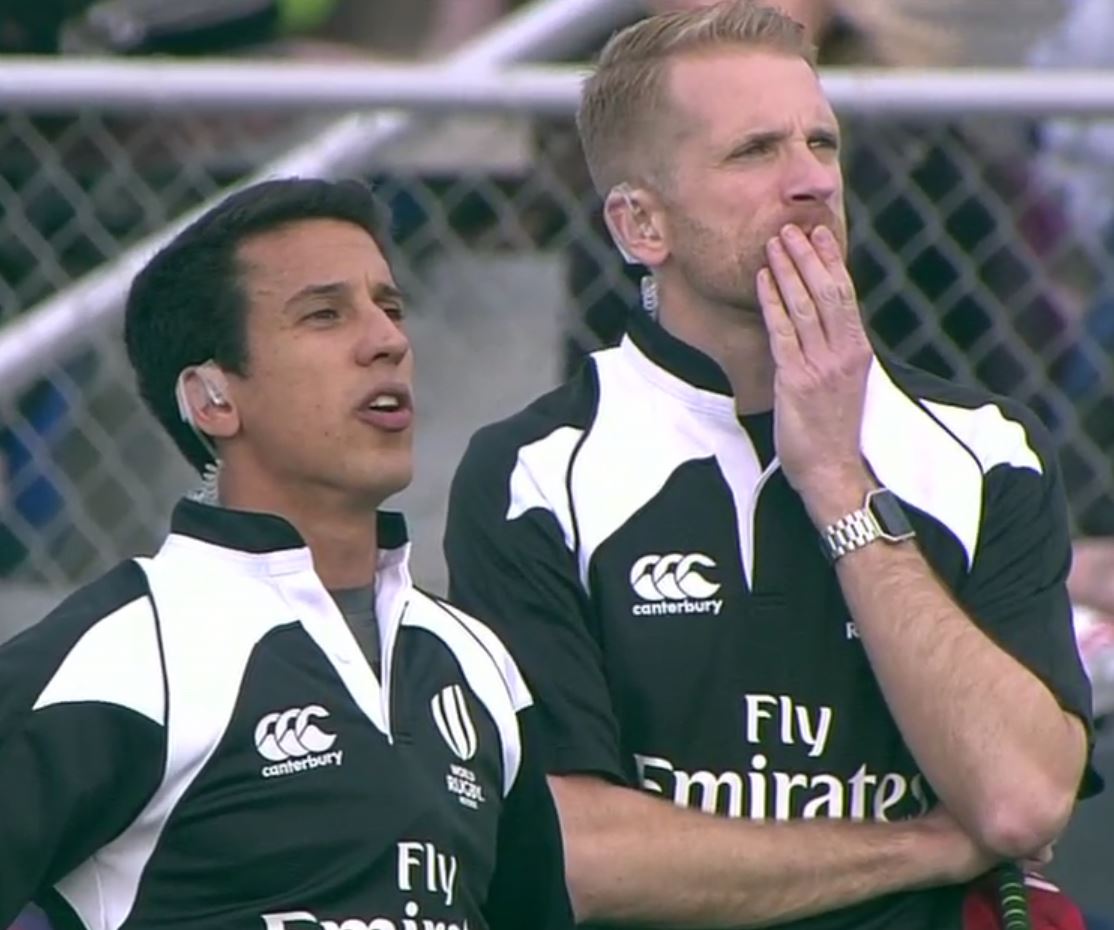 HAIL PELICUS!
Good As Gold
There is a sense of hope in the air around USA Rugby these days. Our Sevens program has been ticking over nicely for the last few years under Mike Friday and while we have yet to reach the mountaintop we can see it and are a threat to win any tournament and beat any team. Our Fifteens team faces much greater challenges as we struggle to break out of Tier 2 status or even to the top of Tier 2. The Golden Age has started well with wins over Argentina, Canada and Chile in the ARC but these victories need to be put in perspective. Argentina sent their B side and any true test will have to be against their full squad and that hasn't happened in a number of years. Canada is on possibly their worst run of form in their history and lost to Uraguay in their World Cup home-and-home playoff. To even make the tournament they will now need to win the final repechage spot. Chile is a team we must beat regularly and thoroughly – after all there are only 18,000 registered players in the whole country and we have more than that number just here in California.
Not to be all doom and gloom. We won and we won convincingly over our biggest rival Canada and ARC doormat Chile. The Argentina game was close but a quality effort against a side that will produce several Pumas. I like what Gary Gold is doing and the structure and gameplan he is utilizing. I am also eager to see what Psalm Wooching and Paul Lasike bring to the table. They had impressive debuts and showed signs of both inexperience and athleticism. USA Rugby has been for years using the age grade teams to feed the Eagles, as they should. That is what they are there for. Nearly every Eagle these days was a U19 or All American representative, but let's not lose sight of the fact that there is a great untapped pool of amazing crossover athletes. Back when I started playing there was a common "What If?" game played where you would have Deion Sanders on the wing, Emmitt Smith in the centers, Michael Jordan as a flanker, Tom Rathman as a prop and so on. The thought was with that level of athlete we would be unstoppable. There still is a kernel of truth to that and athletes raised in the Great American Football Factory all the way from high school, through college and the pros can have a huge impact – we just gotta teach them how to play. Let's not forget how Perry Baker, the current World Rugby Sevens Player Of The Year, got his start.
We have a long road ahead of us for rugby in the USA. After the disaster of the last World Cup we needed to change and get better. We needed to become more professional and that has had mixed results. The failure of Pro Rugby hurt but MLR has made some impressive strides. The PRP is the best league in the country but still is an amateur league – how long will that last? I am quietly pleased with results so far.
If only we can get our scrum halves to stop box kicking. We truly suck at it.
Uranus Takes A Pounding More Frequently Than Thought
Yes, that is an actual headline from an actual news article about interstellar objects smashing into Uranus. Some times they just write themselves. Speaking as a commentator who has to make up his own headlines, I would like to thank USA Rugby for selecting Head Coaches with such easily punnable and headline worthy names. A good headline should be short, informative and to the point but a great headline has that perfect level of Dad Joke that makes the reader smile and cringe at the same time. Friday? Gold? I am set for the foreseeable future. Even Coach Gold's first name begs for Gary Glitter references. Mr Dan Payne, I am calling on you to keep this wonderful tradition going when selecting the next Women's Head Coach, a position that as of this writing has yet to be filled. I am confident you won't let us down and will expect an update on your progress at the I'Maul In Poker Tournament in Vegas.
Poker? In Vegas?
Whodda thunk it? Yes the USA Rugby Foundation headed up by former Eagle captain Brian Vizard hosts a couple of events during the USA 7s. Along with the Scrumble Golf Tournament there is the 9th Annual I'Maul In No Limit Texas Hold 'Em Charity Poker Tournament. The action takes place Friday March 2 at the Poker Room at the Mandalay Bay Hotel & Casino. This is a fun event that draws a number of rugby legends past and present and the banter around the table is priceless. I play in it every year and I highly recommend it. The first hand will be dealt at 10:30 pm. The buy-in for the I'Maul In No Limit Texas Hold 'Em Charity Poker Tournament remains $100 ($40 for the USRF, $30 for the player prize pool and $30 for Mandala Bay), which will be paid (cash only) at the Mandalay Bay Poker Room and additional, limited rebuys are available. Seating is limited to the first 100 players so get there on time to get a seat. If you'd like to guarantee your seat at the 2018 I'Maul In Tournament, please contact Brian Vizard at bvizard@usrugbyfoundation.com.
To find out more about the I'Maul In Poker Tournament, the Scrumble Golf Tournament or the USA Rugby Foundation in general go to www.usrugbyfoundation.org.
Wheresthematchreport?
I hope everyone enjoyed the Whostheref match reporting demonstration last night at our February meeting. I expect to be inundated with detailed and lovingly crafted reports from here on out. I would like to once again reiterate that should you decide to just email me scores and a writeup it will be summarily ignored. The notable exceptions to the above blanket statement are, of course, matches that are not assigned here in Pelicanland and are thus not in the system. So any referees on exchange can send me their thoughts as well as our excellent Roving Pelicans Tom Zanarini, Stephen Valerio and any others who wish to tell us of their exotic rugby experiences.
To help educate the flock Our Scott Wood has put together a nifty User Guide that is accessible from this very website: https://pelicanrefs.com/resources/whos-the-ref-user-guide/ . .
The NCRRS Kit Store
Last chance – the store closes Sunday, February 25!
As stated before, the NCRRS is moving away from buying all the kit and then reselling it to our referees. The reasons for this should be obvious in that 1) we have to guess ahead of time how many referees will want or need kit and we have guessed wrong in the past and 2) I really don't want to continue to have to deal withal these boxes of old and new kit. So to that end, while we will continue to order and distribute jerseys, because we do not sell them – they are earned, moving forward we have set up a store through Canterbury to sell our kit directly to you, our loyal customers. This also allows us more flexibility to sell branded merchandise, such as warm up shirts, tee shirts, backpacks, tooks and so on. The store is now open so please check it out using the following link:
https://norcalrefsjan2017.itemorder.com/sale?read_message=true
The store will stay open until 11:59:59PM, Sunday Feb 25, at which point Canterbury will collect the orders, stich and screen as needed, and then ship them out. This store can be reopened as needed depending on demand, but don't wait! Get your gear now!
Soaring On The Wings Of Pelicans
Glorious Leader Pelicus Iudex Pennipes has announced some promotions:
"Please join me in congratulating both Jessica Turner and Steven Fenaroli on their grade promotions. JT moves to C2 and Steven has been promoted to the B panel. Both referees were unanimously approved by the Referee Promotion Committee."
I would also like to remind everyone that the Nor Cal B panel is equivalent to the USA Rugby National Panel so well done there!
Another Legend Passing
Hail Pelicus great Dr Bruce Carter sent in this bit of sad news and I will let him tell you of it:
Don Burgess died, a fellow from Vancouver Island and one of the unsung innovators of our game. He invented the kicking tee for rugby, and managed to get it approved by the IRB – never an easy task getting anything through them (or World Rugby) that wasn't invented or dreamed up in-house.
http://www.timescolonist.com/news/local/obituary-rugby-legend-don-burgess-was-inventor-of-the-burge-tee-1.23170913
The tee was approved in the late 80s. I remember it well. Don came to a referee meeting I was at (can't remember where) to promote the use of the tee.
It really made a huge difference. You think kickers waste a lot of time now with their routines – add a minute or two for digging a hole, or sculpting a mound, and then re-doing it when the ball didn't sit right, even using a bucket of material brought from the sidelines for the purpose.
I'm hoping that although he might be unsung, he might not be forgotten.
Disciplinary Action Reporting – Process For Reporting Incidents
The various competitions all have their own disciplinary chairs and this will make it difficult to centralize the communication and data. To help Scott Wood has developed a form that will centralize the process, regardless of the competition. The link to the discipline form is https://docs.google.com/forms/d/1mmUNg11uVOSkIsUtHifSqQzalhWbwohk_J6AmPyrucQ/viewform
1. Copy the link and have it available on your smartphone. If you have an iPhone add the link to your home screen.
2. When needed fill it out and click submit. The discipline chair of the competition you refereed will receive a notification about the incident.
3. He/she may contact you latter for more details.
4. If you have any questions as to how to use the app please refer to the following video: https://www.youtube.com/watch?v=_Uz0_gTaOnY
On To The Game Reports!
Date: 02/16/2018
Solano-Yolo Rugby Club 5 – Granite Bay Grizzlies 61
Referee: Andrew Stockton
I originally hoped that this would be a relatively close match after seeing Solo at this year's KOT. I had thought they were a tough, and hard running team that would pack a lot of punch. However, their biggest downfall of the evening was discipline. Quite a few of their players didn't arrive to the field until about a half hour until kickoff, leading to a bit of disorganization and a semi-lax attitude at kickoff.
Granite Bay scored first after a 7 minute run consisting of some offside penalties, a few lineouts, and a scrum. They scored again a few minutes later, pressing their advantage and superior running lines. Solo then struck back at 16 minutes into the half with a try of their own after a Granite Bay penalty inside their own 22. After that it was all Granite Bay. They added 9 more tries but were only able to score 3 of their conversion kicks.
For most of the evening, both teams struggled with maintaining a good offside line. There were several penalties to both teams, and I made a note to myself after watching the game film that I would produce a card the next time I had repeated issues with offside, even at a high school level. The other problem area was scrums. Granite Bay had obviously better technique and power, while Solo clearly needed work on staying steady and taking weight. There were quite a few resets, and a number of instances where we would spend 3 minutes or more at the same scrum because of balls coming out the tunnel and players slipping on the poor field conditions. I hesitated giving penalties because the penalty count against Solo was already high, and unfortunately, I don't believe that penalties would have fixed the problems. I was able to manage my way out of it, and scrums toward the later parts of the first half and most of the second half were good.
Overall, I think that it was a challenging match, especially given the short and narrow field conditions. I will be interested to see how Granite Bay performs against a more quality opponent on a regulation sized field this weekend against Danville at Witter Field.
Date: 02/17/2018
Cal Poly Men 69 – USC 5
Referee: James Hinkin
A bright and sunny day in the Pelican Territories was the setting for a D1A clash between California Polytechnic State University at San Luis Obispo against the University of Southern California. The whistle time temps were approaching 80 degrees so it was going to be a hot one. Unfortunately, (I assume) a series of injuries left USC without a capable front row so the match was forfeited. The End.
Just kidding. Not about the forfeit, but since everyone had travelled all the way to this remote outpost to play rugby we decided to play the game anyway, just with uncontested scrums. As California Polytechnic State University at San Luis Obispo is known to have a powerful scrum one would think that would advantage USC but that turned out to be not the case as the California Polytechnic State University at San Luis Obispo forwards got extra rest during the scrums and were much more active around the field. The scoreline does not reflect the tenor of the game as USC was more competitive that a 64 point loss would suggest. The Trojans were able to string several phases together and scored their lone try off of a sustained period of pressure, admittedly helped along by some ill discipline by California Polytechnic State University at San Luis Obispo at the tackle. The difference was the unforgivable communication breakdowns that led to a few simple first phase tries and the fact that USC could only really sustain 4 or 5 either offensively or defensively and California Polytechnic State University at San Luis Obispo would exploit the disorganization after that tipping point. 6 tries in the first half and 5 in the second half told the tale. USC was not without its bright spots as their bescrumcapped, long haired center (allegedly a transfer from St Marys) was a thorn in their side with numerous breaks, tackles and perfect timing when poaching the ball. He must have stolen at least half a dozen balls at tackles and also managed to be a part of one of the lighter moments that was shouted across the field:
USC Coach (after a penalty): "Did he penalize you for off side?"
Player: "No, for playing the ball on the ground."
Me: "Don't worry about it. You were off side, too."
Player: "Coach! I was offside, too."
USC Coach: "OK!"
Final note: "California Polytechnic State University at San Luis Obispo" is the longest university name in the US.
Date: 02/17/2018
Berkeley All Blues B 15 – Life West Gladiatrix B 44
Referee: Duane Heil
Life hit harder and was more aggressive. They clearly dominated. Good game all around
Date: 02/17/2018
Sacramento Amazons 49 – SFGG Women 7
Referee: Sam Reagle
No Report Received.
Date: 02/17/2018
Sacramento Capitals 17 – Life West D2 20
Referee: Jeff Richmond
A very hard fought match; fast-paced, physical. Both teams made use of the full width of the field generating strong attacks by their back lines. However, good defense kept the try count much lower than it might have been. The Capitals had several opportunities pushing Life back against their goal line, but a knock-on or other turnover left them short. Life suffered through playing with less than 15 after yellow cards for repeat infringements, though they were able control the damage. The score stood at 17-17 for the last 10 minutes, then a penalty by the Capitals gave Life a kick at goal from 20 meters out. Life converted as time expired.
Date: 02/17/2018
Fresno 17 – Olde Gaels 33
Referee: John Pohlman
Fresno hosted Diablo Old Gaels on a beautiful sunny Saturday. Field a bit rough but set up perfectly, well lined with technical zones. Everyone ready for a 1:00 AM kick-off.
Both teams in the running for making the D-3 playoffs and this game lived up to playoff bound teams. The first twenty minutes had both teams attacking, tackling and testing each other. Gaels started the scoring at 21 minutes with an overall team score dotted down by Gaels #7. Only to be matched three minutes later by man of the match flanker Jon-Paul Salvador #7 . The Gaels had more possession in the first half and broke down the strong tackling Fresno defense for two more try's at 34 minutes and 40 minutes. As time was completed for the first half the Gaels decided to run the ball rather than kick which led to a long try by a very talented Gaels winger. Haft time score Gaels 19 Fresno 5.
Fresno came out on fire in the second half. They had early ball possession leading to two try's at 51 and 60 minutes. A missed conversion only stopped a complete Fresno comeback. Score Fresno 17-Gaels 19.
Game on. I hope the players know how much referees love rugby and love, even more, close hard fast games.
So thanks. Gaels had more experience and played slightly better rugby. This allowed them to breakdown the Fresno defense which led to two Gael try's at 27 and 37 minutes. Final Gaels 33 Fresno 17. Thanks guys for a fun, fast competitive game. The players came to play rugby and the fans and myself were treated to a great game.
Date: 02/17/2018
Google 19 – Berkeley RFC 29
Referee: Stephen Moore
Fun match to referee, disciplined and competitive. Berkeley stronger side overall. End of first-half Berkeley led by 12-7. Berkley increased margin in second-half to 17 points, but Google came back strong narrowing the gap once again to 5 points. Berkeley scored one more try for a final result of 29-19. Google finished strong in the last minute running from deep kicking the ball to opposition 22. It was a touch and go contest at full pace, with Berkeley just kicking the ball out in time off the ground to make it full time.
Play of the day was a spectacular flowing run by Berkeley, starting deep with the ball passing delicately thru multiple sets of hands, ending with a final low pass skillfully picked up by a Berkeley player diving low to score. It was All Blacks type stuff, and great being in a box seat to experience it.
I really appreciate the polite input and questions I got from both captains during the match. I especially appreciated the input I got from one captain at half-time about squaring up a little more to see offsides. He will make a great referee one day, no kidding!
Date: 02/17/2018
Redwood Empire RFC 10 – Colusa County 26
Referee: Cary Bertolone
High tackles galore, from Redwood. Two high tackles from their number 4 in the first 7 minutes. Red card and penalty try for a high tackle on #3 at the ten minute mark. Then, number 4 from Redwood was yellowed for repeating high tackles at the 30 minute mark. He then kept talking from the sidelines and I had to warn his coach to shut him up or I would remove him from the rugby enclosure entirely.
Colusa was up 12-0 at the half. In the second half, I yellowed #23 of Redwood for high tackles and then gave him a red after he spent one minute after his high tackle lecture from me, making another one. As he was leaving the pitch because of the red, a Colusa player showed me a vivid bite mark on his back, made by the same player. Each team scored two trys in the second half, giving Colusa the 26-10 win. The Redwood coach kicked his #23 player off the team, after the game. Redwoods #3 actually only made one bad high tackle and was very apologetic about it during and after the game.
Date: 02/17/2018
San Joaquin-Stanislaus RFC 78 – Mendocino Steam Donkeys 33
Referee: Giles Wilson
Winter (?) rugby in California – clear sky, 70+ degrees and the first home game for the Harlots who now have a coach and some new blood in their ranks. One thing that would have been nice would have been if more teams bought the reversible jerseys – these two teams have almost identical kit. Since I lacked a nice matching dark blue, Mendo reversed their jerseys to play as white (no numbers of course – but what 3 player knows their number anyway?).
The field at Northgate Park is in pretty good condition, some gopher holes but nothing too bad. The markings were above average, with clear technical zones and even a score board. The spectators took a few minutes to realize the benefits of being on the sideline with the sun at their back but it all worked out.
Mendo arrived with only 13 players, based on their performance the outcome could have been different if they had a full squad. As it was they ended up playing short for the duration and were well in touch until about 50 minutes.
Things started a bit ominously with one of the new Harlots – "Junior" at 8 man – pounding through for two tries in the opening minutes before Mendo got themselves onto the scoreboard. At 27 minutes, the score was tied at 26. A Mendo sin bin at 33 minutes led to a half time score of 33-26 (Harlots). In the second half, the extra effort of playing short took a toll and Mendo managed a single score against 7 more from the home team. Final Harlots 78 Mendo 33
Date: 02/17/2018
Shasta Highlanders 10 – Central Coast RFC 13
Referee: Scott Wood
Attendance: 3,500
A beautiful day in you-don't-get-much-more-north Northern California. The Beachdogs scored an early unconverted try before Scrumfest 2018 established an exhibition zone. A second unconverted try by the Beachdogs put them up 10-0 prior to the Highlanders scoring an unconverted try of their own.
HT Shasta 5 – Central Coast 10
A significant reducing in scrums in the second half due to improved handling / reduced mistakes / advantage quickly gained. Under penalty advantage, Beachdogs set up and attempted a drop goal which went wide right. They opted for and were successful at the ensuing penalty goal increasing their lead to eight points. With just under three minutes remaining, Shasta was able to score an unconverted try (next practice may include conversion attempts…), reducing their deficit to three points. The Highlanders were able to regain possession; however, their efforts ended with a knockon into touch.
Kudos to both teams for the match and the Highlanders' award winning chili at the social.
Date: 02/17/2018
UC Santa Cruz B 15 – Univ Nevada Reno B 42
Referee: Larry Freitas
Scotsman Shouting At The Referee: Neil McDonald
This was another warmer than normal Saturday in this rainless February so far. UC Santa Cruz II hosted Nevada Reno II after the first team match ended. The game was scoreless for the first 17 minutes and I figured that this would be a close match. Then Reno scored a try by getting the ball out to their right wing Brent Hererra, the conversion kick failing. Some six minutes later the loose head prop for the Wolfpack, Mika Somers, would score a try from close range, using his bulk to muscle his way over the goal line. At 29 minutes of play a UCSC player shoulder charged a UNR runner. I had already warned the home side about their tackling, so the player was yellow carded by me, and would be on the bench basically for the rest of the half. Another try by Somers followed at 38 minutes. With time running out UCSC finally put some points on the scoreboard when Alvaro Vasquez broke free on a long run. the halftime score was UNR 15, UCSC 5.
In the first minute of play, after UNR kicked off for the restart which failed to go the required 10 metres, UCSC, now at full strength, took the set piece option on the halfway line, and the ball got spun out to the right, eventually into the hands of speedy winger John Kim, who raced away from the cover to score. Now the home team was only a try and a conversion away from taking the lead. It was not to be. At 46 minutes flanker Nick Taylor of the Wolfpack scored a try under the posts, finally converted by the flyhalf who had been either close or way off in his previous conversion attempts. That try was followed up 3 minutes later by Keaton Richards. The floodgates appeared to be opening. At 57 minutes, with Reno taking a tap penalty from the five metre line, prop Somers would score his third try of the match. From the restart kick Reno would score again, with center Ed Ferrigno breaking through attempted tackles to dot down, again the conversion missing. One more try for the Wolfpack was scored five minutes from time by Jacob Bourgault who took off on a long run that covered over sixty metres. Before the no side whistle Marcos Gonzalez would get a consolation try for the Slugs to end the match.
UCSC had a few opportunities in the second half when they pinned Reno back to their goal line, but some sloppy play cost them points, such as when a tap penalty was given, with UCSC trying to score from the Reno five metre line. The ball carrier ran into his teammate for the accidental offside offense. Reno cleared their lines following their put in at the set piece. Overall the game was played as a friendly, with both teams showing a lot of sportsmanship and with some humourous commentary from time to time, especially about Reno's failed conversions. This was my first men's match in awhile, and I thoroughly enjoyed it, even if I had to hoof it a bit more up and down the pitch, though not to imply that there aren't some very fast women college or club players. I want to thank Neil McDonald for his advice from the touchline as well.
Just as an aside I took a crack at stand up comedy later that evening down in Monterey. I have never taken a class, and didn't really prepare, but I got more laughs than three comics out of the seven who performed. The funny thing is that the owner of this small theatre, after introducing me as Denis (I used my middle name) Freitas, a retired teacher and rugby referee, then announces to the crowd that she played women's rugby in the past, as a lock for a club in Cleveland. I went into a monologue, with no planning, on the game, and the difference in the men's and women's game, even the size of shorts worn, joking a bit about how at 63 it's a little more of a physical challenge to ref a college men's match. It got some laughs, along with another bit I did on a former teacher of mine in high school! One other comic on stage was a former UNR women's player. I guessed she played prop and I was right. I might do stand up again, but I'll take a class first.
Date: 02/17/2018
CSU Monterey Bay 14 – Santa Rosa JC 27
Referee: Paul Simko
No Report Received.
Date: 02/17/2018
Humboldt State 31 – Univ San Francisco 17
Referee: Peter Sandhill
Thanks you weather gods for giving us another NorCal sunny day for rugby in the maw of winter. The fields were nicely marked and the sky blue, perfect conditions. University of San Francisco, USF, arrived with 16 players hence few replacements; luckily they had six who could play in the front row.
The game started in a flurry with some hard running and tackling. The first twenty minutes, however, were characterized by a plethora or (material) tackle and ruck infringements from both teams: hands-in, side entry, diving-in, not rolling or releasing. I was concerned it was going to be a long day so I called both forward packs in for a brief chat. Immediate response and cleaner ball ensued. The first half was fairly close with Humboldt scoring once and USF scoring twice to lead at halftime 12-7.
A different Humboldt team emerged in the second half playing wide, with quicker distribution to the backs, in general, with their outside center making some line-breaking runs and scoring two tries in quick secession. All of a sudden Humboldt were on the front foot and in the lead. USF scored a try again and with the scores now at Humboldt 26 – USF 17 the intensity rose for a brief period. USF seemed to run out of gas, however, possibly due to lack of replacement options. Another try to Humboldt and they were up 31-17 (the final score) and played hard until the final whistle. To USF's credit, they didn't give up and were attacking the line right to the end, until a final knock-on ended play.
Addendum: Humboldt State is a 5-6hrs drive north from the Bay Area through some of the most beautiful, lush country that includes mountains, rivers, flatlands, estuaries, forests… and then there are the Giant Redwoods. I encourage referees to travel north, at least once, to enjoy the beauty of far Northern California and some good rugby.
Date: 02/17/2018
St Marys College C 136 – Pacific 0
Referee: James Fonda
Beautiful day in Moraga. St. Mary's C vs UOP. Teams were very disciplined throughout the whole match. They just played rugby. St. Mary's out classed UOP but UOP never gave up and kept fighting no matter the outcome. In the 65″, a tackle from behind by a St. Mary's player led to a potential bad injury. Time was off. In the 72″, St. Mary's player 12 was yellow carded for dangerous tackle. Great match, though but a lot of running with so many tries.
Date: 02/17/2018
St Marys College B 45 – San Jose Seahawks 47
Referee: Paul Bretz
Throughout the week I was looking forward to officiating St. Mary's 2nd side against San Jose Seahawks; I was not let down. As anticipated San Jose was much more physical in the first half and took control of the pitch leading by as much as 10 points going into intermission. I assumed that fitness combined with the size of the pitch would control the second half and as anticipated, St. Mary's came from behind and went up by 18 points in the second half. However San Jose's fitness was not an issue and with 10 minutes to go San Jose started coming back. With 30 seconds to go San Jose got ball in hands and immediately spun it out wide where the Seahawk wing went 70 meters to score in the corner to tie the game 45-45. I advised the kicker that he has his choice: He could hurry the kick and we would have a restart or he could take his time and the game would conclude in either a tie or the win. The kicker opted to take his time and made a successful conversion kick winning 47-45.
Congratulations to both teams. Lessons learned from this friendly will surly play dividends for both teams down the road.
Not a bad day of rugby. Got to referee coach my son, Run AR for the BYU V. St. Mary's A side, and referee.
Date: 02/17/2018
Fresno State 26 – Sacramento State 39
Referee: Dan Wilson
Fresno State v Sac State turned out to be much more entertaining and competitive than anyone, including the Fresno State coaches thought. Sac State jumped out to a 22-0 lead in the first quarter, but Fresno State turned the pressure defense up and put Sac State under constant pressure. This pressure resulted in a converted try in the 36th minute and almost one more before halftime. Halftime score: Fresno State 7 – Sac State 22. The second half start was as the first half finished with Fresno State pressuring both offensively and defensively. Fresno scored two tries within the first 10 mins but Sac State was able to right the ship and hold the pressure for the final quarter. The teams traded tries but Sac State was able capitalize on some little slips from Fresno and scored two more. Excellent game to referee. Final Score: Fresno State 26 – Sac State 39.
Date: 02/17/2018
Cal Women 46 – Humboldt State Women 65
Referee: Robert Hammack
HSU got off to their typical fast start with a strong recycling, possession game from the forwards and very powerful running from their backs (especially their hard-running #13). Cal never backed down but fell off of too many tackles in the first half. HT 41 – 12 to HSU.
2nd half started off with Cal scoring 3 quick tries and the match started to have the feeling of a tale of two halves. However, HSU was up to the task and countered with several tries of their own, several against the run of play. It was a back and forth 2nd half but the lead proved insurmountable for Cal. Well-played and skillful match played in good spirits and sportsmanship. FT 65 – 46 to HSU.
Date: 02/17/2018
UC Davis Women 34 – Stanford Women 36
Referee: Jessica Turner
Another beautiful day for rugby in Davis! This time there was no wind and nothing but action during this tightly contested match, with the Stanford women at UC Davis. From the first to the final whistle, the entire match was back and forth. Both sides played very strong and intelligent footy, matching try for try on the scoreboard. It was a great match to be in the middle of, both sides displayed excellent discipline overall, which helped the management and flow stay at a maximum. There was a good mix of strong forward play from both sides, with their backs outshining them just a touch. Many of the tries from both sides were set up from brilliant individual effort, with some great vision from the backs from both sides. As promised, the excitement carried on until the very final whistle, with UCD scoring a try with no time left and Stanford held their breath while waiting for a conversion attempt wide left of the sticks. The kick was short and with a sigh of relief, the visitors held on for a tight 2 point win.
Date: 02/17/2018
Jesuit High School Rugby Club 10 – Mother Lode Rugby Football Club 37
Referee: Andrew Stockton
No Report Received.
Date: 02/17/2018
Marin Highlanders Rugby Club 22 – Lamorinda Rugby Football Club 39
Referee: David Pescetti
In a high school match that pitted east bay vs north bay; Lamorinda met Marin. Classic size vs speed matchup. Lamo with the size. Marin with the speed. The first half saw Lamorinda lead, taking advantage of a Marin binned player. Scoring twice in that time frame. Before the Marin error, we were playing an even match with both teams responding to the scores. Into the half Lamo led Marin 22 – 12.
The second half had an uphill battle. Temporarily a man down, and 10 point behind. However they held strong during that time and kept themselves within reach. Marin caught a break when, with twenty minutes to go Lamo went, permanently, a man down. 10 points. 20 minutes. Momentum was in their favor. However Lamo was able to overcome that disadvantage and place a converted try to extend their lead to 17 with 15 minutes left. Gritting their teeth, with the last 10 minutes Marin found their feet. Scoring and then scoring off the kick off possession. The quick strike brought them within 7. Five minutes remaining. Marin looked like they had the game given the momentum and advantage. But it looked like they used their last gas in the tank for those 2 tries. Lamo, stunned them by, off the kickoff, scoring. Making the game effectively out of reach for Marin.
Wonderful match by both side. Marin 22 – Lamorinda 39
Date: 02/17/2018
Peninsula Green Rugby Club 21 – San Francisco Golden Gate Rugby Club 61
Referee: Preston Gordon
On yet another perfect day for rugby at Sequoia High School, SFGG's top tier U19 team was dominant over an enthusiastic Peninsula Green team. SFGG took two minutes to score their first converted try of the game, adding 4 more before halftime to lead 35-0 at the break. The second half started much the same way as the first, with a quick SFGG try, except this time the hosts got themselves on the scoreboard 5 minutes later with a well-worked converted try. At 40-7, the contest was perhaps over at this point, but the second half was a lot more balanced: 4 SFGG tries to 3 for Peninsula Green, who accomplished that while having 2 players in the sin bin for dangerous tackles in the second half (with a 6-minute overlap). The kickers on each side also did a great job with the conversions, missing only 1 out of the 12 in the aggregate. All in all, a fun game to ref.
Upon being asked, and finding out there was nobody else suitable and available, I took on the B side game as well. This one was played mostly by younger players, most of whom seemed to have plenty of experience doing things other than rugby while on the field. After 1 yellow card to a SFGG player for a dangerous tackle, and some additional post-breakdown activity, a brief but intense directive to both captains put an immediate stop to further nonsense. Each team went on to score one try in the first half (7-7), and in the second half SFGG added 3 more to win it 24-7.
A brief recommendation for a post-match meal if you're in the area: Gourmet Haus Staudt, 2615 Broadway, in Redwood City. They've got excellent potato pancakes and other German food/drink selections in a pub and gourmet shop.
This Week's Photo
Pelicus Tempus Procurator was deservedly appointed as AR for the USA Canada match in Sacramento and was caught reacting in the most English way possible to a dirty joke told by the referee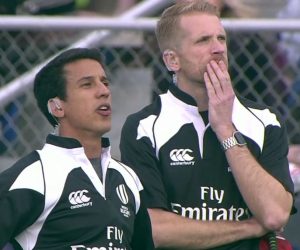 Hail, Pelicus!
For the Senate
Pelicus Pedem Referre