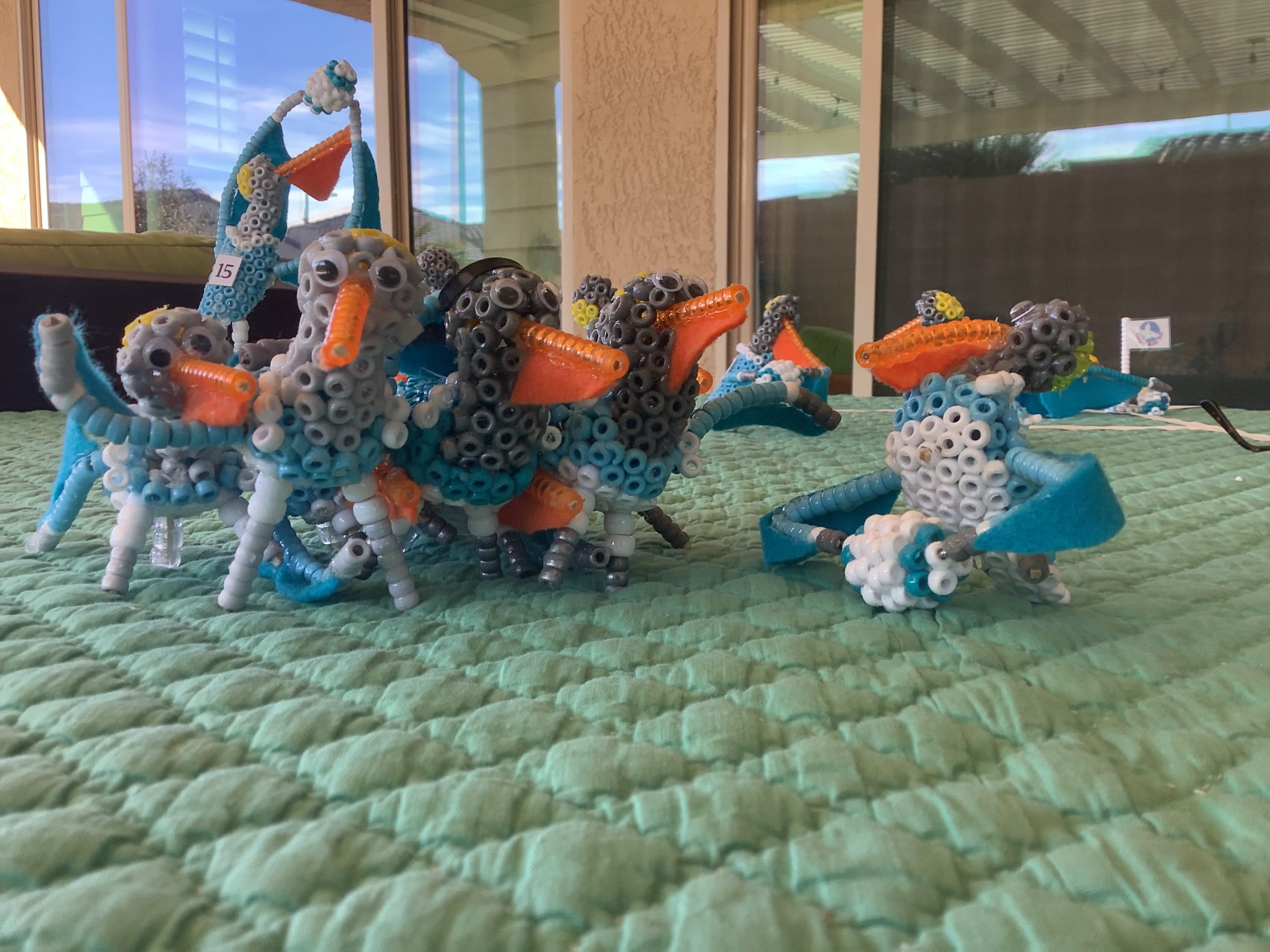 HAIL PELICUS!
I have for some time pondered how to restart and re-introduce Hail Pelicus to my faithful readers. I toyed with a Shining reference: "Heeeeeeeere's PELICUS!"; an homage to 70s hard rock titans Thin Lizzy with a rewrite of "The Boys Are Back In Town"; and I even went with the blindingly obvious hibernation metaphors and references to Rip Van Winkle (note to self, pelicans don't hibernate); but I settled on the image of a phoenix rising from the ashes. No, Hail Pelicus didn't perish and get reborn (New and Improved! With 20% more wit and humor at half the calories!) but the image is just so darn dramatic I couldn't resist.
So here we are…. deep in the California desert… an intelligence, barely hanging on to something, anything slumbers, waiting, waiting… and then the heat starts to penetrate. Warmth. Life. Striving. Living. Loving. RUGBY! With a great explosion sending flames into the desert sky the Pelicus Phoenix is born, spreading its fledgling wings wide and crying out "SEMPER BONUS AVIS!" as the sun shines on its magnificent plumage. With a mighty sweep of its wings it takes flight… returning with a beak full of water to put the flames out because the last thing we need in California is another wildfire. And then! Soaring into the sky with the majesty of generations giving lift to its wings, the Pelicus returns home, to Pelicanland. Northern California. Oh how we have missed you, my friend.
Much better than an old fart slowly waking up from a long sleep, yes?
The Only Constant In Life Is Change
Duping the COVID shutdown most everyone was sitting on their hands and trying to make sourdough bread or learning to knit of something similar. We here at Hail Pelicus kept ourselves busy by leading the Dallen Stanford Crack Metaphor Team and busy we were. Don't be fooled by Dallen's friendly and congenial on-screen persona – he is a brutal and abusive taskmaster who kept us working upwards of 100 hours a week in conditions to rival a Victorian slaughterhouse. This was beyond Dickensian, but I, for one, was happy for the work. Sadly, not all of the crippled children that Victorian law required were able to survive the winter. We will miss you, Little Timmy. God bless us, every one, indeed.
World Rugby thought about what to do during this down time and decided that it was time to make a few law adjustments… again. This is one of the parts of our fine game that I generally enjoy and approve of – the game evolves with the times. When I first started playing a try was worth 4 points and you went to ground on the wrong side of a ruck at your own peril. Similar stories can be heard from club alumni and supporters worldwide. ("Remember when scrums used Crouch Touch Pause Engage?" "Ha! I remember when there was no call and you just bound up and went at it!") In general World Rugby (née IRB) have gotten it right and we now have a more open and flowing game than 30 years ago. Not always, though, as there are some changes I never liked such as the "one man ruck" nonsense that was put in place because England looked silly against Italy once.
In any case there are four new laws that have been introduced and are currently in effect . They are, in no particular order…
50-22

The Law: If the team in possession kicks the ball from inside their own half indirectly into touch inside their opponents' 22, they will throw into the resultant lineout. The ball cannot be passed or carried back into the defensive half for the 50:22 to be played. The phase must originate inside the defensive half.

The Intention:  To encourage the defensive team to put more players in the backfield, thereby creating more attacking space and reducing defensive line speed.

The Effect On Rugby In Northern California:   None.  Nobody seems to know how to kick any more these days

Goal line drop-out

The Law: If the ball is held up in in-goal, there is a knock-on from an attacking player in in-goal or an attacking kick is grounded by the defenders in their own in-goal, then play restarts with a goal line drop-out anywhere along the goal line.

The Intention:  To encourage variety in attacking play close to the goal line and to increase ball in play time by replacing a scrum with a kick that must be taken without delay. An opportunity for counter attack is also created.

The Effect On Rugby In Northern California:   Vast confusion amongst players who didn't bother paying attention during the COVID break and now want the referee to explain all the new laws while the game clock is running.

Flying wedge

The Law: To sanction the three person pre-bound mini-scrum by redefining the flying wedge, allowing only one supporter to pre-bind on a ball carrier.

The Intention:  To reduce number of events where the ball carrier and multiple support players are in contact (latched) prior to contact, and to protect the tackler who can be faced with the combined force of three opposing players.

The Effect On Rugby In Northern California:   Minimal.  99% of the time forwards will pick and go off a ruck without any support at all.

Cleanout and the safety of the jackler

The Law: To introduce a sanction for clean outs which target or drop weight onto the lower limbs.

The Intention:  To reduce injury risk to the player being cleaned out.

The Effect On Rugby In Northern California:   Massive.  Once forwards realize that they can no longer flop onto someone's legs attempting to "ruck" and backs realize they can't target a jackler's knees chaos will ensue.
Restarting Rugby
Here we are, finally in a regular season again. The rugby landscape has changed dramatically as COVID left its scars across our community. Many people lost loved ones and we have all had to deal with the existential dread of a silent, invisible killer running amok in the world. The Nor Cal rugby landscape has changed dramatically as well and it will take some time to recover. Strong clubs withered and some folded outright. The only club team I can think of at the moment that is fielding a B side is Life West – all the other established, "big" clubs that had sides in multiple divisions – SFGG, San Jose, Olympic Club – they have all been reduced to a single team. They will rebound, I believe, but there is work to do and hope on the horizon. Hope, you say? SFGG lost a women's side, true, but another one popped up in Fresno. Aptos is gone but East Palo Alto has returned. The college scene looks to be as strong as ever with the California Conference as competitive as I have ever seen it. MLR is back and seems to have survived the worst. We have all survived the worst that COVID could throw at us and we are still here, ready to play rugby again. It brings a tear to my eye, really.
Pelican Education
Tim Lew has done a sterling job keeping the scheduled Society meetings going via Zoom during the pandemic and as such none of the Pelican Referees have been surprised by anything , especially the new law trials that are in effect. We do have our February meeting coming up, so please make time to join us. We have a packed agenda including: 2022 season updates, Assgnr, Advantage, and new laws.
February NorCal Ref Training
Wednesday 2/16 at 7p
Join Zoom Meeting
https://us02web.zoom.us/j/81184655106

Meeting ID: 811 8465 5106
One tap mobile
+16699006833,,81184655106# US (San Jose)

Dial by your location
+1 669 900 6833 US (San Jose)
Red and Yellow card reporting
Our noble leader, Pelicus Caledonius has asked that all red and yellow cards be reported to him directly.
Seriously.
Apparently the previous Google Forms link on the pelicanrefs.com site is having some issues, so please:
Report any cards you issue to neilmacdonald@pelicanrefs.com by email ASAP. For each card please give the following information:
– player name
– player team
– player jersey number
– player CIPP
– Law # cited
– One sentence description of what the card was for, of the form: "In the Xth minute of the match, <player name> wearing <jersey color and number> <did xxxx> and received a <yellow/red> card under Law <xxx>.
We must have these cards reported to the union or competition organizer quickly to respect the disciplinary process timeline.
Pelicus Reminit
(EDITOR'S NOTE: Pelicus Scriptoris, aka Dr Bruce Carter, has kindly offered to be a guest columnist for the New and Improved (Now with 100% of the daily recommended allowance of fiber!) Hail Pelicus. As he is a better writer than I am and I am fundamentally lazy, I immediately agreed. Here is the first installment.)
When I was chairman of the NorCal society I got an email from a ref in Sydney who was going to be touring the West Coast with his wife. He wanted to know could he get a game on a particular weekend in the Bay Area, anything would do.
Whenever I got email like this I checked the ref's bona fides before responding. All refs misrepresent themselves as being higher-rated than they really are, just as all pilots and surgeons truly consider themselves to be the best. This guy was my counterpart, the chairman of the acknowledged best rugby referee society in his country. He was a little over the hill himself but had done first-class games about five years before.
It was perfect in one way: there was a women's tournament at Stanford that included three of the top ten teams in the country. He would be ideal for a challenging women's tournament: you don't have be a spring chicken to keep up with almost all of the women and they really appreciate and benefit from having top-flight experienced refs. I was going to be there as well and could meet him. Otherwise, me always reffing somewhere meant I often couldn't even meet visiting refs and this was a guy I wanted to meet out of collegiality.
However, it was imperfect in another way: tournaments last 6 – 8 hours, as opposed to games of eighty minutes. I've had enough experiences with rugby wives who thought they were on vacation in the most exotic and unlikely locations only to find out that there was a rugby game miraculously around every corner with the boots and whistle 'luckily left in my bag' to know how this could play out for the poor guy.
I figured he knew his marriage best. He had the option of a really good game elsewhere for an hour and half, more or less solo, or a chance to work with a bunch of us all day long.
Early one Saturday morning I met them at Stanford. He was a guy with a paunch held up by twenty years of experience doing some of the top players in the world. She was a friendly, vivacious and assertive lady (well, duh, Australian). Sure enough, right away she wanted to know how long the event would take. From a rugby-friendly perspective that query would instead be how long will it last.
When I told her she asked, "Is there anything cultural around here?"
I enquired as to her preferences.
"Modern sculpture."
(Pointing to Campus Drive) "If you walk down that divided boulevard, as it goes to the left you'll see a Rodin sculpture garden on your left. You can't miss it. It's not a ten-minute walk from here. The museum, which is free, probably won't be open for an hour or so. It has 199 Rodins, the most outside Paris. You won't mind the wait because a lot of them are outside in the garden."
It eventuated that he had refereed another tournament in some culturally-deprived region of SoCal (but I repeat myself) (I kid – I love the Getty) both the Saturday and Sunday before. He testified that I saved his marriage and insisted on flagrantly abusing the rugby host-guest obligation by paying for my dinner and drinks.
– Pelicus Scriptoris
On To The Game Reports!
During the pandemic shutdown there were obviously no game reports. USA Rugby went bankrupt and the contract with WhosTheRef expired, much to the joy of one Pete Smith, so we had no official system to write match reports in even if there were matches. Well that has changed – we are back on Assignr and there is a rather convenient match report feature that has been built in. Details on how to use it will be provided at the February Pelican meeting but feel free to try it out yourselves. Just please DO NOT USE THIS FEATURE TO REPORT CARDS. Yes, there is a space to report cards but we don't use that – see above for card reporting.
I would like to thank the stalwarts who were sending me match reports directly when things started opening up in the summer and fall. Giles Wilson in particular sent several match reports and I appreciate the effort but until now there was no format to publish. Please keep them coming, but through Assignr.
Date: 12/04/2021
Berkeley All Blues Women's D2 33 – Tempe 34
Referee: Lane, John
An excellent venue from my perspective being less than 2 miles from home!!! I arrived to two squads already warming up on the Leland HS football field which like all HS fields is multi-sport lined. A few minutes chat sorted out the football, soccer and lacrosse color codes and both teams (and myself) understood which combination made up the rugby field!!! What followed was an entertaining game from two committed and relatively evenly matched sides. Tempe opened well but after an initial series of attacks turned over possession with The All Blues crossing for an unconverted try for a 5-0 lead on 3 mins. In what turned out to be a recurring theme, All Blues dropped concentration after the score and quickly conceded for the game to be tied up at 5-5 (5 mins). Having conceded they got back to work quickly and crossed to regain the lead and converted well for 12-5 on 8mins. Tempe dominated field position for the next 10 mins and crossed for an unconverted try on 12 mins followed by a converted try to lead 12-17. Slightly against the run of play All Blues regained the lead with a converted try after an intercept which was run in from 75 metres. 19-17 on 25 mins. Tempe regained the lead with well a worked blindside series of plays. Unconverted. 19-22 on 31 mins. This was the final score of the half as both sides tired towards the end of an active first half. The coaches half time chat impacted the second half as both sides tightened up their structures and built some excellent phase play in a slightly lower scoring second half. Both sides played good rugby but failed to capitalize until the 66th min. The All Blues scored a well worked score and converted to regain the lead. 26-22. As earlier in the first half they did appear to lose concentration and the strong running Tempe center was allowed a soft line break for a converted score on 31 mins. 26-29. The All Blues built up pressure for the next few minutes and stretched Tempe's defense across the field. This eventually resulted in a converted score for a 33-29 lead on 77 mins. the All Blues defense failed to contain Tempe's drive for a final score and an unconverted try had Tempe in from 33-34 on 39 mins. Tempe controlled the last minute of the game to close out the game and take the narrow win.
Date: 12/04/2021
Fresno Golden Dogs 35 – Kern County 21
Referee: Farhangdoost, Ardy
Fresno did not have uprights for the goal posts. So teams decided not to kick for conversion. Kern came out hard scoring the first try and quickly scored again. Towards the end of the first half, Fresno was able to score and end the half without a shut out. Second half Kern player a man down due to injury. In the 16th minute, Kern player made no attempt to intercept the ball from Fresno and just blocked the ball. He was sent off with a yellow. Two minutes later another Kern player intentionally knocked the ball forward and continued to play the match with only 12. Fresno managed to score. The players start to cramp up and the match ended two minutes early.
(EDITOR's NOTE: If there were no uprights for goal posts, how did Kern score 21 points?)
Date: 12/11/2021
Baracus Men – Fresno Golden Dogs
Referee: Hill, Brian
Was actually a set of matches, of which I refereed 2. Players on all three teams I interacted with played well and despite a couple of instances of heightened emotional intensity, there was no misconduct or egregious problems on the field. As players got tired, there were increasingly messy tackles and rucks, but nothing outside the normal ranges of fluctuation and they made corrections as needed once penalized or spoken to. Overall, the attitudes were good and complaints were minimal, leading to a good event for all involved.
Date: 12/11/2021
Sacramento St Women 0 – San Jose St Women 127
Referee: Akroyd, Philip
Bit one-sided really, but my 8-year-old son ran touch for me, which was great!
Date: 01/22/2022
San Jose Seahawks Tournament
Referee: Hinkin, James
A fun preseason tournament featuring San Jose, BA Baracus and Diablo Gaels. Each team put out a variety of players to try and get as many back into rugby mode as possible. Pete Smith did the first 3 periods and I did the last 3. The final match ended perfectly with a intercept try for a nice 80M blowout sprint to put an end to the day.
Date: 01/29/2022
UC Davis Men 50 – University of Oregon 24
Referee: Akroyd, Philip
Oregon made the trip down for just one game and they showed some promise, winning the second half by 14-24, but unfortunately for them, they started the first half a little cold. Ultimately, they lost 50-24, but Davis is progressing nicely and playing some nice attacking rugby.
Date: 01/29/2022
San Jose St Men 17 – UCSC Men 57
Referee: Hinkin, James
The 2022 league season started off with a postcard perfect day at UC Santa Cruz where the visiting Spartans of San Jose St took on the Banana Slugs of UC Santa Cruz. The sides were eager to get the season off to a strong start but it soon became apparent that San Jose St was in for a long day. UCSC dominated from the opening kick and the Spartans had very little answer to the pressure. This first half was a try fest as UCSC scored 7 unanswered tries (5 converted) to open up a 45-0 lead at the half. Sloppy tackling led to a pair of yellow cards for the visitors as tackles got high and dangerous, which added to their woes. The first half did see some of the new laws in play along with the old laws – I had both a 22 meter drop out and a goal line drop out. Each of these drop outs were memorable. The 22 meter drop came after a missed shot at goal by UCSC (yes, that is one of the ways we can still have a 22) and the San Jose St captain tried to dink a short kick and recover it himself – not a bad play but countered by a genius level play. The closest UCSC player was a prop who smartly did not try to pick the ball up (had he done so he would have been immediately tackled and a good chance at a turnover as he was isolated) but instead calmly kicked it back to his fullback who easily fielded the ball with time and space. That was some quick thinking. The goal line drop out was possibly more memorable as San Jose St finally got some quality phases together only to be held up in goal. The UCSC hooker who took on the kicking duties kicked a nice, high, long drop out that was sailing out of bounds on the full until the (rookie) Spartan left wing "saved" it and kept the ball in field. The UCSC chase was hot on the ball and turned it over, racing downfield only to be denied a sure try by a knock on. Once the whistle blew for the knock on one of the veteran players explained to the rookie how he had just given away an attacking SJSU 5 meter scrum. That will be a lesson he won't forget soon.
The second half was a much slower affair as San Jose St started playing a little more cohesively and UCSC took their foot off the gas. About 20 minutes into the second half Santa Cruz did a full line change – all 8 subs at once, something I had never seen before – and the game started to swing in the Spartan's favor as the level of play from the home side dropped considerably. This inexperience was evident with the 3rd (and final) yellow card of the match for a high tackle, this time by UCSC. Three well-earned tries (1 converted) in the last 15 minutes (with the man advantage for the last 8 minutes) made the score more respectable for the visitors. All in all a good, clean game of rugby at one of the most beautiful settings in USA Rugby.
Date: 01/29/2022
Chico St Men 37 – UN Reno Men 8
Referee: Hill, Brian
The match was contested far more evenly than the score suggests, and was in fact tied at 8 at the half. The two teams aggressively contested at the breakdowns with frequent, clean poaches, making for an excellent back-and-forth in possession throughout the match. Chico State was more consistent with their open play, while UNR had the advantage in set pieces for most of the match. Despite the overall balance in play between the two teams, Chico's open play helped them finish their attacks throughout the second half, resulting in the lopsided score. Both teams played with good discipline and almost no dangerous play, with the exception of a couple accidental high tackles and the one Yellow Card shoulder charge. The most frequent penalty was "not releasing" against the ball carriers, which was unsurprising with so many poach attempts. Both teams maintained a fairly good attitude throughout the game and the few audible complaints were kept to a dull mutter. Both captains struck a good balance of talking about perceived issues without overstepping any lines.
Date: 02/05/2022
Berkeley All Blues Women's D2 33 – Sacramento Amazons 10
Referee: Whysall, Lawrence
Great mild weather set the stage for a great return to league play between two motivated and skilled teams.33 (5 tries) – 10 (2 tries) In loose play and in terms of skill, the two teams were fairly evenly matched, especially in the opening half where the teams entered the break with Berkeley at two converted tries (14), Sacramento with two un-converted tries (10).Berkeley's tries were more manufactured, a product of the teams processes and phase play, where Sacramento's were opportunistic and a product of some superb individual plays. The main difference in the game was the scrum, this had the feel of the 2019 World Cup final where England (Sacramento) were under pressure all game at scrum time from South Africa (Berkeley). If you cannot win clean ball from your own scrum, it is hard, nigh-impossible – to win. This was especially apparent as the game wore on into the 2nd half – fitness was tested – and errors (knock ons + scrums) – were more common. At one point, there were so many knock ons – a 4 yr old boy was heard from the sideline yelling "I want to see more running!!" (This was my 4 yr old son). As if on cue from the 4 yr old, the game began to open up, but unfortunately for Sacramento – Berkeley kept on finding their way through for 3 beautifully worked tries in the 2nd half (though 1 was an intercept).Great game, pleasure to referee two teams motivated and excited to return to rugby. Other notes Estuary park could do with some rugby posts though (rather than football), and some paint for the goal-line, but that's a different matter… tape was laid down to help. The first try was a surprise for both teams, as no-one was sure where the goal line was :). Of note, on the non-spectator side of the field, outside of the fence, there was a heroic man with a small dog, retrieving all the balls cleared to touch over the fence, with some spectacular return kicks+throws. With regards to the new laws: Unfortunately, we had zero goal line drop outs. 1 pre-bound catchers. There was ALMOST a 50/22, but the kicker had carried it back over the 50 from the breakdown prior to kicking. We had no unsafe clear outs of the jackler (both teams contested the ruck well, and responded well to the referees prompts).
Date: 02/05/2022
Cal Poly SLO Women 17 – Santa Clara Women 40
Referee: Fuller, Morris
A blustery late morning at SLO was the setting for this match. Santa Clara scored first but Poly were able to reply with an unconverted try on their left-hand 15 meter line. However, Santa Clara dominated the remainder of the half, notching up two more converted tries, one with a remarkable touchline conversion given the wind. Poly got one more in the corner at half time making it 21-10 at the half. However, the second half was a more one-sided affair, with Poly suffering several injuries and eventually running out of substitutes, playing down one for about 10 minutes. Santa Clara's attack was more fluent throughout and they had a number of clean breaks around the 13 channel which turned into tries. Cal Poly on the other hand struggled with ball in hand, through their own errors and great defensive pressure. They managed a final consolation try after full time, after a Santa Clara player had been sin binned for repeated infringements in the 22. Full time Santa Clara 40 -17 Cal Poly.
Date: 02/05/2022
Chico State Women 5 – UC Davis Women 46
Referee: Fleener, Clinton
The first league game for the UC Davis and Chico State Women's rugby programs. Both sides had lots of new faces that hadn't played much if any Rugby in two years, but Davis had nearly twice the numbers of the home team. Fast and aggressive Davis was able to exploit their talented wings and take control early. Chico answered back, charging down a kick and touching it down for the try but as the game moved on Chico just did not have answers for the explosive speed and maneuverability displayed by the Davis women.
Date: 02/05/2022
San Jose St Men 12 – Chico St Men 42
Referee: Moore, Stephen
I came into this match with low set expectations about my performance not having refereed for two years. I came out feeling satisfied and recognized a few areas to work on. It was a spirited match but a runaway for Chico. Both sides gave it their all, however, but with SJ starting with 14 players and deliberately holding out subs, and up against Chico with a full squad of twenty-three, it was never going to be easy for SJ. I commend both teams for their full steam ahead efforts nonetheless, and Chico in particular for greater discipline. I really appreciate the gratitude the players and their coaches showed towards me at the final whistle. Man, I love rugby, it's great to be back again. Thank you
Date: 02/05/2022
Fresno St Men 66 – Sacramento St Men 14
Referee: Arballo, Andrew
This game was an interesting one. Fresno state having a few absent players had to start many player out of position. Sacramento looked athletic but wasn't able to keep up with the experienced Fresno State side. Sacramento was able to capitalize on two major mistakes coming from Fresno State when they were put under pressure. A beautiful kick over the top of Fresno State's defensive line put the ball into Fresno's in goal. Instead of grounding the ball and going for a goal line dropout, Fresno attempted to catch the ball put an unlucky bounce resulted in the ball going in-between the player's legs when an eager Sacramento player grounded it without delay. A second mishandled ball from a Fresno State 5 meter lineout resulted in Sacramento's second try of the game. Sacramento was eager for contact and met Fresno's physicality however fell short to Fresno's experience back line.
Date: 02/05/2022
Sacramento Rugby 29 – San Jose Seahawks Men 30
Referee: Tucker, Chris
0-17 at the half, looking like one-way traffic. Happily for the game, Sac filled the holes in their porous midfield, found some space out wide, and the game became end-to-end. 2 goal line drops for held up (neither taken properly, resulting in scrums), one goal line penalty inches from the line, one knock on into goal, scores galore and a game played for the last half hour at a vigorous simmer, all made for much greater spectacle and fun for all concerned. A point in it seemed a fair result, and would have been just as fair had it been the other way round.
Date: 02/05/2022
UCSC Men 71 – UN Reno Men 0
Referee: MacDonald, Gregor
The game opened in a pretty competitive manner, with UNR having two makable penalty kicks, but unfortunately missed them, and it all collapsed from there, with UCSC quickly jumping out to a more than 30 point lead at the half. In the last few minutes, after racking up a penalty and team caution for penalty high tackle, one of the UNR players was carded as the result of a third high tackle offense.
Date: 02/05/2022
Vacaville Men 52 – Berkeley Men 14
Referee: Akroyd, Philip
First game back for both teams for almost two years, and everyone was ready to play. I was expecting a potential for many knock-ons and an abundance of errors, but the first phase of play went on for about four minutes without any stoppages. Vacaville nosed out an early lead with some excellent back moves, and Berkeley fought back with a couple of tries to make it 19 – 14 at half. Whether it was fitness or just more polished movement outside the 10/12 channel, Vacaville was able to push themselves upfield time and again in the second half, and really put the game away halfway through the second half.
Date: 02/05/2022
Cal Poly SLO Men B 78 – Santa Clara Men B 0
Referee: Cappellano, Paul
Good weather for rugby…Field in good shape, well-lined…Much inexperience on SC side, 1st match out of the box for many…vices included not rolling away and high tackles…after three not rolling away, two not-ten penalties were called in a row…the latter offense was after a warning, so team yellow card…#7 sent off for a regular penalty offense at the end of a series…I had a chat with Captain Jack and the Bronco B's settled down and worked hard to limit aforementioned transgressions.
Date: 02/05/2022
San Jose St Women 89 – UN Reno Women 10
Referee: Carbone, Nick
The game was played in very good spirits and in excellent conditions. Some SJSU players were very fast and I'm not. Score at HT was 53-10. Due to score, numbers (only 15-no subs), fatigue and players carrying slight injuries from previous week and the match today, the UN Reno Women's captain requested an end before full time. The SJSU Women's captain agreed and the match ended after 74 minutes.
Date: 02/05/2022
Cal Women 5 – Fresno State Women 14
Referee: Bertolone, Cary
A beautiful day on Treasure Island, absolutely no wind. First game of the year for both teams, they were largely evenly matched, Fresno State dropped the ball trying to score on two occasions, but the game was tied 0-0 at the half. In the second half, Fresno put together a couple of long runs, one by their speedy outside center and they scored 8 minutes into the second half, making their conversion, to boot (pun intended). Keeping the game close, Cal put several phases together and scored a try 6 minutes later, making it 7-5. Super close game, until, on the 75th minute, Fresno broke through for another converted try. Cal spent the next five minutes trying to put one over, coming close a couple of times, but the game ended 14-5, Fresno State. Both coaches were great, no cards, nothing even close to a card, they all appeared to have a great time.
This Week's Photo
Pelicus Scriptoris has added a new talent during COVID and is now producing high quality art nearly full time. Have you ever wanted to see what a pelican scrum looked like? Well here is your chance.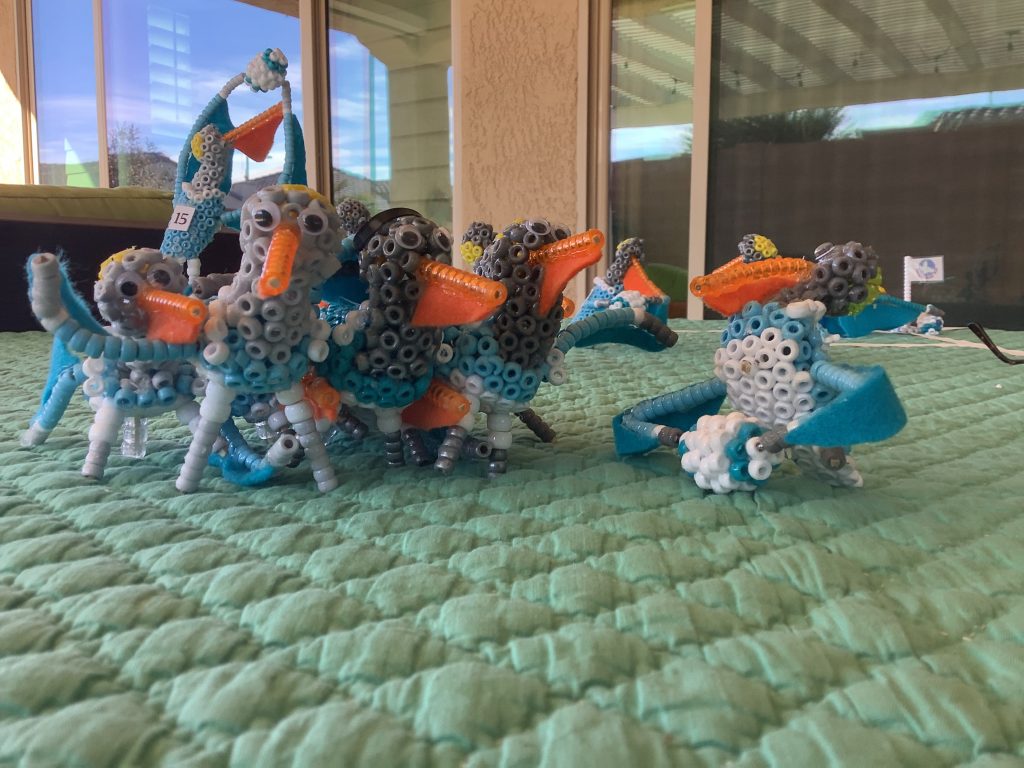 Hail, Pelicus!
For the Senate
Pelicus Pedem Referre