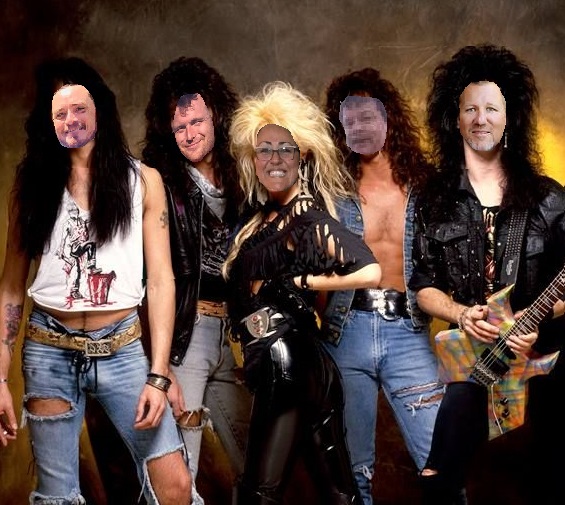 HAIL PELICUS!
HP Classic, Vol. 2
Now that the COVID-19 pandemic has shut down rugby around the world there doesn't seem to be anything for Hail Pelicus to talk about so last edition we started reprinting "classic" articles and match reports. Here is Volume 2. Enjoy!
But First…
Actual Current News! Yes, we are still on lockdown (at least through May 31 here in the Bay Area) but time is still a-ticking away. The David Williamson Scholarship is ramping up their Big Day of Giving campaign:
Scholarship Seeks To Fast Track Emerging Referees
Many of you have heard of the David Williamson Rugby Referee Scholarship, whose purpose is to aid in the recruiting, training and coaching of young referees in northern California. Later this month the call is going out for applicants for this year's scholarship, but how did it get started, and why is it nicknamed the "Bunny" scholarship?
David Williamson didn't look like a bunny. He was tall, and as a former crew member at Cal, a strong second row who played for Hastings Law School, also Red & Blue, and then joined the HOBS reffing path trail blazed by Bruce Carter, Mike Malone, Ed Todd and Mike King among others.
Bunny moved over the years from the man in the middle to the coach with a clipboard, becoming one of the top ref evaluators in the country. He was also a constant recruiter of referees, and a beloved mentor for many who improved through his thoughtful feedback and encouragement.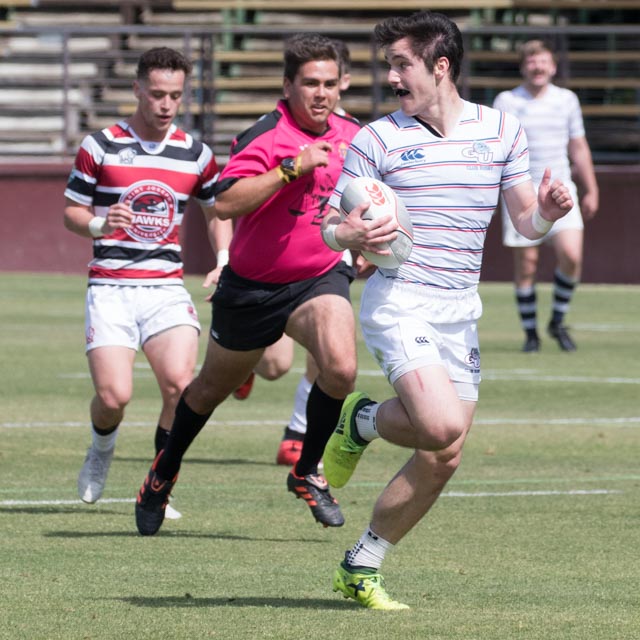 After his retirement from the legal profession, Bunny devoted the next decade to referee advancement. In 2017, NCRRS President Paul Bretz proposed a scholarship to honor Bunny's role in the development of emerging referees. After seeking input from some of the legacy leadership of the Pelicans, Bretz appointed a scholarship committee to oversee the fund, add to it, and select the first recipient. Bunny passed away a few months later.
Andrew Stockton was selected to spend much of the summer of 2017 on pitches in Calgary, Edmonton and other parts of the Alberta. He was followed by Matt Mulholland in 2018 and Drew Arballo in 2019 (left). All three are now in the pool for officiating college Division 1A matches, and each attributes a significant part of his growth to their summer of many matches and excellent coaching in Canada.
The scholarship also supports other teenaged referee exchanges through the year, sending emerging Pelican referees to other unions for tournament assignments and coaching. More than a dozen referees are expected to advance their skills through Bunny's scholarship by the end of December.
The scholarship committee consists today of Phil Akroyd, Bryant Byrnes, Matt Eason, David Hosley, Neil MacDonald, Helen Marcus, Peter Sandhill, and Jen Tetler. They are inviting you to join them in supporting the David Williamson Referee Scholarship.
Gifts will be matched by a leadership donor up to a total of $5,000. Your generosity around this national Big Day of Giving will double. Please make a contribution of $500, $250 or $100 (or whatever's right for you) using this PayPal link: David Williamson Referee Scholarship.
Or send a check to:
NCRFU Referee Society; c/o Williamson Scholarship,7830 Hihn Road, Ben Lomond, CA 95005.
And now on to the Classics.
***************************************************
From its inception as the San Diego Invitational, the Las Vegas Invitational was the brainchild of and run by my brother Jon Hinkin. Every year he would send me a message to put in Hail Pelicus to ask for referees and every year I obliged, naturally taking the opportunity to needle him a bit because, you know, brothers. In 2017 Dan Lyle stepped down as the USA 7s Tournament Director and Jon took over so we had a new LVI Director. That doesn't mean that I stopped needling him, though…
From 2016, while Jon was still the LVI Tournament Director:
Las Vegas Needs Refs
After another 10 months of ignoring our calls and giving crappy and thoughtless birthday presents, LVI Tournament Director Jon Hinkin has decided to mend fences and suck up to the Hail Pelicus editorial staff and the Greatest Referee Society In The World, to wit, the NCRRS. If you are planning to go to Vegas for the USA 7s and want to referee at the LVI, details are below.
…
Las Vegas Needs Refs
Apparently LVI Tournament Director Jon Hinkin was upset at last week's call for LVI referees stating, for the record, that "I give great gifts". His passionate pleas have swayed the editorial staff here at Hail Pelicus and we fully retract last week's statement that he gives thoughtless birthday presents and want to say that we truly enjoy the belly button lint brush he gave us last year.
…
On to 2017, when Jon took over as USA 7s Tournament Director from Dan Lyle and thus was no longer the LVI Tournament Director:
Las Vegas Invitational
The previous LVI Tournament Director has left his post to embark on a journey of self discovery and contemplation as a roadie for the Billy and the Boingers reunion tour so Steve Albrecht has taken over. Below is his call to the Greatest Rugby Referee Society On The Planet:
…
Las Vegas Invitational
The previous LVI Tournament Director has left his post to fulfil a lifelong dream and try out for the Las Vegas Raiderette Cheerleading Squad, so Steve Albrecht has taken over. Below is his call to the Greatest Rugby Referee Society On The Planet:
…
Las Vegas Invitational
The previous LVI Tournament Director has left his post to accept a position in the Trump administration so Steve Albrecht has taken over. Below is his call to the Greatest Rugby Referee Society On The Planet:
***************************************************
Occasionally the NCRFU tries to honor one of its own and one of the great characters of Northern California rugby is Mike Comstock. I am sure every union has their own version of him so you will recognize the archetype. He was a prop that played club rugby at all levels in Nor Cal continuing well into his 60s, just getting harder to stop and he grew older and greyer. So what happens when the NCRFU tries to honor the man who wouldn't stop playing rugby no matter the opposition, conditions or his age? Guess…
The Great Irony Of Northern California Rugby
Mike Comstock is a legend. He didn't grow older, he grew tougher. He was an old school prop who took props to school and even as he got older speed was never an issue because speed was never an issue. Back in 1994 in my first year out of college he greeted me, a cocky young winger, with a bone crushing (and late) hit then mumbled "welcome to D1 rugby". He played anywhere, anytime – nothing would keep him from strapping the boots on and hitting the pitch. He was playing prop for club sides into his 60s. He was a force of nature.
This year the NCRFU and Division 3 tried to honor him with a tournament and would play for the Comstock Cup. It was rained out… twice.
***************************************************
This was written after the USA won the 2015 London 7s for their first ever World Sevens Series Cup win. I took a classic American poem (possibly THE classic American sports poem) and rewrote it to suit the occasion. This is a technique I have used several times since them as well with mixed results.
Pelicus Laureate
(with apologies to Ernest Lawrence Thayer)
The outlook wasn't brilliant for the Eagle seven that day:
History had shown for the Cup they wouldn't play.
But when France died first and Portugal did the same,
A hushed silence fell for the South Africa game.
A straggling few got up to pace nervously about. The rest
Clung to that hope which springs eternal in the human breast;
They thought, if only Perry could get on the outside of the Boks,
We'd put up even money, now, with Unufe stepping out of his socks.
So the US took the lead, to the wonderment of all,
And the Eagles, much despise-ed, held on to the ball;
And when the dust had lifted, and men saw what had occurred,
South Africa scored twice, but the States had added a third.
From 50,000 throats and more there rose a lusty yell;
It rumbled through the valley, it rattled in the dell;
It knocked upon the mountain and surged further up,
For the Sleeping Giant awoke and was battling for the Cup.
There was ease in Hughes's manner as he led them to their place;
There was pride in Bender's bearing and a smile on Carlin's face.
Tries for the captain and Baker, lightly stepping and then gone,
With a score of 29 to 10, the Eagles were moving on.
Thousands of eyes were on them as the home team hit the dirt,
Thousands of tongues applauded the Rose upon their shirt,
And then while writhing players ground the ball into their hip,
Defiance gleamed in Leuta's eyes, a sneer curled Niua's lip.
And now the leather-covered ovoid came hurtling through the air,
And the English stood a-watching it in haughty grandeur there.
Close by the sturdy AR, Perry Baker unheeded sped-
"He moves too fast," said England. "Try awarded," the referee said.
From the benches, black with people, there went up a muffled roar,
Like the beating of the storm-waves on a stern and distant shore.
"Beat them! Beat the Yanks!" shouted someone on the stand;
It seemed likely when Mitchell scored and the ref raised his hand.
With a smile of Christian charity great Isles' visage shone;
He stilled the rising tumult; racing in the English home;
He sprinted down the left, and once more the ovoid flew;
To the speedster on the right, ref said, "You've scored two."
"Fraud!" cried the maddened thousands, and echo answered fraud;
But one mournful look from England and the audience was awed.
They saw their face grow stern and cold, they saw their muscles strain,
And they knew that they could not catch the mighty Eagles again.
The sneer is gone from the Aussie's lip as they looked upon their fate;
Who are these Finals upstarts? They should be in the Plate.
And now Barret runs the ball, and now he lets it go,
The last defender is shattered by the force of Danny's blow.
Oh, somewhere in this favored land the sun is shining bright;
The band is playing somewhere, and somewhere hearts are light,
And somewhere men are laughing, and somewhere the shout goes up;
It is all joy in America – the Mighty Yanks have won the Cup!
On To The (Classic) Game Reports!
(With the editor's notes from the time included)
More Referees Showing Off Their Analytical Skills.
Date: 01/24/2015
California B 119 – Cal Poly B 0
Referee: Bailey, Andrew
Cal dominated the match.
(EDITOR'S NOTE: This is the kind of keen insight you can only get at Hail Pelicus.)
When The Match Ends With A Try And Conversion To Win At Full Time…
Date: 02/17/2018
St Marys College B 45 – San Jose Seahawks 47
Referee: Paul Bretz
Throughout the week I was looking forward to officiating St. Mary's 2nd side against San Jose Seahawks; I was not let down. As anticipated San Jose was much more physical in the first half and took control of the pitch leading by as much as 10 points going into intermission. I assumed that fitness combined with the size of the pitch would control the second half and as anticipated, St. Mary's came from behind and went up by 18 points in the second half. However San Jose's fitness was not an issue and with 10 minutes to go San Jose started coming back. With 30 seconds to go San Jose got ball in hands and immediately spun it out wide where the Seahawk wing went 70 meters to score in the corner to tie the game 45-45. I advised the kicker that he has his choice: He could hurry the kick and we would have a restart or he could take his time and the game would conclude in either a tie or the win. The kicker opted to take his time and made a successful conversion kick winning 47-45.
Congratulations to both teams. Lessons learned from this friendly will surly play dividends for both teams down the road.
Not a bad day of rugby. Got to referee coach my son, Run AR for the BYU V. St. Mary's A side, and referee.
This Week's Photo
Classic Photo time, too! Here is, once again, the 2018 Northern California Rugby Football Union Board of Directors! Totally metal.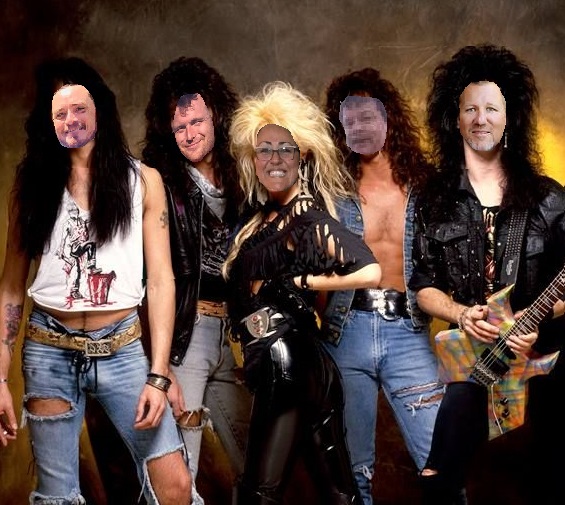 Hail, Pelicus!
For the Senate
Pelicus Pedem Referre