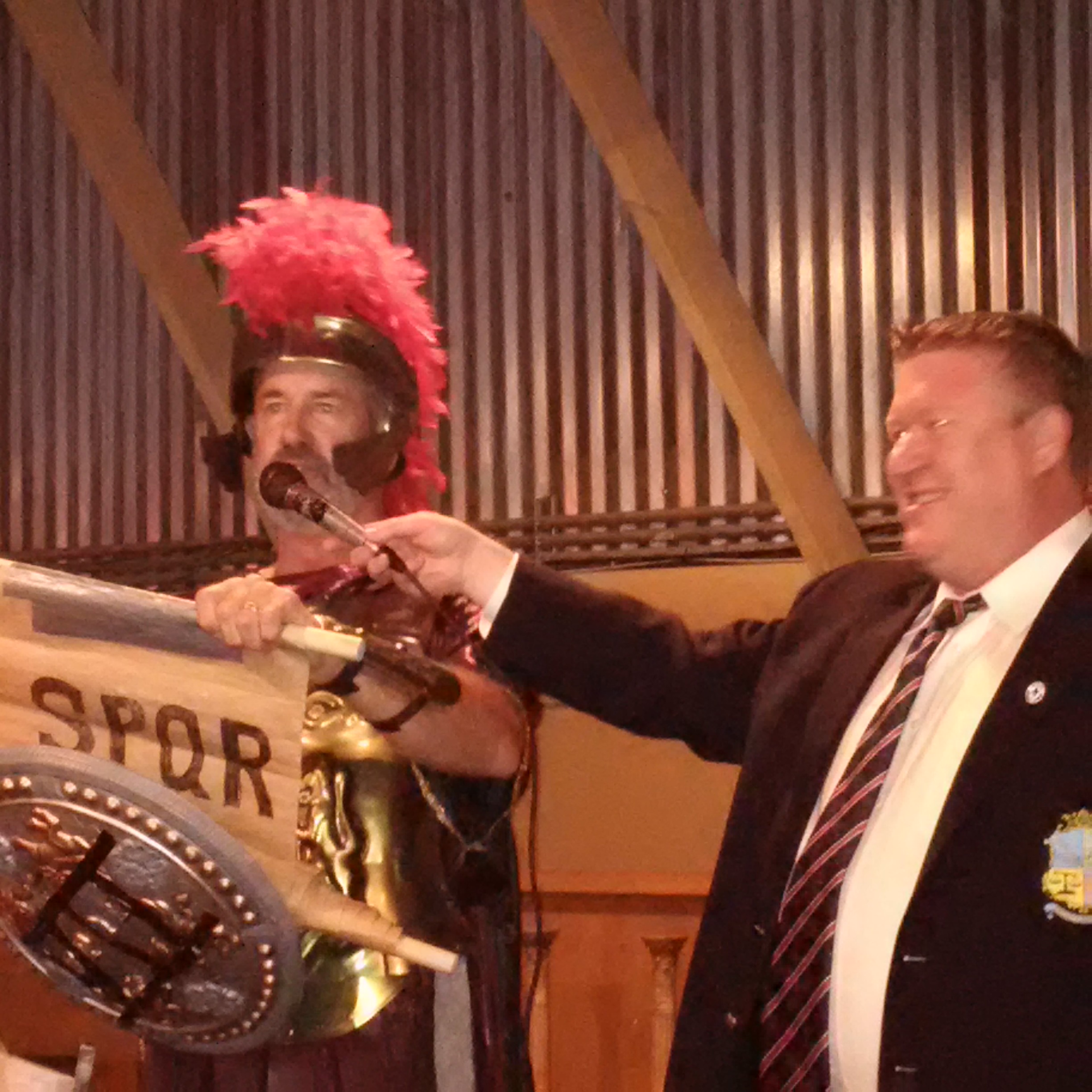 Is The Cup Half Empty Or Half Full?
HAIL PELICUS!
Is The Cup Half Empty Or Half Full?
"There are, it has been said, two types of people in the world. There are those who, when presented with a glass that is exactly half full, say: this glass is half full. And then there are those who say: this glass is half empty.
The world belongs, however, to those who can look at the glass and say: What's up with this glass? Excuse me? Excuse me? This is my glass? I don't think so. My glass was full! And it was a bigger glass! Who's been pinching my beer?
And at the other end of the bar the world is full of the other type of person, who has a broken glass, or a glass that has been carelessly knocked over (usually by one of the people calling for a larger glass) or who had no glass at all, because he was at the back of the crowd and had failed to catch the barman's eye.

– Terry Pratchett, The Truth
Yes it is finally here. The World Cup, that quadrennial tournament that determines, once and for all, why the All Blacks are not the best team in the world.   The mighty All Blacks come swaggering into the tournament every 4 years after pounding the rest of the world for the previous 3 ½ years and everyone fully expects them to win.
Except they don't.   Not if they have to get on an airplane, that is.   The only Webb Ellis Trophies that reside in their cabinet were earned on home soil.   If they win in a month's time then I will change my tune and sing their praises to the mountains, but until then, my money's on the Irish.
Who knew that Cherry Blossoms were lethal to Springboks?
This has to be the best thing to ever happen in rugby.  A couple of years ago I wrote in Hail Pelicus that the St Mary's win over Cal was the most significant game of the year and implied it was the most significant game in US collegiate rugby.   My reasons were simple – the unbeatable champion was beaten and it wasn't just a one-off game of their lives fluke, but a systematic deconstruction of the champions that had been building for years. It proved that solid coaching and backing could raise the fortunes of all programs and that nobody was unbeatable.
South Africa v Japan was the most significant game of rugby played anywhere at any level this year, and possibly ever. I see only two other contenders; the first true international that was played between England and Scotland in 1871, by virtue of being the first (and coincidentally, the first international of any kind for any version of football – take that, soccer!); and the Invincibles tour from 1924 which established the power of Southern Hemisphere rugby.   But why is this such a significant game?   Because Japan are minnows and are only at the World Cup for geographic diversity. Because South Africa are past winners and perennial contenders and are expected to cruise into the knockout stages. Because Japan is supposed to lose games like this by a minimum of 50 points and possibly 100.
But, glory be, none of these things happened. Japan was smart, physical and daring. The Springboks were sluggish and predictable, quite obviously relying on individual skill and reputation to carry the day.   Japan has spent the last decade importing international rugby stars to play in their leagues and have studied and learned from them. Japan, a team that just recently lost to the USA, did not look outmatched and took the game to the 'Boks and came out deserving winners.   It wasn't a case of the bounce of the ball going their way or an untimely injury to key SA players, this was a well-planned and well-executed game plan.   The fact that the Cherry Blossoms opted for a scrum with no time left rather than kick a very honorable, game tying penalty says a lot about the belief of that team.   I am sure that Japan will come back to earth and that South Africa will regroup, but now there is a chink in the armor, a vulnerable spot in Smaug's underbelly that teams can see and exploit.   The gap is closing and the days of not needing to pay attention until the quarter finals are over.
The Eagles' Cup Run
But what about the Eagles?   Everyone in America was giddy this past summer as the USA started flexing those metaphorical long slumbering muscles. We won the London 7s going away and qualified for the Olympics a few weeks later!   We beat Canada twice in a month for our first ever 3 match winning streak in the series with our closest rival. GO USA! We have a very manageable pool and hopeful eyes were cast on the quarterfinals.
Then we lost to Samoa in San Jose. Not a tragedy, we had some good passages of play but learned a valuable lesson: don't try to take on the physically strongest side in the world up front, but use speed and fitness to find gaps and capitalize on the inevitable turnovers.
We rebounded with a win over Japan which must have made the coaching staff happy and then followed with a predictable, yet spirited defeat to Australia in Chicago.   We were playing well (at times) and had the most complete run up and preparation that a USA side has ever had.   Onward to glory!
Unfortunately the rest of the world looked at us and decided that we are what they thought we were.   We lost to Samoa playing essentially the exact same game plan that failed in San Jose with the exact same result.   We lost to Scotland after playing 40 minutes of solid rugby and 40 minutes of schoolboy rugby.   I am waiting for one of the forwards to pull our halfbacks aside to tell them that if they ever box kick again, they will have their legs broken.
There are many who look at our performances and see the positive phases of play and see improvement and claim our cup is half full.   There are also many who watch these games and see the unforced errors and mistakes that really shouldn't be made at the international level and claim our cup is half empty.
Referencing the quote at the beginning of this newsletter, I long for the day that American rugby demands a bigger cup and that cup be filled all the way up.   Only then we will take our place amongst the rugby nations and not just be there to fill out the pools.   Right now we are at the back of the bar with a broken glass watching the Tier 1 nations drink all the beer.
Professional Rugby Is No Longer An Option But A Requirement
Looking back on our first two matches and comparing them to the Japanese stunner over South Africa one thing has really been highlighted: the value of a professional league.   This is not a new idea or a new observation but never has it been more apparent.   We seemed ill-prepared against Samoa and resorted to the same unworkable tactics that beat us in July.   We looked the better side against Scotland for 40 minutes and had a deserved lead at half time, only for our lack of depth and fitness get exposed in the second half.   We have better athletes than the Scots do, but they are all fully professional from 1-23, and can even bring on a completely different side of fully professional players and the result would be the same. Have we ever beaten Scotland A? Not that I can recall.
The Eagles can not seem to get the ball into the hands of the impact players we have. Samu Manoa is one of the best players in the world yet was nearly invisible in these two games. We kept feeding the ball to knock on machines while he was relegated to rucking and support duties. Give him the ball and let him crush – it is that simple.   For the backs we have the same issue.   Z Ngwenya has been a standout in the French Top 14 and Heineken Cup for years scoring numerous outstanding tries, yet can't seem to get his hands on the ball for the USA. These are our impact players and we should be feeding them as much as possible.
We can not continue to field a team filled with amateurs.   I don't care how good you are, if you have to get up at 5:00AM to work out, then spend 8 hours at your real job before going to the gym/track/training in the evening you will always be behind the fully professional athlete. It is merely a matter of time and resources.  When your job is to work out, you get fitter, faster and stronger.   When your job is rugby, you spend more time studying, learning and practicing.   This is never more apparent than in the scrum where we are constantly under pressure.
If USA Rugby is at all serious about moving forward, we need a pro league.   Here is a suggestion: get on the phone with Don Garber and ask him how he made MLS a viable pro league.  Yes, they lost money initially (predictable) but are now on very sound financial footing and even draw better than most European leagues.   Most MLS teams by now even have their own soccer specific stadiums. There may be something in what he did that we can learn from.
Quis docet ipsos doctores?
Our Referee Development Officer Vicky Hudson created a survey regarding last year's referee development.
Please take a moment and help up develop our development and learning processes as this is a major tool in improving the Society.   You can find the survey here: https://www.surveymonkey.com/s/Pelican_Development
Ask A Pelican
Yes, it's time for this week's installment of "Ask A Pelican", the widely loved Q and A session with Hail Pelicus.   This week's question comes from Abby Normal of Berkeley, CA, who asks:
"I keep getting these emails from membership@usarugby.org telling me my membership has expired even though our leagues don't start until January.   Do I still need to renew now?   Why are people bothering me with this in September?"
Hi Abby and thanks for writing. Well yes, you do have to renew your membership if you plan to referee during the upcoming year and yes, you should do this as soon as possible. You see, the rest of the country does many silly things and one of them is they start their 15s season in September, if not August. I know, right?   For that reason USA Rugby decided that September 1 was a good day to start their calendar year as a natural break from 7s to 15s and all annual registrations start on that date.
Personally, I think they are mistaken and they should use September 4 as the start of the calendar year as it is a more obvious and natural annual transition but when I mentioned this I got a letter back saying "your comments have been noted" and have heard nothing since.
In any case, you can renew for the 2015-2016 USA Rugby competitive season, by going to www.usarugby.org and clicking on the red "Register/Login" button. On the next page click on "Login."   If you have registered before you should have a login ID already.
Keep sending in your questions to us here at hailpelicus@pelicanrefs.com!
Disciplinary Action Reporting – Process for reporting incidents
The various competitions all have their own disciplinary chairs and this will make it difficult to centralize the communication and data.  To help Scott Wood has developed a form that will centralize the process, regardless of the competition.  The link to the discipline form is https://docs.google.com/forms/d/1mmUNg11uVOSkIsUtHifSqQzalhWbwohk_J6AmPyrucQ/viewform
Copy the link and have it available on your smartphone.  If you have an Iphone add the link to your home screen.
When needed fill it out and click submit.  The discipline chair of the competition you refereed will receive a notification about the incident.
He/she may contact you latter for more details.
On To The Game Reports!
EDITOR'S NOTE: As more Pelicans fly off to other societies they still manage to send in reports.   This is a tradition that started last year with Tom Zanarini and is now being upheld by Stephen Valerio.   Keep up the good work!
Date: October 14, 1066
Severn River Women 81 – Harrisburg 10
Referee: Valerio, Stephen
The rugby season is kicking into gear in the Mid-Atlantic Conference. While some teams saw regular season action start this past weekend, a few teams squeezed in one last friendly. Severn River Women, who got as far as the National Division 2 Quarterfinals last year and have moved up to Division 1, took on their former Division 2 rivals Harrisburg.
It rained the entire drive out but it let up a bit before play started with just some intermittent showers. I had to remember the preparations for rugby in the rain since it has been so long since I had to referee in it. Of course right now, I believe the rain would be more welcome back in NorCal.
Severn River has a great pitch, tucked behind an American Legion Post. It is flat, covered in grass that held up even in the wet conditions, and proper posts. While the weather led to some ball-handling issues, the pitch wasn't held up well. The teams agreed to 3 periods, 2 30-minute sessions and a 20-minute window to give the new players a run.
Severn River showed their class immediately scoring a try in the first minute. Their fly-half, center axis carved up their Harrisburg counterparts. They mixed set plays; with kicks downfield to keep the Harrisburg back three under pressure. Harrisburg's tackling was too inconsistent for the quality of the opposition who were operating with training ground ease. Severn River's forwards also pounded some runs with their #4 putting in some long runs after punching threw Harrisburg's defense.
The one concern for Severn River would be in their scrums. The best they could hope for was parity, with Harrisburg keeping them under pressure all day and frequently pushing them around. Even with that, Severn River dominated the first 2 sessions. The third period was closer, as the structure in the game broke down with several rookies taking the pitch. That being said Severn Park owned the day and seems ready to start their season.
EDITOR'S NOTE: It has come to our attention that October 14, 1066 was actually the Battle of Hastings and not the date of the above rugby match. Unfortunately no date was specified and we had to use carbon dating to determine when it occurred. We regret this error.
Date: Unknown. Possibly in the Pleistocene Epoch
Mount St Mary's 100 – Frostburg St University 0
Referee: Valerio, Stephen
Mount St Mary's lost in the NSCRO National Championship Final last spring to New England College. While small college programs can be susceptible to turnover if there is a large graduating class, Mount St Mary's has the numbers to boast of 2 solid sides. They have a strong infrastructure with multiple coaches and support of the administration. The benefits of this were clear with the professional set up with a tent, plenty of food and drink for hospitality and a healthy number of fans sitting on the hill alongside the pitch.
Frostburg State is undergoing one of those transition years with graduation and injury, including one of their props getting hit by a car earlier in the week (in true front row fashion he still played) taking their toll.  This meant that several players getting their first run ever in a rugby game as starters against the Mount St Mary's squad. The results were predictable. Mount St Mary's backs were explosive and ran a variety of angles at the Frostburg backline. Both the forwards and backs showed great skill in the offload game, and only periodic handling errors seemed to blunt their attack. Unfortunately for Frostburg, they weren't able to consistently win their own ball, allowing Mount St Mary's to avoid any sustained pressure. Frostburg played hard throughout, without letting their frustration boil over. Though some players need to work on their rugby tackles versus their gridiron technique. Mount St Mary's put 10 tries across in the first half for a 62-0 lead. They built on that in 2nd half with their scoring rate only slowed as they made their substitutions in the final quarter.
Date: 09/12/2015
Event: Tri Tip 7's
Referee: Bernstein, Bruce
Did 6 matches Saturday starting with a strong USD alumni side which made it into the top 4 beating UCSB Grunions/Old Boys; with a Fresno-Super Hero contrast in costumes & play; highlighted by 2 undefeated (3-0) sides playing the last match of their bracket by the beer/band tent when SLO barely beat LA only because the LA kicker missed a kick under the posts which could have knotted the score. I also did the women's semi b/w Belmont Shore & San Fernando but forgot who won–didn't matter also a great game by the beer tent. (Also was AR for the women's final–also don't know who played or won–but NorCal had 2 out of 4 the top 4 teams there with EPA Razorbacks winning in dominating fashion & the Seahawks making it to the semis.
The tri tip was outstanding, awesome weather, hospitality by SLO & SoCal refs who organized the wives & girly friends to spend most of Saturday wine tasting & female bonding; then being delivered in good spirits back to their refs; and the bar hop wasn't bad either.
Date: 09/26/2015
Event: NorCal NSCRO 7's
Referee: Bryant, Lee
Great weather on a great pitch. There were a lot of new players on all teams so it was a good day to work with next generation of rugby. Fun little group of four officials who made the day full of laughs. Good day for rugby all around.
Date: 09/26/2015
Event: NorCal NSCRO 7's
Referee: Richmond, Jeff
Well played matches. Good to see schools such as Menlo helping grow the sport.
Date: 09/26/2015
Event: NorCal NSCRO 7's
Referee: Hinkin, James
With a strong referee crew of myself, Lee Bryant, Jeff Richmond and Steve Fenaroli we were well prepared for the Nor Cal NSCRO 7s.   Teams included Cal Maritime A & B, Menlo College, San Francisco St, Sonoma St A & B (hosts), Sierra JC and a motley side to fill out the 8th spot.
The tournament was held at For Pete's Sake field which was shockingly lush, even swampy at times. How could this be in the midst of a massive drought? I have no idea but I personally believe it involves black magic. I have never fully trusted Alan Petty and the Santa Rosa Brain Trust – things happen in the Santa Rosa scrum that I have no other explanation for.
The tournament itself was well organized and stayed on time.   I raced out of the gate and nearly awarded a red card 1 minute into the tournament as a tackler picked up the ball carrier ("NO! PUT HIM DOWN!) but then set him safely back on his feet and continued the tackle. Phew!   Well, if I wasn't going to give a red then I had to settle for 2 yellows, one in each of my first two games.   Lee Bryant, being the top referee that she is, saw that and immediately responded with a double barrel yellowing of two players who were exchanging post tackle pleasantries to tie up the card count. Apparently, Steve Fenaroli and Jeff Richmond need more experience because they didn't respond to the example set by Lee and I and didn't issue any cards at all. We in the Society have high hopes that they will learn from this.
As for the teams, there was a mix of new players and experienced players. Some of the youngsters who were playing for the first time saw marked improvement and you could see rugby setting its hook and landing them for life. San Francisco St won the final with a runaway 33-17 victory that showed off their fitness as the game was tied 12-12 at half time.   Yes, fitness was a definite factor as I am positive this is the first time these players have played in a final with 10 minute halves.   It makes a difference.
This Week's Photo
This week's photo is from our Annual Banquet where we were honored by a visit from the Centurion.   Pelicus Pedem Referre is also shown holding the microphone so the Centurian's wise words could be heard across the senate.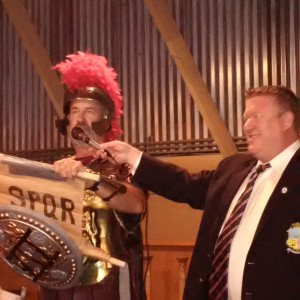 Hail, Pelicus!
For the Senate
Pelicus Pedem Referre