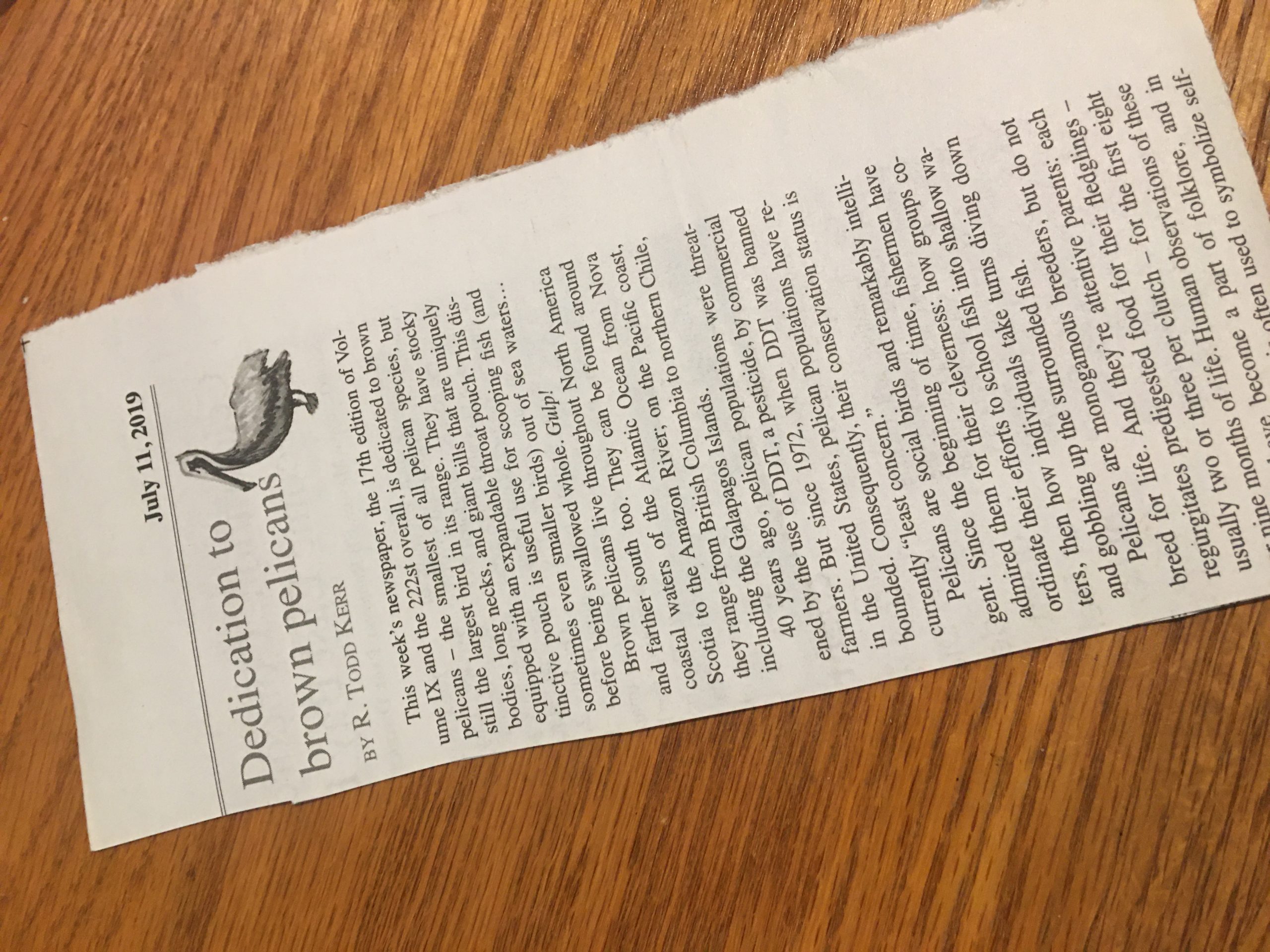 HAIL PELICUS!
(Published February 27, 2020)
LA Fitness
With the coronavirus (aka COVID-19) moving the Hong Kong and Singapore legs of the World Sevens Series to October the remaining Series stops become much more important for Olympic preparation.   As always in 7s, fitness will be a major factor and teams are making alternate plans to get some extra training in during the space vacated by the Southeast Asian legs of the Series.   The USA's Mike Friday has announced it will be holding a mini tournament with Argentina and Canada to maintain their sharpness and match fitness.
Will the USA build on the momentum of a bronze medal in Sydney to claim their third straight USA 7s title? Keen analysis and strategic dissection laced with cultural references and bad humor will be provided in full next week. Until then…
Pelicanrefs.com Update News
The page for Hail Pelicus has been reinstated with the convenient URL of https://pelicanrefs.com/hail-pelicus/ . Many thanks Neil MacDonald for getting this going because I know exactly how much free time you have. The last few episodes are being uploaded this week and we again thank you for your patience.
Card Reporting Update News
Many of you dear readers have been in a flurry of admonishment and chastisement and have noticed that our card reporting link was broken, and then updated with another link containing a long string of unrelated characters. This has also been addressed (and updated in the Disciplinary section below) to the much more manageable https://pelicanrefs.com/reportacard. Enjoy and keep those cards coming!
2019 USA Rugby Game Management Guidelines (until we get 2020 GMGs)
Looking for guidance on how to manage a game? Well, USA Rugby has your back. You can find the 2019 USA Rugby GMGs here: https://drive.google.com/open?id=1XXcRfsVtLL-qUawEHUI47ei0dt_65fDM.
If you do not have access to the google drive linked above you can also view them as well as other pertinent documents here: http://www.usarugby.org/referee-resources/
Disciplinary Action Reporting – Process For Reporting Incidents
(EDITOR'S NOTE: It appears that the link in previous Hail Pelicus had expired and was no longer working. The link below has been tested and does work so feel free to use it going forward.)
The various competitions all have their own disciplinary chairs and this will make it difficult to centralize the communication and data. To help we have developed a form that will centralize the process, regardless of the competition. The link to the discipline form is https://pelicanrefs.com/reportacard
Copy the link and have it available on your smartphone. If you have an iPhone add the link to your home screen.
When needed fill it out and click submit. The discipline chair of the competition you refereed will receive a notification about the incident.
He/she may contact you latter for more details.
If you have any questions as to how to use the app please refer to the following video: https://www.youtube.com/watch?v=_Uz0_gTaOnY
On To The Game Reports!
Date: 02/22/2020
Sacramento Amazons 39 – Life West Gladiatrix 46
Referee: Giles Wilson
The Sacramento Amazons hosted Life West on a nice February day. In the first half the Amazon's dominated with Life West treated tackling as optional despite having some powerful players. The Amazons scored 6 first half tries (2 converted) to no reply from Life.
At half time, Life West introduced a WPL player, turning this into a forfeit – something that they didn't share with anyone else at the time. The half time drinks must have been really special too with Life West getting off the mark 3 minutes into the second half, through the WPL player. Life West scored three tries with one conversion in just the first 9 minutes of the second half before the Amazons were able to tally a reply.
As an old front row player, I have never suffered a hamstring injury but during this Amazons attack I felt the tell tale whack from a bat in the back of my leg, ending my participation. My thanks to the spectator who was willing to step in and complete the game.
I kept time and score on the sideline, during this time Life West confirmed that they had forfeit the fixture as a league match.
Life West ran in 5 further tries (2 more conversions) for a total of 46 second half points. The Amazons only scored the single second half try but it's hard to know if they were aware of the forfeit situation.
Final score on the field Life West 46 – Sac Amazons 39 but the league result will depend on player eligibility.
Date: 02/22/2020
Life West D2 85 – Google 5
Referee: David Pescetti
Life has too much depth and organization going up against the south bay search giant. Which, on pitch, didn't match their online presence.
Date: 02/22/2020
San Jose State 31 – UC Santa Cruz B 17
Referee: Stephen Moore
A really good match and fun to officiate. Santa Cruz took the early lead dominant with a penalty goal and much more effective at the breakdown. San Jose lost three players in the first half through non-egregious yellow cards due to high tackles. Despite their lower numbers, San Jose muscled through scoring a converted try. Score 3 to Santa Cruz and 7 to San Jose by half time. The second half saw an increase in activity by both sides. Each scoring two tries initially, leaving the score at 19 Santa Cruz and 17 San Jose. If felt really close and a match that could go anyway. Always a nervous situation for a referee. Santa Cruz hammered away on the San Jose try line for several long periods, but despite their tenacious effort they could not get the ball over the line due to a slightly more stoic defense by San Jose. Buoyed by their defensive strength, San Jose picked up their confidence and tempo and score two more tries later in the half, leaving the final score at 31 San Jose and 17 Santa Cruz. Santa Cruz was very well trained in their scrum, upending San Jose several times, I should add. Players were cooperative and easy to manage. Coaches too. Good job everyone, fun match, thanks.
Date: 02/22/2020
Life West 29 – OMBAC 21
Referee: David Pescetti
No Report Received.
Date: 02/22/2020
Chico State 42 – Sacramento State 14
Referee: Neil MacDonald
No Report Received.
Date: 02/22/2020
Chico State Women 22 – Fresno State Women 52
Referee: Gregor MacDonald
No Report Received.
Date: 02/22/2020
UC Davis Women 22 – Stanford Women 39
Referee: Jessica Turner
It was a day of perfect conditions for the match at UC Davis. The first half, the match was tightly contested between both sides, with Stanford getting the benefit of finishing with more points for their efforts. Both sides displayed excellent ball in hand moves and good continuity. The second half, UCD came roaring back to narrow the score line. They were down by 2 and play got more intense. There was starting to be lack of discipline from both sides, mostly around the breakdown. Stanford scored another one to go ahead even further, then Davis struck back with another great try in the corner. The conversion was nailed from the 5m channel bringing the score level. As the game carried on, the lack of discipline by Stanford at the rucks that almost earned them a yellow. Discipline adjustments were neatly made and then once the subs came on, the scoreline started to slowly drift away from Davis. The final try from Stanford was a beauty! On a penalty advantage going in about 15m out, a slight cross field grubber was kicked and dotted down. It was a great match, with 2 class sides.
Date: 02/22/2020
Sacramento State Women 27 – St Marys College Women 65
Referee: Bruce Bernstein
Beautiful day @ Sac State who's women hosted St. Mary's. What started out as a close match became one-sided as St. Mary's scored mainly using fast backs ahead 38-12 @ half. Then losing 2 top players in an end zone tackle continued to dominate with only 13 v. 15 for the last 20 minutes. Both teams very disciplined & we'll behaved.
Date: 02/22/2020
Univ San Francisco Women 0 – Cal Poly Women 55
Referee: Larry Freitas
The first thing to discuss about this game is the fact that USF Women had only eight players, but their numbers were enhanced by University of the Pacific, who have been getting a program together to hopefully field a fifteens team for next season: they've been shoring up for Sacramento State's team as well so games can go on, as forfeits, however. Cal Poly arrived with just about all their squad, though some of their starters were banged up and therefore not going to play.
USF plays at Negroesco Stadium, which has artificial turf, and is the soccer venue at the Hilltopper campus. Lines for rugby have to be taped onto the pitch. The last time I reffed there the USF Dons were hosting CSUMB, back in 2016. I at least expected goal posts to be up at either goal line, as was the case four years ago. An upright has gone missing this season, so no posts, so no conversions or penalty kicks for this match, which was obviously a forfeit. I hope the missing upright is found, or a new one becomes available, but one thing is obvious to me: USF does not support rugby: either the school should, as at that other Jesuit institution to the south, Santa Clara, or let the men and women play off campus somewhere else, as there are plenty of other grass fields in San Francisco, including the GAA on Treasure Island. If not, then as at other schools, such as at UC Santa Cruz's soccer and rugby pitch, have different colored lines for rugby be painted on the artificial surface. The soccer people should not complain. The rugby players are paying the same tuition as the soccer ones, some of whom I am sure are on scholarship, so therefore not paying a cent. Rugby players at USF should have the same rights to play their sport as the other sports, on a field that is lined correctly with proper goal posts!
Now, on to the match. I didn't retrieve the names of Cal Poly's try scorers, but the number 8 is one heck of a player, and I remember her from a game I officiated at Santa Clara twelve months ago. Five scores were produced, the first one at four minutes of play after a knock on by USF/UOP Combined Sides at mid-field, and Cal Poly quickly turning that mistake into five points. Five minutes later it was Cal Poly's fullback slicing through would-be tacklers who would score the next try. It wasn't as though the home side had their own chances to score. About mid-way through the half, and behind by fifteen-nil, a quick ruck ball saw the ball spun out to the right to the outside center, who, with the wing, had a two on one overlap. The right wing of USF/UOP had all sorts of space, and she already had shown me that she was a fast runner. Unfortunately, she didn't keep her eyes on the ball, looking ahead at some fifty meters of clear field ahead. She dropped the pass. It was, except for one other attack in the second half, their chance to score points. Being that exactly fifteen started for the home side, they couldn't afford to lose anyone. They did, after twenty minutes, one of the USF ladies going off hurt, and played short the rest of the game.
Cal Poly, then, had five tries in the first forty. The second forty they scored six more, except I blew for no-side after thirty minutes were played, as USF/UOP were down to thirteen players, and they were gassed. I imagine the score would have been greater if the goals posts were present, but things ended in Cal Poly's favor, 55-0.
A few last notes: quite a few times there were hands in the ruck. I made it clear to both sides that if I yelled out "ruck, no hands!" that the chance to pilfer the ball by the tackling side was over and done with, as the tackled player had already released the ball on the ground. Cal Poly was guilty a few times for going into rucks from the side, or having a player fringing ahead of the last player in the ruck off a few meters to the side from the ruck itself. When I see that infringement I am reminded of a comment made by the England scrum half of the 70's and early 80's, Steve Smith, in the TV both as a commentator/presenter at the quarter final match of the 1991 RWC in Edinburgh: "Scottish flankers were born offside."
This Week's Photo
Helen Marcus sent me this wonderful article on the brown pelican. My favorite quote: "Pelicans are social birds and remarkably intelligent." Truer words have never been spoken.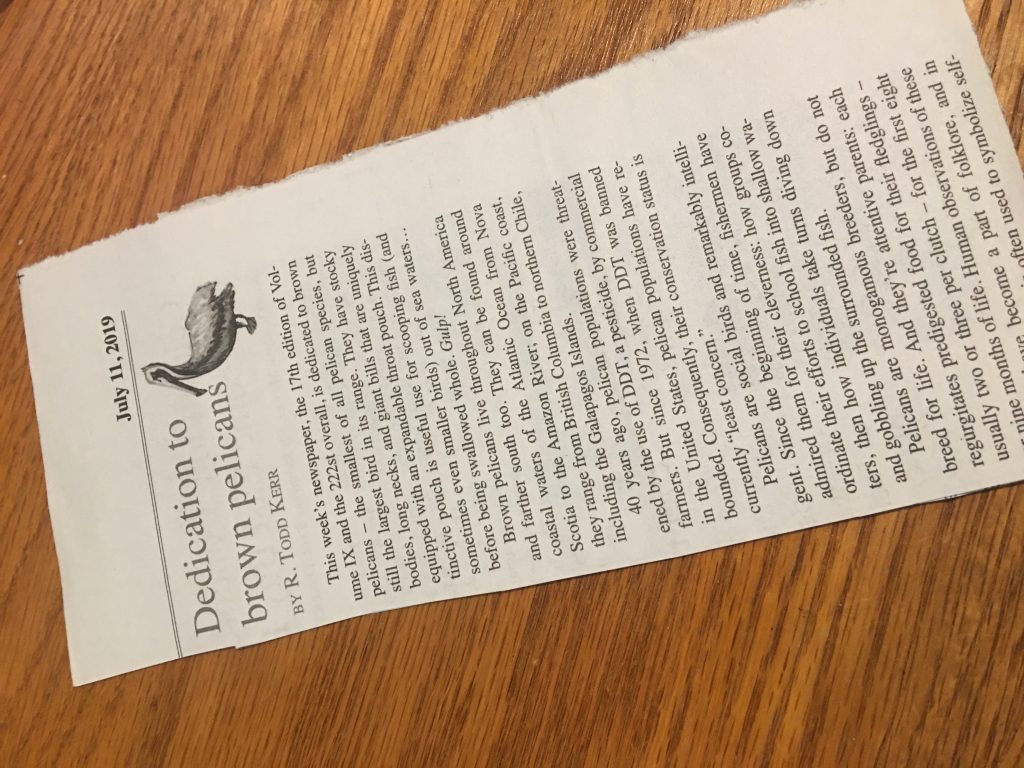 Hail, Pelicus!
For the Senate
Pelicus Pedem Referre