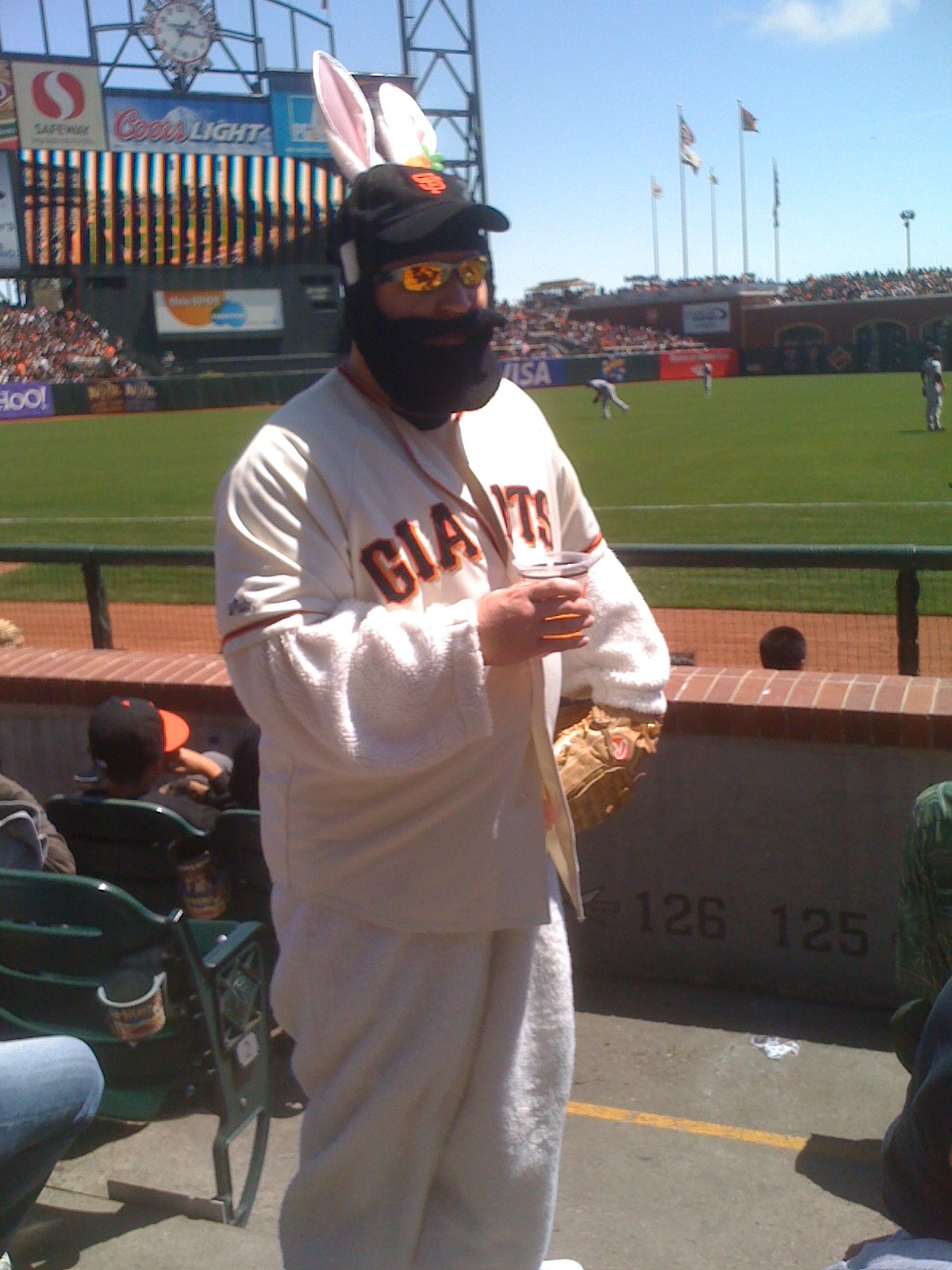 HAIL PELICUS!
Mad Marchness
Am I upset?   Can I be upset at an upset?  Should I be upset that an upset upset my brackets?   The most upsetting thing about this was I was up setting my brackets for days and upsetting my sleep schedule just for them to be useless.
The whole thing is a setup.   When the tournament was set up the setup suggested that teams were set up to fail.  The brackets were set, up to the point of naming the play-in sides yet the setup didn't act the way it was set up.
At least I didn't bet on this stuff.  I really don't pay any attention to college basketball and have about as much chance of picking a winner as the proverbial coworker who picks teams based on favorite colors or vacation spots (and thus nailed the Hawai'i game).
So am I upset?  Of course – I was set up.   Now it is time to concentrate on my mantra: "DON'T PANIC!" and try to be like Ford Prefect.   Hey you, sass that hoopy Ford Prefect?   There's a frood who really knows where his towel is.
When Scriptoris Speaks, People Listen
Commentary in support of Pro Rugby from Pelicus Scriptoris, Dux Deux, Dr Bruce Carter:
Some of our rugby days go back farther than others. Mine go back to the formation of USA Rugby and the birth of Rugby Magazine.
But we all go back to falling in love with a niche sport, one that our friends confused for another, ball-related sport of one sort or another, one that somehow dovetailed with our particular athletic skills better than the rest and called our names.
As a new player, I used to carry a rugby ball in my lap while driving.
We've all had dreams beyond our own glories on the pitch: that awareness of our sport would spread, that more and better athletes would be drawn to compete, that the giant would awaken and the money would flow.
The youthquake in American rugby began of course in California but has been rumbling across the fruited plain for a decade now. Colleges you never heard of have varsity programs and offer scholarships. More programs and players are taking the game seriously, and facilities are improving here and there, bit by bit.
So, how could we lose to Brazil, one of the lowest-rated teams in the world?
The problem is that the future is always arriving but it is not evenly distributed.
USA Rugby has a few dozen players at most who are involved in full-time training environments, playing against significant competition, more than even a dozen times a year. The teams we dream of beating have hundreds of such players, and most of them play several dozen hard, meaningful games a year.
We need a domestic league.
We've had domestic leagues, and still do, but the players are burdened by jobs with the attendant restrictions on time, availability and travel opportunities.
Pro Rugby will be changing all of that next month. Sacramento will have home games at Bonney Field on April 17, May 8 and May 15. San Francisco has home fixtures at Boxer Stadium (Balboa Park) on April 24, May 8 and May 29. You and several friends and family members need to be there.
The NFL started with a bunch of laborers playing on weekends for a few dollars. That was less than a century ago. They had the advantage of college football already being the most popular human sport (leaving out horse racing), but still they grew from nothing.
If you have dreamed of the day when the USA could win games at world cups, when you didn't have to explain to your friends that we always get hammered, you can help make it happen: support Pro Rugby. Buy tickets and support the concessions.
You'll be able to tell your grandchildren that you were an early investor in Real American Rugby.
Ask A Pelican
Yes, it's time for this week's installment of "Ask A Pelican", the widely loved Q and A session with Hail Pelicus.   This week's question comes from Grunt Monobrow of South Valley, CA who asks:
"I read the article on therugbyrepublic.com that you linked last week, though I had to ask help with some of the longer words.  I am a prop and always wear a 1 or 3 on my back.   Did you really mean that I am guilty of dirty and unfair play as soon as I step on the pitch?"
Thank you for your question, Mr Monobrow.   The answer is Yes.   Unequivocally, indubitably and undeniably Yes.   In fact, you are probably guilty of unfair play even before you step on the pitch.   It's your fault for being a prop
Disciplinary Action Reporting – Process For Reporting Incidents
The various competitions all have their own disciplinary chairs and this will make it difficult to centralize the communication and data.  To help Scott Wood has developed a form that will centralize the process, regardless of the competition.  The link to the discipline form is https://docs.google.com/forms/d/1mmUNg11uVOSkIsUtHifSqQzalhWbwohk_J6AmPyrucQ/viewform
Copy the link and have it available on your smartphone.  If you have an Iphone add the link to your home screen.
When needed fill it out and click submit.  The discipline chair of the competition you refereed will receive a notification about the incident.
He/she may contact you latter for more details.
If you have any questions as to how to use the app please refer to the the following video: https://www.youtube.com/watch?v=_Uz0_gTaOnY
On To The Game Reports!
We are starting off with a report from back east.   Keep them coming…
Date: 03/18/2016
Archbishop Spalding 50 – Frederick U-19s 0
Location: Severn, MD
Referee: Valerio, Stephen
Archbishop Spalding is a Catholic High School of about 2000 co-ed students. The match was played on a fairly new artificial pitch which was in great shape. A little experience on a rugby match and how long it is would be good for the scoreboard operator, but you have to appreciate starting a match with a proper national anthem.
Frederick Maryland is the home of the Maryland School of the Deaf and 4 players for Frederick were hearing impaired. Luckily Mike Hill, who had covered the JV match before had experience and we went through the procedures beforehand. Both sides played with them in good spirit, though all of us were inconsistent in using them. It did make managing the players a little tricky in trying to warn them to get back and occasionally waiting for the one player who could translate to jog over to help with questions.
The match itself was played under the lights, and was a little chilly but a comfortable temperature. Spalding dominated the lineouts winning their own ball and a good share of Frederick's. In addition they were strong in the scrum, but not as dominate. From early on they were in control and just sustained the pressure throughout. An early season match, it was a little sloppy and lots of random infractions from some inexperienced players.
Date: 03/18/2016
Mount St Mary's 48 – West Chester University 10
Location: Emmitsburg, MD
Referee: Valerio, Stephen
Mount St Mary's is moving to the new DI-AA Chesapeake Conference in the fall after being a national power at the NSCRO for several years. West Chester University plays in the DI-AA Keystone Conference and made the trip south to Emmitsburg after coming off an Argentinian tour. While we had experienced temperatures in the 70s earlier in the week, we got to have our match played in snowy conditions. The cold wasn't a huge factor, but the pitch took a beating, particularly one corner where we had several scrums. Handling wasn't crisp as you would expect, but the players adapted and the handling improved as the match went on.
Mount St Mary's had previously beaten West Chester by a healthy amount and West Chester came fired up to play. However, Mount St Mary's collected the opening kick-off and ran it in for a try just 30 seconds in. Mount St Mary's was a more cohesive group and played a better structured defense. West Chester struggled with the offsides line and lost a player for 10 minutes in the first half from repeated infractions. However, Mt St Mary's had a few rare periods of indiscipline and West Chester used them to collect their 2 tries. That being said, the match was never in doubt.
Next we have a travelling Pelican checking in.  Well done, indeed…
Date: 03/12/2016
Tucson Red Mountain 40 – Tucson Black Birds 7
Referee: Byrnes, Bryant
In southern Arizona for business, pleasure (read national parks), and medical sun, I was graciously assigned matches by the Arizona Rugby Referee Society, which is a component of the South California Society. Thanks to Phil Klevorick, Mike Lyons, and Rob Speers for the courtesies extended.
We in Nor Cal assume as a matter of course we have the best rugby in the country. We may well, but there is some pretty good stuff in our very own outback. This was high school, at the reasonable hour of 9am considering the heat. And excellent high school rugby; I believe that Red Mountain is ranked third in the country. They were led by the biggest prop in creation and had their very own cheeky, chippy Kiwi flanker. But the Black Birds gave them a game-from what I could see, Red Mountain's 40 points may have been the least they scored this year.
Date: 03/19/2016
Phoenix 64 – Camelback 21
Referee: Byrnes, Bryant
The venue was Phoenix; at 1pm hot, low 90s, and dry, dry, dry. If you are from the Bay Area, it was like a match in Bad Water, Death Valley.
This was mid season D1. Phoenix probably brought 50 guys and had a relentless forward pack. (And the inside center was rather a beast.) Camelback was just happy to field a side. It told me six of its starters were either injured or unavailable.
Regardless; any rugby player who has played more than a few seasons has been on both sides of this equation. Play on.
Phoenix B 38, Camelback B 15. Everybody deserves a run. When the B side ref did not show up, I postponed my Gatorade IV drip for an hour. 10 to 12 at half, the fresher legs prevailed in the second period.
And now on to the local action…
Date: 03/19/2016
Chico 55 – Life West 2 32
Referee: Tucker, Chris
A Chico side that looked like it finally remembered how to play, hosted a Life West side that was struggling for numbers after they had most of their first squad pulled into the SF pro team.  Nonetheless, rugby was played, rugby was enjoyed, sun shone, world kept turning etc.  In practice we ended up with two attack-minded sides who scored 87 points between them, and ran me close to the 4 miles I view as a reasonable game.  Chico pulled out an early lead, thanks to a strong kicking performance — 3 penalties and a converted try in the first quarter, and Life just didn't have enough to keep pace.  It was 36-10 at the half, and at that point Chico began to put their replacements in, and the game went off the boil.  Tries were exchanged for 40 more minutes, but we were done.
Thanks to Mr. Jagoe for the beer after the game.  Always entertaining watching B-side with a beer in hand!
Date: 03/19/2016
Colusa 70 – Silicon Valley 15
Referee: Tetler, Jen
There was lots of good rugby going on up in Mendocino this weekend, and a beautiful drive to get there.  Colusa came out strong at the outset, with two quick scores in the first 10 minutes.  They continued to be dominant throughout the game, including a try off a blocked kick and a few breakaways.  The first half ended 34-0 in favor of Colusa.  In the second half, Silicon Valley showed that they would not give up, and they got 3 tries during the half, showing some good handling, running, and support.  Nevertheless, Colusa still had the fitness and speed to score several tries of their own.
Date: 03/19/2016
Diablo B 14 – Berkeley B 15
Referee: Madsen, Erik
In a slightly shortened game both teams fronted 15 players (most pulling double duty) for a back and forth match. The first points went to Diablo after the Berkeley scrum half had his kick "charged" at the back of the scrum by the back side of his own 8 man about 10 meters out from the try line.
Date: 03/19/2016
EPA Razorbacks 31 – SFGG 13
Referee: Pescetti, David
On a bright sunny day in easy palo alto two great sides clashed. As it was the last home match for the Razorbacks they performed their unique haka. An incredibly close match on this rugby Saturday.
EDITER'S NOTE: I try not to edit or interrupt in the middle of writups too often but I must say I love the new nickname for East Palo Alto.
Both teams went for kicking points early in the match, each team missing their kicks. SFGG put up the first points of the match kicking in the 14th minute and going up 0 – 3. There were long stretches of uninterrupted play that was great fun to be a part of that left everyone gasping for air under the hot sun. The Razorback threatened but were unable to secure points until the 31st minute where they too successfully kicked points evening it all at 3 apiece. On the following possession Golden Gate answered 3 minutes later, kicking, and going up 3 – 6. With less than a minute remaining in the half the Razorbacks were threatening, but GG won a scrum close to their goal line. Winning their scrum they had to hold the ball for a phase or two but they kicked it away because the pressure was too great. Unfortunately they missed touch and EPA had a chance to counter attack. They made the most of it, scored and converted. EPA took their first lead of the match at the half way mark going up 10 – 6.
The second half was just as stubborn as the first half. Kicking was a key part to this game. Both teams were able to relieve pressure with booming kicks. There was no score until the final quarter of the match were SFGG was able to score and convert regaining the lead 10 – 13. However, the rest of the way it was an EPA game. They responded to going down with their own converted try 5 minutes later taking the lead and not turning back. GG pulled all the stops in order to try and score again, but were unable to and their tired arms couldn't bring down the physical Razorback runners. The Razorbacks put up two more scores and ended the match with a hard earned victory 31 – 13.
A wonderful match to have taken part of.
Date: 03/19/2016
Jesuit 64 – Mother Lode 13
Referee: Pohlman, John
BIG DAY OF RUGBY…is what the flyer said.  And indeed it was.  This Saturday I had the good luck and privilege to referee the Jesuit Varsity match against Mother Lode at Bonney Field in Sacramento.  The last time I was at Bonney Field I watched the Eagles play a pre World Cup warm up.
My game started at 1:00PM followed by Granite Bay/SOLO match.  After seeing these four high level Variety programs I was quite impressed.   Great athletes, great coaches, great venue.  A select side from these four team could go far.
After the games a skills display was presented by the new Professional Rugby Team from Sacramento.  Indeed, BIG DAY OF RUGBY.
I had the pleasure to referee Mother Lode earlier in the season against power house Danville.  Unfortunately Mother Lode was again over matched.    Jesuit controlled the ball spun it wide and #14 Jamie Thomas scored twice in the first twenty minutes.  Jesuit captain Christian Dyer was my man of the match.  His unselfish play set up at least half of Jesuits nine try s.  Mother Lode played hard all game long.  They were skilled, talented and good, just overmatched.
Thanks to Matt and Steve my outstanding AR's .
Date: 03/19/2016
Marin 24 – Google 24
Referee: Bertolone, Cary
Another super site Saturday, this time in Ukiah, with about 11 teams converging for league games. Did I say 11, not 12 teams? Mendo did an outstanding job of hosting with a lot of food, water, beer, tents, etc and the two fields were right by the beer gardens and food, so everyone could watch.
Anyway, I had the first game, between Google and Marin. Google kicked off and scored 5 minutes in to it with their forwards securing the ball, flyhalf kicking and the outside center/wing combo scoring in the corner, just the way it's supposed to happen. Marin scored 9 minutes later and converted for a 7-5 lead. Google came right back with their forward work and scored between the posts, taking the lead 12-7. Marin closed the gap with a successful penalty kick. With no time left in the half, Google dotted another one down to take a 17-10 halftime lead.
By now, there were several other teams watching and another game was kicking off, so a lot of sideline action was making it more fun. Ten minutes in, Marin scored a converted try by Hamid, their flyhalf, and the game was tied. Google took the lead on the 19th minute, Marin scored on the 24th minute, tying it at 24 with 16 minutes to go, giving both teams plenty of chances of winning it. Good defense prevented more scoring and the game ended, tied up 24-24. Good spirits, clean rugby, it was fun.
EDITOR'S NOTE:  See you at the next meeting, Cary, and don't forget the beer!
Date: 03/19/2016
Modesto 82 – SF Fog 0
Referee: Leisek, Joe
Game 2 of the D3  Supersite in Ukiah, graciously hosted by the Mendocino Steam Donkeys. Lots of one-way traffic in this match, with Modesto's backline running many misdirections and sevens-style movements. The forwards kept it tight when necessary to provide good ball. The "home" team scored seven tries in the first half and six in the second. Though outgunned, the Fog showed heart and kept trying to make the gain and goal lines to the end. A clean game played by both sides and a pleasure to referee. Great to see Cary, Jen, Bruce, and Grant!
Date: 03/19/2016
Redwood 17 – Shasta 41
Referee: Hammack, Robert
Kickoff was delayed because neither side had 15 players. Got underway with 14 each side. Just started to get warm as we kicked off. Good play on both sides to start the match. Shasta seemed a little taken aback by Redwood's early play that led to 2 tries. Redwood's crafty #10 directed play well but went out midway through the first half with a leg injury. Redwood led by 10 at the half, 17-7. Shasta's fitness and more experienced players took over in the second half as they ran away with it, outscoring Redwood 34-0.
Date: 03/19/2016
Reno 64 – South Valley 35
Referee: Bernstein, Bruce
A lot closer match then the score indicates.  South Valley was ahead @ half 25-24.  Reno with 14 players starting lost a few more to injuries & a yellow card in the 2nd half but still managed to tough out some impressive scores by their robo halfback with one eye patched up from being split open & a fullback who couldn't walk but ran in 2 long tries!  South Valley showed a big improvement over last Saturday's performance & could have used a few subs themselves.  Great 5th Super Site scene for our 3rd Division hosted admirably by Mendocino which hopefully will be continued next year & maybe for some other divisions & parts of the country & world since fun tournaments are a thing of the past for competitive teams.  Pretty sure all players & refs had a really good time in that environment with very good fields & beer tent, plus the all important sunshine & warm weather.
Date: 03/19/2016
Riordan  45 – Lamorinda  33
Referee: Sandhill, Peter
It's always nice refereeing or playing or a field with dirt and grass. SFGG field on Treasure Island was lovely and the sun broke thorough on an otherwise cloudy and rainy weekend. The Varsity Premier grouping seems to have a top and bottom this year with both Riordan and Lamorinda in the bottom half. Both played well, although a little scrappy in the first ten minutes. Lots of running rugby, tries galore and free flowing play. A pleasure to ref. The Riordan forwards had the upper hand and the Lamo back, slightly had the upper hand. The better team won and probably could have scored a few more points if not for some technicalities around the breakdown. Both teams had good goal kickers, which is a pleasure and added to the tight contest. Hats off to Riordan who had the upper hand on the day.
Date: 03/19/2016
Sacramento Blackhawks 36 – San Jose 30
Referee: Hettermann, Matt
No report received
Date: 03/19/2016
Sacramento Lions 52 – Fresno 10
Referee: Akroyd, Phil
A lovely spring day in the valley and I was happy to be back on the field.  After picking up the G.I. bug that was going around the Las Vegas 7s, then getting a serious case of Influenza, I thought I might never ref again.  It was around 70 degrees and sunny for the D1 meeting at Robla Park.  The field had both lots and no grass at the same time, with some spots resembling my patio and some like a rain forest.
The Lions started slowly, and both teams were surprisingly rusty, given that they have played many games this season and the conditions were good.  Once the Lions hit their stride and they got into their 7s style of play, they really pulled away.  Fresno were often offside at the back of the ruck and their captain consistently reacted as though I was accusing him of murder.  Not constructive.
There was a "first" in the game.  A player had to change his shorts mid-game because they were covered with poop.  Thankfully for him, it was not his own.  It was a gift from a local dog, or at least that was his story.  The players were thankful for the time-off period while the victim incinerated the garment, because nobody wants to be covered in poop during a rugby match.
Date: 03/19/2016
Santa Rosa 27 – Life West 64
Referee: Bretz, Paul
Beautiful day in Santa Rosa.  Santa Rosa opened the scoring first with a penalty kick.  Once Life got on the front foot of attacking ball they were hard to stop.  Santa Rosa scored three of their tries on 5 meter scrums, one a penalty try and two push over tries.  Neither team had all of their starters.  Will be a fun rematch in the post season.
Date: 03/19/2016
Santa Rosa B 10 – Life West B 43
Referee: Simko, Paul
Santa Rosa was short players and they told Life when they arrived that there wouldn't be a second game, so Life shipped their second squad somewhere else to get a game.  When I told them about my 2.5 hour journey, they wanted to get a second game in.  So they played 10's with uncontested scrums, 10 minute halves. This game was all Life.  There were a couple of older guys out on the Rosa side.  Got a run in and it was clean and fun.  The chicken, rice, salad post match feast was solid.  The upside is that I got home early and got a workout in.
Date: 03/19/2016
UC Davis 40 – Fresno State 10
Referee: Gordon, Preston
This was a nice clean game with a fairly low penalty county on a warm and sunny day in Davis, on a freshly-mowed pitch. What's not to like about that? The Aggies had the upper hand in most aspects of the game, with better ball handling out wide vs. the Bulldogs' stronger scrum. The home team was a little more willing to move the ball out to their backs, while the visitors tended to keep it to one or two passes before crashing into opponents to form another ruck.
The first and second halves both went 20-5 to UC Davis, with their 6 tries, 2 conversions (2 others hit the post but bounced the wrong way), and 2 penalty goals coming out on top compared to Fresno State's 2 unconverted tries.
Thanks for the help of the two touch judges on both sides, and to the players for a great game of rugby. Good stuff.
Date: 03/19/2016
UOP 45 – Sierra College 41
Referee: Wilson, Giles
Sierra College have a number of good players and probably should have won this game but about 5 starters did not arrive in time for kick off and this lack of discipline (and respect for team mates) carried over onto the field.
The game started with a series of offenses by Sierra; late tackle, offside and when we reached 4 inside 8 minutes the only option was a yellow card. Play went back and forth with UOP not really able to capitalize on the extra player. The flow of penalties had slowed, allowing the game to break out; UOP struggled with the big Sierra runners who kept Sierra in the game. Just as the first yellow card was due to return, a cynical offside at a defensive 5m ruck by Sierra sent their 10 to the sin bin.
Half time UOP 14 (2 converted tries) to Sierra 22 (1 converted try and 3 unconverted). At halftime the latest arriving Sierra players joined their more less timely team mates but left Sierra with on 2 further replacements.
Shortly after half time, a replacement Sierra center upended the UOP ball carrier when defending around the 5m line. The resulting red card meant that Sierra would play more than half of the game with 14 on the field. With this advantage, UOP began to make some better choices by avoiding the generally bigger and more physical Sierra players to run in 5 tries (3 converted). Sierra remained able to counter punch and scored 3 more tries of their own (2 converted).
At the end both teams scored 7 tries but UOP converted 5 while Sierra only converted 3, leading to the 4 point win for UOP.
Date: 03/19/2016
Vacaville 38 – Baracus 12
Referee: Wood, Scott
TJs: Anil (Vacaville), Charlie (Baracus)
Location: Calif. Medical Facility, Vacaville (outer perimeter)
Attendance (unpaid): 2,349
A warm day. First half was besieged with inane penalties, made worse by the referee's abhorrence of DC reports. HT Vacaville led 19-0. Second half featured better open play and constructive tackles and rucks. Vacaville extended the lead to 31-0 before Baracus responds with two consecutive tries. Vacaville score a sixth try with five minutes remaining.
Kudos to both teams for the excellent demonstration of sportsmanship.
This Week's Photo
With no submission from other Pelicans this week I am using a pic from when I went to a Giants game in a bunny suit on Easter Sunday.   Yes this is from 2010 so I am wearing a knit Brain Wilson beard.  You're welcome.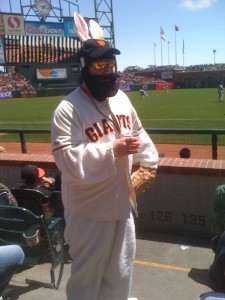 Hail, Pelicus!
For the Senate
Pelicus Pedem Referre