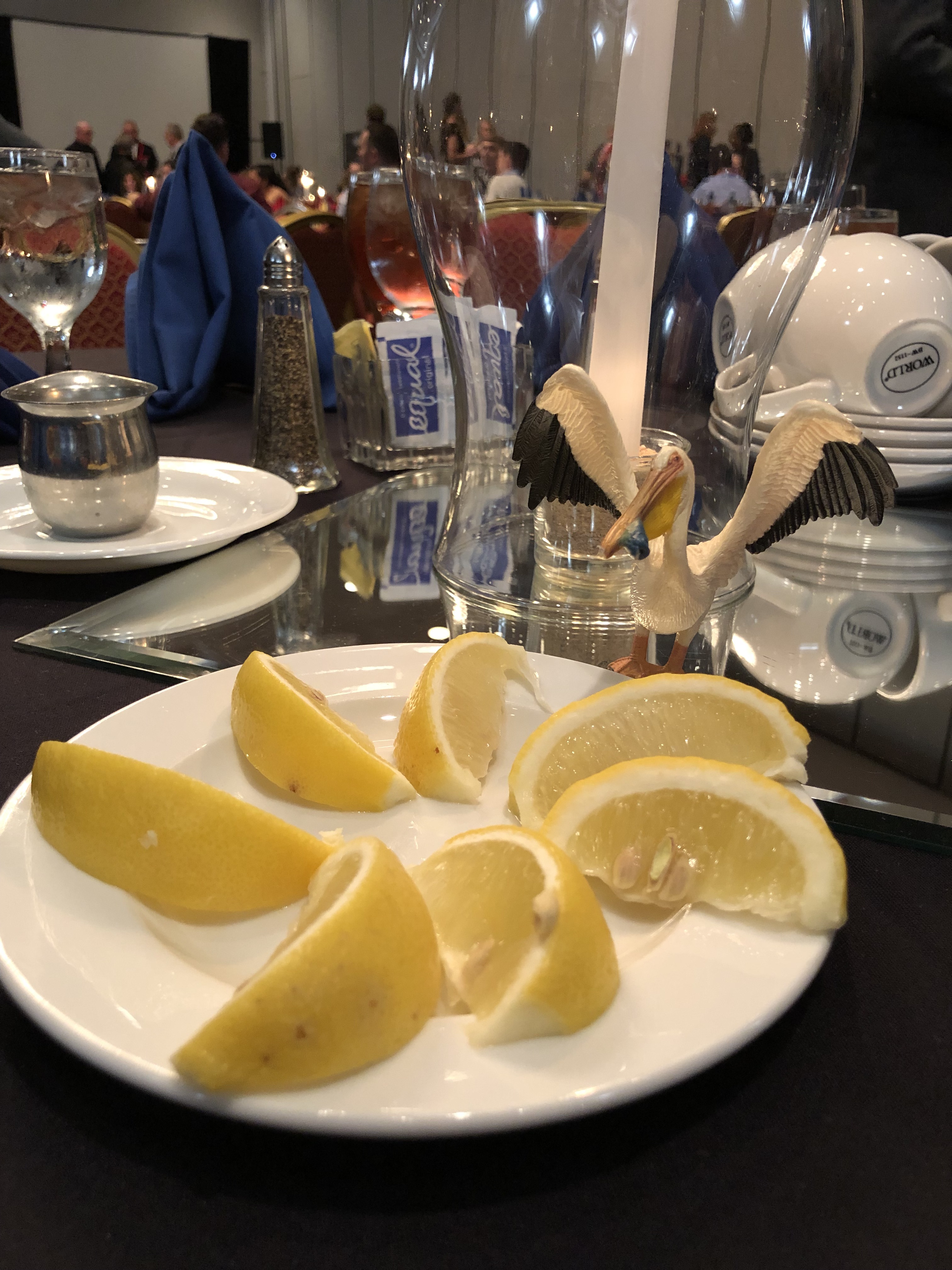 HAIL PELICUS!
Off To Watch Hamilton!
Well, not the Broadway musical, or at least not this week – I have tickets for later in February and will give a review once I have processed it. Why? Because my readers demand it. At least that is what the voices in my head say.
No, I am going to watch the Hamilton 7s, the New Zealand leg of the World Sevens Series and the first USA match against Tonga will start in a couple of hours from this writing. This brings us back to the USA 7s team who has sprinted (ha!) off to their best start in history. The USA has traditionally started slow and then built momentum as the Series moved on but this year they shocked the world and started fast. There are many questions that will be asked and some may even be answered – here are three of them:
Question the First: Can they keep the momentum going? I'll have to let you know next week. As legendary 7s coach Tory Golino said, a top 3 placing will keep us in the top spot but we will eventually need to win a Cup Final – probably 3 or 4 to win the overall title. As a side note, I am just tickled pink that this is an actual, legitimate conversation to have.
Question the Second: Are we finally starting to produce depth? There are a number of unfamiliar faces in the squad posted. We have traditionally relied on the same 9 world class players as our core and left the rest of the squad to play out in blowout situations or against weak opponents. This core is aging and at some point Coach Friday needs to trust the next generation and said generation needs to step up. This may be the time that it happens.
Question the Third: Why is Carlin Isles still in the squad? It is time to fully admit it: Carlin Isles is not a good rugby player. Yes, he is very fast but, really, that is it. He is a liability any time he is asked to tackle, pass, off load – do anything besides run in a straight line and the opposition knows this. He is instantly targeted as soon as he steps on the field. He will score tries – especially in mop up work against overmatched teams – but should not be on the field against the top half of the table. He will get a few tries in those games as his teammates create an overlap or a crack appears, but those tries no longer balance out the knock ons, poor passes, inefficient rucking and lack of tackling that he brings to the rest of the game.
So there it is, your Hamilton pre-tournament notes. Let the sevens begin.
Finally, according to the longstanding tradition that I made up a few weeks ago, because it still holds true even now, I must remind everyone that the USA is ranked #1 in the world in 7s.
Annual Vegas Begging Notice
The Las Vegas Invitational is coming up in early March and they are desperate, again, to have substantial representation from The Greatest Referee Society On The Planet. Here is their official pitch:
Referees One and All !
The biggest rugby tournament in North America is looking for YOU! The Las Vegas Invitational needs you on February 28th, March 1st, and March 2nd to help volunteer and officiate 7's (and a select few 15's) matches across youth, collegiate, and adult divisions in Sin City. The most all-inclusive tournament in Rugby has filled out their divisions again this year, and it can't be done without you! Come ref by day with old friends, and enjoy the most exciting city on earth by night! California brought a great number of refs last year, and the LVI would love to have you back!
All Referees receive:
– Rhino LVI Referee jersey (both Male and Female specific models)
– Tickets to all 3 days of the USA Sevens International event
– Access to the Westgate Resort LVI room block – massive benefits available on room rates (only $70 weekdays, $95 Fri/Sat for a 2 bed room), $12 breakfast buffet deal, WAIVING ALL RESORT FEES THROUGH FEBRUARY 10TH!!, $40 shuttle passes from the hotel to the stadium and the fields, and FREE PARKING!
– A Thursday night "REFS ONLY STRATEGY MEETING (wink wink)" with complimentary carbonated adult beverage provided (while supplies last) at the Westgate.
– A Lunch Voucher for Sam Boyd Stadium for all participating referees!
– the chance to referee teams from the USA, Canada, New Zealand, Japan, Nigeria, Mexico, the UK, France, Australia, and more!
Westgate Hotel link: https://book.passkey.com/event/49745916/owner/3453/home – again, with waiving resort fees, you get the cheapest rates and get to stay at an incredible resort and the hub of the LVI.
To register to ref at the LVI 2018, contact Head Referee Autumn Arvidson at : mnrugbyref@gmail.com
Any questions about the event?: https://www.usasevens.com/las-vegas/las-vegas-invitational/
2019 USA Rugby Game Management Guidelines
Looking for guidance on how to manage a game? Well, USA Rugby has your back. You can find the 2019 USA Rugby GMGs here: https://drive.google.com/open?id=1XXcRfsVtLLqUawEHUI47ei0dt_65fDM.
If you do not have access to the google drive linked above you can also view them as well as other pertinent documents here: http://www.usarugby.org/referee-resources/
Disciplinary Action Reporting – Process For Reporting Incidents
The various competitions all have their own disciplinary chairs and this will make it difficult to centralize the communication and data. To help we have developed a form that will centralize the process, regardless of the competition. The link to the discipline form is https://docs.google.com/forms/d/e/1FAIpQLSc42vbdqnFVH0u1BGTLhjOivDO2hNsmV4NXvvnC4FyAka7sKQ/viewform?vc=0&c=0&w=1
Copy the link and have it available on your smartphone. If you have an iPhone add the link to your home screen.
When needed fill it out and click submit. The discipline chair of the competition you refereed will receive a notification about the incident.
He/she may contact you latter for more details.
If you have any questions as to how to use the app please refer to the following video: https://www.youtube.com/watch?v=_Uz0_gTaOnY
On To The Game Reports!
Date: 01/19/2019
Mill Hill 19-20 Watford
Location: Mill Hill RFC, Hendon, London (https://goo.gl/maps/fri3BFBRbkL2)
Competition: Herts/Middlesex 2 Shield
Referee: Preston Gordon
I was appointed as AR1 for this knockout game, which I found out was a semi-final. For those unfamiliar with the various cup competitions in England, they are basically playoff brackets that run the length of the season. Certain weekends are designated as cup weekends, where no league matches are played, and this was one of them. A winning team moves on to the next stage, and a losing team either drops down into a lower cup bracket or (towards the end of the season) is eliminated.
It's a great system because it gives clubs something extra to play for, and lets them play opponents they otherwise would not play within their league.
The cold weather continues to make itself noticeable here, and I have to admit that this was the first match in which I have ever worn gloves. Apparently that isn't unusual here, and after a couple of recent games trying to write in my score book with very stiff fingers, I have decided to get myself a suitable pair for refereeing. The North Face ones I used to AR were fine for holding a flag, but they would be too bulky for a whistle. I was very happy that my LSRFUR all-weather tracksuit arrived earlier in the week, especially in the second half during the 20-minute period of freezing drizzle.
As an AR, I'll keep the match summary brief: Watford led 13-7 at half, with 2 penalties and a converted try, vs one converted try for Mill Hill. In the second half, Watford scored another converted try, while Mill Hill fought back with two tries, the second one after time had expired. That conversion, taken about 15m in from touch, would have won them the game, but I watched their kick sail wide of my post. The
4 yellow cards in the match for ill discipline didn't actually seem to affect the contest too much.
Mill Hill's clubhouse is about as far from Saracens' ground at Allianz Park as Hendon's clubhouse is (400m) but it's west instead of south.
Saracens kicked off against Glasgow in the last round of the European Champions Cup about an hour before my match did, and at times it seemed like our audience of ~50 was making the noise of 5,000. A stream of spectators leaving the Sarries game appeared out of the bushes soon after halftime, with many sticking around to watch the action for a few minutes before heading into the Mill Hill clubhouse in search of warmth and further refreshment. By the time our team of three made it to the clubhouse, several of the beer taps were hors de combat and the room was packed with supporters from both sides, including several Scotsmen in kilts. I can definitely recommend the food and beverage selection at Mill Hill's clubhouse – it's very good, and they're clearly happy to have (and know how to handle) the extra custom from people coming or going to Allianz Park.
Date: 01/20/2019
Harlow 20-27 Blackheath 2
Location: Harlow RFC, which is in… Harlow (https://goo.gl/maps/nnzCRVDXT4A2)
Competition: The Women's Junior Cup
Referee: Preston Gordon
After ARing for a men's cup matchup the day before, I was keen to get a full match in on Sunday, which seems to be the usual time for women's rugby here. This was my first women's game in England and the level of physicality didn't disappoint, with both teams running into contact and hitting the rucks hard and almost always legally.
Unfortunately, this level of commitment to the physical side of the game resulted in one likely separated shoulder, one likely broken rib, a few bloody noses, and assorted stoppages for heavy taping of ankles and knees. Each half took about 46 minutes to complete. I also got flipped upside down with a twisted ankle in the 77th minute after one of the players stepped on my foot just as I pivoted to run towards a change of direction in play. The resulting involuntary somersault would have looked great on video. I nearly blew my whistle to stop play, but luckily I was able to get to the next breakdown in time to whistle for an unplayable ball. I shook it off and finished the match, and as I write this one day later, everything feels fine.
The Harlow facilities would be the envy of all but the top sides in the country. The clubhouse is about two years old and features a bevy of changing rooms on the ground floor and a couple of large bar and dining spaces above, and there are 3 perfect pitches outside. The previous day's gray skies and freezing drizzle I encountered in Mill Hill (north London) had turned into a lovely calm winter day, with bright but low sunshine. It was in the low 40s at KO, and by halftime, it was back to freezing again. Then it got colder.
On to the game itself: Blackheath only brought 14 players, so per the RFU rules for this competition, Harlow had to start with the same number even though they had several replacements. Both sides decided to drop the #8 and play with a full backline, which seemed to suit their strengths. The game was very even, although Harlow were chasing Blackheath for the majority of it. At halftime, the score was 22-10 and the margin of four tries to two and the general trends in the game seemed to indicate that an easy victory for the visitors was in the cards.
However, due to the aforementioned rib injury, we had to play the last ~25 minutes with uncontested scrums. This clearly favored the Harlow ladies and they took full advantage, scoring two further tries to Blackheath's one to close the gap to seven points with 6 minutes remaining. Ultimately nobody was able to score any further points, and Blackheath progressed to the next stage of this knockout competition.
Despite the 2 yellow cards I had to issue in the 38th minute for a ball carrier charging into her opponent with an elbow to the face, and the ensuing retaliation (which reversed that penalty) spirits were good for the post-match function in the clubhouse bar. The Harlow ladies were last seen heading to a public house in town in order to take over the Sunday evening Karaoke. I declined their kind invitation to join them: having once been the doorman/bouncer at a weekly karaoke night in Tucson, I know all too well what kind of acoustical abuse the staff has to suffer!
Date: 01/18/2019
Cal Maritime 21 – UC Davis 43
Referee: Steven Fenaroli
Friday night lights at Maritime was filled with early season rugby. There was some confusion about how long each half was going to be. Maritime even notched a drop goal.
Date: 01/19/2019
Berkeley RFC 17 – Olympic Club B 24
Referee: Roberto Santiago
It was a great day for rugby at Tom Bates fields in Berkley. The Rhinos had just finished a scrimmage against Napa and Santa Rosa that had seen some hard nosed rugby and smiles all around. The U19 coaching staffs were models of leadership in how they worked with players and the referee. Afterward, the three teams got together for a snack and some camaraderie. It would have been a nice thing for some of the senior men's coaches and players to see and maybe use as a model. Both Berkeley and Olympic Club B came in short handed. O-Club was a touch younger, a little faster and a hair more athletic. They had the advantage in each phase of the game. The visiting team went ahead 12-0 at 12:00 minutes into the game. It looked as though they might cruise to an easy win on the scoreboard, even if it was hard won on the field, but for one issue. O-Club couldn't clean up play at the breakdown, specifically in regard to the tackler and tackle assist players releasing the ball and ball carrier. A variety of management techniques were attempted, to no avail. Penalties, discussion, warnings, a professional foul and yellow card later, we were all tied up going into half time. The second half was played to a higher standard to the first, as players began to comply with both law and the referee's instructions during play. With less attention needing to be paid to the breakdown, the rest of the game opened up. To their credit, Olympic Club had one tendency that ran counter to expectations and which benefitted them greatly in the second half. When Berkeley had them under pressure inside the 22, Olympic Club were able to avoid the usual penalties that are often committed by teams with their backs near their own in-goal. O-Club was able to hold fast until the attackers, forced to play multiple phases, eventually turned the ball over. As a result, the men from SF went back ahead by 12 points in the second half. Berkeley scored another try at 30:00 to make it done score game, but O-Club continued to play hard and keep an edge in time of possession before kicking the ball to touch after time had expired.
Date: 01/19/2019
Central Coast RFC 0 – Marin 38
Referee: William Nelson
The field was located in the middle of a naval base and with the cool ocean breeze blowing it was a great day for rugby. The game first half was very evenly matched with minimal scoring. At half time the score was 10-0. In the second half Marin took control of the game and scored 28 more points.
Date: 01/19/2019
Fresno 22 – Google 27
Referee: James Hinkin
No Report Received.
Date: 01/19/2019
Life West D2 53 – Vacaville 0
Referee: Andrew Houghton
No Report Received.
Date: 01/19/2019
San Joaquin-Stanislaus RFC 29 – Chico Mighty Oaks 28
Referee: Chris Tucker
Over the past 10 years, I have reffed more games than I can count. And on a couple of occasions (yes, looking at you, JC) I've been called upon to step into a match mid-way through. This is never an easy experience, either for me, or for the teams. The game is simmering away nicely, and then there's a break while the replacement ref gets ready, and then inevitably the replacement has a slightly different view of things than his predecessor. But importantly, rugby gets played.
Now, I have never failed to finish a game. Even when I blew my back out, I finished the game. Well, it didn't hurt, did it? At least not until the next day… However, Saturday marked a new watershed. With the Harlots 5 points up, and the game poised for a raucous last 20 minutes, something in my calf popped. I sat down and blew my whistle, and that was that.
Leading up to this point, both teams were enjoying their rugby, playing well and, on occasion, learning a thing or two. Like not to shout at the kicker on a conversion (the Chico kicker was gifted a rekick after he missed. He nailed the second one). And that all front row players can strike for the ball (after the Harlots took one against the head by the tight-head. Yeah, I probably missed some shenanigans on that one…)
Anyway, I was done, and Beau McSwain from Chico bravely stepped up, borrowed my whistle and watch, and a jersey 2 sizes too small, and gamely finished up the match. The hosts kindly got me a chair and a beer, and I put my feet up and swore profusely as the game restarted with a scrum.
Now, the game was real even, and the two teams traded a try each, before Chico scored a try at the death. Beau called over "Try at 38'45" (I was keeping score still), which given you have 90 seconds to kick, and you're directly under the sticks, and the score is tied pending the conversion, means you're going to win. You wait 76 seconds just to be sure, and kick, then go drink.
But the kicker was in a hurry, so they restarted. And surely Chico would just punt it and again go drink. But they ran it up, committed an infraction, and the Harlots had a penalty on the 10m. They kicked for lineout, got the ball inside the 22, won the throw, and span it out to the backs. And then Brian, the captain and #10 dropped a goal from 30m out. Split the uprights, deep into the forest behind the posts. Fantastic stuff, taking the game by a point!
Date: 01/19/2019
Santa Rosa 34 – San Jose Seahawks 27
Referee: Lee Bryant
Highly contested match with lead changes and close score at half. Strong scrums and runners from both sides. Beautiful mauls from Santa Rosa, one of which was a driving maul from a lineout for a try. The difference was a few missed throws in the San Jose lineouts and Santa Rosa had more gas in the last 20 minutes. Field was not as muddy as I had feared with only two reset scrums.
This Week's Photo
Pelicans represent! Pelicus Caeruleus Ursa steps up at the mascot check at the National Development Summit.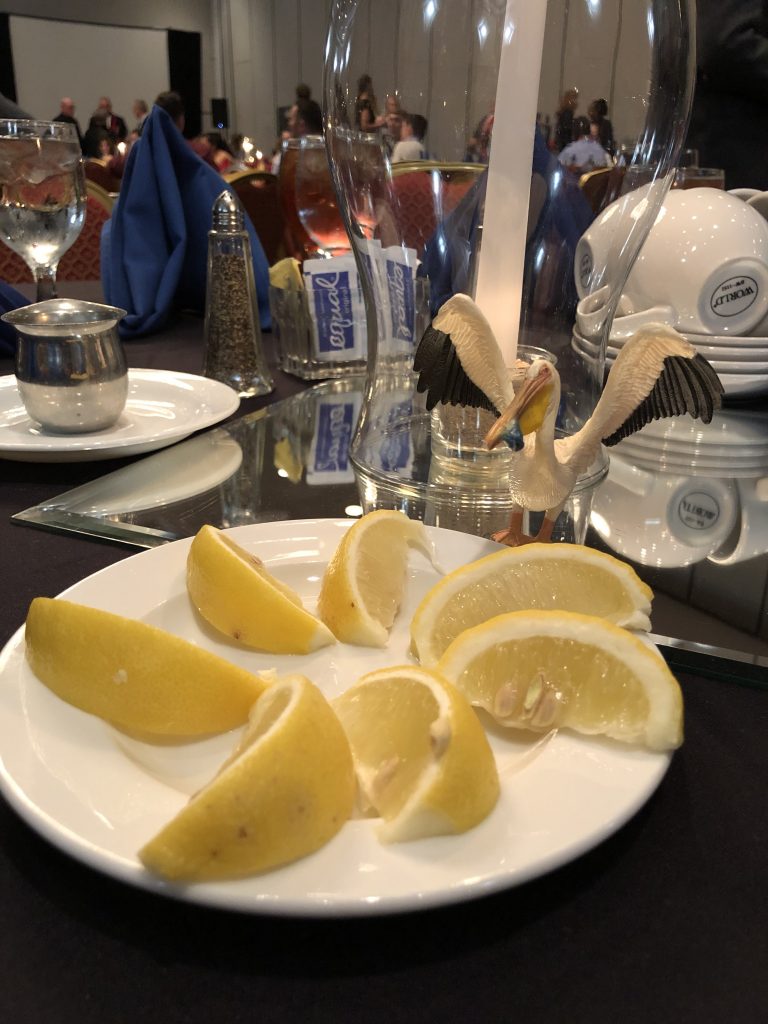 Hail, Pelicus!
For the Senate
Pelicus Pedem Referre