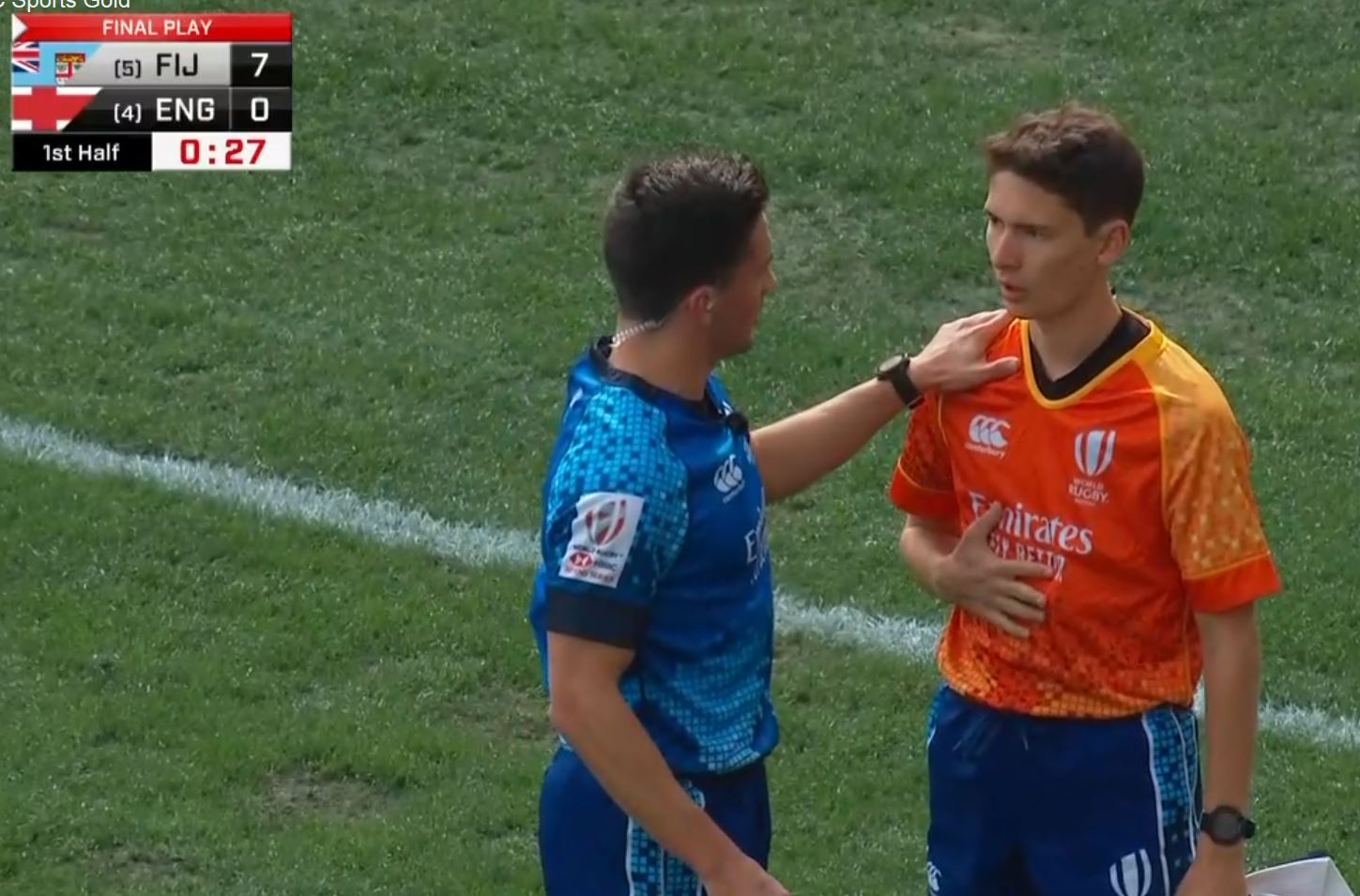 HAIL PELICUS!
Pachydermus Proximus
This was supposed to be a Hail Pelicus that focused on the North American legs of the World Sevens Series, and yes we will get to that below, but I would be remiss if I did not talk about the elephant in the room.
The coronavirus has now become a global pandemic and both the WHO and the CDC have gone on record that we must move beyond containment to treatment. Schools have closed, events cancelled and the entire country of Italy is under quarantine. The counties of Santa Clara and San Francisco have banned events where more than 1000 people gather and are considering reducing that number to 250. In the US every major currently active sporting body – MLB, NHL, NBA and the NCAA – have cancelled matches and events; a stunning move given the billions of dollars at stake. This goes to show how seriously people are taking this.
In this fast moving situation I am positive that more governing bodies and government officials will announce even more restrictions, but this what I am aware of now.
Locally, Rugby NorCal has cancelled matches at least until March 23 and local clubs and colleges are also cancelling matches.  I would expect a statement from USA Rugby at any time and really, it is past due.   Referees, keep an eye out and stay in contact with teams to determine if your match will be played as scheduled.  I have heard that the NCRFU will be meeting later this afternoon (this was written early Thursday afternoon) to determine if all matches should be cancelled, so please be prepared.
UPDATE March 12. 6:45pm
A USAR statement went out on 3/5.  It was updated today.
https://www.usa.rugby/2020/03/usa-rugby-regional-and-national-governance-mandate-for-coronavirus-covid-19/
The NGB can recommend that people suspend play, but can't mandate it unless the USOPC speaks from the top of the mountain.  As of this morning, the USOPC is reporting the Tokyo 2020 games will go on.  However, several board members have personally reached out to college, club and youth/high school and informed them that they STRONGLY suggest suspending all activities until April. 
NCRFU has suspended all rugby activities until 4/6/20.
D1A has suspended rugby activities until 4/5/20.
There is a lot of rumor and misinformation about COVID-19 currently circulating. Should we panic? Of course not. Do we need to stock up on toilet paper? Don't be ridiculous. So what should we do? The answer is simple: basic hygiene, folks. I can't believe that I have to tell this to anyone over 5 years old who doesn't play in the front row but WASH YOUR HANDS. Be mindful of unnecessary contact. If you have any symptoms or are feeling sick don't go to work, or training, or games. Sit at home for some Netflix and Chill. Just don't go out.
There have been several memes going around regarding the total death of the good old fashioned flu vs the coronavirus. Yes, in the United States the flu does indeed kill tens of thousands of people a year (and maybe we should be doing more about that?) and the coronavirus has – as of this writing – killed less than 100 people, so why worry? For several reasons:
The flu is a seasonal disease that we understand fairly well, have vaccinations for and generally know how to deal with. It is omnipresent throughout the country (and the world) and has a mortality rate of 0.1%
In contrast to the seasonal flu, coronavirus is new and so far has infected and spread to only a small part of the country – as far as we can tell. A major problem being that we don't have nearly enough tests to determine accurately how many cases there actually are.
The mortality rate of coronavirus is an order of magnitude greater than the flu – current estimates hover around 3.0%-4.0%. As more cases are confirmed and more deaths reported this number will likely change – the sample size is still small and there is still some question as to how many infected there actually are (see lack of tests in #2).
The coronavirus is incredibly infectious and has a long incubation period so that means that people can feel perfectly healthy yet still be transmitting the disease. Add to that the fact that many people – mostly the young and healthy – exhibit only mild symptoms so don't realize that they may be carriers. This means that the coronavirus WILL spread and spread rapidly and is it statistically certain that it has spread well beyond the current hot spots already. If it becomes as omnipresent as the flu the death toll will be staggering.
As stated in #4 the young and healthy are relatively safe but the old and infirm have a much, much higher mortality rate. THIS IS THE DANGER. Rugby players and these days even referees skew younger and healthier than the general population. We are all athletes – or at least try hard to be athletes – so we are in a lower risk category, but we all have parents, grandparents, older acquaintances and even random people we interact with that are much more susceptible to the disease. I am less worried about being sick myself as I am being a disease vector to someone else.
No, I am not a doctor, licensed health worker or anything like that so don't just take my word for it. Listen to local health officials, the CDC and the WHO. Everything I have mentioned above has come from official pronouncements. Let the experts apply their expertise and take sensible precautions.
North American 7s
The USA currently sits 7th in the World Series Standings and after watching the LA 7s and the Canada 7s I can't argue that as being a fair projection of our current squad. There is a significant gap from 7th to 8th (currently held by our Northern Neighbors, Canada) of 15 points yet only 5 points separate us from England in 5th and 11 from Fiji in 3rd. The series title is currently a 2 horse race between New Zealand and South Africa. Based on form, this seems fair.
Gods, but we miss Folau Niua.
Our performances have been that of a good, but not great team. We are no longer that clinical machine that was on display last year when we led the series for most of the season. Once a strength, our restarts have regressed to the average (gods, but we miss Folau Niua). Teams have adapted to our style of play and there is less room for Carlin Isles and Perry Baker to run in and teams are letting Danny Barret pin himself against the sideline and, when the eventual BOOM comes, they push him into touch. Not all is gloom and doom, however. Tomasin is still on fire and is one of the best players in the world at the moment. One of my favorite punching bags, the aforementioned Carlin Isles, has stepped up his game dramatically and was a deserved Dream Teamer in Los Angeles. I have been thoroughly impressed with his play recently and hope he can keep it up. He has deservedly taken the starting wing slot back from 2 time World Player of the Year Perry Baker.
Yes we have some injuries (gods, but we miss Folau Niua) and the hope is that we can get the full squad back together for the Olympics but right now we are on the outside looking in at the medal stand. We can beat anyone in the competition on any given day – we thrashed England in LA and smothered Fiji in Canada, but we can't seem to string enough of those wins together in one tournament. Coach Mike Friday has had his hand forced and has been playing a lot of younger players who hopefully are learning from their mistakes. Cody Melphy is a prime example of this, as he has had some fantastic moments including a couple of try saving tackles against South Africa in the last two tournaments and a nice individual effort against Fiji in Canada, but he lost concentration too often and seemed to be targeted by South Africa and England on Sunday in Vancouver, leading to a series of missed tackles that led to scores. This is the big time and these kinds of mistakes will get punished.
Gods, but we miss Folau Niua.
Pelicanrefs.com Update News – We Are Current!
The page for Hail Pelicus has been reinstated with the convenient URL of https://pelicanrefs.com/hail-pelicus/ . Many thanks Neil MacDonald for getting this going because I know exactly how much free time you have. The last few episodes have been uploaded and we again thank you for your patience.
Or if you happen to go to the pelicanrefs.com site on your own, you can just click on the "NEWS" tab and it will take you to your favorite newsletter.
2019 USA Rugby Game Management Guidelines (until we get 2020 GMGs)
Looking for guidance on how to manage a game? Well, USA Rugby has your back. You can find the 2019 USA Rugby GMGs here: https://drive.google.com/open?id=1XXcRfsVtLL-qUawEHUI47ei0dt_65fDM.
If you do not have access to the google drive linked above you can also view them as well as other pertinent documents here: http://www.usarugby.org/referee-resources/
Disciplinary Action Reporting – Process For Reporting Incidents
(EDITOR'S NOTE: It appears that the link in previous Hail Pelicus had expired and was no longer working. The link below has been tested and does work so feel free to use it going forward.)
The various competitions all have their own disciplinary chairs and this will make it difficult to centralize the communication and data. To help we have developed a form that will centralize the process, regardless of the competition. The link to the discipline form is https://pelicanrefs.com/reportacard
Copy the link and have it available on your smartphone. If you have an iPhone add the link to your home screen.
When needed fill it out and click submit. The discipline chair of the competition you refereed will receive a notification about the incident.
He/she may contact you latter for more details.
If you have any questions as to how to use the app please refer to the following video: https://www.youtube.com/watch?v=_Uz0_gTaOnY
On To The Game Reports!
Date: 02/29/2020
UC Davis B 45 – UCSB B 8
Referee: Rich Boyer
Good day for rugby. This was effectively a friendly based on limited experience on both squads. Davis had the upper hand all day, led by their scrumhalf. Both teams enjoyed the match, no foul play.
Date: 02/29/2020
Sonoma St – Cal Maritime
Referee: Lee Bryant
Paul did amazing. Good Rugby IQ, moves well in the game and is usually with play. Fun, high scoring game to watch. Had a chat after the match and developed some tools to improve going forward.
(EDITOR'S NOTE: Who is Paul? And what was the score of the game?)
Date: 02/29/2020
Univ Nevada Reno 22 – Fresno State 29
Referee: Roberto Santiago
It was cool, blustery day in Reno. Due to a scheduling conflict the hosts were forced to use a nearby high school football field rather than their usual turf field, which considerably added to the dust and debris being blown about the field. Fresno came out fast and went up 14-0 early. Reno kicked a penalty and added a converted try to cut it to 14-10 at the quarter pole. Fresno answered with two unconverted tries, but one last score by Reno at 42:00 left the half time score at 24-15 in favor of the visitors. Reno opened the second half with a quick score, converting a try and cutting the lead to just two points. Fresno scored once more about ten minutes later and the teams slugged it out without points for the remainder of the match. Fatigue seemed to set in on both sides late in the game as penalties at the breakdown spiked and players could not be talked out of infringing. Overall, both teams played hard and the game was what you hope for, a well contested match.
Date: 02/29/2020
Stanford Women 26 – Cal Women 19
Referee: Ardy Farhangdoost
No Report Received.
Date: 2/22/2020
Campion 27 – King's Cross Steelers 26
Referee: Preston Gordon
Location: Cottons Park, Romford, Essex
Competition: London 3 Essex

With #7 hosting #6, I expected a close game, and I wasn't disappointed. The rain held off, but there was (yet again) a 30+ mph wind blowing across the pitch that never let up. This played havoc with the camera pole used by the videographer sent by the society to watch me, but I managed to hide the mic under my collar to minimize the wind noise.

Campion scored the first three tries at 6'/18'/29′, opening up a 19-0 lead before KXS could respond with a converted try at 32′. Campion added a penalty goal at 36′ to take a 22-7 lead into halftime. KXS scored first in the second half, bringing them to 22-12 at 45′, before Campion got their bonus point try at 53′ to reach 27-12 and make it a 3-score game for KXS. KXS tightened up their game and got another converted try somewhere around the 65′ mark (I neglected to record the time) to come within 8 points at 27-19. Naturally, the intensity increased in the last quarter of the game. At 77′ the Campion #20 received a yellow card for a high tackle that wasn't malicious, but the first contact was with the opponent's jaw, so off he went. KXS pressed their advantage, and at 79′ the Campion #7 deliberately slapped the ball out of the KXS scrum-half's hands while off his feet at a ruck just 5m away from the defending goal line. I had to remind a couple of the KXS players not to appeal for decisions before putting the offending player, who had already started trotting to the touchline, in the sin bin. KXS elected to take a scrum, into which Campion put all 8 players, and the KXS #8 only had to make one pass to get a teammate across the line in the corner for their 4th try, which earned them two bonus points (one for 4 tries and one for losing by less than 7). At 27-24, the conversion was academic, but the KXS kicker made a great shot into the wind, and got it over the posts to finish the game within one point.

While changing after the match, I heard some very strange loud noises coming from the showers, as if a zebra was giving birth to a baby elephant. It turned out that there was no hot water – scandalous! – so I skipped the shower and adjourned to the clubhouse to watch the Wales-France game.


Date: 2/25/2020
Beccehamian 0 – Vigo 12
Referee: Preston Gordon
Location: Sparrow's Den, Corkscrew Hill, West Wickham, Kent
Competition: Spitfire Gold Kent Vets Cup

After a delayed train in London completely screwed up my onward connection, I found myself looking for a way to get to West Wickham at some point before the 1930 KO for this old boys cup semi-final. A 35-minute Uber ride provided the solution, and I had just enough time to change, check boots, chat to the front rows, and stretch for two minutes before KO. It definitely wasn't the best way to begin a game in freezing temperatures with another fresh breeze, played on a pitch where one half went up the side of a hill – 8+ feet difference between one 10m line and the deal ball line – and the other half was boggy in places.

There was much enthusiasm and effort in this match, which was played in good humor throughout. Despite the conditions, everyone enjoyed themselves and the two tries that Vigo scored in the 10th (uphill, converted) and 68th (downhill) minutes were well earned. Beccehamians came close a couple of times but ultimately were shut out by the sharper offloads of the Vigo attack. The defense was vigorous on both sides. There were two yellow cards that had no effect on the score: Beccehamian #7 for a high tackle at 18′ and Vigo #19 at 76′ for deliberately kicking the ball out of a ruck close to his own goal line. The latter sounds harsh, except that he was retiring in defense and never bothered to get anywhere near the back foot – he just got lazy and decided to kill the attack.


Date: 2/26/2020
Hampton School Founders Day Sevens
Referee: Preston Gordon
Location: Hampton, Southwest London

For my first sevens tournament of the season, I spent close to 5 hours on the picturesque grounds of the Hampton School trying to stay warm. As I discovered last season, sevens here doesn't usually mean hot days and lots of sunscreen. This tourney involved another unrelenting stiff icy wind that blew right through the ref tent and diagonally across both pitches in use. The weather didn't get completely ugly, but there was occasional rain and a bit of hail caused by the microbursts that we could see hitting Heathrow, less than 5 miles away.

10 schools were participating. With just 4 refs on hand, I reffed 6 very fast games, including one of the two pool deciders, and then the final. I found myself somewhat out of position at the breakdowns in the first game, and ended up getting knocked over at the end of it. I fixed my positioning in the second game, and things went pretty well afterwards. In the final, there were only a couple of penalty advantages that were gained, so there were no penalties in the match and it was a great workout.

Games:
Hampton 26-17 St. Benedict's
Cranleigh 32-10 St. John Fisher
St. John's 41-12 Hurstpierpoint
Campion 0-28 St. Paul's Catholic (the London Irish academy)
Hampton 24-5 St. John's (pool decider)
Hampton 31-12 Cranleigh (final)


Date: 3/1/2020
Essex 49 – Kent 42
Referee: Preston Gordon
Location: Thurrock RFC, Oakfield, Grays, Essex
Competition: U17 Counties Friendly

My London 3NW league game on the previous day was canceled that morning due to most of the pitch being underwater. But my first appointment to ref an England county representative match kept me in rugby for the weekend, and having two very good ARs (thanks, Andrew & Pierce) and a set of radios made this a great day out. Having a Saturday with a mild wind, mostly sunny skies, and a dry pitch was almost a novel experience, after the past couple of months.

The game was played with 3 30-minute periods, in order to provide the selectors enough time to get a look at both large squads in their first counties match of the season. There were no conversions and no kicks at goal allowed, which kept the ball in play a bit longer, and wholesale changes were made to the teams every 15-20 minutes. Regardless, the rhythm of the match was great, with lots of interplay between forwards and backs, and I avoided penalties wherever possible. Essex were ahead for most of the match, though Kent obviously stayed in it, tying the scores at 6 tries apiece with about 3 minutes left. Essex recovered their restart kick and shortly thereafter scored again in the corner, and then held onto the ball until time expired.

I was pretty impressed by the standard of play, and very happy to have additional pairs of eyes on the sidelines to help confirm tries and to manage the offside lines as needed. And whoever Thurrock have in the kitchen does a great post-match lasagna, to boot.
Date: 3/4/2020
Middlesex School Sevens
Referee: Preston Gordon
Location: Old Priorian RFC, St. Benedict's Playing Fields, Greenford, West London

As has been the norm around here lately, it was raining. A lot. And it was, as the allocator said, muddy at the best of times on these pitches. But the tournament went on despite the weather and there was some pretty good rugby being played. I was fortunate to be able to attend, splitting my work day, and having a laundry machine ready to go as soon as I got home. Here's what I notched, while trying to stay warm:

Gordon's 28-5 Windsor Boys
Harrow 31-0 Emanuel
St. Benedict's 31-10 Reading
Harrow 19-0 Beechen Cliff (Cup semi-final)


Date: 3/5/2020
Enfield Ignatians 24 – Hitchin 0
Referee: Preston Gordon
Location: Rosedale Sports Club, Cheshunt, Hertfordshire
Competition: London 3 Essex

I was supposed to ref this match on the preceding Saturday, but it had to be postponed due to the flooded pitch in Enfield. Once it was rescheduled for Thursday evening at Cheshunt RFC (who have an artificial turf pitch) I was offered the match again, and a 2000 KO time made it an easy yes. Enfield were at #3, in the hunt for a playoff spot, while Hitchin were at #6 and probably safe from relegation. Given the significant points difference in the league table, the result was not too surprising. Luckily the constant heavy rain that went on all day stopped about 5 minutes before KO, and while it was not far above freezing, the wind and the rain abated and we could all enjoy a bit of rugby.

The game was appreciably fast and Enfield moved the ball wide, where they had the advantage in speed, as often as possible. But Hitchin's defense usually covered the attack and for a good chunk of the middle of the match, they were able to control the tactics. Enfield ended up taking the option for a penalty shot at 13′ and weren't able to score their first try until the 33rd minute – converting it for a 10-0 halftime lead. Shortly after the second half started, Enfield got their second try at 45′ and converted that to go ahead 17-0. Hitchin, who had the bigger pack, came close several times but unfortunately couldn't get any points on the board. Enfield's third try came in the 73rd minute (also converted) and their mission to get the 4th try for the important bonus point was ultimately not completed successfully as they ran out of time.
(EDITOR's NOTE: Preston Gordon is certainly getting a lot of midweek action in over in England.)
Date: 03/07/2020
Marin Highlanders Rugby Club 10 – SFGG HS Varsity 15
Referee: Ed Barfels
SFGG got off to a quick start. Marin committed a penalty inside their 22 only two minutes in to the game. SFGG made the penalty kick. The score remained 3-0 till the last play of the first half. Marin had a line-out 5 meters for the SFGG goal. Three phases later Marin scored and kicked the conversion. Halftime score Marin 7 SFGG 3.
The score remained 7-3 for the first ten minutes of the second half. Then SFGG's 10 made a great play the changed the momentum of the game. SFGG's 10 kick a little grubber thru Marin's line, he ran on to the ball just as it bounced into his hands. Marin's fullback tackled the 10 just as he passed inside to the SFGG 9. The SFGG 9 ran the remaining 30 meters untouched for a score under the posts. The conversion was made. SFGG 10 Marin7
The momentum was in SFGG favor. SFGG scored another try to go ahead 15 to 7. Marin made another penalty kick to make the score 15 to 10.
Date: 03/07/2020
Silicon Valley 46 – BA Baracus D4 44
Referee: Rob Murray
This game was a track meet from the first whistle. Silicon Valley kicked off, and Baracus fielded the ball and went straight down the wing to score in the corner. The first try of the game was awarded within a minute and a half of the kickoff. Baracus went on to score 8 tries and rack up 44 points in the first 40 minutes. The second half started much the same but with Silicon Valley charging back into the game. SV scored 8 unanswered tries and managing to convert 3 and take the lead with 46 points.
Silicon Valley scored their last try with a little over 3 minutes left in the game. Leaving just enough time on the clock for one last re-start, Silicon Valley fielded the ball but promptly turned it over it in the tackle. Baracus then took the ball into contact, and SV received a penalty for not releasing the tackler. The penalty was awarded about 40 meters out directly in front of the posts. With no time left on the clock, Barracus opted for the kick in an attempt to win the game. The kicker lined up the ball and stepped back to take his shot. As he approached the ball, one of the SV forwards had a momentary lapse and charged the kick. The kick drifted left, but with the infraction, the attempt was allowed to be re-taken. The kicker approached the ball, struck it well, dead straight toward the posts. The ball drifted left of its intended target and sailed wide through the end zone to finish the game. Silicon Valley wins 46-44.
(EDITOR'S NOTE: This was Rob Murray's first senior game that he has refereed. The editors here at Hail Pelicus would like to assure him that all of the matches he does will be this exciting.)
Date: 03/07/2020
SFGG Women 12 – San Jose Seahawks Women 10
Referee: Becca Graff
Arrived to the field for SFGG's last weekend of rugby before the clubhouse will be torn down for housing development. Although the game started out at a drizzle, the better part of the game experienced a huge downpour of rain creating puddles and many handling errors. Despite some sloppiness (much due to rain) it was still a tightly fought and aggressive match. SFGG ended up on top making it a bittersweet end to their time at the clubhouse.
Date: 03/07/2020
Life West 97 – Sacramento Capitals 31
Referee: Allen Gray
I arrived at Cal Maritime to find an overfull parking lot, so had to wait for the match before this one to leave before I could get parked. I was fine with that, because I got to sit in my car while the rain tapered off.
Once I was able to get down to the field I found both teams getting warmed up, and little bit wet. Thankfully the rain left and we had some clouds and sunshine for the majority of the match.
You can tell from the score that the game was a bit of a mismatch. At the half, Life were up 57-5. Frustrations were mounting towards the end of the 1st half, and the break did everyone some good. The second half started off with Sac bringing it hard. After about 20 minutes in the second half both sides had 3 tries and it looked like Sac were going to hold it there. Life took it back though and a few more on the board while Sac got one more in the last quarter of the match.
Both teams' set plays were well rehearsed, no issues to speak of in scrums or line outs. The breakdowns were quite varied from crisp and clean to bodies everywhere; with some being ferociously counter-rucked, and others completely uncontested. Ultimately, Life had more line breaks and some were almost the full length of the pitch breakaways.
Date: 03/07/2020
Chico State Women 30 – Stanford Women 39
Referee: Clint Fleener
Chico State Women's rugby hosted Stanford, the rain stopped only an hour before the kickoff but left the pitch in perfect condition. Chico capitalized on two early penalties, opting to kick for points. Stanford turned around and put up five tries to Chico's one additional. The second half saw Chico muster three more tries but Stanford maintained discipline, scoring two more tries of their own and staving off a valiant Chico comeback to win.
Date: 03/07/2020
Univ Nevada Reno Women 41 – Humboldt State Women 22
Referee: Sam Reagle
Conditions: Brisk and Breezy.
Humboldt State made the 7 hour drive with a full side plus a few subs. We kicked off on time and the battle was on. Both teams demonstrated a knowledge of the game with accurate passes and good hands. HSU was more aggressive, but UNR had a bit more speed. After 10 minutes of play, each team had earned an unconverted try. Out of 11 tries on the day, only 4 were converted. A tribute to the wind and to the teams veracity at preventing tries between the posts.
Despite crushing tackles by HSU, UNR earned a converted try at 15 minutes. This would be the only converted try of the half as UNR added 2 more tries before HSU responded with their own try just before halftime. Score: 22-10.
When HSU scored a converted try 12 minutes into the second half and closed to within 5 points, they picked up the tempo on defense with multiple tackles that drove the ball carriers flat on their backs. Despite the solid tackling by HSU, UNR responded with 3 more tries before HSU ended the game with a try of their own.
This was a well-played game with long periods between stoppages. It was fun to be a part of it.
Date: 03/07/2020
Univ San Francisco Women 0 – San Jose State Women 0
Referee: Bruce Bernstein
Neither team let the ref know the match was cancelled, so I have no information as to when, why or who cancelled it, so a wasted day for me who could have reffed somewhere else (or done other things). Plus still no apologies by the host team who's 3 representatives I emailed when I found out from their fellow student in the Koret Ctr.
This Week's Photo
NCRFURS Alumni Andrew Stockton making decisions as an In Goal Judge at the LA 7s.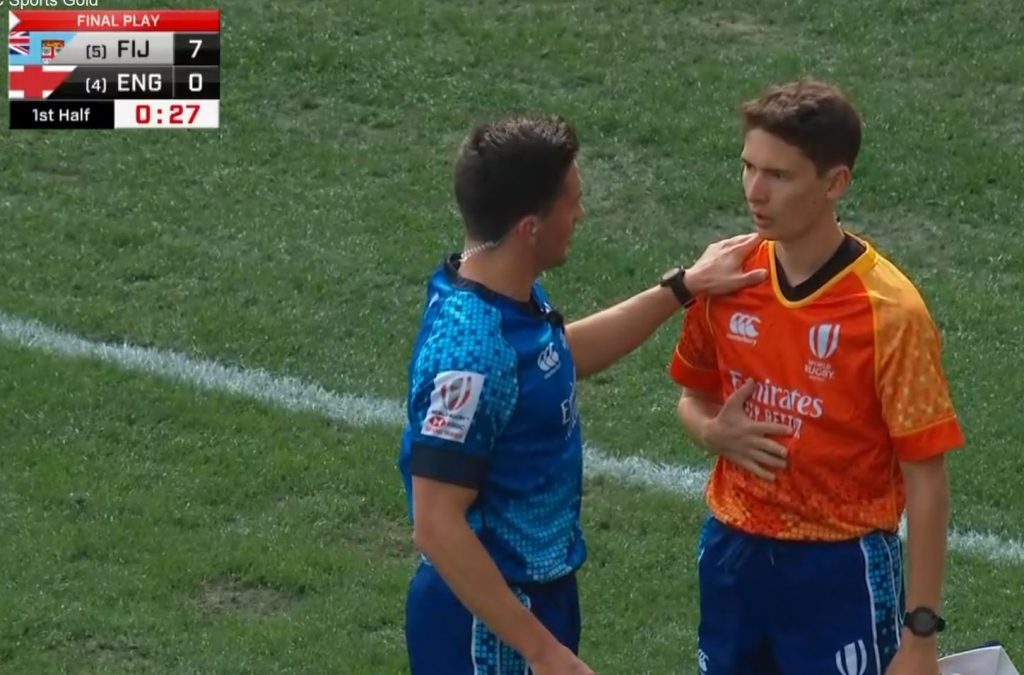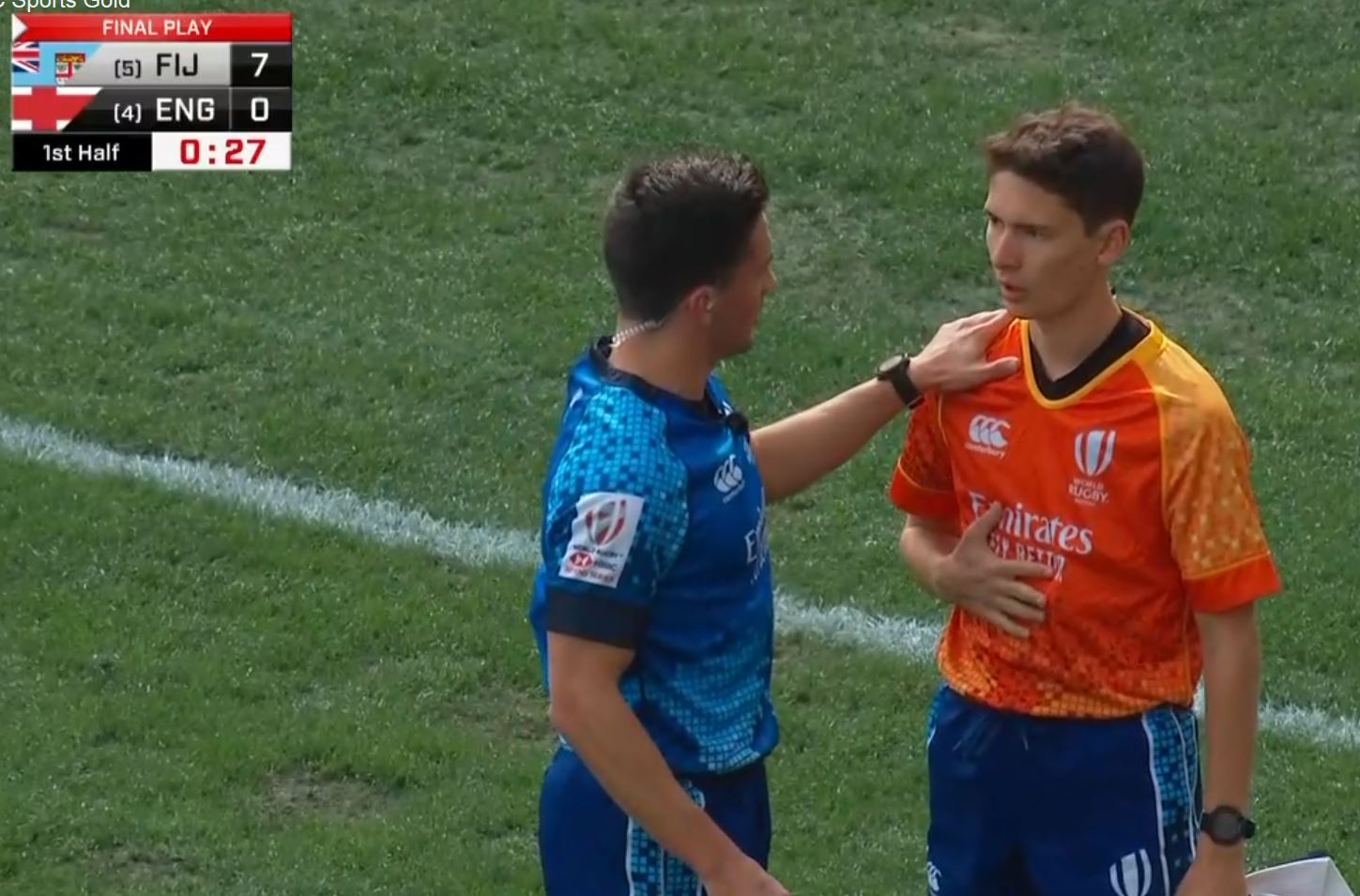 Hail, Pelicus!
For the Senate
Pelicus Pedem Referre