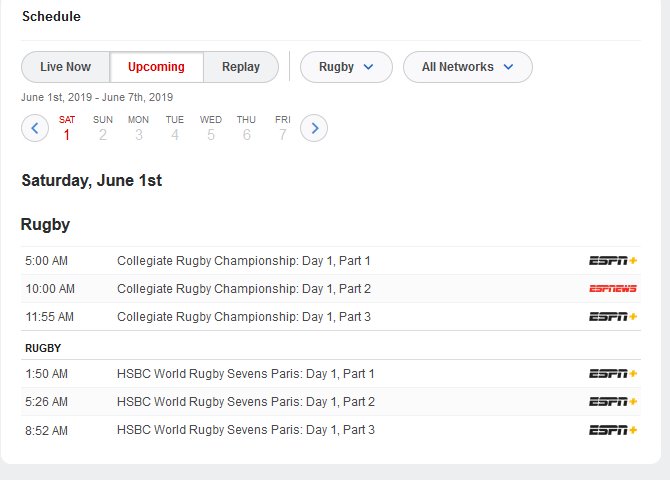 HAIL PELICUS!
Pelican House
The eye of the camera settles on a solemn scene. The Board of Directors of the Finest Rugby Referee Society in the land were staring morosely into their beer, looks of dejection on their faces the order of the day. Heavy sighing and sad looks were all the rage. Things were bad, indeed.
But the entire board hadn't assembled yet. Preston Gordon (as played by Jon Belushi) sauntered in to the boardroom fresh off a plane from England sporting strange and outlandish kit and a nat – the opposite of a tan. (What do you expect from someone who just spent 6 months in England?)
Preston: What's going on?
Lee Bryant (as played by Bruce McGill): Season's over, man. They played the big one.
Preston: Over? Did you say "over"? Nothing is over until we decide it is! Was it over when the Cal won the National Championship? Hell no!
Paul Bretz (as played by Tim Matheson): Cal?
Pete Smith (as played by Peter Riegert): Forget it, he's rolling.
Preston: And it ain't over now. 'Cause when the goin' gets tough… the tough get goin'! Who's with me? Let's go!
Preston charged from the room yelling the Pelican War Cry. The rest of the Board looked at each other but never moved, except to take another sad swig of beer. Eventually, Preston stalked back into the room.
Preston: What the family newsletter happened to the Pelicans I used to know? Where's the spirit? Where's the guts, huh? "Ooh, we're afraid to go with you Preston, we might get in trouble." Well just kiss my ass from now on! Not me! I'm not gonna take this. The Amazons? Still playing! Olympic Club? Still playing! The crew for Marin 7s…
Paul Bretz: Refereeing! Preston's right. Psychotic, but absolutely right. We gotta support these bastards. Now we could do it with a conventional banquet that could take days and cost thousands of dollars. No, I think we have to go all out. I think that this situation absolutely requires a really futile and stupid gesture be done on somebody's part.
Preston: We're just the people to do it.
Lee Bryant: Let's do it.
Preston: LET'S DO IT!
Paul Bretz: You guys up for a toga party?
Preston: Toga! Toga!
Paul Bretz: Ah, I think they like the idea, Neil.
Neil MacDonald (playing himself): It's not gonna be an orgy! It's a toga party.
Thus, with a plan to save Pelicanland and honor the efforts of the finest flock ever to blow a whistle, the Board of Directors returned to their (now) well-earned beer, drinking the night away and slowly leaving one by one, reminiscent of the final scene in Ocean's 11, until only two of these mighty heroes were left.
Lee Bryant: Why am I wearing a mustache?
Neil MacDonald: What are you complaining about? I only got one line, and not even as a character.
Banquet Details
The Annual NCRFURS Banquet will be held Saturday, June 8 at the Up and Under Pub, 2 West Richmond Ave. Point Richmond, CA 94801. As always, NCRRS will cover the tab for officials. You are responsible for covering the cost of your guests, $50.00, and drinks. The society is also looking to find discounts for those wishing to stay the evening in Point Richmond. More information on that will be forthcoming from our noble leader, Pelicus Iudex Pennipes.
Please fill out the below google doc to let us know if you are coming and your choice of dinner. There will be a no host bar and appetizers starting at 6:30 with dinner to commence at 7:15 and our awards presentation starting around 8:00 PM.
https://docs.google.com/forms/d/1KhY063gTN66l1wFoEmDWGIHEAub_HQ4mSsA0OITJjFo/viewform?edit_requested=true
As detailed (accurately, I am sure) in the previous section, the board agreed to change up the format and the dress code this year is formal Roman. That's right. It's a toga party! Guests are highly encouraged, but not required, to don their finest togas.
A Chance At History
For as long as rugby has been played the USA has been a second class citizen in the rugby community. Women's World Cup? It's only women and the rest of the world wasn't taking it seriously yet. The Olympic golds in the 1920s? Didn't count. We weren't playing rugby the way gentlemen do, we were just a bunch of backwards colonists mindlessly bashing about, not playing with style and elegance as a man from Eton would. Since those long ago lofty heights we have rarely made any splash on the international rugby stage, only securing a win over a "top tier" nation for the first time ever last year. The rugby elites looked down their noses at us and tolerated us in the hope of getting into the vast American
But no longer.
Our 7s team has spent the majority of the World Sevens Series at the top of the table, as gleefully reported here, and only a semifinal loss to Fiji allowed the Pacific Islanders to pip us at the top of the table by 2 points.   Nobody else is in the hunt so now, with one final tournament this weekend in Paris, it comes down to who does better, USA or Fiji?   Everyone is hoping for a USA-Fiji  final that will not only determine the Paris champion, but the Series champion, but I would settle for a semifinal place if Fiji gets knocked out in the quarters.   It wasn't too long ago when we were struggling to stay in the series and then "Magic" Mike Friday took over and molded a championship program.  It just goes to show what people have always said, we have the athletes here in America, we just need to learn the game.
I advise everyone to tune in on ESPN+ to watch the games. If you don't have it set up a free 7 day trial then cancel it on Monday. Find a friend who has an account. Find a bar that will show it and is open at 5:00am. (Good luck with that, but I can tell you from past experience with soccer World Cups it is possible. Just not legal.) Fortunately, you don't have to watch live – ESPN+ offers replays. Just stay off social media until you have seen the matches.
As a 7s bonus you can also watch the Collegiate Rugby Championship, whose motto is We Are Not The USA Rugby National Championship But An Invitational Tournament Designed To Maximize TV Revenue. (It sounds better in Latin.) This event will also be going on all weekend and you can check out the 7s stars of the future. Do you doubt me? Ask Madison Hughes where he first shot to prominence.
And if you want live 7s, there is always the first tournament of the season going on up in Marin.
A full weekend of 7s… heaven.
2019 USA Rugby Game Management Guidelines
Looking for guidance on how to manage a game? Well, USA Rugby has your back. You can find the 2019 USA Rugby GMGs here: https://drive.google.com/open?id=1XXcRfsVtLLqUawEHUI47ei0dt_65fDM.
If you do not have access to the google drive linked above you can also view them as well as other pertinent documents here: http://www.usarugby.org/referee-resources/
Disciplinary Action Reporting – Process For Reporting Incidents
The various competitions all have their own disciplinary chairs and this will make it difficult to centralize the communication and data. To help we have developed a form that will centralize the process, regardless of the competition. The link to the discipline form is https://docs.google.com/forms/d/e/1FAIpQLSc42vbdqnFVH0u1BGTLhjOivDO2hNsmV4NXvvnC4FyAka7sKQ/viewform?vc=0&c=0&w=1
Copy the link and have it available on your smartphone. If you have an iPhone add the link to your home screen.
When needed fill it out and click submit. The discipline chair of the competition you refereed will receive a notification about the incident.
He/she may contact you latter for more details.
If you have any questions as to how to use the app please refer to the following video: https://www.youtube.com/watch?v=_Uz0_gTaOnY
On To The Game Reports!
I got nothing.
This Week's Photo
Live schedule of this weekend's 7s rugby on ESPN+. Personally, I am watching the replays.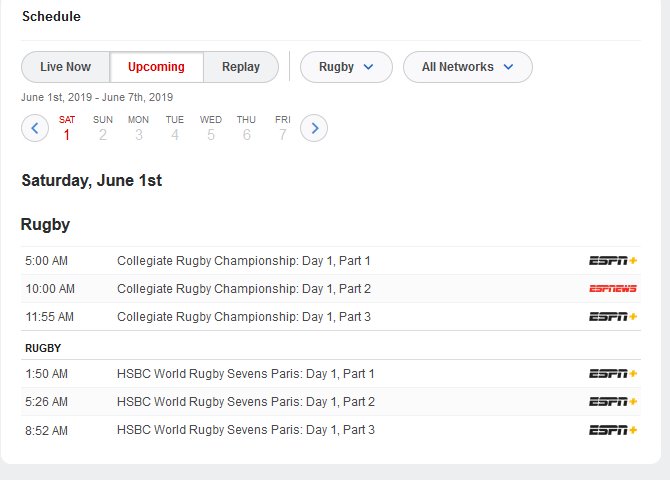 Hail, Pelicus!
For the Senate
Pelicus Pedem Referre