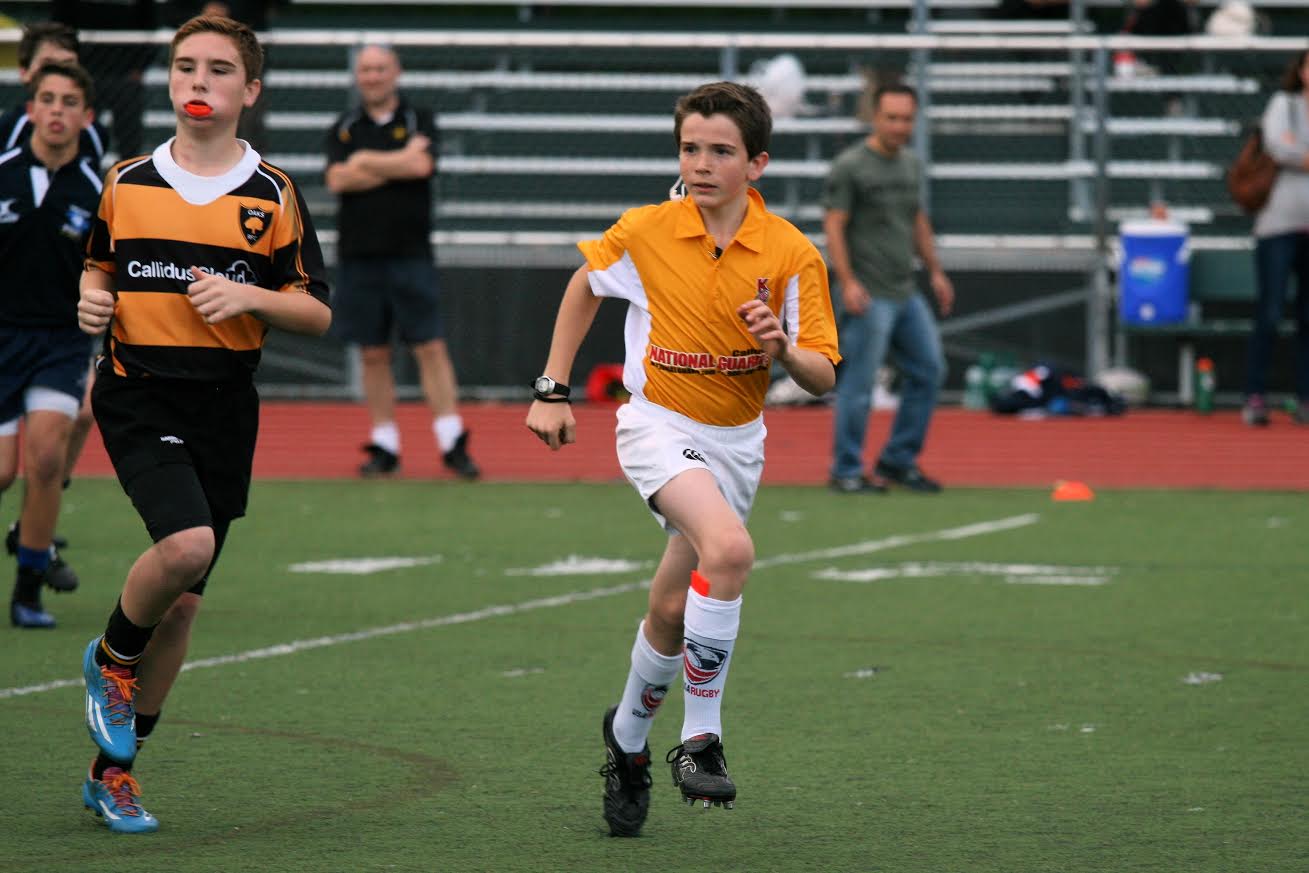 HAIL PELICUS!
Pelicans Stretching
Last weekend was quite the rugby weekend with more games than referees.   Pelicans stepped up, however, as every game that needed to be covered was covered.   Several Pelicans did double duty and adjudicated more than one match.   At least one member of the flock, Elvy "LV" Asonye played in a morning match, refereed an afternoon match and then drove to Sacramento to referee Sunday in the KOT.   Yes, we were stretched, but, like our namesake's throat pouch, we were up to the task.   Thanks go to all of the Pelicans who stepped up – expect an extra dead fish in your rations this week.
More Stretching
That being said, we are now in the heart of the season and everyone is playing at every level.   The need for referees is still strong. Please go to assignr.com to confirm your availability and matches, or if you haven't received an assignr.com account, contact Pete Smith at me@petesweb.com to let him know you are available.   To get an assignr account please contact our Scott Wood at rscottwood@gmail.com.   He will get you all the information you need to sign up and announce your availability.
Ask A Pelican
Last week we debuted a new feature called "Ask A Pelican" to great critical success.   Our loyal readers loved the chance to interact with the Gods Of The Whistle in a forum that is less intimidating than direct personal contact.   This week's question comes courtesy of Naughtius Maximus from Vacaville, CA, who writes,
"I am a new referee and greatly admire the stylish and sexy jerseys the refs wear.   How can I get one for myself?"
Hi Naughtius, and welcome to the flock.   There are 2 ways to get an official NCRRS jersey. If you referee 5 or more assigned matches during a calendar year then you are entitled to a jersey for FREE.   If you just can't wait that long then they are also, along with socks and shorts, available for purchase. The best way to get your hands on the swag is to show up at one of our monthly meetings – the kit is usually there.
Until you get your hands on the Official Kit, I recommend taking your lead from the Monks of Cool. The Monks of Cool, whose tiny and exclusive monastery is hidden in a really cool and laid-back valley in the lower Himalayas, have a passing-out test for a novice.   He is taken into a room full of all types of clothing and asked: Yo¹, my son, which of these is the most stylish thing to wear? And the correct answer is: Hey, whatever I select.
¹ Cool, but not necessarily up to date
That's it for this week. Remember to send in your questions for future issues!
Pterribly Sorry
The Monks of Cool bit was stolen from Terry Pratchett, but since it was hilarious I just went with it.   I highly recommend him as an author.
Disciplinary Action Reporting – Process for reporting incidents
The various competitions all have their own disciplinary chairs and this will make it difficult to centralize the communication and data.  To help Scott Wood has developed a form that will centralize the process, regardless of the competition.  The link to the discipline form is https://docs.google.com/forms/d/1mmUNg11uVOSkIsUtHifSqQzalhWbwohk_J6AmPyrucQ/viewform
Copy the link and have it available on your smartphone.  If you have an Iphone add the link to your home screen.
when needed fill it out and click submit.  The discipline chair of the competition you refereed will receive a notification about the incident.
He/she may contact you latter for more details.
February Society Meeting
This month's meeting will be held February 18th 7:00 PM @ the SFGG Clubhouse on Treasure Island.   For our meeting we will be discussing:
Player Management – Pick a Card! Red, Yellow or Warn (Aruna Ranaweera)
Lineout Start to Finish (James Hinkin)
Schrödinger's Tournament
Was there a Kick Off Tournament in Sacramento?   Per the immutable laws of quantum mechanics the KOT exists as a field of probabilities making the answer both yes and no. We will not be able to tell until we receive a report and the waveform collapses.
On To The Game Reports!
Date: 01/24/2015
Aptos 29 – Modesto 31
Referee: Valerio, Stephen
For the second week in a row I had a tight match, though the conditions were quite different. It was in the lows 70s and sunny with a hard pitch underfoot. Several scrums were moved due to divots and small hills, but we managed otherwise. Modesto started strong, but Aptos' backs had several long breaks and pulled to 19-12 at the half. With a man advantage for about 9 minutes to open the second half Aptos were able to pull ahead. Late into the match. Modesto had possession in the Aptos half and unwisely kicked from hand in Aptos' try zone. However, the Aptos player tried to kick the ball dead rather than just touching it down and misplayed it. A Modesto player downed it for the key score.
Date: 01/24/2015
California 76 – Cal Poly 3
Referee: Smith, Pete
Amazing day at Witter rugby field. Cal Poly were keen and it was 24-0 at halftime, but Cal's fitness and execution took over in the second half and Cal pulled away.
Date: 01/24/2015
California B 119 – Cal Poly B 0
Referee: Bailey, Andrew
Cal dominated the match.
EDITOR'S NOTE:   This is the kind of keen insight you can only get at Hail Pelicus.
Date: 01/24/2015
California Women 35 – Chico State 10
Referee: Hendrickson, Robert
On a glorious Saturday morning at Berkeley's Witter Field, Cal women hosted Chico State women in a season opening league game. Both sides apparently were fielding teams with a fair number of new faces, but they both played well and were reasonably disciplined. The one surprise was how many balls got ripped from the offensive player (from both teams) who got held up and ended up in a turnover. Hard to referee when the player is down, and therefore the tackle assist must release and enter from onside, and when there was no tackle so play on. One Chico State player had an injured arm, which I hope but fear may have been broken.
Date: 01/24/2015
Chico 17 – Sacramento Blackhawks 56
Referee: Richmond, Jeff
A one-sided score but still a hard fought match. Chico struggled to stop Sacramento's attacks – tackling was a notable challenge for the Mighty Oaks. Chico has a number of new players and suffered some unfortunate penalties because of the inexperience. I appreciated the conduct of both teams through the match.
Date: 01/24/2015
Chico State 15 – UC Davis 18
Referee: Ricard, Bruce
The weather was amazing for January at Chico State. 70 degrees and no clouds in the sky. Only the medium strength wind would bother the kickers a bit.
Both teams seemed pretty fit and tactically prepared for this first league game of the season. The technique for both teams certainly needs some improvements, especially at the breakdown: lots of penalties were called at tackles. Nevertheless it was a very good game of rugby.
Chico scored first at the 7th minute, an unconverted try. Davis got possession and pushed for more than 10 minutes in Chico's half, but couldn't score. Finally at the 21st minute, they decide to go for points at a penalty kick, and get closer on the scoreboard (5 – 3). Four minutes later, Davis scores their first unconverted try to take the lead. At the 32nd minute, Chico takes the lead back with a converted try. Last play of the half, Davis is running forward, and in extra-time, scores their second try of the game. The try is not converted, and both teams go to the break with a very tight score (12 – 13).
In the second half, the defenses seemed stronger, and very few points were scored. At the 21st minute, Chico is awarded a penalty kick 22m in front of the posts. They go for the points, and take the lead (15 – 13). At the 34th minute of the game, after Davis captain had been warned about repeated infringements by the team, he is sent to the sin bin after having held on the ball after being tackled. Davis is now without their captain, and have to score to win the game. Despite being 1 man down, they keep possession of the ball, and push towards Chico's goal line. At the 39th minute of the game, after having spent a couple minutes in Chico's 22, they send the ball wide to the wing, who scores the saving try. The kicker took his time to kick the conversion, and after the kick is missed, full time is blown.
Final score: Chico State 15 – 18 UC Davis
Thank you to college rugby for once again being 0% trouble, 100% rugby.
Date: 01/24/2015
Chico State B 33 – UC Davis B 17
Referee: Ricard, Bruce
Both teams had many new players in this B-side game, and you could see right away that the size of the players were not the same. The fitness of the players and their rugby technique made this game much slower than the first one (thanks god for saving me). Many silly infringements at the breakdowns, I hope that the beginners will learn from their mistakes. Stop diving in the rucks, and don't play the ball if you're off your feet!
The first half was very balanced, both teams scoring 2 tries. 12 – 12 at the break.
Davis scored the first try of the second half at the 21st minute, but the last 15 minutes of the game were difficult for them. Chico's fitness was certainly better, because they scored converted tries at the 26th, 36th and 40th minutes, to take the win.
Final score: Chico State 33 – 17 UC Davis
Date: 01/24/2015
Diablo 20 – Baracus 43
Referee: Hettermann, Matt
Gorgeous day for rugby in Vallejo. Arrived at half time of the Cal Maritime-USF match, and crossed paths with Eric "The Wizard" Rauscher …
Diablo won the coin toss and elected to start into the wind, which proved to be a significant decision. They had issues with territory, and Baracus counter-attacked well – half time score was Baracus 29 – Diablo 13.
In the second half the wind died down, and scoring was a bit more balanced.
Had the pleasure to head to Port Costa for the social – which is a fantastic throwback town, just off the beaten path between Martinez and Crockett – the Warehouse hosted us, stuffed polar bear and all … I highly recommend visiting the town if you have the chance – the Burlington Hotel is a fascinating "haunted" place, and the Bull Valley Road House serves an incredible family-style but high quality meal.
Date: 01/24/2015
Diablo B 39 – Baracus B 5
Referee: Hettermann, Matt
Friendly b-side match, some rookies learned the game a bit better, some old boys got some time on the pitch.
Date: 01/24/2015
EPA Bulldogs 39 – San Jose 18
Referee: Hinkin, James
Referee Coach: John Pohlman
A perfect Saturday for rugby saw me motoring north up the 101 to East Palo Alto… at least until an accident stopped traffic just past the 85 interchange. Oh well, this is why we referees are trained to be at matches an hour before kickoff. I rolled up at 12:15 to the sight of both teams energetically warming up.   As I had played with both coaches the introductions were easy and more of a reunion than anything else.   At exactly 1:00 my whistle went and we were off on an important early season D1 match.   San Jose came in undefeated after their victory over Fresno and a BYE week while EPA Bulldogs were sitting at 1-1 and were looking to get back on track after losing to crosstown rivals EPA Razorbacks.   The game started with an immediate penalty as EPA failed to roll clear at a tackle but San Jose were not able to take advantage as EPA tacklers came up hard and fast.   EPA broke free with the first try of the match after some sustained pressure but the conversion was missed – a recurring theme for them in this match for them.     San Jose hit back almost immediately after another penalty against EPA deep in San Jose territory. Scrum half Joseph Matalvao tapped quickly and was off, finally being corralled some 60 meters down field bet offloading to his winger who glided past the 5 meter line and put the ball down.
Um…
Fortunately for him, the ball went backwards out of his hand and his center picked it up and scored over the actual try line.   The back and forth nature of this game continued as the Bulldogs used their dominant scrum to score another unconverted try while San Jose replied with a penalty kick.   At the end of the half EPA used their powerful runners to finally score under the posts and converted for a 17-8 lead. With 30 seconds remaining they were assured of heading into the break with a comfortable lead so of course at the restart San Jose pressure forced a knock on and the ball bounced kindly into the arms of rampaging prop "Junior" Malifa who rumbled through several arm tackles to score.   The difficult conversion was slotted and the half time score stood at 17-15 to EPA Bulldogs.
The second half started with a San Jose penalty slotted by flyhalf Peter Bianchi to give the Seahawks their first lead at 18-17.   Soon after another penalty against EPA led to their scrumhalf petulantly slapping the ball out of a San Jose player's hands and earned him a 10 minute break to contemplate his sins.   This, naturally, energized the Bulldogs as they stole possession at the lineout and then proceeded to rumble up the field.   EPA Captain Saia Viliami was unstoppable as he ran through San Jose requiring several defenders to take him down.   Fly half Vaka Taniela supported well and released the backline and EPA scored 2 tries while down to 14 men.   San Jose tried to respond but could not recover and EPA eventually ran away from them with 2 more late tries.   The Bulldogs seemed to have found their stride and are a dangerous side moving forward while San Jose battled hard but faded late.   The Seahawks were a few fixable errors away from being within a few points or even leading. I expect both teams to do well this year in a Nor Cal D1 that is as deep as it has been in recent memory.
Many thanks for John Pohlman for his coaching at this game.
Date: 01/24/2015
EPA Bulldogs B 48 – San Jose B 50
Referee: Asonye, Elvy
This was a great showing for both sides – first reluctant to play more than 20 minute halves, I managed to convince them to play 30 minutes for the first half then we could see how people were feeling the second half and look at 25-30 minutes. Although a bit physical and both sides reusing players from the previous game, the first half was a close 28-33 in favor of the EPA Bulldogs, just outscoring the Seahawks by one try. All conversions, but one missed by one of the Bulldogs, were made for both sides. The halftime proved to be just the break the Seahawks needed and they began to answer back with a pair of tries. Some skilled breakaways from the Bulldogs closed the score 45-43 in favor of the Bulldogs. The last few minutes gave both teams the chance for one more try apiece before the final whistle. After a couple tackles were higher than I'd liked, I warned both teams the next one would result in a yellow card. One of the Bulldogs would soon make a high tackle, and was sent off with 8 minutes remaining in the game.
Date: 01/24/2015
EPA Razorbacks 27 – Santa Rosa 19
Referee: MacDonald, Neil
Beautiful sunny day for rugby, with temperatures in the 70s in East Palo Alto. The Razorbacks were a handful for Santa Rosa right out of the gate, scoring in the third minute, and adding a second from a free kick for an early Santa Rosa push on a scrum. One more converted Razorback try took them to 19-0 at half time, and what looked to be a comfortable lead. Santa Rosa mounted a stirring second half comeback built on their impressive scrummaging. First Santa Rosa drove a scrum most of the way through the Razorbacks 22 to score a pushover try. In the 58th minute, Santa Rosa crossed again, this time from a sweeping back move, to pull back the gap to a single converted try. The Razorbacks added a penalty kick, extending their lead to ten points with 14 minutes remaining. Santa Rosa continued to dominate the scrum, and laid siege to the Razorback line, ultimately earning a penalty try as Razorbacks front row stood up repeatedly while under the cosh. 10 minutes left, 22-19 Razorbacks, with the Razorbacks down to 14 players. Helter skelter play in the closing stanza until, in the final minute, Santa Rosa spun the ball wide to the left wing just inside their own half, only for the ball to spill forward right into the arms of the Razorbacks captain, who beat his man and shot off down the touchline for the clinching try.
Thanks to both teams for a thrilling match of positive rugby played in great spirits, and hanging in the balance until the very end.
Date: 01/24/2015
EPA Razorbacks B 10 – Santa Rosa B 26
Referee: MacDonald, Neil
Scrappy and tight first half, ending with Santa Rosa getting their noses in front by an unconverted try. More back and forth in the second half- but no fewer handling errors – with Santa Rosa outscoring EPA three tries to two, and drilling their conversions. Comedy moment of the match was EPA squandering a two on one on the last Santa Rosa defender on his 10m line, in what looked like an attempt to give a newer player a try, with much amusement on the sidelines.
Date: 01/24/2015
Mendocino 7 – Napa Valley 27
Referee: Bernstein, Bruce
Beautiful 75 degree day on a field which felt like trying to run on warm marshmellows–probably better for me to slow down all the burners.
Mendocino put up a good fight but could only score 1 try to Napa's 5. First real victory for Napa in its first year playing competitively. Should be plenty more to come. They have a solid base for a team with a team van & 2 Fijians with plenty of experience & style.
Heard the match advertised on the local radio (94.5) about 15 minutes before getting to town.
Wore Go Pro during match which I'm supposed to get the youtube link to.
And great after match festivities at Mendocino Brewing Company featuring Red Tail Ale, plenty of food & songs by both teams to boot.
Date: 01/24/2015
Redwood Empire 7 – Marin 60
Referee: Leisek, Joe
A stunning rugby Saturday at For Pete's Sake Field in Santa Rosa. The visitors were well-organized, fit, and relentless in attack. They were also dominant and disciplined in the scrums, winning all of their own and very nearly all of Redwood's. Marin scored three tries early in the first half then slowed a bit, while Redwood gained a little momentum with a converted try. The halftime score was 19-7. The second half was all Marin in a one-way, 41-0 whitewash.
Date: 01/24/2015
Sacramento Capitals 27 – Vacaville 8
Referee: Wood, Scott
This was a well-contested match that had the potential for a reversal of the final score. Unfortunately for Vacaville, the Capitals have GRrett Hawley and Tavita Matapula in the backfield so the option of kicking for space could result in the ball rapidly returning to its point of origin. As such, Vacaville was limited to keeping ball in hand and using mostly a forward-dominated attacking platform. Despite the speedy backline, the Capitals were limited to only two tries in the first half (14-3). The second half started with a quick try by the Capitals then settled down to back-and-forth exchanges of possession. I enjoyed being able to stretch my legs (a relative term). Only a couple times did players voice opinions regarding some calls made (admittedly, the referee could have done a better job at the scrum).
Date: 01/24/2015
Sacramento Capitals B 22 – Vacaville B 7
Referee: Wood, Scott
B-side matches are usually fun to referee as the banter is more jovial. This match did not disappoint. The Capitals took a 5-0 lead into the half and scored a penalty goal before Vacaville got onto the board. This match offered me an opportunity to work in scrum management to which I did not truly step up to the task but the game went on. Not a bad "cool down" run. Thank you, sir, may I have another.
Date: 01/24/2015
Sacramento Lions 17 – Fresno 26
Referee: van Staden, JC
With the fogged pulled in heavenly, I made the mistake to dress warm, but from about the start, the sun came out, and it was Saturday, and it was a rugby day!
With the game very much tied by the first halve, both teams with on thin ice, and their luck was about to run out. The did not disappoint, depends on who you are of supporting. Whit a litany of yellow cards, the Lions hanged in there and were only 2 point setting them apart from Fresno. But then the big one, 2 yellows on one tackle, left them with 1 from the Red, and with only 8 min on hand.
The cards does not give justice to the game, and really good rugby, got a little over shadow with bad discipline.
Good luck to both teams, and I really wish you guys the best for the rest of the season.
Date: 01/24/2015
San Jose Seahawks Women 43 – Berkeley All Blues 2 20
Referee: Pohlman, John
San Jose Woman hosted the Berkeley All Blue 2 at Sheppard Middle School in east San Jose. This is an all turf field marked as well as could be. Since these are set up for soccer they usually have short in goals, odd marking for line-outs and can require a second look to make sure you are at the try line.
But it was a beautiful day for rugby. Both teams played clean positive rugby. San Jose's backs were the main difference scoring 5 first half trys. Led by inside center and fellow referee Chinomso "LV" Asonye's three trys.
The game was highly contested with both teams showing some good form. Berkeley started slow and missed some early tackles leading to long Seahawk try s.
We had a couple of potentially serious injuries which hopefully don't turn out too bad.
Both captains were a pleasure to work with, unfortunately both left to injuries.
Good luck to both teams. Thanks to my touch judges Tom and Jack, you both helped allot and would make good Assistant referees or even in the middle referees. Please consider taking one of our classes.
Date: 01/24/2015
San Jose State 31 – Sacramento State 22
Referee: Pescetti, David
Sac State had a very rough start with a player being sent into the bin within the first minute of the match. It placed them on their back heels the rest of the match. At the tailing end of the initial sin bin SJ State was able to break through the Sac State defense and score the opening try of the match. Sac St was able to respond, once at full strength, with two tries of their own. Their mix of back play and forward play makes them a good team in the future. The first half was back and forth. Each team able to string together successful drives. The next score was on a broken play, SJ state able to kick the loose ball down field, recovering it and scoring. The first half ended with the score: Sac State 10 – SJ State 12.
The second half was equally as even. Both teams were a great match for one another. Sac State seemed the more athletic team, but SJ State was the better rugby team. The teams were able to score against each other. The biggest difference is that Sac State was unable to convert their conversions, SJ State was able to convert the majority of theirs.
It was a tough match for SJ State, but they were able to capitalize on the mistakes that Sac State made. They made too many mistakes. Sac State has the potential to become a great side, they need more experience. Once they are able to gain that experience, they are going to be a formidable side to face.
Date: 01/24/2015
San Jose State B 24 – Sacramento State B 7
Referee: Pescetti, David
Sacramento state traveled very well and are a very athletic team. San Jose state didn't have enough numbers to keep fresh for their second match of the day.
This match was a story of two halves.
First half Sac State dominated with their fresh legs, ball movement, and back play. They were able to score two fairly quick tries in the corner. There was a lull in the middle of the 1st half for a good 10 minutes until Sac State was able to pound it home for a third time. This time it was closer to the posts making for a more convertible kick. As the end of the half neared, an ill advised pass by SJ State was intercepted and taken all the way for a try under the posts.
The second half SJ state was able to turn the tide. It helped that a Sac State flanker was binned for repeat infringement. The second half remained scoreless, SJ State putting up a strong defense. This back and forth contest went on until the final moments of the half. SJ State capitalized on mistakes by Sac State and was able to string together a great run to score their first try.
A great game by these two teams.
Date: 01/24/2015
Santa Clara 5 – Arizona 55
Referee: Coppinger, John
Arizona featured size and speed and dominated the set piece in a comprehensive win at SCU.
Paul Simko made his debut as referee running the B side match and did a fine job.
Date: 01/24/2015
SFGG Women 27 – Life West Women 12
Referee: Noonan, Michael
None; although two warnings for high tackles. No yellow or reds
EDITOR'S NOTE:   Well, this is a bit confusing.   My guess is Mr Noonan forgot that assignr is for match write ups and NOT for reporting misconduct – especially if there is no misconduct.
Date: 01/24/2015
Shasta 56 – Humboldt 30
Referee: Cousillas, Eduardo
Nice and really warm day in Redding.
The local team dominated the first half and beginning of the second half, in the minute 50 the result was 49-10. But probably because of having the sun in front in the first half they got tired and the last 30 minutes were clearly dominated by Humboldt scoring 4 tries. The game finished with a last try for Shasta.
Date: 01/24/2015
Silicon Valley 14 – South Valley 31
Referee: Wilson, Giles
I arrived at the field with age grade players and a girls HS team practicing in bright sunshine, the field almost ready and two teams in the early stages of preparation – not a bad Saturday in January.
Both sides have young and new players learning from some older hands. Collectively they played a competitive and competent game. South Valley were more experienced and had a more pragmatic territorial game to go with some strong runners.
South Valley scored 3 first half tries with one conversion, the second half saw two converted tries each for a final score of 31 – 14 in favour of the visitors.
Date: 01/24/2015
Sonoma State 65 – Pacific 31
Referee: Bertolone, Cary
Barn burner at Sonoma State Univ. on a beautiful rugby day. Sunny and 72 degrees, a little bit of a wind to deal with for the kickers. Pacific scored first. They scored a try in the corner, but I gave them a penalty try for an attempt from in front of the posts. Sonoma's wing scored on a long run, followed by two tries by the forwards. Pacific comes back with a try by their scrumhalf to make the score 19-12, at only the 20 minute mark (5 tries in 20 minutes). I have to admit I had a hard time keeping up with their speed. Both teams have some speedsters. The game was 36-19 in favor of Sonoma State at the half. Half time gave me time to realize I had to try harder to get to the breakdowns more quickly. It seems like the mens teams are more predictable so I could cheat my way into position, but these runners were shifty, would change directions; I had to get faster. Three minutes into the second half, Univ. of Pacific had a forward ramble around and through would be tacklers for a 60 meter converted try to close the gap. Both teams scored again and the final score was 65-31 as Sonoma State scored more than Pacific in the last 15 minutes. Great game, although both teams played a bit sloppy, (mostly in the first half), it was very exciting and tough rugby.
Date: 01/24/2015
St. Mary's College 36 – Olympic Club 31
Referee: O'Neil, George
No report received
Date: 01/24/2015
St. Mary's College B 12 – Olympic Club 79
Referee: Sandhill, Peter
???? o? ???? ?lq??o?u? ?p?los ??o? ???? ????? pu? ?s?? ???q ????? ?q??dns s?? ?u???n? ???uno? pu? ?u???n? s,??d??lO ????? l??u?? ??? ?sol ???? l??? plno? I '?l?? ?s??? ??? o?u? s??nu?? ?? puno?? ?uo???sod ????? ?noq? ?sn? u? ?????q ???? qnl? ??d??lO '?lp?????p? ???l? ??pu???ns ??? ?s??? ???? ??s o? p?s??d?ns s?? I '?u?p??uo? pu? ?uo??s ???? ???? ????? ??o??q ???? ? ???? s,???W ?S s??? p??????? ?u???H ?????d ?ss??? ????? uo p???ld ?q?n? pu? ??p s???u?? ??u?o??l?? ln???n??q ?
Date: 01/24/2015
Stanford 42 – UC Santa Cruz 19
Referee: Lew, Tim
The game was well fought and much closer than the scoreline. It was a perfect day for rugby at Stanford and the Stanford team finished its opportunities and was able to beat UCSC in the open field. UCSC controlled the scrums but UCSC was better in the LO. Stanford was able to finish the game was a handful of long break away tries to pull the scoreline apart.
Date: 01/24/2015
Stanford B 80 – UC Santa Cruz B 0
Referee: Lew, Tim
Game was lopped sided due to Stanford playing many experienced players that took control of the game. UCSC had some close opportunities but wasn't able to turn any points.
Date: 01/24/2015
UC Davis Women 12 – Stanford Women 14
Referee: Bretz, Paul
Great game of rugby. Davis maintained the lead until the 78 minute mark. Davis have a freshman fly half that I coached last year and she continues to be a game changer at the college level. Keep listening for the name Katlin Reed. She is truly a special athlete.
Date: 01/24/2015
UNR Women 55 – UC Santa Cruz Women 17
Referee: Wilkening, Russ
Mid winter in Reno isn't what it used to be. We kicked off with temperatures already in the 60's and rising, clear blue skies, and the faintest of breezes.
Reno was clinical on the day, playing the ball tight and recycling quickly until the Banana Slug defense was on the back foot and showing gaps, then slicing through with their strong backline or chipping the ball through from the boot of the numbers nine and 10. Santa Cruz was pressured throughout but counter punched twice in the first half to score tries of their own. The second half was more of the same with both sides getting some of their more inexperienced players some valuable playing time.
It needs to be said that while the game was played in great spirits, there were a number of dangerous, especially high, tackles, and a warning served to improve things, but a UNR player would have been sent off had I blown the whistle immediately to deal with the infraction rather than follow play for advantage and then attempting to remember which player it was that should have been sent off. Lesson re-learned.
Date: 01/24/2015
USF 8 – Cal Maritime 38
Referee: Rauscher, Eric
Although this was a USF home game, It was played at Cal Maritime. Bodnar Field is a synth turf field, full sized with scoreboard and clock. Very nice set up. Even a changing room and bathroom!   USF played very hard all the way through the game, and were rewarded by their hard work with eight points scored in the second half, five for a try and a penalty kick made. Cal Maritime scored pretty consistently throughout the game however. Maritimes' scrums were dominate throughout as was their play at lineouts, often stealing USFs' ball. There was a little bit of pushme pullyou in the second half, but never very serious. My thanks to both teams for a great day in the sun.
This Week's Photo
Kyle Kenny, one of our youngest Pelicans, if not the youngest at 13 years, refereeing an intense match between North Bay and Danville Oaks.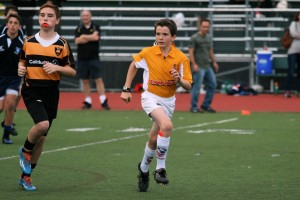 Hail, Pelicus!
For the Senate
Pelicus Pedem Referre