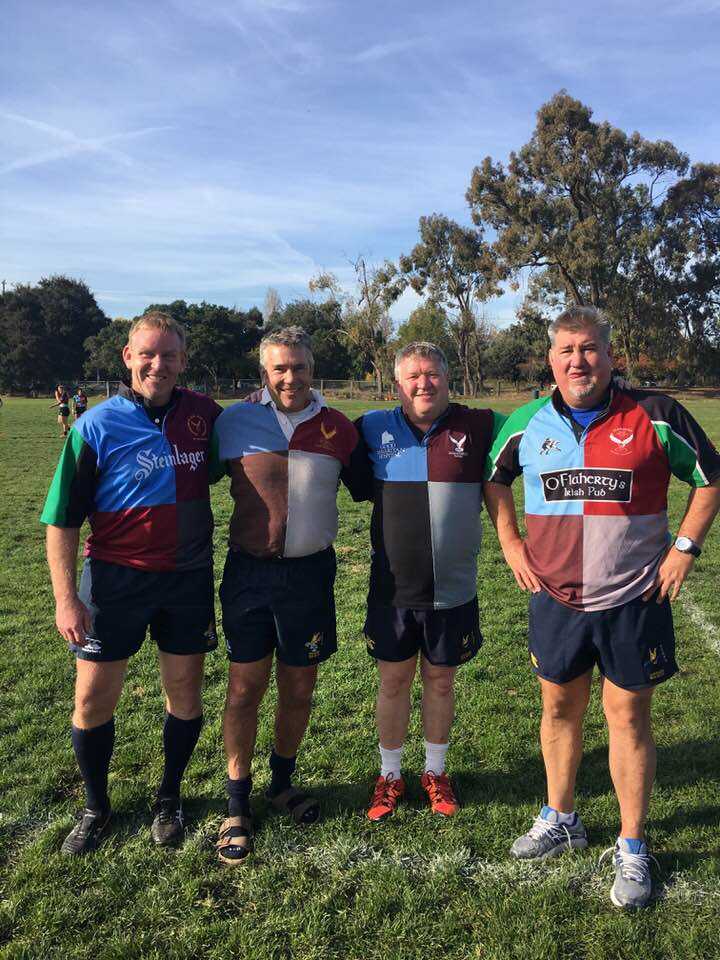 HAIL PELICUS!
Phoenix Ex Cineribus
The world has been reborn, or at least it has here in the Northern Hemisphere. In the Southern Hemisphere the world is dying while in the wishy-washy equatorial regions everybody is too busy enjoying themselves to worry about practically unnoticeable fluctuations in the amount of daylight they get, but enough of that. As our title ("Phoenix rising from the ashes") indicates, the seasons have turned and the days are getting longer which means that Rugby Season is starting up. (As an aside, it is a common misconception that summer days get longer. In fact, every day of summer (and fall) is shorter than the previous and every day of winter (and spring) are longer than the previous. Drop that tidbit at the office water cooler and wow your coworkers.) Every non-tropical culture has myths and celebrations around the start of the year and usually involves some sort of blood sacrifice to make the sun come back up. Why do you think Santa wears red? It isn't because of some 19th century poem, or 20th century Coca-Cola advertisements, or even the 4th century images of the Bishop of Myra, but traces back to the Germanic Yuletide animal sacrifices and the importance of spilling blood to bring the sun back to life.
Good times, but people tend to get upset these days when you slaughter a boar and smear blood on the walls and each other so what better way to celebrate the rebirth of the world and honor our shared history than to start up the rugby season? Women and Men will strive towards glory and excellence, blood will be spilt, and the participants will – in another fine ancient Yuletide tradition – "keep the holiday while the ale lasted"*.
* King Haakon I of Norway, who would have made a fine front row player.
Shiny New Laws And Directives
As we depart from the Year of the Unscrupulous Rat and kick off the Year of the Insulted Goat the landscape of our game has changed, in some cases quite literally. Most are by now aware of the new laws approved for trial by World Rugby, including the ridiculous One Man Ruck and that scrumhalves are now allowed to cheat at scrum put-ins, but I still foresee quite a bit of difficulty with the USA Rugby Sideline Discipline Protocols and Procedures. (For a refresher, you can find them here.) It has been my – admittedly limited – experience that teams are not taking these too seriously, not getting them correct or just plain ignoring them. At the NCRRS AGM we discussed these at length and tasked each member of the referee society to work with the teams they see to enforce these protocols. If you didn't have a technical zone marked out then use cones or bags to set one up; if you don't have pennies for the water carriers turn the jersey inside out; warn coaches who wander beyond their Technical Zone; that sort of thing. Get clubs used to the protocols during the preseason so that they won't have an issue during the league season.
This preseason I saw senior referees start matches with none of these protocols in place. I had coaches wander up and down the sideline and on the field and when asked to get back in their Technical Zone, with a smile and a wink indicated that these new rules didn't really apply to THEM, after all. We have known each other for years! This only applies to the problem clubs and troublemakers!
Much as the Society strives to fairly and consistently enforce the Laws of the Game in the same manner across all levels and all members, we need to fairly and consistently enforce the USA Rugby Protocols. For example, for years I have been lamenting the tendency of some referees to allow men's players to wear tights and when I (and others) require the players to remove them I invariably get "but the last ref let me wear them!". Don't care, it is illegal equipment. The same applies to hard knee braces and other non-approved gear.
I see the same conversation happening when I refuse to start a match until a Technical Zone is set up, or I make the coaches and subs stay in their technical zone or enforce the limits on water carriers, etc. "The last referee let me do that!" is the last thing I want to hear but will probably be the first, so please, everyone, let's get together and make sure we are all on the same page.
January Society Meeting
It is time for the flock to regather for our monthly meetings and the first of the year will be held Wednesday, January 9 . We will be using this facility for all of our development meetings and training sessions for the 2017/18 season. The address is:
East Bay Sports – Livermore
6474 Patterson Pass Rd
Livermore, CA 94550
925.455.8300
A fitness test will be administered at 6:00 and the general meeting will follow at 7:00. The agenda for this month:
1) Safety overview "Do no Harm" – John Pohlman
2) Keeping the head and neck safe and out of contact – Paul Bretz
3) Fitness and conditioning. Nutrition management – Tim Lew
4) Kit Presentation – James Hinkin
Kit Presentation?
Yes, the kit has arrived and will be handed out at the meeting on Wednesday, so if you want to start the year looking sharp and fresh you will need to be at the meeting to get your 2018 jersey.
Disciplinary Action Reporting – Process For Reporting Incidents
The various competitions all have their own disciplinary chairs and this will make it difficult to centralize the communication and data. To help Scott Wood has developed a form that will centralize the process, regardless of the competition. The link to the discipline form is https://docs.google.com/forms/d/1mmUNg11uVOSkIsUtHifSqQzalhWbwohk_J6AmPyrucQ/viewform
1. Copy the link and have it available on your smartphone. If you have an iPhone add the link to your home screen.
2. When needed fill it out and click submit. The discipline chair of the competition you refereed will receive a notification about the incident.
3. He/she may contact you latter for more details.
4. If you have any questions as to how to use the app please refer to the following video: https://www.youtube.com/watch?v=_Uz0_gTaOnY
On To The Game Reports!
Date: 10/21/2017
West Coast 7's
Referee: Andrew Stockton
So far, this was the best weekend of rugby I have participated in. It was my first time being able to referee D1 A side teams, and I felt as though I learned an immense amount. The competition was strong, entertaining, and fast paced. There were clearly teams that were head and shoulders above the rest, especially Cal, UVU, and CWU, but for the most part, all of the games were very closely contested and allowed for some great individual and team efforts to be showed. I hope to be able to come back to this tournament next year to see how the competition level, as well as my own refereeing level, has improved.
Date: 11/04/2017
Shasta Highlanders 7 – Shasta Highlanders 0
Referee: Bruce Bernstein
AKM Memorial Tourney & Scholarship
Did 2nd match of the day b/w Oregon Institute of Tech v. host team Shasta which barely beat the college kids 7-0 & 3rd match where OIT was back trying hard against Sac State Alumni who was too strong & prevailed 40-0.
Sam Reagle handled best (& 1st) match of the day b/w Sac State barely losing to Chico mens team.
Date: 11/04/2017
BA Baracus 36 – BA Baracus B 24
Referee: Robert Hammack
Spirited match between BA Baracus and "Old" Boys (30+). Well-contested match until last quarter of the game, when superior fitness and speed overcame wisdom and trickery.
Date: 11/11/2017
Chico Holiday Classic
Referee: Sam Reagle
Great rugby day in Chico! Too bad Jeff Richmond and I were the only refs that showed up for it. Thankfully 2 Chico coaches, Mitch and Beau, took some games. There were 6 mens teams and 4 womens teams. With 18 games on 2 pitches, it was a busy day. The Black Hawks said they brought their "B" side. If so, their "A" side must be a delight to watch. Humboldt State women have a center who can run around and over defenders.
Date: 11/11/2017
Pacific 12 – Loyola Marymount University Rugby Club 48
Referee: Giles Wilson
Loyola got a late start from LA for their day trip and players didn't start to arrive until 2pm and a full team wasn't on hand until 2.20 or so, pushing back the kick off to 3pm.
Unsurprisingly, the hosts started better but made mistakes and also struggled to understand the tackle requirements and only led at halftime by 12 – 10.
For the second half, the visitors had got the drive out of their legs and they became much more effective using their experience (UOP is a very young team) and conditioning to run in 6 tries with no reply, 3 conversions further stretched the lead.
Date: 11/11/2017
St Marys College B 119 – Sonoma St 0
Referee: Paul Bretz
St. Mary's B side scored early and often in this rather one-sided match on a beautiful November day. Game was played in good spirits. St. Marys # 2 committed all of the penalties and was warned (he committed 2 penalties).
EDITOR'S NOTE: After the match Mr Bretz was officially reprimanded and told to manage his penalty count better.
Date: 11/11/2017
UC Davis 68 – Chico State 3
Referee: Phil Akroyd
Chico State gave UCD about 20 minutes of a solid game, but didn't have the necessary decisiveness in attack. For the first quarter of the game they had all of the possession and territory but couldn't really do much with it and only came away with three points.
UCD absorbed the pressure with some hard work in defense, then got a couple of breakaway tries to open the floodgates. Ten tries later the game came to a close.
Date: 11/11/2017
San Jose Seahawks B 10 – Cal Poly-SLO B 28
Referee: James Hinkin
The B side match at the end of a long day of rugby was always going to be a race against the sun and we were only able to get 60 minutes of rugby in. Cal Poly fielded a true B side in that there didn't seem to be any overlap between the players from their A side while San Jose continued to mix and match all players as they did in the first match. As expected for early preseason B side matches, this was an affair dominated by knock ons, unforced errors and learning. ("Tweet! Accidental offside after the knock on. We will have a scrum." "Accidental offside? Is that even a thing?" "Yes. Yes it is.")
Not to say that rugby was not played. There was plenty of rugby and a lot of enthusiasm on both sides of the ball, just that the rust and/or inexperience was evident on both sides. Cal Poly may have been a bit rusty due to having finished their 7s season last weekend, but head coach James Tesoriero is a high quality coach who will have his kids ready for the 15s season, I have no doubt. This was my first look at the new Seahawk coach Michael Haynes and his playing style. He has his ideas and patterns set up – now he needs his players to train to them. They will be fine this year, much improved over the shocking results from last year.
Date: 11/18/2017
UC Davis 68 – Sacramento State 7
Referee: Steven Fenaroli
UC Davis have the field line very nicely. The technical zones were all laid out as prescribed by the guidelines. The game started on time and it was a very sunny Saturday afternoon. UC Davis had a lot more players. Sac state looked like they were struggling for 15 a side. UC Davis came out swinging and put up 47 points in the first half. It was obviously an early season match. Davis starters were much more experienced and had better communication. Both teams struggled with offsides at the breakdown. Sac state scored a breakaway try late into the second half. That didn't deter Davis who put up 21 more points in the second half. Davis reserve front row had issues at the scrum and their setup.
Date: 11/18/2017
Reno Zephyrs 29 – San Jose Seahawks 30
Referee: Sam Reagle
Wow. Though there were clear signs that this was a pre-season game, both teams came to play. Reno kicked off to start the game and scored a converted try at 22 minutes in. SJ responded with the same 10 minutes later. At 36 minutes, Reno scored an unconverted try to end the half up 12-7. The second half was a gem. SJ scored a converted try 8 minutes in to go up 2 and another at 22 minutes to go up by 9. Reno responded with tries at 25 minutes and 28 minutes to lead by 3. SJ turned to their excellent kicker who tied the game with a penalty kick at 32 minutes and took a 3-point lead with another kick just 2 minutes later. But Reno wasn't done. Reno took a 2 point lead at 38 minutes in with their 5th try of the day. The game ended at the 43 minute mark when SJ made their 3rd penalty kick. The social was at Mixer's Bar and was well attended.
Date: 11/18/2017
St Marys College Women 39 – Fresno State Women 26
Referee: John Pohlman
Early season friendly with two well matched and growing sides. Both teams had well over 30 players. We played 5 20 minute periods. First period Fresno State Woman 14 St. Mary's 0. Both teams played well in this period but Fresno controlled ball possession and had too many opportunities. Second period was all St. Mary's with four tries to zero. Lots of subs and new players got an opportunity to join the rugby community with much enjoyment. Game was played in good spirits.
Both teams have some very talented players and lots of reserves. Good luck and stay healthy.
Date: 11/18/2017
Pacific 0 – Univ San Francisco 20
Referee: Roberto Santiago
It was a clear and crisp day at UoP for this preseason round robin. The visiting USF side played with cohesion and skill that indicated detailed coaching. Both teams mixed in new players at a variety of positions.
Date: 11/18/2017
San Francisco State 29 – Univ San Francisco 24
Referee: Roberto Santiago
This was the most evenly matched game of the day. Both teams had experience in the backlines and solid play up front. I hadn't seen SFSU in about a year, and the difference in play was remarkable. Last year's squad played with athleticism and heart, but without cohesion. This year's team looks like they can play. USF is no slouch either, both teams look well coached and motivated. The game was physical, and played in good spirit. Good luck to both squads this coming season.
Date: 11/18/2017
San Jose State Women 12 – Sacramento State Women 45
Referee: Stephen Moore
SJ State not prepared ahead of KO, the field not properly set up. Late KO as a result. Concerns raised by Sac players for lack of Athletic Trainer. We found a registered nurse (parent) to fill in. Match very scrappy in the first half, SJ struggling to find any rhythm. Sac more organized and effective, most Sac points scored in first half. Late second half there was a quick succession of yellow cards (3) against Sac, dangerous tackle. SJ found their rhythm and scored points in last 10 minutes. Match played in good spirit overall, players and coaches very cooperative, well behaved.
Date: 12/02/2017
Cal Poly Men B 55 – Long Beach St B 25
Referee: John Pohlman
A lovely drive down to the beautiful campus of Cal Poly saw Cal Poly hosting Long Beach State in a friendly preseason match. I ran the second side game.
Cal Poly dominated the first half with 6 trys. Three off of the kick off. Long Beach was not committed to the tackle in the first half, making Cal Poly runners look dominating. The second half saw some subs enter end the level of play drop a bit. Both teams look good and should fair well this year.
Thanks to the Cal Poly and Long Beach players, coaches and fans for a fun, fast and friendly game.
Date: 12/02/2017
UC Santa Cruz B 5 – Pacific 37
Referee: John Lane
Under a December sunny blue sky Pacific won an enjoyable pre-season friendly fixture against a less experienced UCSC B-side on a scoreline of 5-37.
While the scoreline appears one sided it does not reflect the commitment and effort put in by the Slug's – the big difference between the sides was the experience on the field where UCSC were introducing a significant number of "new" players to college rugby this season – this also involved significant and frequent player changes as rolling subs was agreed before the game with both sides.
The game was played in a committed manner throughout by both sides and new (and experienced) players reacted well to the referee's "guidance" throughout.
Date: 12/02/2017
UC Santa Cruz 22 – Ventura Outlaws 69
Referee: John Lane
Captained by a SLUG Old Boy, Ventura made the long trip up to Santa Cruz a worthwhile one with a solid victory over UCSC on a scoreline of 22-69 in an open, free flowing game.
The game started at pace with continuous play for nearly 3 minutes with a number of turnovers from both teams . Ventura looked the slightly stronger team at this stage with UCSC looking for width as much as possible when in possession. Ventura took the lead on 6 mins with a converted try. The students then had their best phase of the game with excellent speed and width getting them around the Ventura defense out wide for 2 tries (1 converted) to lead 12-7 on 15 mins. Ventura tightened things up a bit after that and exerted most of the pressure for the remainder of the half leading to 3 tries (26, 30 and 38 mins) with 2 conversions. Half-time 12-31.
Both sides were making use of the pre-season friendly agreement on rolling subs throughout.
Ventura notched up another quick 12 points shortly after the break (2 tries 1 conv) to extend the lead to 12-43. UCSC got on the scoreboard again on 10 mins for 17-43. Tactically Ventura opted to keep less players in the lineout on UCSC throw-ins for the whole second half which allowed them to fill the backline defense out wide nullifying the strength of UCSC backline effectively and delivering turnover possession frequently. Another 2 converted tries stretched the lead to 17-57 after 22 mins.
Some fatigue started to affect play at this stage on both sides and play moved back and forth between the 22's. UCSC broke through for their final try on 35 minutes for 22-57 but Ventura wrapped up the scoring with a converted try on 37 minutes and a final unconverted try out wide on the left with the last play of the game.
Date: 12/02/2017
UC Santa Cruz Women 12 – Univ Nevada Reno Women 97
Referee: Stephen Moore
Runaway match by the more experienced Reno side. Four yellow cards first half for dangerous tackle and professional foul violations, nothing egregious. Match played in good spirit, players and coaches cooperative. First 10 minutes of the second half saw Reno score only points (12). Coaches informed me that Reno had played five matches this season and SC only two. SC players seemed new to the sport.
Date: 12/02/2017
CSU Monterey Bay Women 19 – Fresno State Women 63
Referee: Larry Freitas
Fresno State visited the Cal State Monterey Bay campus for this late morning match. The kick off was under milky skies and the temperature was in the upper 50's, with just a touch of seasonal chill in the air. Fresno State received the kick off and fly half Jenny Balestra gathered the pass from her scrum half at the first ruck and rambled deep into the Monterey Bay 22 before she was tackled, dishing off to winger Alexis Gonzales who would score the first try, with Balestra missing the conversion for a quick 5-0 lead at two minutes. Gonzales would score another try five minutes later, and Balestra added another one which she converted for a 17-0 lead at 18 minutes. Maybe it was that half the visitors had long sleeve undershirts on, but they were as hot as the red jerseys they wear, dominating possession, and when they did lose possession counter rucking at the breakdown to get the ball back! To make matters worse Otter Yanicke Stein, outside center, and one of the best players for the home team, left the game with a shoulder injury. Jaclyn Blankenship would score a fourth try for a 22-0 lead before the Otters started to get some ball themselves and get out of their own end with some back line play spearheaded by fly half Katy McGill. Finally the home side would score late in the half when prop Kiari Young picked up a loose ball at the base of a ruck, deep in Fresno's territory, and as she fended off would be tacklers, ramble to score under the posts, with Hanna Kim making the easy conversion for 7 points. Fresno State would score once more to finish the half with a 27-7 lead. Jenny Balestra was not greedy, feeding her backs countless times instead of taking off with the ball herself. They responded well by penetrating deep into the opposition half and following up to take passes before tackles could be made, and when a team mate was brought down to be on the spot to retain possession. Monterey's back line did a credible job as a covering defense, but with having to play defense so often, they were getting worn down, and it didn't help with one of their best open field tacklers on the touchline after the first ten minutes of play.
The second half would produce even more try scoring for Fresno, led by scrum half Raquel Macias, who would dot down twice. Hooker Emi Lacandazon, who is all of 5'2", scored two tries for Monterey, one in the corner near the flag, in which she dodged some tackles and stretched out to place the ball. She was the bright star for the home side, playing from the heart, hawking the ball when she could get to it, and seemingly always first to the tackle, and making quite a few herself in the process. The match would end 63-19 for Fresno State's victory. Monterey, who had lost only by one point to UC Santa Cruz a few weeks earlier, tried their best but it just wasn't enough to stop a well trained, talented, and very fit side. Other try scorers for Fresno were Vanessa Maravilla, Megan Walls, and Nicole Munoz.
Date: 12/09/2017
Sacramento Blackhawks 0 – Life West 60
Referee: David Pescetti
The final game of the round robin between Chico, Blackhawks, and Life West pitted Life and Blackhawks against each other. The schedule favored the Blackhawks, but the rust showed. Life having just played Chico beforehand functioned much better as a unit. They were able to quickly move the ball in hand to outmaneuver the feisty Blackhawks.
Good luck to both in season.
Date: 12/09/2017
Sacramento Blackhawks B 51 – Chico Mighty Oaks 17
Referee: Roberto Santiago
Friendly round robin between three teams. This was the second match, with Sacramento playing back-to-back. The lopsided score doesn't tell the whole story, as the game was 17-15 in favor of Chico when we came to half time. As is often the case in the pre-season, Chico opted to play a largely different roster in the second half, which contributed to the lopsided final. Overall the game was competitive play to play, even when the score indicated otherwise.
Date: 12/09/2017
San Jose Seahawks Preseason Classic
Referee: John Pohlman
San Jose Seahawks hosted a preseason tournament this past Saturday. I refereed the Aptos Sea-dogs verses the San Jose Seahawks. This was the Seahawks second game in a row. The Sea-dogs led at half over the Seahawks 14 to 12. Open subs led to Seahawks first side forward coming back on the field. With the Seahawks forwards starting to control the match their backs showed their form, scoring five second half toys.
Fun game played in good spirits. Good to see both teams gearing up and looking good.
Date: 12/09/2017
CSU Monterey Bay Women 47 – San Jose State Women 15
Referee: Larry Freitas
I drove down to CSUMB"s campus at the former Fort Ord arriving at 10:30 for an 11 AM KO. Oddly enough, as I got out of the car in the parking lot, it was very chilly, from a south east wind blowing in from the Salinas Valley, though my car's thermometer read 61F. Not to worry, it would warm up into the 70's and feel much warmer in about an hour, as this very unseasonable weather continues (the new normal?). San Jose State Spartan Women arrived with 13 players, and as they had checked with the home side the night before, it was agreed to play twenty minute halves of 10 a side rugby. An extra 20 minute practice game would follow of 15s. Cal State was just too much for the new and revived San Jose State squad. Isis Smith, who has been asked to run track for CSUMB, playing full back, did a lot of damage. She was not the player San Jose would want to see with ball in hand. She is very, very fast, and also a courageous tackler, despite her very slim frame at about 5'5". She can't be much more than 110 pounds. The Otter Gals scored 40 points in the first half to none for the visitors. In the second stanza San Jose would score three unconverted tries to the home team's one converted try. Final score was 47-15 in favor the Cal State Monterey Bay. This was their one win in the fall or early part of the schedule, having lost to Nevada Reno in late October, and in mid November to UC Santa Cruz.
There were some injuries to players during that 10s match, including what looked like an ACL for a San Jose player, so instead of playing 20 minutes of 15s, it was decided to play 12 a side. This game didn't count, but CSUMB did win by a score of 12-7, as two of their side went over to fill out San Jose's side. Hopefully during the Christmas and New Year break the Spartans will get their injured players healthy. In that regard CSUMB has to get some of their players healthy too, as out of some 20 players only about 13 could play if a game were held next weekend. Leg injuries, ankle injuries, and some few concussions have plagued their side this fall.
Date: 12/16/2017
SFGG D2 27 – Sacramento Blackhawks 32
Referee: Roberto Santiago
This was a competitive match from start to finish. Both clubs displayed skill and cohesion, though there were an uncharacteristic number of knock ons throughout the contest. Sacramento came out fast at the opening whistle, scoring their first try just 90 seconds into the match. The Blackhawks put over another at 14:40 before Golden Gate countered with one of their own at 24:00. Sacramento added two more (none converted) before half time to take a commanding lead into the break.The second half saw the home team's numbers come into play. Having more fresh legs on hand allowed SF to put up four tries in the second half, thanks in large part to their forward pack. The comeback bid fell short though, as Sacramento was able to score two tries to hold on for the win.
Date: 12/30/2017
St Marys College 85 – Olde Gaels 5
Referee: John Lane
The last pre-season friendly for both sides was a fully committed performance with St Mary's as expected gaining a comfortable victory on the scoreboard over Diablo Gaels. Peter and Bryant on the sidelines gave me some pre-season team of 3 practice as well – some good inputs throughout.
The first half was highly competitive from a physical perspective with St Mary's 5 tries coming from an ability to retain possession through multi-phases and exploiting the eventual defensive cracks that appeared. Diablo Gaels did have a strong 5 minutes to end the half and crossed for an unconverted try on 38 mins to leave the half time score 27-5.
At the start of the second half Diablo continued to be competitive for the first 5 minutes but from then until the 80th minute St Marys crossed regularly for tries (10 in all with 4 converted) – regular introduction of fresh legs through the rolling subs agreement and a significantly larger squad contributed to this for St Mary's. Both sides adapted to the new law variations well and overall a fast open game was contested fairly but physically throughout.
Date: 01/05/2018
UC Davis 33 – Central Washington University 14
Referee: Steven Fenaroli
Friday night lights in Davis made for a match against CWU and UC Davis. Central was on a trip down to California with St Marys the next day. Davis came out strong and on the first scrum pushed over CWU. CWU was a team that made kicking a big part of their game. Davis must have picked up the idea because both teams were kicking a lot on the turf. Central hit the offsides line hard and would consistently not engage in the breakdown unless they had a big opening. They instead spent their time and energy pressuring Davis' backline and forcing errors. Both teams had issues with straight throws at the lineout. The wet weather made for handling errors. Ultimately CWU couldn't keep pace with UCD and UCD took the lead early in the game and never gave it back.
This Week's Photo
The referee crew for the 2017 San Jose Seahawks Preseason Classic… all former Seahawks wearing 4 generations of Seahawk jerseys. How many clubs can accomplish this? L-R: Pelicus Iudex Pennipes, Pelicus Pilula Biberarius, Pelicus Pedem Referre, Pelicus Fistulator.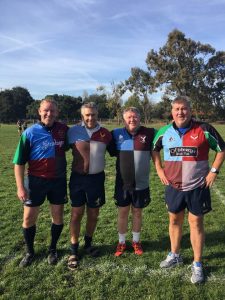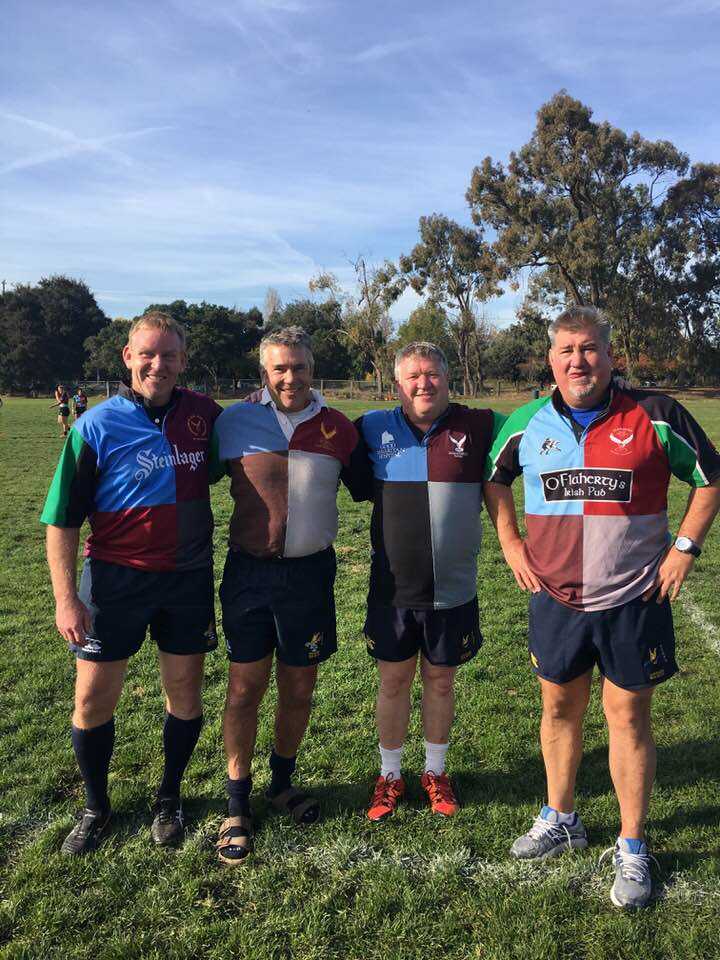 Hail, Pelicus!
For the Senate
Pelicus Pedem Referre