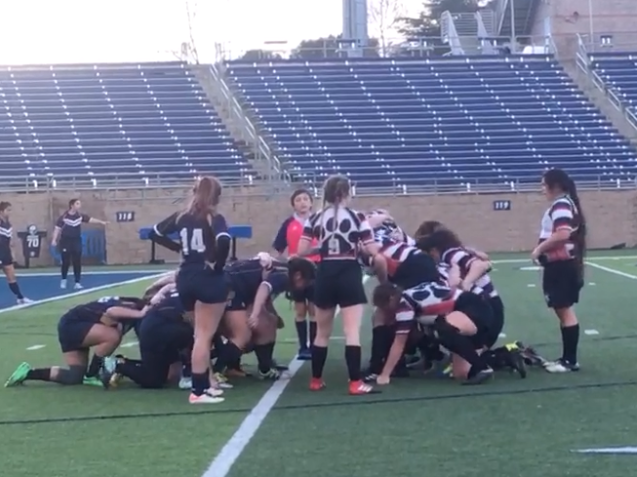 HAIL PELICUS!
Poetry In Motion
My flights are all cancelled
Can't deal with the cold
These sub-freezing days
Are getting pretty old
Chicago's an option
But a 4 hour drive
Travelling for 12 hours
I'm barely alive
I shout to the heavens , "Have you heard the news?"
I've got the Cedar Rapids Eastern Iowa Airport blues.
California's been raining
But I feel no pity
My body's in San Jose
My bag in Salt Lake City
I slipped on the ice
Got a cut on my head
I got to keep coming back
But I may end up dead
I shout to the heavens , "Have you heard the news?"
I've got the Cedar Rapids Eastern Iowa Airport blues.
Ringo was right
I got blisters on my fingers
Working so hard
The cold still lingers
When is spring coming?
It's so far away
In this winter hell
Forever I'll stay
I shout to the heavens , "Have you heard the news?"
I've got the Cedar Rapids Eastern Iowa Airport blues.
No time for clever
Rugby banter and insight
I just want to finally
Catch a plane flight
Back to the nest
The Pelican's home
But for next week's job
Again I will roam
I shout to the heavens , "Have you heard the news?"
I've got the Cedar Rapids Eastern Iowa Airport blues.
7s Reminder
Again, according to the longstanding tradition that I made up a few weeks ago, because it still holds true and will hold true when we gather in Vegas, I must remind everyone that the USA is ranked #1 in the world in 7s.
Annual Vegas Begging Notice
The Las Vegas Invitational is coming up in early March and they are desperate, again, to have substantial representation from The Greatest Referee Society On The Planet. Here is their official pitch:
Referees One and All !
The biggest rugby tournament in North America is looking for YOU! The Las Vegas Invitational needs you on February 28th, March 1st, and March 2nd to help volunteer and officiate 7's (and a select few 15's) matches across youth, collegiate, and adult divisions in Sin City. The most all-inclusive tournament in Rugby has filled out their divisions again this year, and it can't be done without you! Come ref by day with old friends, and enjoy the most exciting city on earth by night! California brought a great number of refs last year, and the LVI would love to have you back!
All Referees receive:
– Rhino LVI Referee jersey (both Male and Female specific models)
– Tickets to all 3 days of the USA Sevens International event
– Access to the Westgate Resort LVI room block – massive benefits available on room rates (only $70 weekdays, $95 Fri/Sat for a 2 bed room), $12 breakfast buffet deal, WAIVING ALL RESORT FEES THROUGH FEBRUARY 10TH!!, $40 shuttle passes from the hotel to the stadium and the fields, and FREE PARKING!
– A Thursday night "REFS ONLY STRATEGY MEETING (wink wink)" with complimentary carbonated adult beverage provided (while supplies last) at the Westgate.
– A Lunch Voucher for Sam Boyd Stadium for all participating referees!
– the chance to referee teams from the USA, Canada, New Zealand, Japan, Nigeria, Mexico, the UK, France, Australia, and more!
Westgate Hotel link: https://book.passkey.com/event/49745916/owner/3453/home – again, with waiving resort fees, you get the cheapest rates and get to stay at an incredible resort and the hub of the LVI.
To register to ref at the LVI 2018, contact Head Referee Autumn Arvidson at : mnrugbyref@gmail.com
Any questions about the event?: https://www.usasevens.com/las-vegas/las-vegas-invitational/
2019 USA Rugby Game Management Guidelines
Looking for guidance on how to manage a game? Well, USA Rugby has your back. You can find the 2019 USA Rugby GMGs here: https://drive.google.com/open?id=1XXcRfsVtLLqUawEHUI47ei0dt_65fDM.
If you do not have access to the google drive linked above you can also view them as well as other pertinent documents here: http://www.usarugby.org/referee-resources/
Disciplinary Action Reporting – Process For Reporting Incidents
The various competitions all have their own disciplinary chairs and this will make it difficult to centralize the communication and data. To help we have developed a form that will centralize the process, regardless of the competition. The link to the discipline form is https://docs.google.com/forms/d/e/1FAIpQLSc42vbdqnFVH0u1BGTLhjOivDO2hNsmV4NXvvnC4FyAka7sKQ/viewform?vc=0&c=0&w=1
Copy the link and have it available on your smartphone. If you have an iPhone add the link to your home screen.
When needed fill it out and click submit. The discipline chair of the competition you refereed will receive a notification about the incident.
He/she may contact you latter for more details.
If you have any questions as to how to use the app please refer to the following video: https://www.youtube.com/watch?v=_Uz0_gTaOnY
On To The Game Reports!
Date: 02/03/2019
UC Davis Women B 10 – Chico State Women B 39
Referee: Peter Gray
This game took place in the Davis Aggies' stadium. A great venue: although the pitch had football markings, we made do. We were also very lucky to have the game between downpours.
The schedule had been changed from Saturday to Superbowl Sunday, which is fine by this referee. Doesn't seem like we missed out on much, anyway.
This was my 1st official assignment as a Pelican and both team were aware and made me feel more than welcome and at ease. Several of the players were playing in their first game. It was a well fought fight with Chico taking the lead early. Davis made use of their deep bench and had some second half replacements that helped even the field. Ultimately, though, Chico prevailed with a convincing victory.
(EDITOR'S NOTE: Outstanding work Peter!)
Date: 02/03/2019
UC Davis Women 34 – Chico State Women 21
Referee: Allen Gray
It was a great game in the Davis Aggies' stadium. It was quite breathtaking to walk into a 10,000 seater stadium, even if it wasn't full. The drive to the game was fraught with some atrocious weather, but we got a lucky break and enjoyed some sunshine for the game with only a few sprinkles. I'm sure the teams were happy to have a dry ball to play with and there were very few handling errors throughout the game.
We had a schedule change moving the game from Saturday to Sunday: Superbowl Sunday, good thing I'm not a huge (American) football fan. More importantly, the teams decided to forego the halftime show and play some rugby.
The first half ended with Chico having two tries and Davis with one. Coming into the second half Davis had to pull out the stops and they did. Both teams battled and we had some great defense on both sides; there were 4 try attempts that were held up in goal. There was pressure, pressure, pressure at both ends of the field. Davis were able to widen a narrow gap with a very late try to put the game out of Chico's reach.
Date: 02/02/2019
UC Davis 31 – Santa Clara 24
Referee: Lee Bryant
No Report Received.
Date: 02/02/2019
St Marys College B 31 – Utah Valley University Men's Rugby 7
Referee: Peter Sandhill
The mid-winter rain abated for about 2hrs, just before and during the game. The St Mary's stadium grass field was wet, slushy in many spots and heavy under foot. This made handling a challenge at times, the grass easier to slide upon and the running harder work.
A fit and ready Utah Valley University (UVU) had come a long way for this game to play a well prepared St Mary's B-side for a College Men's D1A match-up.
UVU had a physical pack and for the first fifteen minutes, it was very even. After finally crossing for a try around the 15′ mark, St Mary's gradually began to wear UVU down. Both teams kicked a lot, trying to gain field position in the moist conditions. The handling was surprisingly good given the conditions. St Mary's scored four unanswered tries in the first half (converting three). The 26-0 half time score did not adequately show the strength of the UVU team which at times dominated.
The second half saw a very tight contest with little in it; both teams defended well and played it tight, taking it up with many pick-and-drives off the ruck. Both teams scored a try in the last quarter with UVU converting theirs. Both teams made several replacements to freshen up tiring legs. UVU "won" the second half 7-5.
Final score 31-7 to St Mary's.
Thanks to Tim O'Brien SMU coach for hosting, always a gentleman. Hats off to UVU for a competitive game and for driving 8+ hours to play a hard game of rugby. Impressive.
Date: 02/02/2019
Silicon Valley 21 – Chico Mighty Oaks 31
Referee: Paul Bretz
Chico traveled to Silicon Valley on a wet Saturday afternoon and were graciously hosted by for their efforts. Chico opened the scoring first and remained in the lead for the duration of the match however at one point during the second half Silicon Valley looked like they might take the lead being only down by 3 with plenty of momentum and knocking on the guest's tri-line. Had it not been for an opportunistic picked-pass and 90 meter foot race by Chico's number 10 the game's scoreline would be much different.
Date: 02/02/2019
Shasta Highlanders 24 – Jesters Rugby FC 29
Referee: Jeff Richmond
Fortunately, the rain held off throughout the game and while the field was soft, conditions were good. Very evenly matched, but distinctly different teams. Shasta has a set of tough forwards and sure tackling. The Jesters able to bring speed on the outside with their backs. The first half ended tied at 12-12. As the second half wore on, Shasta was running out of gas. The Jesters exploited the edges to put themselves ahead by 12 with about 3 minutes left. Shasta made a furious comeback attempt, able to field their next kickoff and take it down just outside the Jesters goal. At a penalty mark, a repeat infringement for reckless tackle by the Jesters resulted in a penalty try being awarded. Now down only 5, Shasta attacked again, until a turnover and kick to touch gave the Jesters the match.
Date: 02/02/2019
SFGG PRP 14 – Santa Monica PRP 16
Referee: Steven Fenaroli
SFGG hosted Santa Monica in Round 2 of PRP. The game was headed to be a wet contest with standing water all over the field. Santa Monica traveled up to San Francisco. SFGG scored first and Santa Monica Replied with a try and two penalty kicks. At halftime the score was 7-13.
SFGG would score another try and Santa Monica would notch another penalty kick.
Date: 02/02/2019
Santa Rosa 31 – Sacramento Capitals 5
Referee: James Hinkin
With soggy weather in the past and the future I arrived at For Pete's Sake Field in Santa Rosa with some apprehension. The field was in quite good shape however, and we only had one reset scrum all day due to slippage. The field, as always, was well marked with massive try zones (more on that later) so let's play some rugby.
The rain mostly held off except for some little spitting sprinkles that produced less moisture than the sweat coming off the players, so the sheer number of handling errors and dropped balls could not be blamed on the weather. There was plenty of scrum practice to be had as it seemed every other phase ended with a knock on. As the game progressed Santa Rosa more or less cleaned up their handling but it was the bane of Sacramento. They really should have had more points on the board but every time they had a promising break it would end with a sloppy pass or a dropped ball letting the Roses out of jail. Santa Rosa had better luck with their line breaks and was able to put 3 unconverted tries across in the first half.
The second half was much the same as Rosa kept the pressure on with a penalty followed by a couple of more tries. One try of note was a 50 meter kick and chase that Sacramento was a little casual about covering because the ball was quite obviously going to go out through the back of the try zone. The wet conditions and the nearly 20 meter try zone begged to differ, however, and Sac was made to pay when the Rosa winger (and, naturally, yours truly) didn't give up on the play and won the race to the ball just before it went past the dead ball line. A quick consultation with the TJ to make sure the bouncing ball never went into touch and the try was awarded. One more penalty rounded out the scoring for the home side until the visitors finally got on the board with a deserved try just before the final whistle. This final try was the result of some serious sloppiness after sustained Sacramento pressure as a tackle was followed by the ball squirting out the side, then a couple of players trying to secure it but failing and finally a fly hack from a Rosa defender went straight into the arms of the Sacramento wing who gladly took the gift to the try zone. Final score 31-5.
Date: 02/02/2019
San Jose State Women 24 – UC Santa Cruz Women 14
Referee: Giles Wilson
Played on the turf field of Spartan Stadium following the men's gave against Chico State on a wet day. Most of the rain held off but for a couple of brief showers.
San Jose St won the toss and chose to play into the wind. They started strongly and had a number of players who ran hard and direct, as well as tackling hard. UCSC took a little while to get into the game and after going behind pulled back to a half time lead of 14 – 12, the difference being a missed conversion.
In the second half there were several injuries to both teams; SJS ran in two more tries (one converted) to no reply from UCSC.
Final score a deserved win 24 – 12 for the home team.
Date: 02/02/2019
San Jose State 0 – Chico State 91
Referee: Roberto Santiago
The score tells much of what this match was about. It was a cold rainy day, but most everyone was in good spirits. SJSU players had no subs so they're first 15 played valiantly throughout the the entire 80 minutes. Chico State played with power, speed and cohesion. Chico State players were quick to adjust to how the game was being called, adapting their strategies to fit the referee's expectations. Kudos especially to the SJSU captain and winger who kept smiling and trying to rally his team.
Date: 02/02/2019
Sacramento State 15 – Stanford 47
Referee: Chris Tucker
A stormy weekend means many things in Northern California. Firstly, avalanche conditions go through the roof, making skiing dangerous. However in a couple of days when it consolidates, it makes for great fun in the backcountry. Secondly, and perhaps more pertinent to this report, groundskeepers get scared that their grass might have to prove its mettle and show they're not as good at their jobs as they like to think. Corollary: once again rugby was played on a football field, width 60m (too narrow), length 90m (too short), goalposts in a silly place, goal lines not extending all the way, old school 25yd marks for the 22, etc. etc. Corollary #2: rugby was played.
When the visiting team shows up, kicks off, wins the ball back and scores in the space of a minute, you might want to go and put your running shoes on. When the visiting team responds 2 minutes later, you know it's going to be a fun day! And so it was, with both teams playing in good humour, with fast, positive rugby to the fore. Admittedly it was a wet day, so we scrummaged more than usual, and this gave me a good opportunity to note that I have become somewhat too forgiving of early engagement. Front rows have taken to leaning in, or jamming their heads against the other's shoulders to support the weight, which in turn makes the engagement uneven in one or more directions. Next game objective…
Anyway, the game itself was mostly dominated by Stanford, who had a comfortable lead at the half, which they never looked like surrendering even once the bench came on to play.
Date: 02/02/2019
Olympic Club 31 – Olde Gaels 10
Referee: Preston Gordon
Location: Definitely not London
Despite the winter storm that passed through the Bay Area Friday night and Saturday morning, the GAA pitch on Treasure Island was in great shape – just a bit muddier than usual. Nearing halftime, I thought I saw a flash of lightning in the distance, but that was the only threat from the weather. The little bit of rain didn't dampen spirits whatsoever.
Olympic Club was dominant in the first half, scoring 3 tries (at 7′, 21′, and 39′), only leaving their second one unconverted. This gave them a 19-0 lead going into halftime. In the 49th minute, O Club added to this lead with a penalty try after Diablo's scrum, near their own goal line, came apart repeatedly. After a 55th-minute yellow card to a Diablo player for a high tackle, O Club scored another unconverted try two minutes later to bring them to 31-0. The Olde Gaels scored the rest of the points with two unconverted tries, at 60′ and again at 74′, while O Club had a man in the bin for cynical defensive play.
The scoreline may favor Olympic Club a little bit, given the fairly even contest. Both sides used 6 replacements and were looking to attack whenever possible, and defended ferociously. For me, it was great to be reffing in San Francisco again, and especially to see a whole lot of familiar faces (including several fellow pelicans). Thanks and good luck to both teams for the rest of the season!
Date: 02/02/2019
Fresno State Women 57 – Santa Clara Women 12
Referee: Larry Freitas
The Saturday of February 3, 2019 started with rain pelting the Santa Cruz area as I readied myself for a drive down California Highway 1, then on to California 129, then up US 101 to Gilroy, to meet Kyle Domingue and his Santa Clara women's rugby Broncos (Broncoettes?) to carpool over the Pacheco Pass on California 152 and on down what was formerly US 99, now California 99, to Wawona Middle School in Fresno, for a match against the powerful and Division 2 National Champion Fresno State Bulldog Women. So, all that said, there was a huge patch of blue sky on the western fringe of the Central Valley, but upon arriving in Fresno it was gray, cold, low 50's F, and windy, with a few rain showers. Fresno State did a great job of lining this middle school pitch the day before, and as it was past 11 AM, the young women and coaches set up the flags and goal posts. Perfect job that gets an A+. The field was decent enough, and most importantly, had no dips or gopher holes that can wreck an ankle, so it was almost perfectly flat, though there were plenty of muddy spots and some bits under a few inches of water, and there was as much oxcalis weed as grass, and some dormant brown patches.
Both teams went through their warmups while I was trying to keep my feet from getting wet and having trench foot set in. I got out of my LL Bean rain coat, Land's End vest, sweatshirt and sweatpants, got on the Adidas Copa Mundials, and was set to whistle out the captains to get the match going as 1 PM approached. Fresno won the toss and elected to defend the south end, so they had the wind at their backs for the first half. Within two minutes of the kick off, having received the ball, they worked their way down field with a few phases, and with the ball in outside center Laura Seeger's hands, she took a gap that opened in the defense and scampered her way to the in goal for the first of nine Bulldog tries. The conversion, taken by flyhalf Regan Garner, though out from near dead-center of the posts, sailed wide to the right. Another home team try followed ten minutes later, as the Bronco defense stiffened in the interim minutes of play. At twelve minutes, Seeger once again scored from a tap penalty. This time the conversion was good and Fresno were up 12-0. The scoring was just getting going. Not long afterwards, scrum half Raquel Macias, who is the captain of the team, saw a gap as she gathered the ball from a ruck near the half way line and darted forward, dodged at least one attempted tackle, and scampered the rest of the way to the goal line to dot down right under the posts. The conversion was good and Fresno State had a handy lead at the end of the game's first quarter. A turnover ball lead to the next converted try by right wing Meaghan Gallagher. Then, at thirty-two minutes, Chetna Kumar, the smallest and fastest player on the pitch, would receive a pass and round her defender to score the first of three tries she would have on the day. Fresno State managed one more first half try at thirty-eight minutes by inside center Averi Peterson. Santa Clara got possesion of the ball immediately after they kicked off from the re-start, as Macias knocked on attempting to catch the kick, the ball travelling nearly five meters forward, and one of her teammates played the ball by kicking it downfield from an offside position. Santa Clara took a tap penalty from the spot of the penalty, near the ten meter line in Fresno's half, and in that final minute of play, working the ball down field, and with inside center Carly Fowler taking a gap, breaking a tackle, and carrying defenders on her back, they penetrated to Fresno's goal line. The Broncos won ruck ball that was stopped short of the line. Another ruck was set up, and Carly Fowler scored by picking up the ball and diving over at the fortieth minute of play, the ball partly placed down on the grass and an opponent's boot just over the goal line . Margaret Avery, as she did against UC Santa Cruz a few weeks earlier, kicking just a few meters from the touchline and well within the 22 then, made the conversion from just less than fifteen meters in from touch, and again well within the 22 meter line. I blew the whistle as the touch judges' flags went up, and blew it again three times to end the half.
Fresno State took three minutes to score in the second half, with Kumar getting her second try from a scrum, with the backs spinning the ball out wide to her on the left flank. At fifty-two minutes Kumar would score once again, as her speed left defenders behind. As the second half wore on, and with the wet ball and some fatigue setting in, there were quite a few scrums awarded to either side from handling errors, but then Fresno won more than a few against the head. Santa Clara scored a try from a tap penalty taken well inside Fresno's 22, by captain and number 8 Jessica Lew-Munoz, at sixty-seven minutes, who took the pass from her scrum half and broke a few tackles on her way to the goal line; Avery's attempt at another difficult conversion near the touchline was short and off the mark. Finally, Leclaire Franco, a flanker, scored the last try of the match for Fresno State. Santa Clara had one last attempt at scoring in the last minute of play, but failed as Fresno tackled the ball carrier, who mis-took a five meter line stripe as the goal line and placed the ball down, thinking she had scored a try. I realized that there was no score but actually a knock-on, as Raquel Macias was quick to point out to me, and then blew for no side.
Generally speaking the match went well, from my view as a referee. Both teams listened to my directions to have tacklers roll away, so there were few problems at the breakdown and tackle. With the muddy conditions, only one scrum collapsed. One of the Santa Clara flankers was penalized a few times for not releasing as she was on the ground and the ball was grasped by a Fresno player trying to steal it away. Both teams attempted counter rucks a few times during the match, and Fresno was guilty of handling in rucks on a few occasions, and Santa Clara at least once, though I made a point to yell out "ruck, no hands!"
Fresno State seems to be the team to beat again this season. They have very athletic young women on their side. They have a great back line, and the wing, Kumar, is a danger if she is given space with the ball. Macias has to be one of the best scrum half players I've seen. Garner handles fly half well, and in this game she was quick to boot the ball deep downfield when she saw that all of Santa Clara's backs were up in defense and no one home at full back, with one of those kicks leading to a try as the ball was chased down and re-gathered. It will be interesting to see how they match up against Nevada Reno. As far as Santa Clara University is concerned, injuries have had an impact on their season, as they are missing two of their starting back line from last season, out with ACLs from a game in December against San Jose State. Their starting flyhalf, injured near the end of the UCSC match, should be back next week, as Avery filled in at that position, though she's been at full back in most other games. I'm sure their season would be going better if they had all their players with which they started the season.
This Week's Photo
Peter Gray, aged for only 12 years, taking charge of Chico and UC Davis B side match. The Society's goal of getting younger looks to be progressing nicely.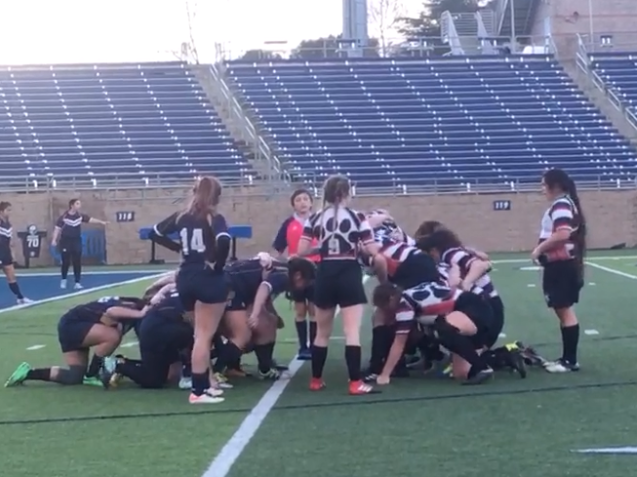 Hail, Pelicus!
For the Senate
Pelicus Pedem Referre