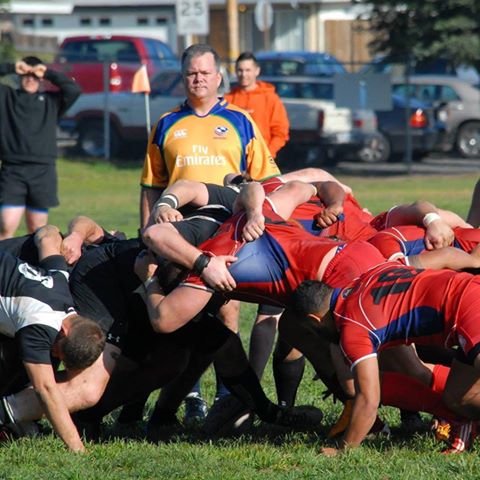 HAIL PELICUS!
Rainy Days
"In winter, when the dismal rain
Comes down in slanting lines,
And Wind, that grand old harper, smote
His thunder-harp of pines."
-Alexander Smith
Rain has finally returned to Pelicanland, albeit briefly, and the parched earth greedily drank up the deluge.   Not everyone was fully prepared as there were a number of matches washed away that will need to be made up later in the season, but the sound of rain on windows was a fine one to hear after our record breaking January where no measurable precipitation fell in much of Northern California.   I wouldn't get used to it, though, as the forecast calls for a return to our warm, dry pattern. To break this weather pattern I would suggest we all sacrifice to the Weather Priestess so she will send us more rain.   Tonight I plan to sacrifice a chicken. Specifically, roasted chicken breast covered with a pesto and prosciutto cream sauce garnished with chopped tomatoes served with a light, dry chardonnay. I hope it is acceptable.
Why Hello, Sailor! Yes, I Am Available.
This weekend will see few games as most everyone is off to Vegas for the Las Vegas 7s and the Las Vegas Invitational (ably and stylishly brought to you by Jon Hinkin and a madcap cast of characters who are constantly getting into zany situations only to be saved by a combination of brains, luck and pure chutzpah). That doesn't mean that we won't have games the following week, though.   Please go to assignr.com to confirm your availability and matches, or if you haven't received an assignr.com account, contact Pete Smith at me@petesweb.com to let him know you are available.   To get an assignr account please contact our Scott Wood at rscottwood@gmail.com.   He will get you all the information you need to sign up and announce your availability.
Ask A Pelican
Yes, it's time for this week's installment of "Ask A Pelican", the widely loved Q and A session with Hail Pelicus.   This week's question comes courtesy of a Concerned Referee of East Los Gatos, CA , who asks:
"With the expected turnover within a club and all of the new leagues and organizations we support the contact information on pelicanrefs.com is not always up to date. How can I contact a team if I don't have the correct contact details?"
That is a good question and as a referee I share your concern.   Along with club turnover – especially at the university level – teams do not always submit the current contact details to Our Scott Wood to be updated on the pelicanrefc.com contacts page.   If that happens and you have trouble contacting the home team, try the visitors – they will probably know when and where the game is.   Another resource is if the specific competition is not run by NCRFU, such as the PRP or the Pacific Western Rugby Conference, try the organizing competition's website. Another good reference is the USA Rugby roster page as that will list a primary contact. Failing all that try finding out who refereed these teams the previous weeks and ask them.   Failing that all I can suggest is reading the signs in some chicken entrails. You should have plenty on hand after sacrificing to the Weather Priestess as suggested in the first part of this newsletter.
Disciplinary Action Reporting – Process for reporting incidents
The various competitions all have their own disciplinary chairs and this will make it difficult to centralize the communication and data.  To help Scott Wood has developed a form that will centralize the process, regardless of the competition.  The link to the discipline form is https://docs.google.com/forms/d/1mmUNg11uVOSkIsUtHifSqQzalhWbwohk_J6AmPyrucQ/viewform
Copy the link and have it available on your smartphone.  If you have an Iphone add the link to your home screen.
when needed fill it out and click submit.  The discipline chair of the competition you refereed will receive a notification about the incident.
He/she may contact you latter for more details.
February Society Meeting
This month's meeting will be held February 18th 7:00 PM @ the SFGG Clubhouse on Treasure Island.   For our meeting we will be discussing:
Player Management – Pick a Card! Red, Yellow or Warn (Aruna Ranaweera)
On To The Game Reports!
Date: 02/07/2015
California 9 – UBC 17
Referee: Carney, Mark
EDITOR'S NOTE:   You can read all about it here: http://www.rugbytoday.com/college/cal-falls-ubc
Date: 02/07/2015
SFGG PRP 22 – Denver PRP 20
Referee: Ranaweera, Aruna
In Week 2 of the Pacific Rugby Premiership (PRP), defending champion SFGG hosted the always tough Denver Barbarians. This was a physical slugfest on a waterlogged field with frequent handling errors by both teams. Denver displayed intelligent kicking in open play, whereas SFGG mostly tried to run their backs out wide. Denver led 13-7 at the break and 20-15 with just a few minutes remaining before SFGG scored the winning try thanks to a lucky bounce near the try-line. SFGG won the final try count, 3-2. Denver will feel unlucky to have not won, but SFGG may feel the same having squandered several tries with unforced errors. Much thanks to George O'Neil (subbing for Preston Gordon) and Ron DeCausemaker for their work as AR's.
Date: 02/07/2015
Aptos 17 – South Valley 19
Referee: Wilson, Giles
South Valley were shorthanded for their trip to Aptos due to a wedding (who does an outside wedding on a February Saturday, during rugby season?). With players rolling up just 15 minutes before the KO, meanwhile Aptos had been getting ready with their drills. The field wasn't great but not in bad shape, considering the rain (which held off for the game).
Aptos have some athletic forwards and some fast backs, South Valley have a bunch of ball carrying forwards and more rugby experience, this was the difference between the teams. Some of the South Valley backs looked as though they'd drop easily into the front row, but they displayed deceptive pace and field awareness that meant they only allowed one break away from the faster Aptos players.
South Valley play a pragmatic game, kicking for position and then mostly bringing big runners around the corner, when they want to move wider, their half back has a good enough pass to create space. Aptos defended well but fell into the trap of trying to run from their own end against a well organized defense.
Aptos will look at this game and think that they could (perhaps should) have won, some experience will make all the difference.
Both sides had a healthy turnout at the social which was well planned.
Date: 02/07/2015
Baracus 0 – Berkeley 0
Referee: Coppinger, John
SF Park & Rec closed Sunset Field b/c of rain and gave Baracus a slot at a turf field at Garfield Square;, too bad Garfield was a half a pitch, suitable perhaps for U-8 soccer, but not rugby. The game was postponed until a later date.
Monday night O'Dowd bested Berkeley 24-19 in a match where both teams tried to do too many thing beyond their experience level and skill at a frenetic pace when a nice deep breath would have helped both teams.
Date: 02/07/2015
Cal Women 26 – Stanford Women 27
Referee: Sandhill, Peter
???? o? ??ns??ld ? pu? s??? ??? ?o? ???? ? ?u?? p?o?u??S ? ????? lln? 's?u?od ????? '???? ??l?u?? ??? ll?? o? ??n? ??? u? spu?? ??? s?nd pu? '?? ?o ?uo?? u? ????? '?p?s ??? ?o?? u? s??o? p????o? l?? ? '?uo?? u? ????? '?n??s ??? ????? ??n? puo??s ??? u? u??? '?su???p l?? p?los ll??s ??? ??no??? puno?? ou ?u???? '?n??s ??? su?? p?o?u??S ?????? ?? p?ddo?s I ?s???l ?o?s ????? dn ??? o? ?ool? ??? ??? sp????o? l?? o?? '?lu?ppnS ??u?l ??? l?? ??? uo p?o?u??S o? ?n??s ? '?u?u????? ??s0? ?? ?????dso??? u? ???M ??u????no?u? '?l?so? 'pu? pnol s?? s?p?s ??oq uo p?o?? ??? ?????? ?? uo ???? ??n?u? ?o s??nu?? ????? ??? ?no ?u???ld s?? I ?l??? 00?00 uo s?? ??ol? ???? ??lqnd ??? ???-9? dn s?? l?? '?u?u????? ??nu?? ?uo ???M ?u??l? ???? pu? ;pl??? ??? uo ???l ?u???????? 'dn ??l oN ??l?s??? l?u?? ??? l??un ???su??u? ???? pu? p????dx? u??? ???s?? s?? ???? s??? ????? ? s,u?W l?? ??? ????? ?u?u????? ll??s p?o?? poo? ? pu? spnol? ??? ??no??? ?u??s?nq uns ???? '?s?q ??o? s,l?? 'pl??? ?????M ?? p???l? ¡???? ? ???? '?oM
Date: 02/07/2015
Chico State Women 0 – UC Davis Women 0
Referee: Cousillas, Eduardo
I got there at 9.30 and waited until 10.00.   When I figured out that there was nobody there I called the contact numbers that are showed in the assignments web for Chico St and UC Davis women and men. After calling 6 different people without an answer and waiting one hour I had hound in Chico St women's Facebook that they have cancelled the game for the weather prediction.
Date: 02/07/2015
EPA Bulldogs 12 – Sacramento Lions 29
Referee: MacDonald, Neil
After threading my way through the sequence of drivers who were unable to safely traverse highway 17 in rain, and their accompanying CHP cars and tow trucks, I arrived in East Palo Alto to find a pitch in remarkably good condition given the rain.   The Bulldogs opened the scoring ten minutes in, stealing the ball from a maul, and spinning it wide.   The Lions got their noses in front briefly with a converted try, before conceding a penalty close in which the Bulldogs bludgeoned in from close range for the score.
The Lions held the Bulldogs scoreless in the second half, as intermittent downpours and an increasingly slick playing surface became features of the game. The best of Sacramento's four second half tries began with them under serious pressure inside their own 22. Winning their put in, the ball went to the standoff, who was taken out late after his kick upfield. The Lions took the penalty quickly from where the ball had landed just inside the Bulldogs half, and chipped the defenders. The ball bounced deep in the Bulldogs 22, just inside the right touchline, and was gathered by a scampering Lions back who dotted down in the corner despite the close attentions of two covering Bulldogs tacklers.
Date: 02/07/2015
Google 47 – Silicon Valley 5
Referee: Wood, Scott
The gods and I have an agreement that they won't rain on my games. And thus it was so. I arrived at the Googleplex field, complete with confounding lines and towering posts, to a light sprinkle which turned into a moderate rain. Boots checked, front rows spoken with. Still raining. Time for kick off, check with captains, start watch, rain stops, whistle sounded to begin the match.
Both teams are new this year and while each team has players of varying experience, Google clearly had the dominant athletes. Nonetheless, this is D3 where ball-handling and tackle problems persist. Possession went back and forth before Google scored a converted try at 9'. This was followed up shortly thereafter by a second converted try and an unconverted try before Silicon Valley was able to form an adequate attack scoring an unconverted try (19-5). Penalties started to become repetitive so each team captain was eventually told they were on double-secret probation. Google scored two more tries to close the half leading 33-5.
Despite the wet ball, the second half had more action as Google was able to use its backline to exploit gaps in Silicon Valley's defense. Google was awarded a penalty try at 8′ and a subsequent power play try nine minutes late. Silicon Valley mounted several attacks including one that got within two meters of the goal line, all for naught. Eventually, the clock wound down with Google under pressure as the final seconds ticked by.
Kudos to both teams for a well-spirited match played with positive sportsmanship.
Date: 02/07/2015
Humboldt 5 – Napa Valley 54
Referee: Hughes, Paul
Paul Hughes rom Napa refereed in an unfortunate but too common a situation without a referee available to cover the match.
Date: 02/07/2015
Life West 58 – Diablo 0
Referee: Ricard, Bruce
Some rain in Hayward before and during the game, but the temperature was still in the 60's, and not much wind.
No score in the first 15 minutes of the game, but 3 penalties on both side, lots of slow balls because of players not rolling away. Both teams were asked to facilitate ball recycling by rolling away faster. At the 15th minute, Life West scored their first try of the game, and score many more tries up to the very last play of this half. At the break, Life West leads 31 – 0, scoring 5 tries.
The second half was very similar to the first one. Life west dominating the play (scoring 5 tries).
Date: 02/07/2015
Life West B 55 – Diablo B 0
Referee: Bernstein, Bruce
Track meet on a beautify Cal State East Bay pitch set for soccer (ie. wide enough for Life to push it out to their speed) overlooking the bay.
Got good exercise trying to chase Life's back & forwards on their 9 tries–none shorter than about 50 meters out & none by any creative forward play even though they let a forward or 2 score.
Equally good party at the Life campus, which I had a feeling would be good & asked to be assigned there.
Gaels tried & almost scored on a maul but were probably worn down by all the running & tackles they had to make.
Date: 02/07/2015
Life West Women 50 – San Jose Women 7
Referee: Bernstein, Bruce
Some great individual play by Life's new women's team. Big hooker took the ball up, over & around Seahawk defenders; while Life's flyhalf orchestrating nice distribution out to back field which outclassed San Jose's led by their inside center, fullback & real quick winger.
Give San Jose credit for hanging on the entire 80 minutes, scoring a converted try towards the end of the match; & playing a woman short when one of their 15 came off from an injury with plenty of time to go in the 2nd half.
Date: 02/07/2015
Olympic Club B 41 – Olympic Club Old Boys 36
Referee: Bailey, Andrew
There was no Santa Monica B side. It was the O club B side vs the O club old boys team. The old boys lost 36-41.
Date: 02/07/2015
Olympic Club PRP 19 – Santa Monica PRP 41
Referee: Gordon, Preston
No report received
Date: 02/07/2015
Redwood Empire 27 – SF Fog 31
Referee: Bertolone, Cary
The storm clouds parted and we had a beautiful rugby day at For Pete's Sake before the rain started again (good, because my high school game was cancelled the night before). Redwood had to play short the entire game, sometimes with 12 players and sometimes with 13 ( and for 10 minutes, 11). They were good anyway.
They scored first at the 3 minute mark when their wing went wide for a 60 meter try. The Fog came back with two converted tries at the 10 and 13 minute marks, Redwood scored again, so we had a close game the whole time. It was 21-17, the Fog, at half. The second half was close too with both teams alternating scoring tries and down to the last play of the game, the winner was up in the air. Fog won 31-27, everyone had a great rugby day plus a great social afterwords, at the field, thanks Redwood!!!
Date: 02/07/2015
Reno 38 – Marin 12
Referee: Wilkening, Russ
Fitness and a better organized offensive gameplan led to a Reno win on a warm (for Reno in February) and wet day in the town of Fernley, Nevada. When the fields are wet, Reno is sent out to Fernley to play their away fixtures.
Reno would hit the gainline to passes sent out flat by their scrumhalf, with big bodies making big gains from all over the pitch. Marin played hard and used a push defense to negate many of these runs but gaps were found. Marin was more flat footed on attack, often taking the ball many meters behind the gainline. The scrums started messy, but improved considerably as the match progressed.
There was a tip tackle 11 minutes in where two Reno defenders tried to make the a same tackle. A yellow card was given to the primary tackler. The game was a bit chirpy at times, but overall, it was played in a good spirit. A red card was shown late in the match for unsavory language directed at the referee.
The social was one of the better seen in a while. Songs were sung, much alcohol was consumed, and old acquaintances were renewed, with stories growing larger and more glorified with the retelling. There was no boat race, however.  That seems to be a dying part of our great game.
Date: 02/07/2015
Sacramento Blackhawks 26 – Sacramento Capitals 27
Referee: Tucker, Chris
Annual grudge match between two competitive teams at Florin Reservoir. Usually the water is underground in storage tanks, but this time most of it was at or just below the playing surface. And yet the first scrum was 12 minutes into the game, and for an unplayable ball. Strange.
The game started out well for the Blackhawks, who burst through for an early try. After that, it was all the other way — the Caps just seemed a bit more engaged. Their set-piece was stronger, and they had an advantage out wide, and methodically worked 4 tries throughout the half. At the stroke of halftime, the hosts squeaked one over against the run of play, to leave it 24-14 at the half.
Second half came, and within 5 minutes the match turned upside down. Loose ball from the Capitals was seized upon by the Blackhawks not once, but twice, including a hook-slide try by Jake Wrobel through the goalpost puddle. Waves crashed all the way over to the sideline. Well, almost. And before you knew it, it was 26-24 and the hosts were in front.
And that was nearly that. 2 yellow cards to the Capitals (one for repeat infringement, one for a high tackle) put them at a disadvantage, but they still hung in there, and even squeezed a penalty out after 26 minutes. And for all the fact that we had 50 points in 44 minutes, only 3 were scored in the last 36, and the whistle went to close out a game where all 30 left it out on the field. I was pretty tired too.
Date: 02/07/2015
San Jose 15 – Santa Rosa 42
Referee: Bretz, Paul
At half time the score was tied 10-10 with a Santa Rosa player in the bin for repeated team infractions. 40 minutes latter final is 42-15 to the visitors. Fitness and using the wind more effectively were the keys to Santa Rosa's victory.
Date: 02/07/2015
SF State 15 – San Jose State 40
Referee: Hinkin, James
Saturday under the lights at the Google field saw San Francisco St host San Jose St in a game that was actually physically closer to the visitors.   Rumor has it that SF State had planned to use Boxer Stadium in Balboa Park until the weather said otherwise. Pity.   I have some fond memories playing in that stadium back in the Golden Age of Northern California Rugby (defined as when I was playing) and the old girl had even hosted USA international matches, but my triumphant return was to be delayed yet again.   That being said, I was excited to see this new field at Google that I have been hearing so much about.   I arrived to see the end of a hotly contested U19 match and it is a sign of a) my age and b) the growth of rugby in the area that I knew and had played with coaches and supporters on both sides.
The field itself is interesting with the expected mishmash of lines everywhere that you get with turf fields.   The 22 and a try lines were marked out with a disappearing chalk that had performed valiantly over a full, wet day of rugby but was just barely hanging on.   To complete the image we have the goalposts: very impressive at regulation height and width – not just some PVC taped to a soccer goal – and with the Google pads proudly displayed. It's a shame they are 3 meters behind the dead ball line.
Oh well, both sides were the same and both teams played with the same conditions.   Let's play some rugby here, ok?   San Jose St were looking to bounce back from a heavy loss the previous week and took no prisoners. They had a size and speed advantage and they used it to the tune of 3 tries to 1 in the first half.   All conversions were made bar one from San Jose St to give us a score of 19-7.   That first half scoreline flattered the Spartans somewhat, however, as SF State had their chances but just couldn't find the final pass to score.   They were able to score their lone try while up a man after SJSU gave up a penalty 5 meters from their goal line and a Spartan flanker decided to kick the ball away to prevent SF St from playing it.   Hello, Mr Yellow Card, nice to see you.   The tackling was hard and both sides went at it with abandon.   The hooker and captain for SF State is someone to keep an eye on. He is a strong player and a strong leader, demonstrated by the very emphatic request to his teammates to not talk back to the referee after every decision (much appreciated).   And they complied (also much appreciated).   For the most part (still working on it).
The second half was a very similar affair, with San Jose St getting 3 tries to San Francisco St's 1 with the added flavor of a SF St penalty kick.   Towards the end of the match SJSU's size and speed started to tell and they were running through and around a visibly tiring defense.   A good effort from both sides but San Jose was the better team on the day.
Date: 02/07/2015
SF State B 0 – San Jose State B 0
Referee: Smith, Pete
Despite awarding a penalty 15 meters out directly in front of the post at full time and confirming twice with the scrumhalf that he didn't want to go for points, I was able to salvage the tie.
EDITOR'S NOTE:   Isn't a 0-0 tie double jeopardy?
Date: 02/07/2015
Sierra College 22 – Humboldt State 0
Referee: Hosley, David
Match was played at Lincoln High School, and in my e-mail contact with Sierra's coach he said venue is no longer Sierra College as in the assignment. Both sides had numerous new players, so I did more explanation of penalties than I would for more experienced sides and at one point demonstrated what I expected from the hookers so we could have proper scrums.
I asked the Sierra coach prior to the match who the field monitors were, and he didn't seem to know that was a requirement. However, there were four EMT's present and fans were all in the stands or well away from field, so I let it go. The match was played on a marked football field, so coaches and touch judges reviewed together where in-goal was. Also at start of match I had touch judges step off five yards in for line-outs. They did the same thing for the respective first line outs of second half.
Date: 02/07/2015
Solano JC 10 – CSUMB 48
Referee: Byrnes, Bryant
This match was played at Solano on its v nice grass field. Solano is its first year of league play. Monterey Bay, coming off a tough game against USF, sorted it for this one.
Speaking of sorting things out, the second half was much better played by both teams-better tackling, and good and repeated multiple phase offense. Quieter sidelines helped. The noted exception was a bellowed "Coming in from the side!" When I looked quizzically over to the source, there was a young man, sitting in a chair. In response to my raised eyebrow, the fellow said, "I was the captain in the first half-and you said captains could talk to the ref." I guess so.
Date: 02/07/2015
St. Mary's College Women 26 – Santa Clara Women 60
Referee: Noonan, Michael
The weather service indicated rain, however we were lucky and for the most part, the game was played in very pleasant conditions. Both teams were well prepared, field was in good shape and the teams were warming up as I approached the pitch.   As we kicked off, both teams showed great enthusiasm for the game, and played within the spirit of the laws. SMC did not have the experience of SC, particularly in the scrums but played well overall. The SC backs were very strong and as long as the ball went out to their backline, they were able to move the ball well. SMC had one winger who had incredible pace and when the ball got to her, she scored. A very fluid game, that was very enjoyable to be part of.
Date: 02/07/2015
Stanford B 22 – UC Davis B 20
Referee: Simko, Paul
Very exciting match played in the heavy downpour with bouts of sun leading to a full rainbow running the length of the field at the start of the second half. While Davis had 4 unconverted tries, Stanford's kicking was the difference with 2 converted tries, 1 unconverted try, and a 43 meter kick (to the goal line between the 5 and 15 meter line).
Date: 02/07/2015
UC Santa Cruz 19 – Chico State 43
Referee: Smith, Pete
The game was moved to San Jose due to the rain. Chico St was the stronger and more athletic team. They jumped out to an early lead. They lost their captain to a cut over his eye and the team lost a little shape and drive. Santa Cruz got it as close as 27-19, but Chico St reasserted themselves and pulled away for the convincing 43-19 victory.
Date: 02/07/2015
USF 21 – Sonoma State 41
Referee: Lew, Tim
First half was very close with Sonoma getting a try in the last few mins to pull ahead by 2 points. Both teams had handling errors that prevented continuous play but both teams had low penalty counts. In the second half, USF let Sonoma run three quick tries within 10 minutes and couldn't catch up.
Date: 02/08/2015
Santa Clara Women 63 – CSUMB Women 0
Referee: Smith, Pete
A friendly match played in good spirits despite the rain.
This Week's Photo
Our Scott Wood is wondering whether he left his front door unlocked.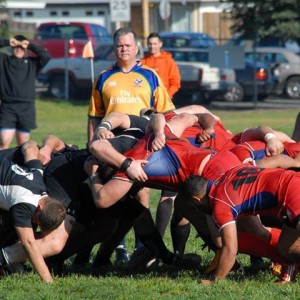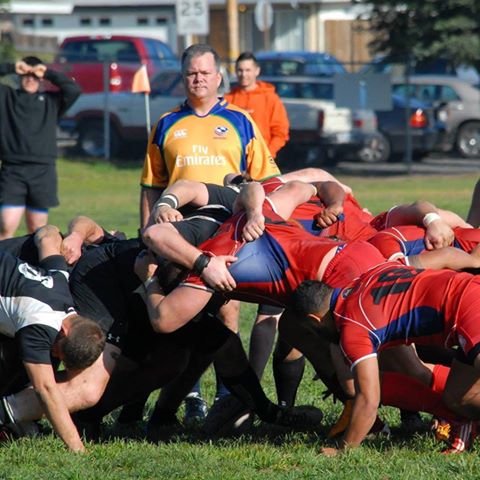 Hail, Pelicus!
For the Senate
Pelicus Pedem Referre