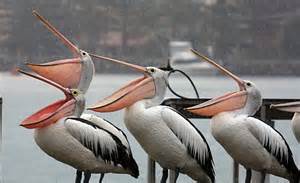 HAIL PELICUS!
Slip Sliding Away
You know you're near your destination the more you're slip sliding away.
-Paul Simon
With years of drought drying up the topsoil and weakening the root systems of our varied and various flora it is no surprise that during our current winter deluge that many of the hillsides of Pelicanland have decided to become the valley floors of Pelicanland. It is now nearly a daily occurrence for Hwy 17 in the Santa Cruz Mountains to have mudslide blocking lanes and snarling traffic. Flooding is rampant in the Sacramento Valley and the North Bay and whole streets seem to be washed away at times. The rain is here – be careful what you wish for.
The slipping and sliding translates to the rugby pitch as well as teams relearn how to play in the mud. The exceptions, of course, are the turf fields that have cropped up across the region as well as the entire globe. While I personally prefer grass I do appreciate the value of turf on a day like last Saturday when steady rain kept up all day with a 5 minute deluge in the first half just for punctuation. The field remained playable and none the worse for the rain.
Of course, once spring arrives and we move into summertime we shall see how we feel about these fields radiating heat, but that is a different column.
February Society Meeting
Our society meeting has been double Comstock'd due to weather so we will be meeting Wednesday, February 8 at East Bay Sports in Livermore, CA (6474 Patterson Pass Rd, Livermore, 94550 http://eastbaysports.net/livermore.html).
From our Noble Leader: This will be the only fitness testing session that the society will provide this season. If you desire to receive national appointments or participate as a center official for NCRFU playoffs you need to participate in the testing. We have an indoor synthetic field reserved for 1800hrs. Please be there ready to go by 1800hrs so arrive early to warm up. @ 1900hrs our meeting will commence in a conference room. The society will provide food. Beverages, both adult and soft drinks, are available for purchase.
Language, Please!
"Words are the litmus paper of the minds. If you find yourself in the power of someone who will use the word 'commence' in cold blood, go somewhere else very quickly."
-Terry Pratchett, Small Gods
New Kit
We have jerseys. We have socks. We have shorts. We have track suits. The (astonishingly stylish) new kit will be distributed if I see you at some point in the next couple of weeks and at the Society meeting.
Las Vegas Invitational
The previous LVI Tournament Director has left his post to study interpretive dance so Steve Albrecht has taken over. Below is his call to the Greatest Rugby Referee Society On The Planet:
Referees One and All !
The biggest rugby tournament in North America is looking for YOU! The Las Vegas Invitational needs you on March 2nd, 3rd, and 4th to help volunteer and officiate 7's (and a few 15's) matches across youth, collegiate, and adult divisions in Sin City. As our tournament continues to grow, so does the number of referees needs to keep this event rolling! Come ref by day, and enjoy the most exciting city on earth by night!
All Referees receive:
– Rhino LVI Referee jersey (both Male and Female cuts)
– Tickets to all 3 days of the USA Sevens International event (when you stay at the Westgate Hotel – massive LVI discounts available)
ALSO – USA Rugby is holding a 1-day clinic Wednesday March 1st at the Westgate Resort. Don't miss out on your chance to train with the best in the ever-growing world of Sevens Rugby.
Westgate Hotel link: https://www.usasevens.com/las-vegas/official-lvi-hotels/
To register to ref at the LVI 2017: https://goo.gl/forms/e5Om9GuMqYsM5zR43
Any questions about the event?: https://www.usasevens.com/las-vegas/las-vegas-invitational/
Disciplinary Action Reporting – Process For Reporting Incidents
The various competitions all have their own disciplinary chairs and this will make it difficult to centralize the communication and data. To help Scott Wood has developed a form that will centralize the process, regardless of the competition. The link to the discipline form is https://docs.google.com/forms/d/1mmUNg11uVOSkIsUtHifSqQzalhWbwohk_J6AmPyrucQ/viewform
Copy the link and have it available on your smartphone. If you have an iPhone add the link to your home screen.
When needed fill it out and click submit. The discipline chair of the competition you refereed will receive a notification about the incident. He/she may contact you latter for more details.
If you have any questions as to how to use the app please refer to the following video: https://www.youtube.com/watch?v=_Uz0_gTaOnY
On To The Game Reports!
Date: 02/04/2017
Vacaville 24 – Sacramento Blackhawks 27
Referee: Lew, Tim
An early 10A kickoff in Vacaville on an all weather field started my Saturday. The game was fast and clean for the conditions. Halftime was tied at 12-12. Sac Blackhawks gave away 8 first half penalties compared to Vacavilles 3 which gave Vacaville most of the possession. Sac had a solid second half and both teams traded off scores. Sac had the last try and ended holding off Vacaville in the 22m for the remainder of the game.
Date: 02/04/2017
USF 36 – Sierra College 29
Referee: Heil, Duane
Note: away team was college of the Sierra. Not sfstate.
The game was played on artificial turf at negocio field at usf. The field was wet, but it only rained slightly twice during the game.
Both teams were highly physical and very fit. The usf side is well coached and it showed by their organization and level of play. 24 players showed.
Sierra Had only 20 players. They asked for open subs, but usf requested standard closed subs.
The first half Sierra out scored 3 try's to 1. At the half, Mike coached me to become more aware many offsides by Sierra and breakdown infractions. Once I started penalizing Sierra, the flow of the game changed radically.
There were also several high tackles, one lifting, and a couple no wrapping calls.
With 15 minutes left in the game, I stopped play and had a conference with the captains to stop the excessive chatter and profanity, mostly by Sierra.
In the final minutes of the game, usf scored the winning try.
I was extremely grateful to have Mike coach me in my effort.
His main points were for me to be better positioned so I could see the flow of the game. Also, he suggested that I become more deliberate in my calls and signals. I also need to call out the advantage and blow it up sooner.
Personally, this was a great opportunity to learn and move forward in my referee career.
Thank you!
Duane Heil.
Date: 02/04/2017
UOP 20 – Sonoma St 34
Referee: Barfels, Ed
The skies were cloudy and the field was grass. Given all the rain this week, we all knew it would be muddy. Before the game the coaches and I decided on uncontested scrums (for safety). Sonoma State (SSU) started early with a try in minute two. The SSU scrum half came off the side of a ruck and ran 10 meters (untouched) for the score. It was a move he repeated two more times during the game with the same results. In the first half, SSU scored two tries with one conversion. Additionally, SSU made one penalty kick. UOP did score one try (without conversion). Half time score: SSU 15, UOP 5. The second have was a little more even. UOP had to play short a man for 10 minutes due to a high tackle. UOP #14 high tackled a SSU player in the 16th minute of the second half. However, UOP did score a try while short handed. Both teams scored three tries in the second half. SSU had two conversions and UOP none. The final score was SSU 34, UOP 20. Not bad for a wet & muddy field.
Date: 02/04/2017
UCSC 24 – Chico State 36
Referee: Bailey, Andrew
No report received
Date: 02/04/2017
UC Davis Women 20 – Sonoma St Women 20
Referee: Hosley, David
Cloudy but just a few drops for a friendly between two evenly matched sides.
Sonoma dominated early, but UCD came back with some impressive work by the forwards.
Played on an artificial turf field next to the cow barn due to wet grounds at Russell Field.
Date: 02/04/2017
UC Davis Women 15 – BYU Women 30
Referee: Bretz, Paul
BYU were happy to be out of the snow despite the rain as they visited UC Davis. The coaches agreed to 4 20 minute quarters and open subs. BYU were bigger and faster than their hosts and scored first and last. Both teams learned allot from the game and I believe they will see each other come playoff time.
Date: 02/04/2017
UC Davis 87 – SJSU 7
Referee: Crenshaw, Jim
This match was over early. UC Davis scored early and often. Score at half time was 50 to 0.
Date: 02/04/2017
South Valley 5 – Google 60
Referee: Freitas, Larry
I arrived at Paradise Park in Morgan Hill after a commute over the hill via Route 152 that winds its way over the south end of the Santa Cruz Mountains to the South Santa Clara Valley and South Valley's home turf. A few showers near noon gave way to partial sun but mostly clouds and a 60F afternoon. Google, the visitors, started the scoring just 2 minutes into the game by crossing South Valley's line, continued with another try at 8 minutes from a kick and chase from half way out that saw the South Valley full back desperate to defend and in a spot of bother, and after a period of play in which no team seemed to be able to do much with the ball, Google again scored as they swung the ball out wide to the backs in South Valley's quarter, with the wing going over for another un-converted try and a 15-0 lead with a quarter of the match played. South Valley responded at 25 minutes when Marcus Rosevear crossed the line from a penalty awarded 5 meters out and 5 meters in from touch, with South Valley running the ball from the mark.
Google got right back on track and scored three more tries before the half time whistle, and their number 8, Pila Tai, had a few of them. He would add a few more in the second half as Google kept South Valley scoreless, adding on three converted tries and one unconverted for a 60-5 margin as the game ended. Google had some very experienced players in their side with accents that weren't American: one French, and then more than a few Australasian. A few flare ups happened with tempers, but nothing to warrant disciplinary action. Several players got warned for their tackling, as in one more and they'd be off the pitch with a yellow or red card, so no second offenses for any one player.
The recent rains meant the surface was greasy, and as Paradise Park was the venue for the previous Saturday's win against the Central Coast Beach Dogs, the turf got even more torn up. South Valley is to be commended for getting the old goal posts that once were at Live Oak High School, the real-deal metal posts, which are thirty feet high, a great improvement over PVC uprights and cross bars. If only Paradise Park hadn't that one short stretch of the asphalt walk way on the south end keeping the pitch from being lined wider and the in-goals lined deeper, it would be an excellent place to play. Someone needs to do some jack hammering! I'm reminded of Wrigley Field back in the day when the Bears still played there, and the south east corner of the end zone was sliced off by the visitors' dugout! We all went to the Box Seat afterwards, south of downtown Morgan Hill off the Old 101 (Monterey Highway), for beers and hamburgers afterwards. A shout-out to Alan Barker, Google's coach, for the conversation post match.
Date: 02/04/2017
Solano-Yolo 33 – Mother Lode Varsity 39
Referee: Richmond, Jeff
Very fast match with multiple lead changes. The teams were very similar in size and game style, dependent on forwards able to crash off of loose play then use a quick back line to exploit overlaps. Solano was trailing in the final minutes and nearly came back to win it.
Date: 02/04/2017
Silicon Valley 12 – Napa 48
Referee: Lane, John
Independence High School was the venue for this entertaining D2 game. Both sides were committed for the full 80 with a vocal sideline encouraging them on throughout.
Napa started the stronger and after turnover ball from the kickoff attacked the line with a few phases. Silicon Valley infringed just short of the line and the Napa 10 converted the penalty for a 0-3 lead on 3 minutes.
For the rest of the half Napa dominated the majority of play and territory. SV had a number of promising phases but did not make any opportunity count.
Napa crossed for tries on 10, 24 and 34 minutes with each converted for a 0-24 scoreline.
On the restart Napa continued to have the upper hand and stretched SV's defense a number of times before crossing for a 4th converted try on 43 minutes stretching their lead to 0-31.
SV reacted positively to this score and dominated possession and field position for the next period and after a number of close surges to the line shifted the ball left and scored wide out. Conversion missed – 5-31 on 52 mins.
Having scored SV lost concentration and Napa scored a simple try left of the post which was again converted – 5-38 on 56 mins.
SV got back in the game form the kick off and controlled territory again for the next 10 minutes. Scoring a well taken try on 63 minutes which was converted for 12-38.
Both sides were visibly tiring but the Napa subs bench were stronger and they controlled play for the final stages of the game crossing for 2 unconverted tries on 69 and 74 minutes leaving the final scoreline at 12-48.
Date: 02/04/2017
SFGG Women 0 – Life West Women 62
Referee: Tiatia, Nome
No report received
Date: 02/04/2017
SFGG 35 – Life West 19
Rerferee: Micheletti, Chris (Montreal)
Referee Know It All: Johnson, Lee
Visiting referee Chris Micheletti from Montreal. Chris is being coached this season for Rugby Canada by our own Lee Johnson.
With both sides fielding their respective Cal Cup sides, SFGG were in a determined mood to win this first Men's D1 game for the "Gold" side. Life West took an early lead in the 6th minute. SFGG had an extended period of pressure, during which they missed two kickable penalties before finally succeeding in the 30th minute. A further period of pressure resulted in a well worked try for the SFGG number 8. Half Time 8-5.
The second half was all about SFGG in which they controlled the scrums and enjoyed long periods of attacking pressure. With two tries all of which were converted and two penalties by SFGG number 10, Volney Rouse. With 10 minutes left on the clock, Life West scored a converted try. Not to be outdone SFGG completed their scoring for the day with Hooker, Neil Barrett scoring SFGG's fourth try of the day, that was again converted. Life West had the final say as SFGG seemed to shut off for the last five minutes with a further converted try to bring the end to a very entertaining game.
Date: 02/04/2017
San Joaquin 12 – Colusa 59
Referee: Wilson, Giles
The rain took a break for Saturday (a rugby day) and Colusa travelled to Manteca to play the Harlots. The field was in good shape, firm and marked correctly.
Colusa kicked off and had score within a couple of minutes, direct running and regularly breaking the first tackle was a feature of the game. The hosting Harlots battled on and had some good passages but were generally on the back foot. The first half ended 33 (5 tries) to Colusa with the Harlots on 7 ( 1 try).
The Harlots had some better patches in the second half but also some more covering tackles (some very brave rear guard efforts) and mistakes that led to turnover scores. In the second half Colusa racked up 4 more tries to one in reply from the Harlots. The final score was Colusa 59 – Harlots 12.
Date: 02/04/2017
Sacramento State Women 10 – CSU Monterey Bay WR 7
Referee: Devlin, Joe
No report received
Date: 02/04/2017
Sacramento Amazons 101 – Colusa Women 0
Referee: Wood, Scott
Initially, this match was scheduled for 11 a.m. at Danny Nunn Park; however, due to (somewhat understandable) weather conditions, the Amazons were left seeking an alternate pitch location. Securing the pitch at Robla Park prior to the Lions / Santa Rosa match was perfect as I was assigned to evaluate the referee at that location. As with all well-laid plans, they rarely play out as desired. Sacramento State women had lost access to their field and were also accommodated at Robla. Nonetheless, Joe Devlin was able to get his match finished in an expedited manner and we transitioned to the pitch in a fairly economical manner. While there were some poorly drained areas, the pitch held up relatively well.
Both teams were seeking their first win of the season and it was apparent from the onset that the Amazons were not going to let the opportunity to go to waste. The first of nine first-half tries was scored three minutes into the match. Forwards kept moving forward and backs spread the ball wide exploiting space and tackles. Undeterred, Colusa competed at rucks and tackles but were overwhelmed by the Amazons' experience and tenacity. Colusa lost its loosehead to a head injury (NB: don't duck into an elbow) and we had to deal with the abysmally boring (no pun intended) uncontested scrums for the remainder of the first half. HT: Amazons 55 / Colusa 0.
The second half was a continuation of the first with Colusa missing tackles and the Amazons scoring. Kudos to Colusa on its improved tackle form (read: lower) and offside lines / tackle entry. Amazons lost some focus but was able to cross the 100-point barrier. FT: Amazons 101 / Colusa 0.
Date: 02/04/2017
Reno 17 – Redwood 22
Referee: Reagle, Sam
The game was moved 35 miles from Reno to Fernley because the city believed the reports that a storm was coming. Though it was quite windy, it was a beautiful clear, cool day. The first 20 minutes of this game were somewhat sloppy. Turnovers and scrums were frequent. Then Redwood managed to break a tackle and open the scoring with an unconverted try at 27 minutes in. This seemed to awaken Reno as they took the lead back with a converted try at 32 minutes and closed out the half with an unconverted one. Halftime: 12-5
The second half was just the opposite, Reno scored first to take what looked like a commanding lead at 17-5, but something happened. Redwood started playing noticeably better. Their support was better and their passes were accurate. Redwood scored a converted try at 20 minutes and an unconverted try at 31 minutes to tie the game. The last 9 minutes were very exciting as both teams wanted the victory. Redwood sealed the win with a try at full time thanks to 3 perfect passes to supporting players thru several defenders. The social at the Man Cave was well attended by both teams.
Date: 02/04/2017
Olympic Club 34 – EPA Razorbacks 0
Referee: Fenaroli, Steven
An emotion filled game saw OC putting phases together. EPA struggled to make tackles and stop OC momentum.
Date: 02/04/2017
Fresno State 19 – UNR 5
Referee: Jury, Jeff
The day was between rain storms, clear and the warmest of the year (65'F) so far. The pitch was firm, but slick for scrummaging. UNR was smart to split up their ride, make the pass Friday-finish the ride Saturday morning.
Both teams were fit and ready. The first half was played at a frenetic pace with CSUF stretching the field and trying to exploit gaps. UNR countering with Hard hits and committed direct running. UNR drew first blood with an uncovered try 5 minutes before the end of a long half. CSUF responded by pinning UNR down inside the 22m after the restart. Slow ball from the breakdown provided an
opportunity for a slashing interception and converted try. CSUF 7 UNR 5
The second half picked up right where it left off. Play felt desperate, almost playoff like. Unfortunately, knocks and forward passing instigated more than a few scrums. This and the heat started wearing on the UNR pack. CSUF scored a couple of worthy trys at 9 and 18 minutes in (1converted). UNR was game and threatened, but couldn't convert in the second half. CSUF 19 UNR 5
The B game had more than a few rookies but, was contended well. CSUF 19 UNR12
Date: 02/04/2017
Chico 67 – Shasta 0
Referee: McSwain, Beau
Final was 67-0 in favor of Chico. 11 Trys and 6 Conversions. Shasta was a little short handed, but Chico graciously gave them a couple of players throughout the game. Game went off in good order and no cards were given.
Date: 02/04/2017
California Women A 12 – Stanford Women A 31
Referee: Hinkin, James
It is always a pleasure to referee at Cal's Witter Field and Cal v Stanford is one of the great rivalries in American Sports no matter what the game or situation so I was looking forward to this clash. Steady rain was no problem with Cal's turf field so when everyone was ready I damply started the match. Stanford looked the more precise team early and it showed with an early score but Cal battled hard. The scoreline was flattering to the visitors as the game was much more balanced than it indicates, but Stanford was able to finish off their moves while Cal struggled in the final phase. Captain Abby Vogel was a powerful presence for the Bears all over the pitch but her Cardinal counterpart Olivia Huey got the decisive word in with a late try. Cal was able to get the last laugh with a converted try but could not stop the inevitable Stanford victory.
Date: 02/04/2017
All Blues 99 – San Jose Women 0
Referee: Carmody, Martin
lop sided game played fairly by the dominant team. No issues, no cards.
Date: 02/05/2017
Stanford Women B 0 – Humboldt Women B 0
Referee: Bretz, William
Referee showed up. Teams did not have enough healthy players for game. Meet with coach to confirm.
Date: 02/05/2017
Stanford Women A 41 – Humboldt Women A 17
Referee: Bretz, Paul
Fun Sunday morning game between Stanford and Humbolt women. Less than 12 penalties and lots of open field play. Stanford were much smaller than their visitors yet controlled the scrum and maintained possession in the tackle. The last passage of play of the first half lasted more than 4 minutes of open play.
Date: 02/05/2017
California Women A 5 – Chico State Women A 39
Referee: Sandhill, Peter
It's always a pleasure to referee at Witter Field, home of the Cal bears rugby. This year in this league, all teams play each other twice and it's early in the season: Chico and Cal's first meeting. Cal women started strongly with some very positive front foot forward play resulting in a near try (held up). After a couple of tries to Chico, Cal fought back and scored. Chico were ahead 3 ties to 1 at the half. In the second half, Cal changed their tactics and stopped committing to the ruck and instead placing forwards in defensive positions.
Overall, both teams seemed pretty even, with Chico gradually demonstrating stronger rucking and counter rucking skills. Chico had a strong #10 and some quality outside backs while Cal seemed to have a slight edge in the forwards, especially at the set piece. It's funny in rugby how teams can sometimes seem close on the field and how the scoreboard doesn't reflect that. Often it's the little things, an edge here or there. To their credit, Cal never gave up and were positive until the final whistle. You would have thought the scores were close at the end by the way both teams kept attacking from deep in their own quarter, until late in the game. Lovely rugby.
This Week's Photo
The Monthly Society Meeting is this week and food will be provided. Players and coaches are always welcome to attend.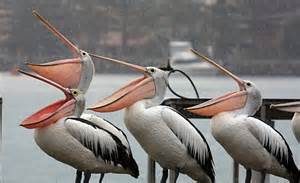 Hail, Pelicus!
For the Senate
Pelicus Pedem Referre