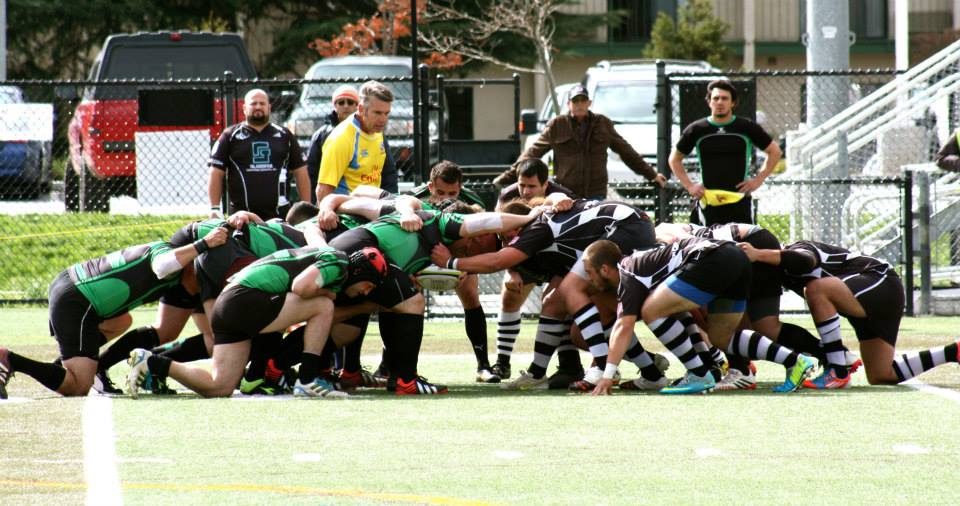 HAIL PELICUS!
Springing Forward
As much of the country toils under the lash of a harsh winter mistress those of us lucky enough to live in Pelicanland bask in the loving caresses of rugby mid season. The mandate to move our clocks forward is a signal to the colder parts of the country to start boiling whistles and polishing boots because the rugby season is approaching. Out west, of course, our whistles have been boiled, soiled and reboiled while our boots have been shined, grimed and reshined as the various league seasons builds towards a mighty crescendo. Now is a time to take a deep breath and prepare for the business end of the rugby season because this is when a year's work can be won or lost.
The British are coming
Well, technically they are already here, but something about that phrase just resonates on this side of the Atlantic. Please plan on attending a dinner to honor (or, possibly, honour) our visiting brothers from the East Midlands at the Up and Under in Pt. Richmond on March 22nd. Drinks begin at 5:30 and Dinner at 6:00. (NCRRS President Paul Bretz will be unable to attend as he will be on a bus with 30 high school girls traveling to Fullerton for their tournament. Likely excuse…) Dress to impress, Number 1's (coat and tie). Please RSVP to Bjorn "Again" Stumer (bstumer@att.net)
The Meeting is coming
The NCRRS is hosting its monthly meeting on March 19th, at 7:00 PM at the SFGG clubhouse on Treasure Island. Please arrive on time. We'll have food and beverages so arrive early if you want first choice of the goodies. This meeting is open to all; current referees, past referees, possible referees and even non-referees. If you ever wanted to know WHY we make the (always correct) calls we do, then this is where you want to be. It astounds me that more coaches and club leaders don't show up. This week's topic: we decide which teams we want to win for the next few weeks and how to call the game in their favor.
"The Rugby Player" Featuring Mark Bingham Airs at Cinequest
A Los Gatos passenger who died during the Sept. 11, 2001 attacks now has a place on the big screen, which will be featured at Cinequest this Saturday afternoon at 4:45 in San Jose. "The Rugby Player" features the life of Mark Bingham, a Los Gatos High School alum, University of California at Berkeley alum, and an avid rugby player who died aboard United Airlines Flight 93 but not before fighting the terrorists before his death. Mark played for Los Gatos High School before playing for Jack Clark at Cal and several other clubs after his graduation, notably the San Francisco Fog.
Emmy award-winning director Scott Gracheff tried to paint a portrait of how Bingham's heroism can inspire a nation. "He was gregarious and charming," Gracheff said in a movie trailer, describing Bingham as a happy go-lucky "Labrador retriever" with boundless energy and loyalty. Growing up in Los Gatos I was privileged to know him, although not well, and his story is a worthy one even if you take out the 9/11 heroism.
"Let's roll".
And now on to the games…
Please remember when filling out your match reports on assignr, ASSIGNR IS NOT WHERE YOU REPORT MISCONDUCT. The report section of assignr is for the match summaries that are below. If there are red cards or reportable yellow cards in your match then report them via the channels described on pelicanrefs.com.
Date: 03/08/2014
Diablo Gaels 5 – Santa Rosa 71
Referee: Ricard, Bruce
Very warm day in Oakland, probably close to 75 degrees at kickoff time.
The first half was very dominated by Santa Rosa, who scored 8 converted tries, to lead 56-0.
The second half was a bit more balanced, after Santa Rosa made some substitutions. Santa Rosa had the ball almost all the time, but they didn't score as much as in the first half. Towards the end of the game, tempers started to flare, and 2 minutes before the end of the game, a fight started. 4 players from Diablo were guilty of foul play, and were sent off. The game ended on a last try from Santa Rosa.
Date: 03/08/2014
Diablo Gaels B 10 – Santa Rosa B 53
Referee: Rauscher, Eric
This was the second game I did this weekend in which the losing team scored the first and the last tries of the game.
The game consisted of two 20 min periods due to the Gaels just not having enough players to do a full game. As it was, the ten players that played had legs of rubber due to playing in the A side game previous. The game was played in good spirits, but fairly lopsided.
Date: 03/08/2014
EPA Bulldogs 74 – EPA Razorbacks 7
Referee: MacDonald, Neil
On yet another glorious spring afternoon, the Bulldogs hosted the Razorbacks in Menlo Park. An intense first half of crunching physicality and valiant defense – most of it legal – saw only one converted try apiece, with the teams separated only by a Bulldog penalty kick late in the half. 10-7 at half time.
In the second half, the Bulldogs pulled away, and in the last 20 minutes ran away with it, scoring ten unanswered tries and converting seven of them to finish 74-7.
Many thanks to David Parkinson for his great ARing, and to Mike King for making the trek down from Santa Rosa to evaluate.
Date: 03/08/2014
EPA Bulldogs B 5 – EPA Razorbacks B 0
Referee: Parkinson, David
the razorbacks forfeited the B side game.
Date: 03/05/2014
Cal F/S – Santa Rosa JC
Referee: Tetler, Jen
No report received
Date: 03/08/2014
Cal Maritime 60 – Sierra College 32
Referee: Tiatia, Nome
No report received
Date: 03/08/2014
Fresno 24 – SFGG 32
Referee: Wilson, Dan
This was a game of trends. Fresno started off with trends towards disrupting the attack from SFGG, but the Fresno #7 was penalized three times in the first ten minutes for not releasing. At the ten minute mark, the penalty finally cost them a Penalty kick, putting SFGG up 0-3. Fresno finally got their defense to tighten and put together some great counter attacks resulting in converted tries at the 20th and 23rd minute. Each team had a couple of possibilities fizzle within the one-meter line which left the half-time score Fresno 14 – SFGG 3.
The second half seemed to start off with SFGG attacking just like the first half. SFGG scored twice in within the first ten minutes of the second half, but Fresno countered with try of their own at the 55th minute.
The attack by both teams continued into the fourth quarter, with SFGG getting back to back unconverted tries in the 21st and 23rd minute due to loose ball handling and slip tackling by Fresno. SFGG put in one more converted try in the 37th minute, but Fresno responded with their last unconverted try in the 39th minute.
Both teams have the reputation for being a little vocal on the pitch and Saturday was no exception. Both captains represented their teams viewpoint well and repeatedly, and yes, it was a physical game. Saturday's game was fantastic to referee especially because the game was not decided until the last few minutes. Final Score: Fresno 24 – SFGG 32
Date: 03/08/2014
Fresno B 0 – SFGG B 59
Referee: Wilson, Dan
After coming off of an intense A game, the second side match was definitely one-sided. Fresno's B-side was made up of newer players, including some brand new people, as well as some old boys (at least mentally if not chronologically). SFGG B-side probably would do well in the 2nd or 3rd division as a team itself.
Fresno had issues with an organized defense from the start allowing SFGG to look like all stars as they ran through the back lines. Hands in the ruck, not releasing and serious diarrhea of the mouth seemed to be the game plan for the Fresno B-side. There were some standout newbies for Fresno, such as their flankers, but Swiss cheese was more the order. SFGG stayed focused and continued to play organized ball. Halftime score: Fresno 0 – SFGG 26
The most fun aspect of the game was the interaction between the crowd and the SFGG players. It's always enjoyable and sometimes hilarious when the crowd knows they have a players number and can get into that players head. SFGG continued to push on and more than doubled their score in the second half. Final score: Fresno B's 0 – SFGG B's 59
Date: 03/08/2014
Fresno State Women 73 – USF Women 0
Referee: Jury, Jeff
Aggressive angles of attack and tackling sealed USF's fate on the day.
Date: 03/08/2014
Humboldt 20 – Redwood 17
Referee: Smith, Pete
The game started out slow for Redwood as they got out of their cars after four hours on the road and had to play. Humboldt jumped out to a 17-0 lead with nice ball movement and solid defense. Redwood put a long try on the board just before halftime to make it 17-5 at the beak. It was all Redwood in the second half in terms of possession and position, but Humboldt only bent a little and never trailed. It was dead locked at 17 with about 12 minutes to play. Humboldt took advantage of a penalty right in front of the posts with about 4 minutes left to pull ahead 20-17. Scrum down to Humboldt in the Humboldt end as time was running out, alas they lost the hook. Redwood spun it wide and back again with numbers to score the game winner…knock on-game over. WOW!!!
Date: 03/08/2014
Humboldt State 27 – USF 3
Referee: Smith, Pete
USF pulled up with 12 players and forfeit before kick off. Humboldt St loaned them 3 pretty good players and the game was on. Just enough trash talking to the loaned players to make them Dons for a day and it was a solid game! USF had huge second rows, solid front row and nifty inside backs. the score was more about finishing than the actual competitiveness of the match. If you didn't know the score, you would have guessed it was tied. Big hits, long hard runs, educated kicking and a DROP GOAL by the Humboldt St #10!!! Nice game, solid players, good crowd on hand-rugby wins again!
Date: 03/08/2014
Life West 43 – Aptos 15
Referee: Gordon, Preston
No report received
Date: 03/08/2014
Marin 7 – Sacramento Capitals 41
Referee: Zanarini, Tom
Some good rugby was played in between long bouts of talking about how one referees a rugby match.
Date: 03/08/2014
Mendocino 38 – Shasta 7
Referee: Leisek, Joe
Tough, physical game on a warm day in the Redwood Empire. The hosts managed better ball retention and made the most of opportunities created through their opponents' miscues. The Steam Donkeys scored three tries in each half, with two converted in each half as well. Thanks to both sides for an enjoyable game.
Date: 03/08/2014
Reno Zephyrs 41 – Colusa 40
Referee: Crenshaw, Jim
Headed up the mountain to Reno Saturday for the Reno – Colusa match. Arrived a little before noon to a glorious sunny calm day.
Colusa started the back and forth scoring with an unconverted try followed by a penalty kick by Reno. The teams traded long breakaways with Reno converting their try to tie the match at 10 all. Colusa put up one more try (7)than Reno during the match but only converted one try to 4 conversions by Reno and it proved costly in the end for Colusa. Colusa scored 2 more tries and Reno scored one near the end of the half to make it 20 to 15 Colusa.
Colusa tallied 2 scores early in the second half and looked like they would run away with it. The teams traded tries and then Colusa kicked a penalty kick to take a 40 to 29 lead with less than 10 minutes remaining.
Colusa relaxed and Reno capitalized with a converted try and then with no time left scored in the corner to take the win.
Date: 03/08/2014
Chico State Women 39 – Cal Women 32
Referee: Franzoia, Tom
No report received
Date: 03/08/2014
Chico State Women B 33 – Cal Women B 12
Referee: Franzoia, Tom
No report received
Date: 03/08/2014
Sacramento Blackhawks 36 – Baracus 32
Referee: Tucker, Chris
A fast game played by both sides — my average HR was the highest it's been all year, including PRP and College D1.
Baracus had the better ball, and were more constructive, but couldn't match Sacramento's secret weapon. 5 tries from outside centre Sione Latu gave the visitors a mountain to climb. As he left the field after 60 minutes, Baracus had the bit between their teeth, and were clawing the lead back to set us up for a great finish. 4 points in it, and Baracus had a 2 on 2 out wide, 10m from goal. But when the wing knocked on, the game was over.
Happy to have been a part of a game played with great spirit by both sides.
Date: 03/08/2014
Sacramento Lions 75 – San Jose Seahawks 10
Referee: Ranaweera, Aruna
Sunny 70F at Robla Park in Sacramento with about 100 spectators. San Jose played with structure and purpose, but could not overcome the sheer athleticism and physicality of the home team, which routinely sprung vertical line breaks. Sacramento led 32-3 at half and ran away with this contest, 13 tries to 1 (good), and 4 yellow cards to 0 (bad).
Much thanks to Mark Godfrey for doing a nice job as AR, which included miscellaneous pre-match preparations. Also, thanks to the Sacramento Lions for generously providing an entire Little Caesar's pizza for the match officials. (It's my 2nd favorite pizza, only behind Golden Boy in North Beach.)
(Editor's note: apparently Aruna doesn't get pizza very often… Little Ceasar's?)
Date: 03/08/2014
Sacramento Lions B 12 – San Jose Seahawks B 22
Referee: Richmond, Jeff
A pretty competitive match-up with a lot of recycled San Jose A side players against fresh legs on the Sacramento side. San Jose took an early lead but the scoring in the first half went back and forth then locked at 12-12. Sac got a little worn down themselves in the second half and San Jose pulled away. Things were simplified with the scrums uncontested as San Jose didn't have enough horsepower to go up against Sac.
Date: 03/08/2014
Sacramento State Women 19 – Humboldt State Women 27
Referee: Baker, Eugene
Beautiful weather and a nicely prepared pitch greeted me Saturday morning at Sac State. I went there a few days early to check out the playing surface and decide which boots to wear, due to rain earlier in the week and the field being used by multiple sports. I was pleasantly surprised to find the field in much better shape Saturday than Tuesday.
Humblodt State scored minutes into the match when one of their wings broke containment and glided down the sideline untouched. This would be how the Lady Lumberjacks scored most of their points – Wings breaking containment for long breakaway tries. In contrast, Sac State pounded the middle of the field for their tries, recycling the ball and relying on creative playmaking by their flyhalf.
In the end – With the score 22-19 Humboldt and minutes left in the match – The Lady Lumberjacks put it away with yet another breakaway try by one of their wings. Final 27-19, and HSU gets the win after a long drive down from Eureka.
Date: 03/08/2014
San Jose State 31 – Fresno State 5
Referee: Hinkin, James
Fresno St made the journey from the Central Valley to the Silicon Valley on a perfect day. After experiencing the Escheresque field markings San Jose St has employed in the past I was pleasantly surprised that the field was perfectly lined with every line exactly where it was expected to be. It's only a pity there are so many bare patches or this would be one of the best pitches in the union.
Both teams were at the pitch early and ready to go, aside from some small confusion from the SJSU captain. "San Jose, you have won the toss, what would you like to do?" "We will receive" "Your choices are to kick or to choose to defend an end." "Oh, sorry. We'll kick."
Huh? Oh well…
The first half was notable for three things: knock ons, SJSU coming offside and a lack of scoring. The knock ons were the result of stout defense and over eager attackers. Several offsides were managed back and the rest were dealt with via the whistle until I got tired of it and the SJSU #12 was the recipient of the team infringement yellow. To be fair, the SJSU back line were all under the impression that a lineout ended when the ball left the hooker's hand but the #12 was leading the charge. To nobody's surprise, they were not offside the rest of the match. To Fresno's surprise, they didn't score at all with the man advantage. In fact, they gave up the only try of the half while up a man. The conversion was missed so we entered the break at 5-0.
The second half opened up nicely for San Jose St as they started to exert their will. The backs found gaps and exploited them to run in 4 tries. There are some athletes on that squad and when they find their rugby brains they will be a very dangerous side, indeed. Fresno was able to get a deserved try in late as they did enough positive things that a goose egg would have been a disservice.
Date: 03/08/2014
San Jose State B 22 – Fresno State B 34
Referee: Hinkin, James
Fresno St travelled with an A side and a few extras so much of their team valiantly doubled up to provide San Jose St with a B side match. San Jose St has two full teams with numbers to spare so it was a case of tired A side players vs fresh B side players. The game went as expected, one would think given that setup, as Fresno St ran out to an early lead using their skill and experience to good advantage. As the game progressed the tired arms and legs of the visitors started to betray them as the Spartan Youth kept coming on in waves of 18 year old energy. In particular the San Jose #6 may have been the fastest and most explosive player on the field while, to be fair, not really looking the part. As an example, San Jose St had a penalty just outside their 22 that they decided to tap and run. A simple, short pass to the #6 running at a cluster of defenders was the strategy and I slowed down anticipating a tackle and possible ruck. The San Jose flanker didn't seem to get the memo and never slowed or broke stride as he crashed through the defense leaving me flat footed and scrambling to catch up. He rumbled nearly untouched the full 70 meters for a try as nobody could bring him down from in front or catch him from behind. The half ended 22-12 in favor of the Bulldogs with momentum firmly in the Spartan camp.
The second half, in deference to the fatigued visitors, was agreed to be 20 minutes and the Spartans may have regretted that bit of generosity. Fresno used to break to recharge and scored a couple of more tries right off the bat. Fatigue set in again and San Jose scored a couple of more tries themselves but quickly ran out of time for a proper comeback.
Date: 03/08/2014
SFGG Women 52 – Sacramento Amazons 5
Referee: Bernstein, Bruce
What started as a tight competitive match turned into a one-sided affair when SFGG Women played as a team controlling possession, location and most phases resulting in 6 2nd half tries after only being up 12-5 at half.
Date: 03/08/2014
Sonoma State 55 – CSUMB 21
Referee: Johnson, Lee
A tale of a game of two halves, with both teams looking to play a fast open running game.
In the first half SSU were scoring at the rate of over a point a minute, running in seven tries in the process. CSUMB's only reward was a picked off loose pass for the outside center to score under the posts, to give a half time score of 43-7.
The second half was a more even contest with both teams still trying to play an open game despite the rising heat, which started to lead to more knock on's as both set of players tired in the latter stages of the half. CSUMB sneaking it two tries to one.
Final score 55-21
Date: 03/08/2014
St. Mary's College Women 14 – UC Santa Cruz Women 58
Referee: Sandhill, Peter
Beautiful California spring weather and a soft grassy pitch welcomed the UC Santa Cruz Banana Slugs to battle their college women's rivals, the St Mary's Gaels. It was a tight match in the first half, with a 22-14 scoreline at half time.
The Slugs played to their strength in the second half with some strong forward play, including excellent counter rucking and lots of pick and drives. Consequently, the tries rolled in.
The attitude was positive with both teams demonstrating a fierce desire to win along with excellent sportsmanship. A joy to referee.
Date: 03/08/2014
Stanford Women 37 – UC Davis Women 24
Referee: Bretz, Paul
Good game by both sides. Davis scored first and chose to keep it in tight. Stanford chose to spread the ball wide.
Date: 03/08/2014
Stanford Women B 56 – UC Davis Women B 7
Referee: Nguyen, Anthony
No report received
Date: 03/08/2014
State of Jefferson 24 – SF Fog 15
Referee: Parks, Kevin
Reffed by Kevin Parks of Southern Oregon. And reffed well, I would imagine.
Date: 03/08/2014
UC Santa Cruz 44 – SF State 7
Referee: Kenny, Stephen
After much encouragement from my former coach, here is the much-unanticipated debut of my first match report. (editor's note: Hooray!) The draw was UC Santa Cruz Vs. SF State. Two teams I was familiar with having played them for three years while at Sierra. UCSC has the pitch with the million-dollar view, and it was in full effect on this day. I arrived at noon to find both teams had strong numbers, and were not letting the stunning views of the bay distract them from the task at hand. Ten minutes in saw UCSC dot down their first try. Two more would be worked in in slow precession, with the final coming as time ran out in the half. The UCSC back line has the runners to really challenge the edges and a #10 with good pace, who was more apt to spin it wide, which UCSC used with great success. With the tries coming at the edges UCSC's kicker had a rough go at it with the conversions and was unsuccessful in the first half. Half time score was 15-0 in favor of the hosts. The second half for SF State started strong, some great phase work resulted in them plunging over, heads up play by UCSC saw it held up in goal. SF State would not be denied and two phases off the 5-meter scrum garnered what would be their lone try right by the posts. Great effort by both sides brought good energy to the second half. SF state was pressing hard to put more points on the board, but UCSC used this and there speedy back line to their advantage to pour on four more try's before the final whistle. Final score UCSC 44 SF State 7.
Date: 03/08/2014
UC Santa Cruz B 26 – SF State B 15
Referee: Freitas, Larry
The second XV match between UC Santa Cruz and San Francisco State ended with the home side complimenting the varsity's win earlier in the afternoon. UCSC has plenty of second XV players, and they all had a chance to take the field. San Francisco State had nearly enough, but a few 1st XV players were in for their second match of the day. In the second half it seemed that SFSU had the momentum, but a charged down kick near San Francisco's goal line ended up in a Banana Slug try. Some moments later, a Gator back tried to run from his own goal line, was tackled, released the ball on the line, and a UCSC player promptly touched down. Kicking for touch is sometimes the better choice, even in a game that doesn't count in the standings. Overall both teams attempted to stay on their feet in ruck situations, and other than a few high tackles and random offsides committed by both sides, there were few penalties.
Date: 03/08/2014
UOP 43 – Santa Rosa JC 41
Referee: van Staden, JC
They say you know the season is in full swing when you recorded 449 points, in 8 days during 7 matches…
Full report to follow later 😉
(Editor's note: I could understand that report. What gives, JC?)
Date: 03/09/2014
Stanford 28 – Chico State 0
Referee: Gordon, Preston
It was a balmy 70F in Palo Alto for this 2pm Sunday kickoff, my third game of the weekend. Both of these teams were clearly up for this game, which was closer than one might think from the scoreline. Each side had their chances, but Stanford's stronger scrum gave them a good platform and they ended up 12-0 ahead at halftime after tries at 6′ and 25′ (converted).
One minute into the second half Stanford added 3 points from a penalty, which put them ahead by more than 2 converted tries. They seemed to ease off the pressure a little bit, but ultimately their defence held Chico State out after being made to work for it. They ended up adding 2 additional unconverted tries at 45′ and 60′ (with their captain in the bin for a deliberate knock-on while offside and defending their goal line), and finished the scoring with another penalty goal at 66′ that resulted from the Chico State hooker being sent to the bin for an off-the-ball tackle.
Stanford B 32-22 Chico State B
In the B-side game, things were a lot closer. There were a few lead changes, and at halftime it was something like 17-12. Aside from two yellow cards for dangerous tackles – one to each side – this featured a lot of (sideways) running rugby and the standard was close to the A-side game. Stanford scored a couple of tries near the end of the match to end up winning 32-22. After the 290th minute of reffing this weekend, I managed to make it home before falling asleep within about an hour. Fun!
Date: 03/09/2014
Stanford Women 24 – Berkeley All Blues 38
Referee: Tetler, Jen
The All-Blues brought down a mixture of A and B side players for a friendly with Stanford women. The All-Blues showed their strength and skills in the first half…starting with a forward try 5 minutes in. They got 4 more tries in the half. The Stanford girls put in a great effort, but their efforts were thwarted by the All-Blue defense. The All-Blues were having their way with Stanford in the scrums, stealing many of their balls. The half ended with Stanford knocking on the door, but no score to show for it: 24-0. The second half proved the superior fitness of the college girls with a breakthrough try just a few minutes in. Berkeley retaliated a few minutes later with a try of their own by the forwards. Stanford's next try was a penalty try after Berkeley tried to stop a girl chasing her kick, and they scored again after a blocked kick rebounded into the try-zone and Stanford was able to touch it down (the scorer, however, was crunched in the process). Both teams were able to score one more try in the half, with Stanford hoping for a little more time to run, for a final score of 24-38 to the All-Blues.
High School Reports
Date: 03/07/2014
Stan Elsie Allen Lobos 26 – Napa Stormers 7
Referee: Joe Leisek
Touch Judges: Barend Ventner, Jack Petty
Friday night rugby under the lights at the Lobodome. The visitors came into the match undefeated, with the Lobos' lone defeat coming against the Stormers a few weeks prior. This was a heavyweight bout, with tensions and physicality running high. Napa scored the game's first try about a third of the way into the first half, and they controlled possession for most of the half. The Lobos scored at the end of the first half to tie the score. The second half was nearly all Lobos, as they made long gains through straight-ahead, physical running. Napa had opportunities but could not break through. Thanks to Barend and Jack for their help, and to Mike King for his halftime and post-match observations.
Date: 03/07/2014
Bishop O'Dowd 34 – Ygnacio Valley 12
Referee: Eric Rauscher
You may not recognize Ygnacio Valley. Not surprising since this was their first ever game of rugby.
It was basically BOD jv against a team of newbies.
This was also the first game I did this weekend in which the losing team scored the first and last tries. Ygnacios #1 was able to bowl his way into goal and land on the ball in the second minute of the game. Rarely have I seen such joy in the face of a player.
There was one of those heart stopping moments in this game as well. Ygnacios' player with the ball was tackled cleanly low around the hips and momentum carried him up onto the tacklers shoulder as he stood up. Time slowed down and I could hear myself crying "NOOOOOOOOO". The BOD player safely set him down on his feet and we all breathed a sigh of relief and restarted play with a scrum to Ygnacio Valley
This Week's Photo
South Valley promoted their match vs the Reno Zephyrs this week with a nice photo of noted Pelican John Pohlman. Apparently there are some rugby players providing background and context.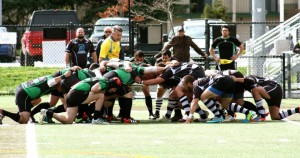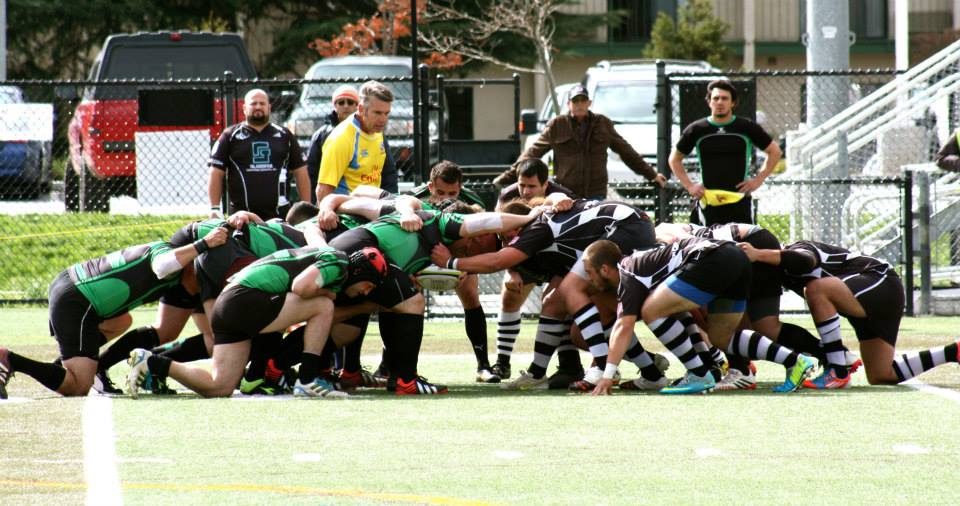 Hail, Pelicus!
For the Senate
Pelicus Pedem Referre