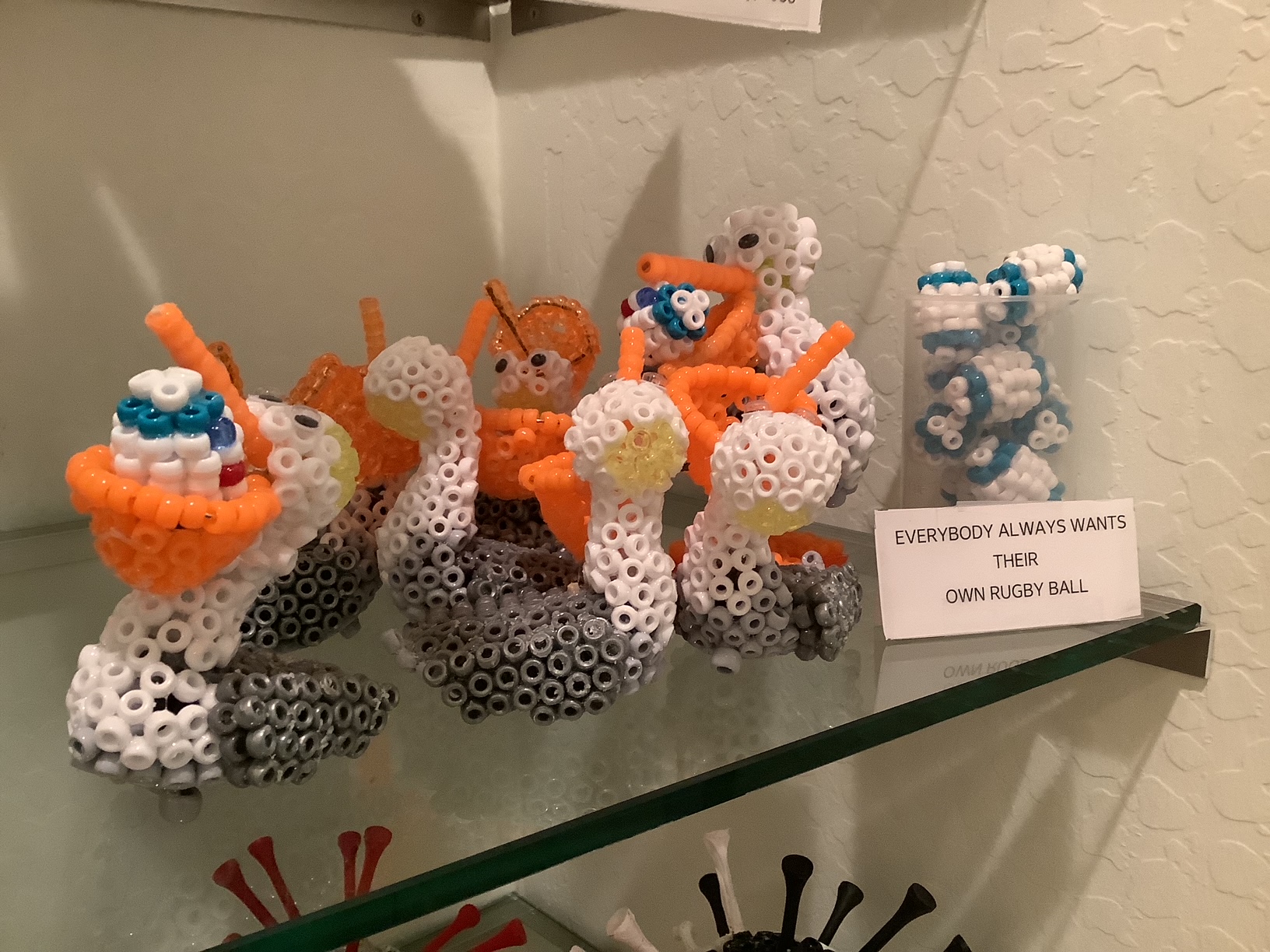 HAIL PELICUS!
Springtime in February
Mid February. The dead of winter. Cold temperatures, rain and muck are what to be expected during this time… expect that the Weather Priestess didn't feel like it and decided it was time for Spring to start. Temperatures in the mid 70s-80s were all the rage in Pelicanland and we haven't seen rain in over 5 weeks. It is going to be a long, hot, thirsty summer if this keeps up, and all indications are that it will. Climate change has his California hard as we are in the worst drought since the invention of algebra. It may actually be longer but the tree rings that scientist use to determine these things only go back to the 9th century.
Water conservation is now a lifestyle, not an occasional hardship. Get used to it.
Second Section
Don't have anything for the second act here. Hopefully I will get some ideas next week. It happens sometimes to writers my age. It is perfectly natural.
Red and Yellow card reporting
Our noble leader, Pelicus Caledonius has asked that all red and yellow cards be reported to him directly.
Seriously.
Apparently the previous Google Forms link on the pelicanrefs.com site is having some issues, so please:
Report any cards you issue to neilmacdonald@pelicanrefs.com by email ASAP. For each card please give the following information:
– player name
– player team
– player jersey number
– player CIPP
– Law # cited
– One sentence description of what the card was for, of the form: "In the Xth minute of the match, <player name> wearing <jersey color and number> <did xxxx> and received a <yellow/red> card under Law <xxx>.
We must have these cards reported to the union or competition organizer quickly to respect the disciplinary process timeline.
Further Adventures of a Society Chair
(EDITOR'S NOTE: Pelicus Scriptoris, aka Dr Bruce Carter, has kindly offered to be a guest columnist for the New and Improved Hail Pelicus. As he is a better writer than I am and I am fundamentally lazy, I immediately agreed.)
This is a cautionary tale of karma, not to make promises you don't intend to keep.
Back in the aughts an email arrived from the head of the Bermuda society requesting a game on behalf of one of his refs, who would be in San Francisco on business during our season. The Pelican Refs always try to keep visiting rugby folk happy.
We not only had a game for the worthy, we had a spare evaluator lying around. The game went well, the players were satisfied and the ref got a good report from Bryan Porter, no less.
After his return home my Bermuda counterpart wrote – deadtree – to praise our society and all its members. Turns out evaluations are very thin on the ground in that part of the oval planet and we had furthered the ref's career. We were promised hospitality and great games should any of us venture to those blessed isles.
What were the odds of that?
Pretty good: a few months later I heard from Sue and Murray Felstead, old friends in England, who would be going to Bermuda for the international old boys event that November. Did Linda and I want to join them?
I called my old buddy in Bermuda with the good news and asked if maybe I could get a run during the event.
Turns out, his was a marker that was not meant to be cashed in. He backed and filled and said, geez, this is a high-level event and blah-blah-blah and besides, the head referee makes all such appointments.
Who is the head ref? I asked.
"Derek Bevan", he said with authority and finality, naming a recently-retired Welsh referee who'd done the RWC Final in 1991.
I have to imagine his consternation when I said, "Great! I know Derek. I'll check with him." I knew him through Murray, who seems to have known everybody in the entire RFU and WRFU.
Derek said sure, I could run the line for all of his games.
So it was that I found myself at the final, touch flag in hand. Derek had the whistle and Keith, the fellow who'd been in San Francisco, the other flag. Right after the anthems Keith pointed to their society chair and said, "Usually, he runs the line for the finals."
– Pelicus Scriptoris
On To The Game Reports!
Date: 02/12/2022
Santa Rosa Men – Life West Men D2
Referee: Bruno, Jordan
No report received
Date: 02/12/2022
Fresno State Women 10 – UC Davis Women 34
Referee: Tucker, Chris
Well played, aggressive game by both sides, doing work around the breakdown to successfully disrupt clean ball. Davis figured out better what to do with it, coming away victors.
Date: 02/12/2022
Sacramento Amazons 91 – San Jose Seahawks Women's D2 0
Referee: Kaihau, Hevani
No report received
Date: 02/12/2022
Reno Battle Born Babes 0 – Berkeley All Blues Women's D2 108
Referee: Fleener, Clinton
Two tales of rugby in the post covid times. The well funded, sponsored, supported Berkeley All Blues D2 team made the drive to Reno with a full squad and numbers to spare. The newly minted Reno Battle Born babes are in their first year and are pulling in women from the Chico Oaks, who don't have a team this season. Berkley had a number of fast forwards and were able to spread the field and the scoring around. Reno and Chico are building their program and getting through this season should be on track to grow the game. Everyone had a great time, seemed to learn something and Reno for their part put on a great social after.
Date: 02/12/2022
Colusa Men 48 – Chico Men 7
Referee: Hinkin, James
Up early on a rugby Saturday (yay!) for the long drive from San Jose to Colusa got me to the match site early and with an impressive collection of low flying insects on my windshield as the delta insect community decided to do their Brood X impression. The invertebrate kamikazes aside, I arrived to see both teams up and about at the field and Chico already starting team warmups an hour before kickoff. Colusa seemed a bit more relaxed about game prep as they didn't really get going until 30 minutes prior, but that strategy seemed to work as they came out on fire and dominated the match from the opening whistle. The rust from 2 years off is still apparent but the home side still managed to put together 3 tries – 2 converted – for a 19-0 lead at half time. The missed conversion was due to the loss of Cody Beckley, Colusa's captain/team president/that one guy who does everything for the club, who had hit the first 2 conversions from difficult angles but had to pull out of the match with a hamstring strain. The replacement kicker had not read the instruction manual on how to tee up a rugby ball on a cone so after about 30 or so frustrating seconds he would pick the ball up and drop kick it with predictable results.
The second half was more of the same but even more so. The Colusa machine was hitting on all cylinders and Chico could not respond, especially when the #9 tapped quickly at just about every penalty leading to a couple more scores. That is to say that Chico didn't have their chances, but they didn't manage to finish off a move until late in the match for a consolation try. The game was played in good spirits and the social BBQ after was fantastic.
Date: 02/12/2022
Redwood Empire 54 – Vacaville Men 17
Referee: Bruno, Jordan
No report received
Date: 02/12/2022
Fresno St Men 55 – Chico St Men 7
Referee: Tucker, Chris
Having watched Mr. Fenaroli give 6 yellows on Friday (including one I helpfully provided — seriously mate, there's ARs, don't do silly things when the ref's back is turned), I left the pitch with a wry smile. The sight of 2 cards for 2 late hits in direct succession, as the backs dutifully swung it wide, only to be popped late by the inside, then the outside centre, was a fine piece of officiating, and left me thinking I had no chance of reaching these heady heights. But that doesn't mean that one cannot try. I did, in fact, match the 6 yellow cards, including getting the complement of players on the field down to a more manageable 27 at one point.
"What about managing the situation?" I hear you ask, aghast at the failure to prevent the ongoing flood of foul play. Well, there's only so much you can do, and when the captain hangs his head, nodding, then going back to give his team one more pleading bollocking, you know it's a matter of time before the next one comes around. Seriously gang, bend the knees, head up, shoulder into the midriff and wrap up. Neck area is off limits, K? Actual game was ferociously played, and a challenging and absorbing contest, in spite of the crooked scoreline. Fresno had a dominant set piece, and thus the majority of the quality ball. Chico did finally score as the game came to a close. On a penalty try. For a high tackle.
Date: 02/12/2022
Marin 38 – Fresno Golden Dogs 29
Referee: Fuller, Morris
The field was a small patch of grass tucked away behind some warehouses in Sausalito. Goalposts, made of 4 inch black ABS pipe, were not perhaps as described in the law book but were sturdy enough. Marin are an established club, while the Golden Dogs are in their first year as an organization. Indeed, this was their club's third ever game of XVs. However, they possessed real talent at 13-15, and their set piece, while not dominant, held up pretty well. The game began with a try apiece, with Marin breaking the line off a set piece move, and then going to the forwards to pick and jam their way over the line. Fresno replied with a long range try through their outside center. Marin, then, went to work, and used their scrum dominance to retain the majority of possession. Several workmanlike tries followed, emanating from set piece moves and ending in a bulldozer-like drive over the line.
A stern half-time bollocking from the coach led Fresno to emerge energized, and coupled with some aimless kicking from Marin, they were able to score two long-range tries through their excellent backfield. Indeed, at the post match, some Marin players expressed "dismay" at their fly-half's sudden penchant for the boot. Under the cosh, Marin attempted a penalty goal from about forty meters out, and after a near miss, Fresno 14 ran the ball the length of the field to narrow the gap to four points. However, one more drive over the line put Marin out of reach and they closed the game out relatively comfortably.
Date: 02/12/2022
Sacramento St Men 34 – UN Reno Men 17
Referee: Akroyd, Philip
UNR made the trip down I-80 to play Sac State in almost summer-like conditions. There was a good crowd surrounding the dry, dusty pitch, with temperatures in the mid-seventies at kick-off. As it was the first league game for both teams there were lots of mistakes but both teams took advantage of advantage to make some meters around the field. All sorts happened during the game, such as my first 50/22 and about five goal line drop outs in what was a relatively close game. Sac State went in 12-3 up at half and pushed out to 22-10 in the middle of the second quarter, but UNR brought it back to 22-17 to make it interesting. At that point, Sac State seemed to be shocked into life and finally put the hammer down to close it out at 34-17.
Date: 02/12/2022
San Joaquin-Stanislaus 20 – Fresno Men 71
Referee: Lane, John
Good field and a warm day. A well contested game with both sides looking to move the ball throughout and enjoying the contest. After an early few minutes of Harlot control Fresno had their first attack into the 22 and converted a penalty for defense offside for a 0-3 lead. This was quickly followed up with a converted try for 0-10.Harlots captain and scrum half got 5 points back when spotting a narrow gap down the touch line which slowed the Fresno momentum after 20 mins. 5-10.Fresno dominated the remainder of the half scoring 3 converted tries by stretching Harlots defense and creating gaps. HT 5-31
Harlots started the second half with their purple patch of the game. First, a mid field intercept resulted in a try. This unsettled Fresno who lost their shape significantly for the next 10 minutes and conceded two more unconverted tries with the score closing to 20-31.This effort put in by Harlots however took its toll and Fresno regained the upper hand and dictated the last 30 minutes. Scoring 6 tries and converting 5.Final score 20 (4T) – 71 (10T, 9C, 1P)
Date: 02/12/2022
Mendocino 24 – Reno 51
Referee: Bertolone, Cary
Beautiful day, trees were blooming (in February, not good!), we kicked off three minutes early at 12:57 PM, Mendo scored first, after a long break away, at the 11 minute mark. 8 minutes later, Reno responded with a converted try and four minute later, another one to make it 14-5. Five minutes later, Mendo scored again to close the gap, then Reno got another try, 21-10 one minute before the half. Second half, Reno scores two minutes in, another converted try, 28-10, thinking game over, but Mendo scores two converted tries in the next 20 minutes, making it 28-24, WE HAVE A GAME. Shortly after, FC, Reno's flyhalf and team captain, took over with a penalty kick, another converted try and as the heat of the day caught up with everybody, another penalty kick and converted try to make it 51-24, Reno. FC never missed a conversion or penalty kick. Everyone played like gentlemen and everyone had fun, great after party in downtown Ukiah, as Eric, a long time Mendo player, is now the owner of an ax throwing pub, perfect for rugby after parties. It was well attended and several "shoot the boot" participants were forced to meet their maker.
Date: 02/12/2022
EPA Lady Razorbacks 15 – Life West Women's D2 64
Referee: Whysall, Lawrence
Life university women 64 @ East Palo Alto razorbacks 15Hot February day. In the first ~10 minutes 4 tries were scored. EPA literally outmuscling and breaking through the life defense for two unconverted tries, while Life carved through the backline for EPA with ease (when they could get decent ball).For the next 20 minutes there was a bit of a dry spell, teams adjusting to the heat and making more errors. EPA dominated the scrum, making it difficult for life to get any decent ball, but effectively any time life had decent service through the hands, they scored. Score line really opened up in 2nd half. With regards to new laws 1 successful 50/22! (Life). The teams didn't know it happened, and I was shocked as well; 1 goal line drop out. This was also a first for the teams.
Date: 02/12/2022
UCSC Women 26 – UN Reno Women 10
Referee: MacDonald, Gregor
Competitive game until the last quarter, UCSC dominated tactically, while both teams had some flashes of individual brilliance. Shout out to UCSC's captain Leila, who scored 3 tries in the match, with two line breaks, and one chip to beat the last defender.
This Week's Photo
Pelicus Scriptoris has been quite busy with his Pelican Art. Here is another submission.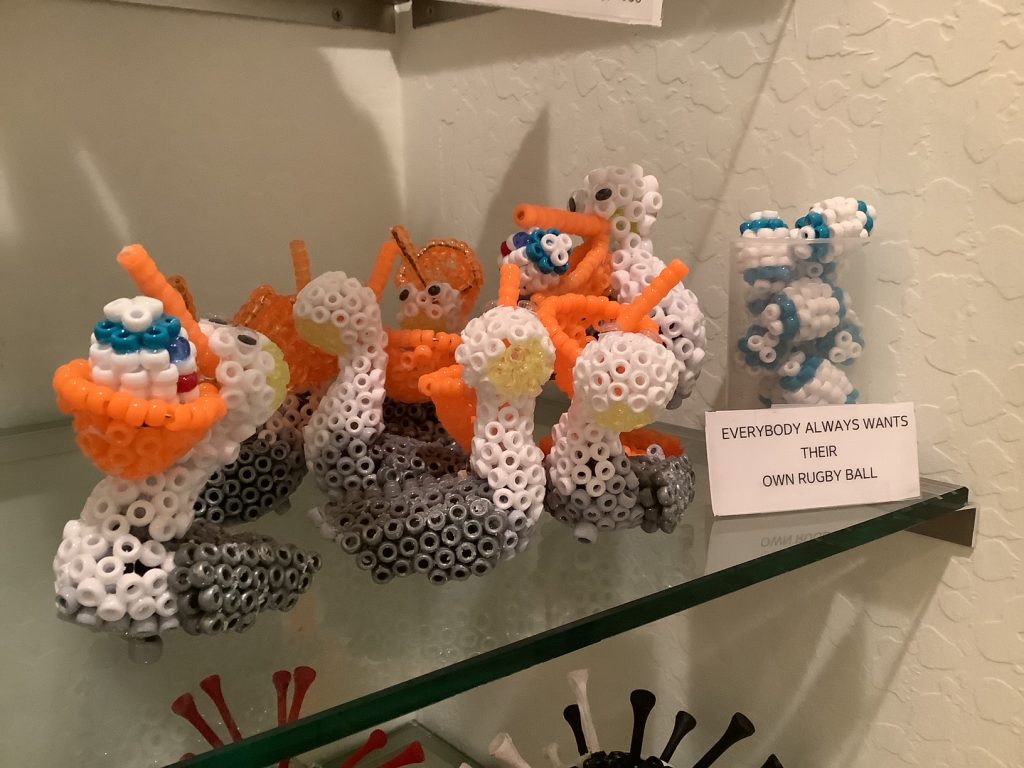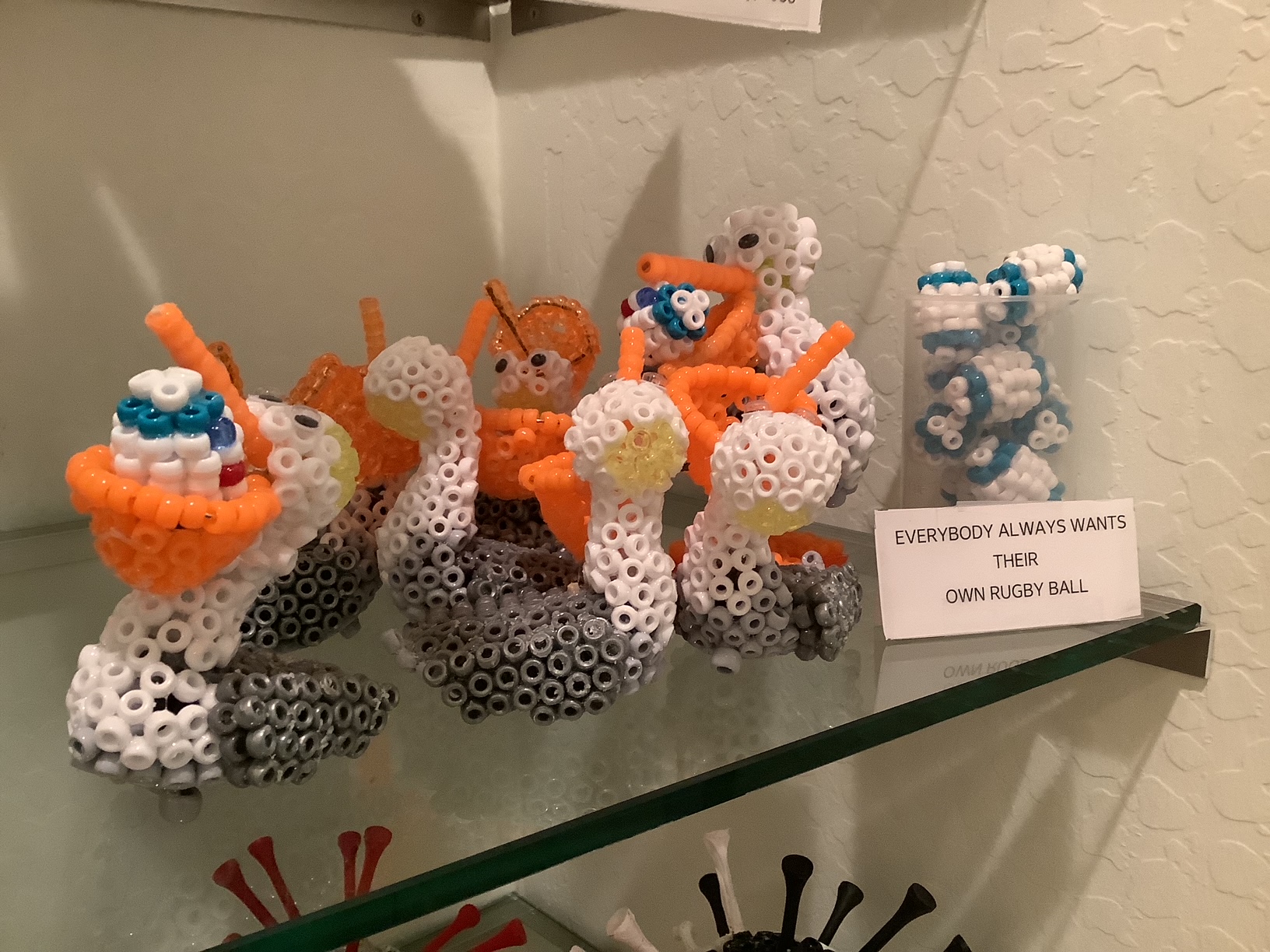 Hail, Pelicus!
For the Senate
Pelicus Pedem Referre