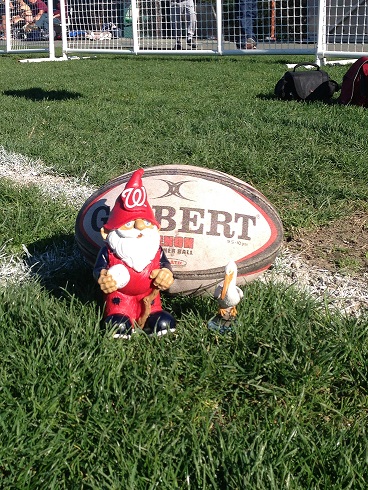 Stranger In A Strange Land
HAIL PELICUS!
Stranger In A Strange Land
As I write these words I am outside the bounds of the familiar, a place where the Pelican rarely flies. The strangeness of the air and land pervade my being yet it is held at bay by the knowledge of the Pelicans who have braved this land before. As I go about my tasks it is the small differences that strike me – there is this constant stream of water falling from the sky with occasional patches of blue sky instead of the other way around, as nature intended. Drivers seem to think that 60mph is a reasonable speed to travel the freeways at. People are happy with how the NLF season played out. Cats and dogs are living together. In spite of this anarchy I have cobbled together this week's newsletter as a reminder of that land of noble people and lush pitches that produces the finest rugby in the country.
Strangers Coming To Our Land
The jewel of the exchange season is upon us with the arrival of the East Midlands referees. If you have not already done so please contact Bjorn "The Screaming Viking" Stumer at bjorn.stumer@gsa.gov to offer hosting for our guests. We need not only beds for them to sleep in but guides to show them the wonders of Northern California. There may be beer involved.
Dr Bruce Carter will be leading the usual contingent up to Yosemite for a Half Dome hike. Pelicans pay $100 towards the room. You'll meet in the valley on the 18th and have dinner at the Lodge. The hike commences at dawn on the 19th. The route chosen will depend on weather conditions (and the physical state of the attendees). In the past we've gone up Yosemite Falls and Nevada Falls.
We also need volunteers to host other incoming exchange referees. Hosting goes a long way towards fostering good will and is one of the considerations for choosing who we send out in exchange. We need one host for incoming Virginia referee Chris Davis who is coming in March. Again, volunteers should contact Exchange Officer Bjorn "Ironside" Stumer at bjorn.stumer@gsa.gov.
Touch Judge And Referee Courses Approaching
The Northern California Rugby Referee Society (NCRRS) will host both a Touch Judge Course and an Assistant Referee Course on Sunday, March 30, 2014, at the San Francisco Golden Gate Clubhouse, Treasure Island, San Francisco, CA. The Touch Judge Course will begin at 9:30 a.m. and conclude at approximately 12:30 p.m. with a written exam. The fee for the Touch Course is $25. The course fee for members of the NCRRS will be paid by the Society.
The Assistant Referee Course will began at 1:00 p.m. and conclude at approximately 3:00 p.m. The fee for the Assistant Referee Course is $25. The course fee for members of the NCRRS will be paid by the Society.
Lunch will be provided for all students who register for both the Touch Judge and the Assistant Referee Courses.
Persons desiring to register for these courses must be CIPP registered members of USA Rugby.
Registration may be accomplished as follows:
By members of the NCRRS

By contacting Mike Malone no later than March 20, 2014, at mgmalone@comcast.net;
By persons not members of the NCRRS
Please contact Mike Malone, mgmalone@comcast.net or (415) 472-2091 if you have any further questions.
And now on to the games…
Please remember when filling out your match reports on assignr, ASSIGNR IS NOT WHERE YOU REPORT MISCONDUCT. The report section of assignr is for the match summaries that are below. If there are red cards or reportable yellow cards in your match then report them via the channels described on pelicanrefs.com.
Date: 02/24/2014
Solano Community College 17 – St Mary's C 31
Referee: Donnelly, Kevin
Newly established college team based at Solano Community College played tough and capable in a game against a well-organized St Mary's C team. Several well-worked tries off multiple phase play rewarded SCC with points while SMC had no problem responding. I was impressed with the skils and attitude of players on both teams.
Date: 03/01/2014
Aptos 40 – Modesto 17
Referee: Carter, Bruce
MEMORY LANE
The blessed rain broke for a NorCal Rugby Day on the first day of March. With the Pelicanmobile gassed and my latest favorite podcasts downloaded, I was off the morning sunshine for a beautiful drive along the coast of Monterey Bay.
After a good atmospheric dousing, the sky breaks especially clear and, with the sun climbing the ecliptic this time of year, bright. Only a few weeks ago it was dark when most people got off work, and now we'll be on daylight saving time in a few days.
The recent storms spawned wave fronts, the breakers of which cast mist well up into the sky along the coastline. This is visible even with the large sand dunes by Marina blocking a direct view of the surf.
Moss Landing was doing good business, the restaurants, produce and antique shops drawing well. My favorite spot in Moss Landing is the Shakespeare Society of America. It's like an antique shop of literary history, funky and crowded with everything from historical items to Hollywood props.
The Army sent me to Fort Ord 30 years ago last month. That's half of this pelican's life, and it's been a great base for my rugby experiences.
Crossing the Pajaro River into Santa Cruz County, I saw Watsonville decked out in spring finery, strawberries burgeoning and roadside market stalls well-stocked.
What a fine day to ref a game, and on a 'new' (for me) pitch to boot: Lake View Middle School.
The lake was in view: it surrounded and invaded the pitch. The running track lacked only a sufficiency of cold to serve as an ice-skating venue, and one quadrant of the pitch was a bog.
The was D3, temporary-goalpost, mud-bowl rugby at it's finest.
The mud slows everyone down, already-slow referees included, but narrows the variance so I appreciate it.
It was a hard day to stay on one's feet, or to keep the penalty count low. This frustrated lots of players. It's only human nature to think that when those wearing a shirt like yours fall down, they slipped, but when anyone in a different color falls down it is with malice aforethought.
Pretty good game – I certainly enjoyed it. Lots of tries for a mud venue, with four different Aptos backs breaking off long scoring runs.
I can't remember seeing such a potent back-attack from these guys in some years.
Those long runs were the difference in the game, as otherwise the teams were pretty evenly matched.
Afterwards we repaired to Carmonas, where I sat with friends of 25-years' vintage and discussed the rugby loops we live it. In perfect illustration, they recognized one of the Harlots as having played rugby for Aptos High School ten or twelve years ago.
As I was leaving, being promised home at a certain hour, they broke into song: "Saturday's a Rugby Day", when everybody's happy.
Date: 03/01/2014
Baracus 43 – Chico 3
Referee: Coppinger, John
Baracus overcame an initially stout Chico defense that put in some big hits by finding gaps and using pace and team rugby.
Baracus took the B side match as well 49-0.
Date: 03/01/2014
Cal Maritime 51 – USF 12
Referee: Bernstein, Bruce
Very competitive match for not only the first half (15-12) but the first tem minutes of the 2nd when CMA pulled ahead using their flyhalf Axel to take the ball up & feed one of his two centers resulting in some nice long runs. USF seemed to run out of gas trying to tackle numerous runs; & CMA had a very effective maul which their forwards gained a lot of ground a number of times; which USF had no answer for.
Date: 03/01/2014
Cal Women 15 – UC Davis Women 10
Referee: Tetler, Jen
It was supposed to be a rainy day, but at kickoff in Memorial Stadium, it was actually pretty nice out! (That didn't last though…) It was Cal's rugby alumni weekend, which is why they had the fancy venue.
The game started off with a Cal try within the first 5 minutes with a breakaway by their #12. But that just picked up the intensity of the Davis side. Cal scored again with their forwards. But Davis ended the half with a try of their own. No conversions for the first half put the score at 10-5. The second half started similarly with another early try for Cal. A dangerous tackle by the 14 resulted in a yellow card for Davis's wing, but Cal wasn't able to capitalize on the overload. They were playing a fairly tight game bringing the ball back to their forwards more often than not. Several handling errors from both sides made for a scrum heavy game. With about 12 minutes left, Davis scored a try which put them within 5 again. A couple of injuries slowed down the game, but no more tries were scored. It was a very intense and close match with some excellent rugby, and both teams are looking good.
Date: 03/01/2014
California Women B 0 – UC Davis Women B 55
Referee: Valerio, Stephen
A great experience to have a run in California Memorial Stadium. You can tell if you are projecting well when you hear the echo. The weather threw a little bit of everything, clouds, sun, a sunshower and some rain. Both sides wanted the full 80 minutes, which you don't always get with a B-side.
As for the game, Cal dominated in the scrums, but Davis's #8 and scrumhalf figured out how to manage. Their backs were strong in cutting through the Cal backline and generally did well at the breakdowns. Cal's backs tended to take too much flat ball and despite the strong efforts of their inside center who consistently got half breaks, they weren't able to build off of this.
Davis broke out to a 38-0 lead at the half and cruised to a 55-0 final.
Many thanks to Jen Tetler for sticking around in the rain and running AR. The extra set of eyes are always appreciated.
Date: 03/01/2014
Chico State Women 0 – Stanford Women 0
Referee: Zanarini, Tom
Match cancelled due to rugby like weather conditions. This did save me from a 7 hour drive and I was able to referee the Marin Highlanders v Napa Stormers U-19 match right in my backyard. Napa won both varisty and jv matches.
Date: 03/01/2014
Chico State Women B 0 – Stanford Women B 0
Referee: Zanarini, Tom
Match cancelled due to rugby like weather conditions
Date: 03/01/2014
CSUMB 10 – Santa Rosa JC 71
Referee: Bertolone, Cary
Windy, but the rain held off until the last 10 minutes. SRJC had 30 players suited for the away game. CSUMB had some huge players, SRJC were much smaller, but relentless; they just kept coming. Evenly played for the first 10 minutes and then the JC scored a try every 4 minutes for a 38-0 halftime lead. Second half was a better half for Monterey, as it was 2 tries to 3 until the last couple of minutes when the Santa Rosa team poured it on. Everyone had fun; it was all good!!!
Date: 03/01/2014
EPA Bulldogs 128 – Fresno 5
Referee: Ricard, Bruce
Fresno had many A side players not coming since this was supposed to be a BYE week until last Tuesday. The bulldogs scored 20 tries in the game, Fresno scored one try at the beginning of the second half.
Date: 03/01/2014
EPA Razorbacks 54
– SFGG 14
Referee: Lew, Tim
The game started slightly cloudy in EPA and had on and off rain. EPA coming off their recent hiatus from rugby was firing on all cylinders. EPA scored two quick tries and remained in front the entire game. SFGG had a number of missed tackles that allowed EPA to run around.
Date: 03/01/2014
Fresno State 25 – Chico State 51
Referee: Jury, Jeff
Cool day, moist field perfect for a good run between two undefeateds.
The battle raged in the first half, each team trading scores. The game was close at the end of the first half , Fresno 10 Chico 17. At the beginning of the second half, it was more than apparent; Fresno was going to keep it in the pack with masterful pushover try 5minutes in. This only fueled Chico's fire were upon the visitors promptly dotted 4try in 9minutes with no answer from the home side till after the 5th try 6minutes later. The eventual score was Fresno 25 Chico 51, fostered by the relentless play from the Chico loosies.
Date: 03/01/2014
Mendocino 41 – Humboldt 7
Referee: Rauscher, Eric
I always enjoy the drive up to our northern games in this area. I had never been to the Mendocino pitch. I should have brought a fishing pole because it sure looked like there would be trout in the stream next to the pitch. At one point, a kick for touch landed in the stream and must be in the ocean by now.
This was an Emerald Cup game with Mendocino defending the cup. Humboldt showed up with only 14 players and played bravely, but were not able to take it away.
This is the first time I get to mention two front row players (one from each team) in a write-up. Humboldts' #3, (listed as Carmen Lopez) went down twice in the game pretty hard and was slow to get up, but showed true grit and played through the full 80 min. The other front rower to be named is Mendocinos' #2 (Peter Scoogans (sp?)). Humboldt was putting up a very good offensive drive at the very start of the second half and were within 15-20 meters of goal. Suddenly Peter intercepts a pass and starts running as fast as he could in the other direction. He actually made it to about 10 -15 meters from goal when he as drug down. His team did get a try out of his effort due to good support. It was great to see a front-rower make such a play.
This trip also included something I have not seen before. At the social afterwards, several members of Mendocino showed up in costumes of various sorts. Kind of like a 7's affair.
All in all it was an enjoyable day reffing a game that both teams seemed to enjoy playing and a great social afterwards. How can you ask for better?
Date: 03/01/2014
Olympic Club 71 – Bald Eagles 17
Referee: Wilson, Giles
With the Bald Eagles short of players and Rich Boyer being just six weeks after surgery, I ended up refereeing
from hooker for Bald Eagles while Rich carried the watch and whistle.
The OC have recruited well for their old boys and probably averaged 10 years younger on average. With this and better speed, skill and fitness they were able to score regularly and often as can be seen from the final score.
Overall a fun time was had by all as a warm up for the later games.
Date: 03/01/2014
Olympic Club B 60 – Stanford GSB 13
Referee: Pescetti, David
Olympic Club came out with a bang! Scoring in the 1st 5 minutes.
Stanford GSB fielded a small pack on the day. OC, with their bigger size, was able to dominate the scrums.
OC had a stronger bench. Their stronger, scrums and bench they were able to control the game.
Date: 03/01/2014
Reno Zephyrs 43 – Napa Valley 40
Referee: Bryant, Lee
This was the first game I have every reffed in Fernley, a small city outside of Reno. This may have been the first rugby game ever played in this town now that I think of it.
Napa is a new team, the captain told me during the pregame chat that for some of the players, this was only their second game. Napa started off strong, putting up most of their points in the first half. They moved the ball well using the full length of the field to stretch out the Reno defense. However, Reno stayed tough and rallied in the second half, scored most of their points in the second half. Great fast rugby.
Date: 03/01/2014
Sacramento Lions 82 – Diablo Gaels 19
Referee: Tucker, Chris
Lions took this from the opening kickoff. With ball in hand they ran their entertaining 7s style rugby all over Robla park. Gaels, to their credit, kept at it, scoring 2 opportunistic tries — one on a poorly controlled ball at a scrum, another on an interception in the backs. Their final try came as time expired, as they set up a wonderful rolling mall, crashing over for their 3rd score.
Never in doubt, however, Lions came away deserved winners, with 14 tries in all.
Date: 03/01/2014
Sacramento State 17 – Santa Clara University 43
Referee: Ranaweera, Aruna
Soft field, stiff breeze, and sunshine at Sacramento State. Both teams moved the ball well and enjoyed enough possession to do damage. Sac State had many individual bursts, but Santa Clara's overall game plan was more cohesive and strategic. The south bay team led 24-5 at half and won comfortably, 7 tries to 3.
Much thanks to Mike King who did a solid job as AR, after refereeing another game beforehand.
Date: 03/01/2014
Sacramento State B 42 – Santa Clara University B 21
Referee: Nguyen, Anthony
No Report Received.
Date: 03/01/2014
Sacramento State Women 29 – USF Women 17
Referee: King, Mike
A somewhat drizzly morning greeted these 2 sides and their fans, as they opened a day of rugby at Sacramento State. Field conditions were fair with slick areas, but overall footing was decent. Sacramento opened the scoring, but USF bounced back soon thereafter. Both sides tackled and ran hard, with the handling decent for the conditions. USF only came with 14 players, so the Hornet starters began to exert their superiority – opening a sizeable lead by half. The Dons were not to be ignored, as they gamely carried the attack forward in the second half. Sac State was able to substitute to give more players some experience, but it was mainly determination by the visitors that allowed them the greater number of points in the second half. Well played by both sides, and a fun match for all.
Date: 03/01/2014
SF Fog 52 – State of Jefferson 14
Referee: Hettermann, Matt
Late kickoff (2pm) to give SoJ time for the LONG drive down from Yreka. Was my first time at the north field on TI – given the strong rains, I expected a sloppy pitch, but it was surprisingly firm.
SoJ showed up with 15 players, with a great variety of experience. The Fog were fairly solid and well disciplined, and struck early and often in the first half – ended at 38-0.
Second half was more balanced – Fog substituted in some greener players, and SoJ never gave up.
Date: 03/01/2014
SFGG Women 76 – San Jose Seahawks Women 14
Referee: Gordon, Preston
Just a bit one-sided. 66-0 at halftime, so the second half was a little more interesting. No need for cards, or even many penalties – I think there were 5 or 6 in the whole game. Thanks to both teams for listening well and playing the game in very good spirits!
Date: 03/01/2014
Sierra College 79 – UOP 24
Referee: Richmond, Jeff
Sierra started strong and never let up. Attacks by the Sierra #8 and centers went largely uncontested by UOP. It was a fast paced game on a turf field; better than the slog in the mud I anticipated. UOP is a better team than what they showed against Sierra since I watched them play close with Humboldt a few weeks earlier. Both teams are well coached and played very cleanly. Appreciate the presence of Scott Wood to offer tips and review.
Date: 03/01/2014
South Valley 14 – Colusa 39
Referee: Pohlman, John
Colusa County 39 South Valley Bucks 14
Saturday at the Morgan Hill Outdoor Sports Center all turf field was surprisingly nice.
The weather was perfect for rugby. The all turf field was acceptable.
Division three rivals South Valley were hosting Colusa County.
The game kicked off at 1:30 and we needed to be off the field by 3:00.
Colusa pretty much dominated the entire game. Colusa scored three-first half try's.
Halftime score, Colusa 22 South Valley 0.
Colusa's #9 led his team and scored the third try of the first half.
The second half was more competitive. South Valley scoring two try's to Colusa's three.
Colusa's #9 Juan Loza left with a twisted ankle. For about ten minutes the Colusa team seemed lost.
But Colusa's captain Cody Berkley motivated his players and Colusa scored two very nice try's.
The second at 35 minutes saw the ball handled by at least six Colusa players for a 60 meter try finished by Joseph Guidy.
The only challenge in the game was loads of back chat.
At one scrum I heard numerous players from both teams pleading for calls.
This adds nothing to the game.
Date: 03/01/2014
St. Mary's College 36 – Cal Poly 5
Referee: Akroyd, Phil
This one had the potential to be a cracker, but the weather restricted the play. St. Mary's home field was officially wet. So much so that they moved up the A-side game to be first up, in order to get a decent amount of time on a pitch not completely torn up.
Poly often struggled to make the gain line, while the Gaels often broke through with a combination of backs and forwards. The Poly pack fronted up well against the large tight five of St. Mary's but the home team often had the upper hand in the scrum, but not always legally, which led to a few too many penalties.
Overall, not too bad, but it would have been nice to get this one on a dry track.
Date: 03/01/2014
Stanford 64 – SF State 12
Referee: MacDonald, Neil
Stanford 64 – San Francisco State 12
Referee: Neil MacDonald
Steuber field was in good shape despite the downpours of the previous couple of days, and the rain had turned to intermittent drizzle by the time we kicked off. Stanford are playing with a much higher level of intensity and commitment than when I last saw them a year ago. Awash in possession from most of SFSU's lineouts in addition to their own, the Cardinals were too much for their guests to handle, and ran in ten tries to SFSU's two.
Stanford B 34 – San Francisco State 5
Referee: Neil MacDonald
Stanford also prevailed in the B side match of 30 minutes halves. SFSU played a man down for 10 minutes after killing fast Stanford ball four meters from the SFSU line. The depth and freshness of Stanford's squad and their greater experience in the pack combined to take their toll on a tiring SFSU team, with several SFSU players coming on in their second game of the day as the visitor's reserves dwindled. Stanford ran out victors six tries to one.
Date: 03/01/2014
UNR 14 – UC Santa Cruz 35
Referee: Hinkin, James
Rugby in Northern California offers many different challenges as well as many different rewards. One of the rewards is the ability to get a game in Reno the week that the best snow of the year is falling at the Tahoe resorts. Naturally, when I saw the University of Nevada, Reno assignment I decided to come up on Thursday for some Friday skiing.
Magic.
As an aside to any UNR people reading this, you really need to work on alumni relations. Your most famous rugby alumnus, Todd Clever, refused to send any "gifts" to influence the outcome of the game while his older brother Chris offered a suitcase full of said "gifts" but it never arrived. I guess I had to play it straight up…
After a minor struggle to find the intramural fields the game was to be played on (this is two weeks in a row – am I spotting a trend ?) I arrived to find both teams warming up in the chilly Reno afternoon. Weather up there can be a bit fickle. The day was mostly cloudy in the low 50s but when the sun broke out it felt like an instant 10 degree boost, until, of course the clouds came back and some rain started spritzing down to make it feel like low 40, and then back again to cloudy and in the 50s. Oh well, at least I was running to keep warm.
The match itself was much closer than the scoreline indicates. UNR and UCSC were evenly matched for most of the half exchanging converted tries early on. A penalty kick for UCSC was mixed in created a lead that was further padded when UCSC had a breakaway up the left wing. The winger was caught 2 meters short but unfortunately was caught high. Penalty try, yellow card and UNR at a disadvantage for all but 3 minutes of the half. The Wolf Pack defended strongly and only gave up a single penalty goal in this period and went to the break down 20-7.
The second half was much the same as the first with both sides running hard and moving the ball. Neither side was able to break through with UNR getting closest – a period of sustained pressure saw them hammering at the line when the penultimate pick and drive ended in a knock on 4 inches short of the line. I say penultimate because the ball was immediately scooped up and downed in the try zone much to the delight of the home crowd but sadly the joy was misplaced. The stalemate continued until UNR defended well enough on their own 22 to get a penalty for not releasing. A quick tap was taken by the #9 who immediately ran into a UCSC player and held him at arm's length as he ran forward. As the UCSC player made no effort to tackle and was actively retreating I called "play on". The scrumhalf realized he wasn't going to get the penalty so he tried a long pass that was read perfectly by the UCSC wing and an easy try under the posts. UNR wasn't happy, of course, but I told their captain that I wouldn't allow them to manufacture a penalty like that. This seemed to really get the Wolf Pack going and they started pressing even harder with several key breaks by their captain and fullback Ryan who never seemed to be tackled by the first man. A well deserved try brought the hosts to 25-14 and when the UCSC #8 was yellow carded for a dangerous tackle the momentum seemed to be shifting to the hosts. However, UCSC was able to get a penalty to stretch their lead and when UNR gave up another penalty in the dying moments a bit of ill discipline resulted in another yellow as the ball was thrown away. UCSC was able to score on the ensuing possession to end the match. A fun, exciting game where both teams conducted themselves well. Both captains were a credit to their squads and I expect good things from these programs.
This Week's Photo
Visitors to Pelicanland are not uncommon, as the gnome mascot from Washington DC takes in the sun at Pat Vincent Field a couple of weeks back with a Pelican companion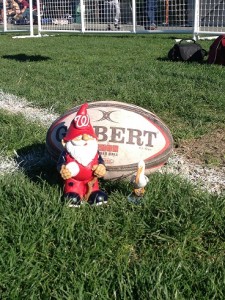 Hail, Pelicus!
For the Senate
Pelicus Pedem Referre