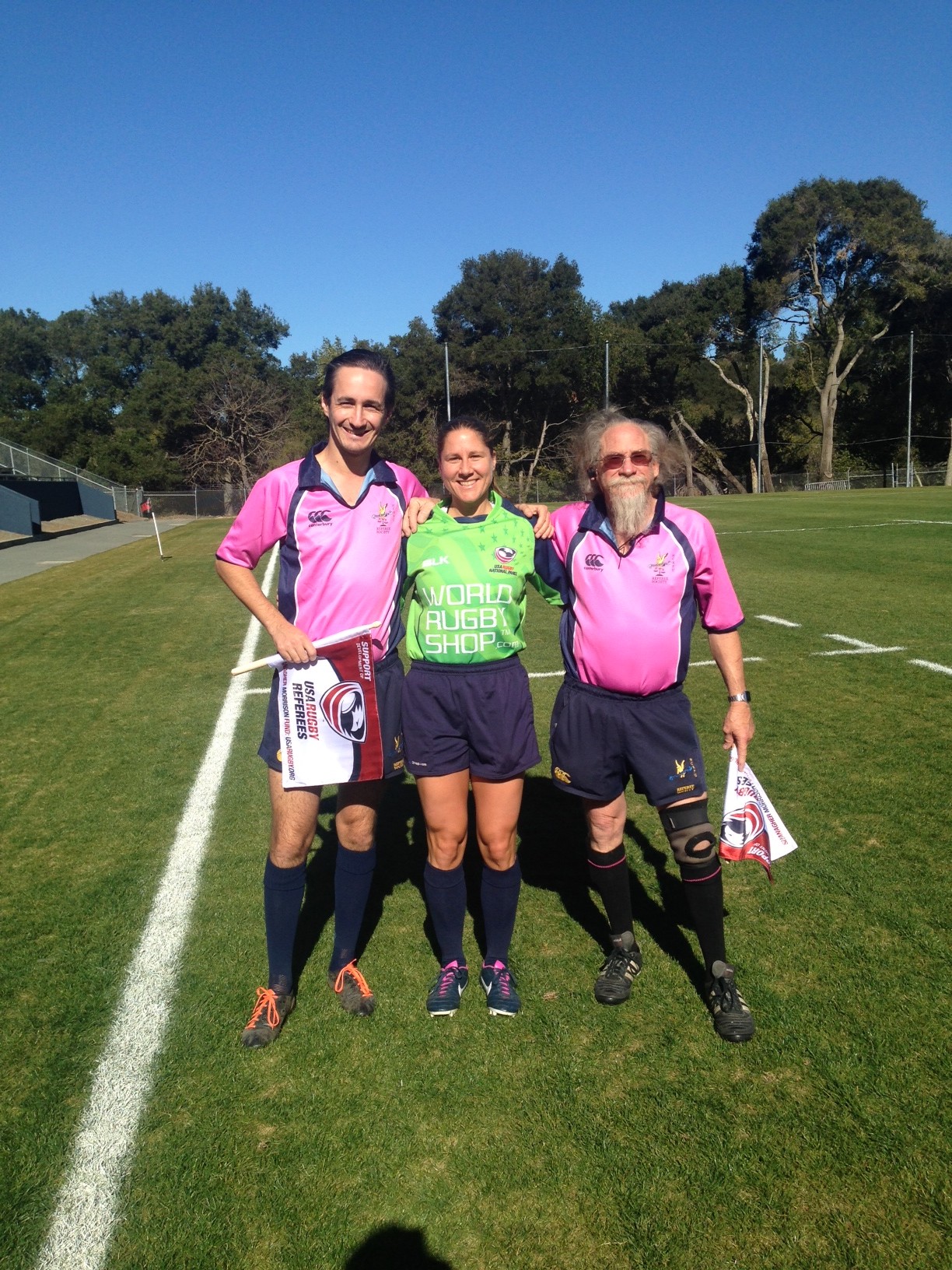 HAIL PELICUS!
Super Pelican
What a weekend! End to end action filled with the chasing of an oval ball as well as the search for the Ultimate Seven Layer Dip (the search continues).   Rugby was plentiful on Saturday as – aside from a league BYE here and there – everyone who was anyone had a match. League tables are starting to take shape and favorites are emerging along with the inevitable surprises. The extra dead fish in our rations last week spurred Pelicans across the land to cover a ton of games.  Don't get used to it, though – dead fish don't grow on trees, you know.
Once Sunday rolled around the American version of football hosted their championship and the New England Patriots secured a Super Bowl legacy that has more asterisks than a newspaper reprinting of George Carlin's "7 Dirty Words You Can't Say".   Famed rugby tackling proponent Pete Carroll of the Seattle Seahawks apparently forgot the end of the 49ers – Ravens Super Bowl from 2 years ago and thought, "Final seconds of a Super Bowl ticking away, the league's most dominant running back plays for my team… I'm gonna pass it".
The Seven Layer Dip was very good, but not Ultimate.   I'm dedicated to finding the mythical Ultimate Seven Layer dip – it's a rough job but somebody's got to do it.   One thing I know for sure: it doesn't have guacamole in it.
Keep the Availability Rolling!
More games mean more referees.  Please go to assignr.com to confirm your availability and matches, or if you haven't received an assignr.com account, contact Pete Smith at me@petesweb.com to let him know you are available.   To get an assignr account please contact our Scott Wood at rscottwood@gmail.com.   He will get you all the information you need to sign up and announce your availability.
Ask A Pelican
Yes, it's time for the third installment of "Ask A Pelican, the widely love Q and A session with Hail Pelicus.   This week's question comes courtesy of H. Simpson of Springfield (state was illegible),who writes:
"As a referee I have been bringing match cards to all of my games but nobody bothers with them any more. What gives?"
Well Mr Simpson, the fact is that as referees we are no longer required to bring match cards any more, though it is a good idea to have a couple handy for backup.   Senior clubs are required to use USA Rugby's CMS system and provide a running score form and a substitute form that, as a referee, you will need to verify for accuracy and sign.   Collegiate competitions will have similar forms and the teams should provide them.   If you are a senior club administrator and need information on the CMS system please contact Erik Geib at egeib@usarugby.org.
Disciplinary Action Reporting – Process for reporting incidents
The various competitions all have their own disciplinary chairs and this will make it difficult to centralize the communication and data.  To help Scott Wood has developed a form that will centralize the process, regardless of the competition.  The link to the discipline form is https://docs.google.com/forms/d/1mmUNg11uVOSkIsUtHifSqQzalhWbwohk_J6AmPyrucQ/viewform
Copy the link and have it available on your smartphone.  If you have an Iphone add the link to your home screen.
when needed fill it out and click submit.  The discipline chair of the competition you refereed will receive a notification about the incident.
He/she may contact you latter for more details.
February Society Meeting
This month's meeting will be held February 18th 7:00 PM @ the SFGG Clubhouse on Treasure Island.   For our meeting we will be discussing:
Player Management – Pick a Card! Red, Yellow or Warn (Aruna Ranaweera)
Schrödinger's Tournament
The waveform collapsed.
Jan 23, 2015, Referee Development Program (Sac State)–33 attendees, including 3 referee coaches from Canada, young referees from NorCal, Oregon, Colorado, New York, and Canada, and experienced refs from Rocky Mountain, Utah, and Idaho.  This was an opportunity for referee coaches and senior refs to begin working with newer local refs to foster mutual growth and learning.
Jan 24-25, 2015, Boys KOT (Rancho Cordova)–Several NorCal clubs elected not to attend this year, significantly reducing the number of matches.  Over the two days, we had 23 referees and 8 referee coaches.  Over 40 written coaching reports were prepared.  The newer referees worked as ARs on Saturday, and referees on Sunday.  We had a good mix of experienced and newer referees.
Saturday provided lots of opportunities for newer refs to serve as ARs or referee girls' matches.  On Sunday, the NorCal youth teams came out, providing a good opportunity for newer refs to manage their first match under the watchful eyes of a referee coach.  After coaching, the referee's performance usually improves remarkably in later matches.
The NorCal referee coaches were Mike Malone, Bryant Byrnes, Eric Rauscher, Jim Crenshaw, Paul Bretz, Rod Chance, Mark Godfrey, and Dave Williamson.
The NorCal referees were Favor Taueva, Tom Franzoia, Marshall Godfrey, Will Mariano, Elvy Asonye, Michael Strange, Andy Owens, Bill Long, Gary Short, David Hosley, Joe Devlin, Jim Wynton, Ferrin Ellsworth, Kayla Zamprippa, Michael Terrell, Marc Gauthier, Russ Gauthier, Steve Fenaroli, Dominic Cosentino, Andrew Bailey, and Mark Hicks.
Opportunity for Referee or Referee Coach in Canada
We are invited to send a referee or referee coach to tournaments in Alberta this summer:  ASAA High School Rugby Championships in Edmonton on June 5th and 6th  and The Calgary Stampede 7s on July 3rd and 4th.   If interested contact Paul Cassidy, the Referee Development Officer of Rugby Alberta at pwcmatchofficial@shaw.ca.
On To The Game Reports!
Date: 01/31/2015
UNR Women 59 – Sacramento State Women 20
Referee: Crawley, Blake
UNR started fast with 3 converted tries, then Sac State answered with three of their own and seemed to be on the verge of taking control fo the match. After the half, UNR blitzed again and got a couple of quick tries. Sac State had what looked like an easy try held up when the player tried to center the touchdown, enabling the defense to gather and stop the grounding. After that, UNR was pretty much in control, with Sac State scoring a consolation try at the death. Cool, cloudy weather: perfect for rugby. Both teams played positive rugby and there were no disciplinary issues in the match.
Date: 01/31/2015
UC Santa Cruz 43 – Sacramento State 46
Referee: Lane, John
My first trip to UC Santa Cruz for a game and I can highly recommend the venue – impressive views out to the Pacific and a hell of a difference to the traditional Irish/Munster conditions in late January!!!
Based on pre-game structure Santa Cruz were looking that little bit more organized and prepared but it was Sac State that came out of the blocks firing. Their impressive No 8 and captain showing excellent ball carrying skills and ability to exploit the weak shoulder to create line breaks and with good support he crossed for tries on 4 and 8 min (one converted) for an early 0-12 lead. With some positive sideline encouragement Santa Cruz worked their way into the game with both sides eager to move the ball quickly. On 15 mins Santa Cruz were defending just outside their 22 and just as it looked like they were running out of numbers their fullback stepped in for an intercept and following some quick hands and a fast recycle they crossed for an unconverted try to get on the board. (5-12 on 15 mins). The game continued in its open style with some excellent charges and strong tackling from both sides. Both sides turned over in good attacking positions before a perfectly timed intercept by Santa Cruz on half way delivered a converted try at the posts. (12-12 on 25 mins)
Santa Cruz were visibly encouraged by this but Sac State put in some excellent hard carrying for the next few minutes and gain their number 8 crossed to restore their lead (12-17 on 29 mins). Play continued being end to end with plenty of width but the defenses managed turnovers at key points. Santa Cruz put some good attacking phases together resulting in the 10 crossing and converting on 37 mins. (19-17)
With a minute to half time the Santa Cruz scrum half got a little too smart! and deliberately dummied playing the ball at the base of a defending ruck to try and draw a few players offside. Free kick against the 9. The free kick ball was quickly taken and 2 quick recycles later it was another try for Sac State and the half time whistle (19-22)
The second half continued in the same style and the guy operating the scoreboard was having difficulty keeping up!!! While this fast open game was going on there were some penalties for in-at-the-side and occasionally off feet but overall the game was played with great spirit by both team with an active, positive vocal crowd. Both teams reacted well to my occasional intervention with key points being not "grabbing the 9" and also a lack of knowledge of penalties for playing a a ball knocked on by a teammate from an offside position.
Sac State pulled further ahead on 52 mins – 19-27 but the next 10 mins belonged to Santa Cruz who scored two excellent multiphased tries (both converted) to lead 33-27 at 60 mins. Santa Cruz had the wind in the second half and now having the lead the instruction from the sideline was encouraging some tactical kicking for territory. Whether it was because they were enjoying themselves too much in the open fast game or what this was not paid attention to and the final 20 was played out as the previous 60.
Sac State responded on 66 with a converted try for 33-34. 6 minutes later Santa Cruz were ahead again – a booming deep high kick looked like an attempt to gain ground but when the Sac State winger hesitated and stepped back from catching his opposite number steamed through catching clean in a full sprint to round under the posts – 40-34 on 72 mins. From the kickoff Santa Cruz had plenty of time for a clearing kick but ran and were tackled and penned into their 22. Two phases later a knock-on gave possession away and from the scrum the ball was recycled and Sac State center crossed and converted for 40-41 lead on 75.
Santa Cruz increased the pressure from the kickoff and Sac State conceded a penalty for in at the side and the first non-try score of the day put the score to 43-41.
From the restart there was a mix-up between the full back and one of his forwards resulting in a knock-on and under pressure a player in an offside position picked up and conceded a penalty. It was quickly kicked into the corner and from the lineout a Sac State recycled multiple times and eventually crossed wide right for an unconverted try to lead 43 -46 on 79.
Amazingly they managed to hold out for the final minute without conceding and won a very enjoyable game!!!!
Date: 01/31/2015
UC Santa Cruz B 18 – Sacramento State B 31
Referee: Freitas, Larry
Another sunny afternoon at UCSC, but not quite as warm as in previous weeks. Sacramento State put out an aggressive B side against the Cal Santa Cruz side, scoring three tries in the first half that were countered by one penalty kick for Santa Cruz. Near the end of the half a Hornet player was yellow carded for a dangerous tackle, not bothering to wrap and shoulder charging. One of Sacramento's loose forwards was playing it a bit too loose at rucks as well, so he was also warned about any continued infringements at the break.
In the second half the Banana Slug seconds got their tails up, scoring three tries and erasing a substantial lead to just a few points, then Sacramento came back to score a converted try in the last ten minutes of the match to seal the victory.
This is the first game that I ever adjudicated wearing trail running shoes, New Balance, with inserts, and my feet and ankles weren't aching afterwards as in the last few games from wearing Adidas Copa Mundial shoes. I know Bruce Carter does the same now after his Achilles tear a few years back. Good idea!
Date: 01/31/2015
Stanford Women 52 – Chico State Women 0
Referee: Valerio, Stephen
Saturday's match was played with flawless weather, with just a slight chill coming on in the last 10 minutes after the sunset. However, players looking to the west did have to deal with a blinding glare for most of the match.
Chico St had some strong runs, but Stanford were more clinical throughout the match. These small differences started taking their toll. However, when a prop and wing alternate to gain huge chunks of territory, it makes it very difficult for any defense to cope. Tighthead Chelsey Sveinsson and Wing Chelsea Harris repeatedly carved up the Chico St defense giving Stanford the go forward they needed throughout the match. Stanford put up 26 points in each half in route to a comfortable win.
Date: 01/31/2015
Stanford Women B 42 – Chico State Women B 5
Referee: Simko, Paul
A well played game under the lights at Stanford Stadium. After the Stanford A side shut out Chico in the first match, it was much the same for the first half of the B side game, with Stanford taking the lead 6 tries to None. The second half was much closer. It was 2 tries to 1. It was even until Stanford scored on the final play. The score would have been higher but there was only 1 conversion in the game and the coaches determined that two 30 minutes halves would be plenty.
Date: 01/31/2015
Stanford 50 – SF State 6
Referee: Coppinger, John
SFSU and and Stanford battled evenly evenly at first until rookie errors and penalties allowed Stanford to take a comfortable lease at half 24-6. In the second half Stanford sent the ball wide and SFSU had no answer and Stanford cruised to the win.
Date: 01/31/2015
St. Mary's College 98 – UCSB 3
Referee: Ricard, Bruce
First upset of the season for Saint Mary's who couldn't win by more than 95 points.
Date: 01/31/2015
St. Mary's College B 36 – UC Davis 31
Referee: Ricard, Bruce
In the first half, Saint Mary's was very indisciplined, and Davis played very well. Davis scored 4 tries and led 0 – 24 at the break.
In the second half, Davis replaced some of their team with less experienced players, and Saint Mary's players were much more disciplined. 75 minutes into the game, Davis leads 31 – 27. The Gaels are attacking, and with 3 minutes left on the clock, they score a converted try. Davis manages to get the ball back after kickoff, and tries to go one more time behind the try line. At the 82nd minute, Davis is awarded a penalty kick 10m from Saint Mary's try line. Their scrum half taps it and tries to reach the line by force, but is well tackled by 3 defenders, and the ball flies in touch.
Final score: Saint Mary's B 36 – 31 UC Davis
Thanks a lot to Leah and Eric who watched me and gave some very good feedback.
Date: 01/31/2015
St. Mary's College C 48 – UCSB B 5
Referee: Rauscher, Eric
ARing is a great way to warm up. The first game totaled over a century, so I was plenty warm. The game started pretty much right away.
St Marys new pitch/stadium is quit a nice setup. Bleacher seating, full sized field, nice scenery. No bathrooms or changing rooms (yet).
This truly was a game that the final score does not tell the whole story. UCSB was within 5 meters of scoring a try twice, and missed at least three penalty kicks. Many of the guys playing for UCSB had just played in the first game, so they were pretty tired. I must say that the standout player of the game for me was the UCSB #12, Jimmy Peniston, who made an incredible take to catch one of their own restart kicks, and almost did it again a little while later. Another player that caught my eye for doing something unexpected was the St Marys #3 who made a brilliant offload/pass of about 15-20 meters as he was being tackled. Not something i expect to see a prop do very often. I didn't get his name, but it was a great play.
Good rugby, good pitch, good weather, what could be finer?
Date: 01/31/2015
South Valley 55 – Modesto 22
Referee: Bernstein, Bruce
Well tempered competitive 3rd division match.
South Valley played more as a team & notched 6 tries the 1st half v. only 1 for Modesto who came back to start the 2nd half with a quick 2 & a later 3rd to tie the halftime try scoring 3 apiece.
Date: 01/31/2015
Solano JC 3 – Sonoma State 72
Referee: Hammack, Robert
A well contested match for the first 20 minutes until Sonoma State's superior fitness took over. Good, hard (but clean) rugby for the most part and a masterful performance by Solano captain Rico in a losing effort including a try-preventing tackle which forced a Sonoma knock-on in the try zone.
Date: 01/31/2015
Sierra Foothills 47 – Redwood Empire 58
Referee: Bailey, Andrew
No report received
EDITOR'S NOTE:  After Mr Bailey's wonderful writeup last week I was looking forward to reading his report this week only to be disappointed.   The Pelicus Award doesn't just give itself out, you know.
Date: 01/31/2015
Shasta 36 – Mendocino 10
Referee: Cousillas, Eduardo
The game was not dominated by any team, Shasta could make points with every defensive mistake that Mendocino had and that was why they won the game. Mendocino made two tries while Shasta had 14 players because of a yellow card, but they didn't have many chances during the game.
It was an intense game, especially in the breakdowns, where Mendocino was always in the red line with several penalty kicks that made Shasta approximate to the goal with a good kicker.
The postgame was really good, with the six teams that played during the day in Colusa, good food and good players enjoying the day together.
Date: 01/31/2015
SFGG B 0 – EPA Bulldogs B 0
Referee: Noonan, Michael
Game was forfeited by EPA B. SFGG B was ready to play.
Date: 01/31/2015
SF Fog 0 – Reno 76
Referee: Taueva, Favor
I arrived their around 9:47am and it was already Colusa rugby fan to set up the field . It was a little bit windy but not bad at all. SF. Fog team was and have a promising game plan to cross Reno's team in goal line but Reno's defensive skills didn't allow SF Fog to cross their in goal line both the first and second half. Just before the first half time No 21 Guy Peterson deliberately high tackle Reno's #15 so I yellow card him and that's was the end of dangerous play during my whole game. Reno's team was too good for SF Fog and Fog refused to end the game when the score was around 50 plus to nothing. I did talk both the coach and the captains concerning the situation but they didn't want to give up early. I did end the game 5 minutes earlier when the score reached 76 to nothing. Thanks to Mike King. I had a chance to chat with him and watch the last games with him. Very good rugby experience.
Manuia
Date: 01/31/2015
Santa Rosa 44 – Fresno 31
Referee: Tucker, Chris
8 years with no visit to FPS, and then twice in 3 weeks. Not complaining, it's a great place to play, and Santa Rosa are fine hosts.
The game kicked off under blue skies, and Rosa promptly ran in 3 tries in 10 minutes. With the temperatures rising, and a good crowd, it felt almost like 7s rugby. Then Fresno remembered why they were there. They began to press harder, disrupted the passing lanes, and took advantage of some loose passing in the backs. They began to run hard with ball in hand, and the score gap began to come down. At the half we were back to 29-24. I've had many games with fewer points after 80, which goes to show the all-out attacking style both teams preferred. Joy to watch and fun to ref.
The second half was more of the same, but you got the feeling that the Rosa coach convinced his charges to play just a little bit more securely with the ball. They kept the tempo high, and with better continuity they put the boot on the neck of their opponents. Figuratively of course — the game was played in good spirits between two teams who clearly had a strong affinity for each other. As time went on, the pace slowed a little, and the hosts racked up a full 44 points, which the visitors couldn't match. A consolation try went begging when the ball was knocked on inside the 5, and that was that.
Thanks to Joe Leisek for the observations on what I did well, and what I needed to work on. Such tact — he has a wonderful way of saying 'you're making a hash of xxxx'.
Date: 01/31/2015
Santa Rosa B 19 – Fresno B 10
Referee: Leisek, Joe
An enjoyable match played in 80-degree conditions with more scrums than I can count. (Player, after referee blows whistle for yet another forward pass: "Sir, this is a B-side match." Referee: "Sorry, there isn't a B-side law book.") Good spirit and rapport on the pitch, and a lot of hard work on the part of the players. Got some good feedback from Chris Tucker at halftime after watching him referee a fast, entertaining first side match.
Date: 01/31/2015
San Jose State 5 – UNR 48
Referee: Hinkin, James
According to the San Francisco Chronicle this was the first time since record keeping began in the late 1800s that there was no measurable precipitation in the Bay Area in January. The end of this record setting month was (naturally) a perfect sunny day in San Jose that saw the University of Nevada, Reno travel down to the lowlands to take on the San Jose St Spartans.   The field was very well marked but apparently the university groundskeeper at SJSU isn't very competent.   Bare patches and holes alternated with swampy mud pits that necessitated moving a few scrums.   This truly is a disservice to the students and athletes that use these facilities and will eventually lead to unnecessary injuries if it hasn't already.
UNR has been putting all of this lovely weather to good use up in the mountains and it was apparent early that the high altitude training was reaping some benefits.   San Jose St really had no answer to the hard running of the Wolfpack ruggers and UNR seemed to score almost at will.   The effort from SJSU was evident but a lack of cohesion and communication just left too many gaps for UNR to exploit.   After 5 tries (3 converted) the half time score stood at 31-0.
San Jose stiffened their resolve in the second half and managed to score a well earned try when they finally were able to get the ball in space to their speedy winger who went around everyone on the right side to score, but that was about all they could muster.   A lack of discipline from UNR saw their #13 in the sin bin for dangerous tackling but that didn't slow them down as they scored yet again with only 14 players.  At this point the discipline for both sides started breaking down as it was "handbags at 20 paces" after every single tackle. The constant talking and pushy-shovey marred the spectacle of a good rugby match.   Eventually San Jose were reduced to 14 men as their replacement hooker was sin binned for cynical play. Reno closed the game out with more scoring to win comfortably.
Date: 01/31/2015
San Jose State B 7 – UNR B 12
Referee: Hinkin, James
After the A side match each team decided that a single 20 minute period would decide the B side contest which was fine with me as I had stepped in an invisible hole (at least it was invisible until I stepped in it) late in the A side match as was feeling the result.   That, and my hamstrings decided that I was done running for the day and went on lockdown and resisted painfully all attempts to loosen them up.   The B side match was, as expected, a little sloppier than the A side but not too much as both sides recycled many of their players.   The match was far more competitive, however as UNR got on the board early with a burst up the left side for an unconverted try. SJSU didn't back down and responded in kind with some solid pressure that finally broke through the UNR line under the posts. This try was converted to give the Spartans a 7-5 lead.   This lead was manfully defended with bodies being put on the line across the field.   After a long period of back and forth UNR was able to finally take advantage of a SJSU penalty and break through for the winning score.   An entertaining match with some keen young players.
Date: 01/31/2015
San Jose Seahawks Women 5 – Sacramento Amazons 63
Referee: Pohlman, John
A beautiful day for rugby, saw San Jose Womens and Mens Clubs hosting a full day of games.
The Seahawk Woman had looked good last week. Sacramento Amazons are always good. I was hoping for a competitive game. And it was for the most part. This was the Amazons first game, but it didn't take them long to break into form. Led by Captain Mila and #13 Ofolangi Mailagi. The Amazons pretty much control the match. Mailagi scored a couple and set up a couple with some hard charging running.
First half 27-0.
The Seahawks continued to compete and were rewarded with a try 30 minutes into the second half.
Date: 01/31/2015
Pacific 20 – Humboldt State 5
Referee: Wood, Our Scott
If you want to host a day of rugby and have questions, the folks at NSCRO should be one of your first calls. Cal Maritime's pitch, stands, and press box are commendable. I have not had the opportunity to referee at CSUMB's facility (hint: Pete…) but Marc Fergusson reports the efforts made there are on par with this venue.
UOP scored an early unconverted try at 5 minutes in then the match settled down to an exchange of possession between the 22s. The first half penalties featured one team having gate entry problems and the other team's arriving players not keeping their feet. Nonetheless, the match was played with good competitive spirit and sportsmanship on both sides of the ball. At 29′, Humboldt State was less than a meter from scoring when its arriving players flooded the tackle and sealed off the ball. The ensuing penalty kick did not find touch resulting in Humboldt with a strong attacking platform. A penalty by UOP five meters from goal provided Humboldt with an opportunity that they seized scoring an unconverted try. Halftime tied 5-5.
The second half had fewer penalties, more knockons. Early on in the second half, Humboldt pressured UOP in an around its 22. UOP was able to gain possession and move upfield to its 10 meter line before being pushed all the way back to its goal line before finally finding touch. More back and forth possession. Fan comments at a neutral venue can be hilarious and off-setting:
Team A fan: "It can't be obstruction unless (insert erroneous perception)."
Team B fan: "Yes it can and it was."
UOP scored unconverted tries from a breakaway run at 55′ (unconverted), quicktap off a penalty at 64′ (unconverted), and at 77′ (unconverted).
Humboldt has a formidable defense and very good attacking prowess. The score could have been much closer or even reversed if they were able to get the ball out to their #18 more often.
Ethical Touch Judge of the Day Award goes to Pacific's Cassie Farnsworth for raising the flag when a Pacific player stepped into touch (later confirmed on the DVD) and standing up to a couple players who (hopefully in jest) derided her decision. There will be upcoming TJ/AR and referee courses….
Thanks to Cal Maritime, their volunteers, and the teams for making this a great match. HT to Steve HIatt for providing a copy of the match DVD.
Date: 01/31/2015
Olympic Club PRP 10 – SFGG PRP 59
Referee: Williamson, David
O-Club was competitive through the first half, trailing 19-10. SFGG's superior play in rucks, mauls, and open play resulted in 40 unanswered points in the second half.
EDITOR'S NOTE:  It is nice to see David Williamson back on the pitch refereeing top matches. Well done.
Date: 01/31/2015
Google 27 – Aptos 24
Referee: Smith, Pete
No report received
Date: 01/31/2015
Fresno State Women 56 – St. Mary's College Women 17
Referee: Jury, Jeff
It was a nice day for a run. Slight overcast and cool, dry half grass/half dirt pitch. The Fresno Girls started off with a try every 5 minutes and gradually worked to scoring towards the posts to the benefit of the Fresno State kicker. St. Mary's scored an uncoverted try with a minute left in the half. The second half played a little more even with Fresno scoring 5 unconverted trys to 2 trys and a conversion for St Mary's. FSU women 56 SMC women 17.
Date: 01/31/2015
CSUMB 15 – USF 43
Referee: Byrnes, Bryant
Concluding game of a eight team/ four match small colleges mini tournament wonderfully hosted by the Maritime Academy on its splendid new field. As my car skid into the parking lot at 5.40 (due to a delayed high school match), I was gratified to see both teams dressed and ready to go.
USF drew first blood, and kept up the pressure the entire match; its back line used the whole field. 24-5 at half. But kudos to the CSUMB boys, who respectfully declined to surrender.
Date: 01/31/2015
Colusa 43 – Sacramento Blackhawks 31
Referee: Richmond, Jeff
Colusa came out fast and hard, maybe too hard – they received a yellow for repeated high tackles then a red for spear tackle late in the first half. Still, they built a 26-0 lead by half. Sacramento was fielding their B side, filling in for a vacancy at the 6-team, 3-match "super site" event. Sac took advantage of being a man up pulling to within a try of Colusa. Sac then lost a man themselves to a red card offense and Colusa rebuilt their lead.
Mike King provided good feedback pointing out the high penalty count and ways to manage that better.
Date: 01/31/2015
Chico State 95 – Fresno State 0
Referee: Franzoia, Tom
A beautiful day for rugby in Chico with temperatures working there way into the mid 60's, so much for winter. Fresno State arrived late, 12:30, due to miss communication of the bus company arriving late to transport the team to the frustration of Dan, their first year head coach. The game started at 1:15 with Chico State scoring first and never looked back as they led 58-0 at the half with 9 try's, 5 conversions and a penalty kick. The game was controlled by Chico from the outset with players in far superior shape then their opponents. I was informed pre-game that the Chico State players have hired a trainer to improve their strength and endurance as was evident the entire game. The scoring slowed in the second half with 7 tries and a conversion. Chico's 8 man was a beast, picking the ball up from the scrum and rumbling for 5 try's as the other scores were out to the wing, working the ball back and forth down the line to the exasperation of the Fresno State players.
Date: 01/31/2015
California B 108 – Arizona B 0
Referee: Sandhill, Peter
?s?nss? ??q ou ???? ??????? o? ???? ?s?? u? ??u?d?n?? p?uo??s?? plo poo? ? o? p?l ????? ?s?? ??? ? o?u? p?u?n? ?I ??ll??????? pu? u?op????q ??? ?? ?l??ln?????d sl???l ll??s ?o???dns p?p s? ???d ? p???ld ss?u??? ??l?? ???? ?o s??nu?? u?? ?s??? ??? ?o? ???? l?? ??? ???? ????? ???? ???s????u? ?uoz??? ?p??? ??ld o? ?p??? ???? q l?? p?ll??p ll?? ??? ???? p?o?? p?z?s ???u 's?????p 0? ?uuns ln???n??q ? s?? ?? '??l????q ?? 'pl??? ?????M ??
Date: 01/31/2015
Cal Women 10 – UC Davis Women 50
Referee: Tetler, Jen
There were nerves and excitement as we prepared to kick off at Witter Field on Saturday. Cal won the toss and chose to defend, so Davis kicked off and fairly quickly stole the ball back by rucking aggressively and broke a few tackles to get the first points on the board in under a minute. Cal tried to recalibrate, but they were plagued by ineffective tackles and weak scrums while Davis's backs cut through the defense and their forwards were aggressive and quick to support. Davis's #12 and fullback were particularly effective in breaking tackles. One Cal tackler unfortunately put a girl on the ground with a bit of tilt, so I had to give a yellow. The half ended 33-0. Cal came out with more spirit after halftime, starting with stronger scrums and crisper play, but Davis had the momentum. Davis scored 3 more tries in the second half, including one at the last minute. Cal got on the board with two tries from their kick. Final score was 50-10.
Date: 01/31/2015
Cal Maritime 32 – Sierra College 19
Referee: Bertolone, Cary
A beautiful day at Cal-Maritime, about 75 degrees with no wind. 8 colleges playing 4 games; a lot of people in the stands and live play by play announcers, new turf, awesome scoreboard and at the end of the match, Cal-Maritime's coach Steve hands me a DVD of the match. How cool is that!!!
The game started out all Cal-Maritime as they scored the first 4 tries, taking a 20-0 lead. Sierra comes back and scores two converted tries within 1 minute of each other and quickly makes it a game at 20-14. For 15 minutes, both teams played evenly, but Cal-Maritime seemed to be in better shape and scored two tries to one to end the game 32-19. Both teams played well and were great sportsmen; coaches too! Great day.
Date: 01/31/2015
Berkeley 19 – Life West 62
Referee: Pescetti, David
No report received
Date: 02/01/2015
Stanford 41 – Colorado 24
Referee: Bretz, Paul
Stanford defeated Colorado 6 try's to CUs 3 try's on Sunday. This marked the 3rd game for me in two days and my knees are feeling it. CUs scrum was dominate thought he game but Stanford's support play, defensive cohision, and conditioning proved to be more effective. Thanks to newcomer Andrew Bailey and high school athlete Thomas for ARing.
This Week's Photo
Team of Three Bruce Ricard, Leah Berard, Eric Rauscher at St Mary's new pitch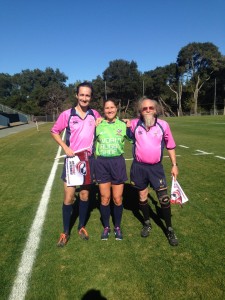 Hail, Pelicus!
For the Senate
Pelicus Pedem Referre