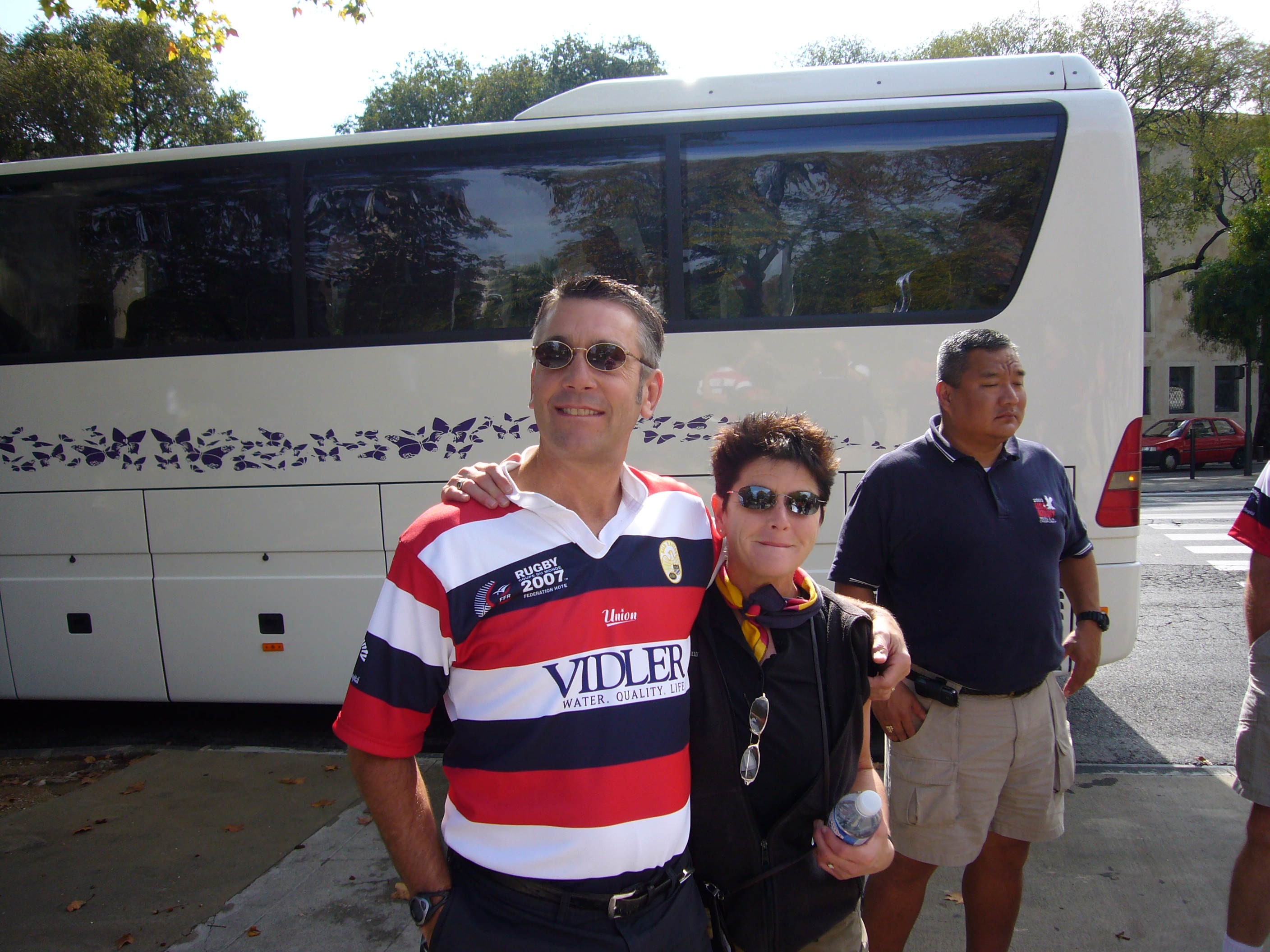 HAIL PELICUS!
Super Rugby
As we boldly forge our way ahead into the Century of the Fruitbat new things appear on the rugby scene as old things fade away. Sometimes the new things resemble old things and give hope that some old things may reemerge, like a 17 year cicada, to overwhelm American rugby as it did in the past.   So what bold new idea are we speaking of?   What old retread is threatening to rise, Lazarus style, from the grave?   I am speaking of Super Sites and Tournaments, naturally. The Super Sites were rolled out for Men's D3 this year and came back to mixed reviews – some liked them and some didn't. Some were well organized and some were less so.   Some teams stuck around to drink beer, watch rugby and socialize and some teams took off immediately.   There were lessons learned, feedback given and notes taken, but overall we can consider the first iteration of the Super Site concept a success.
Next question to be addressed: Is it a Super Site, a Supersite, soup or sight, or just a super site?   I'll need to get clarification on that.
So what does this have to do with tournaments?   The last 2 decades have seen USA Rugby get more organized around the various national championships and, by extension, have expanded the playoff structure all the way from the national level to the local level.   The, possibly, unintended effects that this had was to kill the spring tournaments that used to flourish in the rugby landscape.   Teams are playing or preparing for playoff games as we go through the local playoffs, then the territorial/competitive region playoffs and finally the nationals.   Teams can't commit to a tournament because they don't know if they are committed elsewhere and any tournament budget is sucked up in that trip to Dallas for a regional playoff. From the late 1960s until the mid 1990s the Santa Barbara International Rugby Tournament was a must-play event marked on a club's calendar in indelible ink.   Your humble correspondent ran this event in 1992 and 1993 with over 70 teams across several divisions on 8 fields.   Now the tournament is no more and I tell youngsters about the glory days while yelling at them to GET OFF MY LAWN!   When I joined the San Jose Seahawks we went every year to the Golden Gate Rugby Tournament held up in San Francisco on the Polo Grounds.   Numerous fields covered with ruggers from all over playing the Game That Is Played In Heaven.   This has also succumbed to the vagaries of modern rugby.
The Super Sites were a taste of a tournament atmosphere.   I felt it up in Reno last weekend, a feeling that many young ruggers have not experienced.     Once people get used to this concept I hope to see some Lazarian tournaments arise again. That would truly be Super Rugby.
Playoffs Are Coming!
We are reaching the business end of the 2014/15 season so to that end we need to know availability so we can assign Referees, Assistant Referees, and Referee Coaches/Performance Reviewers/Other Names I Have Thought Up for the conclusion of the season and playoff matches. Please ensure we get your details by going to assignr, logging in, and posting availability.
Ask A Pelican
Yes, it's time for this week's installment of "Ask A Pelican", the widely loved Q and A session with Hail Pelicus.   This week's question comes from Captain "AR" Blackbeard of The Seven Seas, who asks:
"Yer Cap'n Bretz gave a fine chinwag fer duties o' an AR last night.   I be wanting to ARRRRRRRR meself in these upcoming battles. Be I shipshape fer the job?"
Aye, aye Captain, your message has been received!   To be an official AR for a playoff match you must have completed the USA Rugby Assistant Referee course.   If you haven't yet don't feel like you have to walk the plank – we here in Pelicanland are looking to see if we can get an AR course scheduled before the playoffs start in earnest.   An eye patch and parrot is not mandatory, though often appreciated.
Pelicans Flying Ever Higher
Two promotions were announced at this month's society meeting:
Matt Hetterman has been promoted to C1
Joe Delvin has been promoted to C3
Congratiilations to both of you! Keep up the hard work and dedication.
Pelicans Abroad
From Pelicus Avoidus Whistle Dude:
I reffed at the French 1/4 Fest Old Boys this past Saturday taking a break from the free music, food & drink which goes from Thursday to Sunday interrupted by a few showers each day. Palmer Chiro, Baton Rogue, & mixed teams from both Washington, DC & Texas were hosted by the New Orleans Rugby club which beat the Texans in the first match I reffed 15 – 0; & went on to win the tourny. Pretty humid conditions in between the storms & bars with more free bands on on Frenchmen Street. I can't wait to return for my 9th year next year.
April Society Meeting
This month's meeting was yesterday.   I am sure you already knew that, though.
Disciplinary Action Reporting – Process for reporting incidents
The various competitions all have their own disciplinary chairs and this will make it difficult to centralize the communication and data.  To help Scott Wood has developed a form that will centralize the process, regardless of the competition.  The link to the discipline form is https://docs.google.com/forms/d/1mmUNg11uVOSkIsUtHifSqQzalhWbwohk_J6AmPyrucQ/viewform
Copy the link and have it available on your smartphone.  If you have an Iphone add the link to your home screen.
When needed fill it out and click submit.  The discipline chair of the competition you refereed will receive a notification about the incident.
He/she may contact you latter for more details.
On To The Game Reports!
Date: 04/12/2015
New England Collegiate Rugby Conference Sevens Championships
Referee: Zanarini, Tom
Location: University of Rhode Island, South Kingston, RI
Competing schools: USCGA, Univ. of Vermont, Univ. of New Hampshire, Norwich University, Boston University, Univ. of Rhode Island
Final: US Coast Guard Academy 15 – University of Vermont 10
Finally! The winter has passed. Spring has arrived and all is well with the world. The gift of spring brings a gift of sevens. The rugby season here is flip flopped from California as most of you know. League matches are played in the fall, while the spring season is meant for thawing out and getting some friendly matches to tune up for playoffs, if you made it that far. With the growth of sevens rugby in college programs, we are now seeing spring sevens tournaments in New England, much the same as California now has fall sevens tournaments. Thus the never ending debate of 'when is the rugby season?' continues. So, when is the rugby season? Yes. Just answer 'Yes.' It is always rugby season.
URI hosted a 15s tournament on Saturday. I'm sure it was a friendly tournament. Why that was held the day before a sevens qualifier tournament I'll never understand. Old habits I suppose. Young legs don't care, they just wanna play. At any rate, 6 schools participated with A, B and C side brackets. My matches included 1.) USCGA 19 v BU 5; 2.) URI 19 v Norwich 20; 3.) Norwich 5 v UNH 5; 4.) UVM 17 v UNH 5; and the final for 5 total matches, which was bequeathed to me due to the tie match #3.
The prediction was that the Coast Guard Academy would run away with this game as they beat UVM 29-0 in pool play. But that game started soon after UVM arrived from a very long bus ride. They found their legs as the day went on and earned a championship berth. The scoring in the final was back and forth and could have been a different result if the match were 10 minute halves. Best of luck to the Coast Guard as they move on to the NSCRO sevens championships in Glendale, CO.
EDITOR'S NOTE: I rather think that you were awarded the final not because of your draw earlier in the da, but because of your outstanding officiating. The Aura of Pelicus that surrounds you may also have helped as most societies look upon us here in Pelicanland with a mixture of awe and heady jealousy, as well they should.   You still owe the society a beer for that tie the next time you travel to Pelicanland or meet one of the members abroad.
Date: 04/11/2015
Aptos 0 – Life West C 0
Referee: Wilson, Giles
The super site model has been set up to be similar to tournament rugby in that many sides are present at the same location and they have the opportunity to make it more than a regular game and party.
From the start, the model was a little too close to be true with a couple of drop outs, something that even happened at Monterey in it's heyday (but with an element of these young kids don't know how to travel any more….) However, besides a few teething problems on the set up, those that traveled had a good time and rugby was played and some players filled out teams missing players (traditional rugby whores).
Some of the Mendo players enjoyed the night before a little too much, while injuries have decimated Sierra who required several loans of local players. This sounded like a mismatch but the first half belied that description with Sierra getting on the board first with a converted try. The teams went back and forth in the first half which ended at 27 (5 tries) to 22 (4 tries) in favour of Sierra.
In the second half, Sierra hung on to score three more tries but fatigue and the unfamiliarity of players with each other meant that their defensive pattern was ad hoc and Mendo worked over 9 second half tries for a final of 75 (13 tries) for Mendo to 46 (8 tries) for Sierra.
All involved departed for well earned burgers and libations which may or may not have assisted with the dehydration.
This is a good idea and I look forward to participating in more – it is nice to see multiple referees along with many rugby friends on multiple teams.
Date: 04/11/2015
Baracus 59 – Diablo 29
Referee: Ricard, Bruce
Diablo started the game very strongly, completely dominating Baracus. They scored 3 tries in the first 10 minutes of the game, to lead 19 to nothing. The next 30 minutes of the first half were much more balanced, but Baracus' game strategy was better, opened space for their backs, who scored 2 times. 14 – 19 at the break.
The second half was the exact continuation of the first one: Baracus playing better and better. They scored an unconverted try at the beginning of the half, tying the game. Diablo scored a penalty goal from 40m to retake the lead, but after that is was all Baracus. Their English full back had a devastating sidestep, and was playing formidable counter-attacks. A few times he caught his opponents' long kick, ran between the defenders, and drew the last defender before passing to his winger. Some very beautiful plays by the Baracus backs. They score 7 tries in the second half, when Diablo could only score one.
Baracus 59 (9 tries) – 29 (4 tries) Diablo
Date: 04/11/2015
Life West 64 – Berkeley 17
Referee: Gordon, Preston
Life scored early and fairly often in this game. It was a pretty nice afternoon at SFGG too.
Date: 04/11/2015
Life West Women 55 – Berkeley All Blues 2 30
Referee: Pohlman, John
Life West Woman hosted The Berkeley Old Blues second side this Saturday at 5:00PM. The games were moved to SFGG's field on Treasure Island. Beautiful day, Beautiful field and location and most importantly some beautiful rugby. I had refereed both these teams earlier in the season and both have improved. The level of rugby was quite high. Both teams played psychical, clean rugby. Both teams showed closing skills finishing off scoring opportunities as they arouse.
Both teams scored four trys each in the first half. Life's captain and kicker Jen converted two of Life's trys to lead at half time 24-20.
Life's hooker was my player of the day. She took the ball up hard breaking tackles and scored a hat trick. Life's bigger players wore down the younger, smaller Old Blues team to pull away with a 55-30 final score.
Date: 04/11/2015
California Maritime Academy 29 – Colorado School of Mines 7
Referee: Pescetti, David
We kicked off the NSCRO PacWest semifinals between Cal Maritime and Mines. Vallejo provided perfect backdrop for playoff rugby.
The match began with hard physical hitting between two sizable teams. Both equally matched in ability and drive. The keel haulers were there fractions earlier. The half ended with Maritime 17 – Miners 0.
The second half was a change of wind. The miners dig in their heels and they chipped back at the Maritime lead. However, on this day the sea sailed over the rough rocky deep earth 29 – 7.
Date: 04/11/2015
Reno 69 – Shasta 10
Referee: Byrnes, Bryant
The mastodons of the southern Cascades lumbered south to meet the not so gentle Zephyrs of the Sierra on the alluvial plains of the Basin and Range -aka the Reno super site. [Author's note to Editor; I learned this stuff in Geology for Non Geology Majors back in my antediluvian university days. The hell with Roget's.]
Not exactly a closely run thing; Redding played about 12 forwards against an undefeated Reno team. But good spirited real rugby enjoyed by all. And nice play by the scrum halves.
EDITOR'S NOTE: Touché.
Date: 04/11/2015
Sacramento Blackhawks 76 – Chico 29
Referee: Boyer, Rich
As I approached Danny Nunn park I thought I was mistaken on match time….only a few Chico stragglers (and no fans) were in sight. They continued to trickle in, 16 strong, when the Blackhawks arrived on the pitch at 12:55. Nonetheless both teams were ready to go shortly thereafter. Chico opened up an 8-0 lead on a great flyhack and chase by captain Casey, followed by a penalty kick. An inordinate amount of handling errors were observed, as one player remarked, despite the perfect playing conditions. Blackhawks began playing their game, offloading in/before tackles, and the tries began ringing up. Blackhawks were up 47-8 at half and had momentum. Credit to Chico, they never stopped trying, and all of a sudden the momentum shifted back as they rang up three tries precipitated by quick thinking/quick taps from captain Casey and some yeoman's work at the breakdowns. Even as they lost two players to injury and went to 14 for the last twenty minutes Chico continued to battle. Blackhawks countered with free flow play and racked up four quick tries to close out the match. Hard fought, great sportsmanship and only a handful of penalties.
Date: 04/11/2015
Sacramento Lions 20 – EPA Bulldogs 48
Referee: Wilson, Dan
What shaped up to be a heaving hitting power match between the Sacramento Lions and the EPA Bulldogs didn't turn out that way. EPA controlled the ball from the initial kick off, scoring converted tries in the 5th and 11th minute. Most of the first quarter was played inside Sacramento's 22-meter line with staunch defense holding out other scoring opportunities. In the second quarter, both teams traded unconverted tries with Sac pulling together as a team and getting effective wide ball going. EPA, however, was scrappy and turned defense into offense quickly dotting down a converted try at the 40th minute. Halftime score: Sac Lions 10 – EPA Bulldogs 31.
The second half continued how the first went, with EPA controlling much of the tempo. Injuries seemed to be the main defense against EPA. The Bulldogs scored three tries, one of which was converted, and the Lions scored one converted try and one penalty kick. Overall, great spirited game and enjoyable to referee. Full time: Sacramento Lions 20 – EPA Bulldogs 48.
Date: 04/11/2015
Santa Rosa 69 – San Jose 19
Referee: Bertolone, Cary
Summer Intern Made Good: Lee Johnson
Hot day at For Pete's Sake in Santa Rosa. Traffic congestion for the visitors caused a little bit of a late start. Rosa wasted no time, scoring in the third minute. Down 17-0, Seahawks pushed with forward work to close the gap to 17-7, but it was all Rosa the rest of the half. They had good forward work, but their speed, both in the backs and some of their forwards, was too much and they took a 43-7 halftime lead (with 6 conversions from 7 tries and a penalty kick; Stein is a really good kicker). Seahawks started strong with a converted try in minute two of the second half, but four more tries from Rosa in the second half to create a lopsided score. Seahawks scored a try in minute 38, showing they fought to the end. Good game to watch is what I heard from the crowds. Thank you Lee Johnson for giving me advice and for watching my refereeing.
Date: 04/11/2015
Santa Rosa B 40 – San Jose B 7
Referee: Bertolone, Cary
In the second game, Rosa had all fresh players, as well as substitutes. Seahawks had some of the same players on the field again and it was pretty hot. San Jose scored first and played pretty evenly for a time, but the fresh players from Rosa wore them down and Santa Rosa won this game also, 40-7. Again, Rosa's wide open style and timely passing was fun to watch and hard for the Seahawks to equal, although the Seahawks had some good passing also. I should have been drinking more water in between games because in the second game, my calves were threatening to revolt (cramps) any time I had to sprint. So, I was grabbing water from the sidelines as often as possible, which helped me with the second half, but I will admit, there were some breakaway ties in the second game where I was further away than I should have been. HYDRATE!!!
Date: 04/11/2015
SFGG 0 – EPA Razorbacks 41
Referee: Coppinger, John
AR: Sandy Robertson
AR: Paul Simko
This match marked the first day of formal use of the new, all-weather turf Rich May Field in East Palo Alto. The field is named in honor of Rich May, an East Palo Alto police officer killed in the line of duty in 2006, and was built through the extraordinary efforts of the Rich May Foundation (http://www.richmayfoundation.org/), spearheaded by Rich's mother, Clarice Merrill, and his step-father, Frank Merrill, former president of the Pacific Coast Rugby Union and long-time Nor Cal Rugby stalwart. The next step is the installation of lights and tax-deductible contributions are more than welcome to help finish the project.
The match started as a battle and SFGG was tough for the first 30 minutes when the damn broke and EPA began to score more often than not.
Typical rugby match; one side alleging that their opponents had knives, guns, and cudgels (without any evidence of gun fire, wounds, or blood); and the other side claiming that the referee favored the other side even as the complaining side was awarded penalty after penalty. Thanks to Sandy Robertson and Paul Simko for acting as Assistant Referees (and neither of whom saw any evidence of knives, guns, and cudgels). Really, the whinging has to stop; it's rugby folks.
Date: 04/11/2015
SFGG B 14 – EPA Razorbacks B 70
Referee: Simko, Paul
Great day in EPA with the unveiling of Rich May Field. It doesn't get much better with fans, VIP tents, and pig roast (3 pigs). SFGG didn't have many second side players, so they played 10's for 15 minute halves. Half of the players on SFGG were EPA players, so it was a fun lighthearted match among friends.
Date: 04/11/2015
SFGG Women 38 – Sacramento Amazons 29
Referee: Freitas, Larry
For once I left my home in Aptos dressed in street clothes, knowing that upon arrival at Treasure Island I would have a referees' room to get dressed for the game.   The kickoff to this encounter was at 12:10 following a high school boys match. San Francisco Golden Gate and the Sacramento Amazons were apparently well matched according to various reports I'd read and heard, and for the first twenty minutes there was no score as both teams failed to complete any forward or backline moves. The tackling was crisp and clean, and play generally within the confines of law. Sacramento penetrated deep into Golden Gate's half, and a maul formed near Golden Gate's goal line, with the Amazon's pushing it over and one of their players touching down for the first converted try of the game. Some ten minutes later, Amy Fletcher, one of Golden Gate's second rowers, took off with the ball and scored, drawing level with the conversion.   Later in the first half Golden Gate's fly half followed up a kick downfield, dribbled it toward the Amazon goal using soccer skills, and the SFGG right wing pounced on the ball in-goal for another try and Golden Gate's lead that they would never surrender. Another SFGG try made the score 19-7 at the intermission.
The second half opened with Sacramento gaining much possession and pressuring San Francisco in their end, and they would eventually give up a penalty near their goal. A tap and go from five meters led to the Amazon's second try of the match at fifty-one minutes. Golden Gate's ensuing kick off was deep enough to land near the 22, and the Amazon players didn't get a handle on the ball. Amy Fletcher did, and she ran away from would be tacklers for her second try of the match for the home side. Sacramento would score another try from another penalty that was run at 58 minutes. It seemed momentum was flowing toward the Amazons, as they had made a few substitutions, and their new scrum half was sparking their play. Amazon forwards were rampaging into Golden Gate territory, gaining ground, going to ground, and forcing Golden Gate players to tackle time and time again; and at various times Golden Gate's defenders were a bit hasty in anticipating the end of rucks, giving away penalties and ground. Another Amazon try came from a ruck that developed some ten meters out from Golden Gate's line near the touchline, and the Amazon scrum half ran to her left and shifted the ball out to her backline, with the ball passed on quickly to the left of the posts in the classic fashion, so that one of their backs could score another try that was converted. Now the score stood at 31-24 with not much time left. Golden Gate responded by scoring a converted try with some four minutes left in the game. Sacramento would score once more with time running out, and after the conversion kick was taken and missed, I blew the whistle for no-side. Final score SFGG 38, Amazons 29. I'd say both teams were a bit gassed at the end of an enjoyable match to have adjudicated.
Golden Gate's clubhouse is such a rare treat after a match: shower, food, and drink, and socializing with players, ex-players, and referees. The place is really a rugby museum as much as it is a clubhouse. I certainly enjoyed the experience.
Date: 04/11/2015
Silicon Valley 7 – Colusa 61
Referee: Hinkin, James
Something is wrong when there are two 5:00 in a day, but Saturday it was so as the gentle strains of my phone's alarm eased me from the grasp of Morpheus at 4:45 am.   I love technology – it is so much nicer to awaken this way rather than being unceremoniously jolted from sleep with a loud and harsh buzzer.   So, awake at last, freshly scrubbed and kit bag at the ready I hopped in Pelicus Fistulator's rocket van for the long drive to Reno.   On our way we picked up some bagels that came with Pelcius Procrastinorix and coffee.   With breakfast well and truly served we rocketed northward and eastward to The Biggest Little City In The World for the final Division 3 Supersite weekend.   My fears about not arriving on time for my 11:00 kickoff were unfounded as, reminiscent of a previous story in HP about travelling to Humboldt and arriving 1 hour before kickoff, Pete "Fistulator" Smith pulled into the parking lot and turned off his rocket ship at exactly 10:00 – approximately 260miles and we arrived 1 hour before kickoff to the minute.   I'll let you, dear reader, ask him what time we left San Jose.
The Circle of Life was in evidence as back in January I refereed the first ever match for Silicon Valley RFC and today I refereed final match of the year for them.   Unfortunately for the rookie club the result was the same and possibly the reason: too many rookies.   They have the makeup that one would expect of a new D3 club: some wily vets who may be past their prime, a few players who know what they are doing and a couple of athletes who have no clue but like to run around and smash things.   They came up against an organized Colusa side that tried to cheat early, were caught, and then were smart enough to adjust resulting in open, expansive rugby. They scored early and often while limiting SV's attacks to minimal gains.   The game was enjoyable (for me) and played in good spirit with the notable exception of a young rookie fullback for SV who didn't seem to understand that loudly trash talking (actually shouting as loud as he can) is generally a bad idea and especially a bad idea when you are getting beaten so badly on the field.   SV's captain Paul Davis had his hands full dealing with this player and the many other silly rookie mistakes and handled the responsibility admirably so that I did not have to deal with it myself. He is in his first year of rugby and is a player to watch.
The half time score was 37-0 and to their credit, Silicon Valley kept plugging away until a kick and chase garnered them a well deserved try.   This, of course, happened just after one of the greatest passes I have ever seen as SV produced slow ball to their flyhalf who rushed a clearing kick only to see it go off the side of his boot. The resulting kick streaked across the field into the arms of the chasing open side winger without his breaking stride with 30 m of open grass in front of him.   Magic.
Colusa were dominant in all phases and took their foot off the gas a bit in the second half as they emptied their bench.   Their tighthead prop was especially helpful when SV brought in an inexperienced prop to go against him and he helped keep the scrums safe and provided a few tips to the appreciative young rugger.   Well done, sir.
Hakuna matada. I finished the first match scheduled and retired to the beer tent to observe the rest of the day's rugby.   As this is D3 rugby there are certain traditions that must be kept so, as protocol demands, a boat race was organized and officially started by the official, that being me.   The results of the boat race are a closely held secret, one that I will never tell.
Date: 04/11/2015
St. Mary's College B 53 – Santa Clara B 5
Referee: Tetler, Jen
After seeing a bit of a runaway A-side game, I was hoping that this B-side match would be a little more competitive…and it actually was (although St. Mary's still clearly dominated). The first try for St. Mary's didn't come until 15 minutes into the match. After that they had a nice breakaway down the sideline and another couple of breaks through the middle. The first half ended with St. Mary's up 24-0. At the start of the second half, Santa Clara was backed up into their try zone. They played some excellent defensive for several minutes until St. Mary's was finally able to find a way over the line. The next try was practically like a soccer game, with kicks down the middle of the field led to a great race between two players, but St. Mary's was able to fall onto the ball in the try zone first.   A few minutes after that, Santa Clara got the ball out wide and their wing was able to get around the outside and score a try. Much cheering ensued!! St. Mary's scored 3 more tries in the game, for a final score of 53-5.
Date: 04/11/2015
Stanford 12 – Chico State 25
Referee: Richmond, Jeff
Chico used a strong pounding attack by their forwards to gain ground off each breakdown. When Chico went wide, Stanford positioned extra men on the defensive line, limiting the Chico backs. Stanford was more disciplined and effective in developing their back line but possession was dominated by Chico. Thanks to Neil MacDonald for AR support and his ref coaching.
Date: 04/11/2015
UC Davis 81 – Sacramento State 0
Referee: MacDonald, Neil
One way traffic, as Sacramento State struggled to regain possession from a dominant UC Davis side, who scored freely through a combination of smash mouth pick and go play, and pace and width from the backs.
Date: 04/11/2015
Vacaville 33 – Sacramento Capitals 66
Referee: Lane, John
A warm day in Vacaville – and the longest grass I have ref'd on since my move to US last year.
Walking into the football field the baseball fields were in full swing – it must be April!!!!!
Two enthusiastic sides took the field after the equipment check and captain talk and coin toss.
Sacramento chose ends so Vacaville kicked off. They quickly re-gained possession and controlled play for the first two minutes. But a midfield handling error and a quick pick-up and release put Sacramento in for a converted 50+ yard try. 0-7 at 3 mins.
For the next 15 minutes Sacramento dominated possession and territory but Vacaville held their line intact. Vacaville's scrum was in the ascendency which helped them through this period of the game. Having held out, on 18 mins it was their turn to score. Some good handling and strong running through a few phases resulted in their first score, converted. 18 mins tied at 7-7. Play was even for the next few minutes but Sacramento then broke through again on 27 mins for 7-14 and from another turnover situation scored again on 31, unconverted. Leaving the score at 7-19. Vacaville put in a strong finish to the half and deservedly scored on 39 mins bringing the halftime score to 14-19.
The second half again started with an early score for Sacrament0 on 43 mins to stretch the lead to 14-26. Vacaville responded with a wide out score on 47 mins to continue the tit for tat scoring and 19-26.
The next 15 minutes decided the match as Sacramento through some good play of their own but aided heavily by Vacaville missed tackles and turnovers scored tries on 51, 53, 55, 58 and 62 mins with all bar 1 being converted for a 40 point lead at 19-59.
With their pride dented Vacaville responded with a converted try on 64 mins for 26-59. They continued their last quarter efforts but conceded again on 71 mins after a blood injury delay had slowed the game. 26-66. Again with some encouragement from their sideline support they regained field position and crossed in the left corner and an excellent conversion kick brought the score to 33-66 on 75 mins.
The remainder of the game was played out mainly in midfield with both sides tiring visibly in the heat and the game finished on double scores 33-66.
Date: 04/11/2015
Humbolt State Women 87 – West Oregon Women 12
Referee: Lew, Tim
Humbolt State v West Oregon – Humbolt State ran all over West Oregon to win the first round of Women's Sweet 16 to advance to QF and play Cal State Northridge the following day at Stanford.
Date: 04/12/2015
New Mexico Highlands University 28 – Colorado School of Mines 24
Referee: Pescetti, David
Two teams very familiar with each other traveled a long way to play for the fourth time this year. The match started off with an impromptu singing of the national anthem. Sung as only collegiate rugby players could, out of tune and out of synch.
The match couldn't have been any different from the singing. They played as two teams who are all too familiar with each other. The first half was a stalemate at 5 points apiece.
The second half was a blown open. Both teams were able to put a plethora of points up. The open play was a treat to witness. The end finished with rushed with both teams refusing to be outshined. The last two plays were tries from each team. They both fought to the last second.
Date: 04/12/2015
Stanford Women 0 – Sacramento St Women 0
Referee: Richmond, Jeff
This was the consolation match for the weekend playoffs. Sac State arrived with 17 players and a relaxed attitude. The humbling at the hands of UC-Davis the day before, left them ready to end the season on a high note. Stanford approached the day with the same pre-game discipline and preparation as they would any match. The game was a good one for the few folks that came to watch on a Sunday morning. Sac scored first and that seemed to light a competitive fire. Sac kept a lead through the first half with strong running and shaking off first contact with Stanford tacklers. Stanford stayed close trailing by 3 at half time. Stanford drew from their deep bench and the fresh legs enabled the Cardinals to put together two tries in a 5 minute span early in the second half. After looking like they were going to wilt under the Stanford attack, Sac fought back with scoring of their own, drawing to within 4 points with 2 minutes. The Stanford defense held got the win. The caliber of play during this match demonstrated why these two teams had advanced to the playoffs.
EDITOR'S NOTE: Apparently with all that excitement nobody scored and the game ended in a 0-0 tie.   You owe the society a round of beers, Jeff.
Date: 04/12/2015
UC Davis Women 0 – Chico St Women 0
Referee: MacDonald, Neil
UC Davis carried the day in this highly contested and physical final between the two strongest sides in D1AA's Pacific Western conference. A brace of intercept tries by UC Davis's #11, taking his total for the weekend to five, enlarged the score differential between the teams, as UC Davis' defense repulsed Chico State's attacks for much of the match.
Many thanks to Jeff Richmond and Patrick Mulholland for their AR help, and to both teams for a great match.
EDITOR'S NOTE: See above note.   You also owe the society a round of beers, Neil.
Date: 04/12/2015
Humbolt State 35 v Cal State Northridge 37
Referee: Lew, Tim
In the closest game of the weekend, Cal State Northridge narrowly defeated Humbolt State to advance to Pittsburgh for the Women's D2 final four.
This Week's Photo
In honor or Throw Back Thursday, I am digging into the archives to show you Pelicus Pilula Biberarius and his wife on tour in France for the 2007 Rugby World Cup.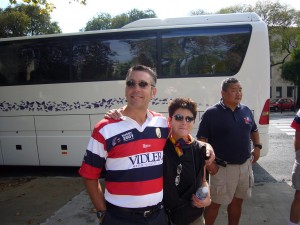 Hail, Pelicus!
For the Senate
Pelicus Pedem Referre