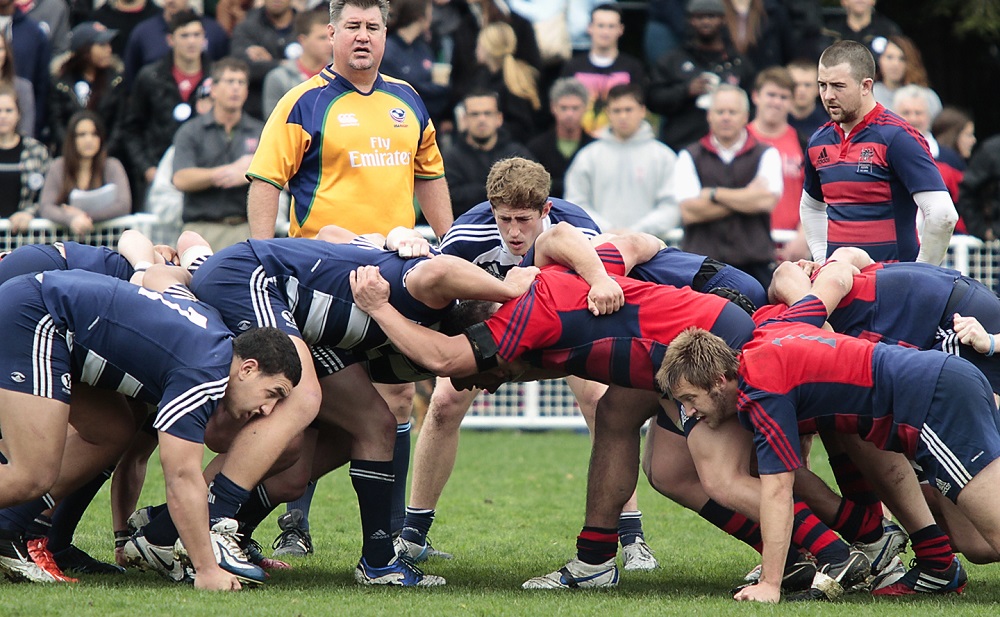 The Biggest Games Of The Year… So Far
HAIL PELICUS!
The Biggest Games Of The Year… So
Far
For lo! The Lord thought unto himself that people should be able to swiftly and efficiently move from the East Bay into the shining city of San Francisco when the mood struck them and, verily, should the hipsters and hippies prove too much for one's soul, speed their egress back unto the East. And the people rejoiced, for unto them came a vision of smooth and timely transport. So the Lord rolleth up his sleeves and proceedeth to design, and he wrought an interchange of a Trinity of mighty freeways, the 80, the 880 and the 580. And the Lord smiled and he was well pleased. Then the Lord looketh a mite further and sayeth unto himself, "Self, thou art powerful, why not allow ease of access for the 980 and highway 24?" So he broughteth in more roadways and fed them all onto the Bay Bridge. The people saw this and sayeth unto him "Look, O Lord, this is nice and all but with all these freeways and highways coming together at one spot won't it be crowded all the time? Even on weekends? To the point where you can hardly move?" The Lord looketh down and sayeth, "This is all for your own good. I have your best interests at heart." And the Lord was again quite pleased for his intentions were good and worked them into the very roads themselves.
And the Devil looked upon this work and smiled, for he saw that the roads were indeed paved with good intentions and knew well where that led.
Promotions
It is always exciting to see Pelicans soar higher and so congratulations are in order for the most recent round of promotions. These were also announced at the February Pelican meeting by Paul Bretz, our Referee In Chief.
Mike King has been promoted to Performance Reviewer
Lee Bryant has been promoted to C1
Tim Lew has been promoted to C2
David Pescetti has been promoted to C2
Promotion is thirsty work so should you happen upon these birds it would behoove you offer them a pint.
Touch Judge and Assistant Referee Courses Coming Up
The Northern California Rugby Referee Society (NCRRS) will host both a Touch Judge Course and an Assistant Referee Course on Sunday, March 30, 2014, at the San Francisco Golden Gate Clubhouse, Treasure Island, San Francisco, CA. The Touch Judge Course will begin at 9:30 a.m. and conclude at approximately 12:30 p.m. with a written exam. The fee for the Touch Course is $25. The course fee for members of the NCRRS will be paid by the Society.
The Assistant Referee Course will began at 1:00 p.m. and conclude at approximately 3:00 p.m. The fee for the Assistant Referee Course is $25. The course fee for members of the NCRRS will be paid by the Society.
Lunch will be provided for all students who register for both the Touch Judge and the Assistant Referee Courses.
Persons desiring to register for these courses must be CIPP registered members of USA Rugby.
Registration may be accomplished as follows:
By members of the NCRRS

By contacting Mike Malone no later than March 20, 2014, at mgmalone@comcast.net;
By persons not members of the NCRRS

By registering and paying the course fee by credit card online no later than March 20, 2014, at http://usarugby.org/referee-courses; or,
By registering with Mike Malone, the courses' Lead Trainer, no later than March 20, 2014, at mgmalone@comcast.net and bringing to the course a check in the amount of the applicable course fee(s) made payable to the Northern California Rugby Referee Society.
Please contact Mike Malone, mgmalone@comcast.net or (415) 472-2091 if you have any further questions.
And now on to the games…
Arguably the 4 best university sides in North America were in action last Saturday as California hosted the University of British Columbia and St. Mary's hosted BYU. Also, two of the nation's top club teams met in a local derby as Olympic Club clashed with SFGG on Treasure Island… all of this within a few miles of each other. No other society gets these kinds of games on the same weekend – often not in the same year. It's just a regular mid-season weekend in Pelicanland, though. Thank your lucky feathers.
Date: 02/15/2014
St. Mary's College 30 – BYU 24
Referee: Smith, Pete
This game lived up to its heavy weight billing in every sense. The game had almost everything in it a game should have…scoring in all forms (the drop kick was something I haven't seen in a while), long runs, big tackles, pick and drives, crashing centers, speedy wingers, expansive play…everything but foul play. Both captains were a dream to work with. On a few occasions while playing a penalty advantage the BYU captain simply asked for the penalty-done. There were lead changes throughout the game with St. Mary's in the lead at the final whistle. This is a game that could have gone either way with neither team ever having a commanding lead. Phil Akroyd is in for a real treat for the rematch in SLC!
Date: 02/15/2014
California 33 – UBC 24
Referee: O'Neil, George
No report received. A writeup can be found here: http://www.calbears.com/ViewArticle.dbml?SPSID=749410&DB_LANG=C&ATCLID=209408110&SPID=126508&DB_OEM_ID=30100
Date: 02/15/2014
Olympic Club 10 – SFGG 24
Referee: Bretz, Paul
SFGG moved to 3-0 and sole ownership of first place with. A win over Olympic club 24-10. Thanks go out to Nome and Neil for their excellent ARing.
Date: 02/15/2014
Berkeley 7 – Baracus 20
Referee: Hinkin, James
A quick trip north to Berkeley put me in charge of the Berkeley v BA Baracus clash and so I left the house looking forward to some good rugby and I wasn't disappointed. The rugby day began with an inauspicious start as I checked the email Berkeley sent regarding the pitch location, put the address in my GPS and happily drove onward to… the Pyramid Brewery. Not a bad destination but not where I wanted to go. Apparently the actual field location is marked by a pin stuck into the side of the map and really doens't have much to do with the address given except that they are both in Berkeley. I eventually arrived at the correct location to see both sides warming up (how did Baracus not have this problem?) and prepared to get the match underway.
From the beginning this was a hard hitting match with neither side giving or taking any quarter. Players would stop on a dime and give 9 cents change. The scumhalves often gave me their 2 cents worth. If I had a dollar for every time I heard someone call for off side I would have, well, a lot of dollars. If I had a million dollars I would buy you a green dress, but not a real green dress – that's cruel. Oh well, in for a penny…
The match itself was much more even than the final score indicated. Baracus held a slim 5-0 lead at the half after a back and forth affair in which neither side could gain much momentum. The second half saw Baracus add a penalty and a couple more tries as they figured out how to finish their moves. Berkeley made several breaks and seemed on the verge of scoring several times until a knock on, forward pass or other turnover ended the move. With time expired there was an extended period of play with neither side interested in ending the game, playing through knock ons and penalties until Berkeley fielded a poor kick and started the ultimate movement of the game and finally broke through for a well deserved try under the posts.
Date: 02/15/2014
Berkeley B 17 – Baracus B 20
Referee: Parkinson, David
the game was a relatively clean affair with baracus being the stronger team and berkeley being antsy. the first half saw the visitors quickly out in front 15 – 5 and the home team down a man for a flagrant punch in a ruck that produced a lost tooth.
berkeley settled down in the second half to make a game of it, losing at the last second after a near game winning breakaway was knocked on within meters of the try line.
Date: 02/15/2014
Colusa 5 – Life West 54
Referee: Wilson, Dan
It has a been a busy two days with some great rugby for this referee. I started off Friday in Phoenix, flew to Fresno in time for a fantastic high school game between Bullard and Buchanan High Schools, and finished the 24 hours off by driving the four hour drive to Colusa for DIII match up against Life West.
Leaving Fresno just after 7 AM, my son and I headed North. It was a beautiful day to go north of Sacramento. Seriously, it doesn't get much prettier than that area. We pulled into Colusa just after 1130 AM and both teams were already there warming up. Nice to see they were both serious about the match.
By kickoff, the home sideline was filled with supporters, and Life West actually traveled with several of their own. At kick off, the tone was set immediately by the intense tackling by both sides. Life West scored first in the 5th minute with a converted try, but Colusa was threatening several times. They finally touched it down in the 19th minute but could not convert.
Both teams had energy and enthusiasm spilling over, sometimes when appropriate and sometimes not. After a needed conversation with the captains, the edge was pulled back by all. Life West scored two more converted tries by half time, but the score was not indicative of how close the half really was. Halftime Score: Colusa 5 – Life West 21
I overheard the Life West coach telling his team to stay out of the scrappy stuff, to stop making 50-50 passes and to concentrate. Well, they responded. The second half was all Life West, scoring six tries and converting five of them. Fitness was obviously in Life's favor, but Colusa showed plenty of heart right up to the final whistle.
Final Score: Colusa 5 – Life West 54
Date: 02/15/2014
Fresno 27 – Sacramento Lions 24
Referee: O'Mahoney, Donagh
Overall conditions perfect for rugby. Both teams set out to play rugby from the beginning which lead to a very open game.
Fresno Opened the scoring with a well worked converted try in the first Qtr with Sac Lions responding to tie the game after 24 mins.
Sac Lions enjoyed a period of dominance for the next 15 mins but only managed to score another converted try on the 35th Minute. With the last play of the half Fresno scored in the corner but failed with the conversion to leave the Half time score at 14 – 12 in favor of Sac Lions.
Sac Lions increased their lead with another try after 15mins of the second half with Fresno responding with a penalty. On the 24th Minute Fresno took the lead by the tightest of margins with an unconverted try but Sac Lions began to dominate the possession from this point. They worked the ball well and broke through the Fresno defense for another try to lead 24- 20.
On the 32nd minute Sac Lions were in control and should have scored, but Fresno took their opportunity for a quick drop out and moved the ball down the pitch eventually scoring to take the lead in the 34th Minute.
Sac Lions were not able to respond and the match ended with Fresno winning 27-24.
Date: 02/15/2014
Fresno B 7 – Sacramento Lions B 44
Referee: O'Mahoney, Donagh
In the Second game Sac Lions scored 7 tries to Fresno's 1
Date: 02/15/2014
Humboldt 60
– State of Jefferson 0
Referee: King, Mike
A typical Winter day on the North Coast, this time a welcome change from our pattern of dryness, was the setting for this D3 contest between northern neighbors. Jefferson arrived on time for the most part, but short a couple in numbers. The gracious hosts provided some assistance to the visitors, but that was not enough to stem the tide which started fairly early in the contest, and remained evenly throughout.
Humboldt looked good in both set pieces and loose play, and was able to score on long runs, or more close in attacks. Pretty consistently, the host side put 5 tries and 3 conversions on the board in the first half and 5 tries, 2 conversions on the board in the second.
SOJ had its moments, and gamely drove all the way to the try line in the second half, only to lose possession at the last moment. Despite the disparity in points, this match was a battle its entire length. Good job by both sides.
Date: 02/15/2014
Olympic Club B 30 – Redwood Empire 7
Referee: Tiatia, Nome
No report received
Date: 02/15/2014
Reno Zephyrs 31 – Aptos 7
Referee: Crenshaw, Jim
Arrived in Reno around noon for the 1 pm kick-off. The pitch was running eastwest and the wind was blowing at least 50 mph south to north.
Both teams could use a few more players, as the home team had about 25 and the visitors had 17. Reno proved a little to much for the beachdogs. Aptos held their own for the first half as they came back to score a try after Reno had scored 2 to make it 14 – 7 at halftime, but it was all Reno in the second with the final 31 – 7
Date: 02/15/2014
Santa Rosa 32 – EPA Razorbacks 10
Referee: Zanarini, Tom
Another great game at For Pete's Sake field in Santa Rosa. Rosa's structured gameplan outdid EPA's open play. It got a little chippy towards the half, but the captains took charge and saw that their teams got on with playing rugby instead of talking about it.
On a side note, if any team needs a referee for their B side, please let the assigner know so the referee can prep for two games.
Date: 02/15/2014
SFGG 37 – San Jose Seahawks 32
Referee: MacDonald, Neil
No report received
Date: 02/15/2014
SFGG B 46 – San Jose Seahawks B 33
Referee: Pescetti, David
Golden Gate started off very strong scoring five first half tries. The Seahawks responded with a late first half surge scoring two tries before half to make it 33 – 14.
With everyone becoming fatigued the second half slowed down. The Seahawks outscored Golden Gate 19 – 13, but fell short overall.
A good physical game.
Date: 02/14/2014
Cal Maritime 5 – Santa Rosa JC 55
Referee: Ricard, Bruce
The beginning of the game was very well balanced. Santa Rosa scored first with a try at the 9th minute, but Cal Maritime replied with their own try at the 18th minute. Despite a 5-0 penalty count against SRJC after 20 minutes, the play was quite nice and the scored was tied 5-5. At the 21st minute, SRJC scored a converted try, and everything seemed to change from this point on. SRJC stopped infringing, CMA started to, and they seems to already be tired. Santa Rosa scored 2 more tries in the half, to lead 26-5 at the break. Things didn't change in the second half, SRJC scored 4 more tries, and won the game 55-5.
Date: 02/15/2014
CSUMB 36 – Humboldt State 61
Referee: Carter, Bruce
A Humboldt State team with playoff aspirations made the long drive (about 400 miles) to the CSU-Monterey Bay campus for a game under overcast skies, but without a chill in the air.
The Lumberjacks proceeded to put a chill into the home crowd, scoring several early and seemingly easy tries, with four of their backs showing pace and penetration ability.
The Otters played true to the form they exhibited when I refereed them last month, out-scoring their opponents in the second half but still coming up short.
One problem of note, and I hope this will be read and noted throughout Pelicanland: trying to cajole a referee into violating the ethics and procedures of his profession and his organization.
A player was issued a yellow card for not-back-any when he tackled an opponent who had quickly tapped a penalty awarded about fifteen meters out from pay dirt. The tap-taker had already scored two tries and was likely to tally another should he be able to gather a head of steam. This is as cynical a penalty as you can commit, deserving of a yellow card anywhere on the pitch in my opinion, and regardless of the prowess of the players involved.
After returning to the contest, the cardee then proceeded to taunt an opponent, insulting him to his face while said opponent was conveniently being restrained by two of his own teammates against retaliation.
I reached for my yellow and then realized I'd already shown it to this guy once, so he got to see it again and then a red.
After the match I was independently approached by three different people associated with that team, each explaining the importance of that particular player to next week's match.
All I can say is, at the time I was not aware of his importance to next week's match, but he certainly was.
They wanted me not to report the red card.
This, I believe, is egregious enough that it should be considered a second, and much worse, offense. If it were, I would happily report it as so.
I trust that most rugby combatants appreciate that referees strive to be impartial. Would they like to participate in a key game against an opponent whose best player deserved to be sitting because of misconduct and foul play but was able to take part only because of a dishonest referee?
Date: 02/15/2014
Fresno State 32 – UNR 26
Referee: Jury, Jeff
No report recieved
Date: 02/16/2014
San Jose State 55 – UC Santa Cruz 24
Referee: Ricard, Bruce
San Jose was too strong for Santa Cruz last Sunday. They took the lead quickly in the first half and didn't leave many opportunities to their opponents. They scored 6 tries in the first half. 38-0.
In the second half, San Jose scored an early try at the 6th minute, and one more at the 18th. After that they started to substitute many players, which seemed to disorganize the team. Santa Cruz got more attacking balls, and scored their first points at the 24th minute. SJSU scored one last try at the 28th minute, and the last 10 minutes were for Santa Cruz. They scored 3 tries in 5 minutes, to get the offensive bonus point.
Date: 02/16/2014
San Jose State B 34 – UC Santa Cruz B 32
Referee: Hinkin, James
San Jose St kept the momentum going from a solid A side win with a wild finish to the B match. The game started out very evenly with both sides exchanging tries after the expected series of knock ons and errors at the start. The difference in the first half as far as the point total was concerned was the kicking accuracy of the B Slugs as each team scored 3 tries but the Spartans couldn't convert while UCSC started with a penalty and then added 2 conversions to their try haul to lead 22-15 at the intermission. A lack of discipline and experience led to the sending off of a UCSC player at the 30 min mark and that proved important.
The second half was pretty much going the way of the visitors… at least for the first 38 minutes of the second half. This time, however, the kicking gods favored the home side as the 2 UCSC tries went uncoverted and San Jose St added their extras. Then as the half was winding down San Jose St – down by 10 at this point – broke through the line and were off until a recent convert to the oval ball forgot what sport he was playing and took the ball carrier down with a tackle Landon Donovan would have been proud of. Because of this what would normally had been a red card was tempered to a yellow and as this player was contemplating his sins on the sideline the Men of Sparta tapped the penalty and scored, leaving just enough time to convert and kick off. The conversion was good and I announced the final play. The kick went deep to San Jose St's left side and was spun around to the right, weaving back towards the middle, tackle, charge, tackle, spin to the right and around the edge to score in the corner and snatch an improbable victory from the jaws of defeat.
The B Slugs were probably, on the whole, the better side but had to play the final 50 minutes of the match with 14 men and the last 2 with only 13. Both sides played hard and should be set up for the next few years with a promising group of youngsters.
Date: 02/15/2014
Sierra College 10 – Sonoma State 29
Referee: Byrnes, Bryant
Quality College D2 rugby-Sierra gave away size, but tried to match with a high work rate.
It was 15-5 at half, but Sonoma's Cal sized and fleet loosies ( are they still called that, oui?) ran hard and straight. A tipping point may have been Sierra's failure to generate fast ball off of a tackle; "fighting for
extra yardage" did not serve them well.
Date: 02/13/2014
Stanford 61 – Cal 7
Referee: Donnelly, Kevin
Fast game, played fairly despite being quite one-sided. Cal was a step ahead in most phases of the game and Stanford had to push the boundaries to try to stay-up (e.g. creeping offside). Overall the score does not reflect how well Stanford played in the face of very strong fast opposition. Thanks to Rob and Tom for AR duties.
EDITOR'S NOTE: It looks as if the score was reversed here…
Date: 02/15/2014
USF 36 – UOP 19
Referee: van Staden, JC
Soveel vir 'n schedule… Ek vra toe vir saterdag af omdat ek moet werk by die SF Cronicle wynproe…. Maar nee, JC jy hoef nie te worrie nie, ons kry vir jou 'n game naby… SFU… Net 10 min weg… Doen sommer altwee…. eish!! Die res is geskiedenis.
Byde spanne, reken hulle begin sommer vroeg, 10am, so lank hulle net 'n ref kan kry… Dink die agterlyn het dit berou, nadat hulle so bietjie hulp van die ref moes kry om te verstaan waar die laaste man se voete is.
Maar, dit was n lekker wedstryd… By tye 3-4 min rugby sonder 'n fluitjie… Byde het gekom om rugby te speel, en die telling bord het dit bevestig.
Behalwe vir 1 strafdrie teen SFU, was dit maklikste een van die skoonste wedstyde vir die jaar.
Sterkte aan beide spanne, dankie vir die gees!
Date: 02/15/2014
Cal Women 20 – Chico State Women 19
Referee: Hendrickson, Robert
Cal women hosted Chico State women after the Cal/UBC game on Cal's Witter rugby pitch. Cal women scored 2 unconverted tries in each half, while Chico scored 3 tries and 2 conversions in the first half but was shut out in the second half. Evenly matched teams played a spirited game which could have gone either way.
Date: 02/15/2014
Sacramento State Women 5 – UNR Women 25
Referee: Wilson, Giles
Both teams have obviously been recruiting well and are developing player pools of some size. UNR are a little ahead with slightly more experience at the moment that Sac St.
UNR applied a lot of pressure in the 1st half but only came away with one try. During one period of pressure, Sac St lost their captain and hooker to a yellow card.
Sac St managed to fight back and scored their own try in the half. UNR lost their captain and half back to a yellow card late in the half.
In the second half UNR made more of the overlaps and with fewer handling errors, combined with a tiring Sac St defense, ran in 4 tries. On one occasion the full back executed an excellent 2-on-1.
Date: 02/15/2014
Santa Clara Women 68 – St. Mary's College Women 5
Referee: Johnson, Lee
A one sided game with St Mary's struggling to contain a well drilled Santa Clara side. First try scored within three minutes with a further five to follow with a half time score of 34-0.
The second half followed in much the same vain, but St Mary's got the reward their efforts deserved with a well worked try from their tight head prop. This spurred Santa Clara on to score almost straight from the re-start to finish with a total of 12 tries in the game.
An enjoyable game to referee with the girls fully prepared to listen to what you were telling them.
Date: 02/15/2014
UC Santa Cruz Women 18 – Fresno State Women 24
Referee: Bernstein, Bruce
UCSC led at half 8-5 & then 18-17; when Fresno State scored with a woman sin-binned to come from behind in an exciting well-played & coached match neither team deserved to lose.
Date: 02/15/2014
USF Women 12 – Humboldt State Women 34
Referee: van Staden, JC
Met sweet wat nog afdrip na die manne se wedstyd, draf HSU op wat al die pad gekom het om SFU te takkel.
SFU se nommers was maar skaars, en het met net 14 spelers op die veld te draf. HSU het die bord oop gemaak, en verduidelik dat hulle op n missie is. Na 3 driee, het dit soos 'n weghardloop wedstyd gelyk, maar SFU was nie al reg om op te gee nie. Hulle het hard gewerk om hul eerste punte op die bord te sit, net om nog 3 drie teen hulle te kry voor hul laaste drie.
Meeste van HSU se driee kom van die agterlyn af, wat n resultaat is van goeie bal besit van die voorspelers.
Wel gedaan beide spanne!
Dankie vir die tyd aanpassing om by my skedule te kon hou.
Date: 02/15/2014
Santa Clara University 27 – UC Davis 22
Referee: Akroyd, Phil
A great game played at a very nice facility for the College D1-A. The game was tied three times throughout 5-5, 17-17 and 22-22, but Santa Clara scored the winning try with just under five minutes to go.
UCD were tactically far more savvy than two weeks ago. This week, they stuck to what they were good at, which was picking and driving and starving the SCU backs of the ability to spread the ball wide in their backs, away from the point of contact.
Date: 02/15/2014
UC Santa Barbara 18 – Sacramento State 5
Referee: USA Appointment
No report received
Date: 02/15/2014
Chico 41 – Sacramento Capitals 17
Referee: Hettermann, Matt
Strong winds up in Chico – first half was very tight with the wind at Sacramento's back.
Second half Chico's discipline and the wind kept territory almost entirely in Sacramento's side of the pitch, and the scoreline reflected it.
Date: 02/15/2014
Santa Clara University B 31 – UC Davis B 56
Referee: Lane, John
No report received
Date: 02/15/2014
SFGG Women 40 – SFGG w 10
Referee: Pescetti, David
A great scrimmage for the SFGG women. With many inexperienced players, getting a simulated game helped a lot of their players better understand the game. Other women's team, watch out!
Date: 02/15/2014
Vacaville 33 – Marin 11
Referee: Levitan, Tony
A tight first half (12-11 Vacaville) gave way to a dominant performance by Vacaville
This Week's Photo
Pete Smith carefully observes a scrum in the St Mary's – BYU match in front of a packed house. Photo by Michael Geib via rugbymag.com
Hail, Pelicus!
For the Senate
Pelicus Pedem Referre