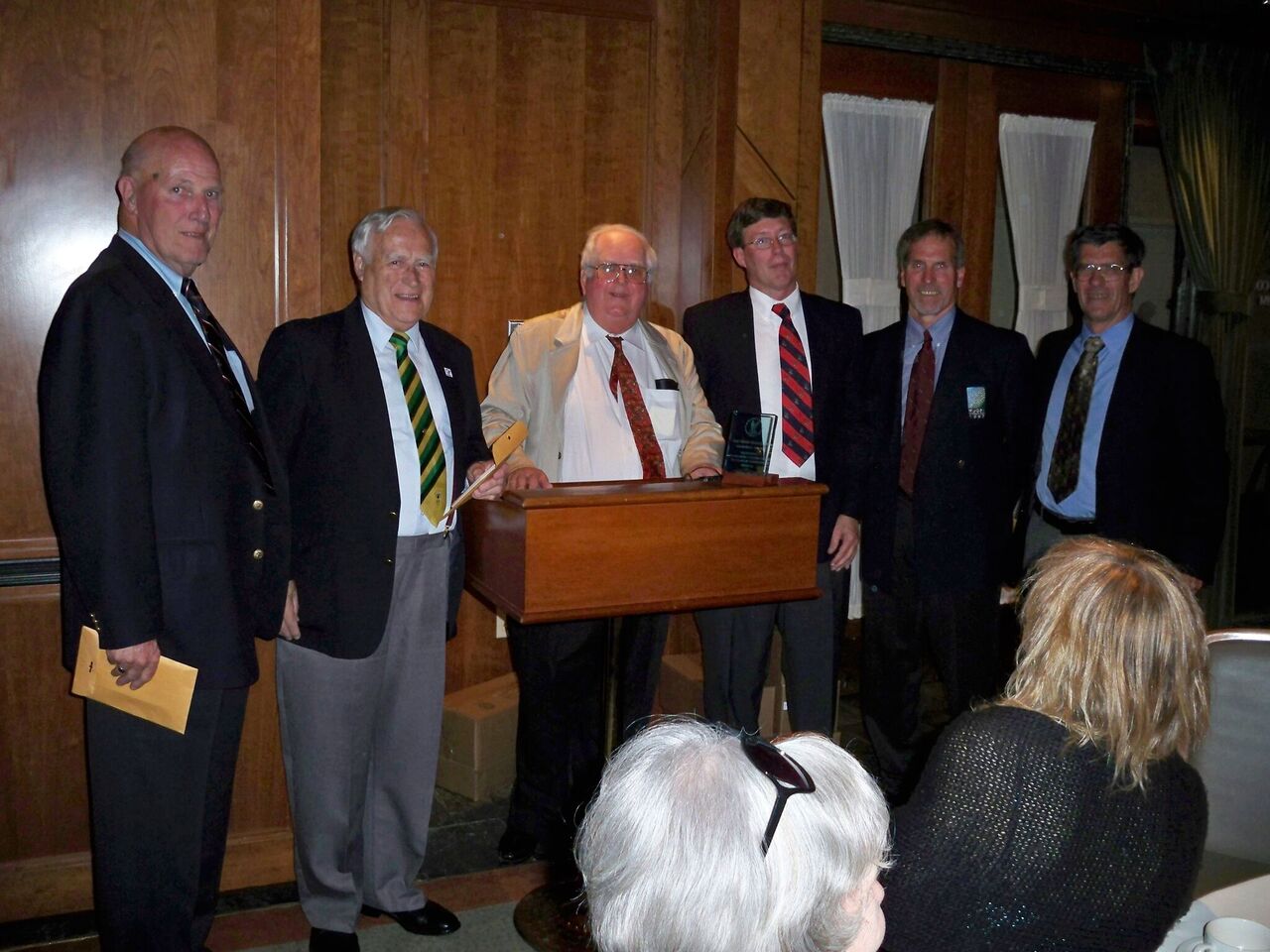 HAIL PELICUS!
The Passing Of A Legend
Donal Walsh was one of the Patriarchs of the Northern California Referee Society and he recently passed away. He was Atlas, a Titan upon whose shoulders our whole world rested. I do not have the skill to write a sufficiently powerful obituary so I have called on my predecessor, Dr Bruce Carter, Pelicus Scriptoris, Dux Deux to rise to the occasion and he has with flying feathers. Here are his words:
From Dr Bruce Carter,
Donal Walsh died earlier this month.
Donal was a stalwart of our Society for many years, and those in Davis will have seen him on the touchline with flag in hand almost right up to the present.
He will be remembered for doing something that has proven exceedingly useful to many hundreds of thousands of people, including presumably everyone who reads this, and that can never be done again. How many of us will have that said about them?
Donal was the first person in the world to put the Laws of the Game into readable form. He was given the Denis Shanagher Award for these things, which is the USA Rugby Referee Hall of Fame by another name.
When I bought my first law book (1977), it was by mail order from the NCRRS. The society published essentially the only useable law book in the world, and the society was funded entirely from the profits.
Before Donal, the Laws were published by the RFU. Rulings and amendments were issued from time to time. The text of laws that were amended was not changed: the amendments and rulings were merely appended at the end. So, when you read a law, you then had to go through all of the rulings and amendments to see whether anything had been changed. And you had to go through all of them, covering many decades, because they were arranged chronologically, not by law.
These were hundreds of full-size pages, due to the fact that nothing was ever taken out. Learning the Laws of the Game was like learning the US Legal Code.
Donal got permission from the RFU to compile and edit it all into coherent form and for the Society to publish it in a paperback, pocket-size edition. I don't believe we even paid royalties, because the RFU hadn't been making anything from it.
A memorial service will be held in his honor this Sunday, April 30, at 1 PM at the Veteran's Memorial Center at 203 East 14th Street, Davis.
I would suggest that any time someone reads the Laws, a thought should be spared for Donal Walsh.
Assigned Games
Teamwork and trust are essential in rugby. When you are put under pressure you expect your teammates to have your back.
This is not always the case.
Playoff Match Reports
It is playoff time again and many of us will be called on to adjudicate these matches. Please note that quite often matches will be listed by seeds, so the game will be something like Pacific #3 vs South #1 or Winner Match 3 vs Winner Match 1. When writing your report narrative please make sure you explicitly identify which team is which so that I can update the team names in our reporting section below. Many thanks to those who did playoff matches already who have made my life easier.
Disciplinary Action Reporting – Process For Reporting Incidents
The various competitions all have their own disciplinary chairs and this will make it difficult to centralize the communication and data. To help Scott Wood has developed a form that will centralize the process, regardless of the competition. The link to the discipline form is https://docs.google.com/forms/d/1mmUNg11uVOSkIsUtHifSqQzalhWbwohk_J6AmPyrucQ/viewform
Copy the link and have it available on your smartphone. If you have an iPhone add the link to your home screen.
When needed fill it out and click submit. The discipline chair of the competition you refereed will receive a notification about the incident. He/she may contact you latter for more details.
If you have any questions as to how to use the app please refer to the following video: https://www.youtube.com/watch?v=_Uz0_gTaOnY
On To The Game Reports!
Date: 04/22/2017
Boston Irish Wolfhounds 98 – White Plains 5
Referee: Zanarini, Tom
Location: Irish Cultural Center, Canton, MA
Saturday was a day designed for rugby. Weather wise, anyway. Cool air, soft ground, and cloud cover. You could play all day in weather like that. Good thing, because at the second half the #1 question was "Sir, how much time?" The match started well enough. Both teams came out firing. White Plains wasn't at the level of BIW, but they seemed to be playing up a level. Halftime was 27-5. Unfortunately WP lost their two best assets who were #10 & #12. BIW didn't take long to see the new holes open up and the scorecard started filling up. The long sprints and constant whistle for try made the match seem endless, but end it did. WP kept their spirits high throughout. Toward the end the WP hooker proclaimed, 'hey we're playing rugby. How bad can it be?' Well said.
Date: 04/22/2017
Danville Varsity 17 – Granite Bay Varsity 3
Referee: Gordon, Preston
Granite Bay gave Danville a run for their money on a really nice Saturday morning in Danville. Things were pretty even in the first half, with Danville opting to take a (successful) shot at goal in the 11th minute and opening their account at 3-0. Lots of good defense followed, along with several silly knock-ons that seemed surprising at this stage of the season. In the 27th minute Danville scored a converted try to go up 10-0, which is how things stood at halftime.
The second half began in a similar way to the first, except that Granite Bay took the first points with a penalty goal at 14′ to come within 7 points at 10-3. Shortly after that, Danville's #12 went out of his way to knock over a Granite Bay player who had just kicked ahead, thereby earning himself a 10 minute rest. Granite Bay was unable to capitalize on the advantage, however, and Danville made a break on the outside and scored another converted try just before they returned to a full complement of players. Their 17-3 lead withstood a number of Granite Bay attacks in the last 10 minutes of the match, and while the score flatters them somewhat, Danville deserved to win this game.
Thanks to Mike and Steve for being ARs, and good luck to both sides in the rest of the playoffs. I was happy to get 5.5 miles of rugby in on a great day (ARing in the JV match too), and even happier to meet someone from Danville who shot drone video of my match. If you get an opportunity to watch footage from that perspective, I highly recommend doing it. Here are the two halves of my game:
https://www.facebook.com/DanvilleOaks/videos/1413307718692450/
https://www.facebook.com/DanvilleOaks/videos/1413338888689333/
Date: 04/22/2017
Sacramento Capitals 27 – Sacramento Blackhawks 41
Referee: Boyer, Rich
AR: Barfels, Ed
AR: Anderson, Rich
Made the two hour plus drive through traffic to SFGG pitch to referee to sides local to Sacramento……This match was a tale of two halves….Blackhawks won the toss and elected to receive going into the wind. Caps kick off deep, Blackhawk receiver catches the kick ten meters from the try line, passes and an intercept try was scored by the Caps winger within the first 20 seconds. Caps continued to put pressure on and scored off a lineout maul. The Blackhawks utilized a nice pick and drive phase and scored to make it 12-5. Caps added a penalty kick to enter the half leading 15-5. The Blackhawks revised their gameplan and came out a new team in the second half. They began relying on their forwards on second and third phase ruck ball, yet the Caps would not break. The Caps looked to score from 5 yards out off ruck ball but the Blackhawk wing reversed fortunes with 95 meter intercept try. Caps were hard done by some handling errors but never waivered in their tackling. Blackhawks scored off good pick and go phases to pad their lead 24-15, but the Caps responded by punching the ball downfield, with continual pressure on the Blackhawks, then took a quick tap penalty five meters out to spin the ball to the wing for an unconverted try. 24-20 and a tight game. The fourth quarter saw Blackhawk ascendancy through an increased sense of urgency at the rucks, good ballhandling and straightforward running to increase the score to 29-20. The Caps responded as they had all game long with prolonged phases, swung the ball wide within the Blackhawks 22 only to be undone by another long range intercept try. One more Blackhawk forwards score seemed to ice the game, but the Caps were awarded a try near the death to narrow the score. The difference in the final score would be the two intercept tries. Huge thanks to ARs Ed Barfels and the newly emerged Rich Anderson as well as to John Coppinger.
Date: 04/22/2017
SFGG Women 28 – Sacramento Amazons 0
Referee: Hettermann, Matt
NCRFU Women's D2 Final: Amazons notified SFGG that they were forfeiting at 10PM on Friday night.
Date: 04/22/2017
Lindenwood 95 Our Lady of Perpetual Nothingness School Of Ennui 7
Referee: Bryant, Lee
No report received
Date: 04/22/2017
Stanford 68 – University of Arizona 15
Referee: Pescetti, David
Stanford Cardinal faced off against the University of Arizona Wildcats.
This match was all Stanford seeing Cardinal, eyyy, all match long, but being very even keeled about it. Scoring 6 Tries in each half. Only 3 of their 12 tries were scored by their forwards meaning they played with speed in the backline used utilized their skills to fly by the Wildcat defense. Arizona was able to punch in for three scores of their own, but inevitably fell to the superior Stanford firepower.
Date: 04/23/2017
Pope Francis Rugby Tournament 0 – Jesuit 7's 0
Referee: Hinkin, James
Referee: Lane, John
Referee: Stockton, Andrew
Referee: Bretz, Liam
Referee: Mulholland, Pat/Matt
8 Jesuit schools descended on Santa Clara's Seven's Stadium (formerly Buck Shaw) for a fine weekend of 7s. Host Santa Clara welcomed Gonzaga, St. Joseph's, Loyola of New Orleans, Notre Dame, Boston College, University of San Francisco and Wheeling Jesuit to a top class, well run 7s event on a pitch to die for. John Lane, Andrew Stockton, Liam Bretz, and Pat/Matt Mulholland were there to make sure everyone behaved and Sunday morning all of the players attended mass to reinforce the message.
The matches were contested hard and the play was fast. The teams sorted themselves out with the occasional lob sided match on Saturday and set up a series of Sunday matches that were all barn burners. Teams exchanged tries and only pulled away with full time efforts in a series of exciting rugby games. The organizer, Andy Schatzman, got his dream final as Boston College, featuring his son Danny as a try scoring machine, faced off against his alma mater Santa Clara. The local lads were too much for the East Coasters as they pulled away with a 28-12 victory and the Cup while coach Paul Keeler stood stoically on the sidelines watching. A fantastic event and one that I hope continues on.
Date: 04/23/2017
University of Arizona 24 – Washington State 34
Referee: Gordon, Preston
The women's D1 consolation final at Stanford saw University of Arizona (home) playing Washington State (away) in front of a decent crowd at Steuber Rugby Stadium. Both teams played their hearts out in this game, which featured lots of breakaways, great defense, several turnovers, and a fairly low penalty count. WSU made an early attack that went most of the length of the field, with their ball carrier tackled ~8m short of the goal line. Unfortunately one of the arriving Arizona players didn't take heed of my "ruck" call, from very close by, and went in from the side to kill the ball. Given the field position and the deliberate infringement, she went to the sin bin despite how early in the match it was. For the remainder of the half things were pretty even. In the 36th minute, with the score tied at 10-10, WSU's #17 tackled an Arizona player above the shoulder line, leading to a yellow card for her team.
By the middle of the second half, Arizona scored two more tries had 24 points on the board. Washington State stayed with them, however, and managed to take a 10-point lead at 34-24 by the 73rd minute. At that point, I saw their #17 lash out by kicking an Arizona player who had run into her a little bit late. This warranted a second yellow card for her foul play, and thus a red. Arizona increased the tempo for the remaining time in the match but ultimately couldn't get another score.
It was a pleasure to referee this very close, entertaining game, helped by David Pescetti ARing on one side and Amber, a very capable Arizona substitute player, on the other (unfortunately, he was the only AR available for this game – thanks for sticking around!). I also got to catch up with 2 of the Arizona coaches with whom I used to play in Tucson. And 6.25 miles of rugby, including ARing for Lee's track meet, was a great time on a sunny afternoon.
Date: 04/23/2017
Tulane 15 – Kennesaw State 21
Referee: Pescetti, David
The D2 Spring Championship pitted Tulane vs Kennesaw State University in a southern battle to be the spring belle.
This match was incredibly even and nail-bitingly close, the way a finals should be. Tulane jumped out to a 12 – 0 in the first half employing the Italian defense and intercepting an ill fated pass and sprinting in for the try. But before the first half closed KSU managed to close the gap by scoring their own converted try and narrowing the gap to a mere 5 points.
In the second half Kennesaw managed to narrowly take the lead during an extended push midway through the second half. The slim 2 point KSU lasted 8 minutes before Tulane regained the lead after a Kennesaw penalty and successfully making a penalty kick. With 15 minutes remaining in the match Tulane lead by singular point, 15 – 14.
Under 5 to go. Kennesaw is pinned within their own 22 and had control of a scrum. They won the ball, spun it wide, and their speed, grit, and want to break two tackles allowed them to run the go ahead try. This sealed their victory and move onto the National Finals. Congratulations to both teams for an incredibly hard fought game.
Date: 04/23/2017
Trump University 0 – Unseen University 103
Referee: Bryant, Lee
Stanford vs. Lindenwood
(EDITOR'S NOTE: That's nice, but who is who? Who won?)
This Week's Photo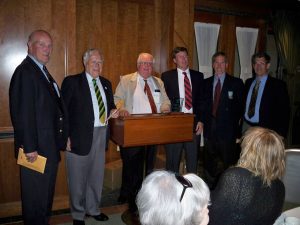 Donal Walsh receiving the Denis Shanagher Award. Legends came out to congratulate him, L-R Bryan Porter, Keith Seaber, Donal Walsh, Peter Watson, Don Reordan, Don Morrison
Hail, Pelicus!
For the Senate
Pelicus Pedem Referre