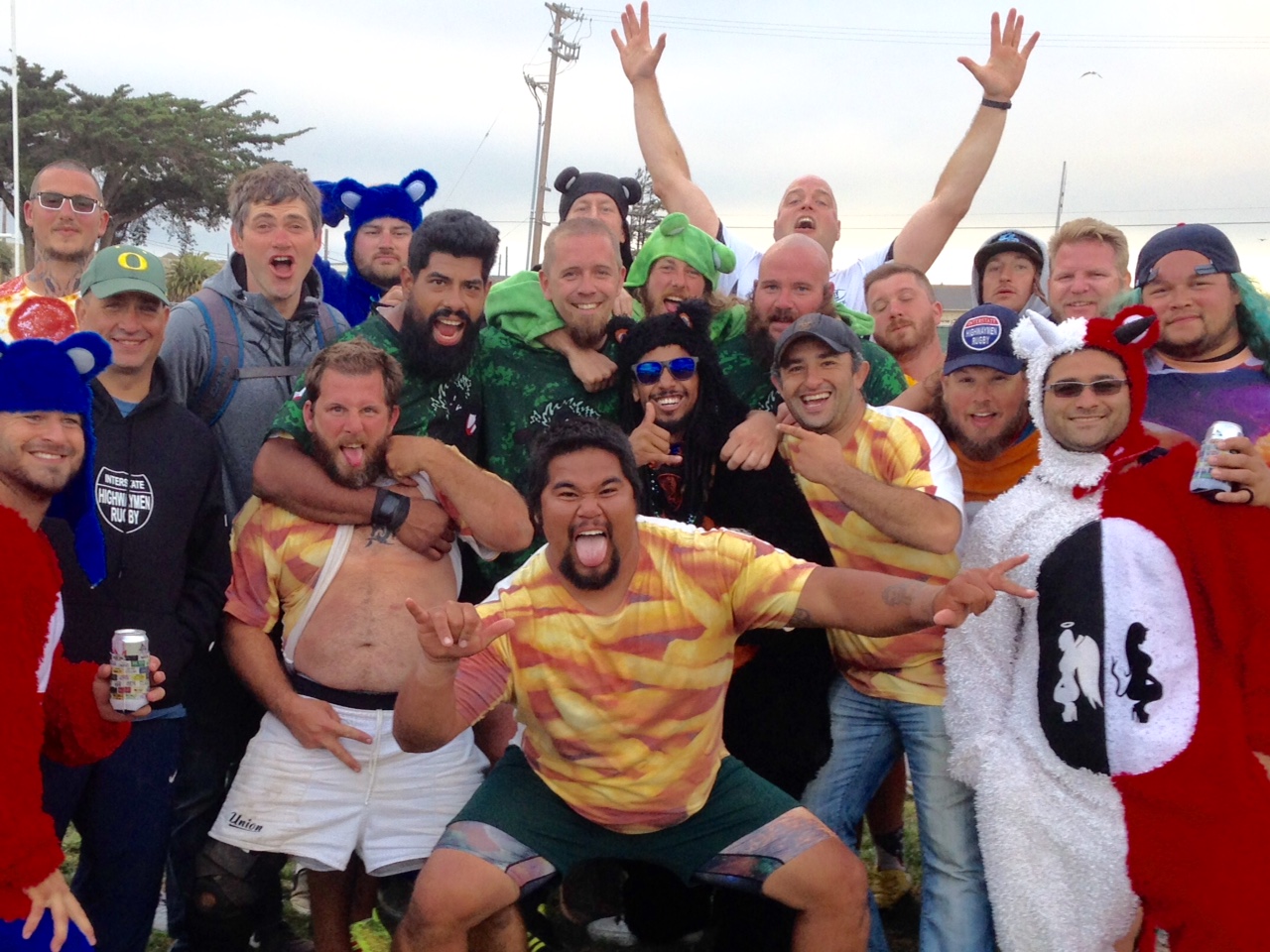 The Pelican Days Of Summer
HAIL PELICUS!
The Pelican Days Of Summer
Yes, here we are at the end of the Pelican days of summer, when the long, hot, lazy summer days seem to stretch into forever and 7s rules the land.   Obscene orange and pink sunsets cast an eerie light on groups of ruggers as they gather to discuss the day's events and start formulating the lies about how fast/good they were while quaffing their beverage of choice and watching their shadows extend into the evening, getting longer as the tales get taller.   The last to leave the field of battle are often the noble members of our Society as age and wisdom – usually personified in the person of Pelicus Scriptoris – provides the foresight to bring a few beverages to ease tired muscles and aid in the retelling of stories from long ago.    We also take the time to review the day's events and analyze the good, the bad and the ugly, but from a slightly different perspective.   The appreciation of the big hit or the mazy run is still there – trust me on this – but also the appreciation of a game well managed. Of Preston Gordon's perfect red card.   Of the call that didn't happen and allowed the game to flow into a try. Of the perfect positioning and assistance of an AR on a difficult decision. Appreciation of rugby as a spectacle will never leave our feathered bosoms and that is merely enhanced by the appreciation of the more technical and often overlooked aspects of making sure this game happens.
Preston Gordon Awarded a Perfect Red Card?
How can awarding a red card – the harshest individual sanction a referee can give – be perfect?   By the timing and tone of the whistle to let everyone know that something serious has happened and you are dealing with it.   By the correct application of procedure, getting the player number and name correct, calling the player and the captain over for the explanation and then awarding the card.   By deciding that the action warranted a straight red and having the courage to follow through.   By exuding calmness to relieve the tension of the moment. By managing the situation so that all parties are confident that clean, safe rugby will be played.
This is noteworthy because it is so often overlooked.   When handled correctly the referee is almost invisible, but when handled incorrectly chaos can ensue and the referee becomes the center of the match, overshadowing the players and even the score. Straight red cards are often the result of dangerous foul play and bring a tremendous amount of emotion to the fore. Poor handling of the situation can lead to retribution, fights and more cards down the line.   There is a reason some games have cards coming in bunches while the same two teams can meet in 3 weeks time with no issues.
What's Been Happening?
It has been a busy summer and no mistake this year.   The 7s calendar seems to be filling up more and more with the excitement over the Olympics and the USA's successes in the World Sevens Series inspiring more and more clubs to put on tournaments.   Add to that the Pacific Nations Cup matches held in San Jose and Sacramento, respectively and all of the World Cup preparation (3 wins in a row over Canada!! Amazing!!) and you have a full schedule indeed.   As I write this there is one more 7s event left, the tradition end of the 7s season at the Tri Tip 7s in San Luis Obispo, and then we are rolling right into the World Cup.   This year is a tad bittersweet as Pelicanland will be, as usual, heavily represented at the grandest stage but it appears that long time captain and San Jose's favorite son Todd Clever will not be participating.   There really hasn't been a convincing reason given for this decision but just the generic "violating team rules" line and neither side has bothered to offer and more details.   As it is Todd may not have held on to his position on form alone as there are a quality crop of young flankers coming up through the ranks, but I do feel the team is poorer for his absence and leadership.   He is and was a beast on the field and always led from the front.   As I don't know the details I don't know who is to blame or if blame should be shared, but this is an ignominious end to a stellar career and should have been handled better on both sides.
Good luck to the USA Eagles.   I will be in my face paint and wearing my jersey and cheering as hard as I can. I just wish that an accommodation could have been reached and hope that Mike Tolken will not have cause to regret this decision.
Ask A Pelican
Yes, it's time for this week's installment of "Ask A Pelican", the widely loved Q and A session with Hail Pelicus.   This week's question comes from Jon Stewart of New Jersey, NY, who asks:
"I have a lot of time on my hands these days so I was just wondering what have you been up to this summer?"
Well, thanks for asking Jon and I have been keeping busy, and not just with rugby. In between refereeing and even running a tournament I found time to expand my cultural horizons. If you get the chance I highly recommend going to see Puddles Pity Party, The Clown With The Golden Voice, who I saw in San Francisco. He puts on an amazing show and is well worth the money.   I also managed a week in France and had a chance to explore Paris for a few days, but that wasn't the primary reason I was there.   You see, a few years ago my younger brother (no, not that one) married a lovely French lady and this summer we went back to France for the French wedding so her parents could be involved.   The setting was stunning, a 800 year old cathedral in my sister-in-law's home village officiated by the local Catholic priest. It was a lovely ceremony and reception with all the silliness and mishaps that characterize a great wedding.   My favorite was during the most critical part of the ceremony the French priest got the participant's names confused so now as far as everyone can tell, in the eyes of the French church, my younger brother's wife is married to his best friend Bryan, something that amused the audience and came as a bit of a shock to Bryan's wife as well, who naturally, was also in attendance.    You just can't make this stuff up.
Keep sending in your questions to us here at hailpelicus@pelicanrefs.com!
Pelicans Soaring Ever Higher
Congratulations to our National Panel Referees that continue to represent NCRRS at the National Panel.  Phil Akroyd has been appointed to the USA Elite Panel, George O'neil has been appointed, once again, to be on the National Panel.  Congratulations also goes out to Lee Bryant on her appointment to the Seven Referee Development Workshop in Dubai hosted by World Rugby in early December.
2015 Pelican Award Winners
Congratulations to the winners of the 2015 Pelican Awards, which were handed out at our Annual Banquet in July.   The winner are:
Rookie of the Year – Andrew Bailey
Most Improved – Peter Sandhill
Ambassador or the Society – Phil Akroyd
Pelicus Scriptoris – James Hinkin
Bryan Porter Award – Scott Wood
Assistant Referee of the Year – Preston Gordon
Pelican of the Year – Neil MacDonald
Upcoming Referee Development Courses
NCRRS trainers are busy this time of year hosting courses.  There are two courses in particular that you may be interested in participating in.   On the weekend of September 19th and 20th Matt Eason will be conducting the Level 2 Officiating course.  This is a two day course and is a prerequisite for advancement past the rank of C1.  This course is only completed once a year so you are encouraged to take the course now.  If you are interested in signing up for the course email Matt Eason.
On October 3rd  NCRRS will also be hosting the Coaching of Match Officials course at the Maritime Academy.  We have 6 NCRRS participants already confirmed but there is space for more.  If you are interested contact Mike Malone.
Upcoming Referee Exchanges
Norfolk Exchange
We need to send a C1 referee to Virginia to referee a Division 1 playoff match September 19th.  Please provide your availability to travel to Norfolk by August 22nd.  Contact Bjorn.
East Midlands Exchange
It's our turn to travel to Midlands for our annual Exchange with our Brothers and Sisters from England.  We'll be sending referees Mid-November, looking to arrive November 12 and depart November 22nd/23rd.  Send your desire to participate to Bjorn via the following link
As an aside allow me to say that I went on this exchange 2 years ago with Rich Boyer and Jordan Bruno and it was the most amazing experience.   The fact that this time there will be this thing called the Rugby World Cup going on in England at the same time just adds to the awesomeness of this exchange.   If at all possible try to go.
Disciplinary Action Reporting – Process for reporting incidents
The various competitions all have their own disciplinary chairs and this will make it difficult to centralize the communication and data.  To help Scott Wood has developed a form that will centralize the process, regardless of the competition.  The link to the discipline form is https://docs.google.com/forms/d/1mmUNg11uVOSkIsUtHifSqQzalhWbwohk_J6AmPyrucQ/viewform
Copy the link and have it available on your smartphone.  If you have an Iphone add the link to your home screen.
When needed fill it out and click submit.  The discipline chair of the competition you refereed will receive a notification about the incident.
He/she may contact you latter for more details.
On To The Game Reports!
Yes, there are actual game reports. As this is a summer's worth and tournament reporting isn't quite as rigorous as league reporting, it is a bit of a mish-mash. Oh well…
Event: Sharkapalooza Old Boys Tourney
Referee: Bruce Bernstein
Date: No clue – he didn't say. It was on a Saturday, though.
Reffed this past Saturday in Newport Beach's awesome field by the beach & Strand & Fun Zone on the Balboa Peninsula. Reffed the 2nd match & Fresno dominated North County (San Diego) 24-5. They went on the barely squeaked by a strong Misfit team & again spanked Vegas in the Finals. I also reffed a loser bracket where Huntington Beach got by Old Southwest 7-0. Great party place Cruisers crawling distance to the field as was a dip in the ocean& awesome 80 weather with light breezes.
Event: Carlsberg Cup 7's
Date: 07/11/2015
Referee: Bertolone, Cary
Great support from Silicon Valley, providing food and drinks and a tent for the refs. Plenty of refs made it easy, so we all took turns as AR's as well. Good rugby, good refs, great weather. I reffed Google twice, both wins! A lot of good teams, good sportsmanship by all.
Event: Carlsberg Cup 7's
Date: 07/11/2015
Referee: Rauscher, Eric
This is a three weekend series, with the cup given away at the end of the third Saturday. It is played at Calabazas Park in San Jose.
A full sized grass field with rope barriers and correctly flagged. Over all the organizers (Silicon Valley Rugby Club) are doing an admirable job of running this affair. As refs, we get our assignments via pre-made match cards indicating time and the two teams. The card is used to record scores ( and cards if required) and then handed back to the organizers. Lunch and drinks are provided, and there is a social afterwards.
The refs to show up this week were Paul Simko ( a new but promising ref), Bruce Bernstein, Jeff Richmond, Jeff Jury, Cary Bertolone and Eric Rauscher.
We each got two/three games. Six teams played round robin for a total of 15 games.
All in all a very enjoyable event.
EDITOR'S NOTE: I saw the field.   If that was a full sized field then I am the Queen of England.
Event: NorCal 7s Series
Date: 07/11/2015
Referee: Fenaroli, Steven
I had San Jose/ East Bay to get the day started. The game went off fairly well. I felt confident and had control over the match.
Life West and East Bay was a quick game and by the second half, I found myself out of control. I did not like the feeling of being out of my element and after the game, I realized that it had gotten away from me. My fitness was not the problem, but the players were arguing back with every call and with the game being played at such a high level by both teams, I found myself with tunnel vision and not able to manage the game properly.
The third game was SFGG and Santa Rosa. SFGG had control of the game the whole time. After my hiccup in game two, i found myself right back in the drivers seat for this game. SFGG ran away with this one.
Finally in the 3/4 Mens B, the game was much more relaxed, but still played at a high level. Both teams were having fun and not worrying about making the game go any further than the play at hand.
I had a good day and learned lots in terms of positioning, advantage, scoring after I get back to the midway line, and general game management between the teams, Phil, Joh, Pete and Neil were fantastic and had lots to offer in terms of advice and help when I came asking. I hope to continue more with Pelicans
Date: 07/18/2015
Classic Eagles 67 – Classic Canadians 24
Referee: Wood, Scott
Referee: Scott "It's my story and I'm sticking to it" Wood
ARs: Preston "I don't do Facebook" Gordon & Bruce "The Dude" Bernstein
Referee Support Crew: Cary "Back in the hunt" Bertolone
Venue: PAL Stadium, San Jose
Estimated attendance: 1,500
What a weekend! On Friday, I received a Certificate of Merit from Rugby Norcal, then surprisingly bestowed the Bryon Porter Award. All this leading up to my first assignment of an international rugby match featuring the Classic Eagles versus the Canadian Classics. To top that off, it was the curtain raiser for the Pacific Nations Cup. Of course, there were the doubters trying to fill my head with how bad this derby has been for other referees but I brushed them aside and slept like a champ.
"Life is made of choices. Every morning you start with the choice to get out of bed. Do you choose to be happy or just a pain in the ass to everyone else?" I chose to be different and be happy (good coffee helps).
Both teams arrived over an hour before kickoff, having entered the parking lot and passing the sign "REMINDER: THIS IS A POLICE FACILITY". San Jose Seahawks did a fine job setting up the pitch with line appropriately marked, football uprights padded, and storm grates covered. Introductions were made, ground rules established (uncontested scrums, 2×40-minute halves–much to the chagrin of Canada, rolling subs), and coin tossed.
The game was fast paced with USA controlling much of the possession. The score was 17-0 before Canada answered with two tries. Passing was tight and decisive by both teams. The half closed with the hosts leading 24-10. USA was undeterred and scored in the first minute of the second half. And the fifth. And many other times after that. Canada was able to slip in two tries of its own during the USA's rout. Breakdowns were relatively well organized with the occasional hand-in, sealing off/not rolling away penalty. Tempers never rose (admittedly questions occasionally arose regarding the referee's "interpretations") and the game functioned better than many D1 Club matches. This was by far the EASIEST "old boys" match I have ever encountered.
Event : San Jose Elite 7's
Date: 07/18/2015
Referee: Fenaroli, Steven
I had mostly women's games with one or two mens games. I felt more in control and less susceptible to the chatter coming from the teams. I felt comfortable managinging the situation and able to tell the players I didn't want to hear from them unless they were one of the captains. That quieted the talking but the groans and moans continued. The women's games were low key and without a lot of competition. Both were pretty lopsided and without much contest. The SFGGB/LifeB was much closer but ended well.
Event: Carlsberg Cup 7's
Date: 07/25/2015
Referee: Bertolone, Cary
Another beautiful rugby day with a breeze that kept the weather tolerable. 5 refs plus Bruce Carter and James Hinkin to watch, evaluate and to offer unsolicited commentary. John Pohlman brought a tent for the refs, thank you John. I reffed Google, Reno, the Fog and Aptos during the day and finished with the championship game between Modesto and College Park. It was 7-7 at the half, but College Park ran away with the title game in the second half, winning 31-7. Fun reffing with Bruce Bernstein, John Pohlman, Jeff Richmond and Paul Simko and it was great to have James and Bruce there too. Awards and beer after the tourney, sponsored by Carlsbad!
Event: Carlsberg Cup 7's
Date: 07/25/2015
Referee: Bernstein, Bruce
Reffed 3 matches starting with College Park beating Modesto who would meet in the Championship plus the 3rd place match where Google ran past Aptos.
Event: Carlsberg Cup 7's
Date: 07/25/2015
Referee: Richmond, Jeff
Good final day of the Carlsberg series. Enjoyed the fellowship and support of the other refs in attendance.
Event: Carlsberg Cup 7's
Date: 07/25/2015
Referee: Pohlman, John
Paul Simko, Jeff Richmond, Bruce Bernstein, Cary Bertolone and myself refereed the final week of the Carlsberg Cup. Each of us got three games.   Cary did the finals. Well run and organized event. Had a nice after party with trophies and team recognition.
All in all, a fun event. Nice to have visits from Pelican clan Bruce Carter and James Hinkin.
Event: NorCal 7s Series
Date: 07/25/2015
Referee: Bretz, Paul
Rich Boyer, Favor Taueva, and your truly each officiated 4 games in this final series of NorCal's 7's. The event was rather low-keyed and played in good spirits. Life West's B side demonstrated its dominance against the hosts Sacramento winning 5 tries to 2.
Event: Palo Alto 7's
Date: 08/08/2015
Referee: Bertolone, Cary
Another 7's tourney. Could it be the last Palo Alto 7's tourney ever, after 40 something consecutive years? Not sure, but we had a nice day to ref this year. I reffed Mission, Aptos, Silicon Valley, Seahawks, the Fog, Modesto and a few other teams. Good camaraderie, pretty good rugby and another visit from Bruce Carter all made for a great day.
Event: Tight Five 7's
Date: 08/22/2015
Referee: Bertolone, Cary
Hilarious watching the players walking in, many in costumes and several with beer in their hands. A lot of fun with all of the camaraderie. Highlanders had their own BBQ and kitchen, Golden Gate was selling beer, food truck was doing a lot of business. Weather was perfect. Womens' high school rugby in the am. Kicked off the tourney at 12:00 PM, my first game was Golden Gate vs the Highwaymen (put together touring team lead by Sean Peters, mostly Colusa and Santa Rosa) and Golden Gate prevailed with a second half comeback. My best and last game was Life West vs Highwaymen. Tied at half, Highwaymen won 35-14. With one minute to go, I turned sharply and heard and felt a pop in my knee. Trainer and I think medial collateral, I have a bad feeling I will need surgery as I've been there before (but not as a ref). I did finish the game, but not the tourney. I was done by 4:00 and the tourney probably went till 7:00. Funniest thing I've ever seen on a pitch, Highwaymen kick off to Marin after scoring a try and while the ball was in the air, all 7 went to their backs and put their feet and arms in the air and waived them around; called the dying ants. Marin hesitates and then, think they can score, so the player goes for the sprint and one of the dead ants jumped up and took the ball carrier out of bounds with a great tackle, right into the crowds on the sidelines. All caught on film. Lot of fun, except the knee.
Event: Tight Five 7's
Date: 08/22/2015
Referee: Richmond, Jeff
A long day with a 9:00 am scheduled start actually being noon. Then a scheduled 5:30 pm finish turning into 7:00 pm. Very much enjoyed the company of Bryant, Paul, Cary (until his knee gave out), and "Mongo" from Seattle. Also enjoyed the fun atmosphere of the tournament.
Event: Tight Five 7's
Date: 08/22/2015
Referee: Bryant Byrnes
A wild and wooly day on TI. It was much of the running of the bulls as it was rugby. But it went well and ended well. And this was due in large part because Jeff Richmond assumed the role of Ref In Charge, scheduled the matches and molded a piecemeal and somewhat rag tag of refs into a hard working efficient group of officials.
The group included a guest PNW  ref who went by the name of Mongo (big fella), a high school senior, a couple of sliver backs, and Nome.
No real fights, no injuries, no tears. Considering what it was, a very successful event. Hats off to Jeff.
Event: Tight Five 7's
Date: 08/22/2015
Referee: Simko, Paul
Good day, except the kickoff time was wrong. So was up at 6:30 am and was at the pitch at 8am for a 9am kickoff 45 minutes away from my house. Found out that kickoff was at noon so drove all of the way home and back.
This Week's Photo
A group shot of the shenannegans at the Tight 5 7s on Treasure Island.   Trust me, you did not want me to use the other photo that was sent in.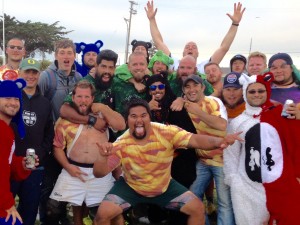 Hail, Pelicus!
For the Senate
Pelicus Pedem Referre