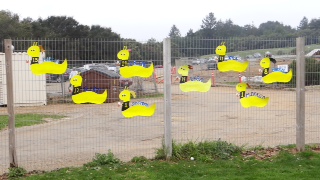 The Toughest Job In Rugby
HAIL PELICUS!
The Toughest Job In Rugby
If you ask people who think the toughest job in rugby is and you will get a wide variety of answers.   Forwards always say they have the toughest job, especially the props who think a rugby match is merely a framework to allow them to scrummage.   Score is largely irrelevant to them as long as they can "win" the scrum.   Of course, we all know that is nonsense as putting your head down and pushing for a few seconds is usually followed by a slow, sedate walk to the next set piece so how hard can that be?   Occasionally the play will unfortunately circle around close enough that they can lean on a ruck or carry a ball for a few tortured steps, but that is largely to be avoided.   Backs, of course, claim to have the toughest job in rugby as not only do they have to be fit and fast, covering the entire field with their ability to run, pass and kick, but they also need to think and read the game. There is careful science involved in the decision making a backline does and when it is done correctly and at pace it makes rugby look easy, which is a very hard thing to do.
While I was fully invested in the superiority of the back line as a player it is nothing compared to the difficulty of refereeing.   Unless you are doing a televised match, you are probably going to be out on your own with a couple of half-interested flag wavers from each team to help you decide if the ball has gone into touch or through the uprights. Everything else is on you and a referee has to make hundreds of decisions in a match – often several at once.   For example, at a scrum, the referee must keep one eye on the player's binds, one eye on the scrumhalf's feed, one eye on the backlines, one eye on the defensive scrumhalf, one eye on the flankers itching to unbind, one eye on the front row and, of course, one eye on the ball. You very quickly run out of eyes, yet at the next scrum someone will invariably ask you to "watch their loosehead" or something similar.   A player who gets involved with possibly 10 situations and knocks on twice will without fail complain when you miss one call out of the 100 decisions you make… but try explaining his 20% failure rate against your 1% failure rate.
Even with all of that, refereeing is not the toughest job in rugby. That honor goes to the referee assigner, who in Northern California is our own Pelicus Fistulator, Pete Smith.   The constant need to juggle matches vs referees, who is available, who is proficient enough to do which match, who cannot travel beyond a certain radius, who is only available at certain times, who needs to be watched or evaluated, where can a coach/evaluator travel to, and so on and so forth.   This list and other factors are all considered as a schedule is put together and assignments are made… and then comes part 2: reassignments.   Referees beg off due to illness or injury, games get cancelled, games get added, games get moved, matches are declined because a forgotten conflict arises, referees get called in to work or have to travel for work.   The constant stream of reassignments makes this a full time job.   Last week, knowing that I had travelled to Humboldt the previous week, I was assigned to as local a match as possible at Santa Clara where I could ref their women and then bask in the glory that is USA's #1 Rated Referee, Pelicus ex Selan as he did the men's match.   Of course, that didn't last as something changed and I was moved to the D1 match in Fresno.   Something changed again and I was moved to a D2 match in Chico.   That match was moved to Sunday so I was reassigned to SFGG for the B side.   Finally, on Friday morning, a referee got ill – hospital worthy ill – and I was reassigned to cover the game at Cal St Monterey Bay.   For those of you counting at home that is 5 assignments in one week and while it is a bit high, I rarely referee the match I am originally assigned to.   Knowing that you can please some of the people all of the time and all of the people some of the time, pleasing all of the people all of the time is, as the great A. Lincoln noted, an impossible job.   In fact, some days it seems like you can please none of the people all of the time.
So why do we do it? Why do we referee this mad group of ignorant whiners?   Why does Pelicus Fistulator put up with all of the grief? Because we love the game. Because we were once one of those ignorant whiners and know what they are going through. Because we are mentally replaying our glory days and thinking that we would have easily sidestepped that defender and scored.   Because there is nothing more beautiful that a fast paced match where people forget there is even a referee there.
On second thought, explaining that to non-ruggers may be the toughest job in rugby.
Time to step up!
Time is running out to get those brownie points!
For the past two weeks we here at Hail Pelicus extolled the virtues of the Northern California Referee Exchange program and how travelling to other unions and even countries to referee rugby is one of the great advantages of being part of this society.   So for nobody has raised a wing to host our far-flung future friend.   Alliteration aside, this is an opportunity not to be missed as I have great friends whom I have met while both hosting and being hosted.
Time to look deep inside, make a few concessions with the SO and open up your home to incoming Virginia referee Patrick Benner, who will be here on March 28 and will partake in the tournament at Napa. We do not want to sully the immaculate reputation of Northern California as the best destination in the USA.   If interested contact Bjorn Stumer at bstumer@att.net.
Ask A Pelican
Yes, it's time for this week's installment of "Ask A Pelican", the widely loved Q and A session with Hail Pelicus.   This week's question comes from Joe Sixpack of Cordelia Junction, CA, who asks:
"I ARd a fantastic match between the Inner City Frognoodles and the North State Buttscratchers last weekend.   What a match!  The problem is that I keep getting a message from assignr to submit a match report.   Should I?"
Thanks Joe, and the answer is simple: NO! Even if the assigned referee has not done so yet, the answer is NO.
If you are an AR, a Referee Coach, a Performance Reviewer or any other kind of semi-interested observer you should ignore the messages from assignr.  Yes, it is a small pain but we can't turn it off.
ONLY the referee should fill in the score and enter a thoughtful, spell checked match report as that prevents confusion and duplication in our game tracking system as well as the much admired match report section below.
EDITOR'S NOTE:   Seriously people, it is great that you are posting the match reports and we all love reading them but spell check is a thing these days.
Irish Rugby TV: Concussion Guidelines For Referees
Here is a video sent from our friend and former Pelican and Irish international referee Tony Redmond:
https://www.youtube.com/watch?v=05RdFrv_FO4
This video has some good pointers on recognizing and dealing with suspected concussions. Not all of us will adjudicate a match with a trainer who is certified to diagnose concussions so recognizing these signs and symptoms can be vital. When it comes to safety, always err on the side of caution. If you suspect a concussion but do not have a trainer or doctor available, then remove the player and do not let them continue.   Permanent brain damage or worse is not something that we need to mess around with.
March Society Meeting
This month's meeting will be held March 18th 7:00 PM @ the SFGG Clubhouse on Treasure Island.   For our meeting we will be discussing:
Game Knowledge (Matt Eason)
Lineout Start to Finish (James Hinkin)
Disciplinary Action Reporting – Process for reporting incidents
The various competitions all have their own disciplinary chairs and this will make it difficult to centralize the communication and data.  To help Scott Wood has developed a form that will centralize the process, regardless of the competition.  The link to the discipline form is https://docs.google.com/forms/d/1mmUNg11uVOSkIsUtHifSqQzalhWbwohk_J6AmPyrucQ/viewform
Copy the link and have it available on your smartphone.  If you have an Iphone add the link to your home screen.
When needed fill it out and click submit.  The discipline chair of the competition you refereed will receive a notification about the incident.
He/she may contact you latter for more details.
On To The Game Reports!
Date: 02/25/2015
Cal Maritime 62 – California 16
Referee: Tiatia, Nome
No report received
EDITOR'S NOTE:   Is this score accurate?   I feel I would have heard if Cal lost by 50 – even their freshman team.
Date: 02/28/2015
Aptos 7 – Silicon Valley 20
Referee: Bernstein, Bruce
About the first match where the team with more players & a better scrum lost.
If it weren't for a high kick Aptos fullback took on his one meter line & had to let it go when he got tackled & 2 Silicon Valley players were ready when he let it go to score; & on one of the many times Aptos pushed Silly Valley's scrum back their Fijian #8 picked up one of the also many times & elusively ran in from about 50 meters out.
Other highlights were Hwy 1 in both directions & stopping to check out the view; seeing some old Santa Cruz ruggers like Scotty Carson, Charlie, Larry & their coaches Vaughan, Stevie Ball & Mark; great party at Appleton Bar & Grill in downtown Watsonville with a great spread, drinks & party room; & a 5 minute period play continued without a whistle or stoppage as could be seen on the Go Pro/Youtube for Aptos, Avoidus Whistle
Date: 02/28/2015
Berkeley 24 – Sacramento Capitals 59
Referee: Valerio, Stephen
My first time at Tillman Park, tucked into the middle of suburbia in Alameda. The pitch had a mishmash of gold and yellow lines, but Saturday was clearly rugby day with high school matches bracketing Berkeley and the Caps A and B-side matches. We played under beautiful skies as I managed to keep the rain from coming down until after the match. The long drive for the Caps didn't seem to bother them as they struck quickly and hard building up a 31-5 halftime lead. While they had a large pack, they weren't afraid to spin it wide and their centers did some damage. However, their forwards showed good ball-handling skills. They then opened up the second half with another quick score and looked like they would be off to the races. However, their pace slackened as they made some subs and Berkeley was able to put some scores over as the rest of the second half was a more balanced, if sloppy affair. Berkeley picked up a try on the final whistle, but the stronger Cap side took the match.
Date: 02/28/2015
California 82 – Utah 5
Referee: Akroyd, Phil
A great day for Cal's homecoming. Weather was great, excellent crowd and perfect atmosphere. Cal really tore it up and were too much for Utah for the entire game. Good to see some Sac Valley Youth Rugby products leading the way in one of the country's leading rugby programs.
Date: 02/28/2015
Colusa 62 – Mendocino 22
Referee: Pohlman, John
Colusa hospitality is wonderful. If you get an opportunity to do one of their home games make sure you go to the social for some of Smokeys bar-b-cue chicken. Great post match meal with adult beverages.
This was a good, fun, hard hitting game. Both teams had one serious injury. Captain Cody #10 had a rib injury and #15 for Mendocino went off with a concussion. Otherwise a clean hard rugby played by two good D-3 clubs. Colusa's #8 Matt Huffman scored a couple of trys to earn forward of the match. Colusa #12 Lukas Polit scored and set up a couple of trys with some hard charging runs, for back of the day.
First half score Colusa 29 Mendo 10.
Second half Mendocino slowed from all the physical play. Colusa just keeps coming at you.
Thanks for the hospitality. Smokey my wife loved the smoked barbecue chicken you sent me home with.
Date: 02/28/2015
CSUMB 33 – Pacific 31
Referee: Hinkin, James
Northern California showed its whimsical side when it comes to weather this past weekend.   A lovely day for a drive down to Monterey was interrupted with short intervals of heavy, slashing rain that splattered hugely on my windshield as I drove merrily along.   When I arrived on campus at California State University, Monterey Bay the rain had stopped and the sun was doing its best to make up for the poor manners of those pesky rainclouds. I know we badly need rain here but is it too much to ask to not rain on my rugby?   I parked in the designated parking lot and then walked across a rather large and empty parking lot that sits adjacent to the field. (Why is this lot not being used?   I asked and received a rather apologetic and vague reply about it not being ready that ended with a shrug and "It'sFort Ord. What can you do?")   This was my first time at CSUMB and the field itself is wonderful with goalposts and perfectly drawn lines – one of the many class venues that are cropping up at colleges across the region.
After putting my bags down and having a nice chat with Larry Freitas who had just finished the women's game I scoped out the teams. CSUMB were eagerly warming up and engaging in the vaguely rugby related activities that teams do as they start to prepare while UoP seemed to be a little short of numbers.   The coach admitted that many of their players were late arriving and he hoped to have the full squad before the match kicked off.   It was now a waiting game to see who would win the race – the players or the kickoff.
It turned out to be a tie, really.   The match was delayed about 10 minutes with the full support of the CSUMB captain and UoP were able to start with a full side and the last remaining stragglers arriving at the pitch.   This may have contributed to the fast start by the Otters as 10 minutes in Pacific were penalized near midfield and the alert scrumhalf tapped quickly and took off completely unnoticed by the Tiger defense as they had all turned their backs to the ball when retreating 10 meters.   The centered try was dutifully converted by the Otter's flyhalf (English, I think?) who has a very unusual, yet very effective kicking style.   CSUMB were able to get 2 more converted tries on the board before UoP rallied back with one of their own after the Monterey #13 was sin binned for repeated team infringements.   With the score 21-7 and the teams back at full strength UoP started really pressing hard with several very clever sniping runs from their scrumhalf.   A kick over the top led to a Keystone Kops routine by the CSUMB back three as they didn't seem to want to clear the ball and were eventually forced back into their own try zone for a 5 meter scrum.   UoP won their feed and drove for the line only to be held up in goal – another 5 meter scrum.   CSUMB defended well for the next several minutes but eventually gave up a try that went unconverted.   The break saw the score at 21-12 to the home side.
The second half continues the theme of the first half with back and forth action from both sides.   The UoP scrumhalf continued to find gaps on the fringes and whenever the Monterey fullback touched the ball he would take off on long, mazey runs through the defense.   Tries were exchanged with CSUMB getting 2 of them (and one conversion finally missed) while UoP matched them exactly.   With time running out Pacific was down by 9 and threw everything they had at the Otters.   The pressure finally told and a try was well and truly earned but the steady ticking of the clock meant that the conversion was the final act and an exciting game ended 33-31 to the relieved home side.     The weather priestess, after making sure that the rugby match was uninterrupted by precipitation relaxed a bit and allowed another brief, yet intense, shower on the way home.
Date: 02/28/2015
CSUMB Women 5 – Sacramento State Women 93
Referee: Freitas, Larry
Finally a game in cold and wet conditions. As I left Aptos it was partly cloudy, but the skies were very gray to the south, and sure enough by Moss Landing it was raining. The field at CSUMB is available rain or shine, unlike some other venues (I won't mention the schools, but jeez, grass does grow back). It rained a bit during the game, but by the end of the match the sun was shining, though it was in the mid-50's with a breeze blowing in from the ocean nearby. No one player got their kit too muddy, and the grass wasn't torn up much by play. I also have taken to wearing Adidas "turf" Mundial Team boots the last two games I've reffed. They worked fine on a slick pitch, but I had my Copa Mundials in my bag just in case I didn't get traction. Regarding the cold, some players were smart enough to have long sleeve tight shirts underneath, but I have to wonder why some of these newfangled tight-wearing polyester rugby shirts aren't made with long sleeves. Having half a dozen amongst a team set of jerseys might be worthwhile for colder days.
Sacramento State has one of the better women's university sides, and within a few minutes they had the first of many tries scored, some from kickoffs by CSUMB, who are in their first year of a revitalized program. I was very impressed by the Hornet hooker who kicked conversions without a tee, the old school way, placing the ball upright on the grass. She made most of her attempts, some from a fair distance, and she's all of 5'2". Sacramento has an ability to throw the ball around on the pitch, keeping play alive and not going to ground. I'd certainly like to see more play like that and less of these set-up static rucks which remind me of rugby league. The Otters did managed an unconverted try some ten minutes from full time, taking advantage of a turnover and avoiding being shut out.
Driving back toward Santa Cruz I could see that the skies were cloudy up there, and sure enough, by Watsonville, it was raining.
Date: 02/28/2015
Diablo 17 – Vacaville 28
Referee: Richmond, Jeff
Two very disciplined teams. Vacaville seemed to have better luck generating an attack out of their back line, though Diablo had a nice score from poaching a VV pass and running it 70 meters in for a try. VV chose not to contest most of the breakdowns and their stout defense kept Diablo at bay. It was a tighter affair in the second half and Diablo drew within a try before VV put it away.
I had some issues with "squeeze ball" and ball carriers planting themselves into the ground, not moving away after placing the ball. Otherwise, a pretty smooth match. I appreciated the conduct of both teams. First time for me on the new Cal Maritime pitch. Great conditions even with the soaking from a 10 minute cloud burst in the second half. Thanks to Mike Malone for making the trip up to give me some pointers.
Stuck around for an abbreviated B side match, playing 10-a-side. First time I've reffed 10-a-side in years and gotta brush up on the variations. A friendly affair with VV prevailing over Diablo 36-14.
Date: 02/28/2015
Fresno 8 – EPA Razorbacks 32
Referee: Wilson, Dan
There was a change in this Pelican's schedule mid week resulting in my having another Fresno home game. The change was fortuitous since I was flying back on Friday to California from a business trip in Philly. Wait, I should have said that I was trying to fly back. Due to DFW being closed, I ended up spending Friday night in Phoenix and arrived in Fresno Saturday morning just after 9 AM.   After spending a little bit of time with the family, it was time to head to the pitch. Fresno was hosting the EPA Razorbacks only one week after hosting the EPA Bulldogs. Both Fresno and the Bulldogs teams had ample numbers and time to warm up and both looked ready for the contest. Whistle time!
EPA received the kickoff and in the 2nd minute scored a converted try by a great run from their outside center. Fresno responded with a penalty kick in the 5th minute, but the Razorbacks controlled the scoreboard the rest of the first half. They were able to put up three tries, two converted prior to halftime. Even though the score was slanted in favor of EPA, Fresno had opportunities to keep the game close but little mistakes kept cutting short the opportunities and EPA also played stout defense. Halftime score: Fresno 3 – EPA Razorbacks 24.
The second half was a more balanced game with great hitting and stout defense by both sides with opportunities squandered by both teams. Tempers flared a couple of times, but cooler heads quickly prevailed. Fresno had several opportunities inside the 10 meter line but repeatedly was either turned back or lost ball. EPA also had several breaks that ended in being pushed into touch inside the 5-meter line or had a knock on inside the 5. It wasn't until the 65th minute that Fresno was able to dot down an unconverted try with several pick and goes inside the 5 meter line. EPA was also able to pounce on a misplayed ball by Fresno inside their 22-meter line by literally grabbing the bouncing ball and dotting the ball down for a converted try in the 76th minute. Fresno again pushed inside EPA's 5 meter line several times inside the final minute but a full press defense was able to keep them out until the final whistle. Final score: Fresno 8 – EPA Razorbacks 32.
Date: 02/28/2015
Google 29 – Modesto 12
Referee: Ricard, Bruce
No report received
Date: 02/28/2015
Sacramento Blackhawks 48 – Baracus 38
Referee: Gordon, Preston
This was a very well-matched game played at Danny Nunn park in Sacramento under cloudy skies with a nice breeze to keep things cool. The scoring started early and didn't let up, with 4 tries for each team at halftime and a number of lead changes. The Blackhawks had a 26-24 lead after converting 3 tries to Baracus' 2.
The second half was more of the same, and the substitutes did not have a negative impact on the continuity of the match as they trickled in. Putting the Sacramento #17 in the sin bin for deliberately killing the ball under pressure near their own goal line may have helped ensure this.
Ultimately, the home team's speed out wide kept them ahead of Baracus, who surely deserved a point or two from this game. The offloading was impressive from both sides, even if some of the more adventurous attempts led to knock-ons or outright interceptions. Of course, more than a point per minute with a pretty low penalty count isn't a bad thing.
I'd like to thank Mike King for coming out to evaluate me, and for backing me up when I found that my score sheet had turned into mush. The captains of both sides were also pretty understanding about that. I didn't catch the names of the ARs, but they were both great at their jobs too.
Also: I can highly recommend La Favorita Taqueria for an after-match repast. They're located at 5940 Florin Road, on the way back to the freeway from the pitch.
Date: 02/28/2015
Sacramento Lions 43 – Santa Rosa 22
Referee: Lew, Tim
On the hard Sacramento grounds at Robla field, Sac Lions hosted Santa Rosa. Both teams went in 3-2 with the winner deciding #2 in NorCal standings at the halfway point. Both teams traded points in the first few minutes but Sac Lions ended up winning the loose game in the end. Santa Rosa gave up a number of easy tries of knock ons or bad untimely passes. Santa Rosa ended up scoring 4 tries at the end of the game to collect a bonus point.
Date: 02/28/2015
Sacramento State 92 – SF State 7
Referee: Carney, Mark
No report received
Date: 02/28/2015
Sacramento State B 76 – SF State B 15
Referee: Rauscher, Eric
The B side game was pretty much a mirror of the A side. SF State played as hard as they could, but just could not match Sac States' skills or depth in players. We played three 20 min periods and called it a day.
Date: 02/28/2015
San Jose State 5 – Stanford 53
Referee: Lane, John
As I concluded the B-side game Dave Williamson came out and asked if I could do the pre-match prep of the A-side as the assigned ref had been delayed due to traffic issues from an earlier game. Boot check and coin toss completed there was pressure to get the game started with the overall program of games to remain on schedule as it was Parents Weekend in Stanford and the Seniors were being presented to the crowd between the Men's and Women's A games.
We started a few minutes late but both sides made up for the delay with a fast open game. After some early fringing near the breakdown both teams reacted well to my communication. Stanford looking the fitter team overall started fast scoring on 3 and 6 minutes with the first converted for an early 12-0 lead. SJ State got into the game after this and the next 10 to 15 minutes were fairly even with both sides gaining field position but either solid defense or handling errors created turn overs allowing the defending team to relieve the pressure. On 20 minutes Stanford took control of the game with a converted try after multiple recycles. (19-0) The Stanford scrum was also starting to dominate and this kept SJ State under pressure even when in possession.
SJ State had their most dominate phase of play for the next 5 minutes and worked good field possession and reducing unforced errors the crossed on the left for a good score on 27 minutes. Unconverted. (19-5) This stirred Stanford who were being cheered on by a sizeable home crowd and the scored again on 34 minutes with the conversion bringing the score to 26-5. This is how it stood at half-time.
At half time it had been decided with the coaches to not change ref's as the match was a league game.
The second half continued with Stanford being on top and extending their lead to 31-5 with an unconverted try on 8 minutes. Both sides started to infringe at the breakdown with SJ State guilty of not rolling away and Stanford of hands in the ruck on a number of occasions. Having spoken to both captains that their teams needed to keep their discipline at the breakdown both sides failed to do so and each had a player yellow carded for repeated infringements on 14 mins for Stanford and 16.30 for SJ State.
Down to 14 the game became even more open and this was to Stanfords benefit who score on 18 and 21 (converted) minutes to stretch the lead to 43-5. With both sides back to 15 Stanford continued to dominate and the subs bench was used extensively by each team as players tired in the now sunny afternoon.
Two more unconverted tries on 30 and 37 minutes brought the final score to 53-5 which is how the game ended to loud cheers from the Stanford home crowd!!!
Date: 02/28/2015
San Jose State B 5 – Stanford B 34
Referee: Lane, John
Arriving to Steuber Field at 10:30 the B teams were just starting to drift onto the field for their pre-game warm-up. Some discussion with both coaches and the two captains brought an agreement that the game would be played at 13-a-side at 25 minutes per half.
The game started with both sides playing open rugby – Stanford had the better of the early exchanges but San Jose State managed to scramble in defense and a number of knock-ons by Stanford gave possession back to SJ State to relief pressure and gain some field position.
On 8 minutes a strong tackle by Stanford on half way created a turnover and the ball was passed quickly right to left with Stanford breaking a tackle inside the 22 to score the first try. Conversion missed. 5-0. In this play a SJ State player was injured and a long delay was necessary for attention to the player who acknowledged the crowds clapping as he was stretchered from the field. With the delay the decision was taken to shorten the game to 2×20 so as to keep the overall timetable for the 3 following games. Also with a few late arrivers the coaches agreed to restart with 14-a-side
On resumption, Stanford continued to dominate and scored on 11 minutes on the right. Conversion missed. 10-0. Approaching half-time SJ State put on a strong series of attacks but deep in the Stanford 22 a knock-on turned over possession and quick passing released the outside backs who scored under the posts with a successful conversion. 17-0 at half-time.
The second half continued with the open play of the first half and Stanford scored unconverted tries on 5 and 10 minutes for 27-0. SJ State reacted to these and dominated the next few minutes and were rewarded with a try on the left which went unconverted. 27-5. The score gave SJ State more confidence and they continued to dominate territory for the remainder of the half but the effort involved took its toll right at the end as Stanford turned over ball and moved it quickly to stretch the defense and break through scoring to the left of the posts. The successful kick was the games final act. 34-5 for Stanford.
Date: 02/28/2015
Santa Clara 17 – Cal Poly 66
Referee: Ranaweera, Aruna
In D1A California conference play, Santa Clara U hosted Cal Poly SLO at Bellomy Field. (Bizarrely, SCU bans chairs and Gatorade on the artificial turf field in order to protect the "sensitive eco-system", which is the most comically misguided environmental policy I have heard in some time.) SCU started well and led 7-12 at one point before Cal Poly displayed solid structure and cohesion to assert themselves in every aspect of play, especially the scrums. Cal Poly led 28-12 at half. Much thanks to Dave Pescetti for his help as AR.
Date: 02/28/2015
Santa Clara B 14 – Cal Poly SLO B 31
Referee: Pescetti, David
Two very well rounded teams battled bravely under the hail storm that poured onto the pitch this day. The match began under sunny skies. It quickly turned dark and damp. Many handling issues were experienced today. The scrum was our friend. The match was tough and it reflected in the score. Cal Poly lead at half time 14 – 7. The second half Poly was able to use their physical forward play to put points on the board.
In the end Cal Poly stood firm in the hail 31 – Santa Clara 14.
Date: 02/28/2015
Santa Clara Women 35 – Fresno State Women 22
Referee: Pescetti, David
It was a hard fought match by both teams.
Santa Clara opened the scoring, capitalizing on a Fresno misplay. In the first half both teams used their strengths to push the ball. Fresno used their superior scrum and forward play. Santa Clara used their backs to make long runs up the sidelines. The half ended with Santa Clara 15 – 5 Fresno.
The second half was more open. The scoring occurred with plenty. The final under the sun in Santa Clara was: Santa Clara 35 – Frenso 22.
Date: 02/28/2015
SFGG 29 – San Jose Seahawks 20
Referee: Hettermann, Matt
Great weather on Treasure Island – cool, not too windy, partially cloudy but only a few rain drops.
First half was a tight affair, with the Seahawks racking up 4 penalty kicks to Gate's one converted try and one PK.
Second half saw Gate's athleticism take advantage of some holes in the Seahawks' defense and put down three tries. The Seahawks scored a try toward the end of the match to pull it closer, but SFGG held on for the win.
Thanks to Scott for watching me and giving great feedback.
Date: 02/28/2015
SFGG B 43 – San Jose Seahawks B 0
Referee: Hettermann, Matt
With lots of guys playing their second match of the day, Gate had too much youth and speed for the Seahawks.
Date: 02/28/2015
Shasta 20 – Napa Valley 46
Referee: Tucker, Chris
After much debate, my games in Reno got nixed, and I ended up assigned up to Redding. 5 hours round trip up I-5, well let's figure out how to make a day of it. So I rose early, ate breakfast in the car, and pulled into Redding around 10.30 to go explore.
8 miles later, I'd crossed the sundial bridge (note: it's set to summer time, so it's an hour fast), run along a beautiful section of the Sacramento river, seen the older bridges over the river, and warmed up a bit for the game (8.2 mi, 8'20" splits, 134 average HR. Perfect)
EDITOR'S NOTE: It is true – resetting a sundial for daylight savings time is a pain in the butt.
5 minute drive to the pitch, quick inspection, and we kicked off. Both teams were in good humour, listened well, and rolled away when asked. So we almost had a free flowing game. This being d3 we had a few too many knock-ons to really call it flowing, so maybe open and positive would be better.
Napa opened the scoring early, running up a 19-3 lead after 18 minutes based on superior back play, and I was left hoping I had brought enough score sheet to enumerate the hundred plus points they were sure to score, and rue the 330 miles driven for a blowout.
But then a funny thing happened, as it is wont to do in our game played in heaven, and Shasta woke up. Their scrum rose up. Their forwards drove hard. Their backs strung moves together. They answered with 3 tries of their own, and left the field UP, 20-19 at the half. And then I was shaking my head, this time at myself for mentally blowing the final whistle after only 20 minutes.
The second half was a little different, and much as Shasta pressed in the set piece, and much as they threatened, including forcing a yellow card by relentless recycling within the 5m, they could never quite break the goal line. Napa were more clinical with their ball, and ran in 3 more tries.
At the last, a dangerous tackle by a Napa centre led to a bit of handbags and a deserved yellow card. I mean EVERYONE saw the tackle and there was no doubt. So why did he front up to me and ask to speak in his defence when summoned by his captain? Who knows, I wasn't about to give him permission to speak. Off you go now….
As it turned out, Shasta missed touch with the kick, and Napa returned it for the final try, 46-20.
Awesome fun match, both sides there for the joy of the game. And i received the highest compliment I think a ref can get. On a call against Napa early in the second stanza, game still tight, one of the Napa players told his offending team-mate "shut your pie hole, he's calling it fair." Thanks, that made the drive home seem half as long.
Date: 02/28/2015
Sonoma State 31 – Sierra College 57
Referee: Bertolone, Cary
After being a Pelican referee for about 10 years, I had three firsts in this game. One, I had a lightning and thunder delay for almost an hour. Two, I took a pass from the scrumhalf, in the face, from 5 meters away, and had to call interference on myself and give the ball back to the offense with a scrum and thirdly, my watch band broke, so I found myself with no watch after a try scored. I fortunately had a back up in my kit, guessed on the time, until I found my original watch 10 minutes later, on the field.
Sierra came out on fire and scored 4 tries to none in the first 13 minutes. The Sonoma State trainer came out on the field and said we should stop the game because of lightning. I conferred with the Sierra coaches, Jim and Jay and they agreed to take a break, so we took to the Redwood trees and the three tents to wait out the down pour. The thunder and lightning did get worse, really bad, so all of the non-believers were convinced the rain/lightning stoppage was appropriate. An hour later, after everyone had warmed up from the flashflood, hail, etc., we commenced. Sonoma State failed to mark Sierra's backs and Sierra scored two more tries before half, taking a 32-3 lead at half. The second half began with another Sierra try at the 2 minute mark. Sonoma finally scored a try and one minute later, Sierra scored again. Who's making their tackles; not Sonoma State on this Saturday. Sonoma State did score three converted tries in a row to close the scoring to 31-42, but Sierra finished the game with three more tries. They had 11 tries with only one conversion, so for the second game I had in 18 hours, a coach asked me for pointers and I answered with the same advice, " maybe work with your kicker for points".
Date: 02/28/2015
St. Mary's College 28 – BYU 32
Referee: O'Neil, George
No report received
Date: 02/28/2015
Stanford Women 62 – Cal Women 5
Referee: Bryant, Lee
No report received
Date: 02/28/2015
Stanford Women B 38 – Cal Women B 0
Referee: Simko, Paul
Second straight rainbow game at Stanford. Stanford A's beat up Cal A's, so Cal was short players in the second game. I think Cal played better than the score and came close to scoring tries on a few occasions, unfortunately they did not convert. Stanford scored 7 tries and converted 4. Scrums were uncontested because of a new front row player on Cal.
Date: 02/28/2015
UC Davis Women 40 – Chico Women 14
Referee: Hosley, David
Nothing unusual.
EDITOR's NOTE:   This is the kind of match analysis that makes Hail Pelicus so widely read.
Date: 02/28/2015
UC Davis Women B 29 – Chico Women B 5
Referee: Franzoia, Tom
These two teams brought energy to the match despite Chico having to borrow 7 willing players. Davis was keen to the ball and poached often. Chico parlayed a late game poach for their only try of the game in the last minute.
Date: 02/28/2015
UNR Women 0 – St. Mary's College Women 0
Referee: Crawley, Blake
There was a bit of snowy weather over the pass this weekend and the St. Mary's team canceled. The UNR women's coach told me they canceled, not forfeited, as he hoped to reschedule the match. This time, I got plenty of advance notice and updates. Good on UNR.
Date: 02/28/2015
USF 15 – Humboldt State 7
Referee: Coppinger, John
This was a good match between two enthusiastic sides keen to physically challenge each other. On the day, USF was stronger in the set piece, which gave a good attacking ball to a back line that was better organized than Humboldt State's backs. The USF backs ran good lines and featured good tactical kicking from flyhalf Joe Ryan to score three tries and win the match handily. HSU battled to the end and scored a converted try at almost full time.
Date: 03/01/2015
Chico 0 – Life West 94
Referee: Taueva, Favor
3/01 Good day for rugby. Chico did show up with the expectations to win the game and that will be a shock wave though out our itinerary and will give other men's D2 hope for their season. As a ref perspective. Life West is too good to lose. Only 64 minutes game. Both captains decided to end the game earlier.
Thanks to both club for a wonderful rugby day. Loved it.
Date: 03/01/2015
UNR 52 – UC Santa Cruz 17
Referee: Wilkening, Russ
It was close at half-time, with the home side ahead by a score of 12-5. In the second half, UCSC could not keep up and missed a ton of tackles. On some breaks better than six players missed tackles that led to tries.
The game was played in good spirit. One noteworthy moment came when I heard "SIR! He kicked the ball in the ruck! That's illegal!" I heard a couple of his teammates murmur in agreement. The player who played the ball was bound in the ruck and on his feet. This caused some confusion as he wasn't a scrumhalf. After defining the ruck at the next stop in play, and describing what was allowed, there were many more balls played out of a ruck , and quickly, by enterprising ruggers of both sides eager to explore this new tactic. Some were tactically sound decisions, others were not, but the quick application of new knowledge was fun to see.
Also noteworthy were the six or so very kickable penalties that had no kicks taken for points. These two teams really wanted to run.
It was a fun match to be a part of.
UNR- 8 tries with 6 converted for   52 points
UCSC- 3 tries with 1 converted for   17 points
Date: 03/01/2015
UNR B 66 – UCSC B 15
Referee: Crawley, Blake
Mostly fast paced match played under cool but pretty much ideal conditions. The first half was a contest, ending with UNR holding a 26-15 edge but the UCSC side faded in the abbreviated second half and conceded 40 points. The best part for the referee is the players kept about the business of playing rugby and the match was remarkable for the lack of chirping.
This Week's Photo
As reported by Larry Freitas in last week's Hail Pelicus, UC Santa Cruz Women's Rugby honored their seniors with banana slug cut outs.   A high honor, indeed.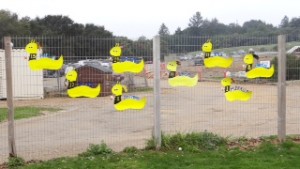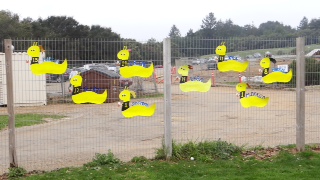 Hail, Pelicus!
For the Senate
Pelicus Pedem Referre