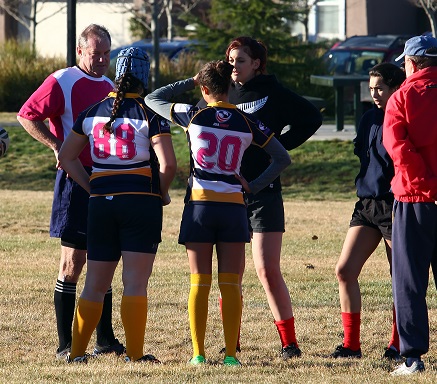 The Weekend Without Referees
HAIL PELICUS!
The Weekend Without Referees
Well, not quite, but February 1-2 was the busiest weekend on the Pelican calendar and many B side matches went uncovered. A number of stout pelicans doubled and even tripled up on the weekend to help out but, like every society in the world, we need more referees. If you have ever thought about taking up the whistle, striding nobly to the center of the pitch and taking command of a match pairing worthy adversaries, then please contact our Scott Wood at rscottwood@gmail.com . He will get you all the information you need to sign up and announce your availability on assignr, our game management software.
Of course, you will need to have completed the Level 1 course, but there are courses being taught all the time.
For those already on assignr please update your availability. Pete Smith does the assignments based solely on your listed availability and will not be chasing down referees in the hope that someone has a change of heart. This week is a full weekend as well so we will need all the bodies we can muster.
Hosts Needed For Visiting Referees
We urgently need volunteers to host incoming exchange referees. Hosting goes a long way towards fostering good will and is one of the considerations for choosing who we send out in exchange. We need one host for incoming Virginia referee Chris Davis who is coming in March. In March we will also host incoming East Midlands' referees, so a number of hosts are needed as well as some who cannot host but can take our visitors around. Volunteers should contact Bjorn Stumer at bjorn.stumer@gsa.gov.
The Passing Of A Legend Whose Like Will Not Be Seen Again
Rugby Canada and the rest of the rugby world lost a great man when Don Whidden passed away. One way to tell the measure of a man is how he is spoken of when he passes and the Hail Pelicus had an inbox full of memories as soon as the word spread. He touched the lives of many pelicans so I will let them eulogize him in their own words:
Dr. Bruce Carter
I always thought of Don as an old world gentleman. It made me feel better to be around him, such was his energy and optimism.
Ours was a friendship where we met gradually – you know, when you see someone, learn who he is without being introduced, and then after crossing paths once or twice more a conversation ensues and it turns out that you both know each other by reputation and accomplishments, through mutual friends. And it's like: why didn't we initiate this friendship sooner?
This is the poem his wife was reading to him as he shuffled off this mortal coil:
Do not stand at my grave and weep,
I am not there; I do not sleep.
I am a thousand winds that blow,
I am the diamond glints on snow,
I am the sunlight on ripened grain,
I am the gentle autumn rain.
When you awaken in the morning's hush
I am the swift uplifting rush
Of quiet birds in circled flight.
I am the soft stars that shine at night.
Do not stand at my grave and cry,
I am not there; I did not die.
Godspeed, Don.
Michael Malone
Don indeed was a gentleman in the finest sense of the word. I was fortunate to first make his acquaintance when I was asked to co-teach the old IRB Referee Trainer course with Tom Jones in Vancouver, BC somewhere around 2003. Mel Jones and Trevor Arnold also were part of that class. I had an especially enjoyable dining experience with Don and his wife that weekend at the usual dinner where the IRB picked up the tab. An absolutely delightful couple. It was always a pleasure every time our paths crossed thereafter.
I look forward to his wind on my face, his diamond glint on the snow.
Ray Schwartz
I will never forget, nor regret, the day Kat Todd dragged me off to Edmonton to spend time at the Women's Rugby World Cup in 2006. I get to St. Albert's, arriving in time to see USA play Australia (a fabulous match!) grab a beer and head to the rail at the edge of the deck overlooking the pitch.
I settle in, to enjoy my first beer and first World Cup match and I hear from behind me, "Excuse me!?"
The most polite fellow, looked a bit like Dudley Do-Right, all regal and upright, and apparently I was blocking his view, the view he had so carefully mapped out. There was Don spread out across a table with a notebook and pad and pens. And a friendship began…
Don proved to be a very wonderful, loving, hardworking and caring friend to all Pelicans Refs in the few years we got to know him. . Don Whidden was missed and spoken of often at the Sacramento Valley's Kick Off Tournament this last month. He attended and ref coached (his butt off) at 5 Kick Off Tournaments over 6 years. He also delivered lots of fine Albertan refs each time he came. What a personal treat it was knocking back beers with him in Rotorua in 2011!
We wish we had time, more time, lots of time. Times like those. Heck, any time with Don was always a blessing. He remains with many of us going forward.
Truly blessed by rugby to have known this man!
And now, the Main Event
High School Matches:
Saturday, the 5th Girls' High School KOT.
Report from Bryant Byrnes:
This was a delightful and productive event- a win win win. The players had the opportunity to get in some excellent games and partake in one of the joys of rugby-the tournament. The coaches and parents were given a lovely day.
And the refs got some real work done. Like the Boys' KOT, we use this as an opportunity for the old guys to work with the new guys in congenial circumstances. Thus the grizzled old silver backs (of which I am one, literally) coached those who are coming up. I must say that in the three games I coached, I and the ref agreed the procedure was most productive.
I praise Dave Williamson for running the refs and Karen Chance for putting on a boffo production.
Report from Joe Leisek:
Sunday, February 2
Raiders Practice Field, Napa
Napa Stormers 34 Montgomery Vikings 0
While Saturday was an unseasonably sunny, warm rugby day, Sunday was a beast. Cold, wind, and rain, lots of rain. Yet two varsity boys teams and their fans braved the elements to enjoy a morning match in the Napa Valley. It was the league opener for both teams. Now in their second season, the Stormers have established a solid, successful program. The Vikings have come together only in the last several weeks, but they are making progress – they played well considering their relative lack of experience. Players from both sides ran as often as possible, even with the wet conditions, until Napa closed things down late in the second half by keeping the ball close to the forwards. The Stormers are a well-coached, athletic, disciplined side with good technical skill on both sides of the ball. Enjoyable match with great esprit de corps on the pitch.
And the rest of the games…
Date: 02/01/2014
Olympic Club 17 – Glendale 27
Referee: Tucker, Chris
Good solid game between two well-organized teams, kicked off on TI after Gate made hard work of beating the visiting Santa Monica team.
Aside from a couple of dubious incidents, the game was played hard, fast and fair, with both sides competing hard for the ball at every breakdown.
The home side were up 9-3 at the half, but the first 10 minutes of the second half changed the run of play. Glendale — with their inside centre in the bin — started clicking, and quickly ran two tries over to take the lead. They never looked back, although a final try to OC to end the game made the score a better description of the competitiveness of the two sides.
Date: 02/01/2014
SFGG PRP – Santa Monica
Referee: Tetler, Jen
George did a great job reffing. SFGG pulled through at the end after being down most of the 2nd half.
Date: 02/01/2014
UC Santa Cruz Women 19 – UNR Women 15
Referee: Carter, Bruce
Another beautiful day overlooking Monterey Bay, the only surprise being a paucity of sailboats on the cerulean waters.
The Slugs' pitch is in great shape and their fan base turned out in sufficient force to make it difficult to call the scrums together – they couldn't hear me!
Early-season jitters and new-player-itis led to an uneventful first twenty, lots of scrums and penalties and no points at all. But by half time each team was finding their legs (and hands) and had scored a try, UCSC converting theirs.
In the second half, there was much more up-and-down the pitch play. I'd say the Nevada backs were more enterprising but the Slug forwards came through in the tight.
Overall, however, the difference was only in the kickers, as the home side converted 2 of their 3 tries, while the visitors were 0-for-3.
The crowd then thinned out for the men's game, ably whistled by Stephen Kenny, and I was happy to video it from the conveniently located, adjacent hillside.
I thoroughly enjoyed the game, despite being three times the age of most of the players. May they mine the vein of rugby friendship for as long as I have been privileged to do.
Date: 02/01/2014
Santa Rosa 50 – SFGG 5
Referee: Hinkin, James
AR: Bernstein, Bruce
Another postcard day at For Pete's Sake Field in Santa Rosa as San Francisco Golden Gate RFC travelled north for a D1 clash. Driving up to the pitch I passed by the Charles Shultz museum and noticed that there was a kite stuck in a tree outside.
Nice.
The game started fast as both sides looked to press the pace. Unfortunately that led to more errors than the respective coaching staffs would have liked to see and subsequently there were a lot of restarts. A missed penalty to Santa Rosa kept the eggs on the scoreboard until Santa Rosa decided to try to feed their wing Vasi Navia and he obliged by racing in for a try. This would prove to be a good strategy. As the half wound down the teams exchanged a try each with only Rosa converting in a nail biting first 40 that finished with the score 12-5 to the home side.
The second half proved to be a much different story as the Rosa backs took over the game. With flyhalf Seva Leweni creating space and Navia finishing the Rosa back line had a half to remember. Leweni was tearing apart the defense with a show and go before dishing until SFGG closed off that option, so he opted to split two defenders and pass behind them to an onrushing center. Just about everything he tried worked and at the end Navia was there to finish. Navia ended up with six(!) tries on the day with about half being your standard wing in support doing his job tries while the other half he created on his own. A commanding performance. The forward pack did enough to secure the ball and I am sure enjoyed watching the fireworks that resulted.
Many thanks go to Bruce Bernstein for ARing.
Date: 02/01/2014
Santa Rosa B 3 – SFGG B 25
Referee: Hinkin, James
A spirited B side match matched the intensity of the A side but revered the result. SFGG started a new face at flyhalf – I couldn't get his name but I think they called him Johnny Nokia. He had a good game and with some work he might be able to make the A side.
The Santa Rose players were keen and well drilled but SFGG showed off greater depth in talent if not numbers as they took revenge for the A side loss.
Date: 02/01/2014
Cal Women 7 – Stanford Women 81
Referee: Hettermann, Matt
Beautiful day up in the canyon – chatted briefly with Mike Macdonald before the match, and it's always a pleasure to ref with all of the support they give you at Cal.
Discipline was the big difference in this match – Stanford infringed less, and stuck their tackles. Cal did not.
Cal did have a standout #15 – some incredible line breaks. May be better used at #13 … Unfortunately most of their phase play was going backwards.
Date: 02/01/2014
St. Mary's College A 103 – Sacramento State 7
Referee: Ranaweera, Aruna
The opening weekend of the USA Rugby D1A California conference was mostly one-way traffic. SMC led 68-7 at half and tallied 15 tries, of which 14 were converted by their prolific place-kicker. Recognizing a golden opportunity when we see one, the capable Assistant Referees (Giles Wilson and Dave Parkinson) and I used this match to work on our speed endurance.
Date: 02/01/2014
St. Mary's College A 103 – Sacramento State 7
Referee: Parkinson, David
lopsided game from the start. teams were in a different class and the game got away from sac state quickly.
Date: 02/01/2014
St. Mary's College B 91 – Sacramento State B 5
Referee: Parkinson, David
lopsided game, but generally clean and fun. SMC dominated for most of the game. Sac State was able to put together some good phase ball for extended periods, but didnt end up gaining much ground with their efforts. One red card for punches thrown (SMC #2).
Date: 02/01/2014
St. Mary's College C 61 – Fresno State 7
Referee: Wilson, Giles
SMC boast a large group of players and scheduled three sides. Fresno State have a number of players but not the cohesion displayed by SMC.
Both sides struggled with the tackled player releasing the ball when support was slow. 3 cards for SMC and 2 for Fresno came after repeated warnings. When the players set the ball further back and support was on hand, things worked better (either turnovers or better possession).
Final score listed may not be correct – I'm back at SFO and don't have my score card.
Date: 02/01/2014
California 134 – Oregon St. 0
Referee: Lew, Tim
Cal vs Oregon State at Witter field for the season opener of the PAC 12 collegiate season. The game was dominated by Cal in all phases of play. Oregon never really had any attacking ball or even a chance at points the full 80 mins. Cal played strong multiple phase ball and used their gameplan to dominate.
Date: 02/01/2014
California B 134 – Oregon St. B 0
Referee: Boyer, Rich
Game played in good spirits. OSU never gave up.
Date: 02/01/2014
San Jose Seahawks 13 – EPA Razorbacks 26
Referee: MacDonald, Neil
No report received
Date: 02/01/2014
San Jose Seahawks B 24 – EPA Razorbacks B 37
Referee: Pohlman, John
EPA scored 6 try's in the first half, led by some of their first side players. San Jose seconds finished strong with two try's in the second half. Final score EPA 37 San Jose 14.
Date: 02/01/2014
South Valley 58 – Modesto 19
Referee: Tiatia, Nome
No report received
Date: 02/01/2014
UC Santa Cruz 22 – Stanford 32
Referee: Kenny, Stephen
No report received
Date: 02/01/2014
Diablo Gaels 29 – Fresno 43
Referee: Ricard, Bruce
Game started well with two motivated teams, tries were quickly scored by both sides.
The game got a little bit messy after 25 minutes, both teams got tired and started to infringe more. Fresno led 24-12 at the break.
The second half was very balanced and we got some good rugby, despite a bit of aggressiveness by the players. Both teams scored 3 tries.
Thanks to Lee and Peter for ARing the game.
Date: 02/01/2014
Diablo Gaels B 0 – Fresno B 53
Referee: Ricard, Bruce
The game started at 5pm. Both teams didn't have that many players and it was getting really cold, so we played only two halves of 20 minutes. Fresno scored 9 tries.
Date: 02/01/2014
Sacramento State Women 30 – St. Mary's College Women 40
Referee: Rauscher, Eric
This was a game of power vs speed. Sac State had the power and did a fine job of handling the rucks with lots of pick and goes and fine ball control. St Marys on the other hand made the most of their backs occasionally making line breaks with a bee line for goal. Both teams scored six tries so it was a very up and down the field game. The difference in the point total was that Sac State didn't make a single conversion while St Marys missed only one.
This is St Marys first year in competition, and shows to be a very good team.
Date: 02/01/2014
Sierra College 58 – CSUMB 0
Referee: Nguyen, Anthony
No report received
Date: 02/01/2014
Sacramento Capitals 23 – Vacaville 25
Referee: van Staden, JC
Ps – Detailed report to follow… 🙂 (Editor's note: when?)
Date: 02/01/2014
Sacramento Capitals B 8 – Vacaville B 26
Referee: Byrnes, Bryant
Real rugby; full sides played with spirit.
Date: 02/01/2014
Sacramento Blackhawks 68 – Berkeley RFC 12
Referee: Coppinger, John
Blackhawks ran rampant in the first half to run out to a 54-5 lead at the break. Berkeley regrouped and actually won the second half.
Date: 02/01/2014
Life West 58 – Reno Zephyrs 7
Referee: Leisek, Joe
The Life West Gladiators and Reno Zephyrs played a hard, fast game in brilliantly sunny conditions at Kennedy Park in Hayward. The score does not reflect the fact that Reno gave the hosts all they could handle. Though they traveled a long distance with just 15 players, the Zephyrs played at pace for a full 80 minutes, holding a tough defensive line and running the ball whenever they could maintain possession. However, the Gladiators created opportunities out of their opponents' mistakes and used speed and size to move forward throughout. The hosts scored four tries in the first half and five in the second, to the visitors' converted try in the second half. As has been previously reported in Hail, Pelicus, the Gladiators will not stay in Division III for long. Head coach Tez Molloy and his staff have built an impressive program with an excellent team. Big thanks to touch judges Brett Frazer and Akuila Uaisele of the Life West club. Both were a big help during the match. Brett is a Christchurch native who captained several Canterbury youth rep sides. One of his teammates was Andrew Merhtens.
Date: 02/01/2014
Santa Rosa JC 67 – USF 0
Referee: Bernstein, Bruce
Pretty dominate game from SRJC playing as 15 versus USF's few good players trying the best they could. Real good ball from SRJC halfback Eric & tough running by their small flanker taking the ball up off rucks. Also the best post-match food so far–great BBQ'd sausages.
Date: 02/01/2014
Humboldt 22 – Mendocino 19
Referee: Zanarini, Tom
This weekend was supposed to be a weekend off to celebrate my 42 birthday with my wife in Bodega Bay. But, the rugby guilt got to me when Pete put out an All Hands on Deck call for refs this weekend. Not wanting to disappoint, I summarily dropped (rescheduled) my weekend away to my wife's birthday weekend. So, all is okay. I drove up Saturday for the 4.5 hour trip. The thermometer read 28 degrees through most of Mendocino County, so I was a bit worried at my lack of layers. But, arrival in Humboldt saw sunny skies and 50 degrees, so again now worries.
Right, on to the match. The field: now that Marin can no longer play in Marin City, I hereby nominate Humboldt's Manila Island field as the worst in NorCal. Can I get a second on that motion? I collected about 10 pounds of rocks from the field and did my best to level off the recently filled in gopher holes. No one broke an ankle, so I'll take that.
Between the whistles: Mendocino seemed to have the momentum, dominating the scrum and breakdowns. But when HOG sent the ball wide, the attacked hard. A late attack by Mendo almost saw them break away for the win, but a knock-on with no advantage available required a whistle and the end of a very competitive match.
I did manage to sneak in a round of golf at Eureka Municipal on Sunday morning before my drive home. $25 for 18 holes is probably the best deal going. Any refs that golf; it's a bargain so take your clubs.
Date: 02/01/2014
Colusa 41 – Aptos 14
Referee: Bertolone, Cary
A great day for rugby, like every past Saturday. Colusa started strong and scored three tries in the first half, one by Dan Powers (flanker) and one by Pono (wing). Leading 36-0, Colusa finally gave up two late tries to Aptos, who never gave up and everyone had a good day of rugby!!
Date: 02/02/2014
Stanford 13 – Oregon State 20
Referee: Smith, Pete
Great game! Two evenly matched teams playing end to end rugby. The big #14 scored all three of Oregon St's tries (one via the intercept). Stanford had the same opportunity, but the slippery ball went for a knock-on instead of a try. this game could have gone either way and truly came down to one play made and one not.
Date: 02/01/2014
UC Davis Women 20 – Chico State Women 33
Referee: Franzoia, Tom
This was an A side game
Date: 02/01/2014
UC Davis 5 – Cal Poly 37
Referee: Akroyd, Phil
The first round of D1-A league play and this was a pretty spirited, although one-sided affair. Cal Poly never looked like losing and built up an 0-18 lead at half. They did stutter a little in their performance in the second half as we went 25 minutes without a score, but they then ran in a few late tries.
Cal Poly were a much more complete team with decent set pieces, seasoned fly-half and no real weak links. UC Davis had discipline issues with legal tackles and a puzzling kicking game. Overall, pretty responsive players, and decent skills, but could have and will be better as the season progresses.
Date: 02/01/2014
Chico State 39 – San Jose State 0
Referee: Richmond, Jeff
Chico State dominated throughout with strong play by the forwards and weak tackling by San Jose. The Chico scrumhalf stood out with his shifty running and ability to create opportunities.
The B-side was a better game to referee and spectate. The only glitch was going to uncontested scrums early as the inexperienced front rows couldn't bind safely. San Jose grabbed the lead but got worn down by Chico in the second half; Chico came out on top 17-5.
Date: 02/01/2014
UOP 5 – Sonoma State 86
Referee: Valerio, Stephen
First time I have been to UOP. A nice pitch, well-lined with proper posts, with still a little give in it despite the lack of rain. As far as the game, 2e have all been in these matches, it is part of a rugby players cycle of life. Sometimes you are on the right side of the scoreline, and sometimes not. Sonoma St sprung out to a 69-0 halftime lead and cruised to a 86-5 win.
Date: 02/01/2014
Olympic Club B 35 – Santa Clara University 60
Referee: Lane, John
No report received
Date: 02/01/2014
Fresno State Women 42 – Humboldt State Women 29
Referee: Jury, Jeff
Beautiful bright clear day in the valley. Good hits and coordinated running found the score Humboldt 17 Fresno 16 at half. The game was still tight with 13min. to go, HSU 29 CSUF 30. But the 10 hour ride caught up to the girls in green and gold with the bulldogs scampering a couple tries and one conversion for a final score of HSU 29 CSUF 42.
This Week's Photo
Comes from the Girls KOT where referee Paul Hale speaks to the captains of Mother Lode and Berkley.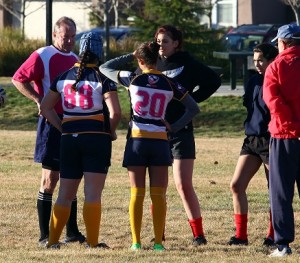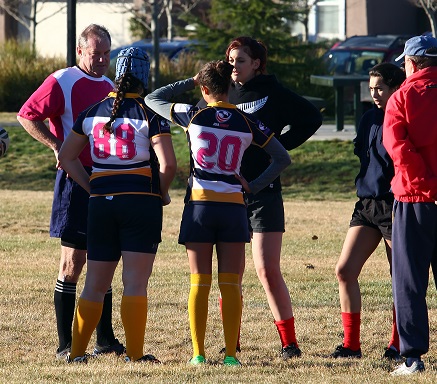 Hail, Pelicus!
For the Senate
Pelicus Pedem Referre