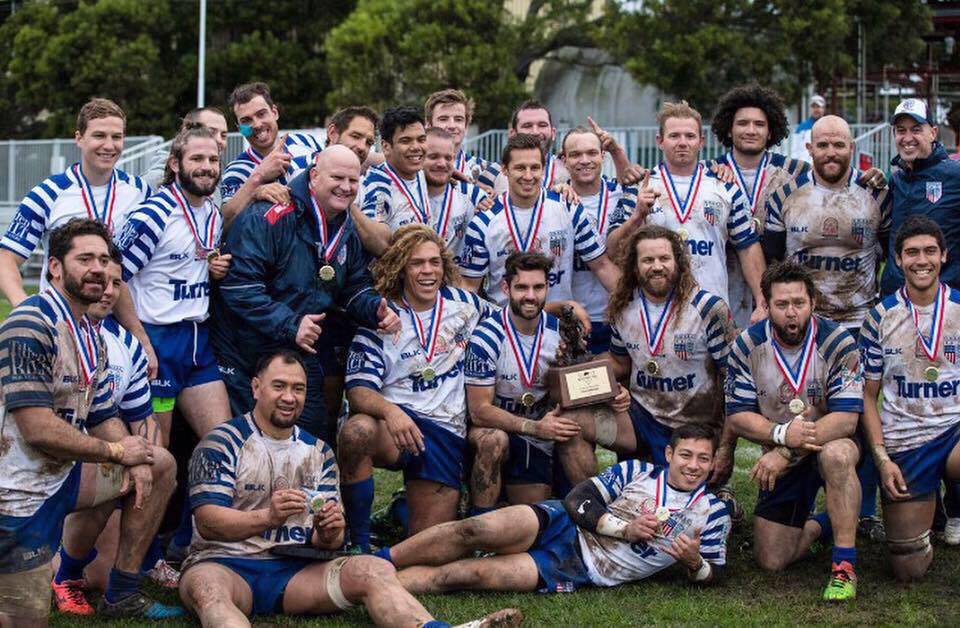 HAIL PELICUS!
The Wettening
For years we here in Pelicanland, both within and without the rugby community, have been badgering the Weather Priestess for rain. The drought California was experiencing was of epic proportions with serious concerns about the availability of potable water in several remote communities. Hail Pelicus even suggested reverting to the ancient practice of animal sacrifice, accompanied by seasonal vegetables and a nice wine, to convince the Weather Priestess to bring some rain to our parched landscape.
Apparently the Weather Priestess took notice and granted all of our wishes all at once. Pelicanland is no longer a dry, desolate landscape but now a damp, muddy bogland. Bolstered by our success in reversing the drought the editorial staff here at Hail Pelicus recommend that all of you petition the Weather Priestess to lighten up a little bit on the rain, say, leaving at least the weekends sunny and dry. As always, these petitions will get more attention when accompanied by a sacrifice and I personally plan to sacrifice a Delmonico steak on the grill this Friday to assure a dry weekend. For best results, as a base for any reduction sauce sautéing garlic in butter is highly recommended because, obviously, the gift ascends to the heavens via the smell. Thus it is the true essence of the steak that the Weather Priestess enjoys and all one has left to eat is the earthly shell which is as ashes in one's mouth, but this is the sacrifice we all should be willing to make. To paraphrase Terry Pratchett, whose ideas I baldly and badly plagiarized for this opening bit, that explains why the smell of the steak and the reduction sauce is always better than the actual meal itself.
Don't forget the garlic.
The Great Irony Of Northern California Rugby
Mike Comstock is a legend. He didn't grow older, he grew tougher. He was an old school prop who took props to school and even as he got older speed was never an issue because speed was never an issue. Back in 1994 in my first year out of college he greeted me, a cocky young winger, with a bone crushing (and late) hit then mumbled "welcome to D1 rugby". He played anywhere, anytime – nothing would keep him from strapping the boots on and hitting the pitch. He was playing prop for club sides into his 60s. He was a force of nature.
This year the NCRFU and Division 3 tried to honor him with a tournament and would play for the Comstock Cup. It was rained out… twice.
New Year, New GMGs
USA Rugby has produced new Game Management Guidelines for 2017. You can read them in all their glory here: https://drive.google.com/file/d/0B5vxlc6Mi03oT3djWGRkUnVnckU/view.
The biggest change is in how we are to referee high tackles – that section begins on page 17. Pelicus Iudex Pennipes will also be presenting on this topic at next month's meeting. Speaking of which…
February Society Meeting
Our society meeting was also Comstock'd due to weather so we will next be meeting Wednesday, February 8 at the usual location, the SFGG clubhouse on Treasure Island. NOTE: If rain is forecast we will be holding the training at Tracy High School so keep your ear to the mud for updates from our illustrious leader Pelicus Iudex Pennipes and also in this space.
There will be a Yo-Yo fitness test at 6:00 to determine which referee can do yo-yo tricks the longest. If you desire to receive National Appointments or wish to be considered for NCRRS playoffs plan on completing the test. You must "walk the dog" at least twice and maintain a "sleeper" for a minimum of 10 seconds to be considered.
At 7:00 we will commence our monthly training. The following are the presenters and topics:
Neil MacDonald – Breakdowns
Lee Johnson – Scrum and the Dark Arts
Lee Bryant- Psychological elements of officiating
Paul Bretz- Game Management Guidelines
New Kit
We have jerseys. We have socks. The rest is up for debate. The (astonishingly stylish) new kit will be distributed if I see you at some point in the next couple of weeks and at the Society meeting.
Las Vegas Invitational
The previous LVI Tournament Director has left his post to study the sexual habits of Arctic mollusks so Steve Albrecht has taken over. Below is his call to the Greatest Rugby Referee Society On The Planet:
Referees One and All !
The biggest rugby tournament in North America is looking for YOU! The Las Vegas Invitational needs you on March 2nd, 3rd, and 4th to help volunteer and officiate 7's (and a few 15's) matches across youth, collegiate, and adult divisions in Sin City. As our tournament continues to grow, so does the number of referees needs to keep this event rolling! Come ref by day, and enjoy the most exciting city on earth by night!
All Referees receive:
– Rhino LVI Referee jersey (both Male and Female cuts)
– Tickets to all 3 days of the USA Sevens International event (when you stay at the Westgate Hotel – massive LVI discounts available)
ALSO – USA Rugby is holding a 1-day clinic Wednesday March 1st at the Westgate Resort. Don't miss out on your chance to train with the best in the ever-growing world of Sevens Rugby.
Westgate Hotel link: https://www.usasevens.com/las-vegas/official-lvi-hotels/
To register to ref at the LVI 2017: https://goo.gl/forms/e5Om9GuMqYsM5zR43
Any questions about the event?: https://www.usasevens.com/las-vegas/las-vegas-invitational/
The Naming Of The Flock
As the Keeper of the Nomenclature, over the fall I have been working to increase the number of Officially Recognized Pelican Names and the flock did not disappoint. As it pleases the Senate, I would like to announce that the following people be known to all learned men and women by the following names:
Sebastian Ainslie shall be known forevermore as Pelicus Varinius!
Rich Anderson shall be known forevermore as Pelicus Amans Bersabee!
John Coppinger shall be known forevermore as Pelicus Iudicialis Eunuchorum!
Steven Fenaroli shall be known forevermore as Pelicus Parvus Scurra!
Grant McDougall shall be known forevermore as Pelicus Veteris Apteryx!
Matt Hetterman shall be known forevermore as Pelicus Machinor Lumen!
Joe Devlin shall be known forevermore as Pelicus Senatus Porcos!
Jeff Richmond shall be known forevermore as Pelicus Caseum Caput!
Rob Hendrickson shall be known forevermore as Pelicus Consiliarius!
David Pescetti shall be known forevermore as Pelicus Spaghetticus!
Favor Taueva shall be known forevermore as Pelicus Gratiam!
Jen Tetler shall be known forevermore as Pelicus Alta Matriculus!
Nome Tiatia shall be known forevermore as Pelicus Nuntium Ignorare!
Dan Wilson shall be known forevermore as Pelicus Tonitrui Percute !
Ask A Pelican
Yes, it's time for this week's installment of "Ask A Pelican", the widely loved Q and A session with Hail Pelicus. This week's question comes from Douglas Adams of Santa Barbara, CA who asks, "What happened to all the Hitchhiker quotes? I quite liked them"
Great question Douggie and thanks for reading Hail Pelicus even if you are, technically, dead. Each year brings new challenges and organically generates new themes. Last year "The Hitchhiker's Guide To The Galaxy" provided that theme and generated at least one new reader, if not a new fan. We here at Hail Pelicus are all excited to see what themes appear in the new year.
Disciplinary Action Reporting – Process For Reporting Incidents
The various competitions all have their own disciplinary chairs and this will make it difficult to centralize the communication and data. To help Scott Wood has developed a form that will centralize the process, regardless of the competition. The link to the discipline form is https://docs.google.com/forms/d/1mmUNg11uVOSkIsUtHifSqQzalhWbwohk_J6AmPyrucQ/viewform
Copy the link and have it available on your smartphone. If you have an iPhone add the link to your home screen.
When needed fill it out and click submit. The discipline chair of the competition you refereed will receive a notification about the incident.
He/she may contact you latter for more details.
If you have any questions as to how to use the app please refer to the following video: https://www.youtube.com/watch?v=_Uz0_gTaOnY
On To The Game Reports!
Date: 01/21/2017
Life West Women 83 – Sacramento Amazons 10
Referee: Hinkin, James
With Mother Nature making up for lost time Life West chose to move their match against the Sacramento Amazons to the wonderful turf field at Cal Maritime – a wise decision. Both teams were warming up when I approached… sort of. Apparently the Amazons only traveled with 8-10 players (guess based on conversation, not actual numbers), so the game was a forfeit and Life West lent several bodies to Sacramento so they could get a game in.
The game itself was played under crisp, dry weather with one three minute exception where it just dumped down. It is almost like the clouds weren't paying attention to the rain schedule and realized too late that they were supposed to put an inch of rain on the field by 11:00AM and hey, it's 10:55 already so they had to do a rush job. The ladies didn't care and played hard throughout. Unfortunately, as is common with these kinds of games, it was one sided with Life West running out 83-10 victors. All in all a fun game played with energy and good spirit.
Date: 01/21/2017
UC Davis 10 – UC Davis B 5
Referee: Kenny, Kevin
Nosy Person With Opinions: Johnson, Lee
With heavy rains predicted for Saturday, the venue was changed from CMA to UCD and then back to CMA. UCD pitch was flooded, so the turf at CMA was the final location for the days match. I arrived early to a dry pitch and in time to watch the A teams play and hang out with Mike Malone.
UCD b and CMA took the pitch under cloudy skies with the rain gods retreating. UCD kicked off, though it was a highly contested defensive match, they eked out the only try of the first half without the conversion. The second half went the same with CMA nailing a try early and UCD followed with another try shortly thereafter, both with failed conversions. In the last two minutes CMA was awarded a penalty kick which they punted in to touch at UCD 10 meter line. With UCD winning the line out, on borrowed time, they kicked to touch to win the match.
CMA offered great hospitality, and all enjoyed the after game camaraderie.
My referee coach, Lee Johnson, offered great feedback after the match. I was able to work on them on two high school matches the following day. Thank you, Lee.
Date: 01/21/2017
California 39 – University of Arizona 12
Referee: Fenaroli, Steven
A close game with handling and discipline errors in the beginning. Both teams figured their gameplan out and played some tough rugby. Cal missed conversions which left the score closer than it needed to be. Cal was quick to squash Arizona line breaks but U of A kept fighting putting up two scores.
Date: 01/21/2017
California B 81 – UC Santa Cruz 0
Referee: MacDonald, Neil
AR: Fenaroli, Steven
Always a treat to referee at Witter Field. Cal were just too direct, too strong, too creative, and too quick for UCSC to handle. Many thanks to Steven Fenaroli for staying on to AR after his match.
Date: 01/21/2017
Chico State Women A 12 – UC Davis Women A 33
Referee: Tucker, Chris
Blustery day? Rain on the horizon? Anybody care??? Admittedly it felt like a spring day in Wales, but as I've always maintained, if we never played in the rain back in the UK, we'd never play. So we had to play on an artificial turf field with gridiron lines, but better weird-looking pitch rugby than no rugby at all.
Both teams fielded strong, fast teams that looked purposeful with ball in hand. How often the ball itself was in hand was probably the difference between the two teams, with Davis being sharper on the passes, and stringing numerous phases together, while Chico saw more than a few errant passes disrupt positive possession. As time went by, the narrowness of the pitch became less prevalent as the teams got a little more tired, and Davis was able to score 3 tries in the second half to put the game away. Still, I was at 3.7 miles for the game, which represents a good, fast match between two sides who will both do well this season.
Thanks to Matt Mulholland on the sideline for his invaluable assistance.
Date: 01/21/2017
Colusa Women 15 – San Jose Women 22
Referee: Wood, Scott
Highway 20 closed due to local flooding changed my travel plans to venture into the depths of rice, tomato and orchard (ah-monds, not all-monds) country. Pelicans were not the only birds migrating to various grounds. Egrets, geese, and other unidentifiable flying creatures (I never professed to be an ornithologist) were flying about making up for travel delays. Storrmageddon v1.21.17 rested long enough to provide for sunny skies shining upon sodden ground. Sloggy conditions, first game of the season, and first league game for many, created for long bouts of sloppy play periodically interrupted by some rugby (it really wasn't that bad). San Jose traveled with 14 whereas the hosts had 17 on hand. The neophytes had steep learning curves and struggled with fundamental issues like tackling and offside, but seemed to shine just when things seemed bleak. Of particular note, San Jose was in possession as the watch signaled full time. Deep in their territory, the ballcarrier decided to throw the ball directly into touch (this being only the second time in 17+ years of refereeing that I have penalized such). Colusa was awarded the penalty and drive to within five meters of the goalline when they lost the ball. This time, San Jose kicked the ball to touch to end the match.
Kudos to the players and fans for braving the windy, muddy conditions (more standing water along the touchline than in the field).
Date: 01/21/2017
California Women A 24 – Humboldt Women A 38
Referee: Coppinger, John
HSU came out strong and took an early lead through the hard running and conversion kicking of their big and fast #13. Cal regrouped in the second half when their big replacement #8 began to settle things down with big hits on the defensive side and big carries on the offensive side, which allowed Cal to swift the ball wide where their faster and quicker backs were able to exploit one on one opportunities to score three second half tries. HSU, however, scored two tries late to seal the victory in their first D1 game. A big thanks to Ed. Barfels for running touch notwithstanding the 9 a.m. start on the chilly GAA pitch on TI.
Date: 01/21/2017
Pleasanton Jesters U23 45 – SF State 10
Referee: Tuisavalalo, Rodney
We were spared the dirt and muddy fields created by the weekend storms . Livermore provided a good clean field with excellent playing conditions. The first half saw some pretty competitive rugby. The Jesters provided strong running while SF State played very good defense -which capitalized into penalty points 10 minutes into the contest. The Jesters would answer back with 2 tries minutes apart. They would score another one just before half time to make it 19-3. SF State would not go away so easily. They made some good breaks to start the second half. Their captain led the way with a 30 m carry that saw him score on the line 5 meters from touch. But that would be their last good run of the day as injuries would force a couple of men off the field. The Jesters meanwhile continued to dominate all facets of the game, especially a backline that saw several breaks through SF state defensive lines. The game became out of reach by the 3rd try by the Jesters in the second half. Final score 45-10. (Note: The boot is given to a player- who only by the will of the gods- scores their first ever try. It's usually filled with beer or some alcoholic beverage that for the most part acts as an antiseptic. When you fill the boot with plain water you are basically guzzling down all and every known germ that was once part of the foot that inhabited said boot. Drink wisely my friends. Cheers!)
Date: 01/21/2017
St. Mary's College 55 – Univ Utah 12
Referee: Akroyd, Phil
Summed up in one word, this game was wet. However, the game didn't suffer too much due to the conditions, so we had lots of continuous play and many points.
SMC pulled out a large lead in the first half, but only scored a couple of tries in the second as they got bogged down a little with penalties. Utah did well to keep the game interesting to the end but the Gaels will need to cut out errors and increase discipline if they intend to push for a national championship title again.
Date: 01/21/2017
St. Mary's College C 29 – Sonoma State 15
Referee: Santiago, Roberto
The game was competitive throughout. Sonoma State suffers from lack of depth, but are well coached and plays with great camaraderie. The St. Mary's C side shows the evolving skills you expect from a developmental side at that level, meaning they're actually quite good; particularly up front.
Date: 01/21/2017
St. Mary's College Women 33 – Santa Clara Women 10
Referee: Pohlman, John
A rainy and muddy day found me refereeing the St. Mary's women against the Santa Clara Woman in a pre season scrimmage.
The field was had standing water but the conditions did not seem to bother either side, so play on.
I was surprised and happy to see both teams with quality players and coaches leading to a very competitive game. The difference was a couple of the St. Mary's players being brutal runners and simply breaking down the defense. St. Mary's hard charging #1 scored two try's and was player of the game.
Both teams played allot of forward crash ball due to the conditions. I hope to see them on a dry field this season so their backs can show their abilities.
This Week's Photo
The 2017 California Cup completed play with the Old Mission Beach Athletic Club claiming the title over Life West. It makes me happy to see this competition back as I loved playing in it back in the 90s and it was one of the few opportunities I had to go head to head with my brother. I would prefer to have a picture of the referees but nobody thought it would be a good idea to send me one.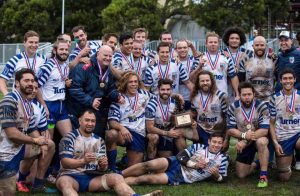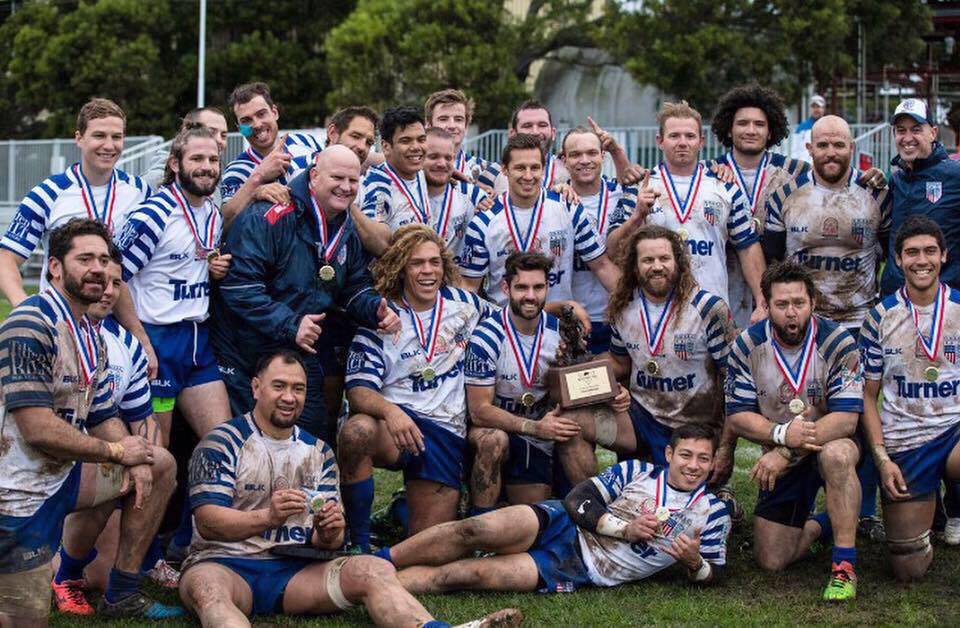 Hail, Pelicus!
For the Senate
Pelicus Pedem Referre