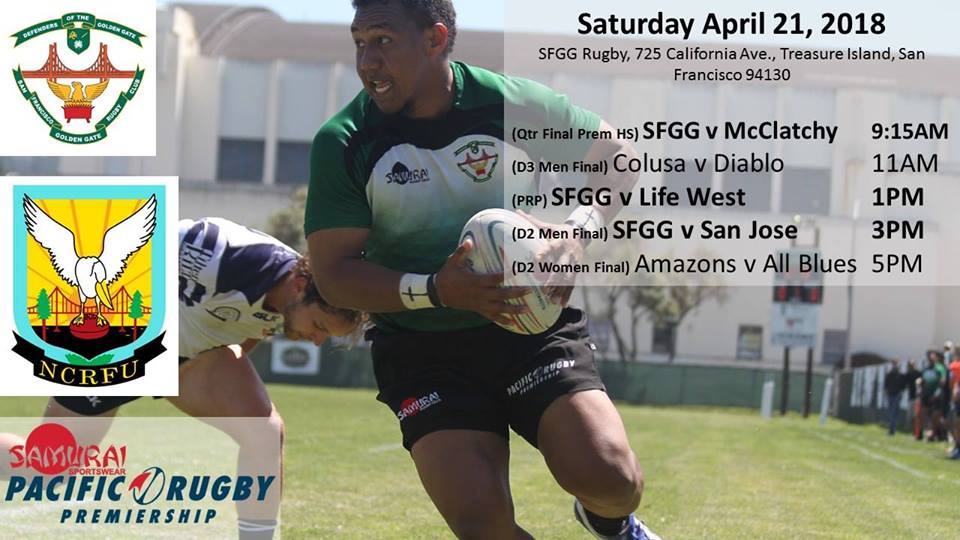 There Are The Tries That Time Men's Souls
HAIL PELICUS!
There Are The Tries That Time Men's Souls
It is playoff time here in Pelicanland and this is the reward, the payoff for all the hard work put in for the last 12 months. Very few teams win a championship so for everyone else the season ends with disappointment and the need to work harder for next year starts then. Actually, I tell a lie. Even the teams that win championships feel that need because they want to experience that feeling again. The joy of victory. The satisfaction of a job well done. The point is everyone has been putting the work in and for the teams that make it this far, this is when it pays off. Training in the cold and the rain. Doing just one more set in the gym. Passing up that last beer at the pub. (Yes, I know, but it does happen. Weird, but true.)
"These are the times that try men's souls", talented scrumhalf Thomas Payne (no relation to Dan Payne) said way back in 1776, while he was discussing his local club's chances in the British Colonial Rugby Football Union D1 semifinal (they won). Seeking to further encourage his side he continued, "The summer 7s player and the sunshine supporter will, in this crisis, shrink from the service of their club; but he that stands by it now, deserves the love and thanks of player and coach." Sage words, indeed.
(Historical footnote: Dissatisfied with the administration of the BCRFU Thomas Payne – still no relation to Dan Payne – successfully advocated for the local clubs to break off and form their own Union, which has been in operation ever since.)
It is no different for the members of the flock as we have all been working hard to perfect our craft, putting the extra running in, studying the laws and guidelines, and working with our coaches and evaluators to be at Peak Beak for the playoffs. Not only do the cream teams rise to the top but the cream referees do as well. For all of those who get playoff assignments, congratulations. For all of those who didn't, don't despair, but remember Thomas Payne (he really isn't related to Dan Payne) and his famous dictum, "Missed appointments, like hell, are not easily conquered; yet we have this consolation with us, that the harder the conflict, the more glorious the triumph."
(EDITOR'S NOTE: The Thomas Payne quotes above were taken from his inspirational leaflet The Catastrophe and not the famous revolutionary pamphlet The Crisis that was published some time later on. Although, to be fair, The Crisis was based on The Catastrophe, which passionately detailed the need to separate from the BCRFU.)
Weekend Update
With several leagues heading into or already in playoffs it is time to take a quick look around the landscape. So here we are with the latest:
Women's D2
The All Blues D2 side beat an impressive SFGG 48-40 but the Sacramento Amazons still remain on top with a 7-1 record . The All Blues will play the Amazons this weekend in the D2 Final at SFGG.
PRP
Not really sure, as most of these are national appointments (ie: USA Rugby sends the Nor Cal B Panel to do our games) and because of that I don't get results when I download the games. All I know is that OMBAC and Belmont Shore sit atop the standings with SFGG close behind. Life West and Olympic Club are well back. Do they have playoffs? Who knows?
Men's D2
In the Upset of the Week SFGG D2 beat the perfectly cromulent #1 seed Sacramento Blackhawks, dealing them their first on field loss of the season. They will meet the San Jose Seahawks in the D2 final this weekend as the Hawks took care of business against a game Vacaville side.
Men's D3
Was off. The final is this weekend when thine most Olde Gaels will deal combat with Colusa. Huzzah!
Men's D1-A
Both St Marys and Cal cruised through their first playoff matches and will each host quarterfinals this weekend. Cal takes on Navy and St Marys gets Lindenwood. With the D1-A Final to be held at Santa Clara University's Steven's Stadium, neither Cal nor St Marys should sleep anywhere else but their own beds before meeting in the final. Yes, that's a prediction, and I'm sticking to it.
Men's D1-AA
Nevada took care of business down south in Long Beach and beat the hosts in the semifinal to set up a date for the D1-AA National Championship. Nevada will now face Dartmouth in the Spring Championship at East Carolina University this Saturday.
Women's D1-Elite
Chico State will take on the Gauchos of UC Santa Barbara while Lindenwood will try their luck against Stanford this weekend at Stanford University's Steuber Rugby Stadium. More on that next week.
Women's D2
University of Nevada's ladies get a chance to match their brethren with a matchup against Long Beach St. The men won in an exciting, tense match and now for the women to match that this weekend at Stanford. Fresno St is set to take on UC Irvine as well in the other quarterfinal held at Steuber Rugby Stadium.
As you can tell there is a lot going on and Nor Cal is well represented in the national landscape yet again. Good luck to all participants as they battle it out. Personally, I will be lying on a beach so will have to wait until Monday to find out what happened.
Disciplinary Action Reporting – Process For Reporting Incidents
The various competitions all have their own disciplinary chairs and this will make it difficult to centralize the communication and data. To help Scott Wood has developed a form that will centralize the process, regardless of the competition. The link to the discipline form is https://docs.google.com/forms/d/1mmUNg11uVOSkIsUtHifSqQzalhWbwohk_J6AmPyrucQ/viewform
1. Copy the link and have it available on your smartphone. If you have an iPhone add the link to your home screen.
2. When needed fill it out and click submit. The discipline chair of the competition you refereed will receive a notification about the incident.
3. He/she may contact you latter for more details.
4. If you have any questions as to how to use the app please refer to the following video: https://www.youtube.com/watch?v=_Uz0_gTaOnY
On To The Game Reports!
Date: 04/14/2018
University of California 85 – Grand Canyon University 14
Referee: Phil Akroyd
AR: Matt Hetterman
AR: James Hinkin
#4: Eric Rouscher
One of the D1-A round of 16 games brought together number 16 seed GCU and number three seed California in Strawberry Canyon. GCU sneaked into the playoffs in only their fourth year of existence. The Phoenix, AZ outfit have made some real investment into their rugby program and brought in a former Scotland 7s player as coach, a kiwi coach, and their captain is a giant Englishman from Staffordshire. That gives the impression of a wholly overseas flavor, but those are the only foreigners involved – all others are U.S. born and raised players who have taken up the game here. Very commendable, and also highlights the level of competition of serious rugby colleges and the recruitment battles that we may have in the future. That has to be good for the college game.
Unfortunately, when it game to the on-field operations, GCU showed their lack of experience. They really put themselves in a deep hole early on with some kicking decisions that appeared a little 'off-piste', while deep in their own half. They gave up 26 points in the first eleven minutes so the game was out of reach from the start. Cal managed to put 45 points up by half and GCU managed a converted try that also came from some risky play from Cal's own line, which seems to be a tactic of late but undid them last year against SMC too.
In a near mirror image of the first half, Cal added another 40 points in the second half and GCU 7, so I certainly covered some miles. Other than the high scoring, the game was notable for the lack of other events. Scrums were very clear, no foul play or cards, lots of advantage, and very few penalties conceded by either team.
GCU can be happy with their season, while Cal move on to play Navy on Saturday back at Witter Rugby Field, which should be a more thorough test. Thanks to James Hinkin, Matt Hetterman, and everyone's favorite Wizard, Eric Rauscher for the in-game support.
Date: 04/14/2018
SFGG Women 40 – Berkeley All Blues B 48
Referee: Lee Bryant
Beautiful day for some great rugby! Being a part of a good women's club rugby match is one of my favorite places on the rugby pitch. Watching those experienced women weave the ball through well-executed tough hits reminds me why I love this sport. The first half was relatively evenly matched with a small margin score going into half time. Both teams had great runners and big forwards so the contest at the breakdown was tough. High tackles became the bane of SFGG and played down to 14 twice in the match. Blues managed to put up a few unanswered scores in the second half and SFGG couldn't make up the difference despite a push with 15 minutes to go in the match.
Date: 04/14/2018
Sacramento Blackhawks D2 22 – SFGG D2 29
Referee: Rich Boyer
This was a hard hitting game. The Blackhawks stepped to an 8-0 lead on a quick try and penalty kick. SFGG fought back and were rewarded with a converted try. At times it looked easy for the Blackhawks as they found space and were off to the races, only to be undone by errors. They continued to pound and scored a converted try, which was answered near half time by SFGG. 15-14 at half. Both teams continued to be very physical. The Blackhawks had two long goal line stands but were eventually done in by the SFGG number six, who identified a gap, took advantage and scored the winning try.
Date: 04/14/2018
San Jose Seahawks 49 – Vacaville 36
Referee: John Lane
AR: Stephen
AR: Jonathan
A glorious day at Independence High School for the D2 playoff.
Two enthusiastic sides prep'd for the game and the formalities of boot checks and coin toss were completed early allowing the teams to go through their pre-match routines un-interrupted. Supported by Stephen and Jonathan as AR's the game was started with Vacaville kicking "uphill" to San Jose who had chosen side having won the toss. The Seahawks dominated early play opting to kick at goal for a 3-0 lead on 3 minutes following a breakdown infringement. This was followed by a converted try on 6 mins with Vacaville slipping off a couple of tackles. 10-0. Vacaville started to get more into the game after these early setbacks. Looking to move the ball across the backline, a period of pressure was build up. This was initially turned over but the clearance was returned upfield with some strong running and after a few phases Vacaville crossed for a converted try leaving the score at 10-7 on 13 minutes.
The Seahawks drove forward and maintained pressure in the Vacaville half for most of the rest of the half with occasional breakouts by Vacaville. There were a number of turnovers by both sides as players became isolated after multiple phases. The Seahawks, trusting their kicker from reasonable distance, extended their lead to 16-7 with penalty kicks on 20 and 25 minutes. This was followed up with a disallowed try for double movement as they looked to build a strong lead before half time. On 31 mins, the lead was extended again with a converted try, 23-7. Vacaville put in a strong finish to the half but a number of opportunities were lost through knock-ons and players becoming isolated leading to turn overs. The half finished at 23-7.
The second half was lively on the scoreboard as both sides played open and attacking rugby throughout.
As in the first half, Seahawks started better and crossed for a relatively easy score on 43 mins to move to 30-7. The response was quick by Vacaville with an excellent score, converted, to bring the score to 30-14. This score was negated on 50 minutes as Seahawks pushed the lead out to 37-14 with a converted try. The next 10 minutes were fairly even with the subs benches starting to be activated in the hot sunshine! Seahawks scored next on 62 mins in what appeared to be the close out score for 44-14.
Possibly Seahawks relaxed a bit with the 30 point lead but it was also clear that Vacaville were going to play to the full 80 and the last 15 mins were played with open endeavor to pull back the lead. 12 points were added with tries on 27 (converted) and 31 minutes by Vacaville. 44-26 with 9 minutes remaining. Now I was being asked for the score and points difference by both sides!!! Seahawks broke away for a try on 74 minutes to stretch the lead out to 49-26. Vacaville kept chasing the game and crossed for unconverted tries on 39 minutes and with the last play of the game with the clock in the red! to leave the final score 49-36.
Date: 04/14/2018
Olympic Club B 24 – OMBAC B 51
Referee: Cary Bertolone
AR: Tony
Beautiful day at Treasure Island, around 70 degrees with a breaze. OMBAC scored at 7 minutes and at 24 minutes. O Club intercepted a pass to score at the end of the half. OMBAC up 12-7. It became more of a trackmeet in the second half. OMBAC scored in the 4th minute, then scored on an 80 meter sprint one minute later, O club scored a try two minutes later, and so on. Good game, most everyone in good spirits, final score of 51-24, OMBAC. Thank you Tony, who AR'd for me. On a funny note, my touch judge from O club allowed one of his yellow card players back in, 5 minutes early. I saw him playing, immediately, and stopped the game, penalized them and sent the player back off the field. Team mate yells that's your touch judge, I replied that's your teammate and we all laughed.
Date: 04/14/2018
Shasta Highlanders 62 – Southern Oregon University 29
Referee: Jeff Richmond
With twelvish players on each side, rookies, and a coed component this was truly a friendly match. Worth the drive!
Date: 04/14/2018
St Marys College B 48 – PAC (A-Side) 14
Referee: Roberto Santiago
A picture perfect day for rugby at St. Mary's. The home team was their usual selves; cohesive, fast, well coached. The visiting representative side came with just 15 players, and put up a good showing considering that they hadn't played together much and had no subs. St. Mary's scored at the ten-minute mark on a nifty move that saw the ball carrier nearly tackled, but able to cradle the ball between his palm and wrist just long enough to reach over for the try. The side traded scores before St. Mary's put in two in a row, the second coming off of a lineup and maul into in-goal. The visitors then put in a furious series that ended with a grubber that caromed off the goal post and right to a hard charging back, who dove over for the score at 41:00.The second half saw fatigue set in as St. Mary's was able to bring in fresh legs and score four unanswered tries. The visiting side did put up a memorable goal line stand. St. Mary's kicked ahead and looked for all the world like they would score on the initial 3-on-1 action within five meters. But the lone defender was able to tie up the ball carrier until help arrived. The next two phases produced a ball held up in goal, and a point of pride for the undermanned team.
Date: 04/14/2018
Danville Oaks RFC 24 – Lamorinda Rugby Football Club 31
Referee: Steven Fenaroli
Lamo and Danville met at St Marys for a match to decide #1 and #2 for high school clubs. Danville struck first with a penalty goal. Lamo responded with two tries. By halftime, Lamo had scored twice more and Danville had scored two tries as well. Danville kept trying to claw back but Lamo continued to keep the game out of reach.
Date: 04/14/2018
San Francisco Golden Gate Rugby Club 62 – Marin Highlanders Rugby Club 0
Referee: Preston Gordon
SFGG jumped out to an early 12-0 lead in their last match of the regular season with second and fourth-minute tries. Marin settled things down after that, mounting attacks of their own, until SFGG added 2 more tries at 17′ and 19′ to increase their lead to 24-0. The fast game continued, helped by the sunny and fairly warm weather. Before the end of the half, SFGG added two more converted tries to lead 38-0. The yellow card to a Marin player for not releasing the ball (as a team repeated infringement) didn't help their cause.
In the second half several substitutions were made on both sides. This may have reduced the scoring somewhat, with SFGG being held to 4 more tries, but Marin certainly came close to scoring themselves, and their defense was standing up to the onslaught pretty well. With 10 tries and 6 conversions to zero, this game was one-sided, but that didn't detract from the spectacle.
One further note from this game that pertains to law 9.7.b: I awarded a scrum in the Marin 22 just before time in the match expired, with SFGG throwing in. Time expired well before the scrum engagement sequence, and both captains were made aware of this. The scrum ensued and SFGG hooked the ball back to their captain, who was at #8. He unbound from the scrum, picked the ball up, took a step backwards, turned, and threw the ball ~20m into touch. He watched the ball go out, turned back around, and seemed a bit shocked to see my yellow card already flying high. While the yellow card may be a bit harsh in this case, I determined that this was an extremely cynical infringement, especially when it would have otherwise ended the match. Once I explained the laws and the SFGG captain went off, Marin took their last opportunity to attack and made good use of it. Eventually SFGG effected a turnover, went through one ruck, and then kicked to touch to end the match.
There is a very similar situation as in the second video example on the World Rugby laws page (http://laws.worldrugby.org/?law=9).
This Week's Photo
With no other picture available, here is a shameless plug for Saturday's Club Finals at Ray Sheeran Field.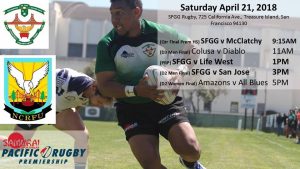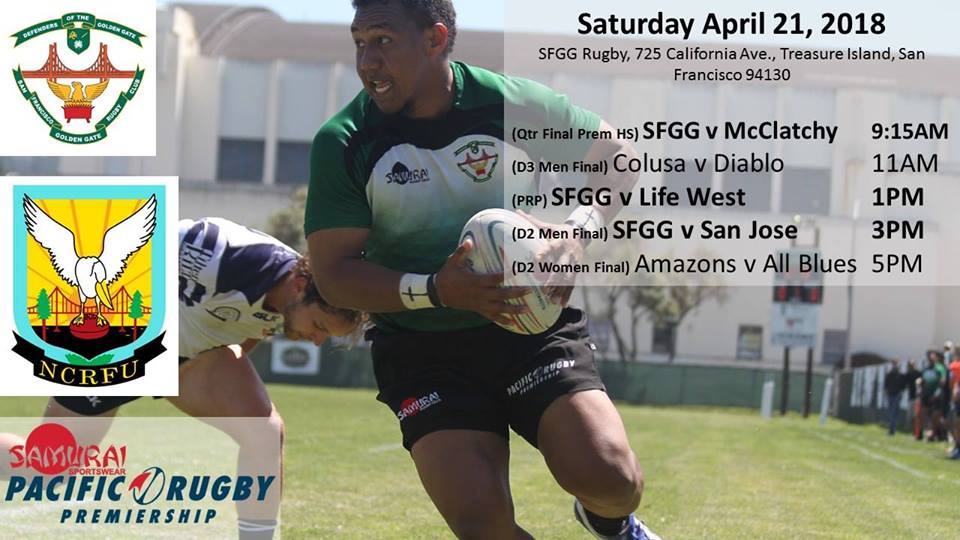 Hail, Pelicus!
For the Senate
Pelicus Pedem Referre