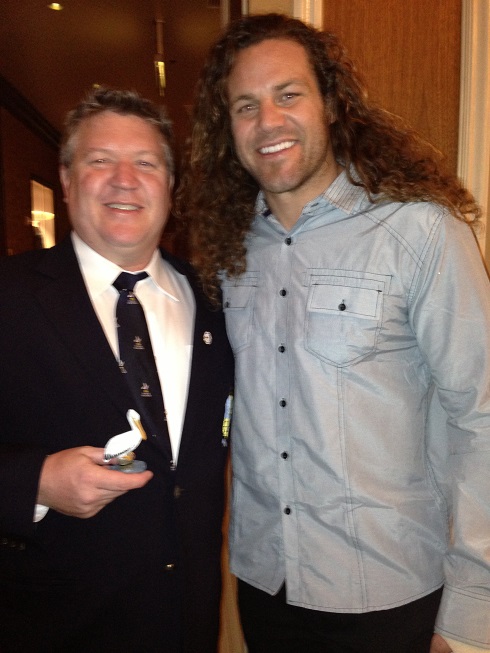 HAIL PELICUS!
Vegas, Baby. Vegas
Once again the eyes of the rugby world focused on Las Vegas, NV for the fourth stop on the IRB Sevens World Series, the USA 7s. The US continued their mastery of losing games on the last play and kickoffs that don't go 10 meters, but also showed some outstanding rugby. A frustrating weekend for the Eagles that ended with a well deserved Shield win over Spain. For a sense of the potential the USA has always had, note that three of the seven "best" tries were from the Americans:
http://www.irbsevens.com/destination/edition=4/news/newsid=2070123.html#seven+best+tries+from+las+vegas
In spite of the early start to this year's 7s – due to not wanting to conflict with the Winter Olympics – the weather was perfect and the crowd was boisterous. All kinds of dignitaries, luminaries, missionaries and mercenaries converged on Sin City for the Las Vegas Invitational and the spectacle of the USA playing on home soil. Another record crowd beat last year's total as this event keeps getting more and more popular. This is what it's all about. The only sour note for this reporter was when some idiots tried, and partially succeeded, in starting a wave WHILE THE USA WAS PLAYING. These were American fans as well. Come on, people! The wave is cheesy enough as it is but this is your national team playing. Try to pay attention a bit.
Goggles The Mind
We have received word that the US will be participating in the trial of the IRB approved goggles that were detailed in last week's Hail Pelicus. If they have the IRB stamp on them, play on!
News Flash! Referees In Short Supply
If you haven't already made yourself available on assignr for the upcoming weeks, please do so ASAP. We are hitting the heavy part of the season when everyone is playing every weekend and we need more referees. If you are not on assignr or don't know what it is please contact our Scott Wood at rscottwood@gmail.com .
Assignment Protocols
That being said, if someone calls you up and asks you to ref a local match, you MUST refer them to Pete Smith. If you are not officially assigned to the match then YOU HAVE ZERO INSURANCE COVERANGE AND ARE FULLY LIABLE FOR ANYTHING THAT HAPPENS. Moreover there are several other logistical reasons that come into play.
This is not something to take lightly. As stated, there are many factors that go into assignments including referee grade, availability, team level, status of the club, coaching, assessing, the phase of the moon, weather, and your astrological sign. The job is hard enough without
rogue referees thinking that they are helping out a buddy and creating a situation where 2 referees show up for a game while another game goes begging, or refereeing an unsanctioned game.
Once again, YOU HAVE ZERO INSURANCE COVERANGE AND ARE FULLY LIABLE FOR ANYTHING THAT HAPPENS. If someone gets hurt and the family sues, the NCRRS will wish you luck. This does happen so please don't take the chance.
And now
on to the games… (Yes, a few were played.)
One from last week that was missed…
Date: 01/18/2014
Sacramento Lions 32 – EPA Razorbacks 19
Referee: Akroyd, Phil
Yellow Card to Sac Lions #8 Nemani Volavda for repeated team infringement (non violent).
Another somewhat competitive game in D1. As happened last weekend, the Lions set off early with a couple of tries and established a solid lead. They also had a much more solid platform than last week, as they could win lineouts and scrums. Lions led 13-5 at half.
Just after the half, EPA broke through the Lions defense and the captain just had to touch the ball down over the line but while being tackled he knocked on the ball, which would have made it a 13-12 game, but instead the Lions responded and pushed it out to 20-5. That really was the turning point.
From there, the Lions reverted to their entertaining, loose style of play and fullback Ratu Rinakama really turned on the magic. Final score 32-19 to the Lions.
The Current Slate…
Date: 01/22/2014
Cal Maritime 5 – Cal 101
Referee: Lew, Tim
Wednesday night game at Bodnar. Cal came out fast and stayed fast. They controlled set piece and open play. Open subs and very clean game.
Date: 01/22/2014
St. Mary's College 123 – San Jose State 0
Referee: Williamson, David
Coached by: David Williamson
St Mary's hosted San Jose St on a perfect Wednesday afternoon up in Moraga, CA. San Jose St was not in session yet so didn't have a full team yet were ready early with the players they brought. St Mary's needed some time for players to finish class and their coach to finish work so they trickled in a bit at a time. No matter, however, because as soon as the match started they were all business and ready to go.
The teams decided on 3 periods to get everyone a run so that is how we played it. St Mary's were fast out of the gate and faster to the finish. Defensive discipline was key to their strategy as the Spartans were able to hang on to the ball for long stretches but they could not breach the Gael line and as soon as there was a turnover the ball was moved into space and the counter was on.
San Jose St never gave up and had some moments of pressure but were never able to convert. Inevitably St Mary's were able to put more and more pressure on the San Jose attack until a turnover led to another opportunity for the home side.
Both sides played well and a credit to all the captains (each used several) for keeping the game fast and fair in spite of the difficult scoreline.
Many thanks to Bunny for his outstanding observations before, during and after the match.
Date: 01/24/2014
Stanford F/S 7 – San Jose Seahawks 56
Referee: Moore, Stephen
The match @ 6PM was actually Stanford v Seahawks, not Santa Clara. No incidents, clearly Seahawks were the stronger team, bit of run-away result for Seahawks their rucks and ball security were excellent.
Date: 01/24/2014
Stanford B 34 – Santa Clara University B 0
Referee: Levitan, Tony
A spirited mix of impressive athletic talent and — save a few players who are ready to nudge their way into each team's A side — nascent rugby skills, all wrapped up in passion and drive made for an engaging 2nd side match on a chilly evening at Stanford. Stanford dominated the scoreboard (5 tries, 3 conversions and a PK) but Santa Clara's never-say-we're-done attitude kept us running up and down the pitch all evening. And while a parade of props who have never before bound onto a live opponent can cause refereerial indigestion, instruction was met by compliance and good natured competition, making for an enjoyable run for all.
Date: 01/25/2014
UC Santa Cruz 12 – St. Mary's College C 53
Referee: Moore, Stephen
Plenty of energy from both sides, St Mary's stronger at breakdown ruck maintaining and stealing possession creating more attacking opportunities. Good all round spirit, players, coaches and spectators. Ground well prepared. Nice experience.
Date: 01/25/2014
St. Mary's College A 36 – Olympic Club 29
Referee: Zanarini, Tom
A great back to back contest between St. Mary's and Olympic. SMC was coming off of a big win against SFGG while this was Olympic's first match of the season. Tries were scored off of quick taps, interceptions and spinning the ball wide. The score was tied at 29 at the final minute. Olympic kicked to touch on a penalty and had a lineout. St. Mary's came away with the ball on an advantage call, spun it wide and scored on a 60+ meter breakaway. Great rugby on both sides. Thanks to Kat for the evaluation and George O'Neil and Bruce Ricard for stepping up to AR.
Date: 01/25/2014
St. Mary's College B 39 – Olympic Club B 29
Referee: O'Neil, George
No report received
Date: 01/25/2014
CSUMB 24 – USF 37
Referee: Carter, Bruce
This was the first official game on the brand-new, full-size, all-grass, gorgeous pitch at CSUMB, and a good crowd turned out from the campus dorms, all of which are in easy walking distance.
Those of us who played for Monterey in the eighties, which includes me and the coach of the Otters, Marc Ferguson, remember when this was the Engineers' Field, one of the sorriest patches of semi-grass ever to host a rugby practice – the one saving grace being that the old park had lights.
I would put this surface on a par only with Stanford's in Pelicanland.
The weather, undoubtedly shared all over the region, was too good to be winter: clear, bright, warm and with cirrus clouds lingering all day.
We rarely see cirrus clouds on the coast in any season. This 'winter', at least for the western seaboard, has been a false one. The cherry trees are blooming and we still have bees and hummingbirds in our yard. Trees, the leaves of which I finished raking up two weeks ago, are already green again.
So, too, rugby is born during January in California.
USF certainly had the run of the first half, going up 20-0.
The home team took inspiration from a waste-laying, try-scoring long run by the their #5, playing better and getting within 3 points, 27-24, with seven minutes left to play.
College rugby crowds make more noise than most. All of the players of both teams take inspiration from this fact. I made eye contact with a USF flanker just before a key scrum, crowd blaring. We agreed that we were happy to be part of the proceedings.
USF's captain and #10, Joe (sorry, I forgot the surname) kept calm, electing to drop a goal at a penalty chance for a six-point cushion.
Then, with my watch already having beeped, the Otters attacked desperately, flinging the ball about with abandon.
As Chick Hearn would have said, there was a hot-dog pass with too much mustard that went astray. This same Joe got there first, hacked ahead, scored and converted his own try for a comfortable, thirteen-point final cushion.
The sideline grill was ready right on time for the celebration of the new season to continue, old friends and new acquaintances alike, dedicated veterans of the sport and newly-smitten novices, all wondering why every day cannot be a Rugby Day.
Date: 01/25/2014
USF Women – Santa Clara University Women
Referee: Hettermann, Matt
Game was canceled – "USF fails to meet the minimum roster requirements." – presumably because they only have 13 players CIPP'd.
Date: 01/25/2014
Humboldt State 25 – Sierra College 23
Referee: Bertolone, Cary
A beautiful drive on a fantastic day for rugby; it felt like Santa Barbara. Humboldt started strong and were up 15-0 in the first 17 minutes. Great passing, long runs. Down 20-0, Sierra came back for a try by the forwards to make it 20-7 at the half. Sierra played better in the second half, tying it at 20 all with 5 minutes to go. Sierra converted a penalty kick for the lead with two minutes to go. Two addl penalties on Humboldt had them deep. With 1 minute to go, they pass the ball all the way out to their wing who runs 70 meters, they take it to the three meter line with no time remaining and Sierra loses their cool and commit 4 consecutive penalties, allowing Humboldt to finally punch it in for the win at the 43 minute mark.
Date: 01/25/2014
Stanford Women 12 – SFGG Women 70
Referee: Bryant, Lee
This was a friendly match between the current Stanford ladies and a mix of oldie's but goodies from Nor-Cal and the Golden Gates Ladies. Smiles all around during this fun match as the newbies got their rugby legs. I guess not everyone was in Vegas.
This week's photo…
… is a two for one deal meshing the past and the present seamlessly. As I couldn't decide between the two, first we have Our Reporter with former Eagle Captain Brian Vizard, followed by Our Reporter with current Eagle Captain Todd Clever.
HAIL, PELICUS!
For the Senate,
Pelicus Pedem Referre